Welcome to our NEW branding which we will be rolling out this month!
MaxSold completed nearly 400 auctions in August  - these auctions include contents of high-end mansions in several metros in North America. Below are some highlights, but first testimonials from our clients....
August 2017 Highlights


25,771 km Safety completed. 4 door, leather interior with heated and a/c seats, digital climate control/audio centre, smart key stored inside. 3.5L V6 DOHC 24V TURBO, back up camera, AWD

John Deere
Sold on MaxSold for $9,350


John Deere 2025 R with 62 D on Ramp, Frontier RC 2024 attached to rear H130 Front Bucket Come to pickup at Category A time-slot


Jukebox
Sold on MaxSold for $1300


Jukebox Seeburg 100 Selectomatic 34x26x54 Untested Item located in basement. Elevator available to help move to 1st floor Come to pickup at Category B time-slot




Bears on granite rock, fish is jade, overall height 13 inches, width 17 Note item is heavy



Marble topped pink brass bottom 69X14X34. Matches 866. Shades not included.


Trunk
Sold on MaxSold for $975


Wood trunk with metal trim. 42X23X26.5. Note damaged.





12 place settings. Good condition. Extra serving pieces. 1 dinner plate has a fleabite.


Signs
Sold on MaxSold for $315


15 plus items. Includes enamel Suisse Delegation shield. Size varies from 5X15 to 24X72.




2 armchairs, probably original fabric, 27 inches wide, metal bracket allows seat to be removed




2 Play Station consoles, powered up, Atari 2600 in box with lots of wear, no power cord to test, with various joysticks, controllers and games for both, all untested sold AS IS




2006 28. 5 ft 5th wheel Prowler with 12 ft tip out, hitch included. VIN: 2EC5R282366504436 Licence: Y29691




29 high, circa 1886. Painted with bronze paint. Minor chipping.


Curio
Sold on MaxSold for $310


32x12. 5x77 wood frame with mirror backing, four glass shelves and light and sliding front door.


Red Chair
Sold on MaxSold for $610


34" x 31" x 28" (WxDxH). Pickup B




5 Cabinets, 2 with shelves and sliding glass doors, 2 with drop doors, 1 double width with drop doors, 2 with drawers, plus 6 shelves, approximate height 95 inches. Note missing piece at bottom - see photo




55" tall white statue of woman in Greek/Roman style. Base is approx 13 in diameter.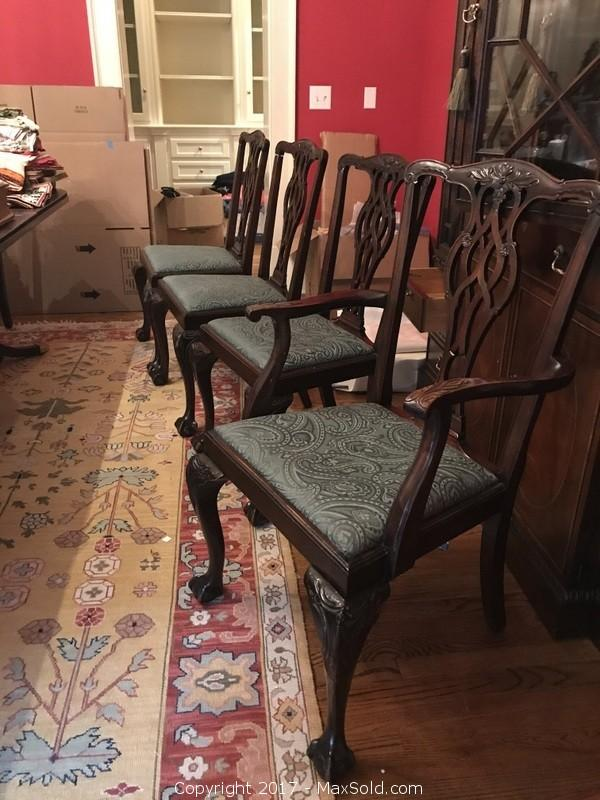 8 carved dining room chairs, some nicks - seller says very good condition .


Red Couch
Sold on MaxSold for $1150


89" x 30" x 28" (WxDxH). Pickup B




A collection of Mulberry Ironstone China. 48 pieces. Matches lot 424. This lot also includes window treatments.




A large assortment of vintage and modern dolls, kids masks, and tin noise makers. Also included a vintage wooden doll cradle.




A signed Jacques Regat bronze jumping dolphin is 16 tall, marble base and weighs 12 pounds. He is 21 out of 99, made in 1993. Please see Lot 25 for a similar sculpture by same artist. Category A time-slot.




Amber glass and iron lamp 30 and iron candle holder.




American Biophysics Mosquito Magnet. Model Pro-C 39253.




Amps and Yamaha NS10 Studio Monitors All Working. Come to pick up category B time-slot.




Authentic and original Royal Air Force great coat, full dress jacket with pants, and battle dress jacket. Forage cap and officer???s cap. Pins for the volunteer reserve. Uniforms recently cleaned, in good condition with age wear. Come to pick up at category B time-slot.




Baseball player 9, young Sailer, 9, flower girl 7, little girl and her baby 7, night time prayers 8. No damage.




Beautiful crescent moon shaped glass inside metal frame. Glass moves within frame and base also swivels. 17x14.5 inches. Signed by artist Michael George.




Belleek made in Ireland pieces. Small vase 4.25" tall, pig, swan and more. No visible chips or damage.




Bernina Overlocker/Serger machine. Model: 1150MDA. Comes with foot pedal, thread, and more. Bring boxes for removal.


Games
Sold on MaxSold for $185


Board games includes Ghettopoly Monopoly-Special Edition, Redneckopoly Monopoly-Special Edition, and Lego sets.




Bose Media Center model: AV28 with 5 Bose omnidirectional speakers and Bose subwoofer. Good working condition.




Bowflex Xtreme 2 workout system. In basement. Bring tools and help to move.




Castlepro double paned thermal windows and doors. Includes frames, jams, Omnia locks and handles in chrome, phantom pullout screens. French door inner measures 63 inches wide by 8 feet tall. Outer measures 60w x 8 ft. Two side windows measure from inside 23.4w x 8ft. From outside 22 inches wide x 8 ft. tall. 6 yrs. old. Smooth operation. Tight sealing. No dents or wear to doors noted. Excellent condition. Take part or all. Buyer removes. Bring tools




Classic decorative Melvern ice cream sign with clock display: 20x3x12. Tested and works per seller. "Melvern" sign has built in back light and uses standard light bulb.




Collection of men's watches, Seiko, Halston and others. Sterling ring. Pocket watches, some very old.




Complete set of Profile Publications magazines issues 1-262. Magazines have details on airplanes and aviation. In good to very good condition. Come to pick up at category A time-slot.




Contents of cabinet includes three shelves of crystal stemware. Wine, water, liqueur, sherry and port glasses, parfait and more. Top shelf is Waterford crystal Lismore clear pattern.




Converted vintage ice box 32X24X69. Bring help for moving. Contents not included. On 3rd floor.




Costume jewelry, bracelets, pendants, vintage coins, necklaces, pearls, watches: Mary Kay, Seiko, Geneve, Cenere, and Concord. Note: Watches untested, authenticity of pearls is unknown.




Dark grey Mazda 3 hatchback with low mileage of 64, 556 as of 24 July 2017 for sale by original owner. Mazda roof rack and fittings are included.




Discontinued model, US made, liquid cooled V-twin with key in working order. Maintenance done yearly by Eastern Engines Williamsburg.




Disney's Pirates Of The Caribbean dead mans chest Pinball Machine working condition 54 1/2 inches tall and 35 inches wide as shown in pictures




Everything you see here, in excellent condition.




Franciscan earthware with retro atomic pattern, over 40 pieces with some missing.




Franklin mint The Great Crusaders collectible chess set. Each piece has its own box. All are sculptured porcelain chess pieces. Wood game board.




Gibbard three drawers side table with ornate claw feet. 20.25X16.25X25.25. Minor wear.




Hand made by KooYoo Pudlat, Cape Dorset, 1990, Canadian Artist, 9x5, with COA.




Hand-knotted and worn, this Persian rug is 44. 5 wide x 74 long.




Has front carrier rack on, windshield included 4x4 as is. Untested




Hollow metal statue 41 and cement edgers.




Hummels and Goebel figurines, largest 6 inches, collection of 7. Also 2 small ceramic buildings, none have chips.




Included in this lot are 3 NINTENDO consoles. One power supply and 5 games. All 3 units power up.




Includes Nintendo Entertainment System Control Deck, 16 games, 2 Game Genie Video Game Enhancers & Nintendo Zapper (dated 1985). Powers up but no further testing done. Wear.




Jenny SJ120 Steam Cleaner Come to pickup at Category A time-slot




Justice Eagle by Salvador Furio, 1992, retired 2012, limited edition 1500 pieces, made by hand, Valencia Spain. Number 01005863.




Lalique ornaments, brass figurine, signed violet footed bowl, Makkum milk cow figurine, Wedgwood, Goebel and Hutschenreuther trinket box, antique figurines, Val St Lambert glass and fans.


Horns
Sold on MaxSold for $185


Large horns for wall mounting. Heavy. Approximately 64 inches long. Wear.


Etching
Sold on MaxSold for $435


Leigh Hunt, 1889, harbour in Holland 16.5X25 plus 11 matte and frame. Original sketch is on reverse. Some age wear to frame.


Train Set
Sold on MaxSold for $611


Lionel train set. Includes locomotives, passenger cars, freight cars, track and transformer. Not tested.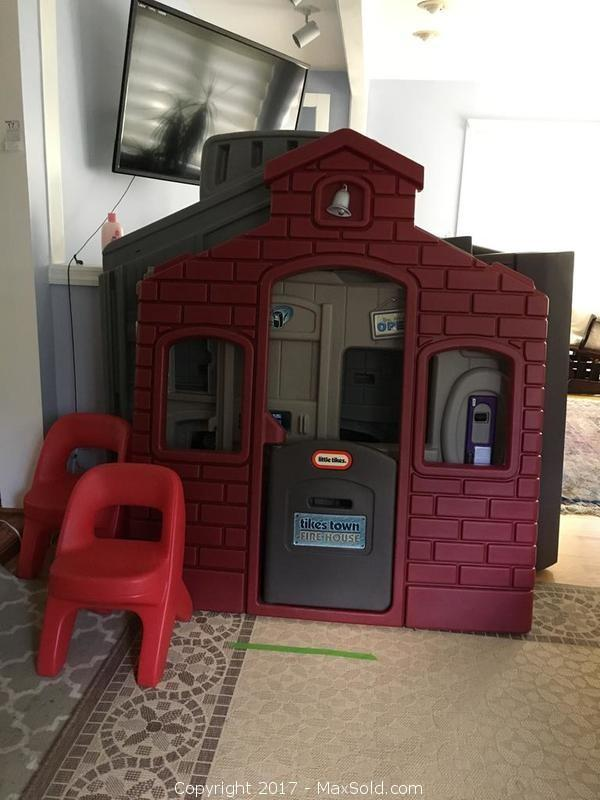 Little Tikes Tikes Town Firehouse, disassembled, 51X41X59 panel sizes, 4 panels plus 2 chairs. Bring help.




Lladro #1469, "Girl On Carousel Horse" Retired. Comes with box. Match to lot 933. Excellent condition




Lladro #1470, "Boy On Carousel Horse" Retired. In excellent condition. Matches lot 934.




Mahogany demi lune table with drawer, tapered legs, 14 x 30 x 30. Waterford crystal lamp with hand stitched pleated shade, 23 h.




Marble Top Hall Cabinet 27x14x29.




Model FG212334NR serial number 1A22100612. Manufactured 05/12. Needs cleaning




Owner verified sterling Flatware box needs repair




Patrick Crespin glass gourd with coa, Delft shoe, Limoges bowl, sterling plant figures, Waterford paperweight and more.




Persian wool Rug from Pakistan, 9ft11inX14ft7in. Style Pak Khalid, good condition, on 2nd floor, heavy bring help.




Pilot's Notes, log books, cloud identification books for flight, assorted other vintage notebooks and books on planes, flight, and aviation see pics. Come to pick up at category A time-slot.




Produced in 1950's by the Vendo Company in Kansas City. Model #H63C. Untested. A few scratches and minimal rust on the bottom. 27.5X21.5X54. Very heavy, bring help and a dolly.




Royal Crown Derby Pattern 2451 includes 2 dinner,9 side,6 cups and saucers,1 sandwich , 1 finger bowl. Please bring boxes and packing material.




Scene from Bluff Park 65. A bit loose in frame, needs to be secured. 17.5X23.5.




Set of four old pressback solid wood chairs. Sturdy condition. 16X15.5X39.




Several blankets and spreads.




Sideboard 61"x17.25"X31.5. Antique piece, beautifully cared for. Brass accessories with 2 keys.


Silk Carpet
Sold on MaxSold for $3,650


Silk highest quality Tabriz carpet 125X75.




Six 24K gold trimmed demitasse cups and saucers. Decor items


Deacons Bench
Sold on MaxSold for $260.01


Solid wood bench made in England, 34x18x41. Storage room in the seat, normal wear.




Star Wars Lego Set 10030 Imperial Star Destroyer. Comes with manual. Located in garage.




Stoneware jug, depression glass measure, syrup jug butter dish and glasses. May have minor chips




Straight balcony measures 69 inches in length and 39 inches height. 2 inch thick steel banister. 0.2 inch glass. 141 inch matching stair banister including a 6 inch edge at the beginning of the rail. 38.5 height. Bring help and tools plus packing wrap for glass panels. Matches lot 30. Installed 6 years ago. Pickup category D




The first of these 4 figurines is the leaping 5 dolphins, comes with wood base, 25 long x 9 wide. With the sculpture it is 11 tall. Signed and numbered. The second one of three dolphins is 8 tall x 14 wide, no base, signed and numbered. The third one of the whale, 9 tall x 14 wide with wood base, signed and numbered. Tiny seal on his own is 3 tall.



Three Murano glass clowns. Tallest stands 12 high.




Three tea pots and one carved and hand painted Asian chest, 25x9x8.




Tiffany style stained glass shade with bronze base, 22.5 high, holds 3 light bulbs, in working order. Shade has one piece has hairline crack.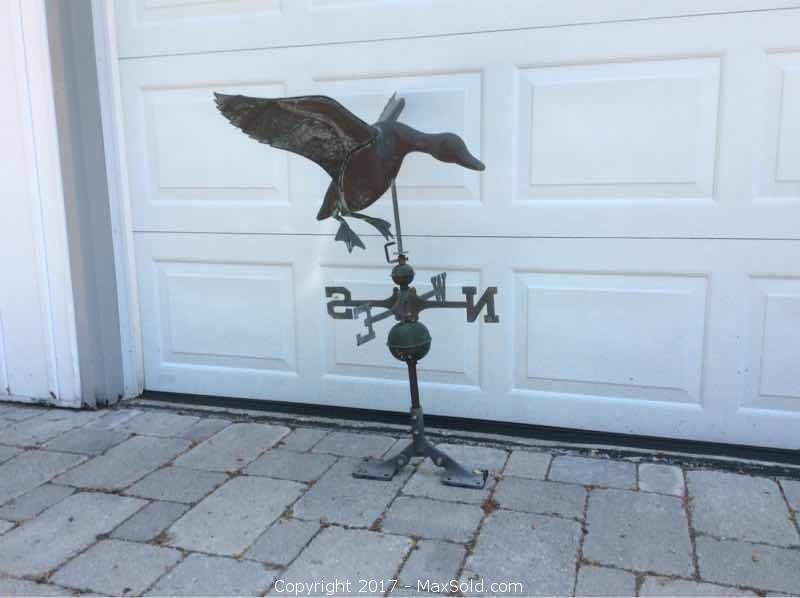 To be mounted on a roof. 38 in height, 28 in wingspan. Tarnished.




Tom Roberts, Walkerton Mill, 20X26. Thomas Keith Roberts 1909-1998. Member Ontario College of Art, Royal Canadian Academy, and Ontario Society of Artists.


Accordions
Sold on MaxSold for $531

Two accordions in cases, untested. One is Honer brand, one is Venturi. Located on 2nd floor, bring help to remove. Come to pickup at Category B Time Slot.




Two iron skillets, Meyer pots, large Lagostina pots and pan with lid.


Large Anvil
Sold on MaxSold for $410


Very heavy bring help And saddle making tool




Very large, unusual kaleidoscope (9x32x9 inches), depicts images in triplicate. On tripod (38 in at base x 55 in). Marked Prism Designs.




Vintage carousel pony, Approximately 36X14X48, heavy bring help.




Vintage cash register from National Cash Register. Untested. Shows normal wear for its age. Heavy. Bring help to move. Come to pick up at category C time slot.




Vintage Floor ashtray 24" matching table ashtray 5".




Vintage hand made bar cart solid wood 36X23X36.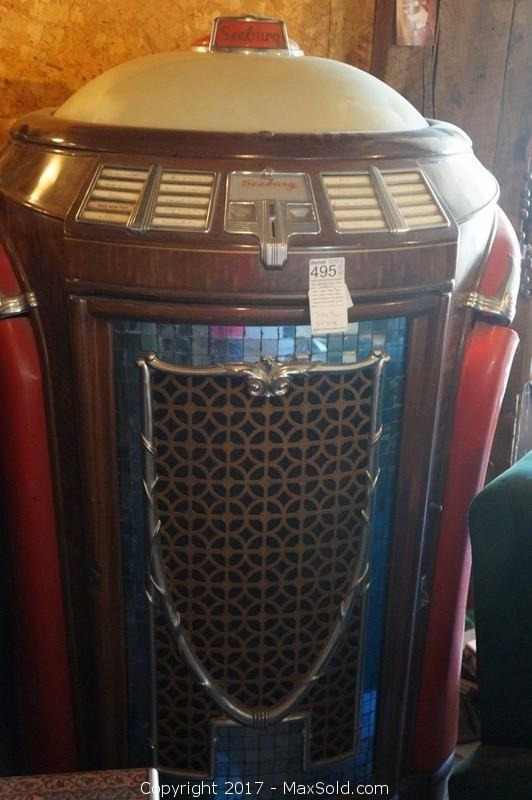 Vintage jukebox, 30X30X45, in working condition and takes nickels, plastic coming off on one side, very heavy bring help.




Vintage metal toys. Some Tonka. May not be complete. 15 pieces. Wear on all. Come to pick up at category A time slot. Seller says All original toys never been restored. Most from the 1950s


Clock
Sold on MaxSold for $370


Vintage oval clock. Stands 12" high. Key included. Working.


Celtic Harp
Sold on MaxSold for $186


Walnut Caswell Celtic Journey Harp, 24 string F1-A2, includes extra string set, tuning wrench, original paperwork, Teach Yourself to Play the Folk Harp book. Needs restringing. Good condition. Come to pick up @ Category A time-slot.


Grill
Sold on MaxSold for $339


Weber Summit S-470 with side burner stainless steel grill: 67x28x52. Has rotisserie and infrared heating components. Aged, wear as expected. Untested. Includes cover. Good working condition. Heavy, bring help for removal.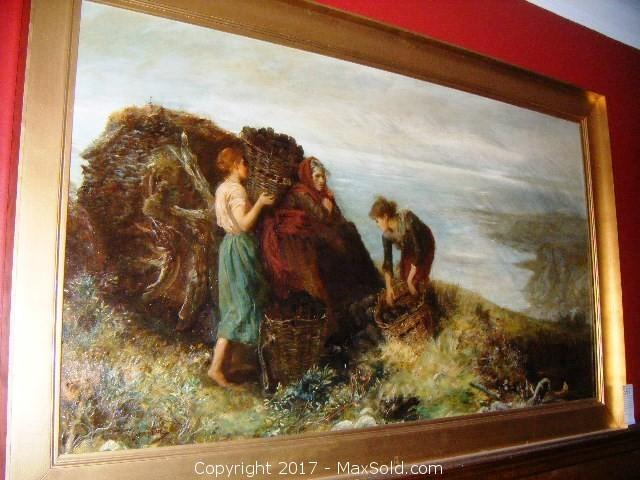 Woman mining coal, 29.75X53.5, by Thomas Alexander Ferguson Graham, 1840-1906 honorary member of Royal Academy of Scotland 1883 with frame. Signed 1892 Painting has been professionally restored by R Kuczma, fine art restorer, Hamilton, Ontario.




Wood display cabinet with glass shelving and doors, mirror back panels. Match with lot 906, 907, 908, 917, 919. Very minor wear. 33x15x82. Heavy bring help.




Wooden writing desk 40X17X40, bench 30X13X17.




Working slot machine 20X17X32 with tokens, also included the metal stand it is sitting on.




Zebra print stool 15x12x27