Music
The Traveling Songwriter 2005 Gibson TSW AN electric/acoustic guitar, perfect condition in original case with all paperwork. Serial No. 02165049. Gibson Gold warranty. Comes with Peaway KB/A15 amplifier.
Banjo
Sold on MaxSold for $410
Remo brand 5 string banjo with wood carrying case. Includes music books and more.
Cello
Sold on MaxSold for $643
Excellent sounding student cello in case with bow and pick strap. Purchased in 2000 from Wilder and Davis, Montreal. Great condition.
Yamaha Piano
Sold on MaxSold for $710
Yamaha Clavinova studio quality piano. 56X23X35. Roll top. Includes piano bench. 30X14X19. Padded faux leather seat with lift top. Bring help for moving. In lower level.
Accoridan
Sold on MaxSold for $165
Accordian untested. Hohner student II. In case.
Guitar, case and 3 books. La Patrie. Untested. Made in Quebec.
Gibson steel guitar, in vintage case with spare strings. Hal Leonard instruction and music book with CD.
Table Polyphon developed in Leipzig Germany. Circa 1860 to 1900. Mahogany lidded case in great shape. Double comb action with large discs and resonant cabinet producing powerful sound.Includes 61 playing discs including Auld Lang Syne, Strauss Waltzes and more. 21X8.5X11.
Mahogany table 29X18X21.5.
Mitching professional, F trigger narrow bore trombone. Special mouthpiece. Includes custom case.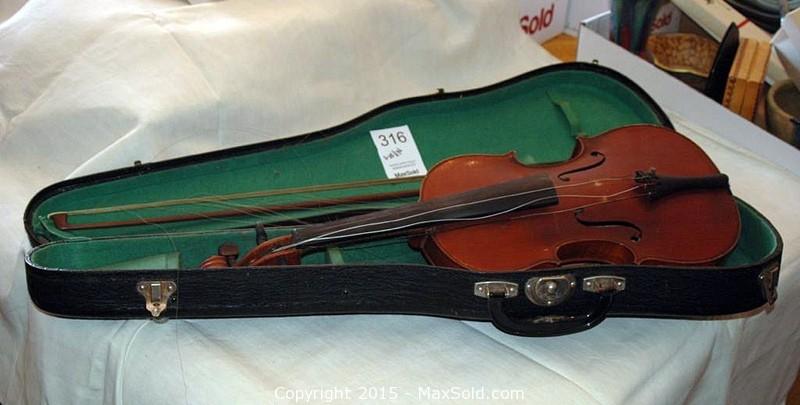 Adagio GDP-8800 digital grand piano, 46X55X36, not tested, with piano bench and music books. Located in basement. 3 steps to backyard. There are many steps at the side of the house. If you remove the piano through the house, there are 15 steps from the basement to the first floor. You can play the piano or you can set the piano to play by itself.
Dee Jay vinyl record albums, 150 plus in 2 road cases.
Dee Jay vinyl record albums, 300 plus in 4 boxes.
Pianos aren't accepted by many consignment stores and auction houses these days, so it's nice to see pianos bring top dollars on MaxSold - shows you the power of competitive bidding!
Music
Sold on MaxSold for $500