SHOWING 18 of 18

ONLINE AUCTIONS AND ESTATE SALES IN

BRITISH COLUMBIA
Sell your goods easily and profitably from an estate, downsizing, or relocation by Sep 2nd.
Discover the many benefits of MaxSold auctions.
AUCTIONS JUST CLOSED IN
BRITISH COLUMBIA
SHOWING 1 of 1

AUCTIONS NEXT WEEK IN

BRITISH COLUMBIA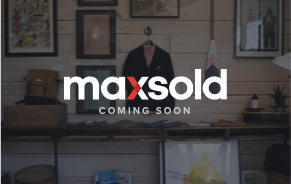 White Rock
Merklin Street, White Rock, BC, V4B 4C2
SHOWING 24 of 43

UPCOMING AUCTIONS IN

BRITISH COLUMBIA
CUSTOMER

REVIEWS FOR MAXSOLD
I often find interesting and unique items at Maxsold. Because I live on a very strict budget, I can sometimes get wonderful deals, if not, I always enjoy the bidding and possibilities.
Easy to shop/bid. Provided items are listed on local classified sites and linked to maxsold works great
The staff is always so friendly, helpful, polite & always a smile with a warm greeting. Have enjoyed buying from MAXSOLD many times.
Very well run auction and pick up
Like to bid and buy from the comfort of home and have a set time for pick up. Unlike bidding wars it is also nice not to worry about bringing cash and the hassle of exact change.
The staff at the locations make the pick up of the goods I've purchased quick and simple. The organization is top notch.
Great way to sell lots of items without having to list individual items, when downsizing. Fantastic opportunity to pick up some deals on items you want/need that someone else no longer requires.
Easy way to bid, available preview items, often pick up on weekends, well mark area for pick up.
Joanna Baraniak
Maple Ridge
I've bought from these guys, and had to get McKinney Bros to go pick up in one case, excellent deals to be found, and good, decent company and the people who run the west Canada auctions are fabulous people!
Susan Basso Barry
North Vancouver
Great buy! Staff at the site in Delta, BC were friendly and helpful. Office got back to me quickly with a question. A good experience all around.
Previous
Next