AUCTIONS AND ESTATE SALES IN
ONTARIO
SHOWING ONLINE AUCTIONS AND ESTATE SALES IN
ONTARIO
Don't miss out on these hidden gems!
We do Downsizing and Estate Sales.
Discover the many benefits of our auctions.
Sell your goods easily and profitably from an estate, downsizing, or relocation by Aug 10th.
Discover the many benefits of MaxSold auctions.
JUST CLOSED AUCTIONS ITEMS FOR SALE IN
ONTARIO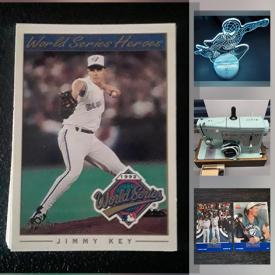 Milton
Martin St., Milton, ON L9T 3H6
This online auction features MLB collectible cards, NIB item & More
SHOWCASING UPCOMING AUCTIONS IN
ONTARIO

ESTATE SALE ONLINE
CUSTOMER REVIEWS FOR MAXSOLD
At pickup it was very organised and Quick.
Easy to get to and you stay at home to shop and fun
I have had pretty good luck so far.
Troy Woodworth
St. Catharines
Good quick way to buy or sell stuff. Sites like kijiji require lots of wasted time.
Thrilled with my purchase.
Jodi Rae Tanney
St Catharines
I think they give a good description of article's for sale. Their attendant's act in a professional manner when it's time for pick up.
Everything was very well done and organized.
David Moir
St. Catharines
Staff is very organized, polite and a pleasure to deal with. Items were as described. Great value.
It seems like a hassle free downsize venture. You don't have to ship or load cargo van. Just wait and they will come. As for purchasing. Its great for getting those odds and ends or big item purchases at a cut rate price.
fun fun fun of auction as buyer...you never know what you will find, although I have not sold...but I think it would be something I most certainly would consider if the need ever arose..everything is well categorized..explanations are readily available...and given my experience as a buyer..i think selling through this forum would be a million times easier and less time consuming than having a garage sale
Darlene Murdock
St. Catharines
Previous
Next