SHOWING 1 of 1

ONLINE AUCTIONS AND ESTATE SALES IN

ONTARIO
Fowlers Corners (Omemee) (Ontario, Canada) SELLER MANAGED Estate Sal...
This online auction features ANTIQUE: Canning jars, quilt, c & More
Don't miss out on these hidden gems!
We do Downsizing and Estate Sales.
Discover the many benefits of our auctions.
Sell your goods easily and profitably from an estate, downsizing, or relocation by Jul 11th.
Discover the many benefits of MaxSold auctions.
AUCTIONS JUST CLOSED IN
ONTARIO
SHOWING 1 of 1

AUCTIONS NEXT WEEK IN

ONTARIO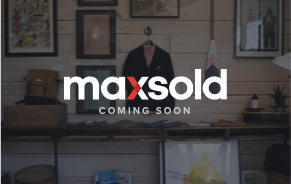 Port Hope
7311 Mill Street, Port Hope, ON, L1A3V5
SHOWING 20 of 20

UPCOMING AUCTIONS IN

ONTARIO
CUSTOMER

REVIEWS FOR MAXSOLD
Selling-can be completely involved or delegate to maxsold Buying- who doesn't love a deal
Charlene Ashley
Port Hope
I would recommend buying to family only ,just because I am a reseller and your auction is MY FAVORITE SECRET resource to purchasing inventory.
The furniture I bought is great and your staff are very friendly and helpful when picking up. Appreciate!
Excellent descriptions of items, fair representation of condition of items and above and beyond normal expectation of service at time of pickup
Matt Dryside
Peterborough
It was a great experience. I looked at the auctions, I bid on what I wanted, then I received an email telling me that I had won, and when and where to pick up. It was seamless. I arrive to smiling uniformed staff who quickly guided me to my purchase.
Easy bidding, fast and organized pickup and great deals
This is my second time buying from Maxsold, this was a great experience. The people at the pickup were very helpful and professional. The pictures of the articles were way better this time also.
We have found many great items at auction quality goods sell for top prices.
We were very impressed with the support we received and will continue to browse/shop MaxSold Auctions.
Gwen Knapman
Peterborough
Seems like an easy way to sell a large quantity of items. I enjoy watching the sales online. Great way to find unique items as well as every day items we need.
Cathie Brillinger
Peterborough
Previous
Next