AUCTIONS AND ESTATE SALES IN
COLORADO
SHOWING ONLINE AUCTIONS AND ESTATE SALES IN
COLORADO
Don't miss out on these hidden gems!
We do Downsizing and Estate Sales.
Discover the many benefits of our auctions.
Sell your goods easily and profitably from an estate, downsizing, or relocation by Jun 29th.
Discover the many benefits of MaxSold auctions.
JUST CLOSED AUCTIONS ITEMS FOR SALE IN
COLORADO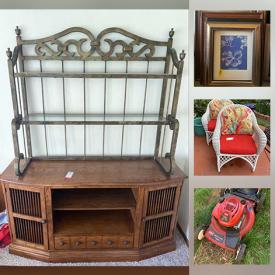 Aurora
S OAKLAND CIR, AURORA, CO, 80014
This online auction features Outdoor Patio furniture, Gazebo & More
SHOWCASING UPCOMING AUCTIONS IN
COLORADO

ESTATE SALE ONLINE
FEATURED PAST IN
COLORADO

ESTATE SALES
East 156th Avenue, Brighton, CO, 80602
This online auction features tools such as a metal bandsaw, compressor, hydraulic jacks, pressure washer, clamps, chainsaw blower cans, sand bead blaster, lawnmower seeder, compressor and more, chairs, car tires, 1930s restored Farmall, engines, glass insulators, tarps, survey equipment, 1992 Ford F250 truck and much more!
West 110th Place, Westminster, CO, 80031
This online auction features collectibles such as crystal, sterling silver, display plates and Limoges, Apple watch, furniture such as antique mahogany sideboard, twin size beds, workstation and La-Z-Boy recliner, art such as metal and wood wall art, signed poster and framed prints, wood hanging cabinets, shoji screen, BMW rims, outdoor umbrellas, pearl snare drum, Honda lawn mower, men's bicycle, power tools such as Porter Cable reciprocating saw, mobility scooter, books, holiday decor, children's toys including Lego, antique sewing machine, exercise equipment, luggage, cases, glassware, copperware, ceramics, shelving, sporting goods, cameras, bedding, small kitchen appliances and much more!
Previous
Next
CUSTOMER REVIEWS FOR MAXSOLD
Great Values / Friendly Staff
The process was well explained and very painless. The folks at pick-up were well informed and helpful. Prices were good and the merchandise as expected. I'd definitely use this service again and seek out opportunities to buy in the future!
So much less hassle for home owners Great bargains, although you don't really know the condition until you pick up
Over the past 2 years I have gotten some great deals thou Max Sold.
Can find what you're looking for, options for price.
I thoroughly enjoyed the entire process of buying and am anxiously awaiting the next auction in my area! I have already told friends all over the country about it and shared details of my experience on Facebook. I will be doing downsizing myself within the next year and can't wait to see the "other side" of the process first hand!
The staff at this sale seemed to be really on top of it! Lots were organized and watched over, and the staff was really friendly. Best yet of your sales I've participated in.!
It is a great service for selling items no longer needed. As a buyer it is quick and easy to learn and bid. Staff is so helpful when picking up!
Lisa Hansen
Highlands Ranch
I was impressed. Professionally done. It looked easy and not too invasive. Only people that bought something when inside. Not just anyone off the street could come in. Seems like you can get more on some items.Easy to shop ahead and see what was there ahead of time.
Love shopping with y'all. It's been a pleasure each and every time.
Christine Upton-McNeely
Aurora
Previous
Next