SHOWING 3 of 3

ONLINE AUCTIONS AND ESTATE SALES IN

GEORGIA
Don't miss out on these hidden gems!
We do Downsizing and Estate Sales.
Discover the many benefits of our auctions.
Sell your goods easily and profitably from an estate, downsizing, or relocation by Jul 25th.
Discover the many benefits of MaxSold auctions.
AUCTIONS JUST CLOSED IN
GEORGIA
SHOWING 1 of 1

AUCTIONS NEXT WEEK IN

GEORGIA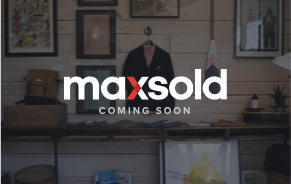 Duluth
Berkeley Crossing, Duluth, GA, 30096
SHOWING 24 of 31

UPCOMING AUCTIONS IN

GEORGIA
FEATURED

PAST ESTATE SALES IN GEORGIA
1400 Wesley Oaks Court, Atlanta, GA, 30327
This online auction features china, dinnerware, tea service, liqueur glass collection, cocktail glass collection, cake pans, Imari dinnerware, tablecloths, elephant base end table, brass floor lamp, folding table and chairs, carved Chinese door, books, bar stools, sterling silver cigar holder and sugar bowl, sterling silver jewelry, quartz bookends, brass mantel clock and more!
230 W Village Drive, Woodstock, GA, 30188
This online auction features furniture such as a sofa, table, wicker chairs, table and chairs, wood stool, trunk, game table, rustic china cabinet, metal file cabinet, director's chairs, faux wicker chairs, art chair and more, linens, ceiling fan, art, garment racks, fabric, china, ballet bar, silver, clock, guitar and violin, rug, art prints, fireplace screen, air cleaners, heater, hammock, garden tools, art supplies and more!
3073 Moss Stone Lane Southwest, Marietta, GA, 30064
This online auction features Tiffany and Co. clock, Metal folding table, table, Wooden Rocking Horse, South African recliner chair, art, Privacy Screen, prints, solid maple dresser and much more!
Previous
Next
CUSTOMER

REVIEWS FOR MAXSOLD
The Homeowner had everything taken care of and disposed of the items she didn't want to move with no effort on her part. The MaxSold people were careful with the merchandise and were ensuring the house was kept clean and undamaged. The online auction was clear and easy to use, everything was photographed and labelled well with concise descriptions of each item. When i arrived to pick-up what I had purchased the pieces were together and ready for me to move. This is a very nice service to use both for selling and buying.
Always great deals and friendly service at pick up.
Michelle Gilyard
Snellville
The MaxSold team members on site were friendly, prepared, and professional. Some of the Lots could have been better organized / described but overall a pleasant experience.
I have been witness to both ends . Selling - the amount of work and experience put into the organization of these sales
Mary Beth Reeves
Norcross
It's easy, quick, and cheap.
Very easy. Bid and forget. Worked well for me as I won what I wanted at 2/3 the cost I was willing to spend.
The people were organized, pleasant, helpful and efficient.
Linda Bowles
John's Creek
Very courteous helpful staff, organized well, easy to follow bids.
Great site for antiques and resale
Previous
Next