2017 was a fantastic year at MaxSold, and our greatest yet. We held well over 4000 auctions this year, and take great pride in our ability to sell everything for our clients transparently, profitably, and quickly.
Like every year, there are certain items that really stand out and make us say, "wow". MaxSold is pleased to bring you our 2017 yearly highlights!.
Let's make 2018 even greater! Happy New Year!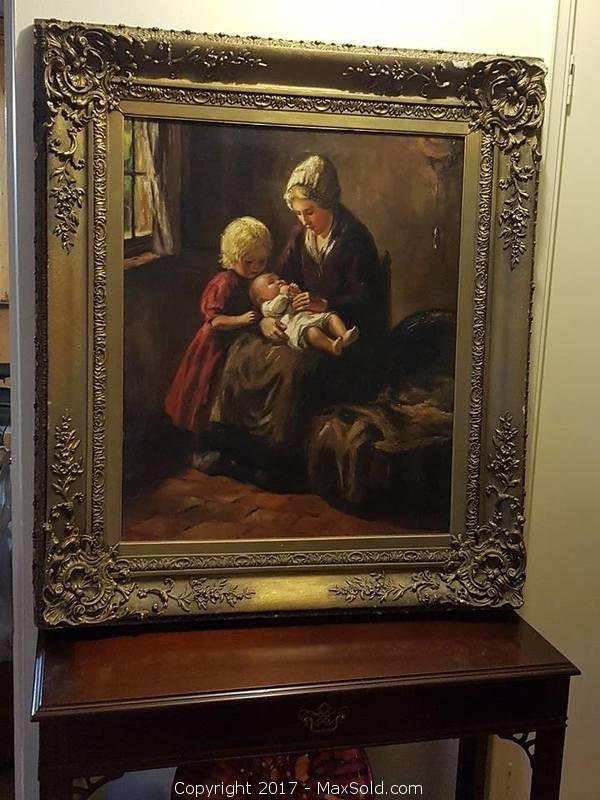 <Very large original oil painting signed Pothast. May be Bernard Pothast but cannot confirm. Purchased at auction; has not been taken in for appraisal or authentication. Appears to be quite old. Frame shows some damage and wear. Painting is 25" x 30". Frame is 36" x 41.5".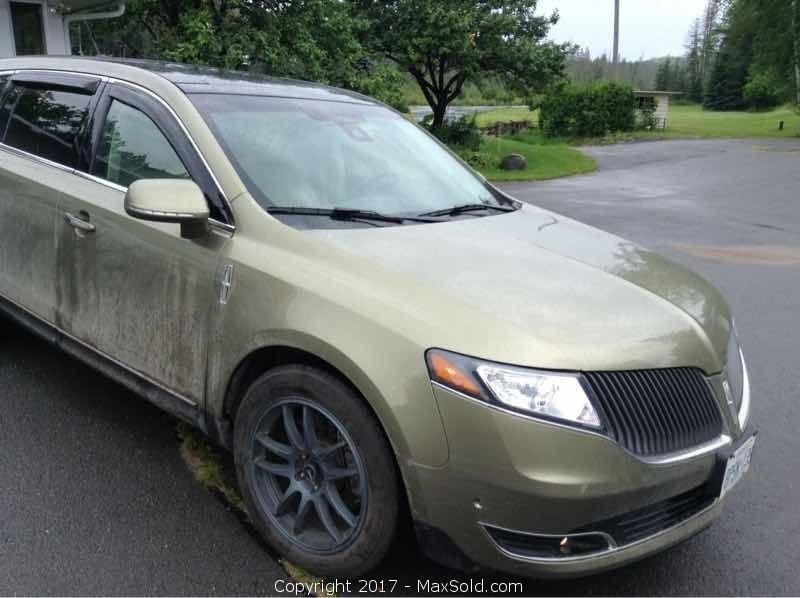 25,771 km Safety completed. 4 door, leather interior with heated and a/c seats, digital climate control/audio centre, smart key stored inside. 3.5L V6 DOHC 24V TURBO, back up camera, AWD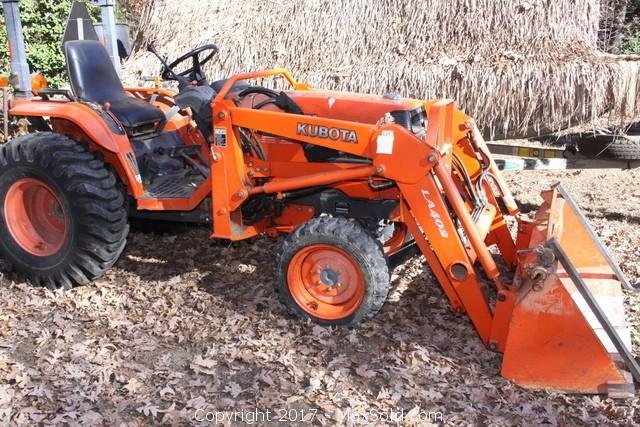 Tractor has 302hrs comes with LA402 front loader Woods RB60 rear Blade . Serial number 63547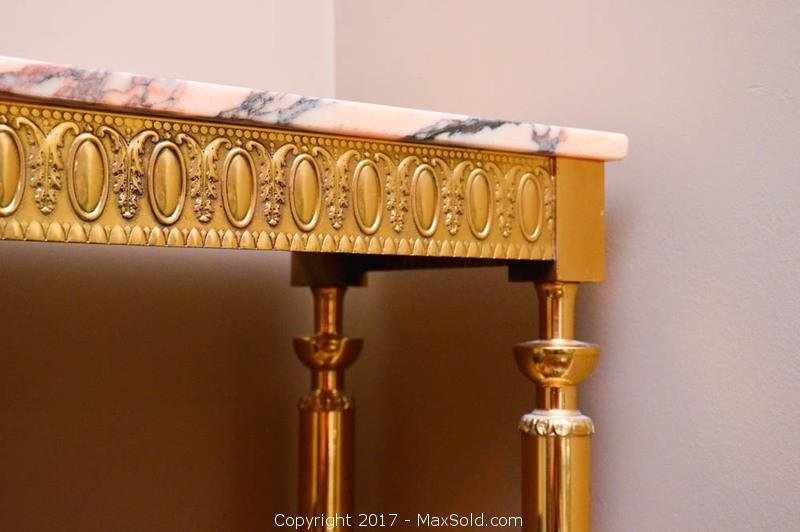 Marble topped pink brass bottom 69X14X34. Matches 866. Shades not included.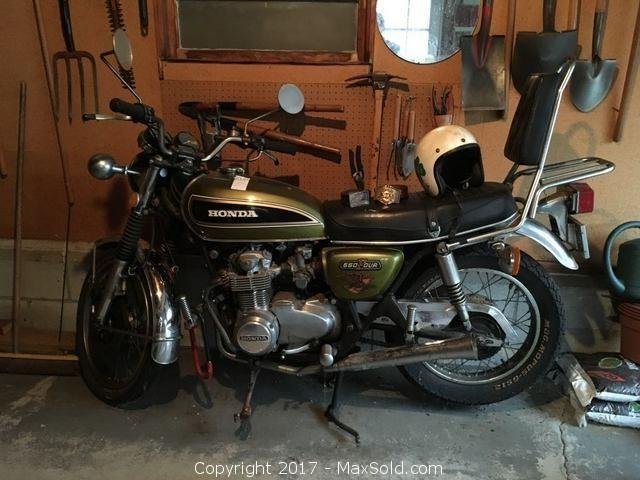 Green 1975 Honda 550 motorcycle with title and 14,565 miles. Needs work. Untested. Some wear. Bring trailer or truck to haul and help to remove. Note: Helmet has not been verified to conform to current safety standards and regulations. Come to pick up at Category C time slot.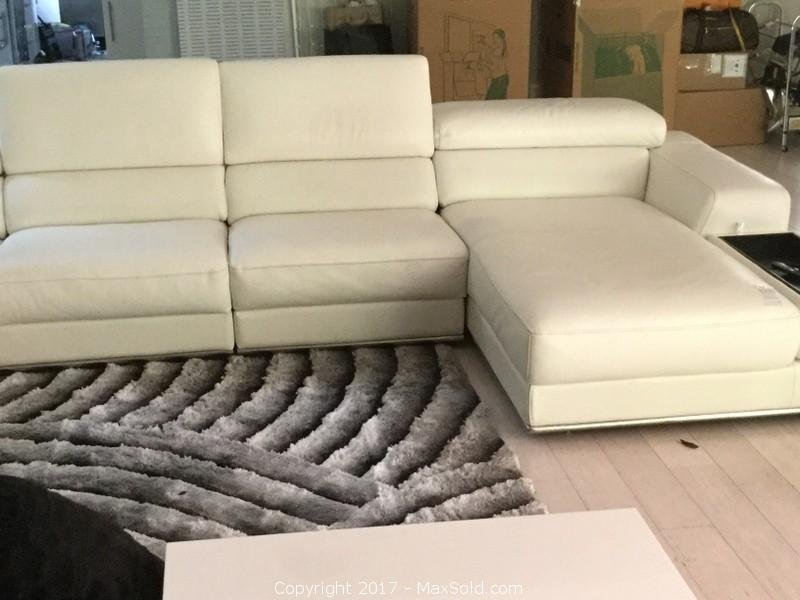 2 seat 78X42X27.5 corner 28X28 singles 32X42X27 lounge 44X77X27. White clean leather sectional sleek and modern with chrome accents along base.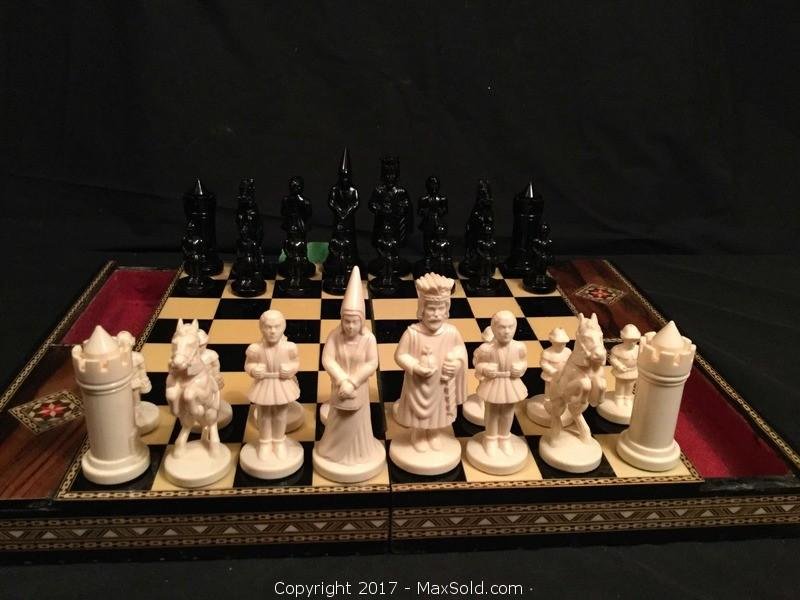 Chess set in original box. Chess board comes from the other set. See pictures for details.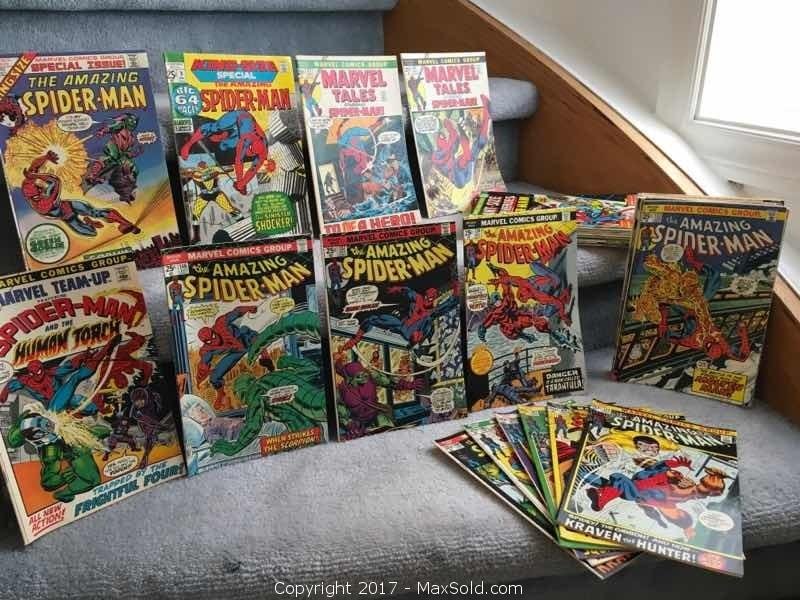 36 comics in total for this lot- 5 different series. The Amazing Spider-Man has 23 issues in total. Issue #'s 103-107, 109, 111, 115, 116, 118, 119, 121-124, 127, 128, 130, 131, 133, 134, 137, 146. Key issue #'s 119, 121, 122 and 134. The Amazing Spider-man King Size issues x 2. Spider-man-Marvel Team Up issues x 6. Spider-man Giant size Super Heroes issues x 2, Spider-man-Marvel Tales issues x 3. Good condition.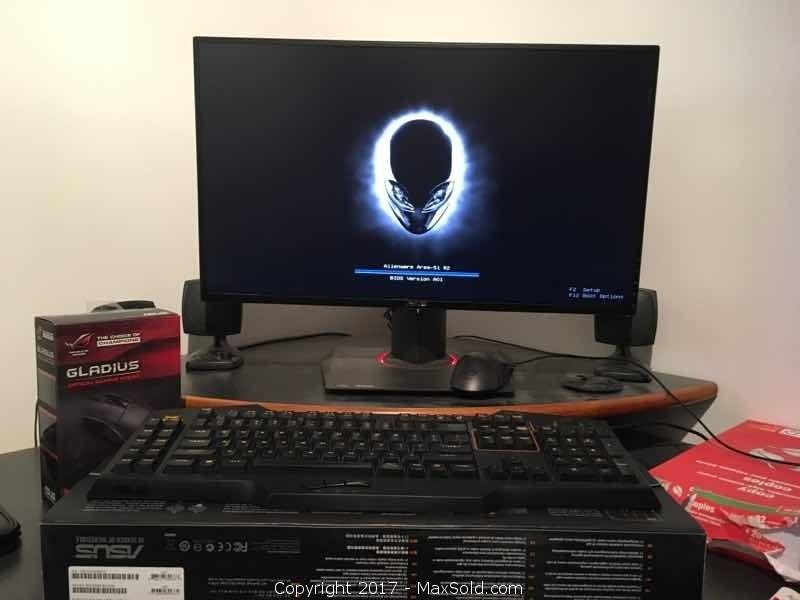 Dell Alienware Area 51 gaming computer including 27" monitor, Gladius Pro programing mouse, Asus Strix Tactic pro keyboard. Saitek X-55Rhino HOTAS flight stick and throttle. Lot includes box of miscellaneous computer games, cords etc. Note items located on second floor. Bring boxes to pack.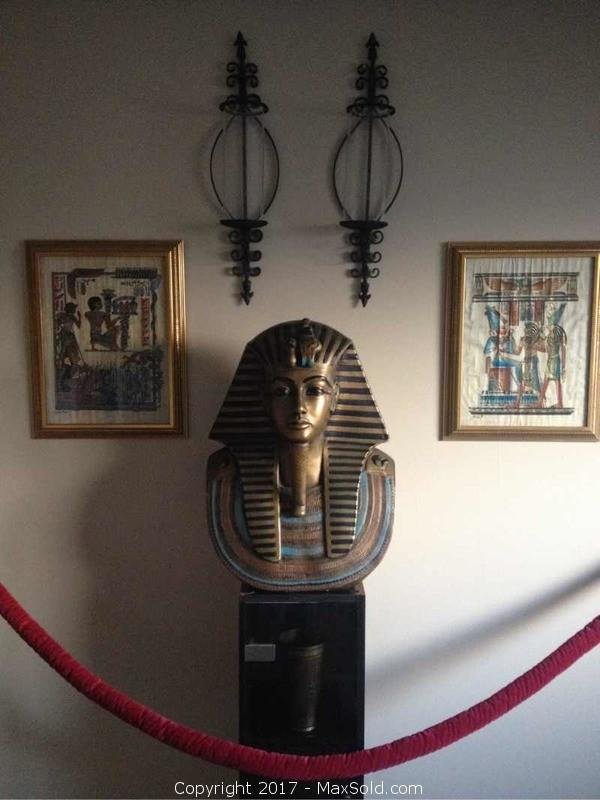 All items you see are included in this King Tut life-size bust museum like display, all apart of bidding. The focal point king tut mask bust was created by Limoges Creations Ltd in Brooklyn, NY. One life size bust of king tut was created for each of the 50 Birks Jewellers stores as a promotional item for an upcoming Egyptian exhibit to be held at the Art Gallery of Ontario in 1979/80. Their is the Limoges creations signature stamp on the bust. Also comes the original tag when purchased. The life-size bust is in excellent condition, needing only a slight dusting. Made of hard like mache? resin plaster, Measuring approx 21.5 inches tall & 15 inches across. 2 iron candle holders (23 inches tall) with glass inserts as well as two Egyptian pictures believed to be on papyrus framed are also included. 1 red theatre divider with hooks and the wood shelving base with glass door is all apart of the lot for bidding.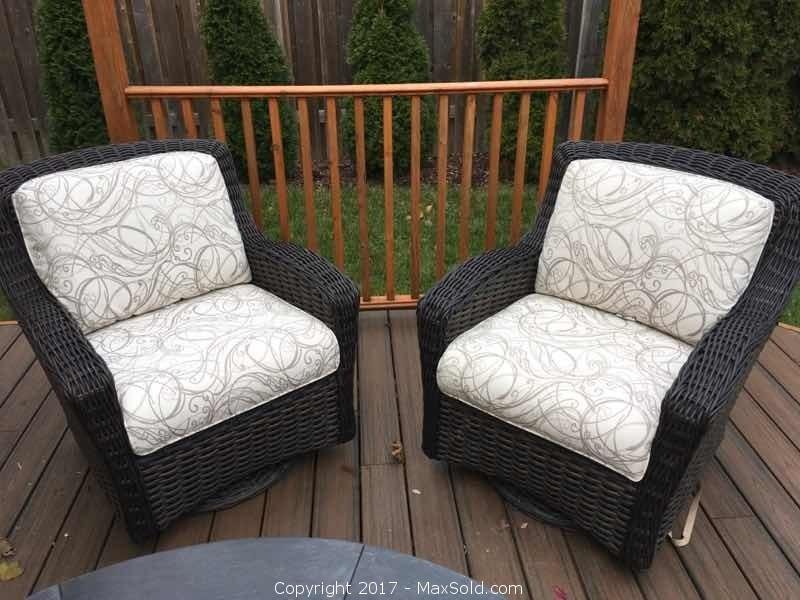 Set of 2 woven resin wicker outdoor club style swivel glider chairs by Ebel furniture. Original purchase price over $1500 EACH as seen in photos. Thick, plush cushions included with protective MISMATCHED covers also included. 34"w x 36"d.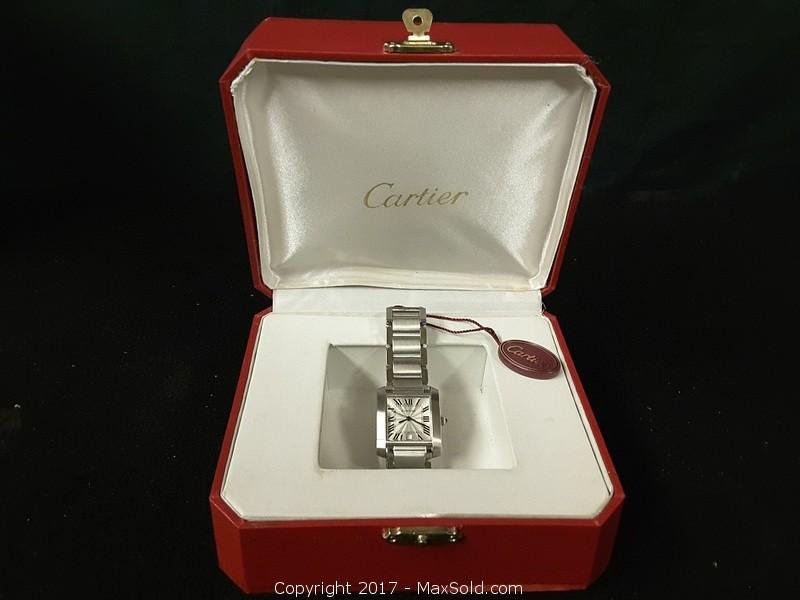 Unisex Cartier watch. Model 2301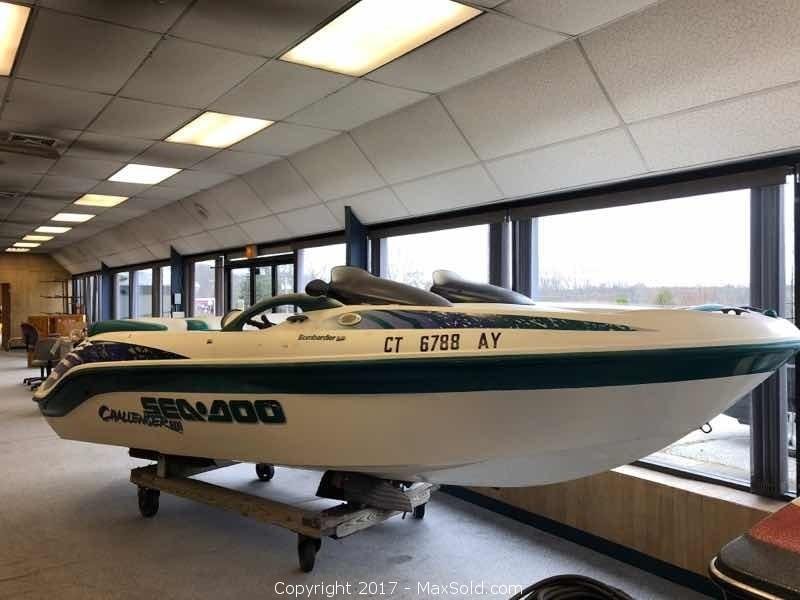 1998 Sea Doo Challenger Boat. White, purple and green. 18ft. Brand new upholstery and 2 new engines. Hull identification number: CECAO415B898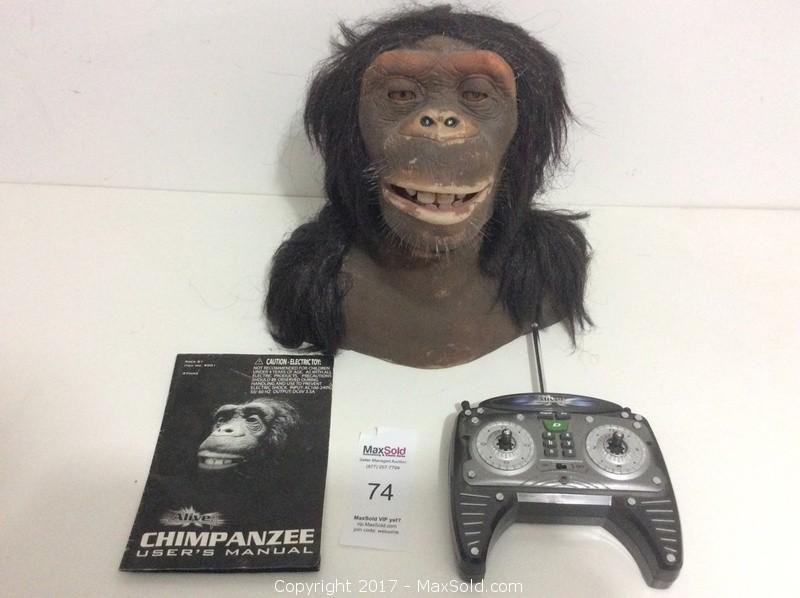 Tested works. Comes with original users manual. Needs new batteries.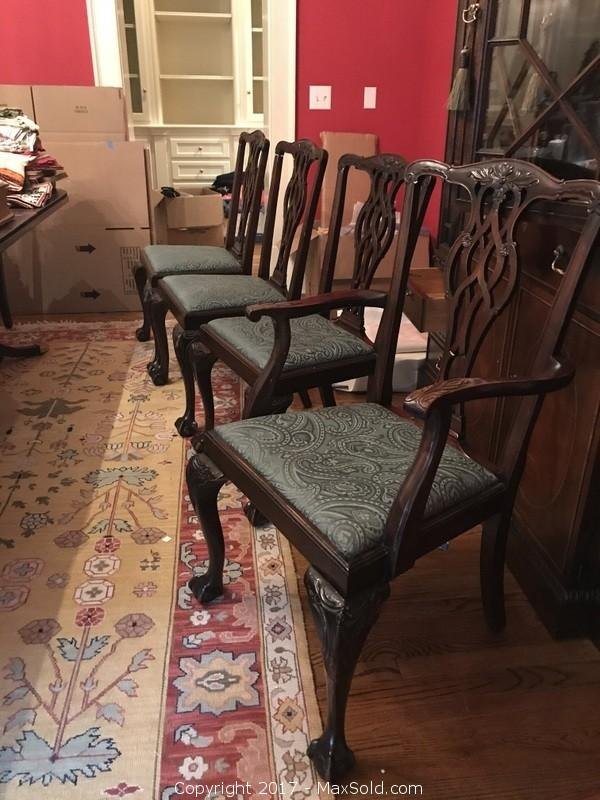 8 carved dining room chairs, some nicks

Evan Sharma's painting depicts a landscape of Peggy's Cove and is entitled ""The World Needs More Canada"". It is a acrylic on canvas, 48 inches horizontal x 40 inches vertical.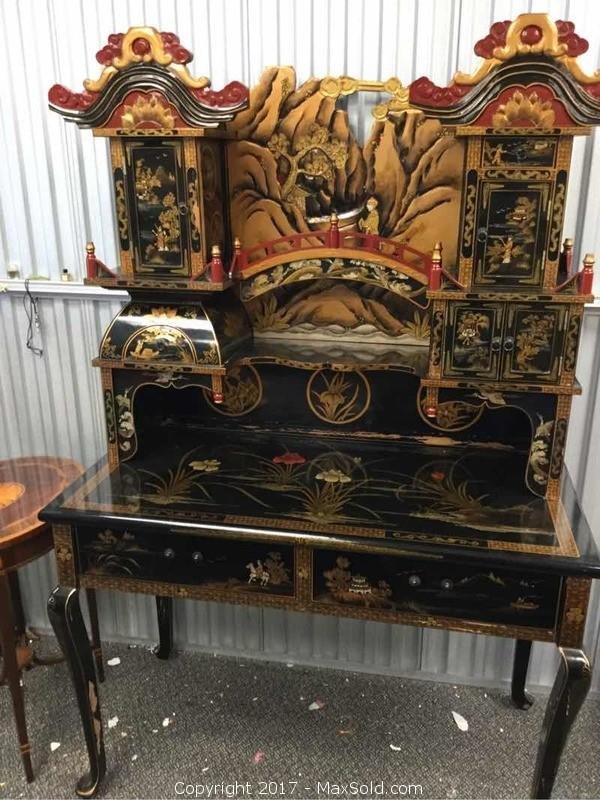 Black Lacquer and handpainted with 2 drawers. Height 72 inches Width 46 inches Depth 25 inches. Note Some damage to lacquer on legs back board and one side. Drawer pulls off but included.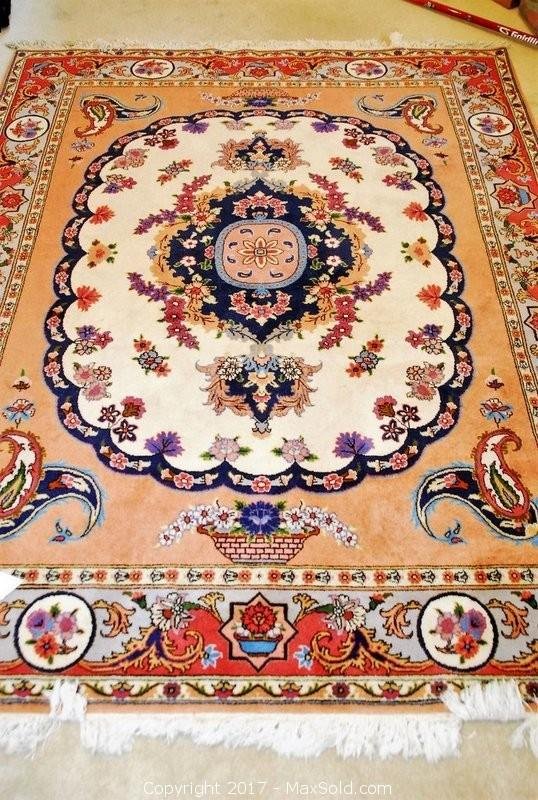 100% wool hand knotted 8'6" x 6'6", Khasmar from Iran, collection piece, natural dyes. 

"Backstage" Tragically Hip Painting by Kingston Artist, Patti Leishman. This acrylic on canvas 48"W X 30"H painting was inspired by a backstage scene of the band just before they went on stage for their final show in Kingston. Based on an image from CBC footage.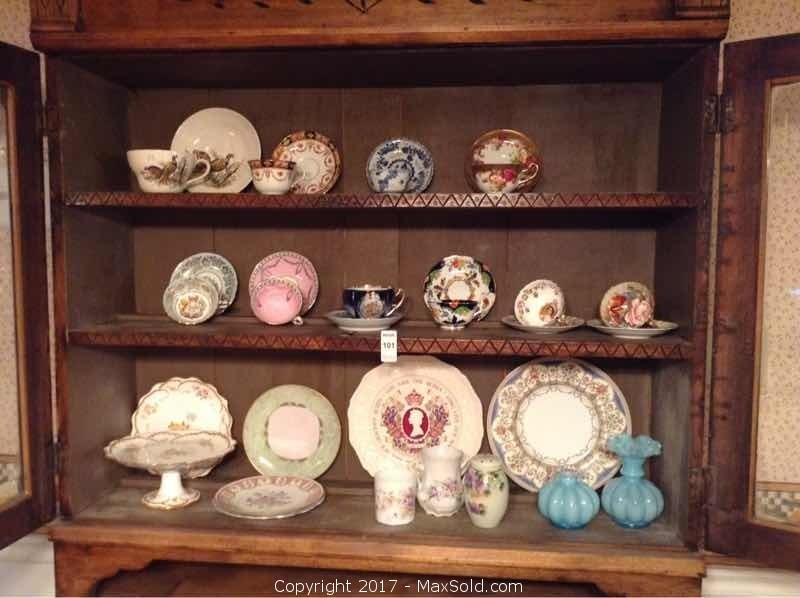 10 cups and saucers (Paragon, Royal Albert, Aynsley, more). Includes china cake plate, collectible blue glass vases with fluted edges, hand painted sugar shaker, serving plates, more.

Antique crib, one wooden spool damaged, no slats 51"x47"x31" Not safety tested for use with children or infants. No mattress or slats, best use for safety reasons would be for re-purposing.
Log Splitter 
Sold on MaxSold for $1425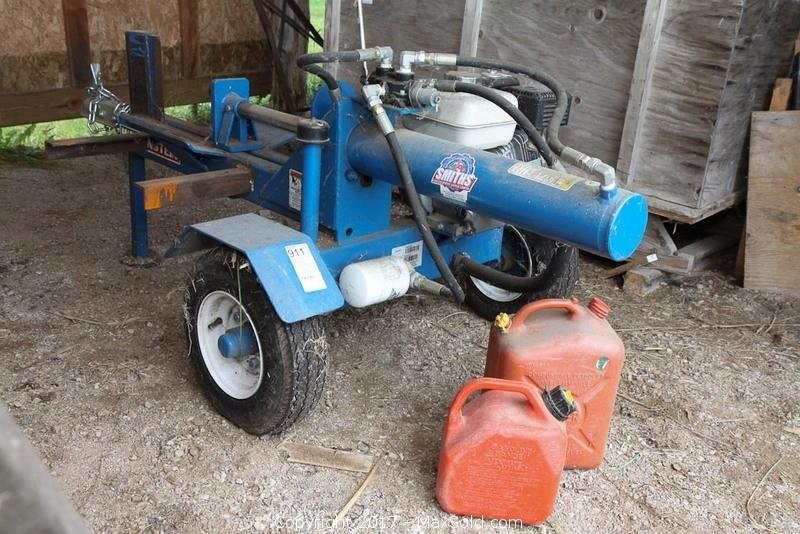 Wallenstein hydraulic log splitter model WX520 with 4.80-8 tires. Honda GX 160 gas engine. Untested. Includes fuel cans.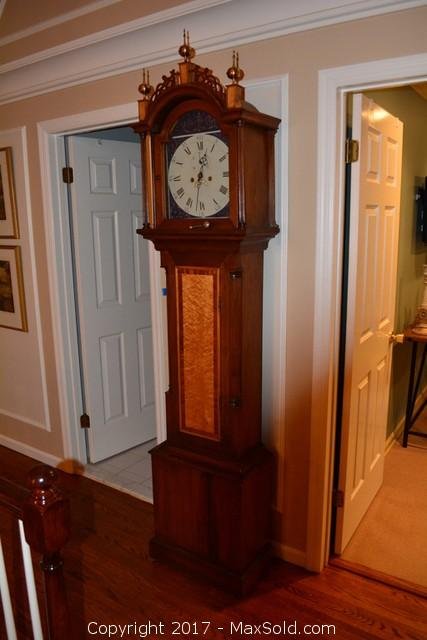 Antique Grandfather Clock, circa 1860-1870. Measures 20X89x11.5. Currently not running. Located on the second floor. Recommend professional moving.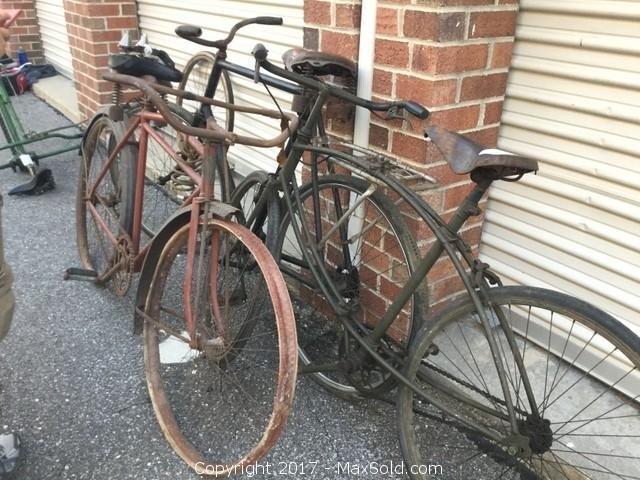 Three vintage bicycles. Some wear, scratches, and rust.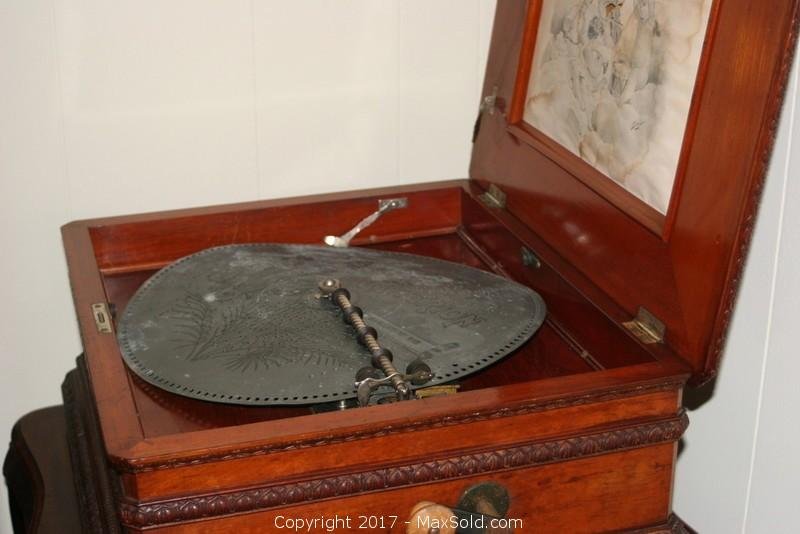 Antique the Criterion Regina music box, 15 1/2" disc, total of 12 discs. Seller states working condition, Table 24X24X30 mahogany.
Le Creuset
Sold on MaxSold for $1307

Assortment of Le Creuset pots and cookware.
Sideboard
Sold on MaxSold for $701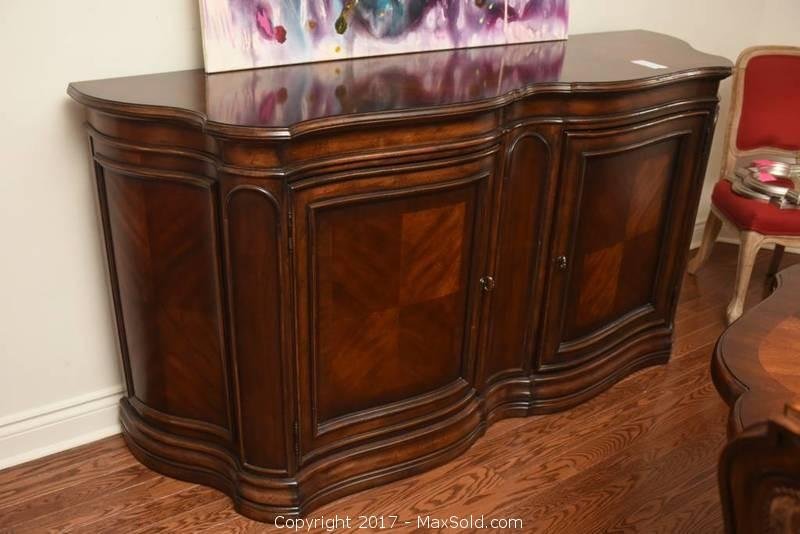 Bernhardt sideboard, two internal drawers, one lined in felt for cutlery. Two lower doors with two shelves per side. Light wear. Heavy bring help.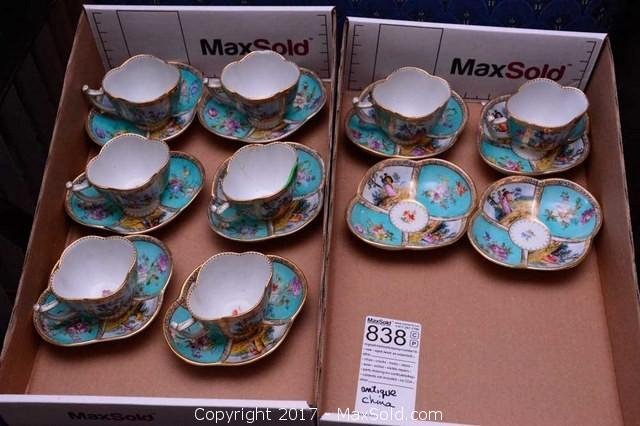 Eight Antique teacups and saucers. Two saucers without cups. Few chips, on cups.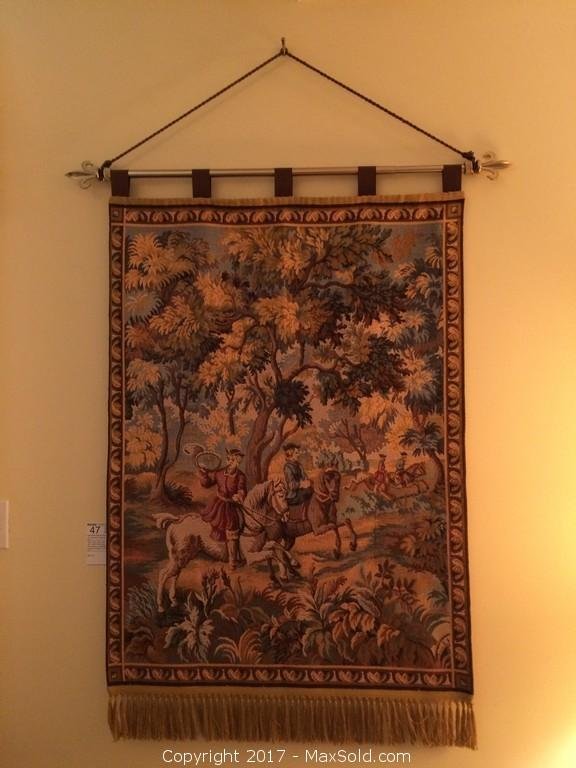 Hanging vintage wall tapestry 32X51. With hanging rod.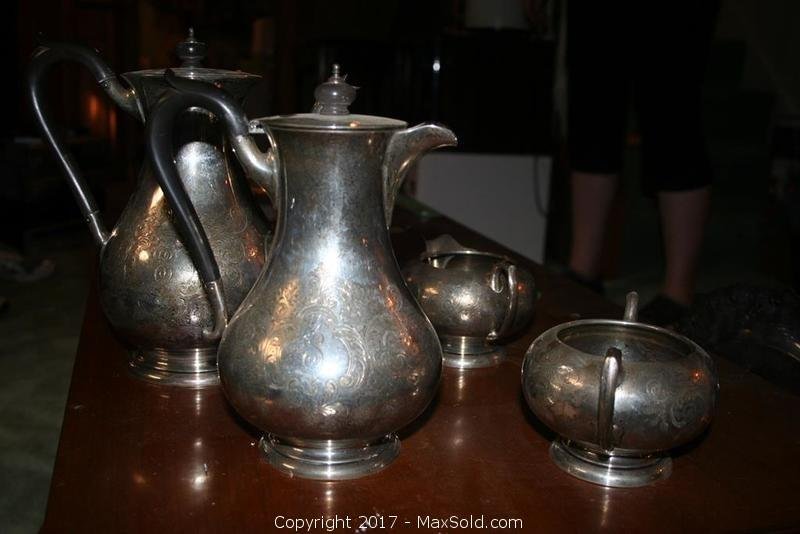 Teapots and more 5 pieces of STERLING in total. Overall good condition, note wear.
Dresser
Sold on MaxSold for $580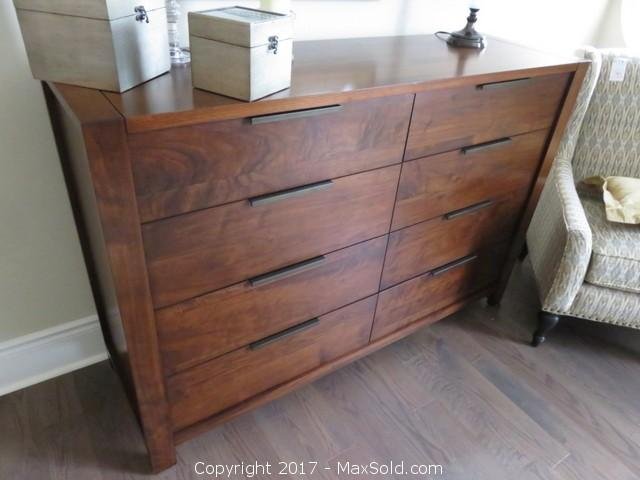 Solid wood dresser with 8 drawers, dovetailed joints, metal handles made by West brothers furniture. Very minor wear. 62X19X40.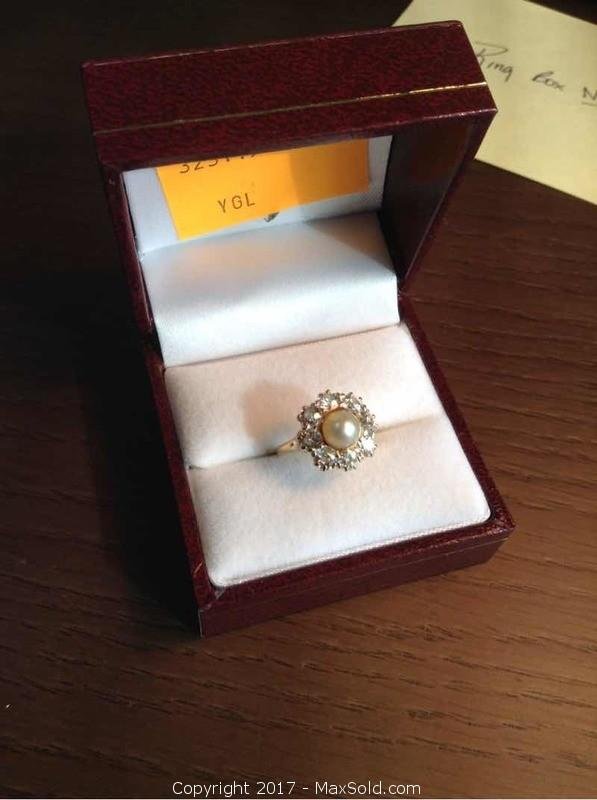 Set with 1 cultured half pearl and 8 Old European cut diamonds est 0.19 ct ea., Pearls are cream colour with cream overtone, diamonds provisional colour I-J clarity SI. set in 18 kt gold. Est Weigh 3.05 grams Size 5. Est.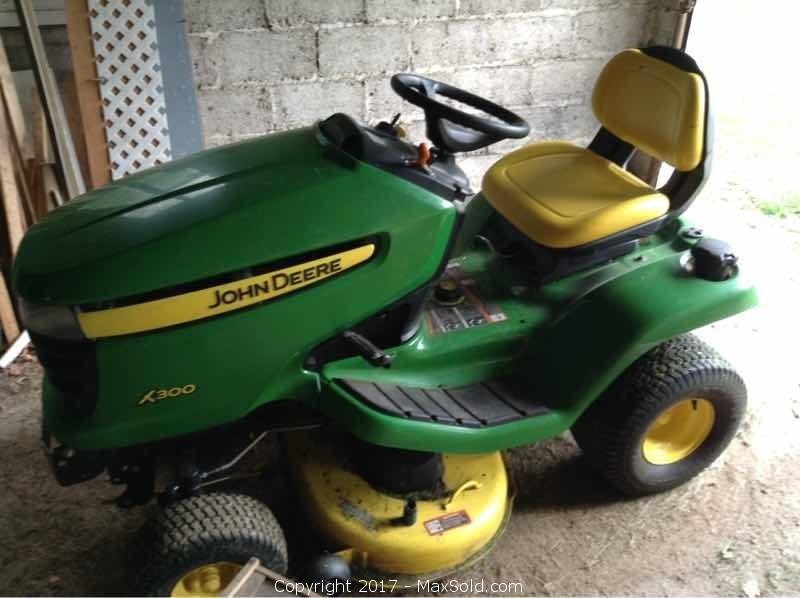 40" cut X300 untested looks like in good condition needs battery boosted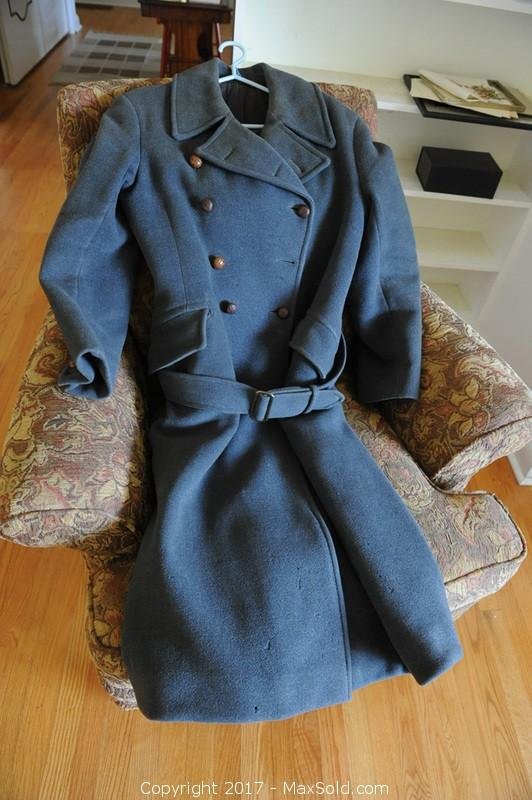 Authentic and original Royal Air Force great coat, full dress jacket with pants, and battle dress jacket. Forage cap and officer???s cap. Pins for the volunteer reserve. Uniforms recently cleaned, in good condition with age wear.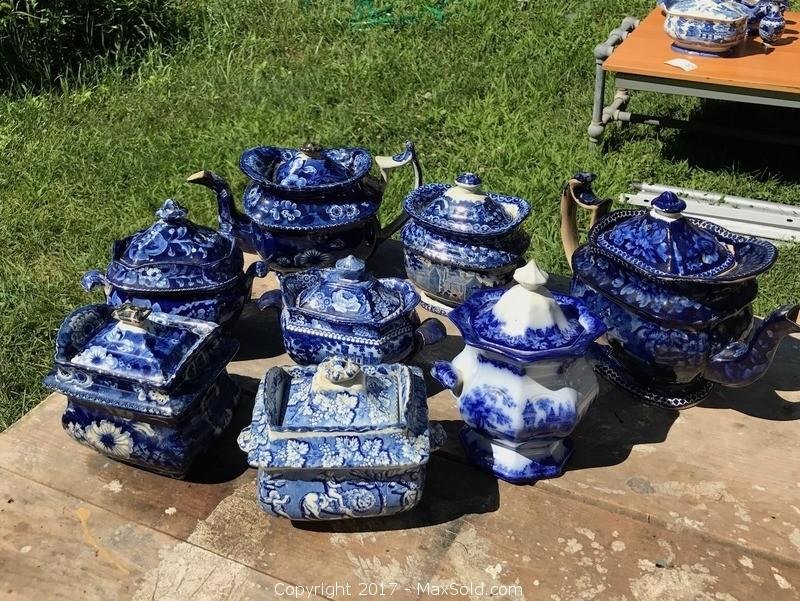 8 Pieces total, some have wear and chips.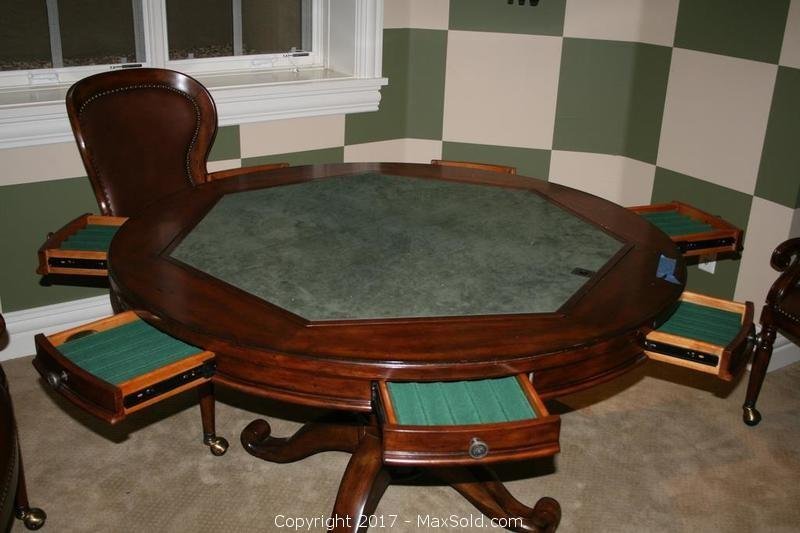 Wood round pedestal table with flip top poker felted side, measures 54X54X30 and located in basement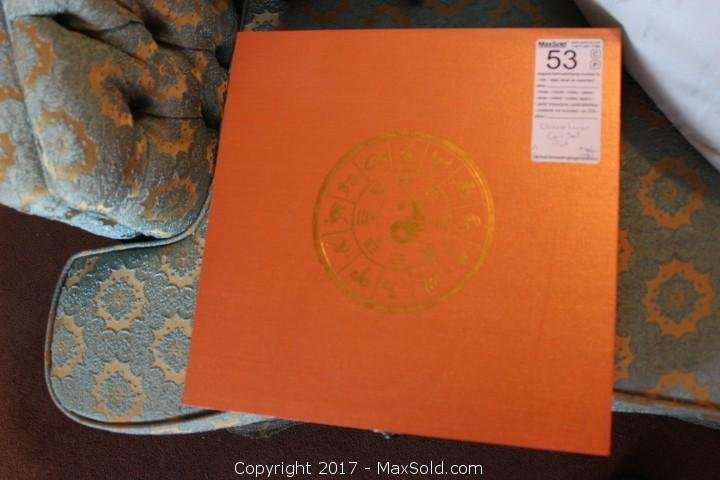 Chinese Lunar Calendar Medallion Set from the Royal Canadian Mint Proof coin set in wooden display box. Centre round medallion and 12 fan shaped medallions depicting the animal signs in the Chinese lunar calendar are 24k gold-plated copper. Each medallion retailed for 15.95 each. 8,888 sets worldwide.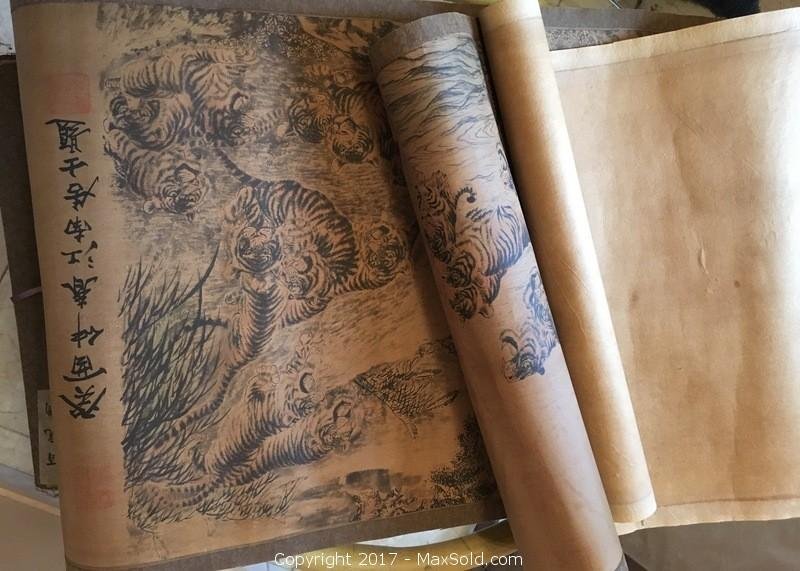 100 Tigers? Chinese tiger tapestry scroll painting on silk? Measure approx.: height 18 x length 164 inches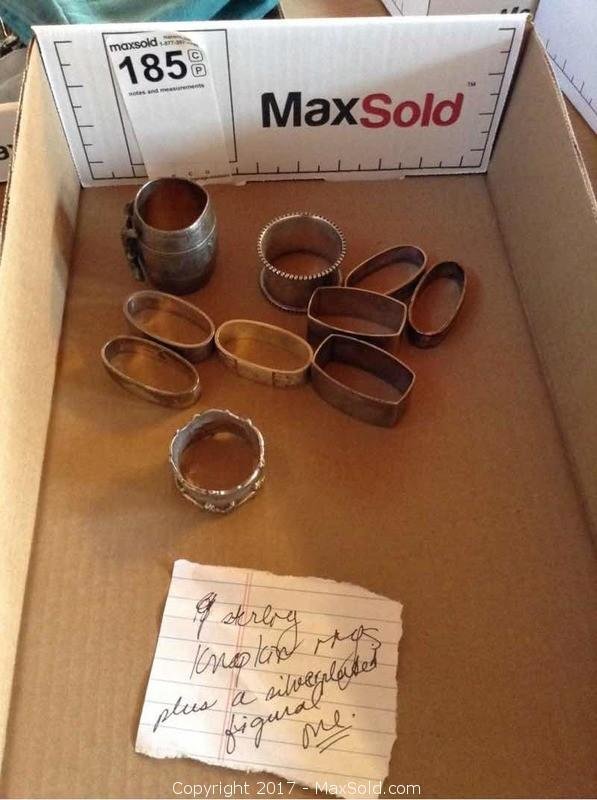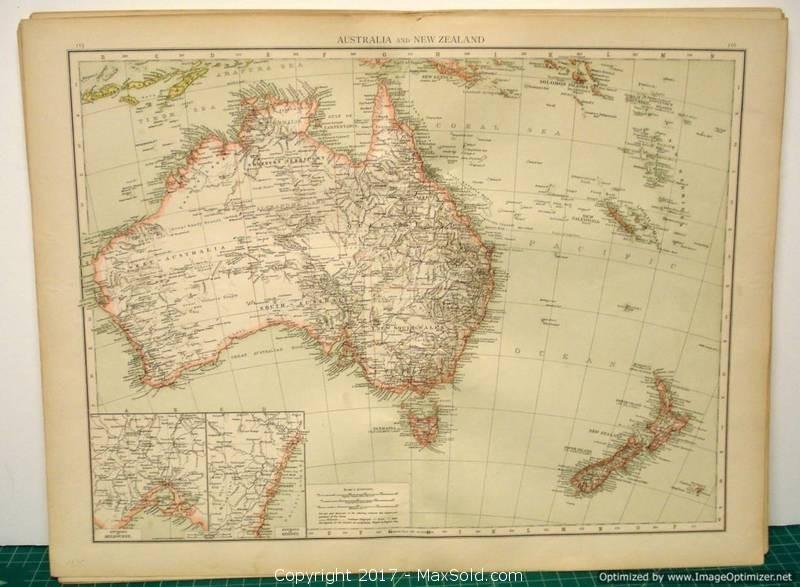 Colour maps published in 1895. 16 1/2" x 22" with a single vertical fold at centre, as published. Fine condition.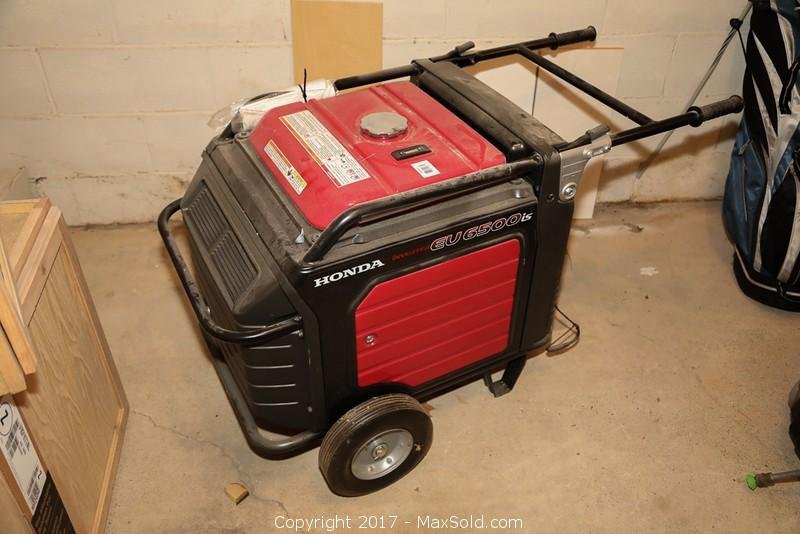 Honda generator model inverter EU6500is. Untested. Seller states never used.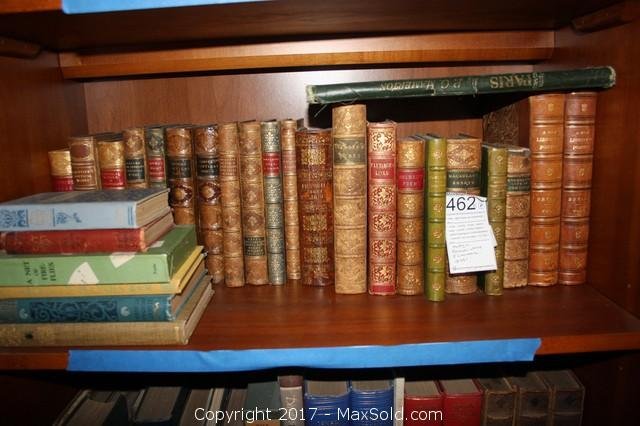 Literary works including books on poetry, essays and philosophers. Condition of books is commensurate of their age. Wear is to be expected.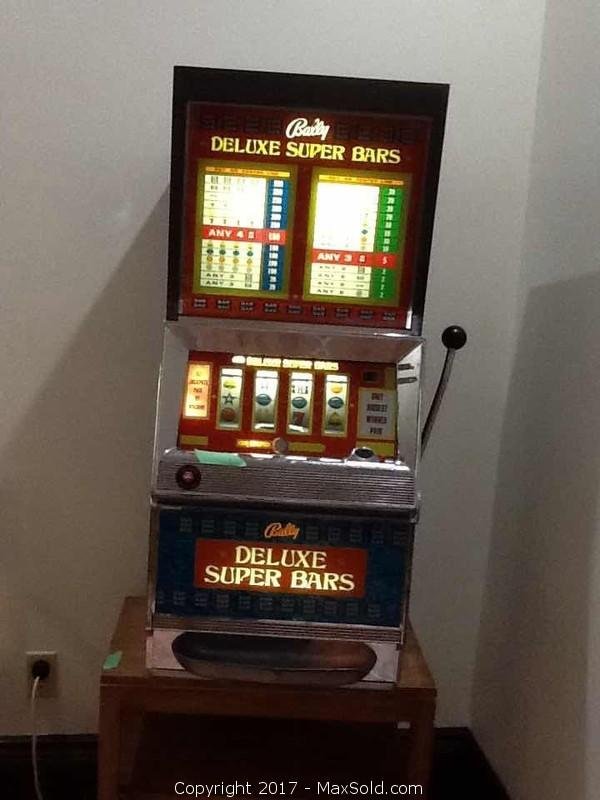 Bally slot machine game, in working condition. Includes table shown in picture.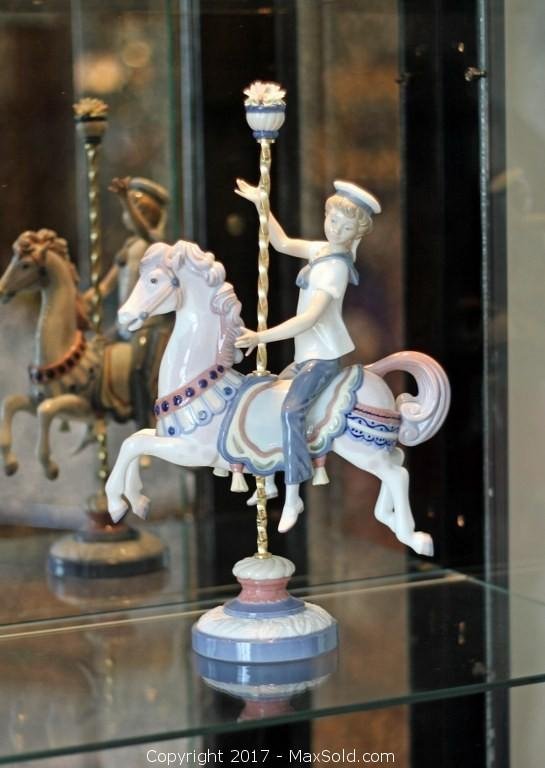 Lladro #1470, "Boy On Carousel Horse" Retired. In excellent condition.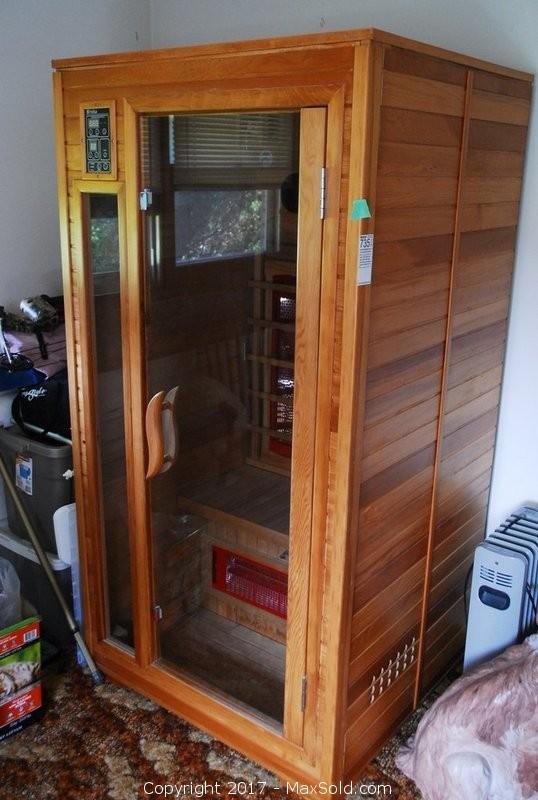 Model 2SOU003NAH, made for indoor use, 38X35X73.5. Comes apart in sections, in working order.
Large Anvil
Sold on MaxSold for $410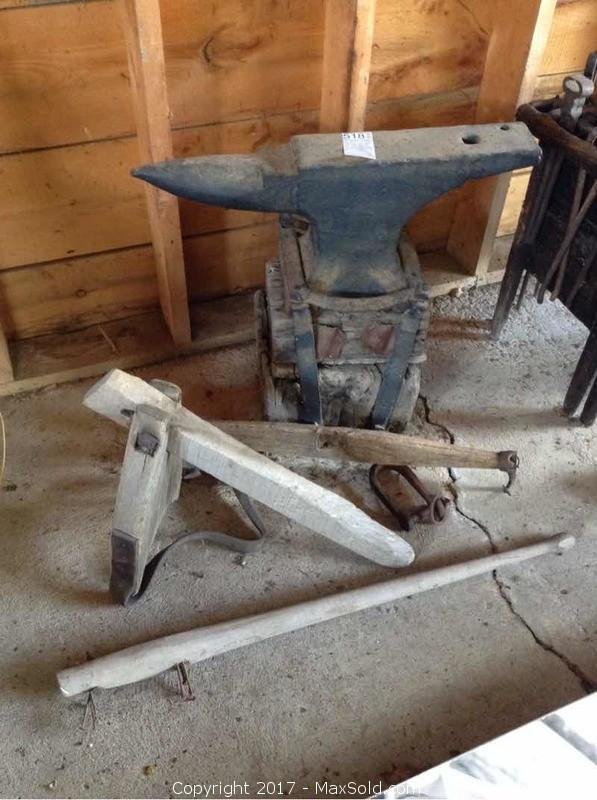 Very heavy bring help And saddle making tool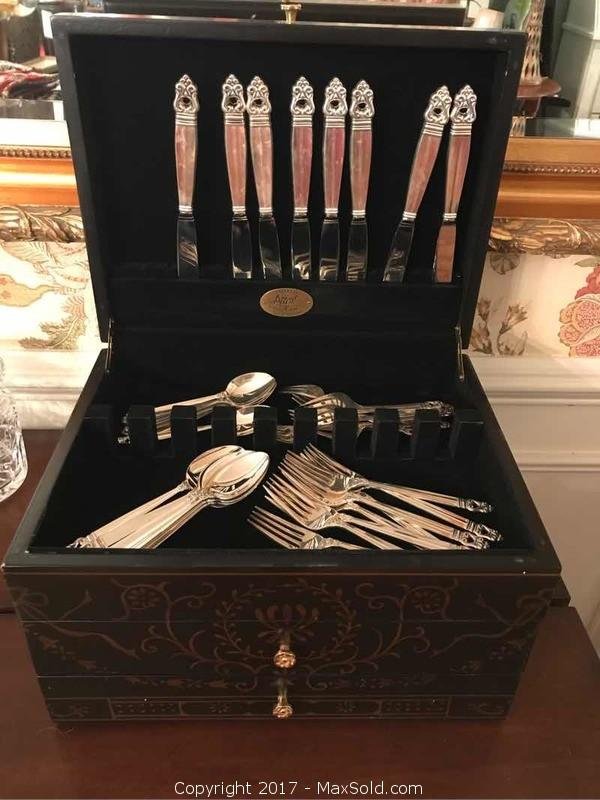 Royal Danish International Sterling silver flatware, service for 8 plus assorted serving pieces, 50 pcs., made in USA. Estate silver in excellent condition. Comes in Oriental Accent tarnish resistant storage chest.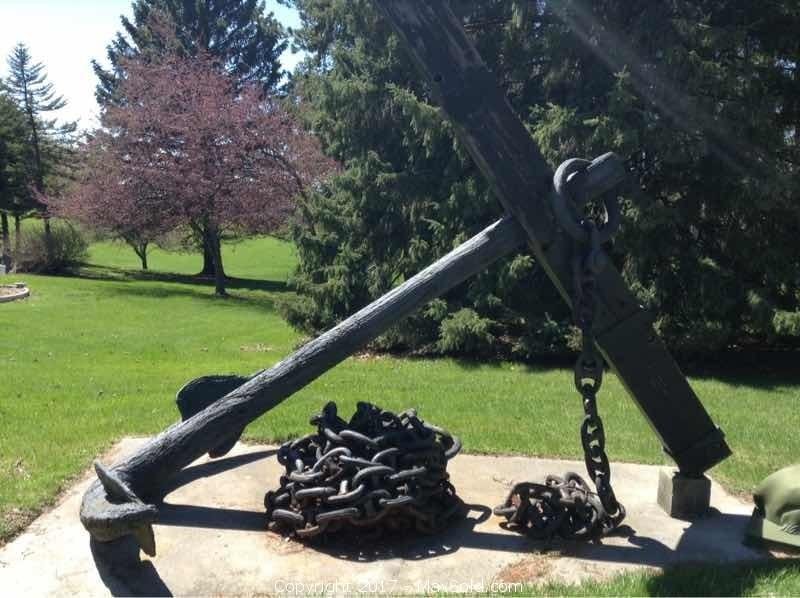 10 ft. Span. 10 ft. long. Complete specs shown in note in photographs, as well as its history. Requires industrial strength removal by crane. Extremely heavy.
Legos
Sold on MaxSold for $436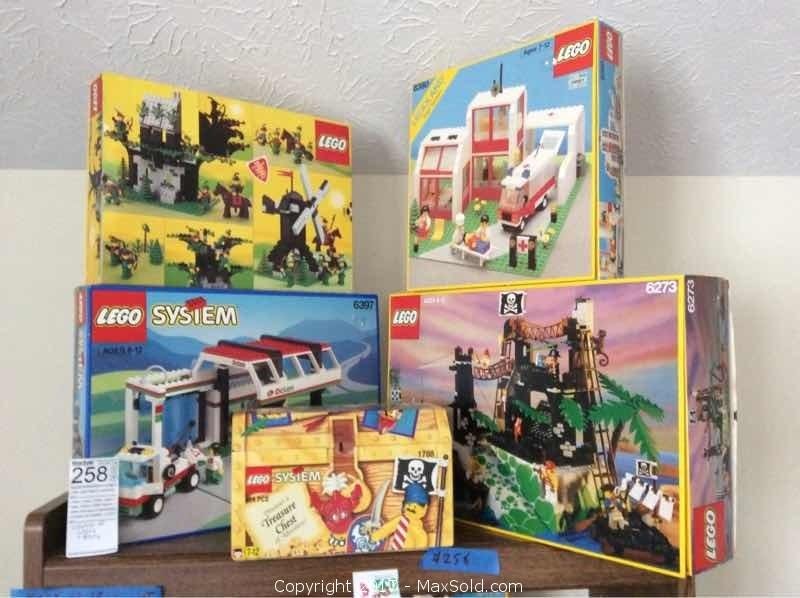 Five Lego sets to include gas station, treasure chest and more.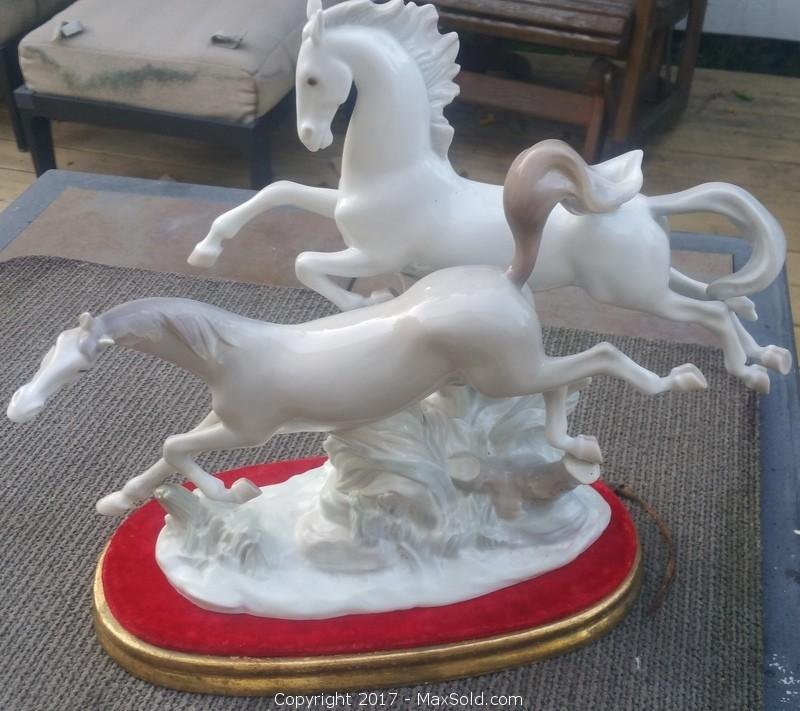 Lladro "Horses Galloping" Porcelain Figurine By Vincent Martinez c.1979 Retired measuring approximately 11 1/2″T x 15″L x 6″D. This dynamic Lladro figurine designed by Vincent Martinez, features two beautiful stallions galloping, was first issued in 1970, and retired in 2001.
Grill
Sold on MaxSold for $339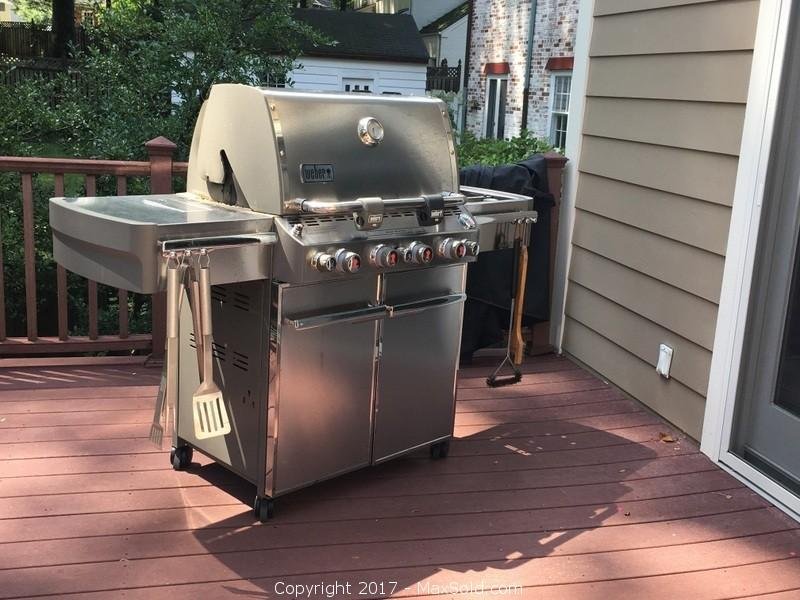 Weber Summit S-470 with side burner stainless steel grill: 67x28x52. Has rotisserie and infrared heating components. Aged, wear as expected. Untested. Includes cover. Good working condition. Heavy, bring help for removal.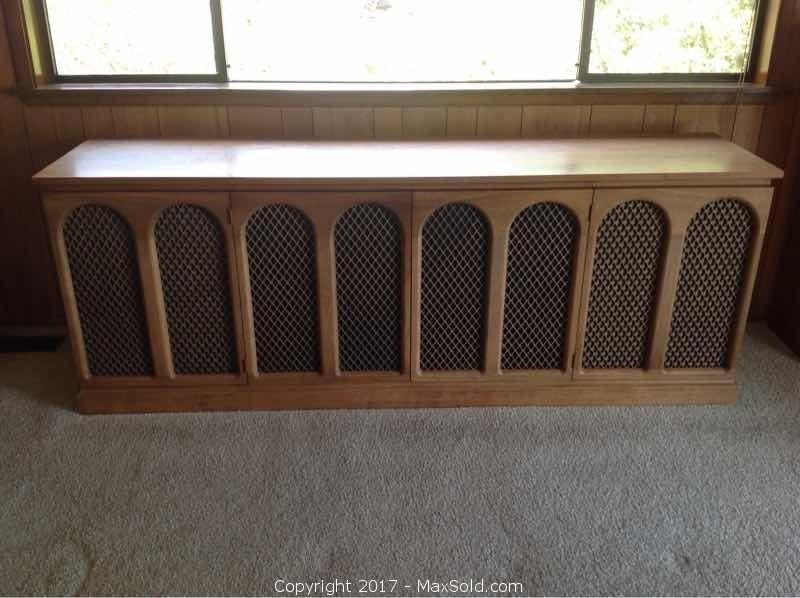 Barzilay record player and storage cabinet with speakers. Minor scratches on top and minor damage in first panel wood. Includes AR3 acoustic suspension loudspeakers and turntable, Realistic STA-870 AM-FM stereo receiver and Realistic CD-1700 compass digital audio player. Everything works! Cabinet is walnut. Barzilay is a sought after manufacturer of MCM American-made furniture from California. The company closed when Ira Barzilay retired in the 1980's.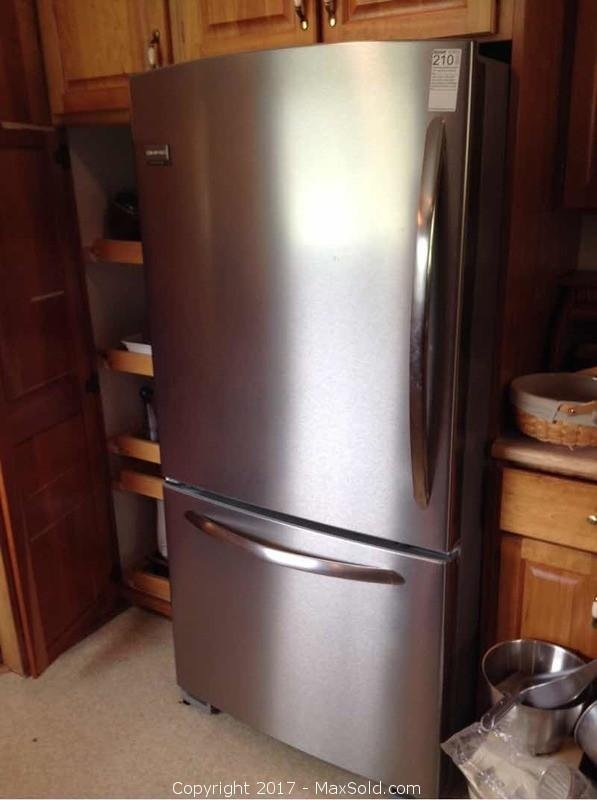 Model FG212334NR serial number 1A22100612. Manufactured 05/12.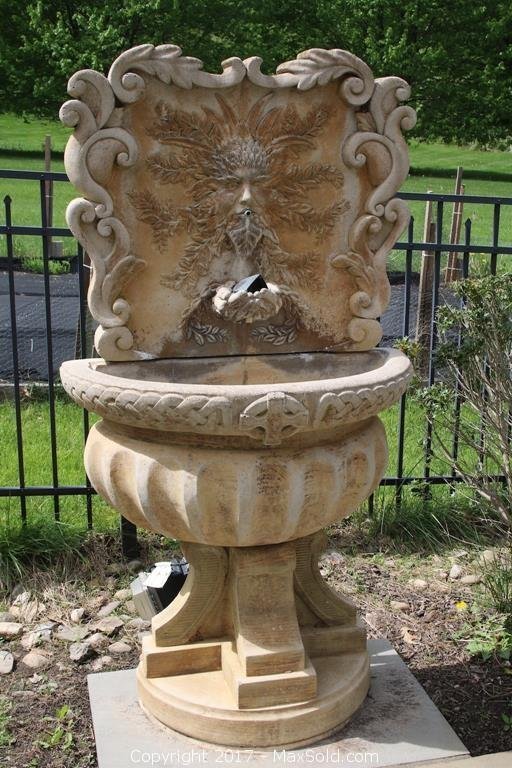 Fountain with leafman face. Comes with hook ups. Untested. 36X18.5X64.
Model Ship
Sold on MaxSold for $310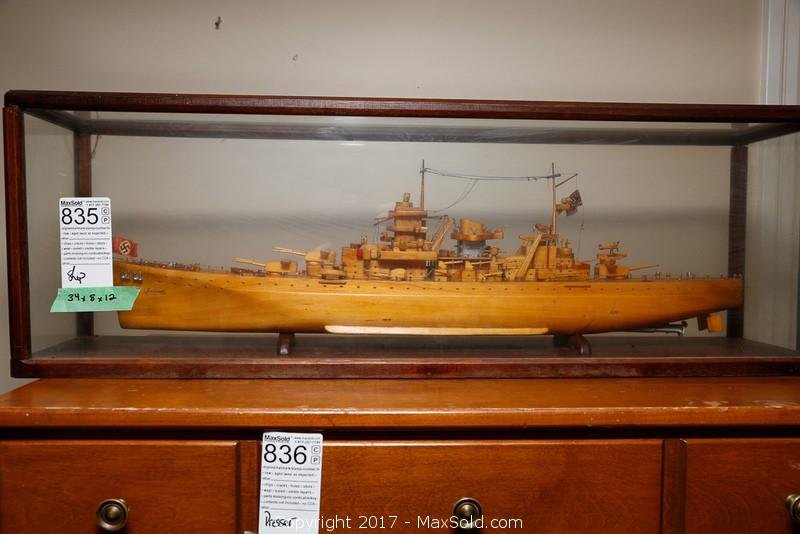 Model of the Bismark. Seller says made by a Prisoner of War for grandfather who served in WWI and WWII. 34X8X12. In basement.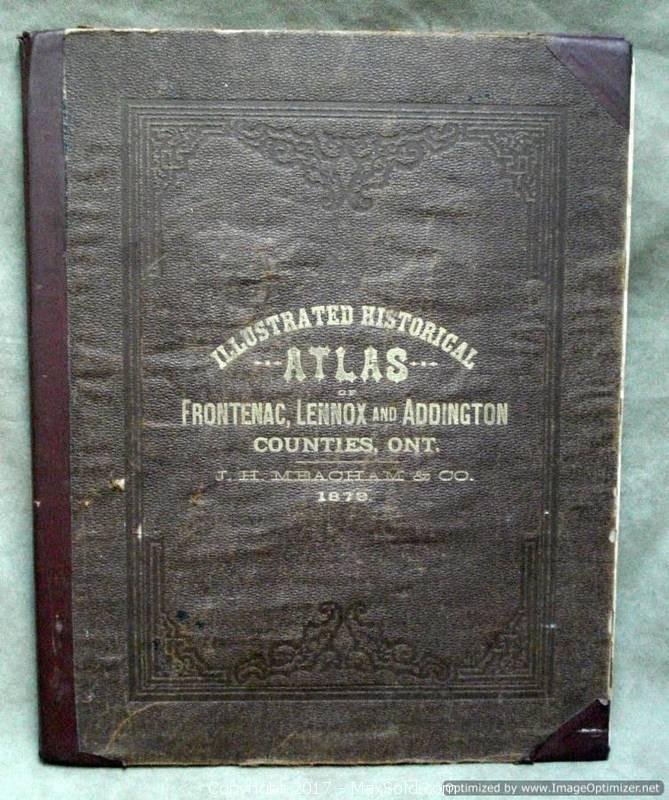 In brown boards with gilt title to upper board. Title page, Table of Contents, "Historical Sketch of the Counties of Frontenac, Lennox, and Addington [5-19] including hand-tinted Dominion of Canada Eastern Sheet map [12-13] and Western Sheet map [16-17], maps, architectural views, and portraits of prominent citizens [20-97], Patron's Directory [98-108]. Nearly all maps in near fine to fine condition, with a few scattered stains and small tears. Fold-out map of Camden torn and taped on back. Title page and last page of Patron's Directory badly damaged.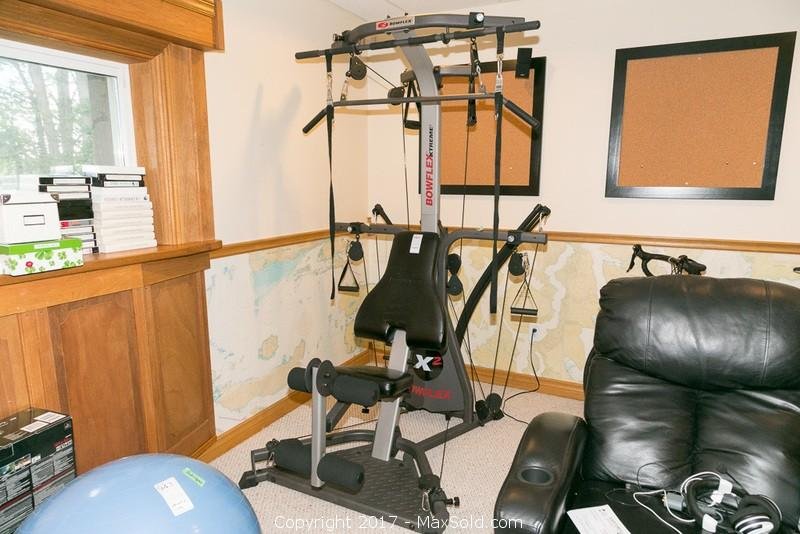 Bowflex Xtreme 2 workout system.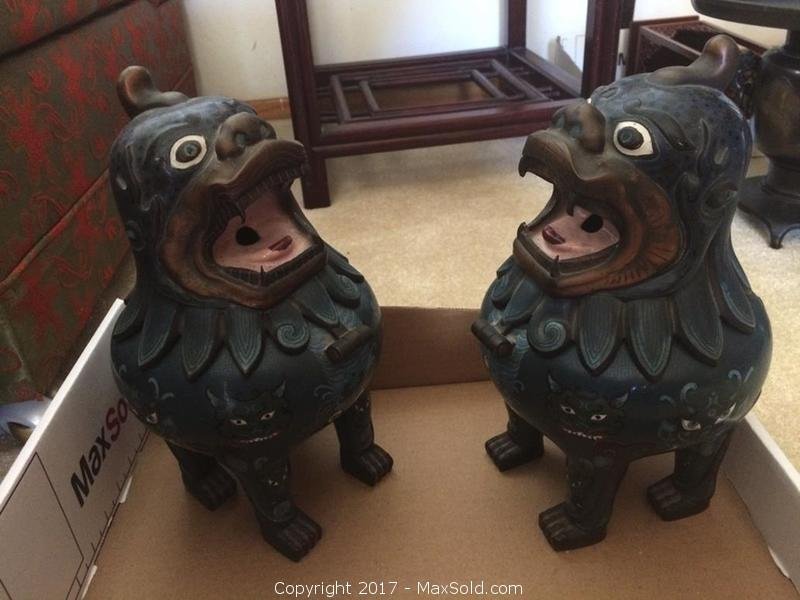 Set of two cloisonne dragon incense burners. Head opens up as a lid.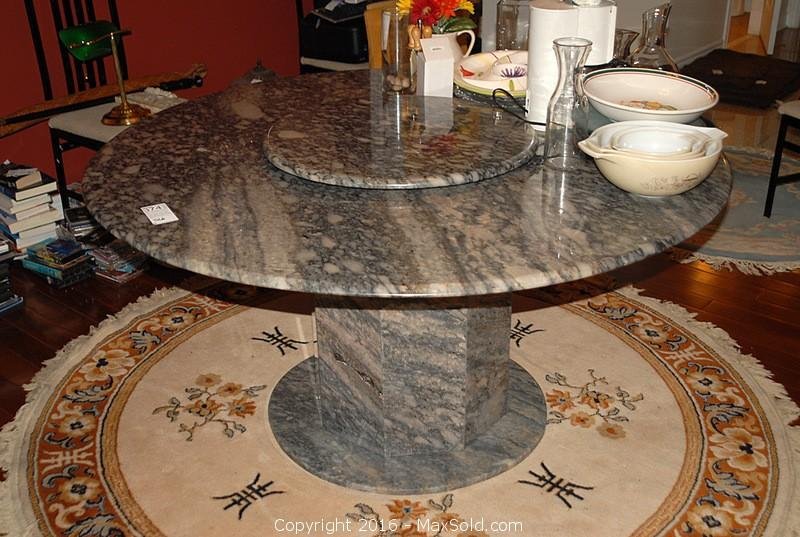 Marble table 60X60X29 with lazy Susan. Seller says takes 3 or more people to move. Heavy. Note wear.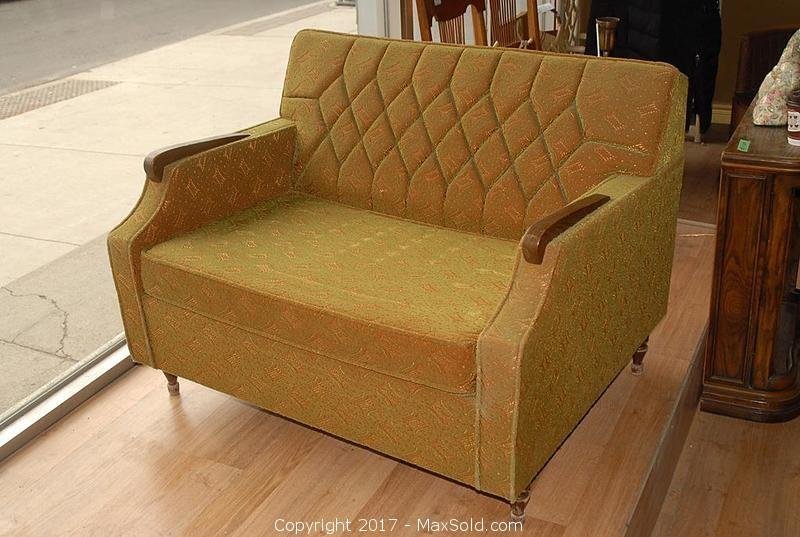 Mid Century pullout loveseat finished in aurene coloured green material in very good condition. 39X33X28. Note wear. Mattress not included.


Milli Fiori
Sold on MaxSold for $411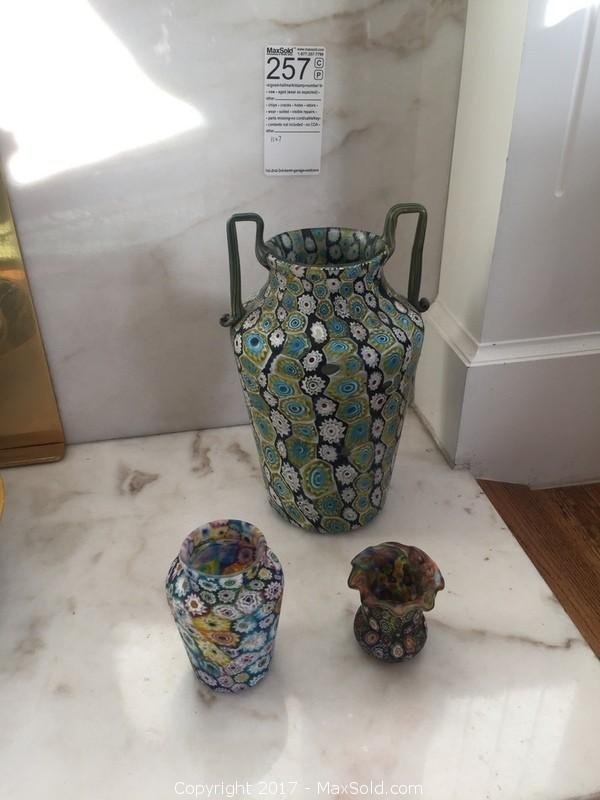 Milli fiori glass vases – no chips or cracks.