Redecorate your home or business with retro flare. Retro and vintage furniture and decor make quirky, fun updates to a room, office, restaurant, or bar. Paying high prices at antique dealers is an option. Or, keep an eye open for local estate, moving, and downsizing auctions. (MaxSold makes that easy. We'll alert you to the best auctions in your local area!) One person's old and tired furniture is another person's new look.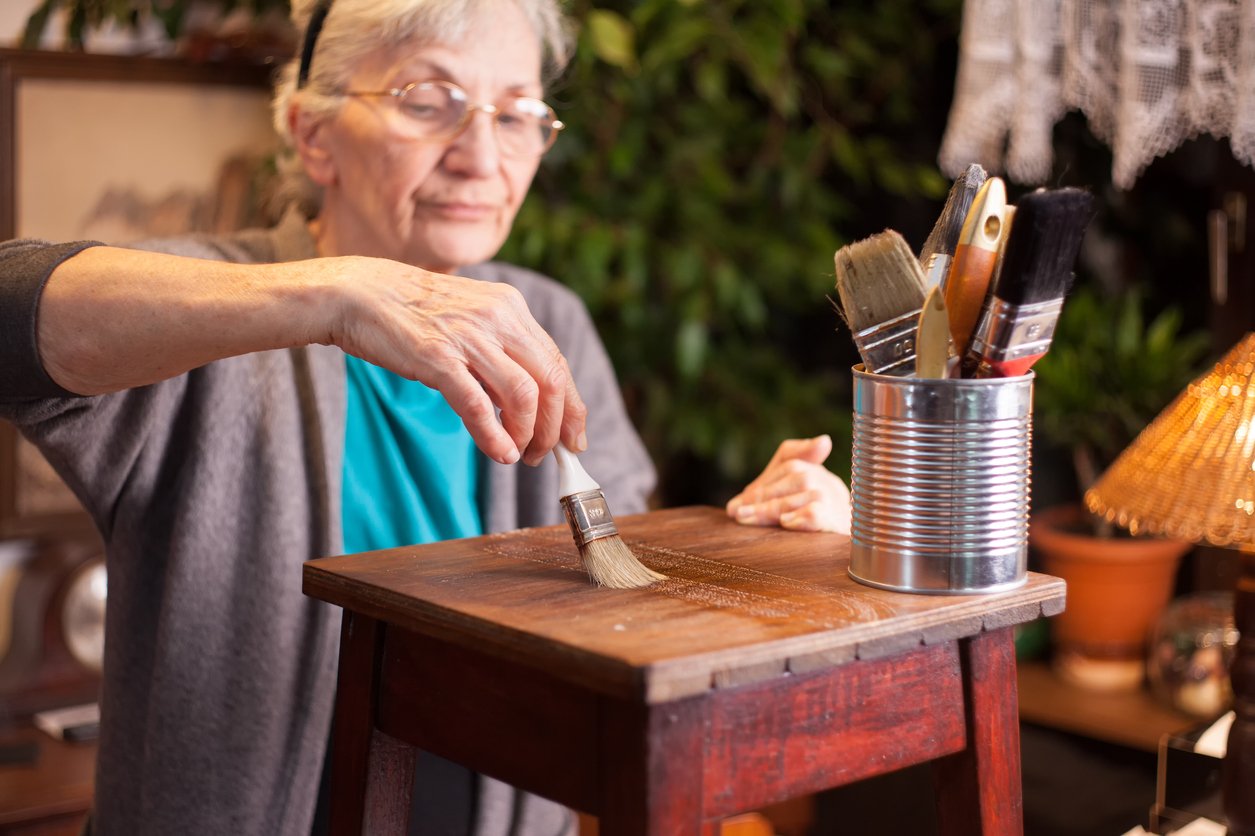 People overlook incredible finds because of a little dust or rust. You get a whole lot more for your money if you restore precious vintage finds with a few DIY fixes. So, keep an eye on online auctions that save you time and money--and get to work restoring your retro treasures.
Remove rust from retro metal furniture
Minor rust stains are not as immovable as people might think. Look past the surface of those fabulous retro bars, kitchen tables, chairs, and decor.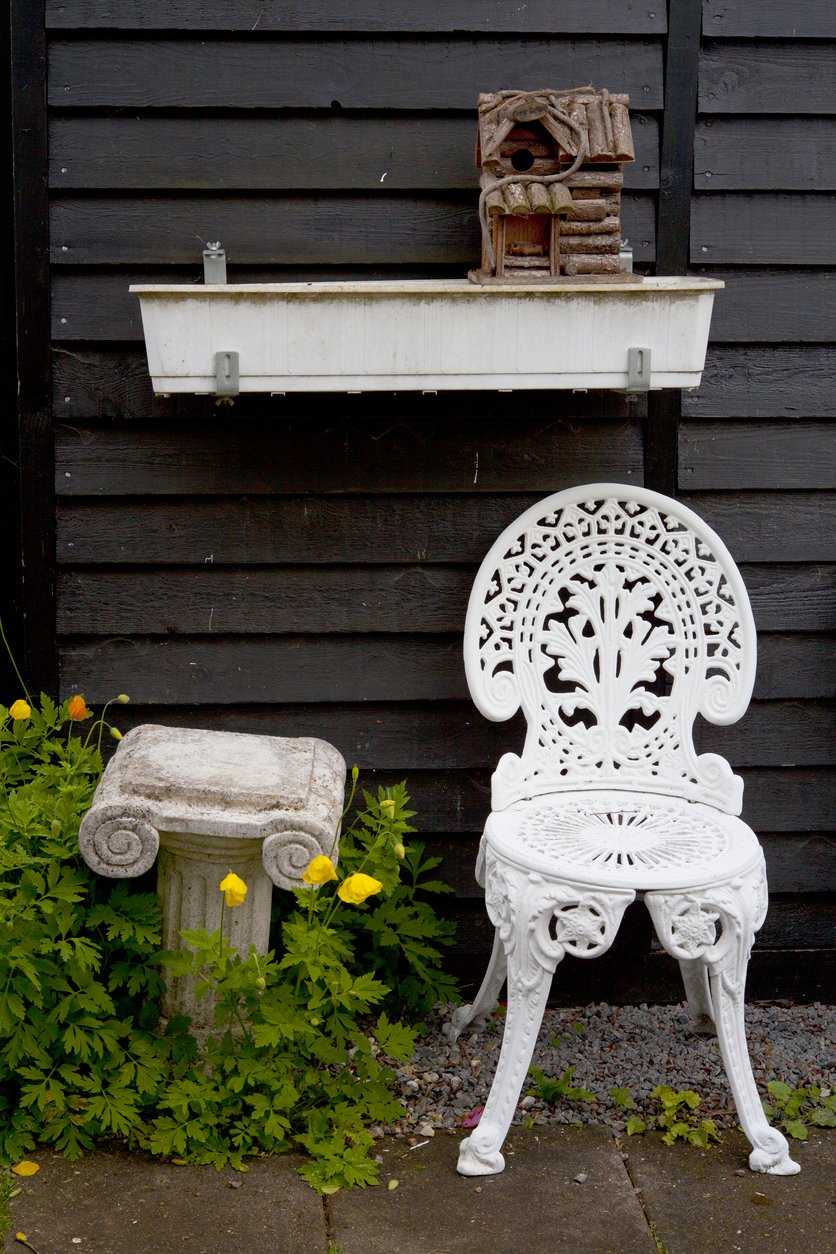 You can use one of these home remedies for rust. Otherwise, you can buy a rust remover from a hardware store. They usually require some time to sit with the solvent applied, then you just wipe off with a rag or scrub with a metal brush. Use the proper safety gear, like goggles and gloves. 
Baking soda for rust removal
One of the simplest fixes for older, metal furniture that has a little rust on it is probably already in your kitchen. Mix baking soda with water until it is paste-like in texture. Slather the rusted areas with the paste. Let it sit for a few minutes. Scrub the baking soda off. You can use a wire brush for the more difficult jobs. 
White vinegar for smaller metal items
White vinegar is a great soak for smaller rusted items. Fill a container and submerge smaller items into the vinegar overnight, up to 24 hours.
A salty solution for DIY rust removal 
There are a few ways to use salt to remove rust from surfaces. First, you can cut a potato and salt it—then, just use the potato to scrub a metal surface. The natural chemical composition of potatoes dissolves rust. Another in-you-kitchen rust buster is lemon. Add salt to lemon juice and use it to scrub away rust. 
TIP: Make sure metal is completely dry before painting or treating it after you remove rust.
Oil wood vintage furniture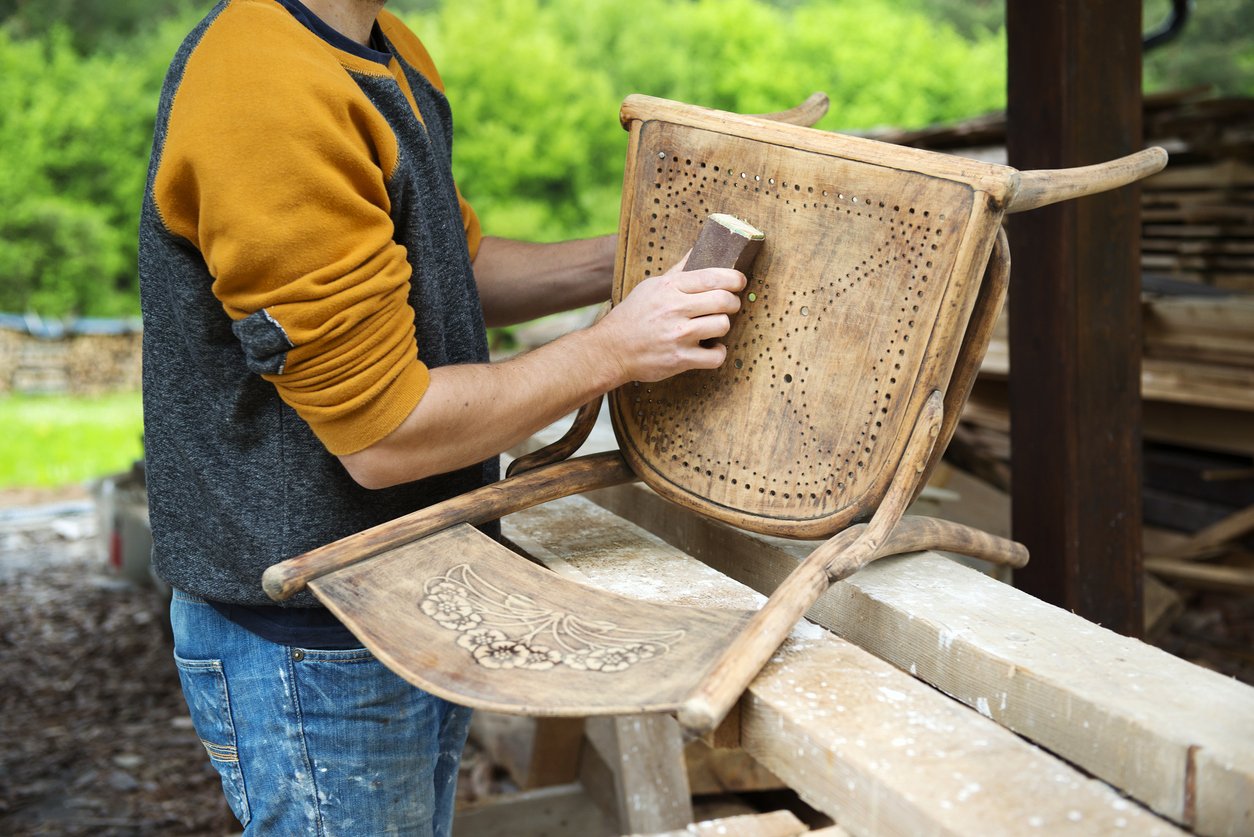 Dull, old wood can be off-putting but it's actually very simple to spruce up. Underneath, you'll see the vintage furniture others might have mistaken for rubbish.
First step: sanding
Sand the surface with superfine sandpaper. A mouse sander works great for small furniture since it's designed to go around corners. You can use coarser sand paper to smooth out bigger imperfections. Follow it up with the superfine. If there is a grain to the wood, sand with the grain.
Next, wash furniture with mild, soapy water
Wash the furniture with warm, soapy water. Use a mild soap.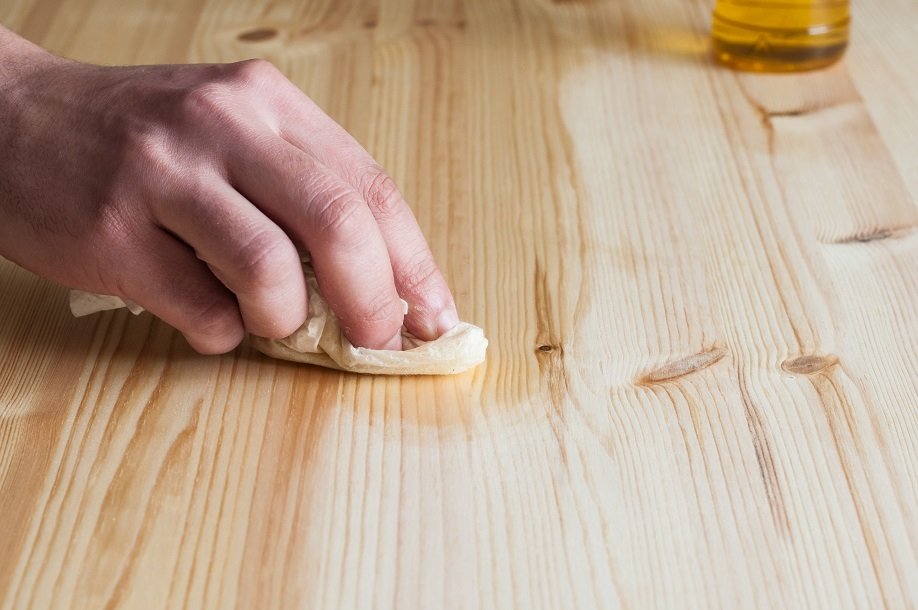 This is mostly to remove any residual grime or sawdust. After washing, you will want to let the furniture dry completely. It's best to give yourself two days for this project to be on the safe side. 
Finally, oil or varnish your vintage furniture back to life
Once your piece is dry, use a clean rag to apply whatever rub-in furniture oil or varnish you like. If applying a rub-in oil. Let the oil stand for a minimum 5 - 10 minutes. You can leave it up to several hours. The oil will not damage the wood. Then, buff the piece with another clean, dry rag. Buffing is done in repeated overlapping circles. 
Want a solution that may already be in your kitchen? To bring out the natural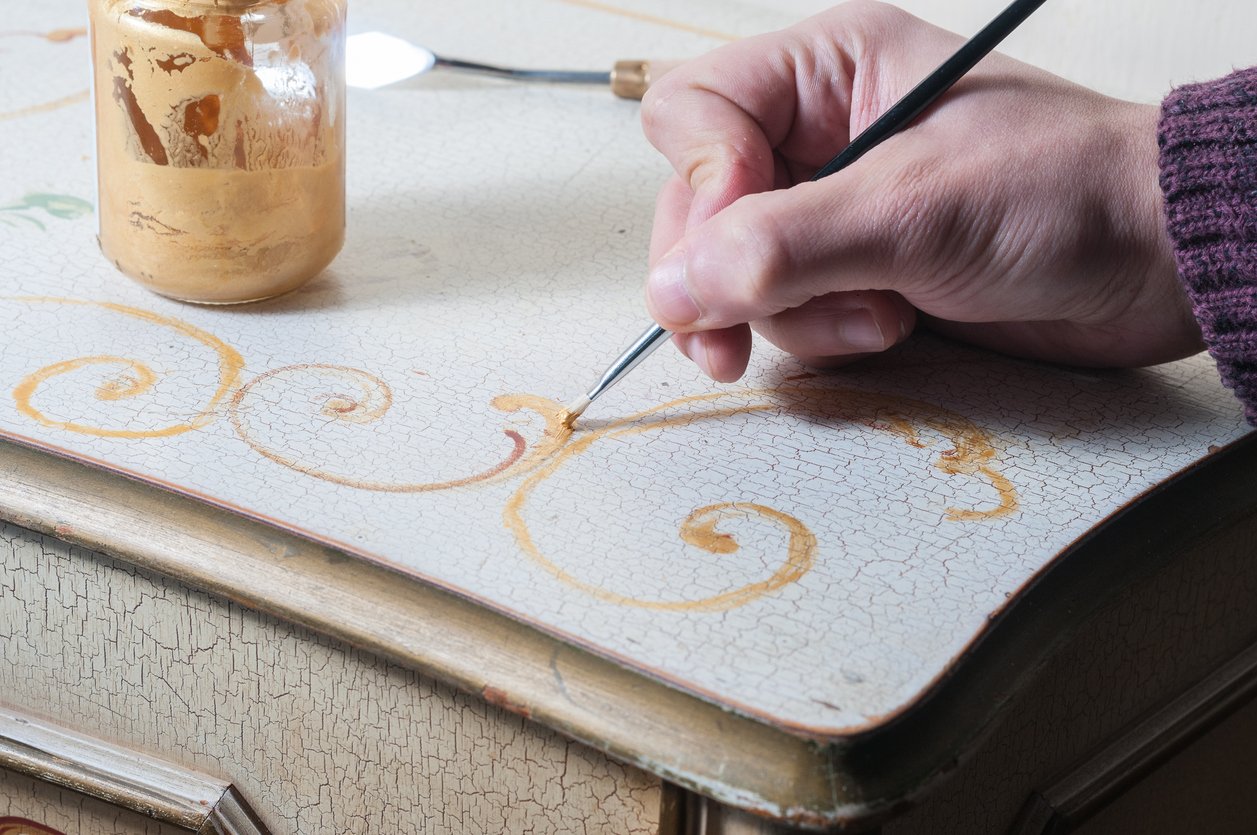 luster, you can use coconut oil. 
Other common oils are boiled linseed oil or Tung tree oil. These are both affordable and readily available in hardware stores. 
For additional pop, consider a varnish or stain. Always go with the grain of the wood. 
If you have big dings, there are fillers levelers that will bring old surfaces back to prime condition.
Alternate to varnish: Paint
As an alternate to varnish, you can paint your vintage furniture for an entirely different, more modern look. Or, use crackle paint and embellishments (a stencil works great) to add some romanticism to a piece. Use gold leafing for a faux aristocratic touch. It's okay to play with styles. It's as simple as a trip to your local hobby or hardware store. 
Bringing old glass back to life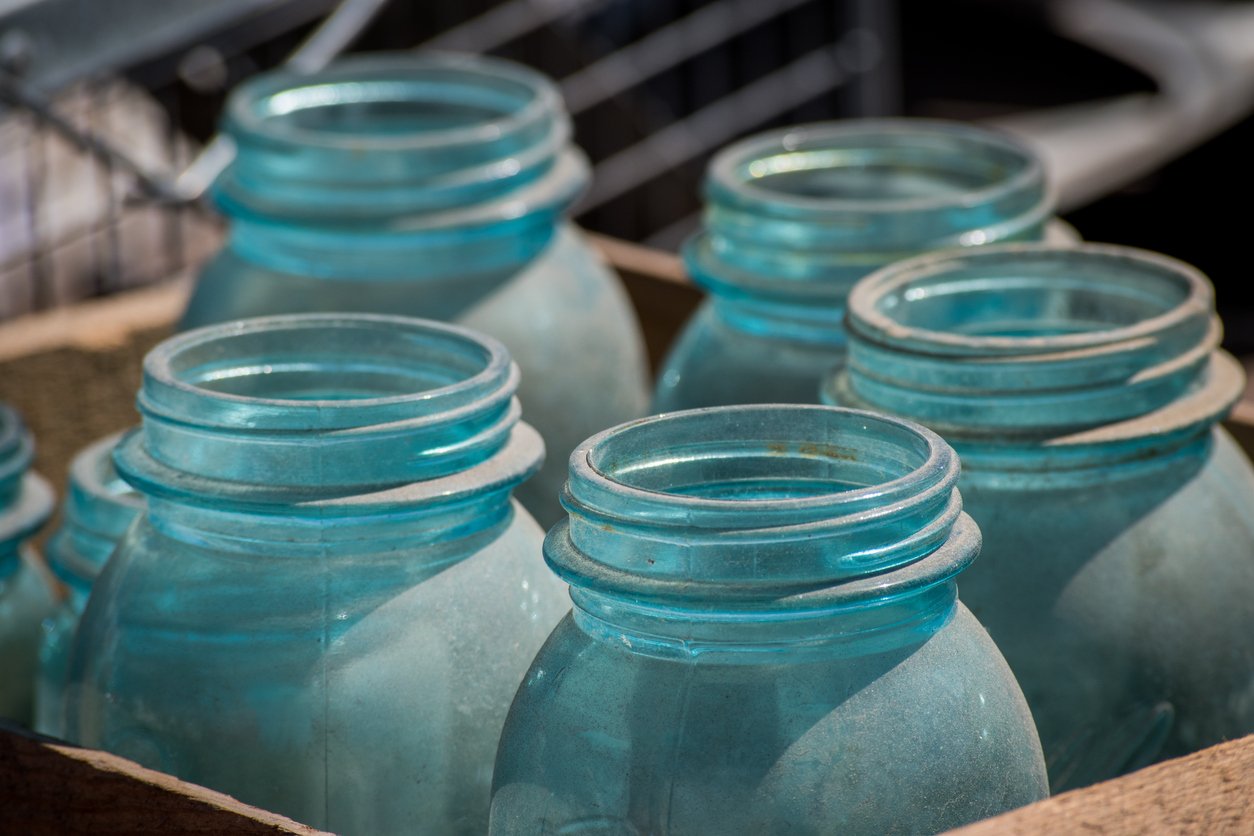 Glass can look grimy, but it's easily restored. Even glass chandeliers can be made fabulous again. Here are a few methods: 
Soak or wipe glass in distilled white vinegar and water mixture. For stubborn mineral deposits, soak the glass overnight. 
Use denture cleaner as a soak for the glass. 
Ammonia diluted in water makes a good, quick cleaner. Be careful to not put soft gems or other material in ammonia. Ammonia only needs a few tablespoons per quart of water to be effective. Vinegar is better suited for water spots and mineral deposits. Ammonia handles greasy films and oils. For things that have been sitting outside for a while, you may need to hit them with each. 
Caution: never mix bleach with ammonia or vinegar.
Paint metal hardware and freshen your color
An old look can be made more fun and spectacularly new when you give it a fresh coat of paint. Often, people ruin the look of vintage furniture with bad or heavy paint. They were just seeing it as an old piece and readying it to put out to pasture. Look at the shape of a piece. Most superficial scrapes and paint can be easily removed with paint remover and sanding--if you're okay with a little work. 
Older hardware or architectural elements can be salvaged and repainted to add new life to your home or vintage furniture. Most knobs and handles can be removed and either refreshed or replaced. Look for old doorknobs, chandeliers, or decorative elements with incredible designs. A bold paint color can boost a room. Remove any rust, dry, and use a metal-safe spray paint for a quick design fix. 
Rewire Retro Lamps
It may seem unwise to buy lamps sight unseen, but it's actually pretty easy to replace the wiring in a lamp. And it's affordable. You can get lamp wiring easily from a hardware store or online vendor. 
If your lamp needs a little refresher, follow the tips above and give it a new shade. The uniqueness of the piece will be worth it.