Lladró figurines are beloved porcelain collectibles that add delight many households around the world. Lladró originate in Spain but are celebrated internationally, particularly charming American households alongside Hummel and Normal Rockwell collectibles. 
The value of Lladró figurines ranges widely from everyday pieces valued below $25 to high-value items selling at over $200,000. That piece, Carnival in Venice, is the largest piece created by Lladró. It takes an entire team first modelling everything in plaster and taking painstaking care to assure the quality and feel of each part. That sort of care goes into every single Lladró.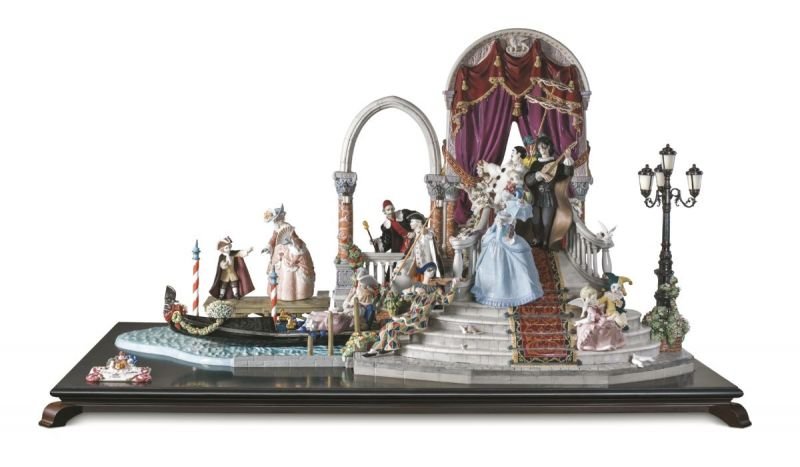 What is the value of Lladró figurines for sale? 
Whether looking for your favorite Lladró for figurines for sale or to auction, understanding what makes collectibles valuable helps. The value in collectible figurines—and any collectible, for that matter—is a combination of rarity and condition. 
Limited Addition and Rarity
Collections come out with a "limited edition" can mean various things. Limited edition can be a handful of pieces or a much larger number, limited by the year or production line. How many items survive from the original lot of a mass-produced item also determined how rare, or difficult to find, an item may be. The rarer an item, the more valuable it is. 
For Lladró figurines, like many items, the larger or more elaborate the piece, the more it costs to produce and to the customer. It also means there are fewer pieces produced. As a general guideline, look for remarkably intricate or limited pieces if you are looking for pieces with higher resale value. 
Condition of Collectibles and Antiques
Collectors refer to the condition of a piece by a few overarching categories: mint condition, like new, good condition, fair, and poor condition. While there are no standardized guidelines, there are general understandings. These are easiest to determine at the ends of the spectrum: mint condition and poor condition.
MINT CONDITION: Mint condition means there is no damage, staining, irregularities, or flaws in the piece. Not all new items are in mint condition, even if they are in the box and never-opened. Boxed items can still have flaws from the manufacturer or could have been damaged in transit or packaging. In mint condition, there can be no cracks or damage.


LIKE NEW: Like new means that an item is not new, but exhibits no obvious signs of wear, like grime or stains.


GOOD CONDITION: Good condition can allow for very minor dings, stains, or flaws, though they take a little work to see and don't dramatically damage the aesthetics. For example, there may be a small ding on the underside of a piece or the stamp is blurred.


FAIR CONDITION: A collectible in fair condition is still mostly-good but may have a little obvious damage, wear-and-tear, or repair. This means a finger may be missing or a hand reattached.
POOR CONDITION: While almost no one is willing to list something as "poor condition", there are items in poor condition. These are obviously damaged and carry little or no resale value. 
Learn more about Lladró collections.