With a whopping 180+ auctions in November, everyone at MaxSold was busy from coast to coast. We had some great social media mentions…
Now to the November MaxSold Online Auction Highlights…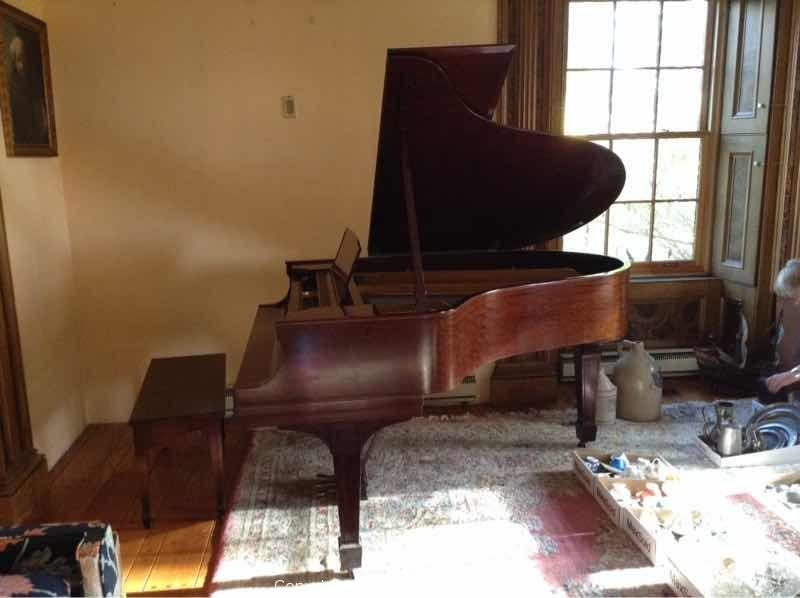 Mahogany, 58x66x38. Includes bench with under storage 36.5x15x19. Built in 1912, owner had it tuned 2 months ago, appraised at $10,000, excellent shape. Serial No. 157729. Note: some of the ivory keys are discolored, minor veneer damage on bench.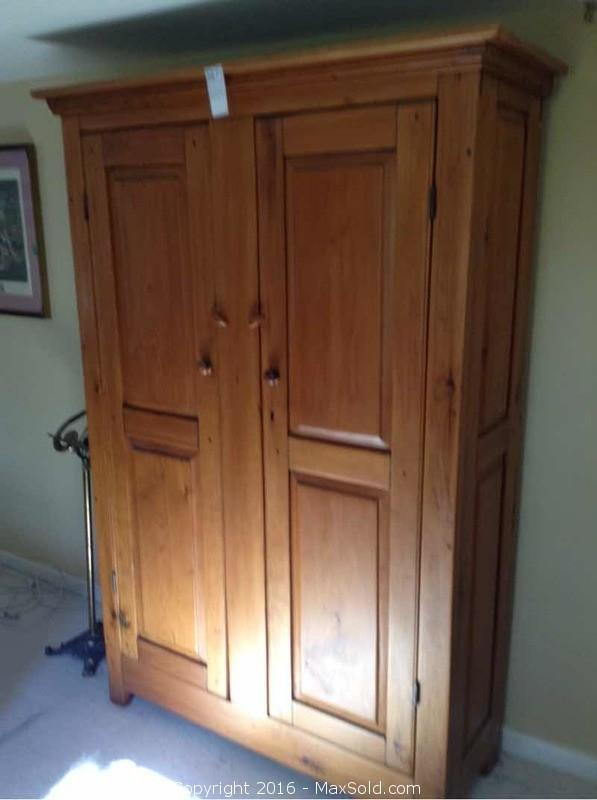 3 interior shelves, 47.5×17.5×76.5. .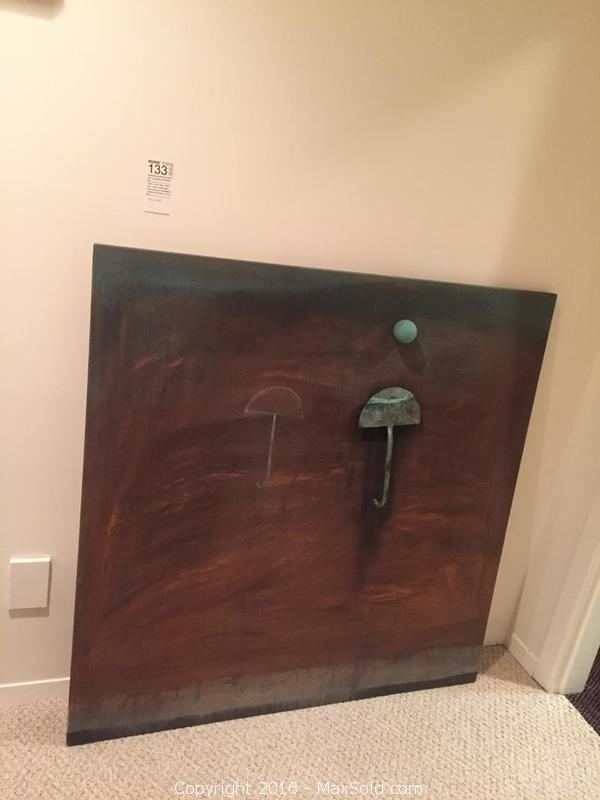 44×44 signed Petterson Art work on canvas witg three dimensional umbrella. .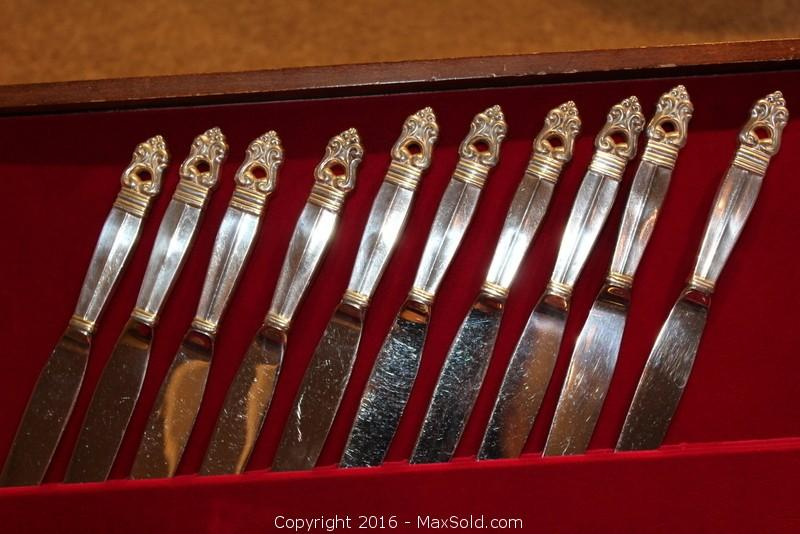 Sterling international Royal Danish. Includes 10 dinner knives, 10 dinner forks, 10 salad forks, 10 teaspoons, 10 Demi-tasse, 10 bread knives. 60 pieces in total. Includes cutlery box. Easily repaired. Lining is loose. .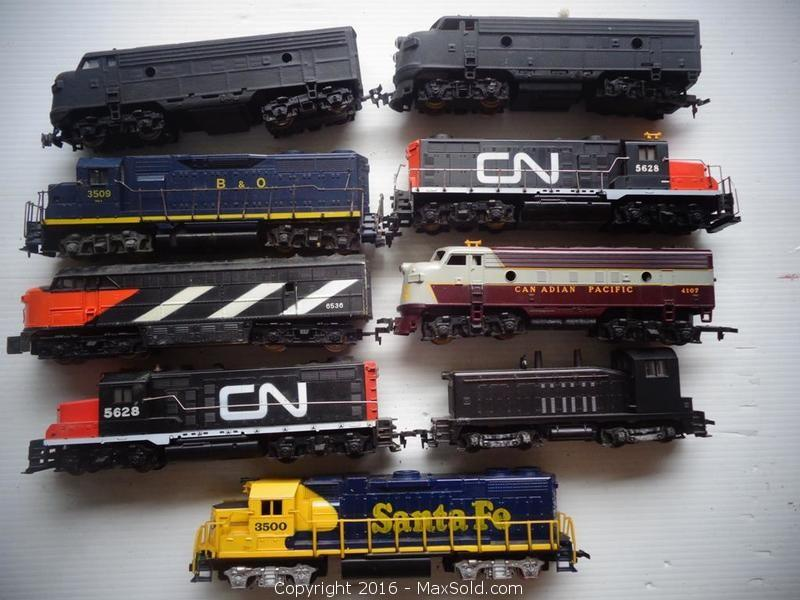 12 engines, 60x 3′ tracks (assume 2.5′ each, 150′, mostly brass, some nickel), 80 curved tracks (brass), 7 rerailer tracks, 11x left switches (topside power), 11x right switches (topside power), 10x left/10x right switches some with bottomside power. 5 built buildings, 7 unbuilts models. 35x electrical slide switches, 30x toggle switches, switches for the track switches, nails, couplers, spare pieces. 7 tressels, engine turntable, 40x civilians, power packs. magazines, framed pictures of trains, appro 6″ x 16″, Pickup category A.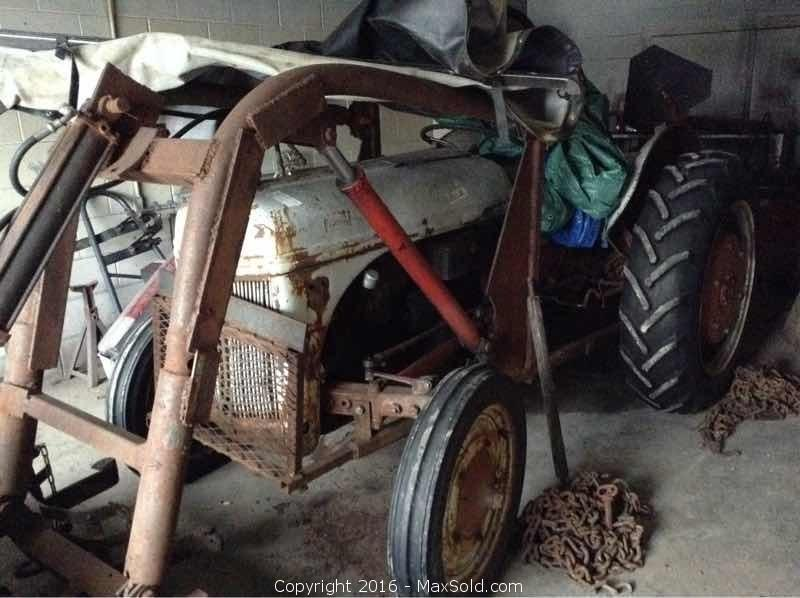 1947 model, snowplow on front, Working state unknown, comes with large chains, grill gate. Note rust. .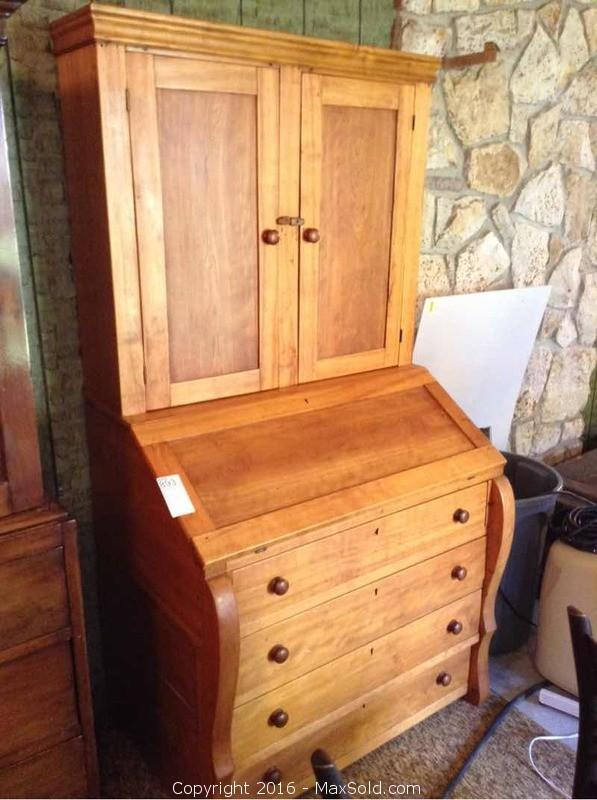 2 pieces. Top with shelves 38x9x34, lower piece with 4 drawers and flip hinged desk top with interior letter compartments and small drawer, 38×25.5×39. .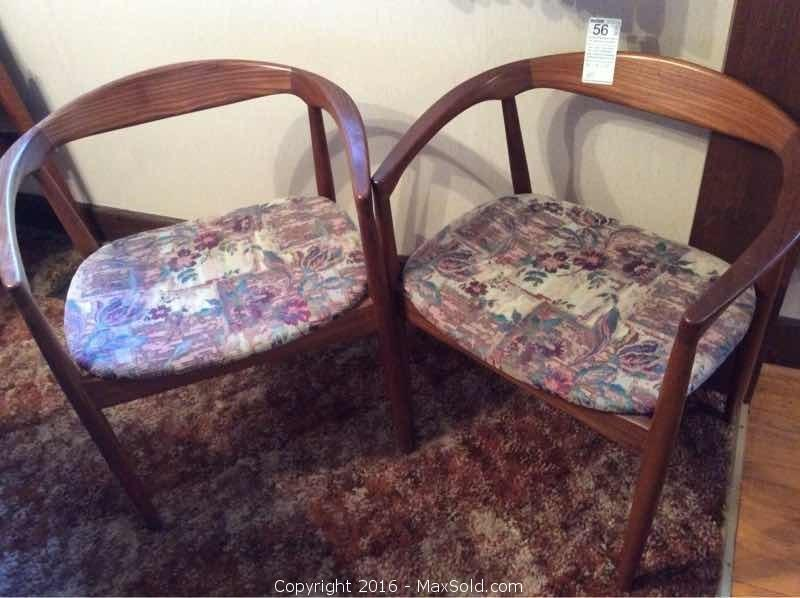 24x18x27. Fabric matches 38 and 39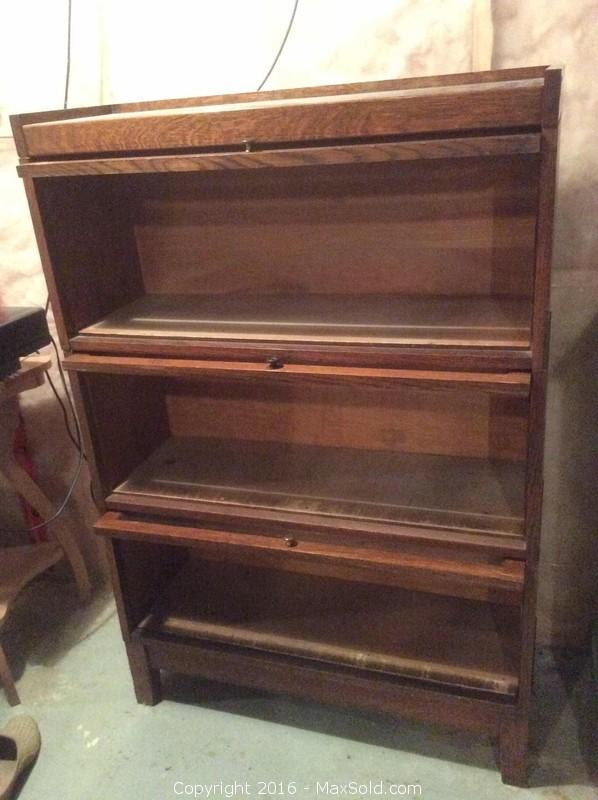 3 tiers, glass front. 34X12X50.5 Note one knob has been replaced. Very dusty, Needs to be cleaned. All one piece, not stacking. Bring help for moving.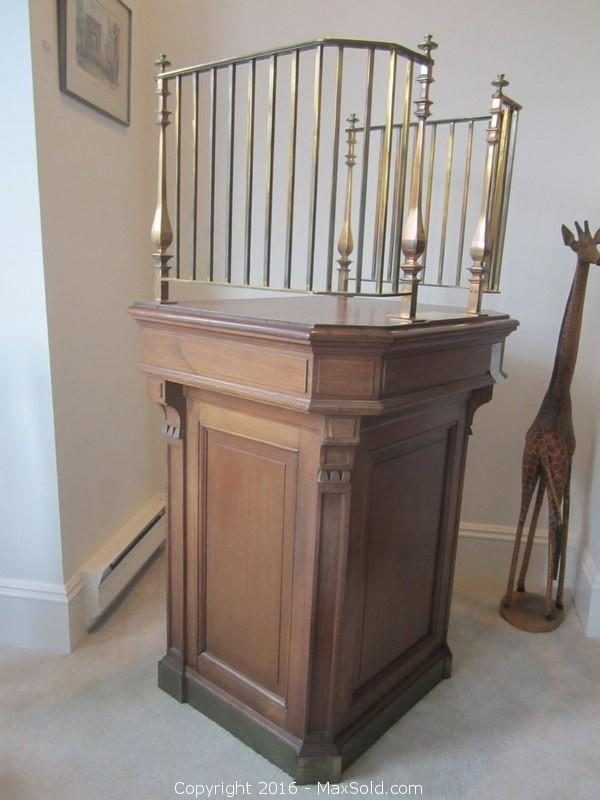 A conductor's ticket booth, 29X26X61. Seller does not know what train station it was from. Has some light surface scratches. Brass rails, metal handles, key/knob missing on one draw, dovetail joints. Please bring help to remove. .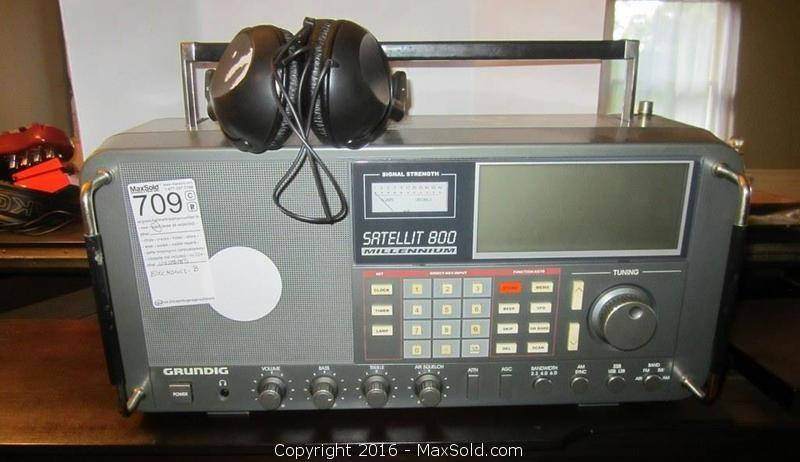 A Satellite 800 Millennium short wave radio. A/M F/M Radio with headphones and ac adaptor. It is untested. Come to pick up at category B time slot.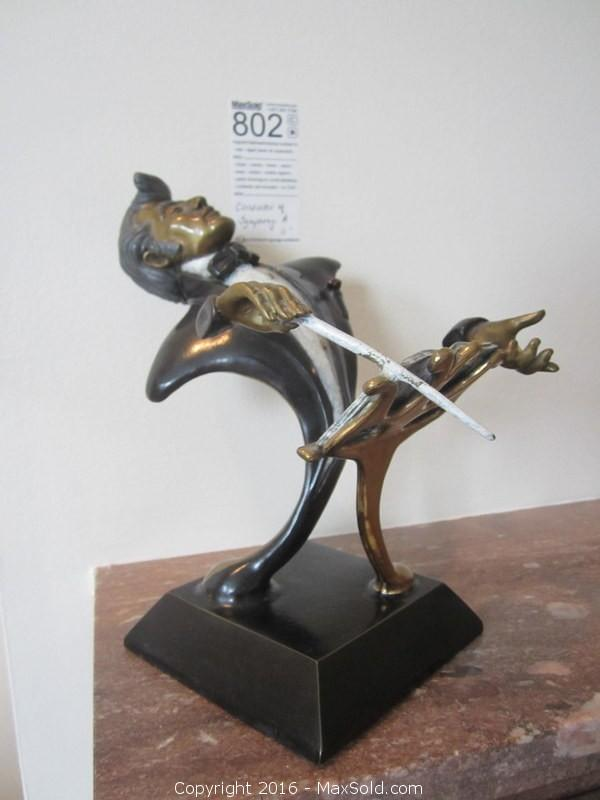 A sculpture of the symphony conductor,11″ tall. Marked accordingly by artist. .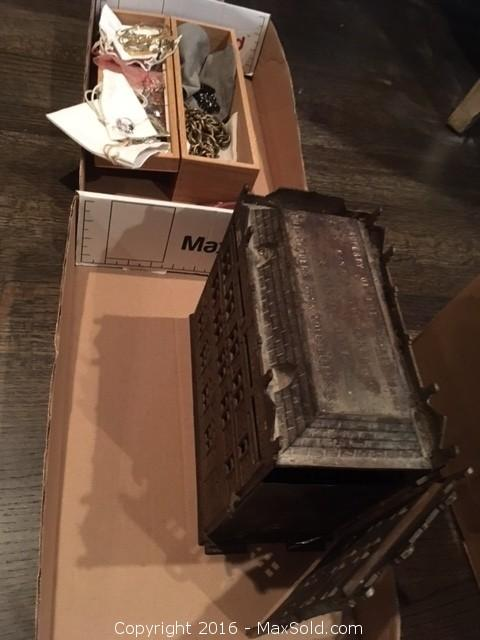 Antique metal model of traders bank. Costume jewelry earnings and necklaces. .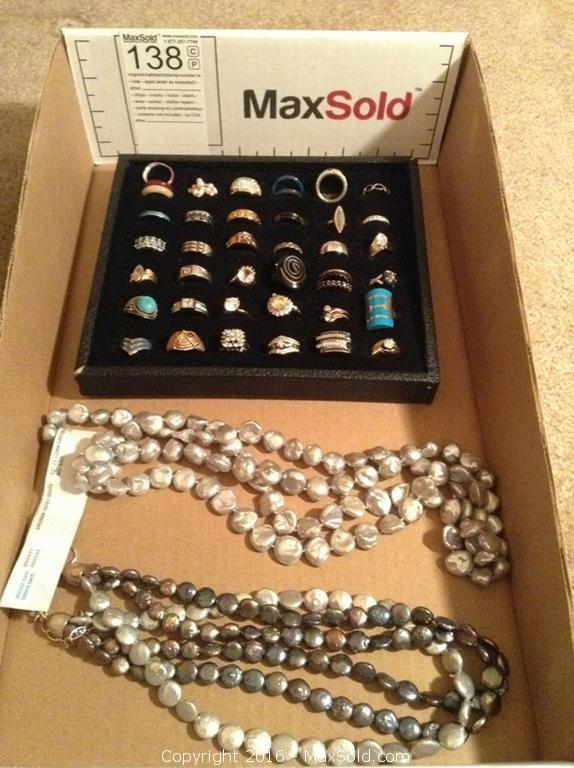 Assorted rings with stones, turquoise, 14k, 18k tge, and 925 stamped. Note: black case Not included. Please bring boxes and packing material. Come to pickup at Category A time-slot.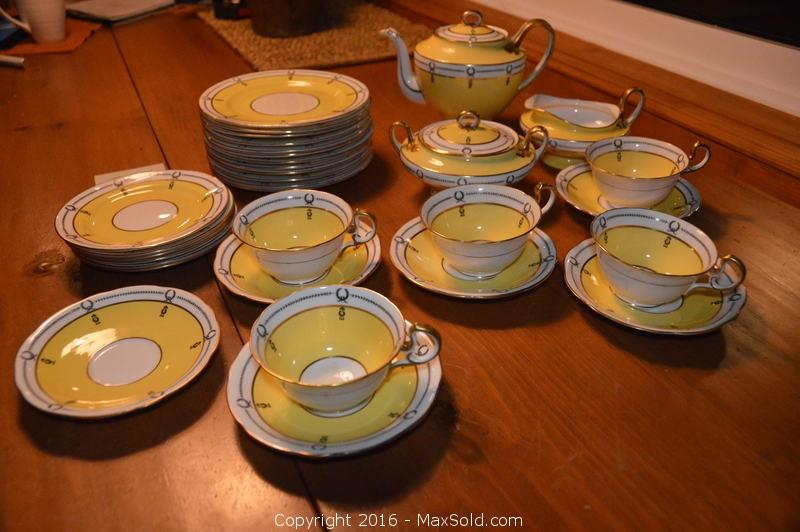 Aynsley China tea and dessert set. Includes tea pot, creamer and sugar, cups and saucers, dessert plates. Note chip on creamer


Bar
Sold on MaxSold for $610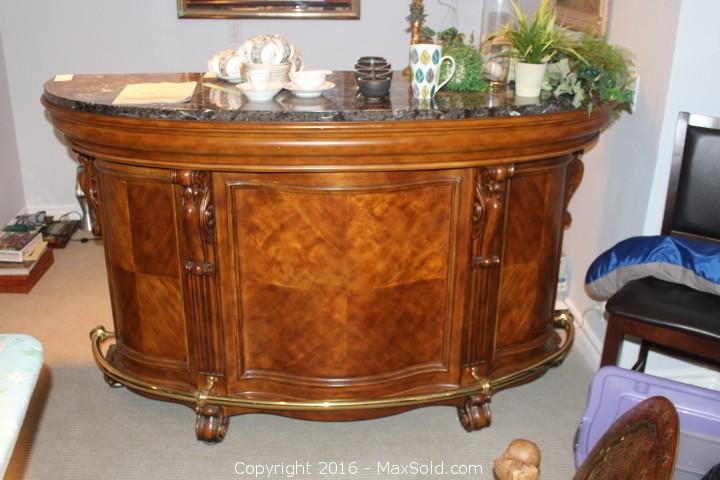 Bar. On rollers. Measures 72X26X43. Includes chair which measures 18X21X41.Contents not included. Items on bar not included. Extremely heavy. Bring help. .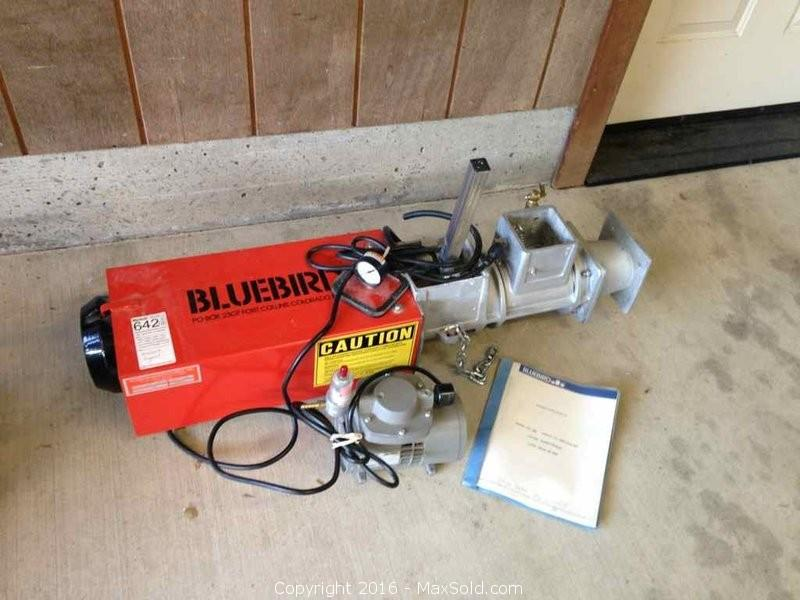 Bluebird Pugmill model number 440 with instruction manual and Thomas air compressor model number 905BA23-018A. Untested, in working condition per seller. .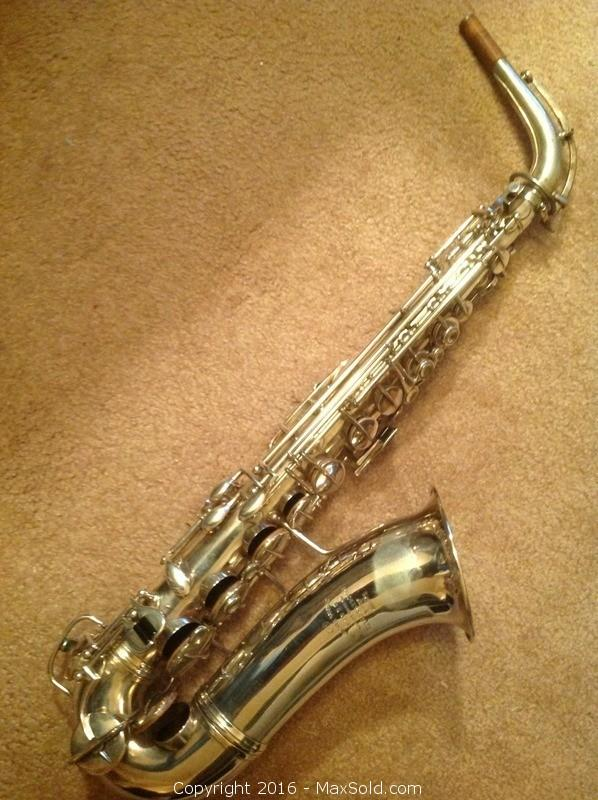 Boosey & Co saxophone with case and attachments. .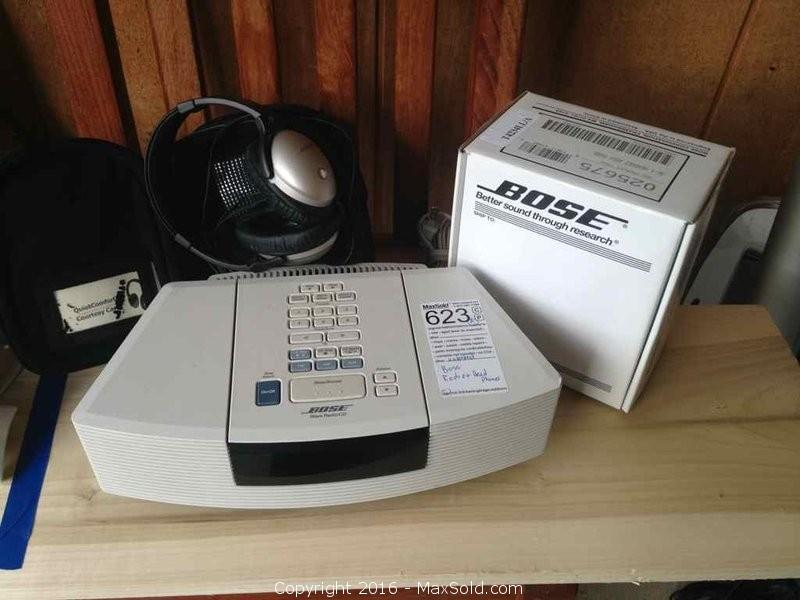 Bose Wave Radio CD player model number AWRC-1P and Quiet Comfort noise canceling headset with carrying case. Untested, in working condition per seller. .


Clock
Sold on MaxSold for $620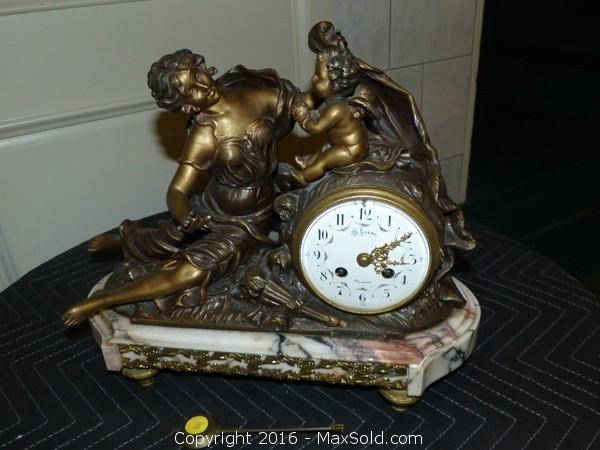 Brass and marble clock. 14.5X6.5X13. Face reads G. Clerg, Aulerre. Says Amour Captif on brass. Untested. Similar marble and trim to lot 37. .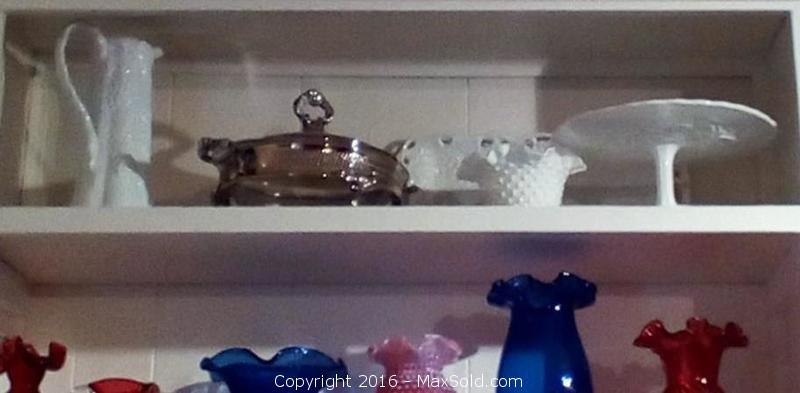 Cake plate, pitcher and casserole dish plus a variety of red and blue FENTON vases and more. – .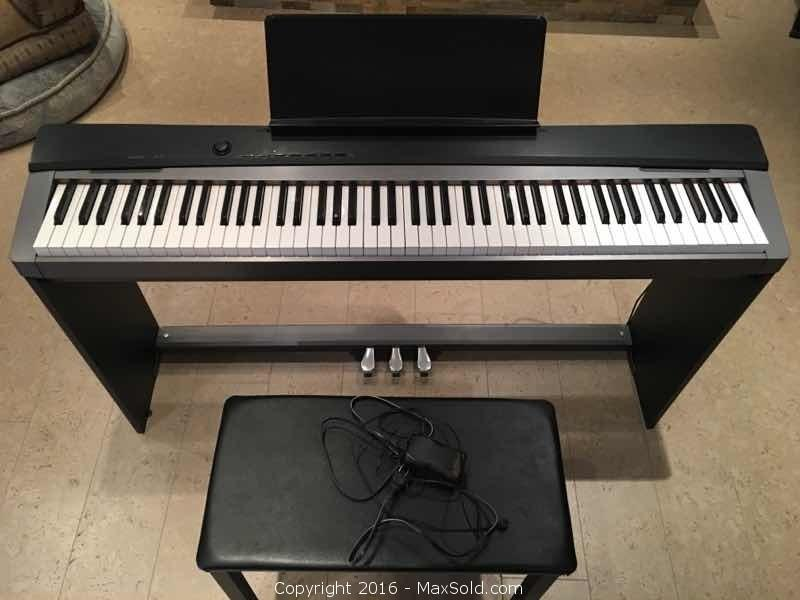 Casio Px-130 Pro Keyboard With Bench. Features:128 note polyphony, 16 digital notes, 88 scaled weighted hammer action, USB midi Bench has scratch on side see picture. . This unit is working. Shown as is.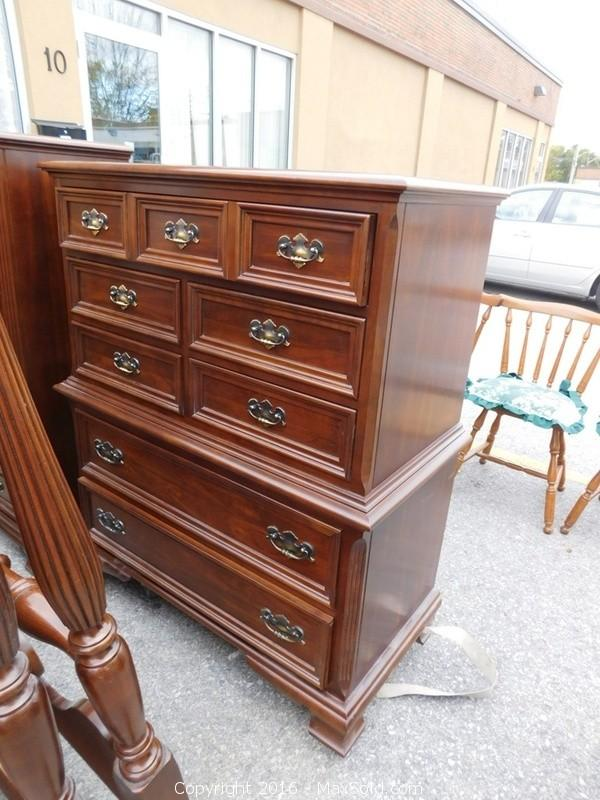 Chest on chest. Gibbard solid cherry wood. 38X19X50. Wear. Matches. 537, 536, 545. .


Pipe Organ
Sold on MaxSold for $465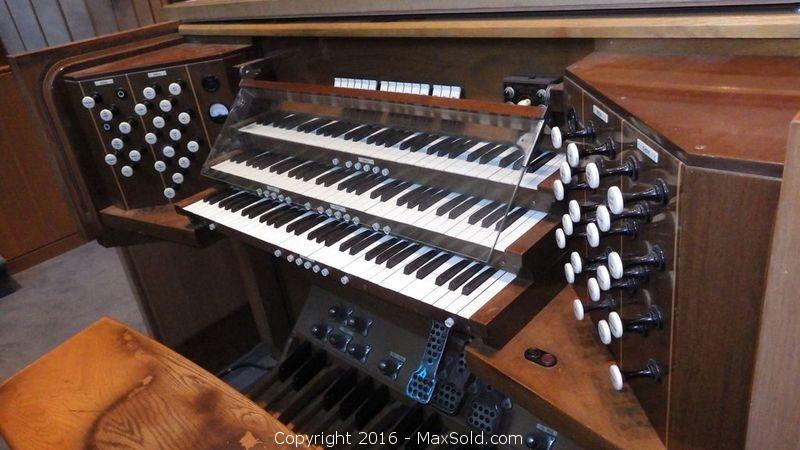 Church pipe organ with dedication plaque from 1959. Note scratches and untested. Please bring tools and flashlights to remove. .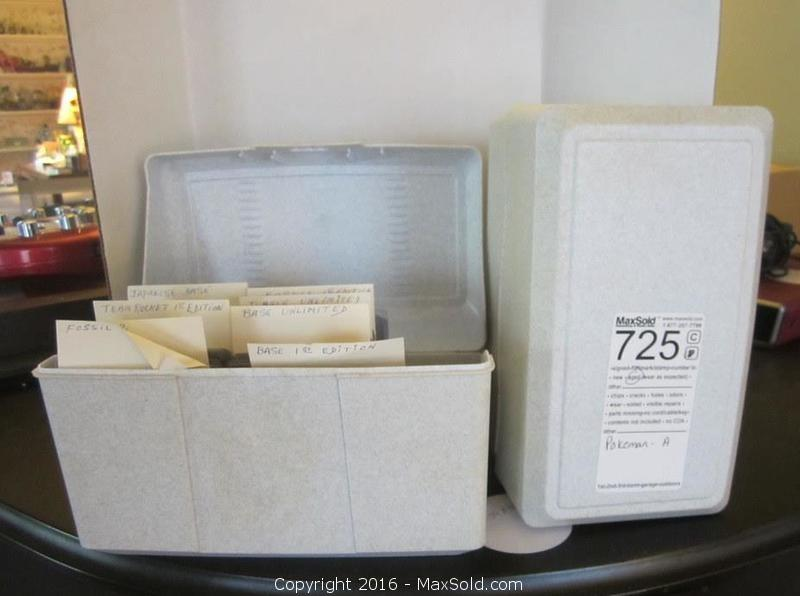 Collection of Pokemon collectors cards lovingly categorized for storage. Come to pick up at category A time slot.


Stamps
Sold on MaxSold for $1400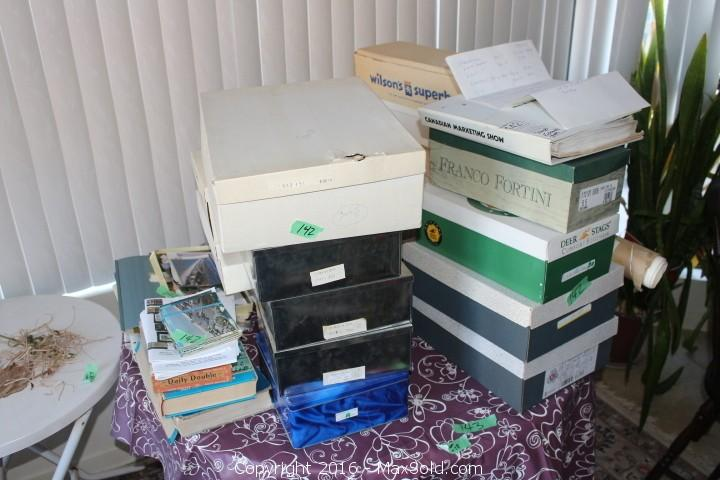 Collection of stamps of the world 1903 to 2001. Listed and in numbered boxes. Hundreds of old postcards. Stamp books. .


Thimbles
Sold on MaxSold for $278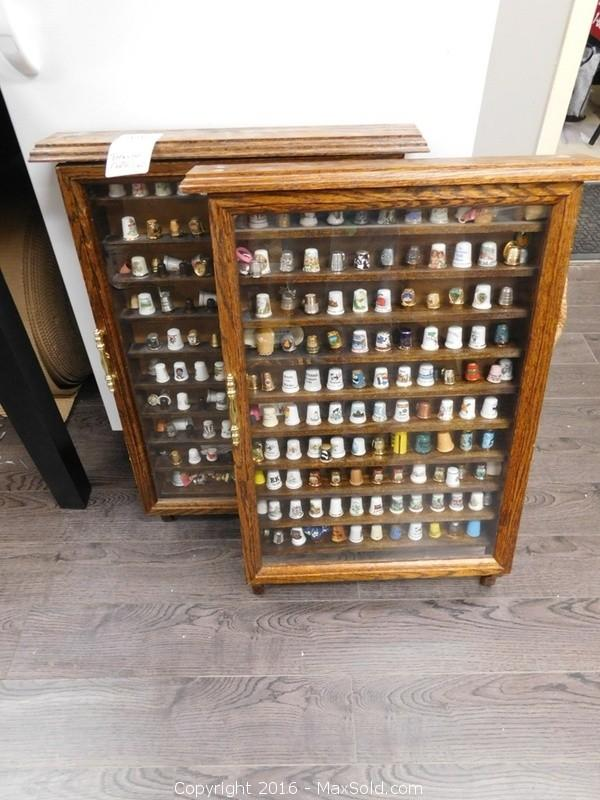 Collection of thimbles in oak glass front cases. Wear as expected. .


Chandelier
Sold on MaxSold for $372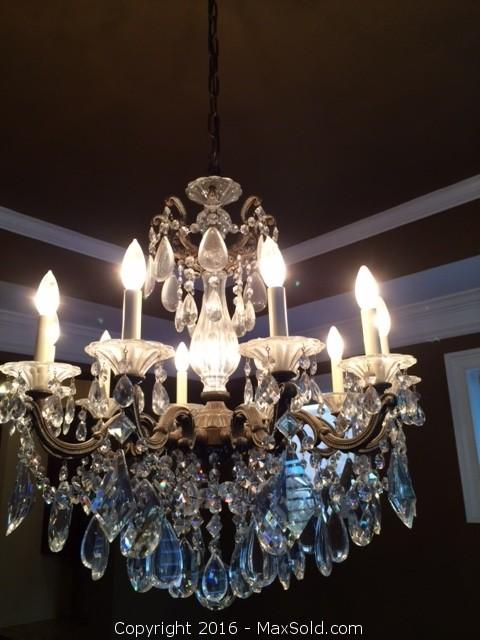 Crystal and metal chandelier, very heavy, missing two candle heads about 25X25. .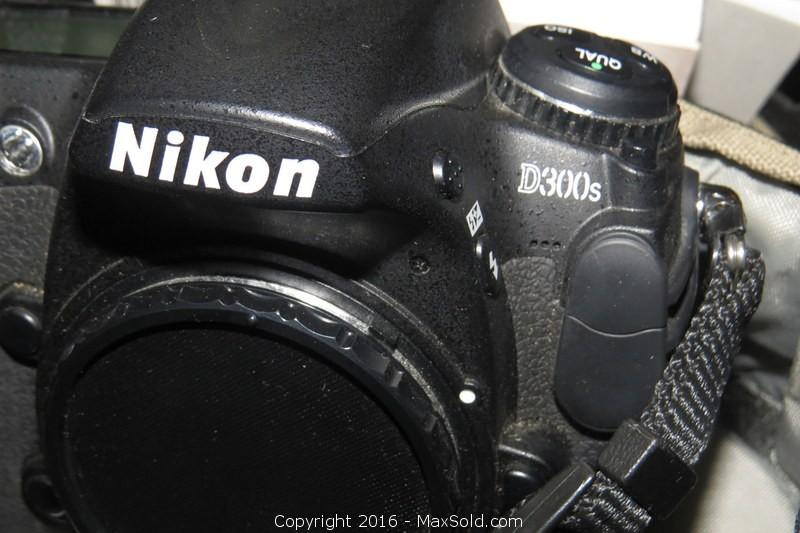 D300 camera body. No lens included. Includes Speedlight SB-900 flash unit and bag. Untested, in working condition per seller. Needs new battery. .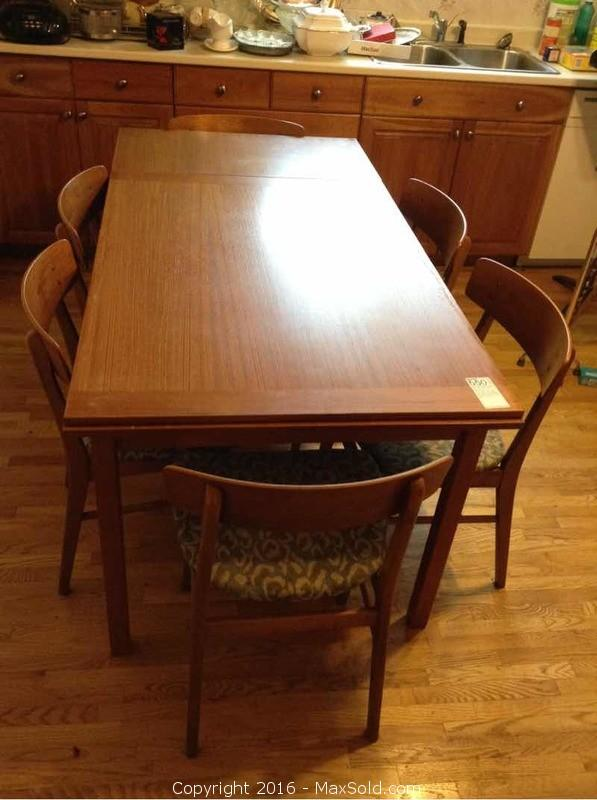 Danish Furniture Industries Co., Toronto. Table with pull out leaves 48.5×33.5×39, leaves 17". Includes 6 chairs with upholstered seats,30H. Note: surface wear, scratches, upholstered seats need cleaning. .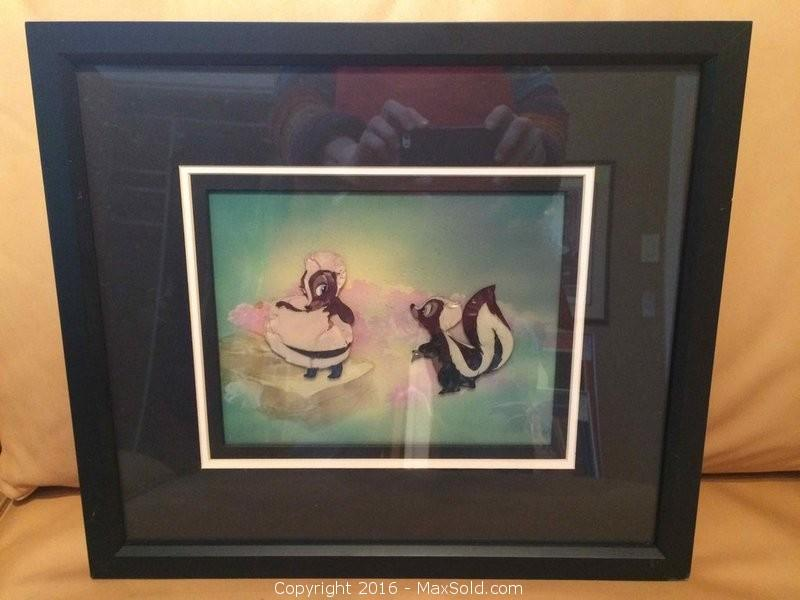 Disney. Framed and under glass. 6.5X8.5 without frame. COA included on back. Note: cracking on drawings. .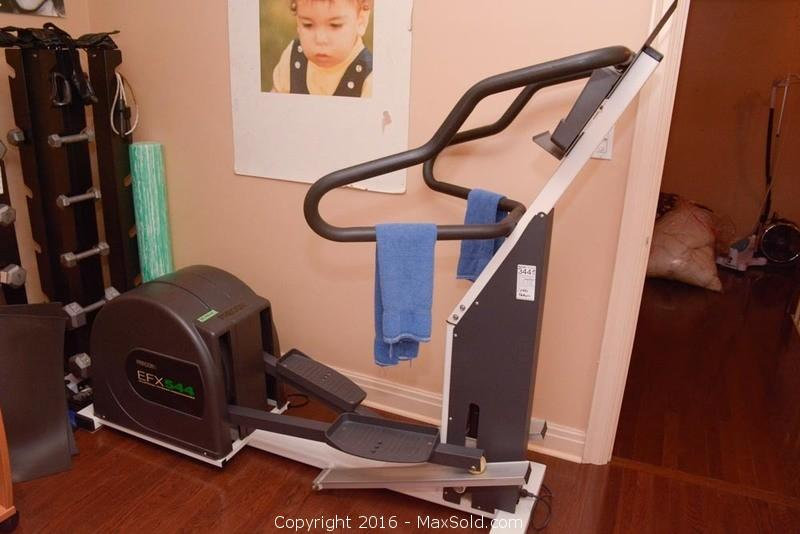 Elliptical Precor EFX544 fitness cross trainer. Untested. On 2nd floor bring help and tools to move. Minor wear. 35X76X16. .


Scooter
Sold on MaxSold for $1503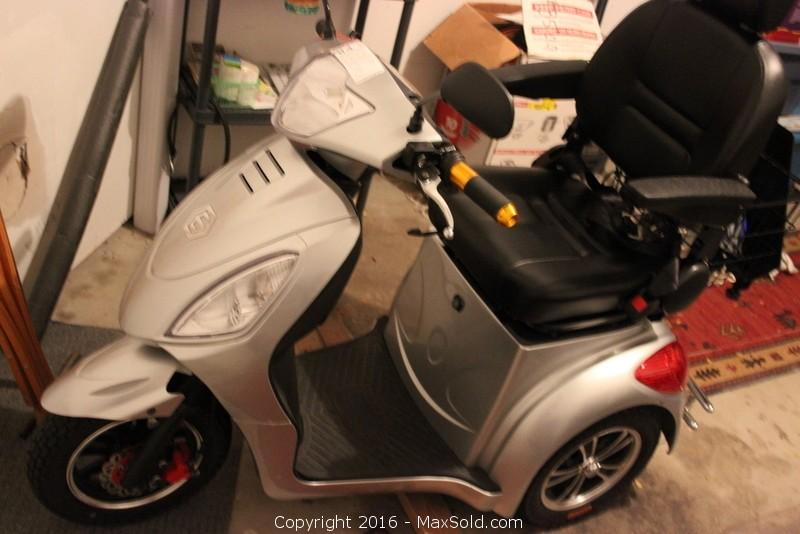 Emmo scooter, T-350, electric three wheel scooter, runs like new and is only 2 months old. Extreme long distance, front disc brake, digital meter, head rest, forward/reverse driving system. Front glove box with radio, rear storage. More specs, click here: http://emmo.ca/emmo-mobility-scooter-t350/. .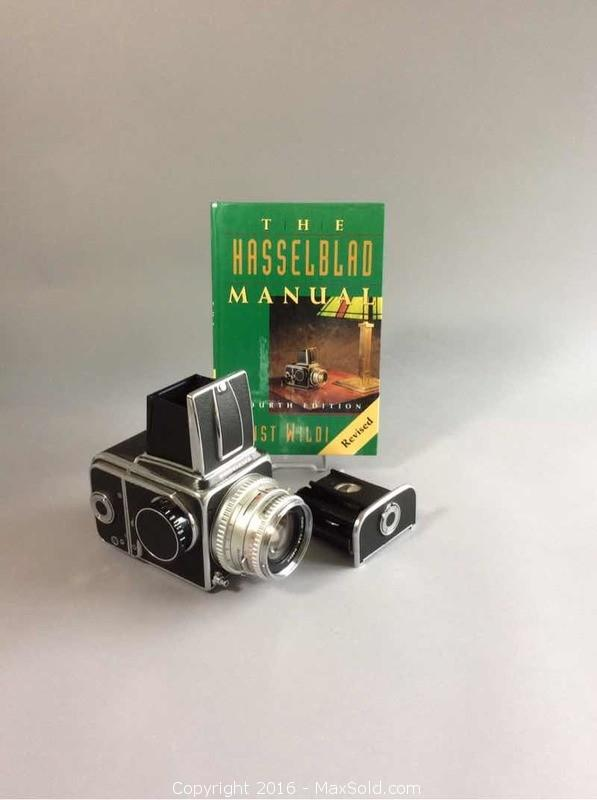 Film magazine does not want to fit into back. Repair to glass on viewfinder.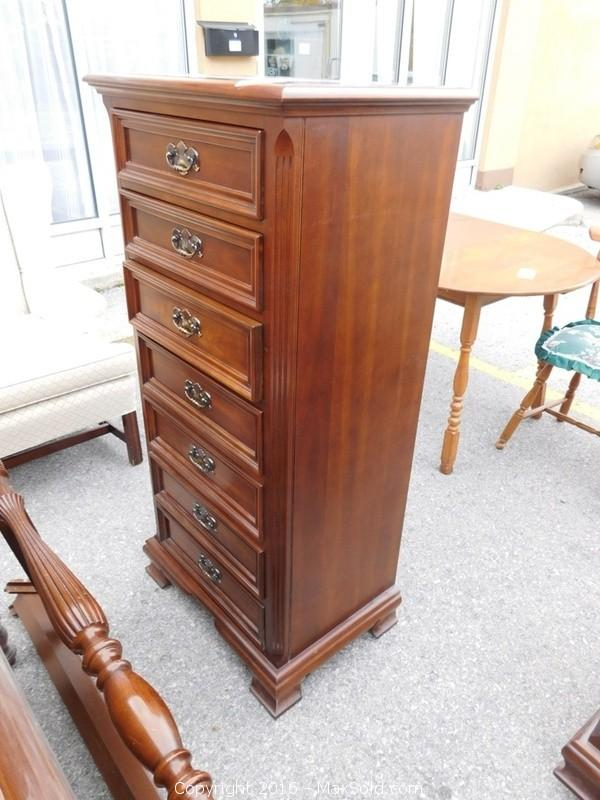 Gibbard cherry wood. Seven drawers. 23X17X52. Matches 537, 535, 535. Minor wear. .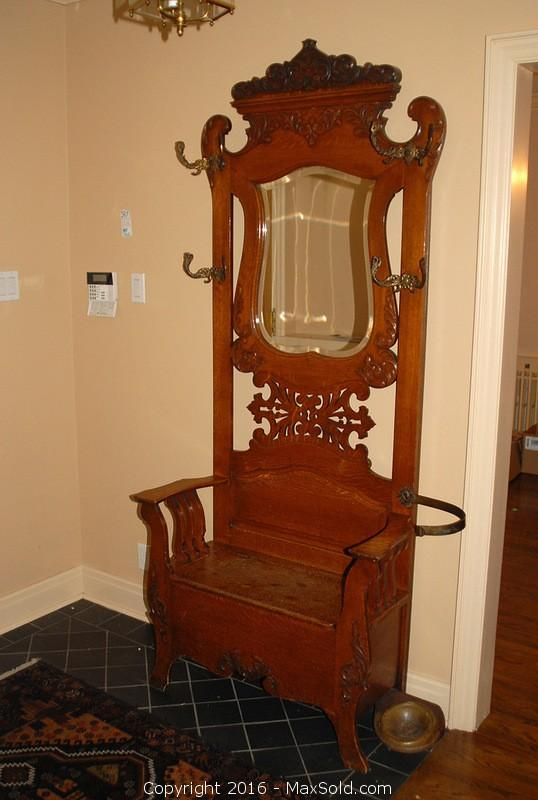 Hall stand. 36X17X85. Shows wear. Bring help. .


Quilt
Sold on MaxSold for $180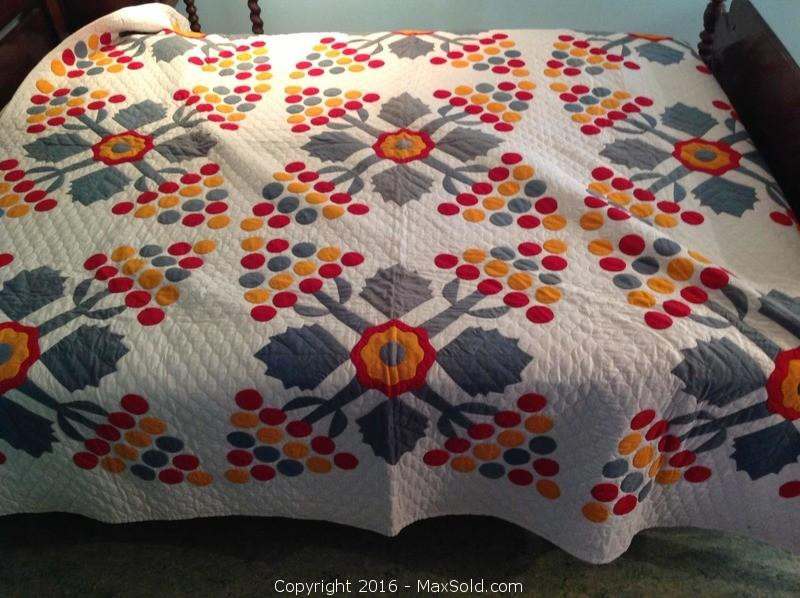 Hand made quilt 6'8" X 7'3". Crocheted square throw 5'3" x3'5" .


Mirror
Sold on MaxSold for $960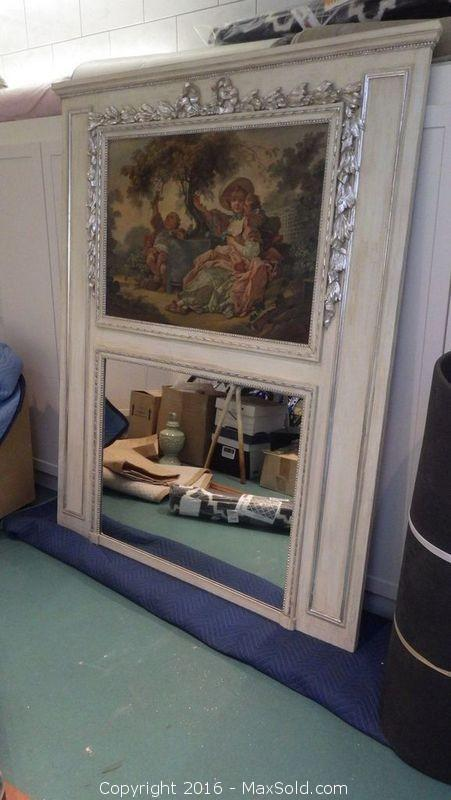 Hand painted mirror. 60X75. .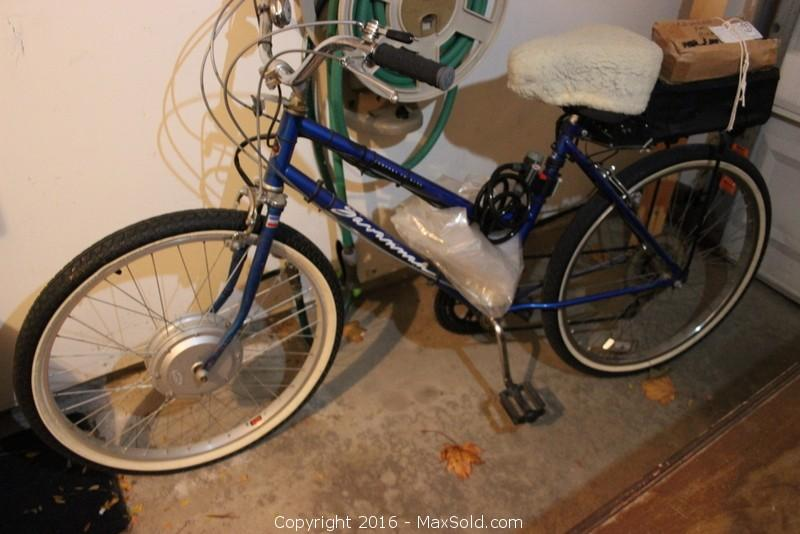 Huffy Savannah Comfort Touring electric bike, 26 in tires and 18 in frame. Includes charger, wrench and bell. Bell bike lock with key. Bike was ridden 4 weeks ago, holds charge well. .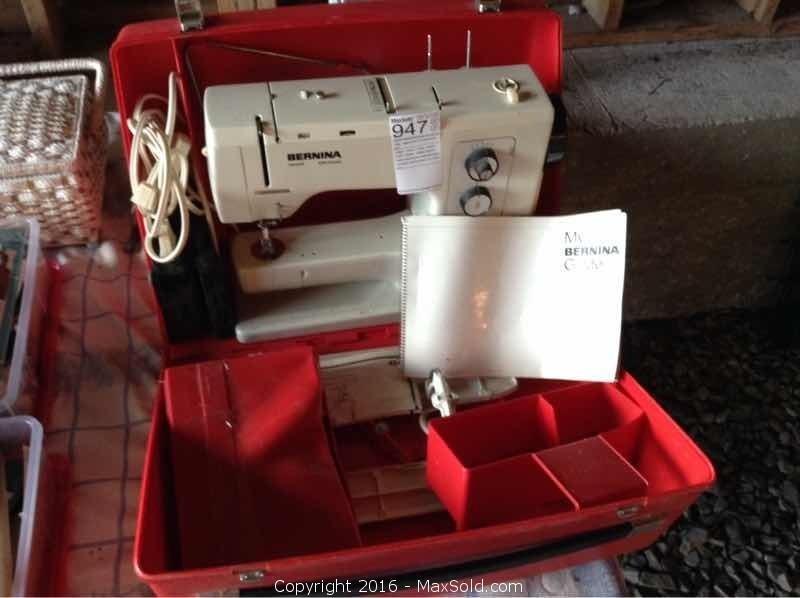 In case model 830 with manual and attachments. Untested. .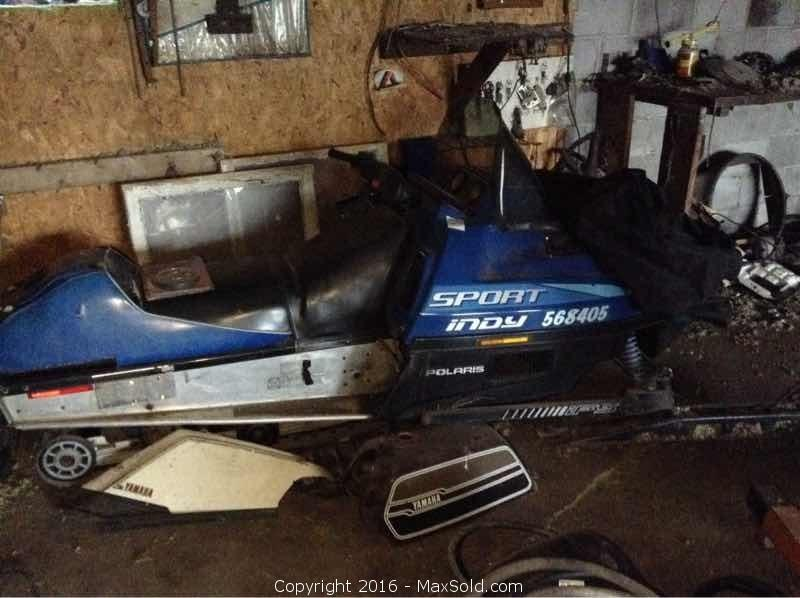 Indy 568405. Serial 1411181. Untested. Comes in Idler wheel and Yamaha parts. Note has tear in vinyl. .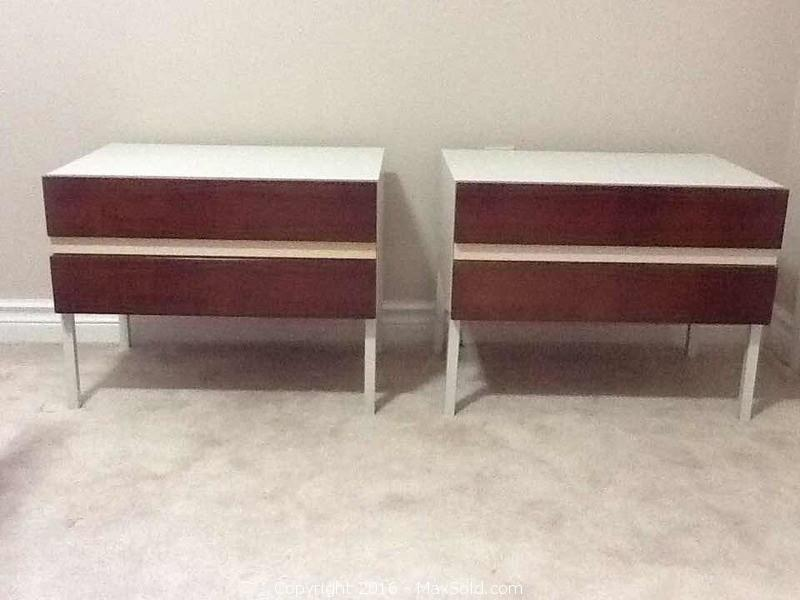 Interlubke German manufactured Mid century modern white side tables with teak facing. Double drawers. 23.5″W X 16.75″D X 18.25H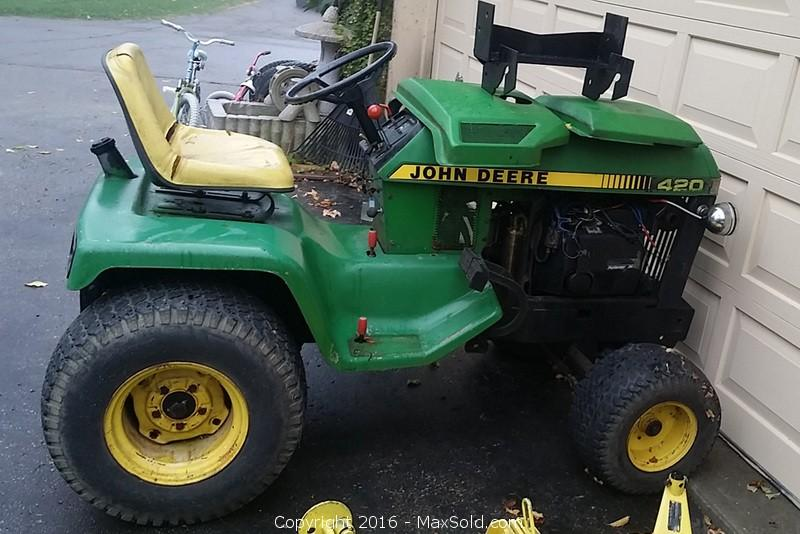 John Deere 420 Tractor with 60″ mower deck. Bonus custom made adapter mount for John Deere 318 Blade if buyer want to take it (it is the black metal bracket on top of the hood). Tears in seat. Cracks in hood. Battery is weak/dead. Last time use was winter of 2015. Mower deck was completely rebuilt per previous owner. Current owner never used the mower deck. Original Onan Engine has been replaced with a rebuilt Onan Engine by previous owner about 3 years ago. No testing was performed except started it and drove it from backyard to front of garage last month. Come to pickup at Category B time slot.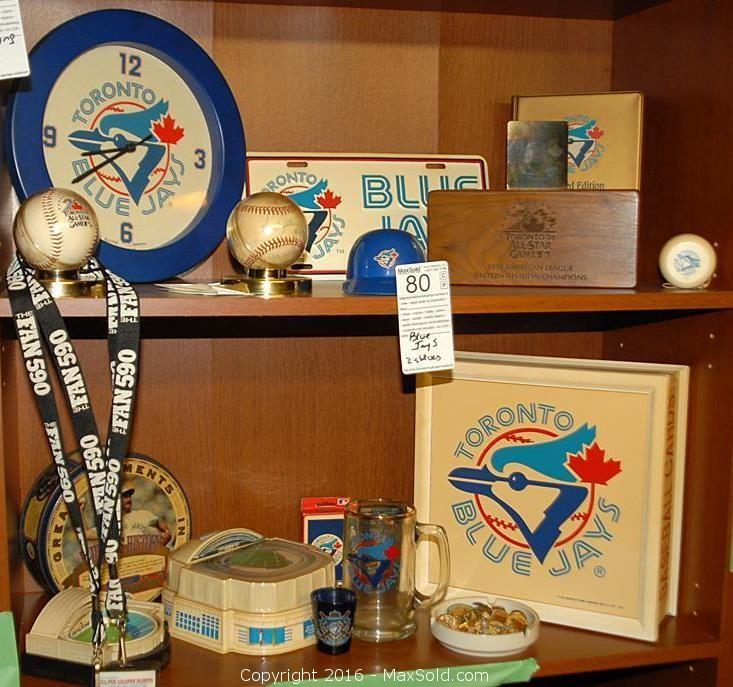 Kelly Gruber signed baseball with documentation, tin, pins and buttons, beer mug, shot glass, Sky Dome miniature, playing cards, clock and more. Untested. .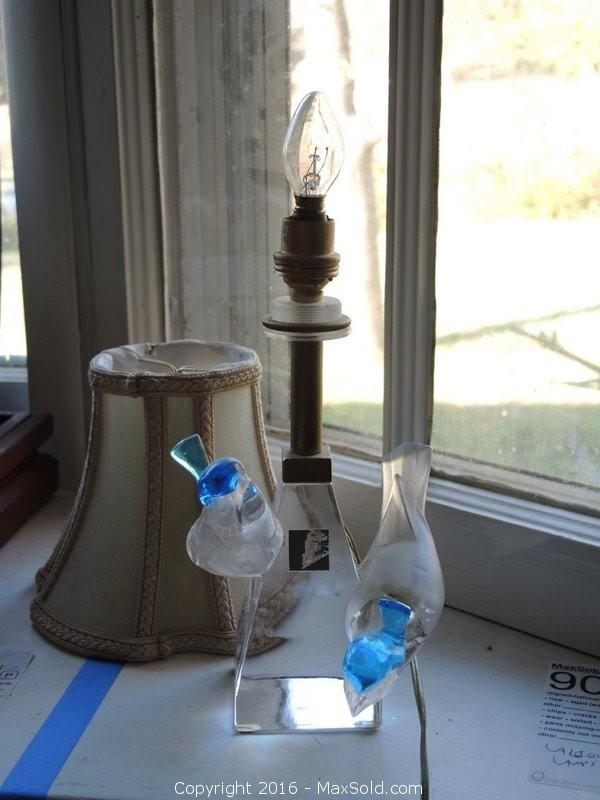 Lalique lamp with 2 birds. Lalique label partially worn off. Also signed on the bottom. Separate shade. Working per seller. .


#page