October was an amazing month at MaxSold, with nearly 300 online auctions held! We also launched our brand new website, which will allow us serve more downsizing, moving, and estate sale clients faster and more efficiently! Check out some of the cool pieces we sold last month, including some rather spooky special lots!    


Log Splitter 
Sold on MaxSold for $1425
Wallenstein hydraulic log splitter model WX520 with 4.80-8 tires. Honda GX 160 gas engine. Untested. Includes fuel cans. Wear.
John Deere 4300 tractor with John Deere 420 hydraulic front loader. Has 3513.9 hours on engine. Seat has splits in covering. Used last week. Seller says to the best of their knowledge is is a hydrostatic drive, it is definitely not manual.

 Very Large Original Oil Painting MIRIAM BRANSKY (JUN. 25, 1936-OCT. 26, 2013)a ?Erotic woman posing . approx. 26X36in, with frame 36X48 in.

Unisex Cartier watch. Model 2301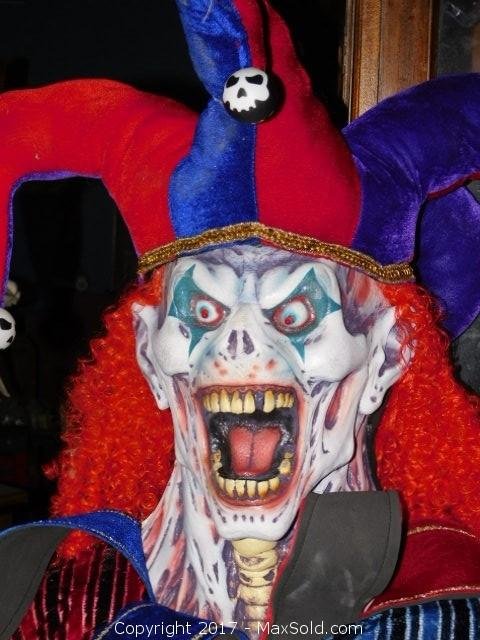 What can we say?

Skeleton.
Sold on MaxSold for $261
Medical grade Skelton. Not a Halloween Skelton. Heavy and anatomically correct.

Yamaha Model NS 1000M Speaker, 14.75 W x 13 D with covers in place x 26.5 T. Minor damage to speaker case, see photos. ONE SPEAKER ONLY. LOT 118 HAS MATCHING SPEAKER.
Wooden Dough Bowl from Brimfield, MA fair 32X14.
No rips some light stain, May clean out. Fits a Queen size bed.

With splatter Shield untested

Watt meter, Geiger counter, and more. Used and untested.

Vintage Twin English Dog Statues, chips, crazing, wear appropriate with age, see pics for details, as is. 8 inches tall

Vintage Comic Books. Vintage Vampirella Comic Books, "Weird" Magazine from the 1970's, "Weird Fantasy" and "Weird Science" Box Set Books, Vintage "The Savage Sword of Conan the Barbarian," and More. All used condition. Come to pickup at the Category A time-slot.

Vincent Bell Combo Coral 6 string electric guitar.
Records
Sold on MaxSold for $1930
Very large lot of records. Approx 3000 plus. Condition of records and sleeves are unknown. Does show wear.

Two stained glass windows from a church in Quebec. Wood framed. Frame measures 73.5X5X65.5. Window is 32X54. Note broken panes on both windows. Heavy. Bring help.

Tray 26X15, stamped Birks Sterling on back, weighs 70 oz. Commemorates launch of Ferry CV201 by Canadian Vickers, Montreal, on August 21, 1944 . Also, three sterling pieces. One cigarette case, and two match cases, one with a coin slot.

Thorens turntable made in Switzerland. Taya stereo receiver. In working condition as per seller.

The Curio Cabinet Cats Collection from The Franklin Mint, 25 items. Miniature in size. No chips or cracks. Pick up at Category A time slot.

Teapots and more 5 pieces of STERLING in total. Overall good condition, note wear.

Limoges - D
Sold on MaxSold for $278
Teapot, Creamer, sugar bowl, coffee pot, 12 bread plates, 12 bowls, 12 octagon plates, 13 dinner plates, 12 coffee cups, 11 Saucers, serving dishes and more. Note minor wear. Come to pickup at Category D time-slot.

Stihl 025 gas chainsaw. Works well. Manual and tools included.

Stieff Sterling 4 soup spoons, 6 salad forks, 6 knives, 11 teaspoons, 3 serving spoons, 7 forks plus butter knives and sugar spoons.

Star Wars collectibles including cookbook, dog costume, calendars, magazines, 500-piece puzzle, action figures, light sabres and book. Signed copy of Phyllis A. Whitney's Amethyst Dreams.

Stainless steel 48X14X6, 48X20X6. Excellent condition.

Dresser
Sold on MaxSold for $580
Solid wood dresser with 8 drawers, dovetailed joints, metal handles made by West brothers furniture. Very minor wear. 62X19X40.

Soapstone art Women and Turtle from Six Nation Ontario artist Greg Longboat. Piece is signed and dated 1991. Statue is 9 inches long and 9.5 inches tall. Minor polishing needed as seen in pictures.

Snuff box collection omprising eight snuff bottles, mainly Chinese and Tibetan style. Includes jade, mother of pearl, and enamel, some inlaid with turquoise or other stones. Early 20th century to 1980's from China and Bhutan.

Sharp LC 52D64U Aquos Flat Screen TV, 52 in. diag., with stand, in good working order.

Set with 1 oval sapphire est weight 0.50 ct with two oval sapphire est 0.60 ct and four full cut round diamonds est weight 0.015 ct each, sapphires are medium to dark blue colour and have slight inclusions. Diamonds provisional colour quality H-I and clarity VS1 Size 6. Est. Replacement price $1,255.00.

Set with 1 cultured half pearl and 8 Old European cut diamonds est 0.19 ct ea., Pearls are cream colour with cream overtone, diamonds provisional colour I-J clarity SI. set in 18 kt gold. Est Weigh 3.05 grams Size 5. Est. Replacement price is $4,245.00. Comes with own ring box.

Set of Le Creuset pots and frying pan made in France. Scratches and heavy.

Set of 4. " Sisters, Thankful, Awakening & Peace " .Come to pickup at Category A time-slot.

Series 4359 8224, almost new, 6 to 8 hours recharge time. Adult sized, both tires flat, helmet not included.

Fire Safe
Sold on MaxSold for $232
Sentry safe with push button combination pad SFW205GPC. Combo will be reset for buyer. 17.5X18.5X24. Bring a dolly to remove. No elevator. Item must go down stairs in building.

Tea Set
Sold on MaxSold for $970
Royal Albert tea set stamped Senorita. Service for 6. Teapot measures 5" in height. Note chip on 1 cup.

Banjo
Sold on MaxSold for $146
Rover banjo with soft case and stand.

Retro bread bin and food storage bins, and two coffee urns.

Red and gold Hohner accordion in original case. Red leather straps. Excellent condition. Wear on the case, fabric covering the wood shell is loose in places. 17X15X9. Made in Germany. 1 piece.

RC1060 Mower. PTO driven. Owner states in working condition. Needs to be disconnected from tractor.

RC Planes in original boxes. Cox brand. Flying saucer. RC car. Untested. Some wear.

PS4, games and more. RCA DVD player with car charger DRC98091S. Untested. Collapsable book stand 14X11.5X56

Power Light 600 Photogenic Studio Flash (set of two oth tested and working and come with storage cases.

Platter with markings 925 sterling and crown marking. 23X14. Has a few scratches. Sold as is.

Hardwood C
Sold on MaxSold for $400
Pile of rough sawn hardwood 8.5 ft lengths. 1X6, 1X8, 1X10, 1X12, 2X8 and 2X10. Stored inside shed.

Otto Pankok?(1893 - 1966) Cat Color Woodcut in Gold & Black 1950s Otto Pankok was born in 1893.a? He was a German painter, graphic artist and sculptor. His works were deeply influenced by his great idol, Vincent van Gogh. Pankok??s style is usually attributed to expressive realism as to the lines and the color range. A? The artist is especially recorded for his large charcoal paintings. A? During the Third Reich, Pankok was banned from work, and some of his paintings were displayed at the a??Enstatite Kunsta?? exhibition from 1937 to 1941.a? After the Second World War, he was appointed professor at the Da?sseldorf Art Academy. After his death in 1966, Otto Pankok left behind an enormous graphical work. A?

Original Vintage Cocaola Cooler. Purchased in 1957 by owner's parents.

Original blonde 'bubbleut' Barbie, Ken, Skipper, Ricky, Twiggy and others including original carry case, clothing and accessories, antique doll and cradle with handmade bedding, and more.

Organ, choral music. Sheet music and scores for choirs and organ and Piano. Also popular music scores and sheets. Shelf not included. Heavy. Bring help.

One large barn beam 7.5X14X25 ft. 8X8X16 square beams (4). Beveled beams 8X12X12, 8X12X14 (4), 8X12X16. Roll of 16 ft plastic conveyor belting. Aged wear, stored outside under eaves.

Oak wood drawers fold up medical box by H Gerstner and Sons Dayton OH USA model 10 B and with many mobile dental utensils Come to pickup at Category A slot.

Not tested - used dusty ome to pickup at Category A time-slot.

Moorcroft pottery. Made in England. Iris design. Vase stands 6" high.

Perfume
Sold on MaxSold for $230
Mix of perfumes Jess, Be21, Doulton, Elora Soap Co., 273 Rodeo Drive and more.

Minolta, Sekonic light meters, empty accessory bags, expo disc light filters.

Loveseat
Sold on MaxSold for $1200
Massimo Vignelli for Poltronova, Saratoga mid century Italian love seat with fiberglass frame and faux suede upholstery. 59.5X35.5X24.

Armchair
Sold on MaxSold for $810
Massimo Vignelli for Poltronova, Saratoga mid century Italian arm chair with fibreglass frame and faux suede upholstery seat.

Marble top table with removable shelf. Intricate wood work. 48X24X31, shelf 47X7.5X27. Contents not included.

Mamiya C220 camera untested, also included a Minolta XG-M there appears to be no lens all this with a vintage camera bag.

Mamiya 645 SVX Pack 2 camera no connecting wires, also included is Vivitar auto focus zoom 730AFNI , untested. Zoom slide duplicator Japan, also Fuji film S3000. Untested.

Lotte Lamp- Purchased in 1971.

Lladro bashful bather girl with dog has box approximately 5 tall

Leslie electric organ with matching bench. 48.75x28.5x38.5, Wurlitzer sound Cabinet with manual 29x20.5x41 some dents and blemishes on top. Seller says both in working condition located in basement heavy bring help.
Farm Wagon
Sold on MaxSold for $520
Large wood platform steerable farm wagon 7 ft x 16 ft plus 5 ft tongue. Tires were holding air but weather cracked at time of catalog, aged wear.

Large collection of matchbox cars in original boxes. Plus six matchbox car carrying cases. Some wear.

Large assortment of Christmas tree glass and Disney ornaments, numbered Donald Duck lunch box, Keepsake Lionel Locomotive ornament in box, and more.

Kofod Larsen Mid century rosewood cabinet with 2 lower storage drawers and 2 cabinet doors with glass panes. Top hutch measures 45X13X45. Lower cabinet measures 45X23X21.5.

Knightia Fish mass kill - 50 000 000 years old. Turquoise, amethyst, Coral, and more. Note wear.

Kids ATV, not running, in storage for last 3 years. Great shape, will need a new battery and ?

James Keirstead Original 18" X 26 1/2"

Indoor putting green. Unused and in original box. 1 piece NIB.

Includes the Artilleration, Deluxe Turbo Megazord, Double Morphing Rescue Megazord, and the Deluxe Robo Racer.

Includes Mont Blanc and Parker cartridge pens, Sheaffer pen and more. All untested.

Hudson's bay point blanket, wool blanket, back rest, Airworks heater, purses, scale, hat, folding chair, TV table.

Hubley Cast Iron Sealyham Terrier Doorstop. Original paint, paint peeling in some areas, dime sized damage on one side where two halves are joined. Short legged, faded pink tongue, red collar and painted black eyes. Lines noted where piece was put together.

Heavy solid wood Michigan Maple Block Company table block top.

Hail to the Redskins. Signed Redskins football. No certificate. Signed 50th anniversary pennant. Plush, water bottles and more.

Chair
Sold on MaxSold for $640
Grey upholstered cube chair 42X36X34 Camden collection with matching pillows. Tapered wooden legs. Purchased at Arhaus. Matches lot 212.

GoPro Hero 4 Silver with 16gb card, extra battery, charger, waterproof case, other accessories and original box. Tested and no issues.

Fifty long boxes of comics. With approximately 250-300 comics per box (12,500 to 15,000 comics in total). Many of these comics are bagged and boarded, some are still sealed in original packaging and most of them have never been read. Includes hundreds of first issues. The majority of this collection appears to be in excellent condition. Please note, heavy bring help to move. Some boxes holding the comics are damaged due to age and use.

Encyclopaedia Britannica Special 1768 Edition - Published 1962, Complete Set Volumes 1-24 including Index and Atlas

Double mahogany antique barristers bookcase c. 1920. 52X12X51. Wear as is appropriate with age. Does not include items on shelves. Heavy bring help, on third floor.

Door 36X84X1.5. Scratches, wear and wood split on edge.

dimensions 30 inches high, 75 wide and 32 deep

Desk scale in great condition. Plaque on front says Henry troemner Philadelphia no 267. If I had lots of gold kicking around Id keep it..

Description: ESTATE Sale of Contents stored in 40 foot Sea Container.

Custom fit motorized wheelchair by Amy systems, seat 20x20, floor to top of cushion 23, backrest 19h. Comes with 24volt battery charger. Untested.

Console table with arcade classics 22X36X29. Two piano benches 24X14X18 owner varieties working condition. Heavy being help.

Commercial grade heavy duty Omas meat slicer in working condition. Wear.

Collection of vintage toys, including Pocket Dart Pistol, Mousekaphone, Lil Mischief, Hubley Transport, toy cap guns, many in boxes, games, and more. All untested.

Collection of vintage toys, including Battle Hits, Log Builders, stuffed animals, pickup sticks, cars, doll, and more. All untested. Some wear.

Collection of paintball equipment, tool box, hard case for marker.

Collection of flying toys in original boxes. Cox brand. Model rocket, Red Barron air racer, flying saucer, plus patches. Untested. Seller states never used or opened. Seller was manufacturer rep for Cox. Some wear.

Toy Cars
Sold on MaxSold for $2400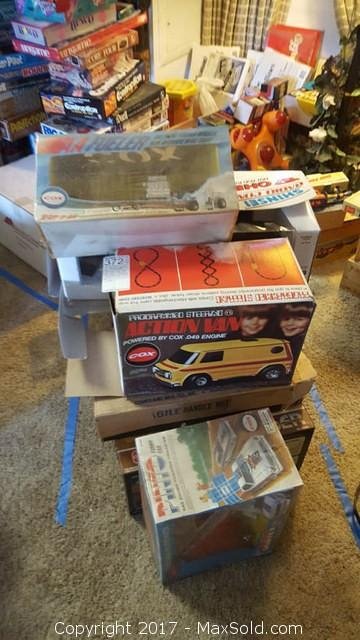 Collection of Cox brand toy cars in original boxes. Never used, seller was manufacturer rep for Cox All untested. Some wear and dust.

Tap Handles
Sold on MaxSold for $215
Collection of beer tap handles including brands like Blue moon, National Bohemian, and Miller light. Bring boxes.

Chinoiserie-style lacquered export box, elaborately decorated with bird on lid, and pavilions with figures on sides and inside; probably late 1830s/40s. Once lid is raised, multiple smaller compartments inside, each with decorated lacquer lid and satin lining; perhaps originally intended for medicine or sewing, later used as a jewelry box. Comes with custom-made black steel stand. Shows wear. Measures 25X17X28. Located on second floor of town house. Bring help.

Chandelier
Sold on MaxSold for $180
Chandelier. Approx. 27 inches high.

Catalog 3-110 Vintage Singer sewing machine with pedal in modified table 30x30x28, comes with sewing case and accessories, folding chair.

Planter - D
Sold on MaxSold for $360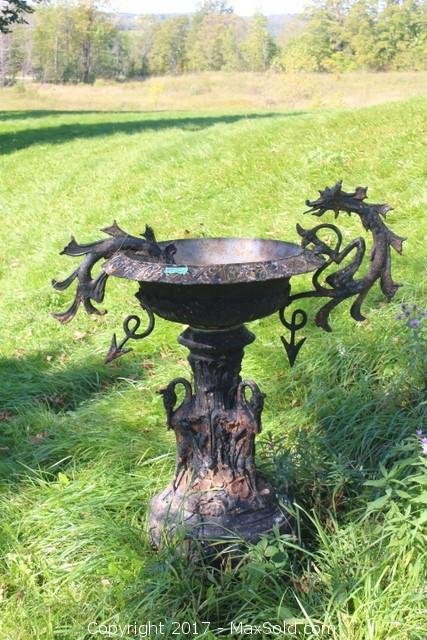 Cast iron planter/bird bath with griffon dragon on side. 28X42. Note rust and peeling paint. Broken dragon. Very heavy. Come to pickup at Category D time-slot.

Canon Ultrasonic Tiffen EF 5mm lens. Canon ultrasonic Hoya EF 70 to 200mm.

Canon EOS-1 digital camera. Canon battery charger, cords and Color Checker Passport. Not tested.

Canadian national gallery artist. 1846 1923 Watercolour. Snowpeaks. Eat value $2500.3000. 17 x 21. Note. I can't find the signature, but I am 99 percent sure this was painted by him.

Bulova chain driven grandfather clock 79.5X11X78.5 / Sounds beautiful- works great!!! Includes instruction manual. Bring help to remove from house

Brand new, unused stairlift system installed by Motion Specialities. 167" length. All specifications and dimensions can be found in the photos. Must bring tools to dismantle and remove from staircase. WINNING BIDDER PLEASE COME 45 MINS PRIOR TO PICK UP START TIME TO DISMANTLE AND REMOVE.

Beautiful 1950s engagement ring. Roughly a size 6? Insurance value of $9,725.00. Appraisals are provided to us by the sellers and when provided are always insurance value appraisals which are usually much higher than retail value.

Bally Midway "Escape from the Lost World" official pinball machine with key. Front opens with key to storage area, manual inside. Untested. 28X54X75.5. Large item! Please bring extra help.

Australian 16 inch leather saddle, includes stirrups and cinch. Like new.

Assortment of jewelry. Sterling cuff and earrings along with other fashion sets and pieces. Ladies vintage Rotary watch, on silver plate trays.

Ashtray/lamp. DC-3 mounted on base. Works according to owner.

Approximately 70 XBox 360 games and stand 21X11X49.5

Antique Colt Cast Iron Stove/oven, HEAVY, Very solid, works perfectly, one of a kind Colt branded, brought to Canada from south of the border. All original legs, the handle knob isn't secure as seen in picture, bring help to load, see pics for details, as is.

9 dolls, including Armand, Marseille and Kestner, with 2 display chairs. Per seller all antique. Note wear. Come to pick up at Category A time-slot.

8 solid wood chairs with upholstery, chairs made by Bermex. Matches lot 590.

7 piece knife set, never used. Note plastic cover over original box is discoloured with age. Marble rolling pin with seat, used wood cutting board.

6 shelves includes Tolstoy's War And Peace, Moby Dick, Shakespeare, Sherlock Holmes and 16 American Heritage History of Series and more.

Teak Chairs
Sold on MaxSold for $900
6 Kai Kristiansen midentury Danish teak dining chairs. 21X18X31.

5X5X1.5 Moorcroft bowl. Note: some crazing on underside. Bring packing material.

47X20X16 with queen Anne legs and 2 - 8" drop leaves.

4 Plycraft Bentwood Mid Century Chairs, deep scratches on 1 chair, swivel motion, 17X20X31, 3 nesting tables 14.5X14.5X15.5

35 pieces

3 Econolite motion nite lights. Note Niagara Falls lamp missing moving part.

27X60X45. Foldable, see photos. Good condition.

27-Inch marble clock with cast metal figurine. Minor wear. No key. Marked La Feuller par a Nels.

24x15 " Autumn Blaze " signed Trudy Doyle.

21 pipes -pipe ashtray, and small humidor. Brigham, Julius Vesz, Dunhill, Mayfair and more.

20 piece gold rimmed Aynsley Hatfield pattern dinner plates, 14 salad plates, 14 side plates, eight saucers. Also includes Aynsley corresponding style, no pattern name, eight salad plates, four Hammersley salad plates, Royal Albert Lady Hamilton pattern platter, one Birks made in France sculpted bowl, three Aynsley tea cup and saucers, eight Aynsley footed teacups and saucers, eight Aynsley corresponding pattern dinner plates, ten consomme bowls, two with broken handles. Ornate three piece tea set. All of this lot has heavy gold trim and is in burgundy with different corresponding mix and match patterns. Few chips. Broken handle. Bring packing material. Cupboard not included.

1880 Liberty Head 5 dollar gold piece. In coin sleeve.

14 silver (.800) fifty cent pieces dated 1959-1966, 5 copper nickel fifty cent pieces dated 1970-1987 and a RCM year set in pilofilm dated 1987.

14 ft. Fiberglass Bay liner with 40 horsepower Force motor. Includes trailer. Owner says it runs good. Note repair to side, needs cleaning.

12 light Tiffany-style lamp 60" tall, untested. Good condition.

11 Vintage wood planes and two router planes.

10K White Gold Diamond (1.0ct) Ring (Made in Canada), Insurance Value $4200 (Est Selling Price $600-$1200). Appraisals are provided to us by the sellers and when provided are always insurance value appraisals which are usually much higher than retail value.

Roland Human Rhythm R-5 and Roland D-50 Linear Synthesizer . Seller says unit is in working condition.