Although we've sold some exciting items this month like a vintage gas pump, and a folding Italian bike, we've also sold every day items - because at MaxSold, that's what we do! At MaxSold, we sell everything from the car in your garage, right down to half used cleaning supplies under the sink. That's right - literally everything! And as you'll see in some of the items we've decided to feature, these items DO sell, and people pay for them!
With more and more auctions happening each month (nearly 500 auctions in September!), and 1000s of items selling, MaxSold was also excited to rank in the 2018 Growth 500 -  the definitive ranking of Canada's Fastest-Growing Companies.
This month, we shared our walkthrough video - which is a great way to see how MaxSold works, and how we're able to sell everyday items in the easiest way possible! We've narrowed down list, so be sure to check out what's trending below!
Sold on MaxSold for $610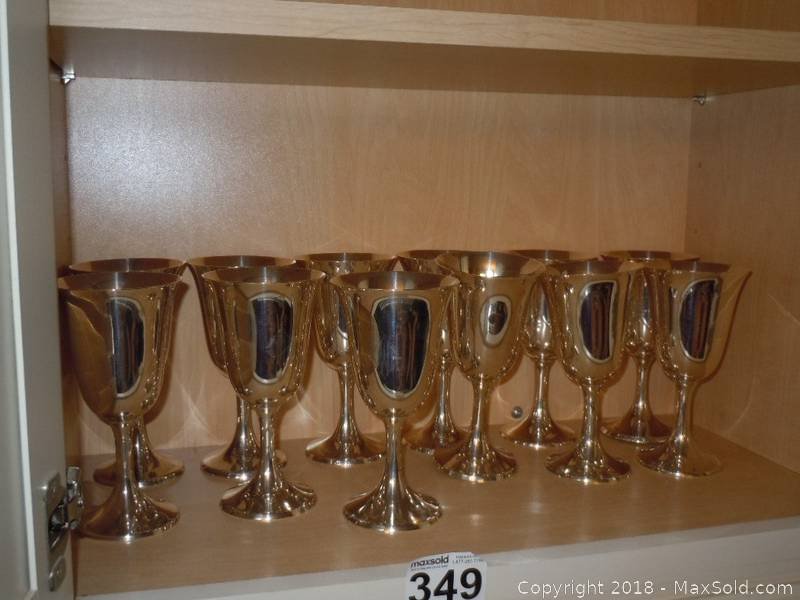 12 Goblets market Sterling. 
Sold on MaxSold for $810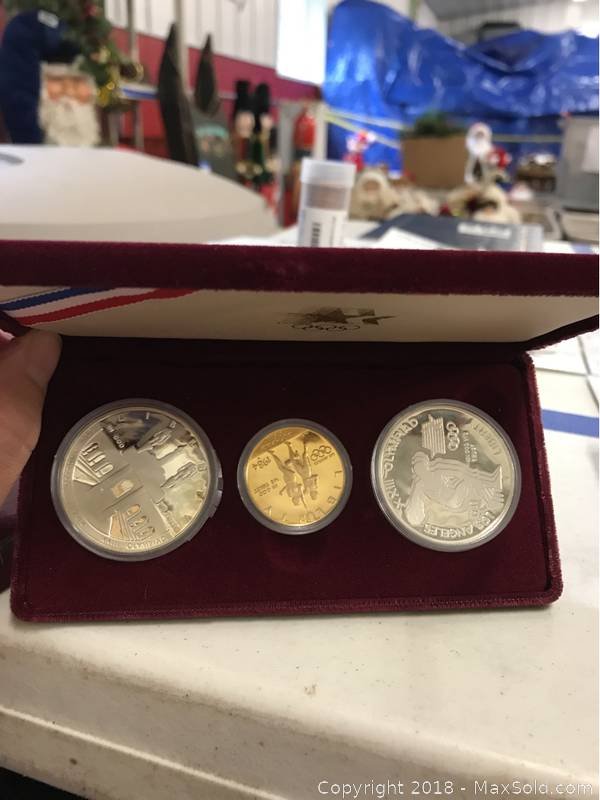 Coin sets from the Atlanta Centennial Olympic Games in 1996. There are also coin sets from the 1984 and 198 Olympic games. 
Sold on MaxSold for $1010
1st Edition Ernest Hemingway, For Whom The Bells Toll.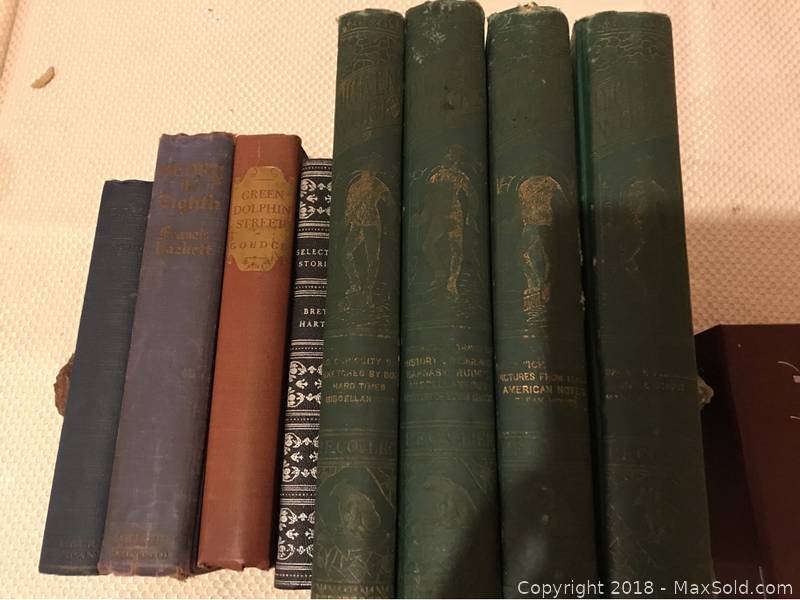 Sold on MaxSold for $9200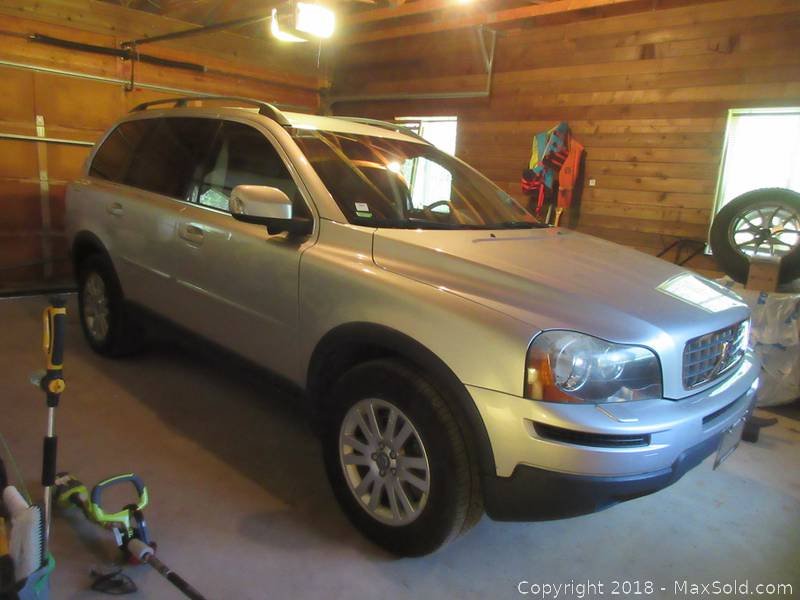 Silver 3.2 liter inline 6 cylinder automatic with all wheel drive, 146681 km, VIN YV4CM982791496656, black leather interior, dual AC, heated seats, cargo accessories, tailgate folds down, new all season radial tires, and certified. 
Sold on MaxSold for $760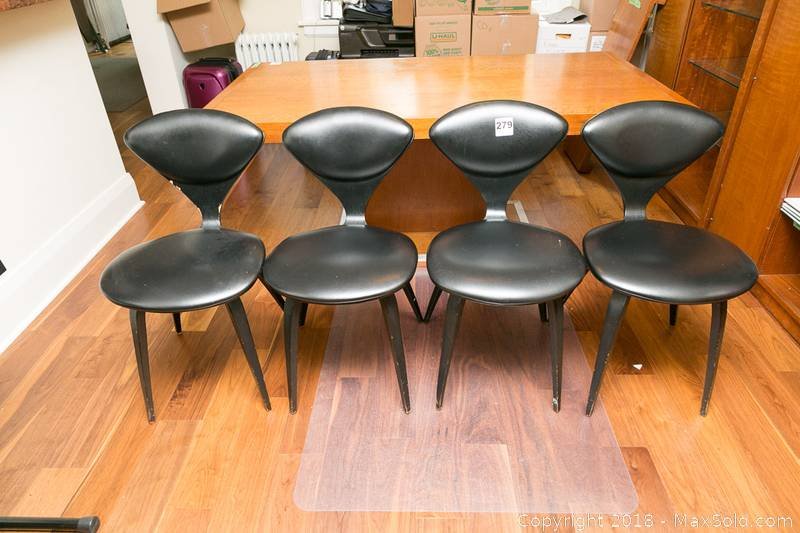 Tomlinson sophisticate Line slipper chairs. Tag said made by Plycraft Ink. Wood with vinyl seats. 
Sold for $55 on MaxSold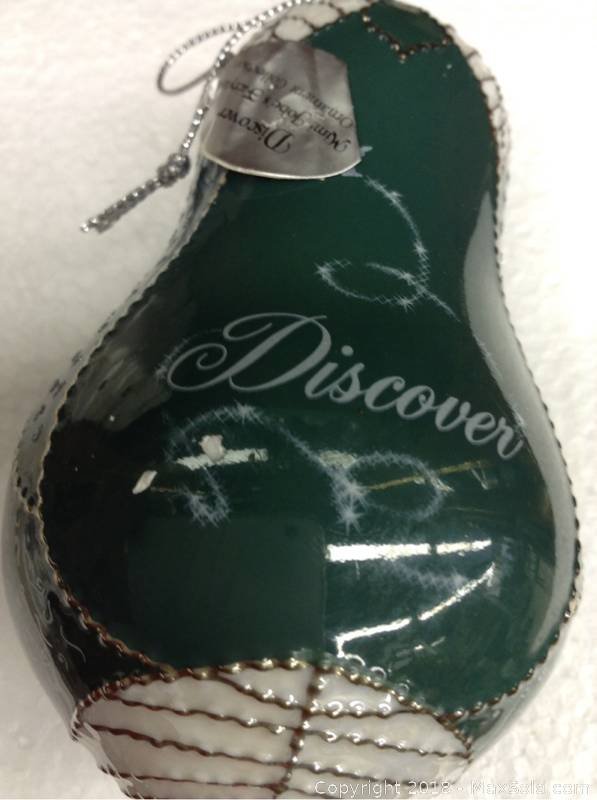 From the Fairyland Heirloom Porcelain Ornament Collection with COA.
Sold on MaxSold for $3350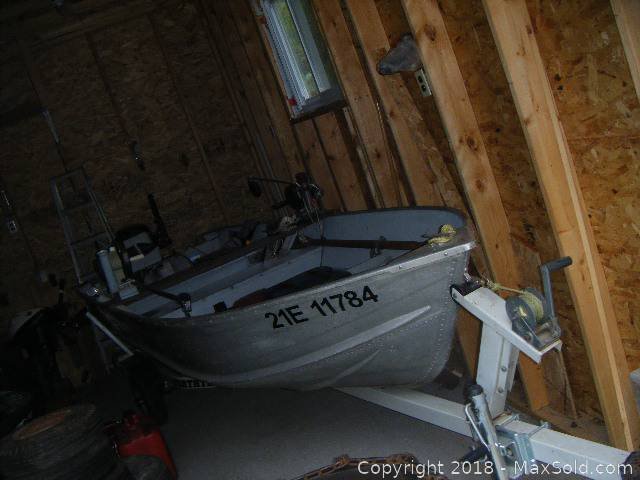 Princecraft 14 ft. Aluminum fishing boat with 20 hp Yamaha 4 stroke outboard motor. Has electric & manual downriggers. Depth Finder. 14 ft long 59 inches wide. Includes large gas tank, many different fishing attachments, oars, 2 seats, trolling lines and more. 
Sold on MaxSold for $1161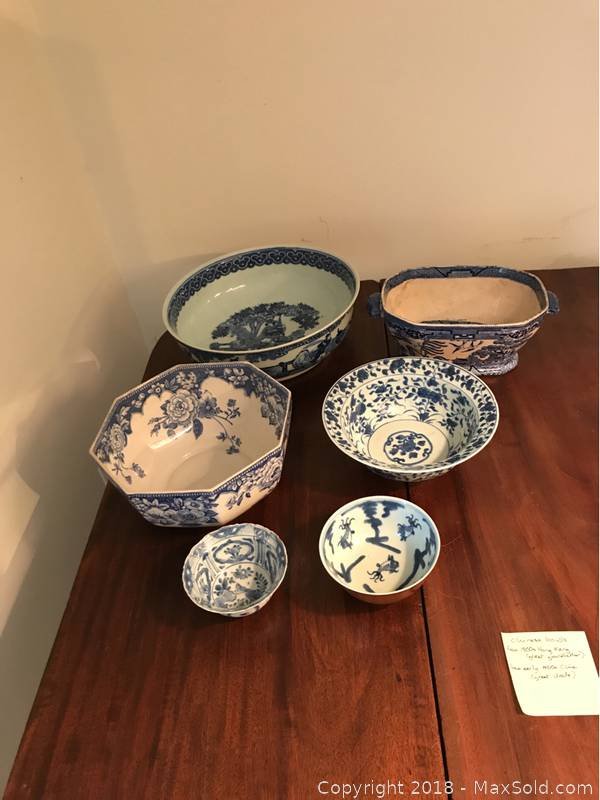 Total of 6 pieces. Several are from late 19th/early 20th century China or Hong Kong. Also includes an Ashworth Brothers bowl and more. 
Sold on MaxSold for $210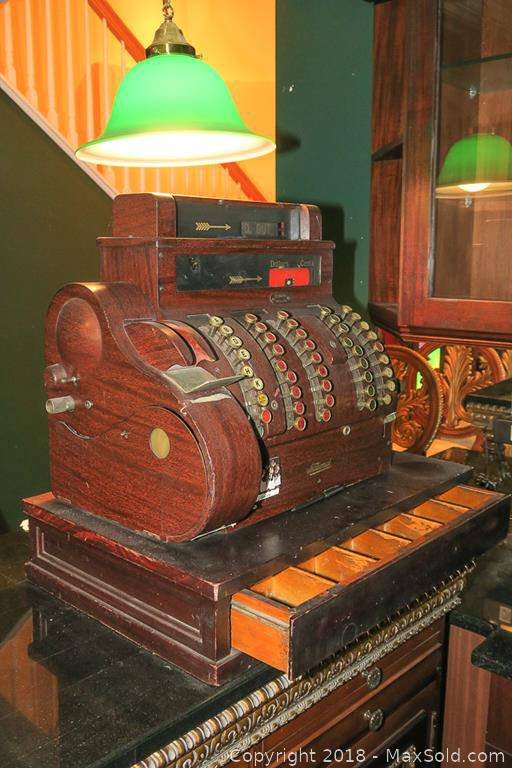 National cash register, has metal plate with numbers, 2126735. 852 XX. Normal ware for age. 
Sold on MaxSold for $1130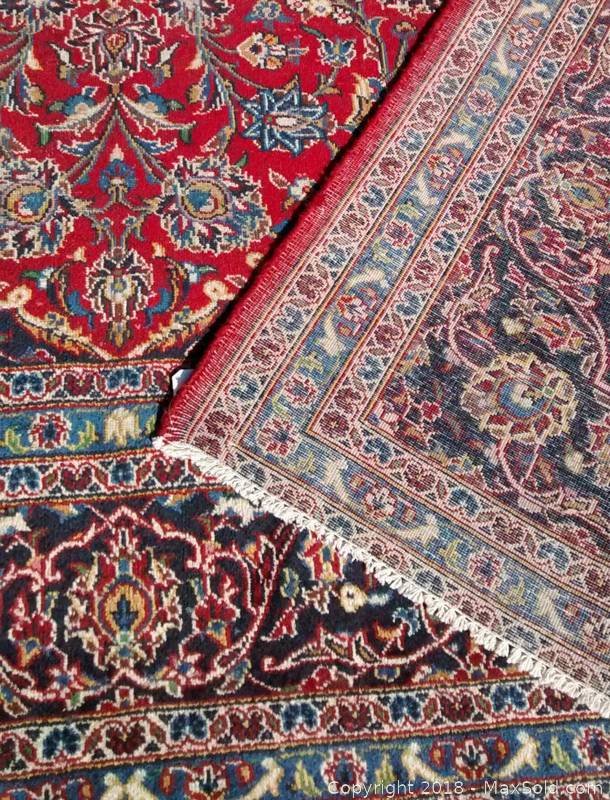 Cobalt enclosed floral medallion on a bright wine field with multiple floral borders. About 358cm x 264cm OR 11'9" X 8'8'. (9 x12 foot). Big thick heavy rug. 
Sold on MaxSold for $410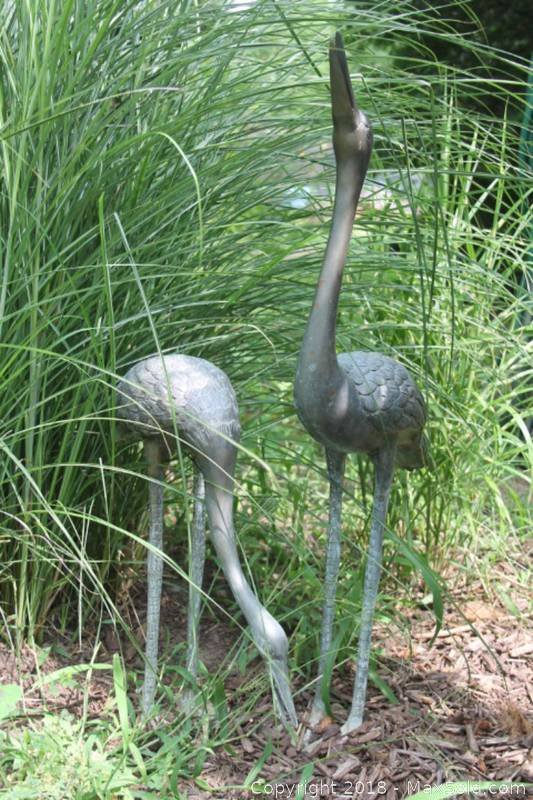 Pair of metal herons, one large 35h, and one small 20h. 
Sold on MaxSold for $210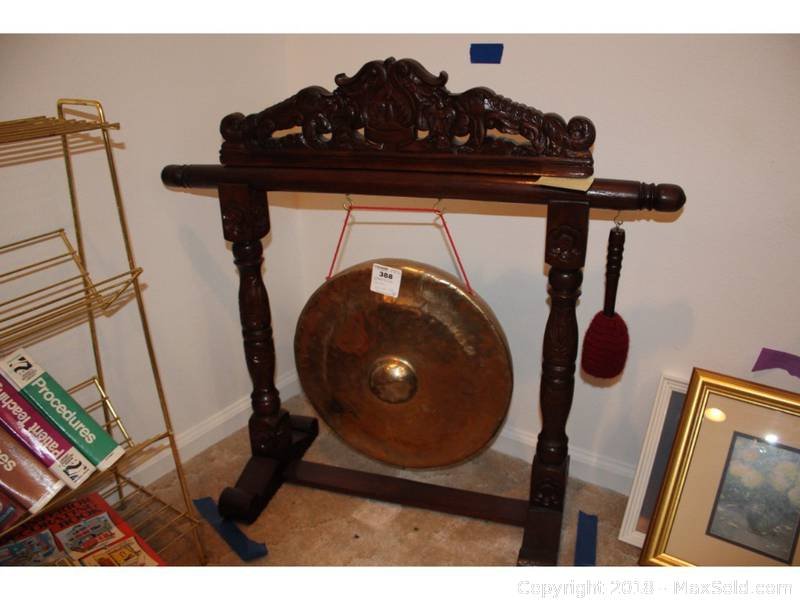 Solid wood, carved Indonesian gong, measures 36x13x33.
Sold on MaxSold for $220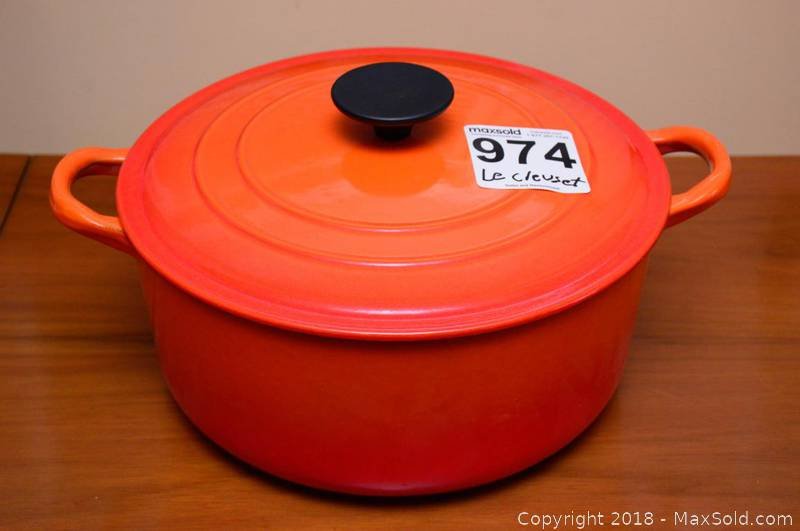 Large stewing pot. Le Creuset.
Sold on MaxSold for $900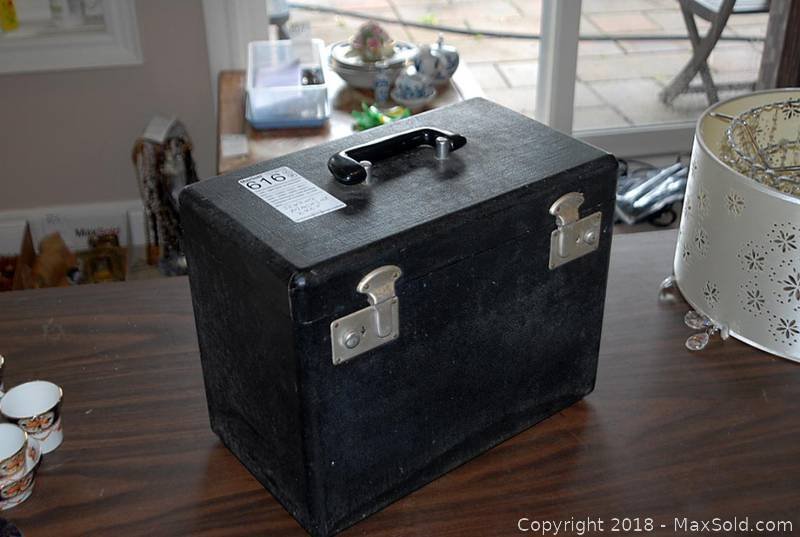 Vintage singer sewing machine from Europe - 240 volt, circa 1964 model 222K. Accessories and manual included in the carrying box. 
Sold on MaxSold for $211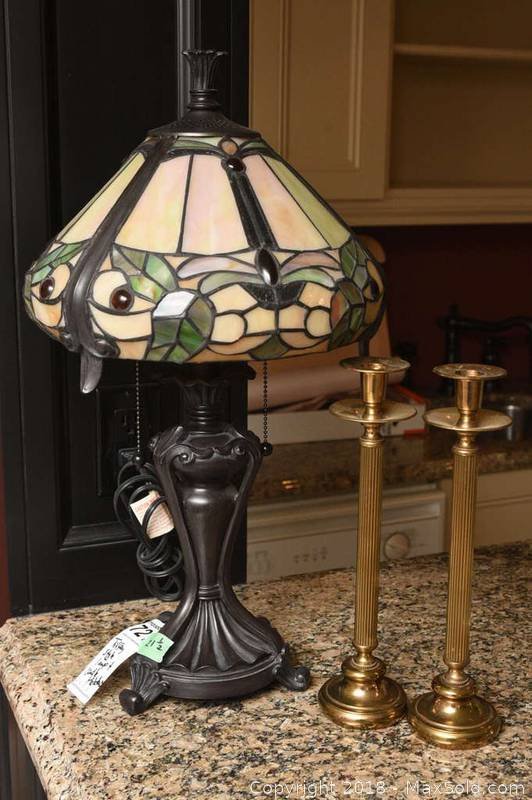 Lamp 21.5 inches. Untested. 2 brass candle holders 
Sold on MaxSold for $360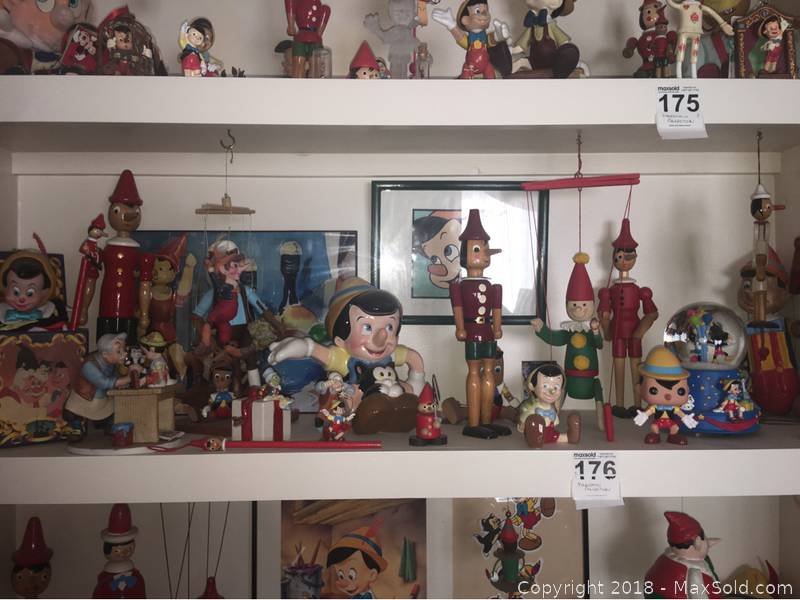 Assortment of Pinocchio Figures. 23 pieces. Various sizes and styles. Bring packing materials. Part of a 45 year collection of 430 pinocchios from all over the world. 
Sold on MaxSold for $810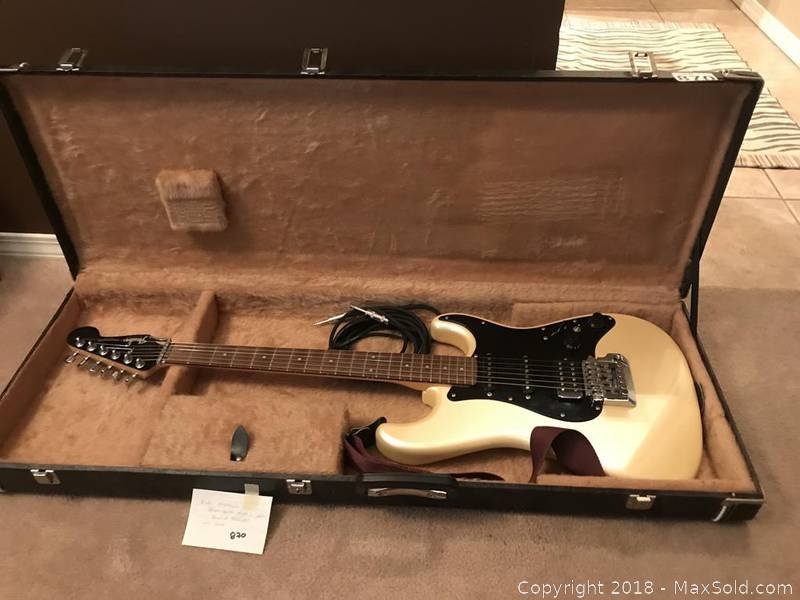 Fender Stratocaster electric guitar made in Japan E520497 with case and extra whammy bar. Yorkville shielded cable. 
Sold on MaxSold for $430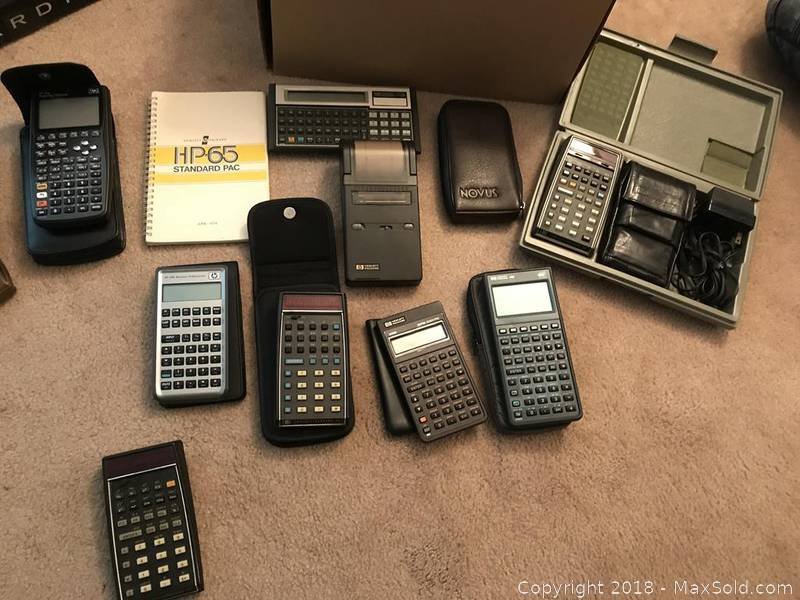 Assortment of Hewlett Packard calculators including model #s, 10B, 12C, 17BII, 20B, 30B, 25, 35, 41CX, 41CV, 42S, 45, 48G 50G, 65, 71B. Most with manuals and cases. 
Sold on MaxSold for $160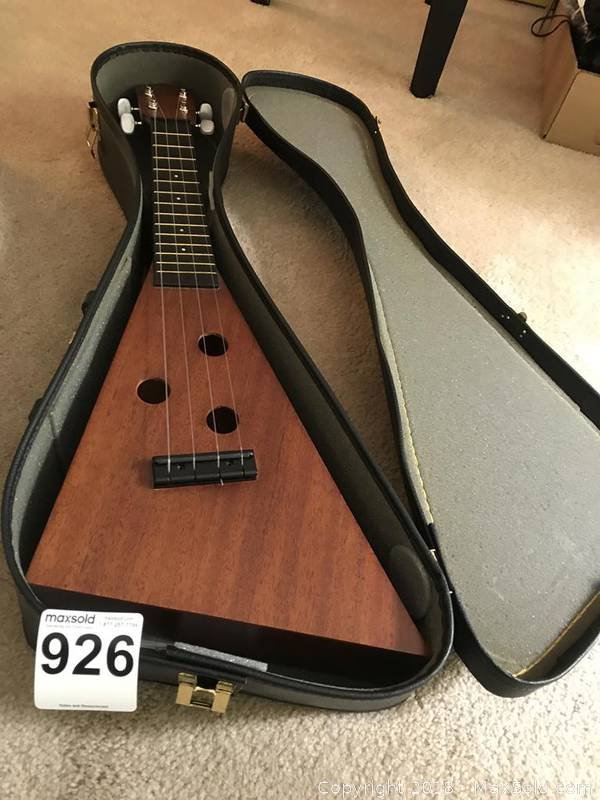 The Triumph ukulele with case, three Hohner harmonicas, and Suzuki Fire Breath and Folk Master harmonicas and music books. 
Sold on MaxSold for $1710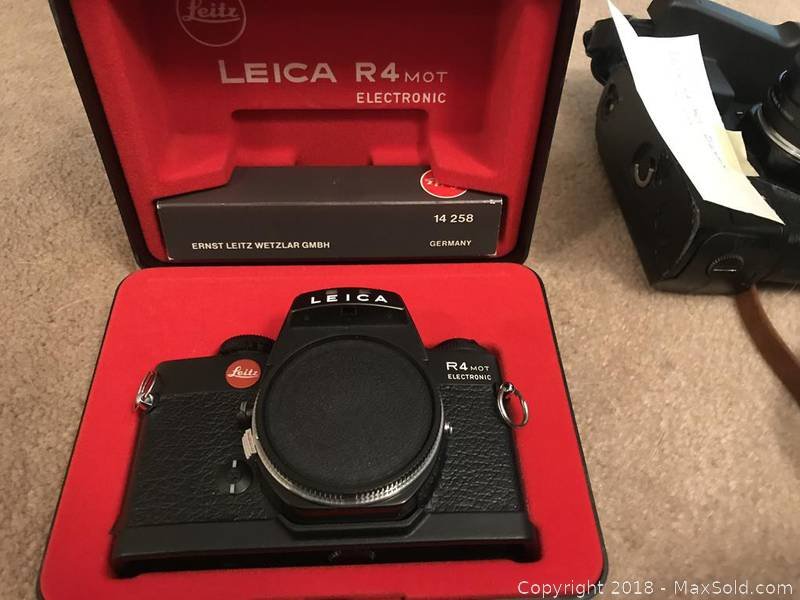 Leica Cameras including M5 with case, antique D.R.P. No 373025 Ernst Leipzig Wetzlar with case, Flex SL 35mm camera with case, R4 MOE electronic with lens and more. 
Sold on MaxSold for $2650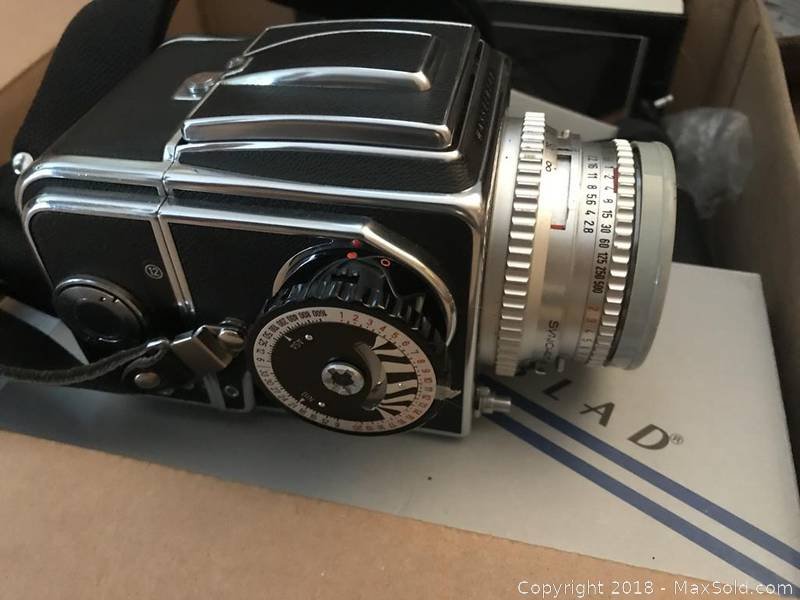 Two Hasselblad cameras 500c m with manual, untested. Hasselblad cb lens 4.8 160 in box. Hasselblad grip and manual photography book. 
Sold on MaxSold for $339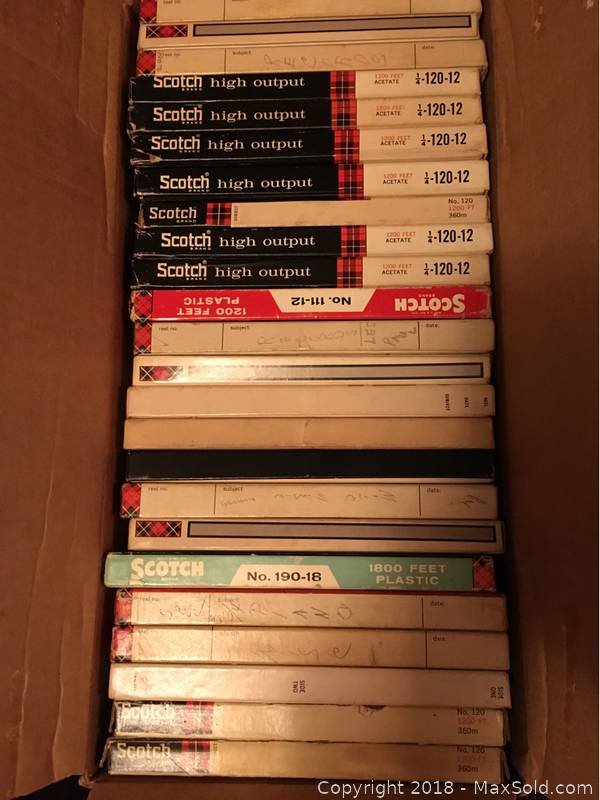 Pioneer reel to reel player. RT 707. Vintage Wollensak reel to reel player. Eight boxes of reel to reel audio recordings, and more.
Sold on MaxSold for $149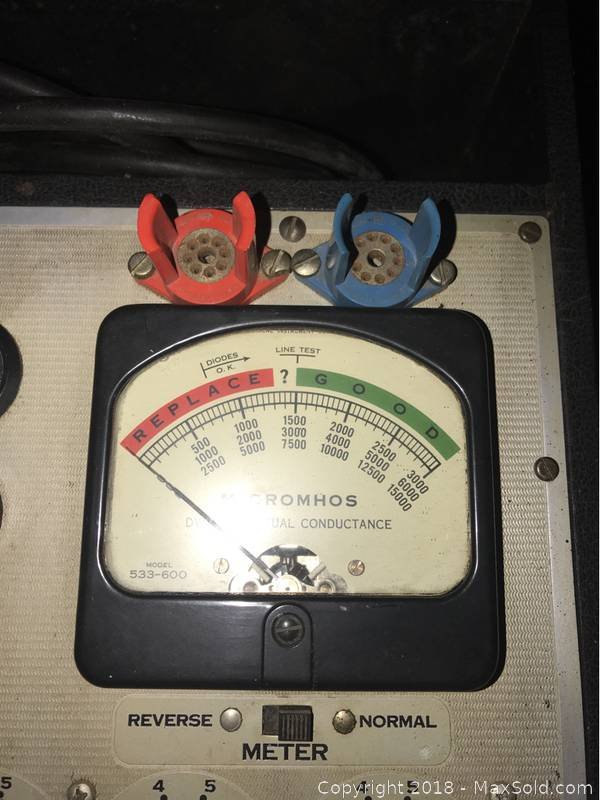 VINTAGE Hickok Model 533 dynamic Mutual conductance tube tester, made in USA.
Sold on MaxSold for $631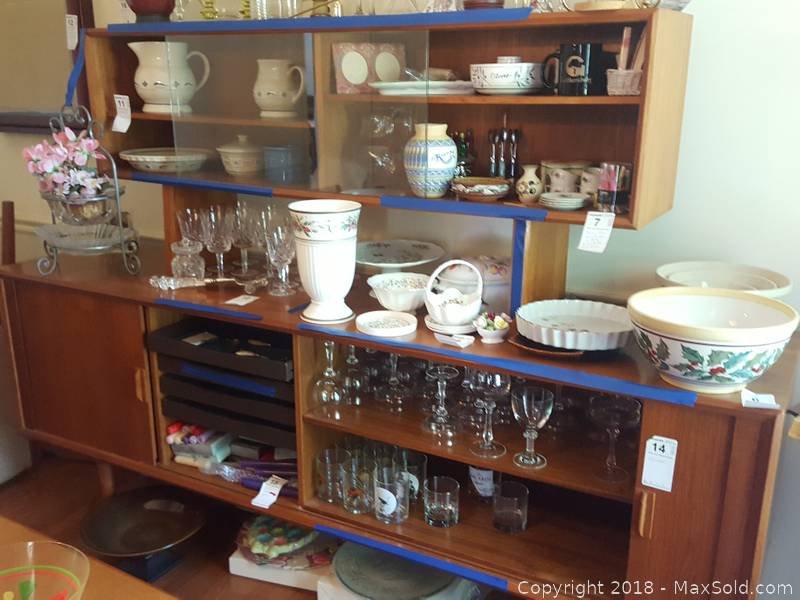 Mid century modern buffet. 80X19X57 Sliding doors on the cabinet below as well as above. Unsure if top can be removed. Heavy. Made of teakwood. 
Sold on MaxSold for $562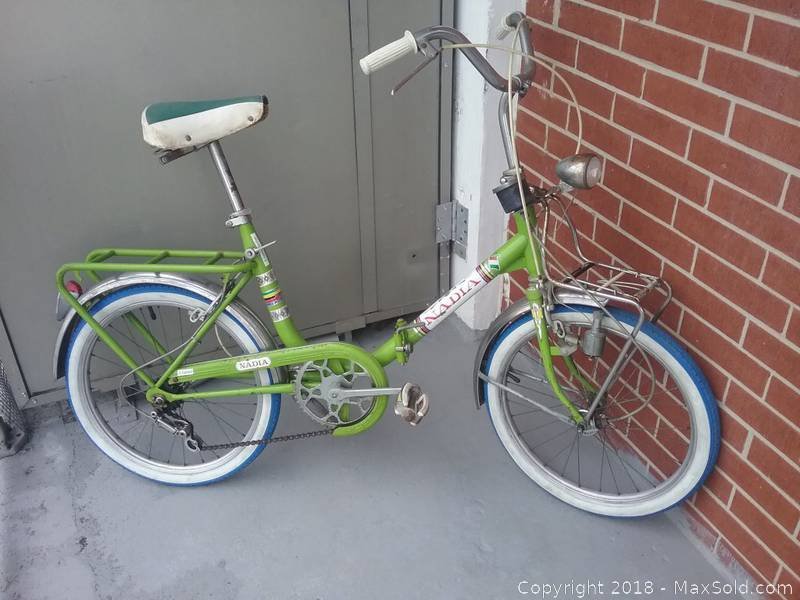 Lights speedometer racks, all original, see pics. 3 speed
Sold on MaxSold for $140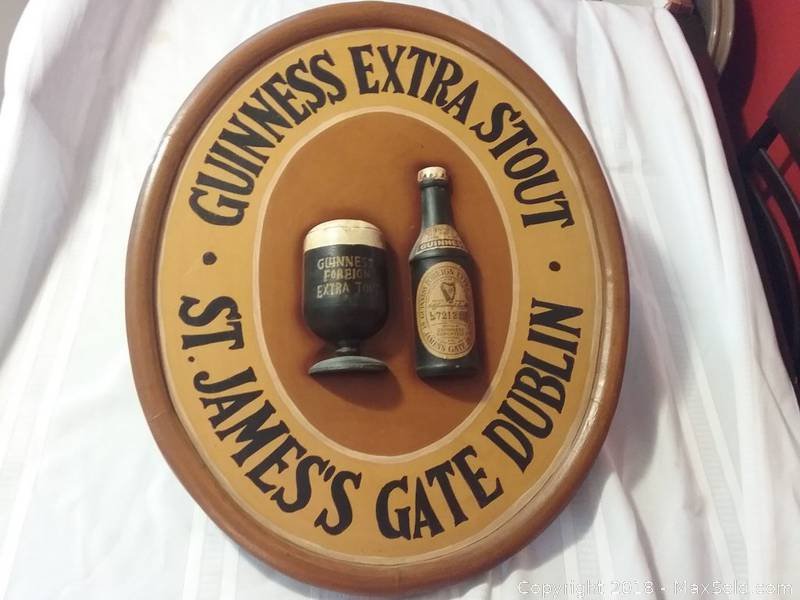 20" x 24"
Sold on MaxSold for $810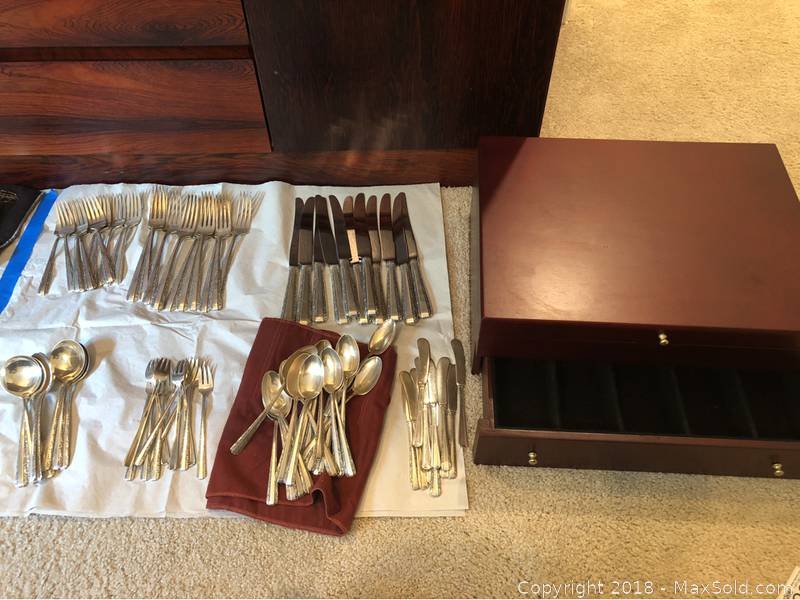 A large collection of Towle sterling flatware. Collection contains 12 butter knives 12 knives 23 teaspoons 12 dessert forks 12 dinner forks 12 salad forks and 9 soup spoons. Utensils have some tarnishing and scratches, from 1954. Includes mahogany silverware box with black interior. 
Sold on MaxSold for 161.50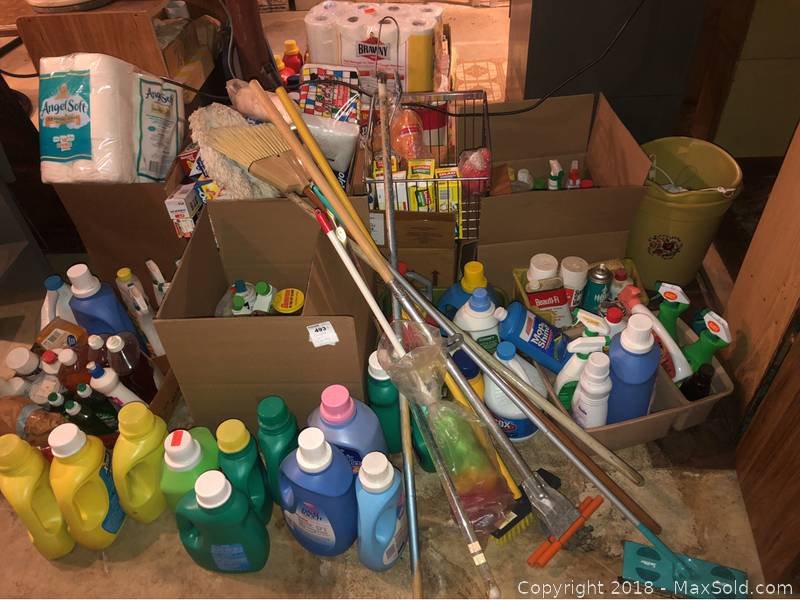 Assortment of laundry supplies, broom, mops, bucket, household cleaning, toilet paper, paper towels, and more. 
Sold on MaxSold for $470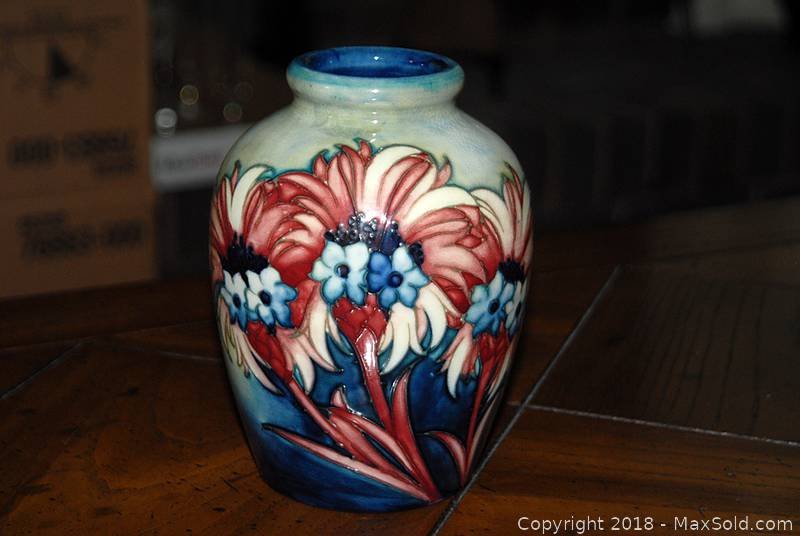 2 Moorcroft vases, largest 6 inches high, smallest, 3.5 inches high, ID 55. 
Sold on MaxSold for $85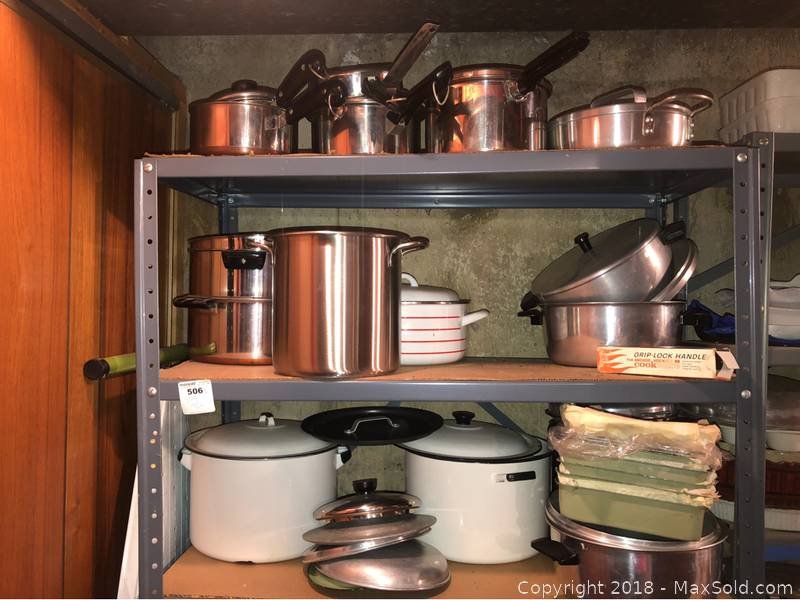 Assortment of pots and pans. At least one is marked stainless steel Vollpath. Everything from sauce pans to larger pans.
Sold on MaxSold for $95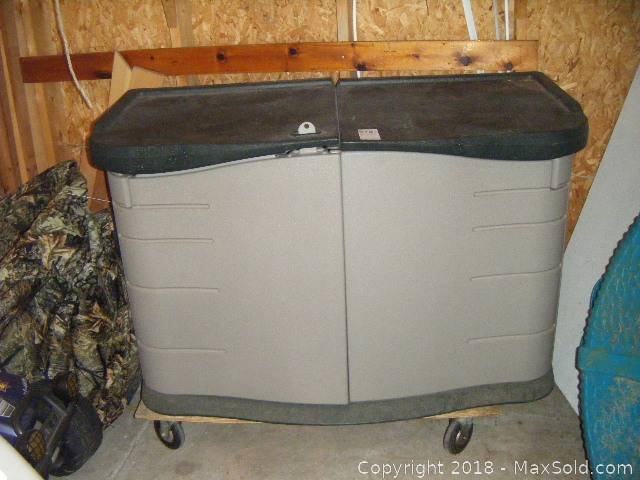 Rubbermaid garbage storage bin with two door and lift lids. Includes dolly it is sitting on. 
Sold on MaxSold for $712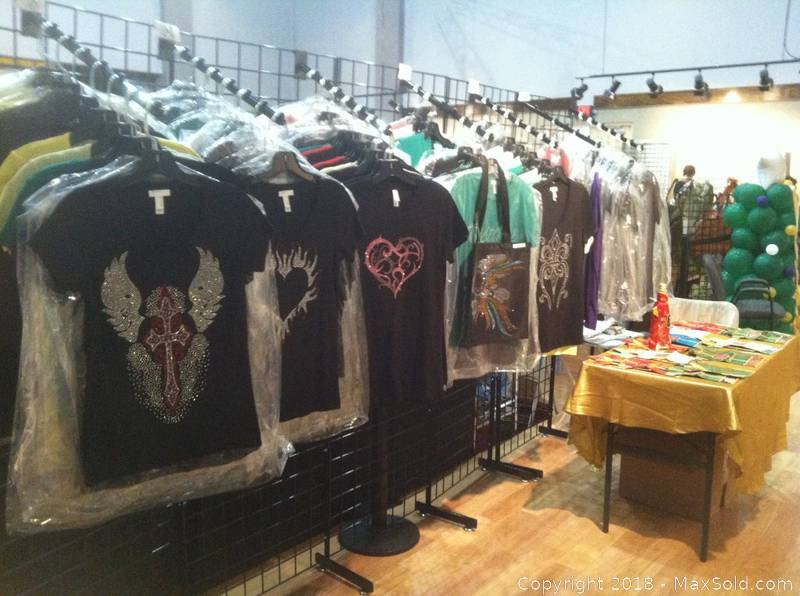 Tee Shirts Inventory Include: 297 Brand new rhinestone t-shirts (short sleeves, tank tops and long sleeves), Hair Stylist Aprons inventory decorated with high quality Korean rhinestone themes motifs . One dozen men's decorated shirts on different colors quality shirts. Also many extra hot fix transfers you can put on plain t-shirts of your own. Includes blank price tags and hand held tagger. 10 metal 6 ft. high x 2 ft wide display grids. 10 Ball Wire Grid Waterfalls, all t-shaped grid-wall t-legs, peg hooks, grids connectors.3 Molded Female Torso Form - Black Color3 Molded Female Torso Form - Nude Color1 Men's Molded Torso Form - Black Color.
Sold on MaxSold for $382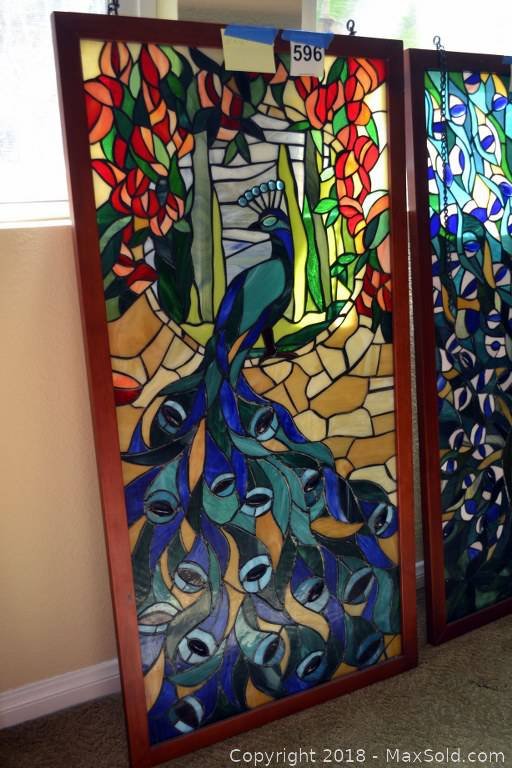 Large hand crafted stained glass window pane, framed and ready to hang. Large stained glass Peacock pane with dark wood frame. Excellent condition. 20.5X40 in.
Sold on MaxSold for $425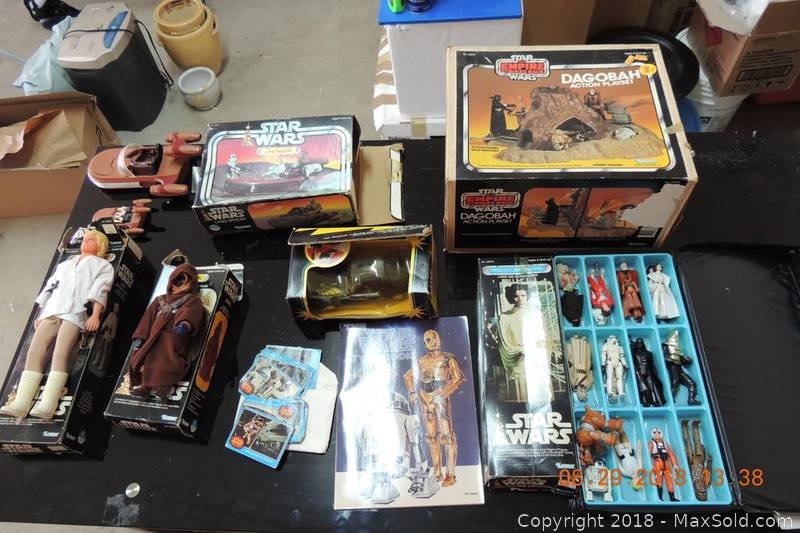 1977 and 1978. 13 orig. Star Wars cards, well used. Star Wars Pamphlet. Space Case with Star War figures. Jawa, Princess Leia Organa, Luke Skywalker in original boxes. Kenner, No. 38820, Empire Strikes Back Dagobah action play set, complete but unknown manufacture date. And an Ertl Smokey and the Bandit 1980 Bandit car, in box. 
Sold on MaxSold for $1160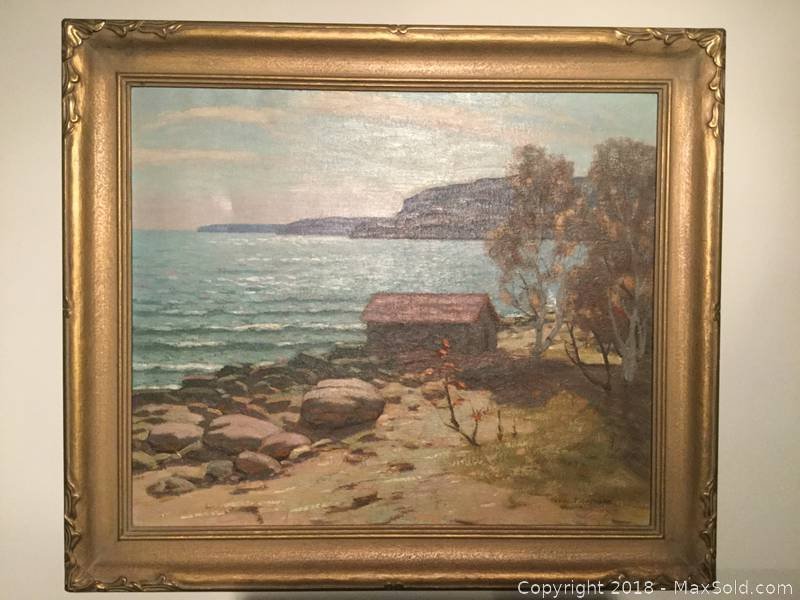 Large oil on canvas by George Thomson OSA, Canadian 1868 to 1965, 19.5X23 inches, signed lower right, signed and titled Beach at Barrow Bay on back.
Sold on MaxSold for $225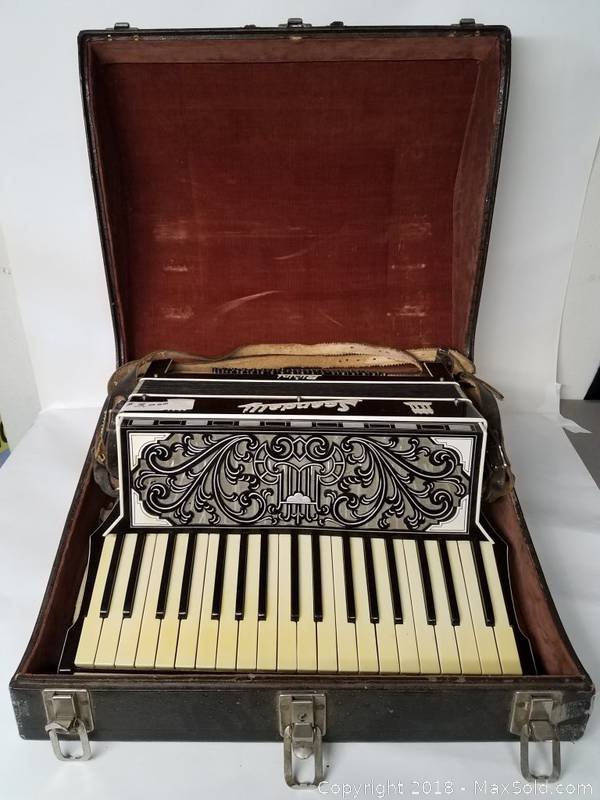 Lot is for a vintage Scandelli Rimini 37 Key Accordion with case and sheet music. Accordion made in Italy, has inscription on back "Made in Italy 5437" (pictured). Detail plates say "Camerano Italia," and has a $3000 price tag affixed. Has adjustable leather strap attached. Appears to be in excellent condition. Case has 3 clasps, center one has a lock (no key). Plate by handle says "Galperin Music Co, Charleston, W VA." Sticker on interior velvet with Geib Chicago. Case has some minor wear, is taped in some places. Includes a variety of sheet music, including booklets and some handwritten pieces (not all pictured). Case is approximately 21" x 10" x 18".
Sold on MaxSold for $65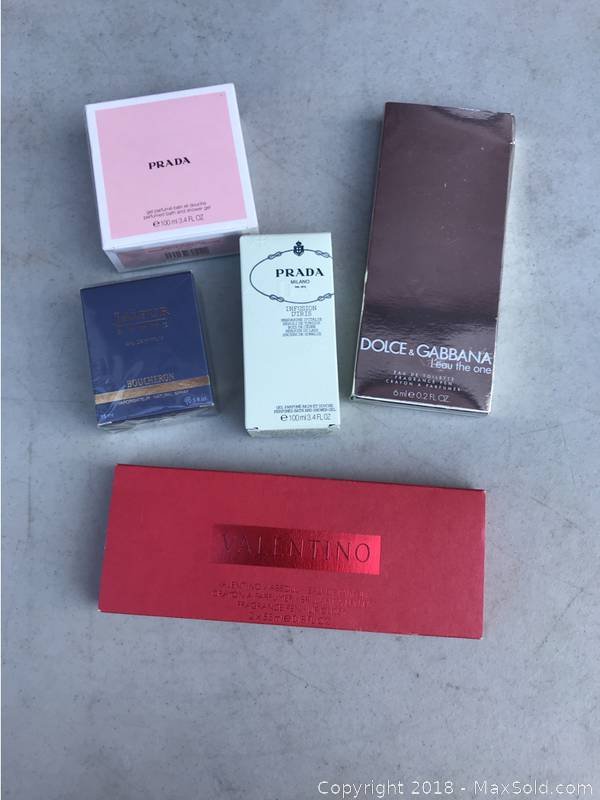 Sold on MaxSold for $1152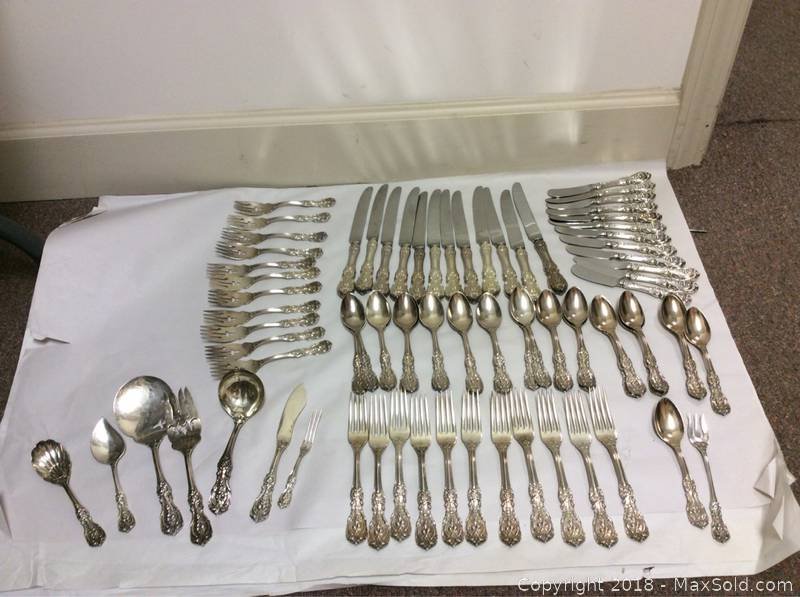 Reed and Barton Sterling flatware dinner forks knives spoons salad folks serving pieces sugar spoon, jelly spoon, pickle fork ladle ,cold meat fork, shrimp fork butter knife, individual butter knives 76 pieces.
Sold on MaxSold for $170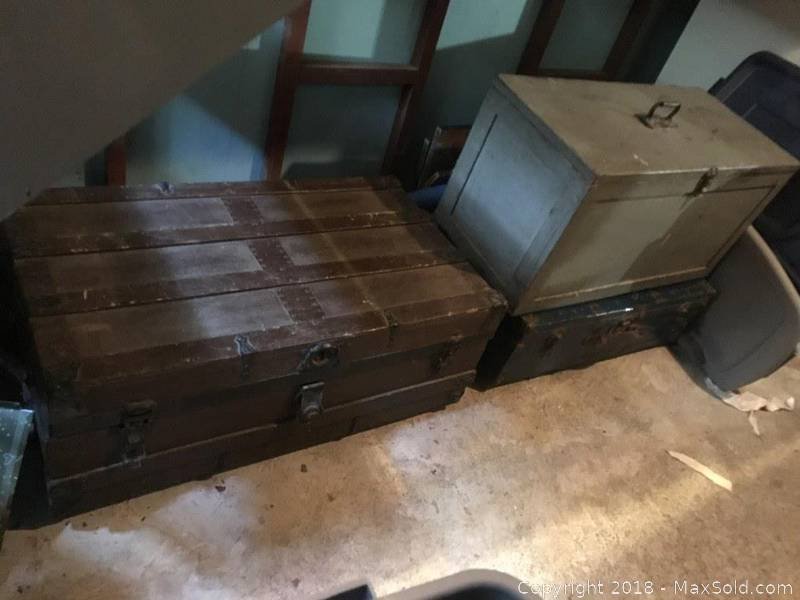 3 vintage trunks, largest is 36x21x16. Large wood trunk is full of old maps. One trunk is metal, the other has metal strapping. 
Sold on MaxSold for $180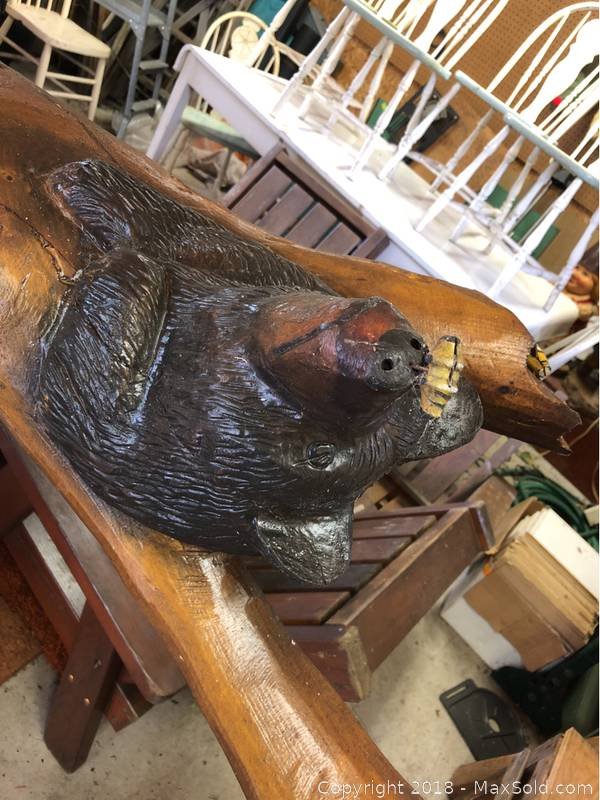 Tree Carving with bears 89" tall.
Sold on MaxSold for $660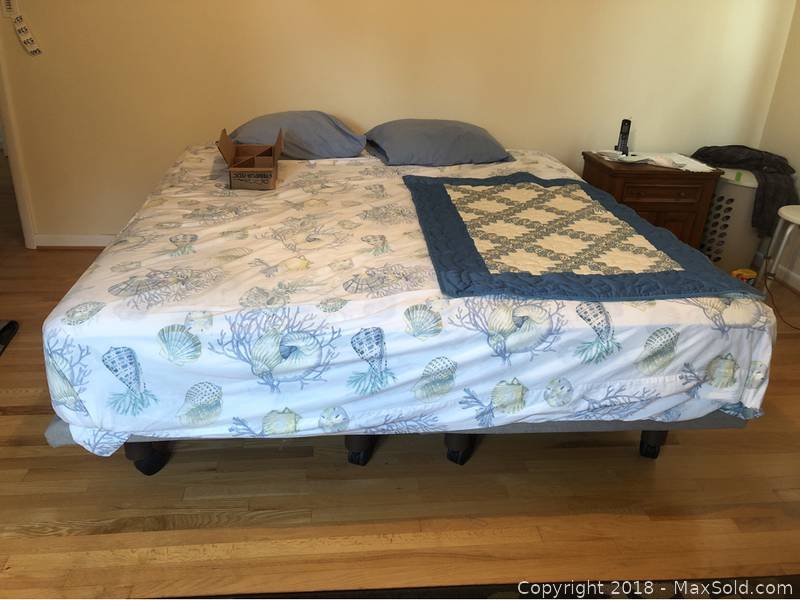 King sized Tempur Pedic bed with two remotes. In working condition. Split boxspring. On wheels with assorted frame accessories. Good condition. Beauty Rest Black model Mattress optional. Sheets and Comforter, storage bin included. 
Sold on MaxSold for $143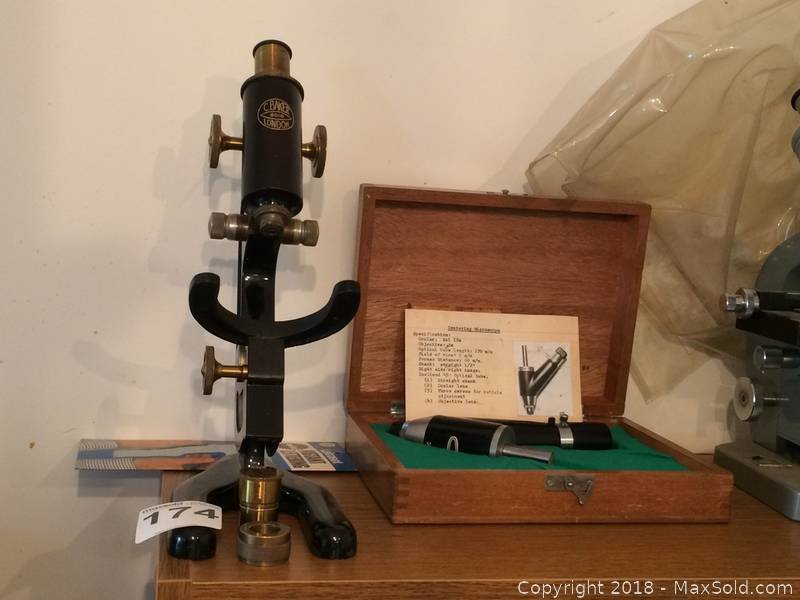 C. Baker 8010 London microscope with accessories also includes a Chuo precision centering microscope. 
Sold on MaxSold for $830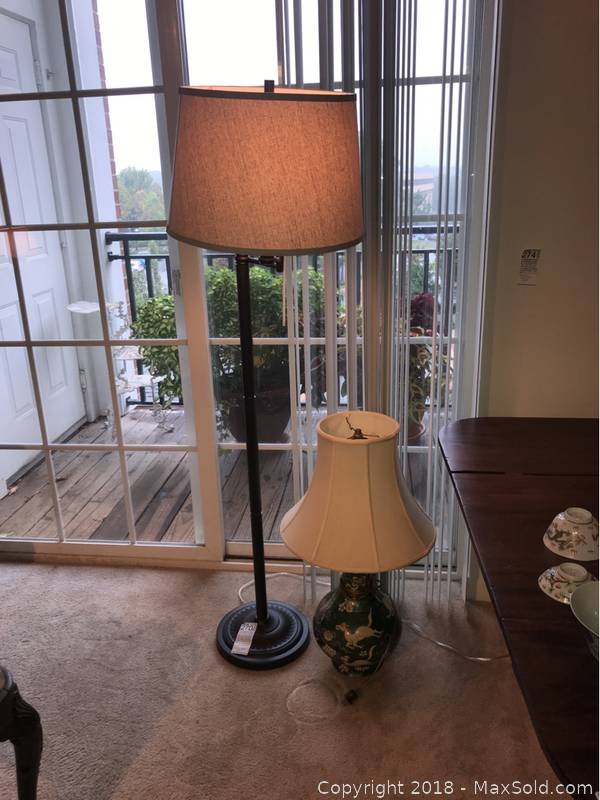 Floor lamp 59 inches tall. Asian Lamp with fantasy beasts 28 inches tall. Asian Lamp needs new switch and has tears to shade lining.
Sold on MaxSold for $11950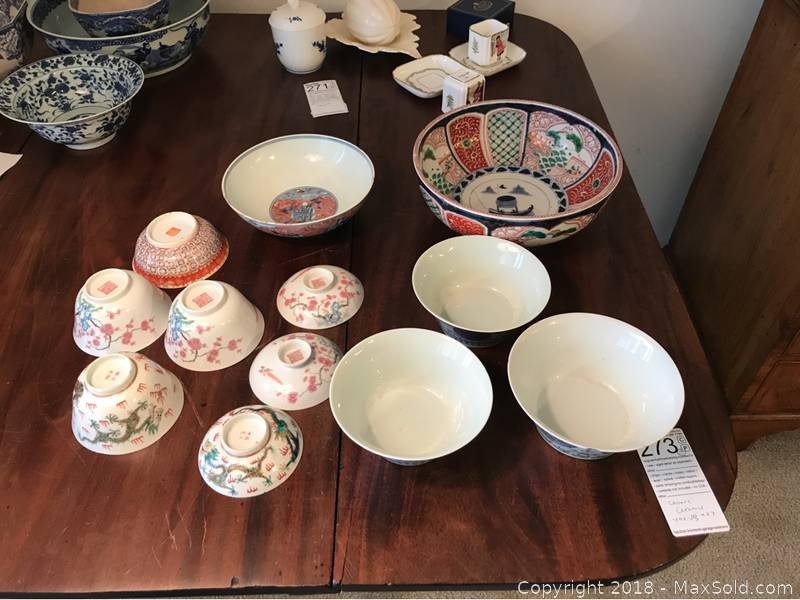 12 pieces. 
Sold on MaxSold for $510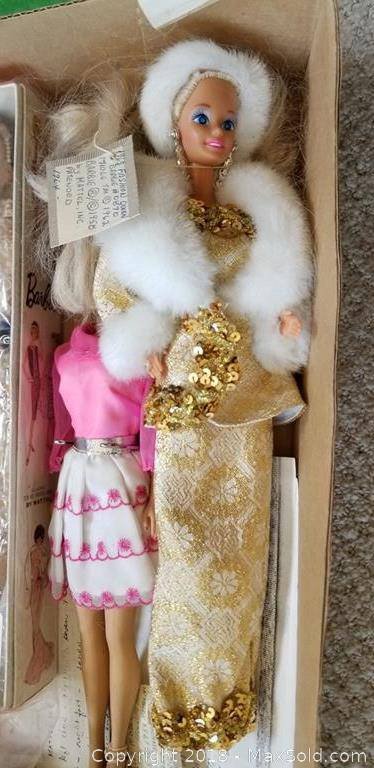 Assortment of vintage Barbie dolls, mostly from the 1960s, including a 1963 Fashion Queen Barbie number 0870, genuine Teen Age Fashion Model Number 850 with box, 1965 bendable leg Midge Number 1080, Happy Holidays Barbie and more.
Sold on MaxSold for $355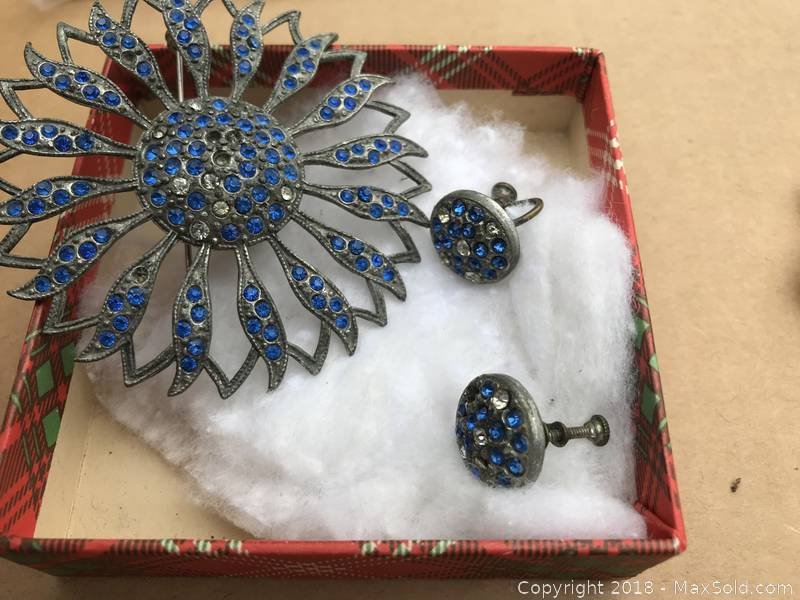 Assortment of vintage costume jewelry including rhinestones and an enameled necklace and earrings set made in Norway.
Sold on MaxSold for $1720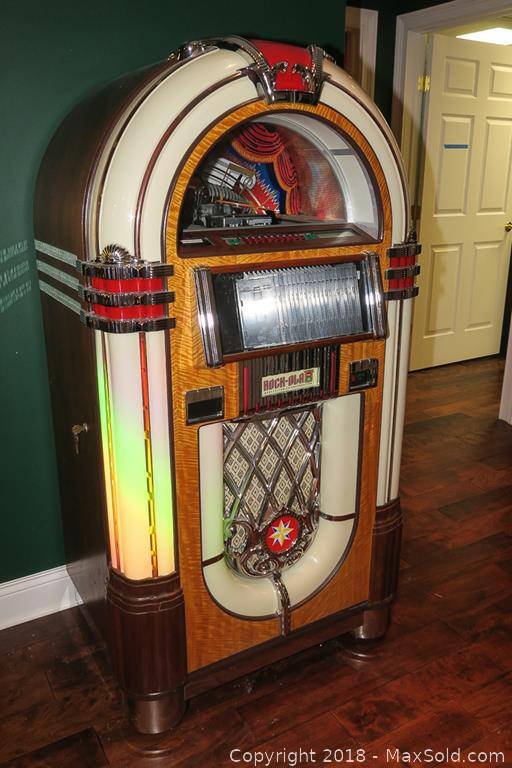 Nostalgic juke box, holds CDs model CD 8B. 34X26X62. Working order. 
Sold on MaxSold for $1605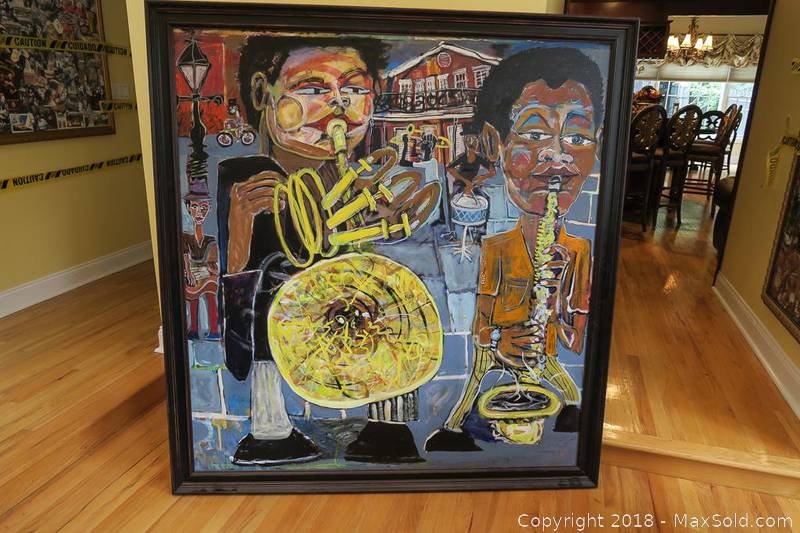 Very large jazz painting, acrylic on canvas. 62.5X66.5. Signed Eric Lee Buchanan.
Sold on MaxSold for $153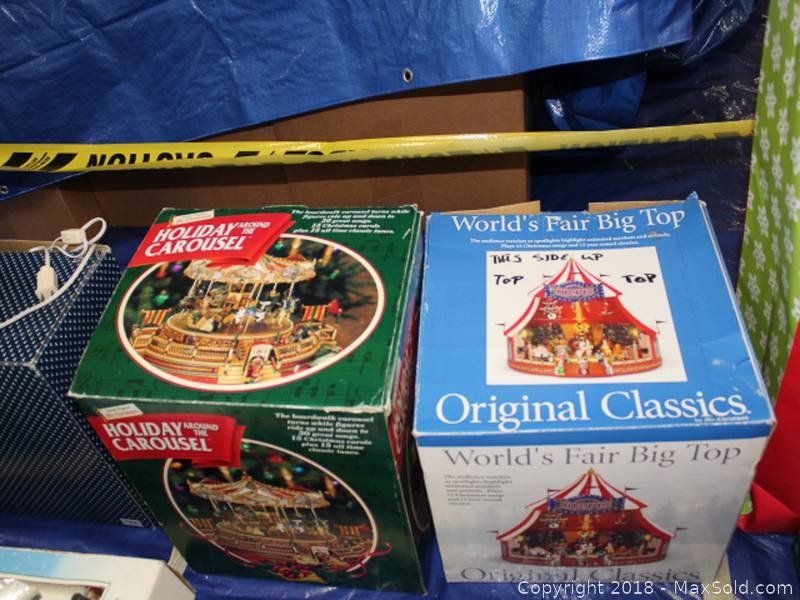 Holiday Carousel plays music while figures move. World's Fair Big Top spotlights highlighted animated acrobats and animals and plays music. 
Sold on MaxSold for $610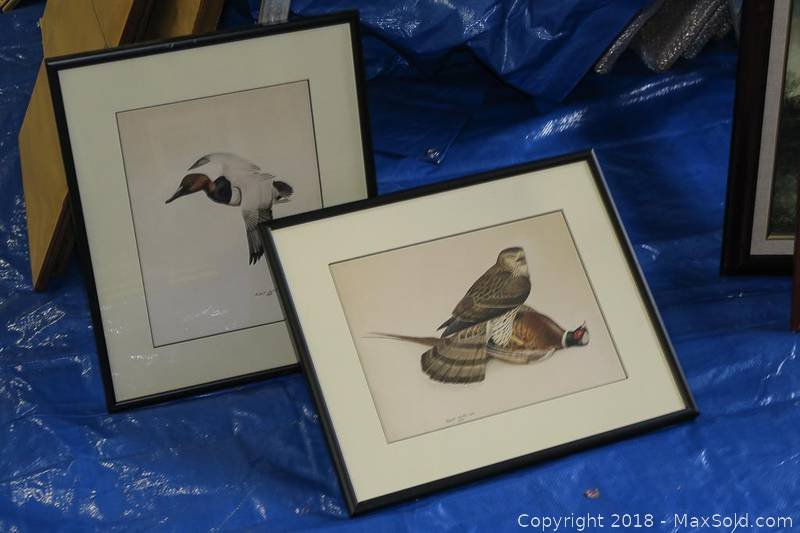 Two bird prints by wildlife artist Robert Verity Clem. The frames measure 19x15. 
Sold on MaxSold for $310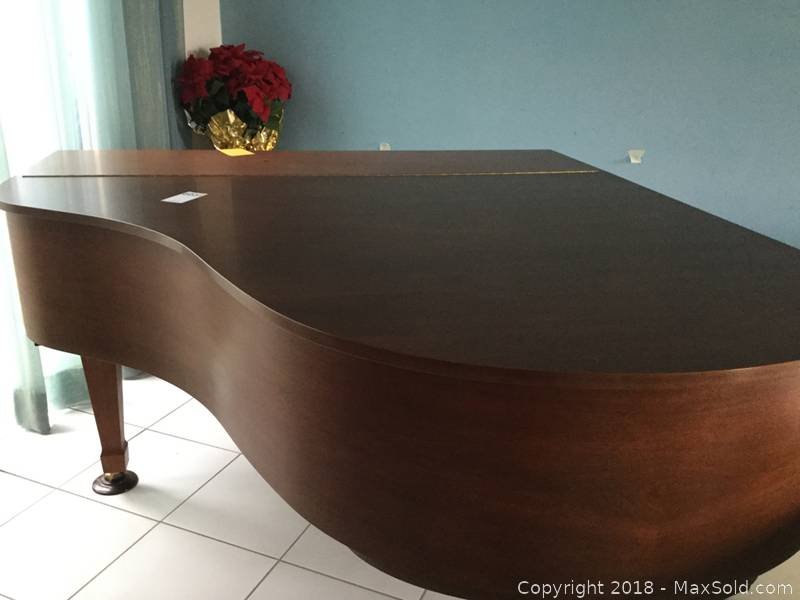 K. Kawai Baby Grand Piano With Piano Bench and Sheet Music Suggest using a Piano Mover.
Sold on MaxSold for $1010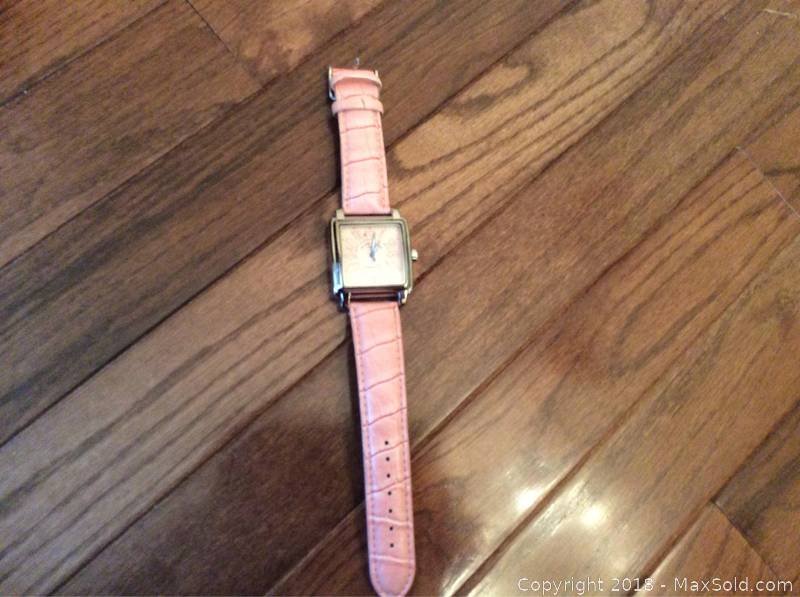 Pink face and pink leather band.
Sold on MaxSold for $440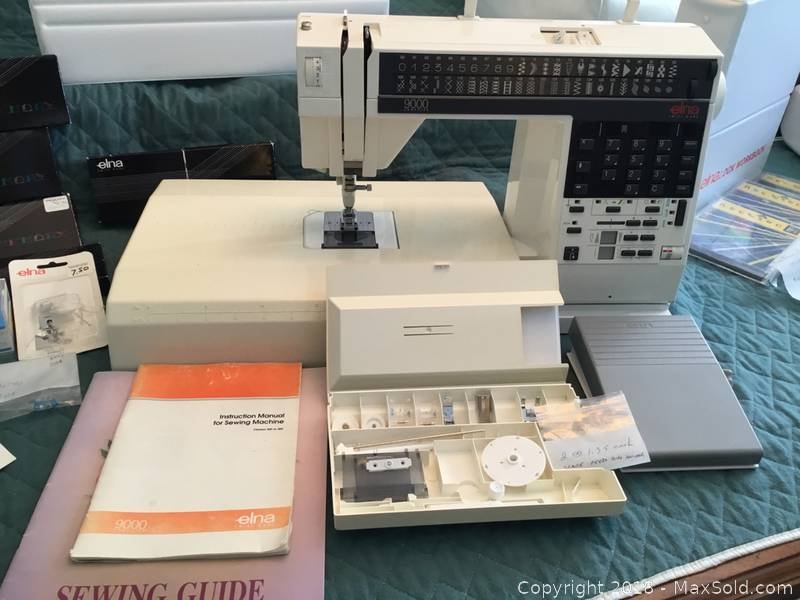 Elna Pro 905 computer serger. Original investment 2000 dollars. Tune up by certified Elna service rep. April 2016. 5 thread with LCD display, 14 standard sewing programs. Includes DVD and instruction manual, workbook with sample fabrics, sewing table attachment, guide for quilting and conversion to straight sewing, gathering bulky foot, wrapped seam guide, wrapped covered hem guide, replacement cutting knife. Additional procards listed on the chart as seen in the pictures.
Sold on MaxSold for $1100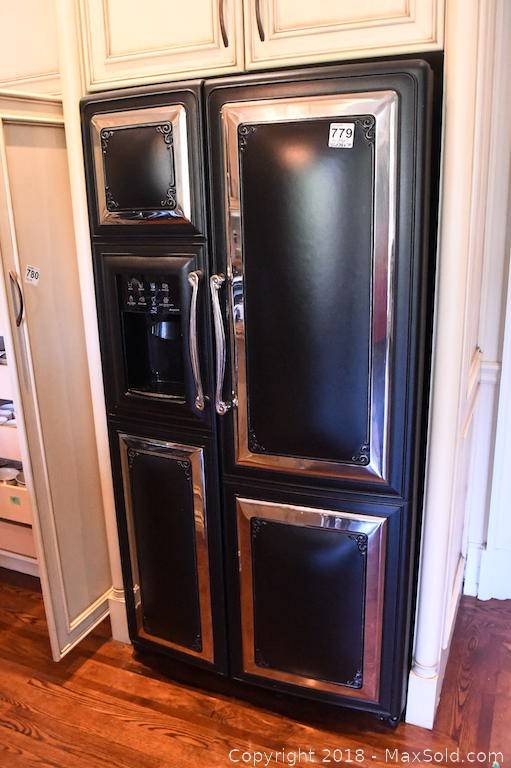 Elmira stove works. Panels made to look vintage. Fridge freezer side by side combination with ice maker. In working order as currently in use. Contents not included. Some wear. 36X34X70.
Sold on MaxSold for $2420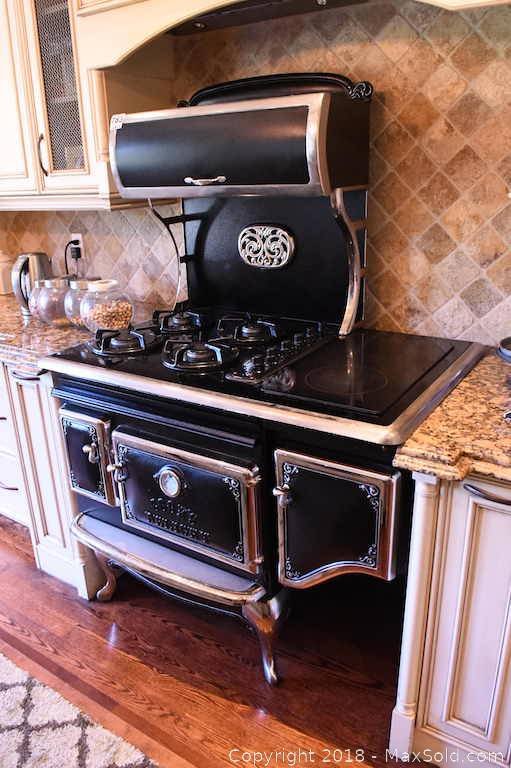 Elmira stove in working condition at time of cataloguing. Vintage look. Oven and gas side by side, 4 Gas burners, 2 ceramic top elements. Storage shelf attached. Contents not included. Some wear and scratches. 44X30X72. 
Sold on MaxSold for $220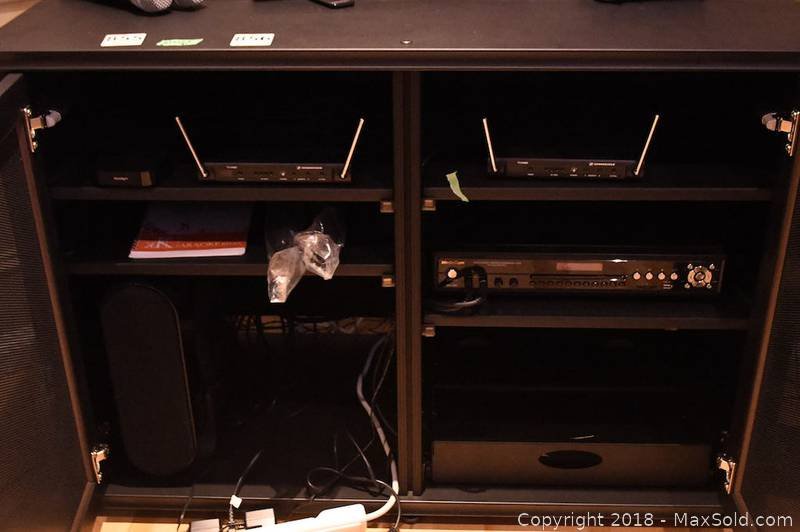 2 Sennheiser diversity receivers, model EM1B, Mediacom Karaoke machine. Speakers.
Sold on MaxSold for $290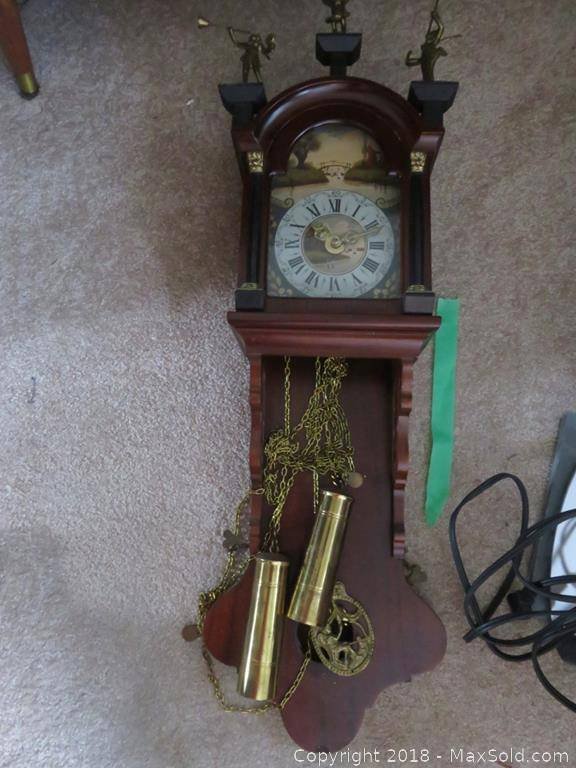 Dutch wall clock with hand painted face. Zaanse from North Holland. 9X5X29". Working condition according to owner. Not battery operated.
Sold on MaxSold for $725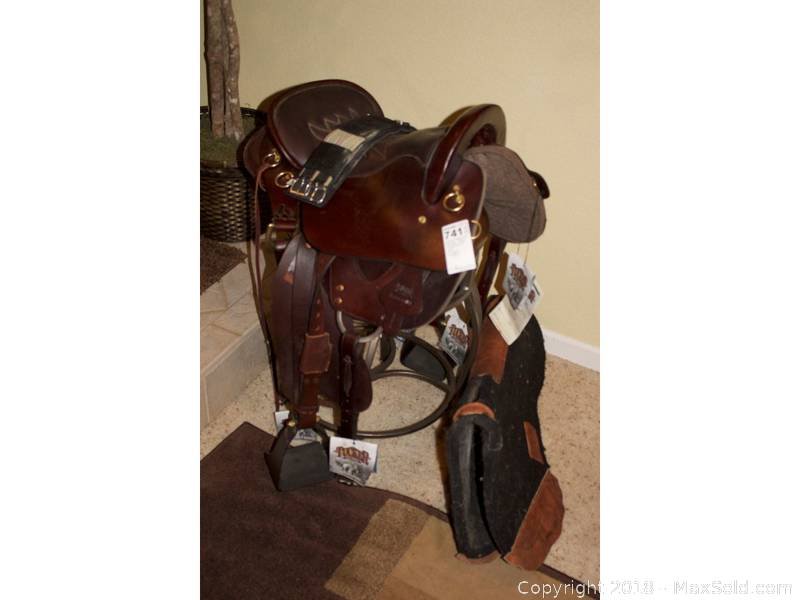 Brand new with tags still attached. Includes pad and the stool it's displayed on. 
Sold on MaxSold for $461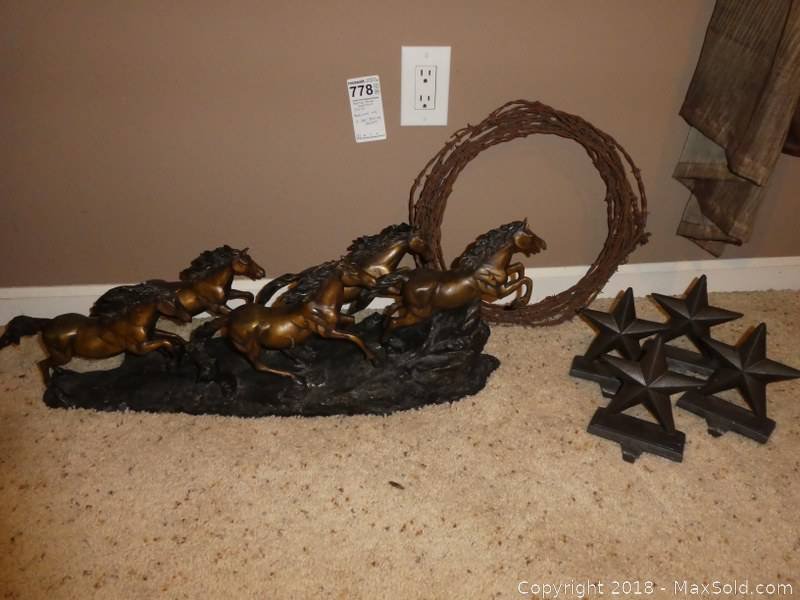 Bronze horse sculpture 33X12, ring of barbed wire decor and 4 western star shelf hooks. 
Sold on MaxSold for $46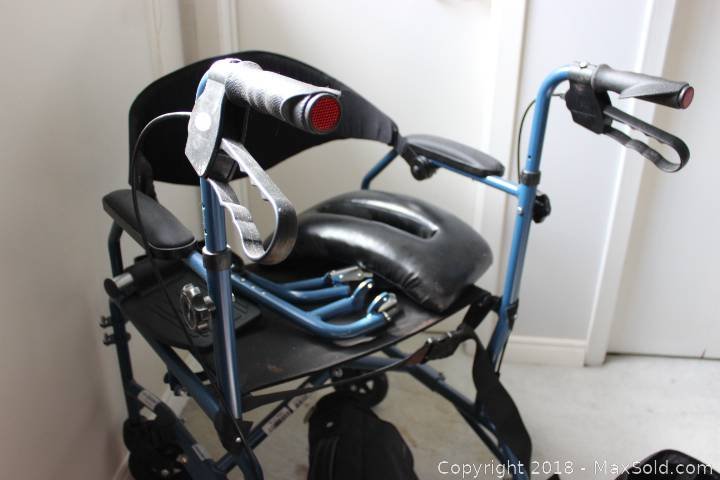 Medline walker with metal base, hand breaks and wheels, arch supports, walker needs cleaning, also includes pair of travel bags. 
Sold on MaxSold for $155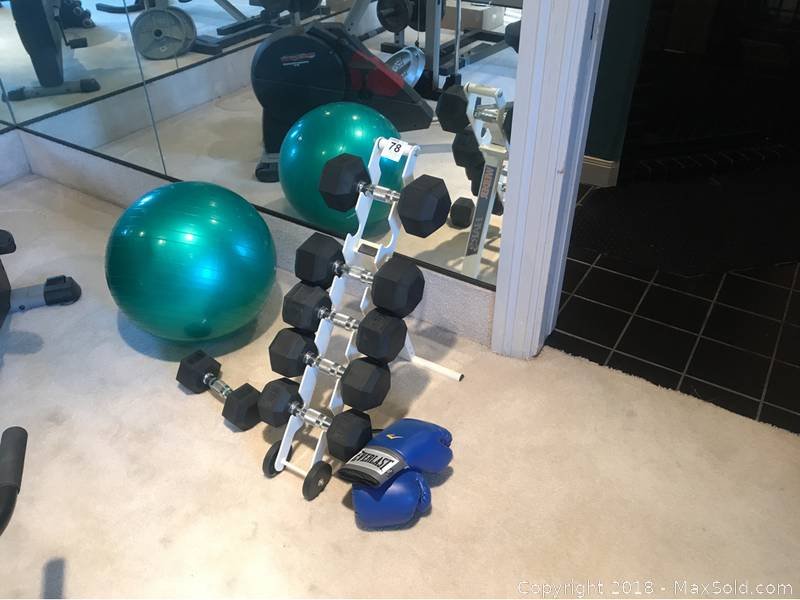 Weights with stand. 27 tall. Everlast Boxing gloves and ball.
Sold on MaxSold for $110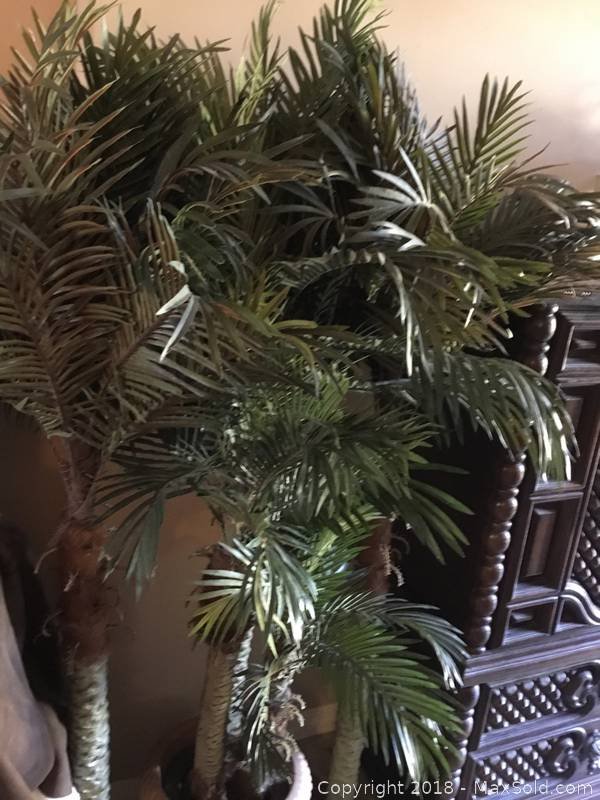 4 total, three tall palm tree type, and one wicker basket with ivy type. Tallest is 72in. 
Sold on MaxSold for $1070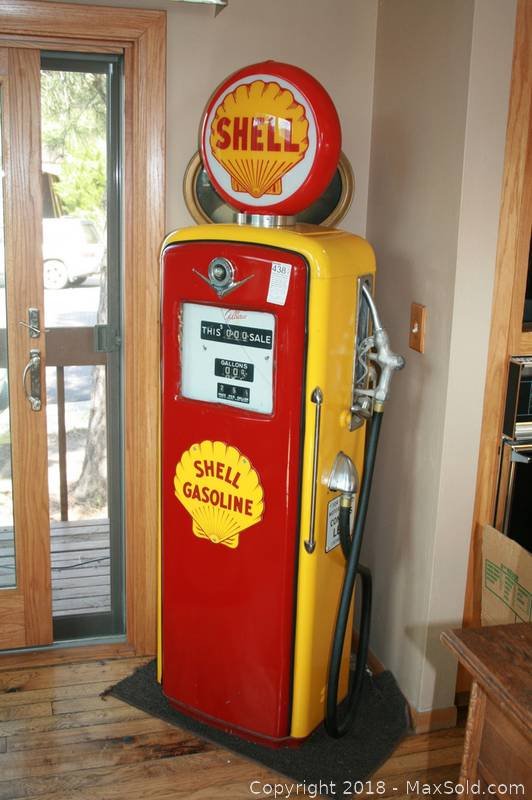 Shell gas pump from the 50s, glass on front is cracked. Globe is a plastic reproduction.
Sold on MaxSold for $330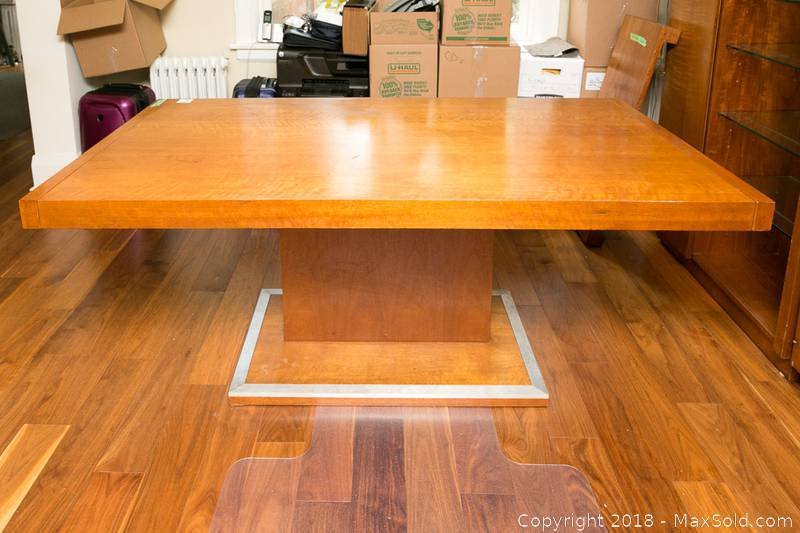 Mid century modern teak table. 38X66XX28. Seller says it was purchased on 5th avenue in New York City and is the same manufacturer as Lot 277 Founders sideboard.
Sold on MaxSold for $210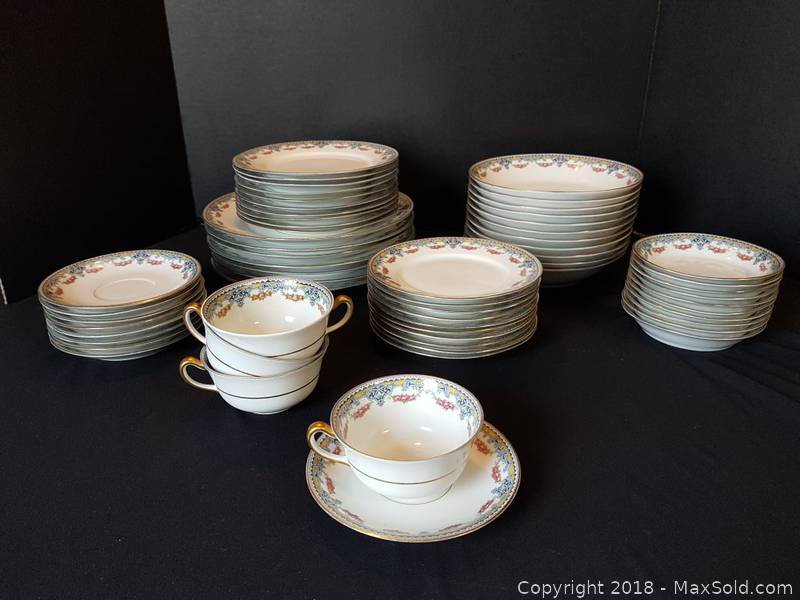 U.C. Limoges France china. 7 large plates,10 luncheon plates,10 bread and butter, 4 tea cups, 9 saucers, 11 bowls,10 small dessert bowls. Wear consistent with age.
Sold on MaxSold for $400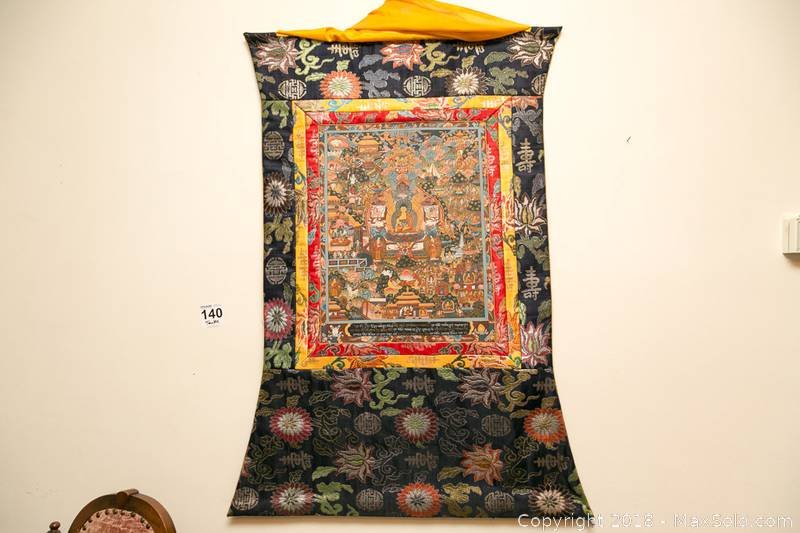 Cotton Buddhist Thangka from Tibet with protective covering. Approx 24x36 in.
Sold on MaxSold for $151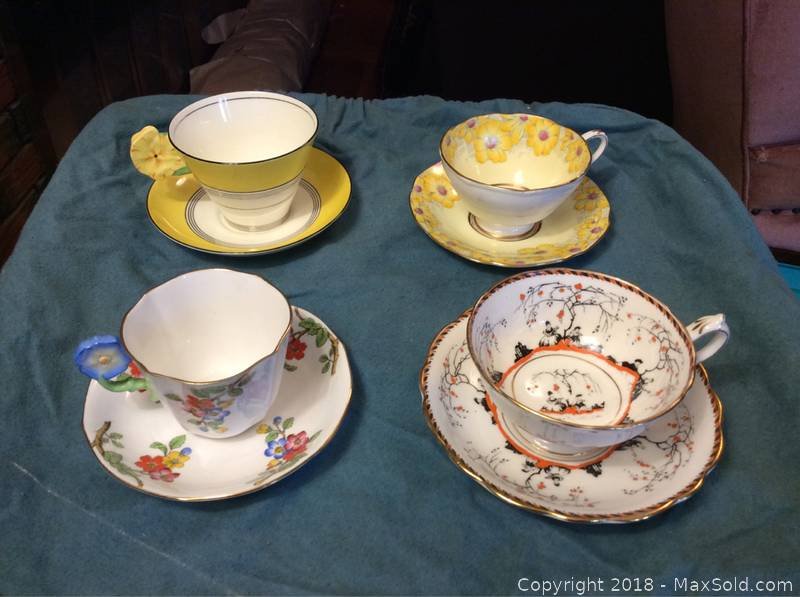 4 sets inc Paragon, Royal Paragon and Aynsley, two with flower handles. Some wear on Royal Paragon cup. 
.
Sold on MaxSold for $160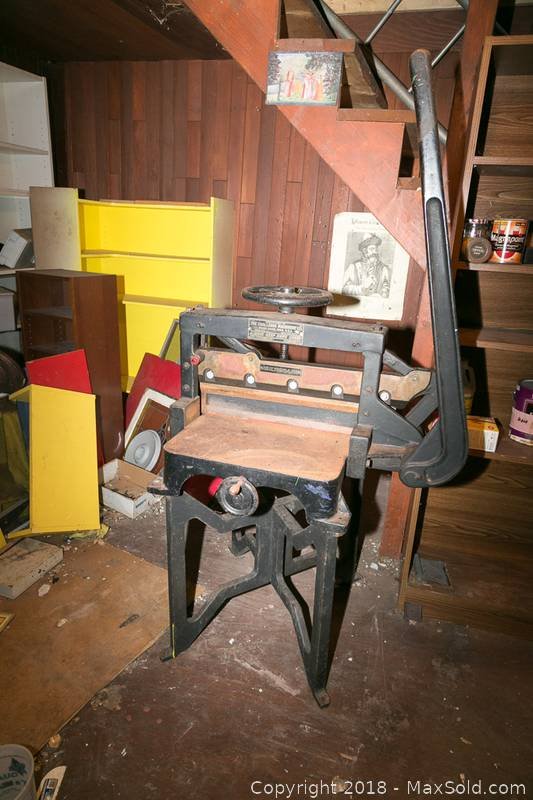 Antique Multigraph guillotine paper cutter, serial number b15349.