Those porcelain figurines sitting in your mother or grandmother's china hutch may not only have sentimental value. They may also have a high monetary value—especially if they are Lladró figurines.
What are Lladró figurines?
Hand crafted in Valencia, Spain, Lladró figurines are world-renown for their unique beauty and painstaking attention to detail. Lladró is a relatively new porcelain maker, having started in the 1950s, but the whimsical figurines have captured the world's imagination. Designed in glossy, pastel colors, Lladro figurines embody romanticism and endearing human emotion that resonate with collectors around the world. While many Lladro pieces are cherished parts of household living rooms or the prized possessions of collectors, some of the most intricate pieces grace prestigious museums.
History of Lladró
Lladró began as a part-time family business in 1953, founded by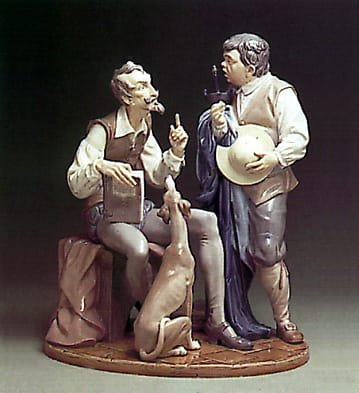 brothers Juan, José, and Vincente Lladró. At first, the brothers sold porcelain functional ceramics like vases at their local market. In 1955, they started creating figurines in the style of 18th-century manufactures like Capodimonte.
Their figurines gained popularity and in 1958 they moved their company from their hometown Almacera to a warehouse in nearby Tavernes Blanques. They began working at the company full-time and hired other sculptors, painters, and chemists to help them with their work.
In 1965, Lladró sculptures began entering the United States market and became tremendously popular. From there, Lladró began to gain world-wide fame.
Today, the family-owned Lladró porcelain company employs over 2,000 workers in Valencia, Spain and markets its creations around the world. They continue their commitment to creating fine porcelain collectables.
What are Lladró figurines worth?
The value of Lladró figurines varies widely. Small, common figurines sell for as little as $10-20. Average pieces usually medium sized and intricate tend to sell for $75-150 each. Figurines that are extremely elaborate, rare, and/or large can sell for $2,000-$25,000 or even higher. The record price for a Lladró sold at auction was for $130,000. Figurines from popular series such as the "Don Quixote" series also fetch a high price.
General guidelines for the value of Lladró figurines:
Bigger is better: Larger, more elaborate pieces tend to be more valuable than smaller figures, especially if the piece only has one figure. For instance, a small figure of a dog would likely be less expensive than a larger figure with a man and a dog.
Condition: You will receive the maximum amount for your piece if it is in mint condition with no damage. However, damaged pieces can still be valuable.
Delicacy: If the item has pieces that could easily break off, it is most likely valuable.
Desirability: Elaborate and sentimental figurines are usually valued more than figures that commemorate occasions or professions.
Rarity: Retired and limited-edition pieces are usually worth more than figures being currently produced. Limited-edition figures have the number stamped into the bottom. (Ex. #99/500)
How to identify authentic Lladró figurines
Lladró started using an official logotype on the bottom of their pieces in 1960, but the identification mark has changed throughout the years.
1953 – 1960:
Before the 1960s, marks were etched into the porcelain. The first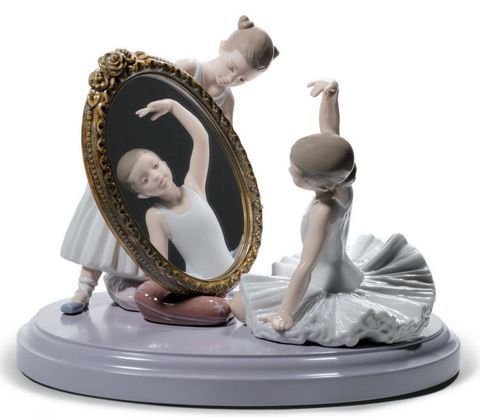 "L" was elongated to underline the Lladró name, and the words "Valencia," "Espanna," or "Made in Spain" are included. If you are buying or selling a Lladró with these marks, hire an appraiser to evaluate the piece for authenticity.
1960 – 1963:
In 1960, Lladró started using their first official logotype. Logotypes used from 1960-1970 were imprinted into the bottom of the figures. Marks from 1960-1963 include "Lladro Espanna made in Spain."
1964 – 1970:
Logotypes from 1964-1970 do not have the word "Espanna" in the name.
1971 – Now:
In 1971, Lladró started using versions of the blue stamp most familiar to Lladró collectors. The stamp reads "Lladró made in Spain" and has a logotype that looks like a bellflower or tulip.
Learn more about logotypes and see each figurine ever made in the official Lladró historical catalog.
Pro tip: If a seller is unwilling to show you the bottom of the figurine or if the piece lacks an identification mark, it is most likely a counterfeit. If you have any doubts about the piece, have an appraiser evaluate it before purchasing the piece.
Learn about cabinets to store your Lladró figurines