Highlights from the 120+ MaxSold Estate and Downsizing sales in March 2016 ranges from our usual antiques, art and sterling to vintage, outdoor and even everyday items - quite the diversity! Some recent testimonials from our sellers before we get into the highlights...
"
Settling my uncle's estate has been an emotional and challenging undertaking for me and my family.
Thankfully,
MaxSold helped take the work and worry out
of distributing his belongings. They were willing to accommodate the logistics of the location and a few last-minute surprises without missing a beat. The pickup day crew were professional, organized, and really knew their business. It was a pleasure working with them, as well as the entire team behind the scenes." -Carol Trinker
"I was
impressed about how smoothly the process went. What a relief
to know that this service is available! I wil be recommending Maxsold to others in need of the service. Thank you to all those involved." - Carl Luke
"Selling items privately is fraught with concerns - will the person show up, are they truly interested or "casing our house", will they argue over price. Not to mention the emotional roller coaster of dealing with "tire kickers"!
MaxSold solves all these potential problems
, and sells far more (useful but used or open consumable) items that we would never have tried to sell. Everyone ends up with a better value than they could have achieved on their own." - Patti Priestman
Now to our March 2016 MaxSold Estate Sale and Downsizing Sale highlights...
Linhof camera, 2 tripods, carrying case, and more. Not tested.
Lladro Moses
Sold on MaxSold for $155
Lladro Moses. Numbered G 28 0. Very good condition.
Birks Sterling Silver (probably Louis VX) w canteen 17X14X8 (broken drawer front). 74 pieces including carving set, lots of smaller pieces and a few large. Wear.
Intricately carved marble topped buffet. Renaissance style with carved wolf head. 83x26x104. According to owner, buffet was made in Philadelphia and has makers marking and date on back. Breaks down into 4 sections: the top, the mirrored piece, the marble (very heavy), and the base. Wear and some spots of damage to wood finish. Some pieces of molding have fallen off. A few loose pieces are included in a drawer to be re-glued.
Gas start Generac portable generator v-twin engine 17500 w 33hp. Very slightly used.
Bust
Sold on MaxSold for $1650
Signed stone bust. Two pieces. 16.
Canoe
Sold on MaxSold for $630
Langford 15 ft fibreglass canoe with back to attach motor. Includes stands and custom cover. Scratches on bottom.
11 teacups and saucers, 2 serving plates, 9 dinner plates, 9 salad plates, 9 bread plates, salt and pepper shaker, cream and sugar. Note wear. Forget Me Not pattern.
Inuit Print
Sold on MaxSold for $275
16.25X15.5. Stamped signature on print.
2 ladders, 7 foot and 24 foot.
2 pair of snowshoes with leather bindings. One pair manufactured by Bastien. 2 pair of wood cross country skis an one pair of fiberglass skis and several pairs of poles.
22 inch Shirley Temple doll with paperwork from the 1930's. Seller States Valued at $1000.00, in mint condition.
3 Le Creuset orange pots, stainless steel pan, Zardo scale, fry thermometer, icing bag, and assorted tips and more.
3 matching pieces heavy chain, ankle bracelet and bracelet. Silver colour. Wrist bracelet clearly stamped 14K. Ankle bracelet and chain have partial stamps.
3 teapots, 20 sipping cups, unique 7 piece tiny tea set all on wood serving tray. Please bring packing materials.
6 teak patio chairs. Note scratches. 18X15.5X38.
74X112 red Persian rug. No signs of wear.
Vintage Toys
Sold on MaxSold for $267
A collection of vintage toys including wooden blocks, tin led toys, wooden trains action figures, sports flags and much more. Also includes trunk 28X14X27. Some game pieces are missing. All items are aged and have wear.
Antique baking tray 68Lx6W. Antique cow bell 8Hx5W.
Armoire
Sold on MaxSold for $1250
Antique finish French Provincial style armoire. Not assembled, in pieces. Overall size 67X20X98. Note wear and marks in mirrors.
Antique Gorham sterling silver water pitcher, style 1031, 4 3/8 pint, 10 inches. Birks Sterling Silver candy dish. Sterling silver International Wild Rose flatware - 12 forks, 12 knives, 12 dessert forks, 12 dessert spoons, 12 coffee spoons, 8 soup spoons. 1 Carl Paul Peterson handmade serving spoon. Serving fork and spoon (sterling silver markings hard to read on these two pieces).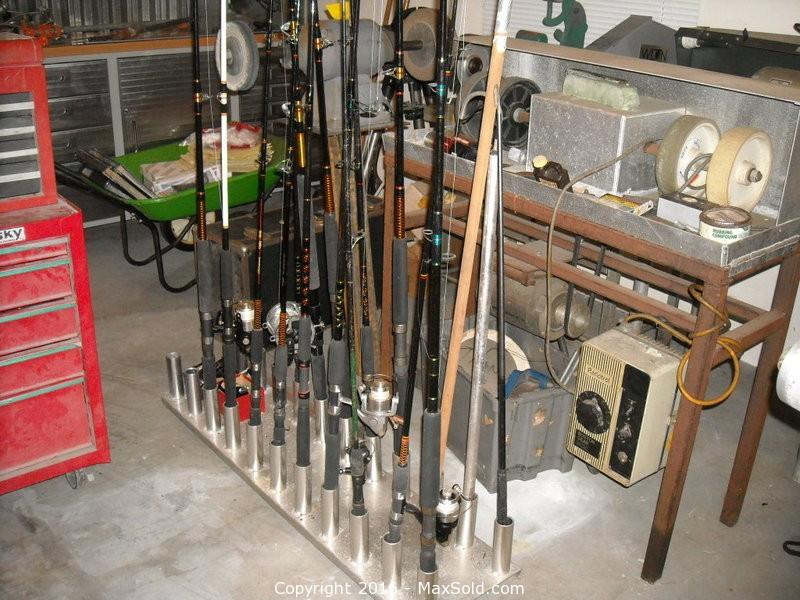 Assorted poles, reels, net and floor stand including one Penn and Star rod.
Belleek
Sold on MaxSold for $111
Belleek teapot. Sugar dish with hairline crack.
Besta. Each 23.5x16.5x52. Meant to go on either side of lot 212. Note wear and scratch. Gloss red doors
Birmingham England Sterling teapot with cream and sugar all hall marked. Tarnish wear.
Black painted wire mesh, leather cushioned seat Bertoia chairs, retailed by Knoll. 33X29X30 ea. The seller bought chairs directly from Knoll.
Bobble Heads
Sold on MaxSold for $525
Blue jays collection of bobble heads, Joe Carter, Cal Ripken, Pat Boarders. Two still in original boxes. More. Signed baseball NOT authenticated.
Telescope
Sold on MaxSold for $275
Bushnell Spacemaster telescope on tripod.
Canadian designed area rug made in Belgium, beige in colour. 128X97.
Cannon gun safe. Size: 60H x 20D x 28W. Winning bidder will be given combination/keys at pick up.
Cardio Master Spinning bike, model 60, in box. Never used. Note: may be missing parts.
Carved Man of the Woods, Over 14 plastic garden gnomes, cement garden squirrel 20 inches tall, turtle sprinkler and more
Guitar
Sold on MaxSold for $170
Chaser brand 6 string guitar with hard shell case.
Coalport, Royal Crown Derby, Royal Albert, Royal Chelsea, Royal Vale and more
Custom made, down-filled,upholstered off white love seat. 51X36X33, 8-way hand tied over individual coils. Robert Allen cotton Damask fabric. Matches lot 209.
Dining table converts to games tables by removing top 57X32, with large single pedestal and drink holders, includes 4 red leather chairs and 2 black leather chairs 19X40. Good condition.
Double door Maple cabinet 44X22X82. Note hook on sides. Removable panel included-(not shown in photos, is under bed for pick up purposes.) Bring help for moving.
Dyson
Sold on MaxSold for $335
Dyson hot and cool tower, 23H.
Early model Logan Screw Cutting and Turret Lathe, Model 2555 VLH. Untested. 3-Phase power. Will need phase convertor if not converting to 110 motor. For more info, visit www.lathes.co.uk/logan.
Serger
Sold on MaxSold for $185
Elna lock four spool serger, L5 with accessories. Also Ott Lite, new in box.
Pocket watch
Sold on MaxSold for $220
English Lever Pocket watch. Untested. Some wear due to age. Missing glass over face.
Engraved footed bowl, 8X11. Good condition. Located in basement.
Gemstones, Pear, Oval, S1, Color is Violet-Blue, Length 7.25 Value $3212, Appraisal lost
Gold Pins
Sold on MaxSold for $174
Gold pins as per seller. Cameo, pearls, amethyst stone.
Hallmarked silver tray, 26.5X16.5.
Hasselblad camera, 500C, SBC light meter, and more. Not tested.
Vita-mix
Sold on MaxSold for $220
Includes extra vessel.
Includes sheets in King, Queen, Double, Twin Note: most are twin. Pillow cases, King goose down duvet, Queen silk duvet, mattress protectors, bed skirts and more. New in packages.
Includes Sony 5 CD changer, Sony cassette player, NAD stereo receiver and Dual 1019 turn table. With speakers 10X10X20. All untested. Does not include cabinet.
Jade collectibles. 12 pieces in total including large stone on wood base - 5X5 inches.
Kasimir Malevich Suprematist Tea Set. Marked 1923 and with hammer and sickle.
Jewellery
Sold on MaxSold for $617
Ladies Pulsar watch untested. Assorted brooches, rings, mini tape measure. Faux Leather box.
Asian Decor
Sold on MaxSold for $470
Lamp 17 inches tall, Asia style faux tree, Asian style plate. Note repair to plate.
Large Collection of egg cups with spoons and holders. Note: missing cup, spoons, pieces from some of the sets.
Large lot of Reloading dies, casings, tips, tools, storage containers, loading equipment and more.
Large pocket watch marked TP, one is Waltham. Both are missing glass and not working. Includes wrist watch.
lingerie chest 30 x 18 x 58.
Lladro
Sold on MaxSold for $85
Lladro Spanish dancers.
Records
Sold on MaxSold for $820
Lot of roughly 750 full size records, 150 45rpm records, all genres from rock to some 90's hip hop. Many other genres as well. Conditions vary.
Louis Vuitton fully lined in leather, 2 pieces, Adolph Kleimman, purse, Coach brief case, and a very large Mulholland Brothers leather tote. Seller verifies authenticity.
Ludwig Chicago. Wood blocks, Wheels on stand. 49X25.5X33
Vintage Toys
Sold on MaxSold for $170
Lunchbox with Thermos, 2 Holly Hobbie Thermoses, toy clock, children's books, Viewmasters, toy pinball machine. Wear consistent with age.
Marks: Towle Sterling. 8 knives, 6 shrimp forks, 9 salad forks, 7 dinner forks, 8 soup spoons, 9 dinner spoons, 1 square spoon, serving spoons , pie server.In wood canteen. See lot 156 for other sterling accessories.
Masi bicycle with saddle bags and tow behind car Bion X electric system with spare. Charger, locks and stand included. Untested.
Mercury 3.5 HP outboard, 4 stroke. In like new condition, untested. Includes rack its mounted on 20X66.
Metal Tonka tow truck and Nylint crane. Child safety not determined.
Weather vane
Sold on MaxSold for $286
Metal, matte black weather vane. Sailboat feature. 23x37
Model #FPHG2399MF. Purchased new in December 2012.In working order. Large item! 37X32X71. Please bring extra help and dolly.
Model KDL 46NX710 LCD, includes remote. Untested.
Model SC 81 with HDMI, appears new in box with remote 17X17X8. Untested.
Model SP 810UZ, new in box.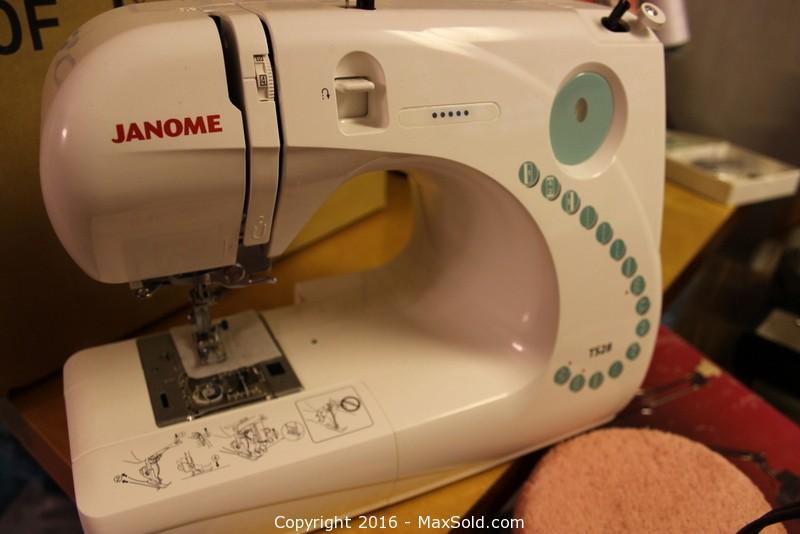 New in box Janome TS28 sewing machine.
Nikon cr2 camera, Nikon 6097919 camera, Kodak signet 50, lenses, attachments, tripod, Polaroid model 350, and more.
Sextant
Sold on MaxSold for $124
Not tested.
Nude Fantasia unframed, hand signed, No. 72 of 225. 20X25. Includes certificate of authenticity.
Oak double pedestal table with honey oak finish, four 10" leaves, 110x42x30 with leaves in. Includes 2 armchairs and 6 side chairs 40H. Note: matches Lots 221, 222, 223.
Older 15 ft aluminum canoe with 3 wood paddles, 1 in poor condition. Wear.
Wood Wheel
Sold on MaxSold for $125
One 44 inch wood spoke wheel with metal hub and outer ring. Wear, age.
Original etching Secretariat - 12 Furlongs to Glory by Jenness Cortez, 1988, 126 of 250. 27X31.
Original Picasso plate depicting bull Back is marked Edition Picasso and stamped Madoura. No chips or cracks measures 7.5 inch round
Over 60 LPs, Led Zeppelin, Billy Joel, Grateful Dead, Beatles to name a few. Lots of 70's and 80's Rock. Teddy Bear, Mega Blocks, double glass frame, children's books.
Park bicycle tools repair stand 49 inches tall, with clamping device on heavy metal base.
Pencil drawing of the American Express building with palm trees. Artist signed in lower right, Saxon. Nicely framed. 17x21.
Lawn Tractor
Sold on MaxSold for $602
Poulan brand with Briggs and Stratton engine, Model PXT175G42, XT gear drive, 17.5 hp, 42 pass, battery stored in house, as are keys, regularly used and recent tune up, with gas can.
Pretty Ladies Dressing For The Ball. Signed, with box and Certificate.
Pride Mobility Products GoGo Ultrax motorized scooter. Working condition, nearly new. Includes basket, chair folds down.
PS3 station with games Modern Warfare, NHL, NBA. Wii play station with Mariokart, Just dance, Wii play. X box with games Bloodwake, Midway, Halo, Links, NFL, Top spin. More. All untested.
Quilting magazines and books, craft books and thread. Note: thread containers are not included.
Revox A77 Reel to Reel Tape Recorder with Owner's manual, service manual, brochure and splicer. Name plate is missing. Untested.
Saber, 41, with ornamentation for handle missing, machete with cover, bayonet and more.
Scratches/stain/wear. 46X19X71 to top of mirror
Set up to tig aluminum, anodize and mill-finish. Works great.
Shovels, rakes, milk container, propane tank, paint.
Signed by Johnny Bower, Guy Lafleur, Bobby Hull, the late Maurice Rocket Richard and the late Jean Beliveau. 19X18.
Simon cigar dispenser. Counter top style. 12X12X10. Good working condition. Heavy steel.
Stainless pots, pans, hot plate and table.
Bust
Sold on MaxSold for $1550
Stone bust. 18X28.
Super NES control deck, model SNS-001, with two controllers. Includes three games, Donkey Kong, StarFox and Super Mario Bros. Untested.
Swarovski Bambi, 943951, with certificate & original box. 3.5 inches by 3 inches.
SCUBA Gear
Sold on MaxSold for $280
Tank, regulator, flippers X 2, weights, weight belt, life preserver, divers flag, knife. Large fish net.
Teak buffet, Scandinavian, four drawers, good shape for its age (small chips - see pic), 74X17X31. Bring help to move.
Total 13. Paragon, Queen Anne, Colclough, more.
Two rug fabric cutting machines, one is Fraser model 500 1. Untested. Assorted rug making material and fabrics. Plastic boxes not included.
Two shelves of quilting fabric. More than 50 pieces of material for sewing or quilting. Various colours and sizes.
Underwood brand vintage typewriter.
Untested but may run.
Upholstered and distressed paint finish. Note wear. 28X22X26.
Wedgwood
Sold on MaxSold for $235
Various pieces. Some wear. Shelf included
Vintage deluxe integrated station model CX7 with manual, antenna mart model 50, GE tubes and more, Untested, wear.
VV105 Victrola and records. Vintage. Seller states Victrola works. Manual included. Item is heavy, bring help to move. Untested.
Wave Music System with remote. Untested.
Weed wacker, shovels, hoe, rakes, snow shovel, garden hose on wheels, turf builder, Scott's mulch, more.
Oil on Board
Sold on MaxSold for $2640
William Shayer oil on board signed and dated 1849. Ornate frame shows cracks. 19X29 Information about art gallery on the back
With certificate of origin and framed piece of coal from the Titanic as stated on certificate, 16X13. Note print has pulled away from matting on 2 ends.
With mirror, marble surface, finial. Base 26x30, mirror 27x45, finial 8, overall measurement approx 61. Note: in 4 pieces, aged wear.
Wood frame with curved legs and carved back. Note: matches Lot 25. Wear consistent with age. 15H to top of seat, 27 X 29 X 42.
Wooden storage bench with 3 compartments. 69X20X24. Note: some wear.
Wool Rug
Sold on MaxSold for $765
Wool Persian rug 10X6.25 feet. Note fading and wear. Underpad is included.
Wrought iron mesh top table, 36diameterX18.5, and two mesh chairs, 30 inch diameter, 30 high. Good condition. Matches lot 163.
Zenith Allegro Series III, modular stereo system, AM FM work, 8 track not tested, Stereo 26X20.5X37. Allegro speakers 15.5X10X25 works.