MaxSold set new auction price records in September: A Royal Doulton (sold for $690), Steamer Trunk (sold for $2,450), Moorcroft Vase (Sold for $1,570), a set of China (sold for $2951) - even a 2004 Cadillac (for $22,250). See below for pictures and more highlights.
More than prices realized we cherish LOVE from sellers (as it's about selling practically 98%+ within a tight two week timeline) and buyers (as it's about connecting buyers to treasures near them), so let's see a few Social Media reviews on MaxSold first...
Now to the September 2016 Maxsold highlights...
Large trunk measures 40X23X27.
Royal Doulton. "The Moor".Large Royal Doulton figure.
Scrap metal art of the Queen Predalien. The primary antagonist of the Alien franchise films. Over 600 pounds of meticulously welded and highly detailed features.
Moorcroft vase measures 19 inches.
Senorita Royal Albert, 8 dinner plates, 8 luncheon, 8 bread, tea pot, 7 cups and saucers (1 tea stained) creamer (chipped), sugar, 4 small serving plates, oval vegetable, butter dish and 2 sets of salt and peppers.
Teak wood chair with orange cushions 20X28X29. matches lot 216.
Bronze sculpture 18X12X29. Stamped. "Guillame". Marble base. Bring help to move. Very heavy with lots of stairs.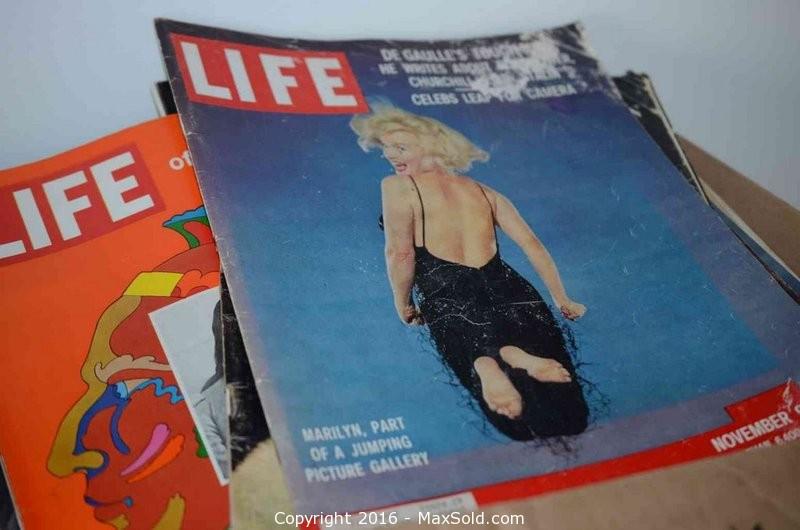 Collected series of life magazines. Approx 280 in set. Come to pick up in Category C time-slot.
Lladro
Sold on MaxSold for $830
Don Quixote and Sancho Panza. Large figures on separate bases. Rare according to owner.
1 hydraulic bender.
1993 Chevy Coupe Corvette in limited edition trim with 90,648 miles
19th century fabric type picture. 33X47. Minor wear. Signed on bottom.
Cast iron patio set with matching chairs. Table measures 64X64X29. Chairs measure 24X24X36. Includes office area rug 118X94.
2 microscopes, Fiber-lite model 190, MM gauge and estimator, pliers, Raytech ultraviolet equipment mod Ls-7.
2004 Cadillac XLR model
33x18x56 cabinet with 30 small file drawers and lower double doors metal tag The office Specialty Mfg. Co. Ltd in Toronto Canada. Note in need of repair, may be in separate pieces on castors.
39x20x47 seven drawer dresser stamped Gibbard. Looks in good condition some marks to surface top and to bottom legs. Matches lot 499 and 501.
40" x 19" x 30"
54" x 25" x 15"
Lamp
Sold on MaxSold for $165
56 inch floor camp. Untested.
6 inch as shown. Not sure of the origin. Comes with wooden hinged box which is 6 inch square and 3.5 inch high.
60mm Royal Superscope spotting scope with stand and lenses, all untested. Opera glasses, binoculars, kitchenware and more. Please bring boxes and packing material.
925 silver Tiffany and Co. bracelet.
A trio of Bortoli vases. Largest measures 11.25 inches high and smallest is 6.25 inches high.
A. J. Casson limited edition Rock Cluster. 263/300. Unframed. With COA.
Acoustimass 10 TV hime entertainment system s/n 040343910310073ac also includes Yamaha Natural Sound Receiver RX-V471
Antique "Clarion" portable gramophone phonograph record player (c. 1930). Working condition not known. Appears to have all necessary components. Carrying case in fair condition. A rare and nice find! Case measures 16"(W) X 7.5"(H) X 12"(D).
Antique Maison Beranger Usines De La Mulatiere 10kg scale. Made in France. With stone top and wooden base. Stamps on both weighing plates.
Persian Rug
Sold on MaxSold for $1650
As per seller Persian hand made rug. 156X114. Minor wear.
Secretary
Sold on MaxSold for $415
Asian style painted secretary 42X21X92. Note: minor wear and door off hinge. Bring help to remove.
Assorted collector items. Included are war medals and patches, antique forceps, an old beaded purse, scales, a slag glass lamp shade and much more.
Assortment of Beatles cards, hockey cards, NFL cards, movie and TV show cards. Includes size 71/2 cowboy boots and original box.
Watches
Sold on MaxSold for $710
Assortment of watches. Not tested.
Beaded belts, necklaces, wall ornaments and more. Animal heads 28 inches, mask 9X6, fish 16X9.
Table Saw
Sold on MaxSold for $320
Beaver 9 inch tilting arbour saw no 6200 with bench 36X24X36. Sears Craftsman fence guide system, iGaging Mini Mag Height Gauges. In working condition per seller. Note all have wear.
Boogie music amplifier by Mesa beige in colour light turns on when plugged in untested. Amplifier is missing back cover. Measures 18X9X17 inches, sold as is.
Bracelets, many designs and material, sterling pendant, Chinese health balls in a box, pedestal display stands, Ndebele doll, 24 inches and more. Some items are tangled.
Brass dining room chandelier. Seller will have taken down prior to pick up. 30X40.
Elephant
Sold on MaxSold for $310
Brass elephant. Approximately 14" high.
Bronze Statue, boy playing flute 19X28X37, Lion head non working fountain 17X10X30. Extremely heavy! Bring help to move.
Burle Marx gold ring, ring marked Paloma and an assortment of silver rings, some containing semi- precious stones. many marked Sterling or 925.
Charles Hollis Jones is believed to be the designer but cart was not authenticated. In excellent condition, chrome glass brass and lucite on 4 wheels. 30x18x27. Lucite positioned between the two shelves on the post. The glass in darkly tinted and has a few minor scratches. Chrome scratched slightly at base on one side.
Clothes dryer model MDE2400AZW clothes washer model MAH2400AWW, measurements together 23.5"x23"x66.5". Both untested.
Cobalt blue porcelain Decorative Vase with Gold Handles, 8X6.5X14.5.
Collection of paperweights ranging in size from 2.7 to 7.5 inches tall.
Cutco knife set Note: Scratches, Wear, one knife missing. Fondue fork set, wooden spoons, forks and more. Note: Wear.
Dali Art
Sold on MaxSold for $920
Dali. Certificate of Authentication included. Measures 20X14.
Danbury Mint 1:16 scale replica in original box and with certificate of title and certificate of registration. Metal car is 12" long. Wooden display piece is 15" long. In excellent condition, has been stored in original box.
"
Hall Table
Sold on MaxSold for $245
Demi lune shaped hall table with twist carved legs and stretcher, frieze drawer, 40 X 17 X 30, Note: wear consistent with age. Note: matches Lots 201, 202.
"
Stamp lot B
Sold on MaxSold for $520
Dominion of Canada Stamp binder. Has about 300 pages of stamps. Most pages are full of unused stamps in sleeves.
Electra-Ride II stairway elevator SRE-1550 can extend to seven risers has two remote controls, a seat belt and foot rest on chair. Comes with manuals, battery charger and extra lengths never been used. Untested. Bring tools and help.
Soapstone
Sold on MaxSold for $220
Eskimo in his kayak with a wooden paddle note base has several scratches 14" x 4", 3.5" Eskimo note scratches handcrafted metal dancing Indian on rock 6" h
Finland Arabia Valencia Soup Tureen.
Five Star Industrial Gas stove. Has two ovens with convection warming drawers and gas range. In working order according to seller just needs good cleaning.
Lladro
Sold on MaxSold for $207
Four Lladro figurines.
Framed and numbered 345/950. 9X13.
Copper Art
Sold on MaxSold for $500
Framed copper art titled Homage to Leonardo 23.75X35.75.
Mirror
Sold on MaxSold for $350
Framed mirror with beveled glass 60X37.
Framed pastel signature reads "D F Hasbrouck. N Y". 38X18. Wear.
Gas powered pressure washer. Homelite 3100 PSI. HP3127S. 2.7 GPM. With manual. Untested.
Gibbard teawagon with single drawer and glass tray 25" x 17" x 28" with 10" drop leaves
Scooter
Sold on MaxSold for $405
GoGo sport purchased in 2014, serial #SG10513050FV0. Untested.
Hand crafted wool carpet. Persian per seller. 130X97. Minor wear.
Comics
Sold on MaxSold for $420
Hawkeye, Smurfs, Fantastic Four, Laugh, Spitfire, Thor Corps, Richie Rich, Millie the Model, Spiderman and Machine Man, Jughead, Starstruck, Eternal Warrior, A Touch of Silver, Street Fighter II, Mad Dog, Robotech Defenders, Dr. Strange, and many more.
In a hard case with sewing box of thread and needles, table top ironing board
Books
Sold on MaxSold for $85
Includes Hardy Boys, F. W. Dixon. Approx 30 books.
Kenmore upright freezer. Measures 28X27X55. Not tested, but seller states it works. Heavy. Bring help.
Kirkwood clock, made by Ansonia Clock Co. New York, 22.5X14.5. No key.
Area Rug
Sold on MaxSold for $785
Large, hand knotted, fringed oriental area rug, 16ft 8 X 9ft 10, plus 4 in fringe. Note: wear.
Leandra Drumm signed pewter switch plates and more 3.5 to 11 inches.
Lenox China
Sold on MaxSold for $230
Lenox China "special" service 12 bowls 12 teacups 15 bread plates 12 saucer 18 dinner 1 gravy 1 round serving bowl 1 oval service most stored in plastic. Bring packing material and boxes
Lenox Weatherly pattern China service 10 salad 10 dinner 4 teabag rests 10 teacups 8 saucers 12 bread 8 bowls cream & sugar and serving dishes Come to pickup at Category A time-slot
Limited edition litho. Picasso 1970. 374/666. 17X20.
Made by weld-artist brothers Odie & Elton Bunjira (Zimbabwe). 6ft.6in. tall. Note: ALL the Recycled Steel pieces in the auction are treated with a high quality linseed oil varnish.
Marble topped wood side board with ornate details and two shelves inside 40X16.5X41. Note: wear. Key included. Bring help to remove.
Men's Bike
Sold on MaxSold for $200
Men's bike. Bianchi. 42 inches with adjustable seat.
Model DC43, not tested.
Model LC-70LE73TU sharp 70" Aquas smart TV in working order with remote. Mounting bracket not included.
Moorcroft
Sold on MaxSold for $391
Moorcroft vase. 13 inches high.
"
Moore Kettering tall case clock, 20 X 10 X 75, with hand painted metal face, flanked by cylindrical columns with brass capitals, key locking front door with inlay. Two weights included. Note: needs servicing.
"
More than 25 Tabra pieces, some stamped, some hand engraved, cameo and more.
New Burley bike trailer. 38X27X48.
North American bears, all styles and sizes.
Northumbria Sterling 38 pieces
Nursery Rhyme series - Gingerbread Man, 3 Bears x2 one chipped, Old King Cole, Baa Baa Black Sheep, Puss & Boots x 2. Animal series - seahorse, camel etc.
Octane Fitness elliptical machine. Professional gym quality. Model 37e. 70X24X60.
Side Table
Sold on MaxSold for $360
Onyx side table 33X14X19. Matches lot 2.
Oscilloscope, Sigmasize meter, and B and K dyna sweep, model 1070. Seller states all working. Please bring boxes.
Over 10 boxes of children's vintage Legos, ca 1980s, a PO-KE-NO game plus much more.
Over a dozen Murano clowns made in Italy. All in good condition except one with broken hand.
Painting double inverted leaf. 67.5X23.5. Note picture of original invoice. Purchase price over 5,000.00.
Decor
Sold on MaxSold for $210
Personality dolls, miniature dog head stands, miniature dogs, some marked Beswick, England, and a group of ornate stick pins in various sizes.
Jewelry
Sold on MaxSold for $360
Pins, Connector bands, pendants with semi-precious stones, many earrings and more. Some marked sterling or 925.
Plasma cool portable air conditioner af12000e, aquarium equipment, toy chest 24X16X15. All untested and wear.
Player turns on, records, reels turn, lights up. Heads need to be cleaned so unable to test properly. All parts that should function do. Comes with both reels in pictures. Take up reel is metal.
Precor S3.25 weight lifting machine 50X60X81 and 28X72X51. Heavy - bring tools to disassemble and help to remove. Has been serviced annually by fitness equipment dealer. Come to pick up at Category C time-slot.
"
Printer comes with 4 rolls of filament with two still sealed. Note, this was tested when it was purchased a couple of months ago and it worked with no issues. I was getting it for a project that I was planning on doing but that fell through and never ended up needing this or using it. So as not to waste the filament or mess around with the machine, it has been left as it was when it was purchased. I tested the power supply only at the time of these pictures. Below is a link if you wanted to buy this printer right now (in a different color but same model & year: http://www.eckertech.com/ecksbot-2014-fully-assembled-3d-printer-in-red-black-abs/
"
Raytec-Shaw Faceter an 2210, Raytech Industries Inc Lapidary Phenolic disc, Sanding and Polishing kits, Ultra Sonic K42, Stanley No. 700 vice, microscope slides, Diamond Pacific Genii and more. All untested. Note wear.
Rings when crank turns. Excellent condition. All internal parts appear to be present. Very heavy item.
Rock em Sock em. In box Johnny Lightning race car set. Electrical race tracks. Conflict game with Die Cast metal pieces. Chinese checkers and more. Games may not be complete and working conditions are untested. Please bring boxes and packing material.
Set of 2 round trays, wine trivet, Birks trinket dish, 5 round salt dishes. 2 spoons.
Set of 3, 49, 48 and 33 high, pressboard, all come apart at the top of neck.
Set of four Waterford crystal glasses. Lismore pattern. Glass size 6 inches x 2.5 inches
Tent
Sold on MaxSold for $410
ShelterLogic domed tent, large enough for SUV vehicle storage. Tube steel frame, zippered door, ratchet tie downs, 1 year old, 13 X 20 X 12 ft. Alternate pickup time to be arranged after auction closes. MaxSold will contact buyer after auction close. Buyer to disassemble.
Signed bronze ballerina sculpture by Fernando Regazzo. 'Nova'. Number 324 in a run of 500.
Singer sewing machine Note: Wear and Working condition NOT known. Sewing Supplies Dresser including sewing supplies. Note: Scratches and Wear.
Sixteen pieces of crystal stemware. Bring boxes and packing material.
Teak Wood Sofa with orange cushions 68X24X29 Note:slight wear .
Candelabra
Sold on MaxSold for $265
This is a new light 22X20X36.Come to pickup at Category B time-slot.
Snow blower
Sold on MaxSold for $200
Toro 521, 21" wide not tested
Trisha Romance limited edition 6/20. "The Wood Cutter". With COA. 30X24.
Twelve tea cups and saucers, includes Colclough, Royal Albert, Adderley, Paragon, Foley, Queen Anne and more.
Victoria C.P.Fabien mfr Montreal Canada. 47x25x60 ice box turned into media cabinet with wiring and lower shelving. Note large crack on lower side.
Vintage electric fire place insert 29.5X37.5. Untested.
Vintage Handmade "Bakery" Dollhouse. Amazing handmade miniatures. Note wear. Height 10"x 15" wide x 12"deep.
Radio
Sold on MaxSold for $130
Vintage Saba radio 29X16X35. Note damage.
Vintage space rocket tin ship. Tin tank and truck. Rubik's cubes. Toy guns. Assorted games. New in box dart board. Games table with folding legs and two plastic child's seats. Games may not be complete and working conditions NOT known. Please bring boxes and packing material.
Violin is in good condition marked W. Raabs Bubenreuth Germany. This is a very fine musical instrument. Includes horsehair bow and carrying case.
Wallace sterling silverware includes 10'dinner knives forks teaspoons salad forks and 8 butter knives 1 serving spoon and carving pieces in storage box. Silver Swirl pattern, no monogram .
Wedgwood
Sold on MaxSold for $93
Wedgwood planter.
Wedgwood
Sold on MaxSold for $90
Wedgwood planter.
"
Welsh sideboard/hutch. Very old. Heavily carved. Top has lighting installed. Top back is mirrored. beveled mirror. Bottom has double doors in center. Doors in side. 3 drawers. Open shelf on bottom. Measures 72X22.25X90: all measurements estimated. Excellent condition.
"
White leather rounded modern love seat with pillows very heavy bring help to remove . Seller was told that this is probably designed by Milo Baughman who worked for Flair and Bernhardt. Matches lot 461.
White leather rounded modern love seat with pillows very heavy bring help to remove. Seller was told that this is probably designed by Milo Baughman who worked for Flair and Bernhardt. Matches lot 464.
White painted kitchen cabinet 42X29X68 with Enamel counter top, roll top cabinet and a pull out enamel shelf. Note: scratches, wear and missing hardware .
Ducks
Sold on MaxSold for $85
Wood duck. Says Martin's on bottom. Note damage. 3 wood ducks. Note wear. Loon. Signed wood decoy duck.
Wool hand crafted. 152X118. Minor wear. Persian per seller.
Yard Tools
Sold on MaxSold for $95
Yard tools including Black & Decker hedge trimmer, Toro weed wacker, pruners, Toro blower vac, Remington chain saw, untested.
Young girl fountain, 2 piece concrete. Untested. Statue measures 8X39 pool diameter is 30" approx 4" deep.