AUCTIONS AND ESTATE SALES IN
TEXAS
SHOWING ONLINE AUCTIONS AND ESTATE SALES IN
TEXAS
Don't miss out on these hidden gems!
We do Downsizing and Estate Sales.
Discover the many benefits of our auctions.
Sell your goods easily and profitably from an estate, downsizing, or relocation by Dec 16th.
Discover the many benefits of MaxSold auctions.
JUST CLOSED AUCTIONS ITEMS FOR SALE IN
TEXAS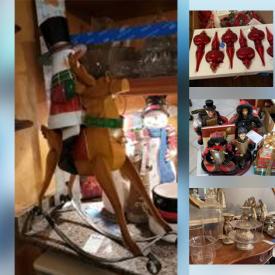 Humble
Tangle Lake Drive, Humble, TX, 77339
This online auction features Luggage, lanterns, christmas or & More
SHOWCASING UPCOMING AUCTIONS IN
TEXAS

ESTATE SALE ONLINE
CUSTOMER REVIEWS FOR MAXSOLD
Pick up was so organized. Items were together and team knew where each item was when I walked in.
The online auction went smoothly and the pick-up for the items I won was easy.
This was the best online auction that I've participated in. The staff was very helpful, the house was wonderful and cool since the A/C was on. I was probably at the house for 3+ hours and everyone was super nice. I bit off more than I could pack into my truck that I called a friend to come get the rest and the staff was very helpful to her as well.
Lot sizes are good. Items are clean!
Always interesting auctions...calm and controlled pickups. Good pictures and good descriptions.
Super friendly staff. Made sure I was taken care of and had everything. Other customers were all willing to help each other. Great job!
I love auctions and this is a great way to do it. Easy in and out.
Easy for the person to get rid of their stuff. Great to pick up some fantastic deals.
The MaxSold people I met were excellent and seemed very organized despite the onslaught of people they remained calm and polite the entire time.
Christopher Ferguson
Magnolia
Previous
Next