SHOWING 24 of 34

ONLINE AUCTIONS AND ESTATE SALES IN

ONTARIO
Sell your goods easily and profitably from an estate, downsizing, or relocation by Feb 10th.
Discover the many benefits of MaxSold auctions.
AUCTIONS JUST CLOSED IN
ONTARIO
SHOWING 1 of 1

AUCTIONS NEXT WEEK IN

ONTARIO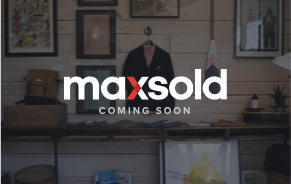 Oakville
3 Ennisclare Drive East, Oakville, ON, L6J 4N
SHOWING 24 of 105

UPCOMING AUCTIONS IN

ONTARIO
CUSTOMER

REVIEWS FOR MAXSOLD
It is safe way of sell a large amount of household items without haveing to deal with a one on one with alot of people. It also helps get the best price of each item
Gary Sullivan
Mississauga
I love MaxSold! It is fun and you get to see the amazing treasures people have in their house. Also I got an amazing deal; I only wanted 2 bags for laptops at work which I won on MaxSold, but it came with about a dozen purses which my sister in law and nieces loved!
I have recommended Maxsold to just about everyone I know... friends, family and work colleagues. To date I have used them only for purchasing (20 auctions since I first learned about the site in Feb 2015), and I will use them in the Fall for my parents' estate items.
The seller was very friendly. She was honest with the descriptions and when we had trouble loading the shelf into our car, she offered to hold onto it until we made other arrangements. We ended up tying down the trunk lid so it worked out. I live max auctions.
When my mover was unable to come, the staff were very accommodating and helped me make other arrangements. The home owner was also clearly having a good time.
Wonderful team. I think the lady I dealt with yesterday was "Thereasa" and she was very friendly and helpful staff member.
For those who are downsizing, MAXSold offers downsizers an all-in-one, no-fuss, little-bother solution to bring their goods to market so they can simplify their lives. For buyers, MAXSold offers great deals on purchased items and you will find things that may be difficult to find elsewhere.
Well designed website. Organized pick up with friendly staff. Good deals if you are lucky!
Lorraine Montgomery
Mississauga
I've enjoyed my purchases and think it's a great way to get rid of things.
Shoshana Teitelman
Toronto
I have bought many times on max sold at this place I got 3 statues and I was very happy with them. Workers are very friendly and run efficiently. Looking forward to more in my area.
Previous
Next