MaxSold provides the easiest solution to sell everything for those downsizing, settling an estate or clearing business inventory with local expert help in 35 metros in North America. MaxSold buyers support sustainability by buying local, upcycling, and repurposing items they find on MaxSold.
Canadian Business and Maclean's today ranked MaxSold in the top 25% of companies on the annual Growth 500 ranking alongside Shopify, Canada Goose and TouchBistro. Produced by Canada's premier business and current affairs media brands, the Growth 500 ranks Canadian businesses on five-year revenue growth.
"The companies on the 2019 Growth 500 are truly remarkable. Demonstrating foresight, innovation and smart management, their stories serve as a primer for how to build a successful entrepreneurial business today," said Beth Fraser, Growth 500 program manager.
"MaxSold is thrilled to be listed alongside fast growing companies like Shopify, TouchBistro and Canada Goose on the Growth 500 list for the second year in a row." said Sushee Perumal, MaxSold's CEO. "This achievement reflects the continued dedication of our growing customer focused team across North America to provide the easiest local expert help solution to sell everything." MaxSold continues to expand services deeper in the 35 metros to serve clients and partners downsizing, settling and estate or reducing business inventory, while preparing for an expansion throughout the United States and Canada. "MaxSold's growth continues to be fueled by an outstanding community of buyers supporting sustainability with buying local, upcycling, and repurposing the items they find on MaxSold." said Perumal.
Below is the core MaxSold support team supporting nearly 500 team members in the 30+ metros served by MaxSold.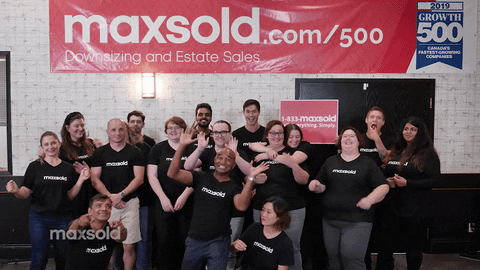 The mayor congratulated MaxSold on the achievement.
Auctions Near You
|
Sell with MaxSold
|
Past Auctions
Facebook
About the Growth 500
For over 30 years, the Growth 500 ranking of Canada's Fastest-Growing Companies has been Canada's most respected and influential ranking of entrepreneurial achievement. Developed by PROFIT and now published in a special Growth 500 print issue of Canadian Business (packaged with the October issue of Maclean's magazine) and online at Growth500.ca and CanadianBusiness.com, the Growth 500 ranks Canadian companies on five-year revenue growth. For more information on the ranking, visit Growth500.ca
About MaxSold
Unlike eBay or Craigslist, the MaxSold local expert team manages the sale process from start to end. Unlike traditional Estate Sales, MaxSold is able to achieve a near-100% sell rate with quick turnarounds and a proven process. Practically everything can be sold – from art, antiques china, silver, vehicles and tools, right down to furniture and garden tools. MaxSold, with roots in the auction industry since 1956 and founded by a second generation auctioneer, is the best way to sell decades of possessions easily when downsizing or settling an estate. Sell everything simply.