December 2017 was our best December ever! With over 250 auctions this month, MaxSold was able to help many customers with their downsizing and estate sale needs right before the holidays! Check out the highlights below, and Happy Holidays from all of us at MaxSold!
Bose wave radio/clock/cd player 2 remotes. Speakers untested. No damage. Category C pick up time.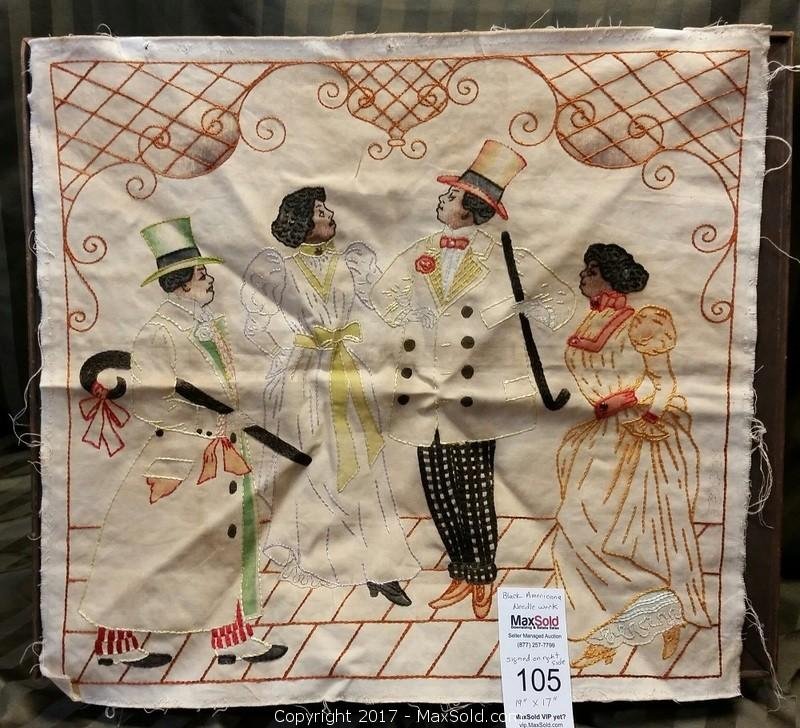 Needle point, circa late 1800"s. Signed

Very large original oil painting signed Pothast. May be Bernard Pothast but cannot confirm. Purchased at auction; has not been taken in for appraisal or authentication. Appears to be quite old. Frame shows some damage and wear. Painting is 25" x 30". Frame is 36" x 41.5".
Camera Lot
Sold on MaxSold for $383
Nikon F801 (film) and D80, very good working condition with charger (missing cord), 2 extra batteries, TWO lenses: Nikkor 70-300 AF f/4-5:6 D ED / AF S Nikkor 85mm 1:18 G / AF S (not pictured) . NOTE does not include the 50mm lens.
Xbox 360
Sold on MaxSold for $140
XBox 360 Game Console, Controllers, Games, More. None tested.
Vintage fireplace fender, brass and stone, 62X10X9.5. Wear.
Board Games
Sold on MaxSold for $301
Board games-monopoly, jack straws, pente, score four. Four empire strikes back collectors mugs, vintage toys. Aged. Bsmt.
Vintage ornate clock, metal figurine, two matching pitchers, and a glass of marbles. Untested. Some wear and dust.
McKinnon, stone city, barking squirrel, steam whistle, hop city and more. Also includes flight paddles and condiments baskets.
Tractor has 302hrs comes with LA402 front loader Woods RB60 rear Blade . Serial number 63547
2004 rear barn doors carry rack and spare tire
Bessey 24" parallel clamps. ,quantity of 22 plus storage rack , heavy duty bring help
Bar Clamps
Sold on MaxSold for $210
Forty five assorted clamps, including C-clamps , vice clamps, steel bar clamps and more.
Powermatic Model #719A Mortiser, heavy duty equipment bring help

Vintage Sipco tool box and an assortment of small vintage hand tools.

Autoharp
Sold on MaxSold for $165
Chord harp brand Autoharp in hard shell case. Includes sheet music.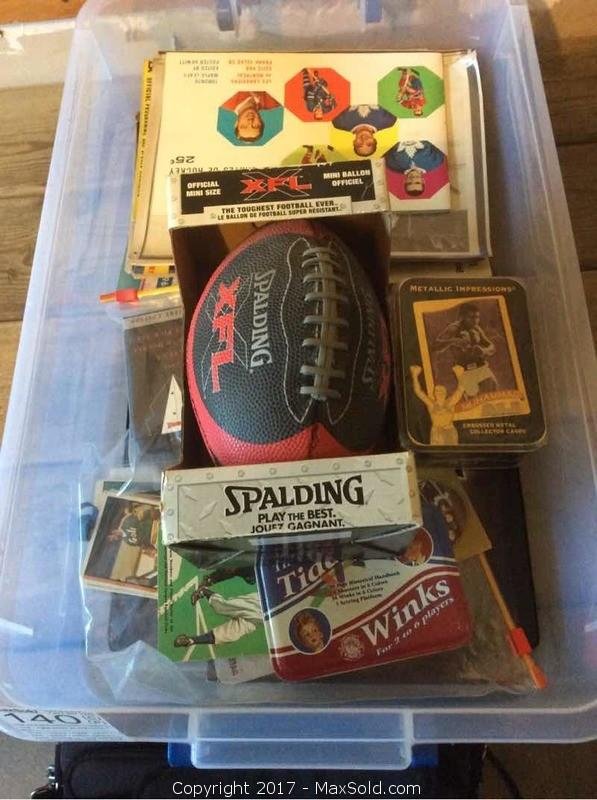 Muhammad Ali collector cards, vintage hockey cards, tiddlywinks boxed game, mini Spalding football, vintage sport magazines.

Royal Winton dishware including 5 teacups and saucers, teapot, cream and sugar bowls.

Three pieces stamped 1128XL in very good condition.

Life Stepp Country Collection laminate flooring, 12 mm, Butter Sweet colour, 19 boxes containing 19.7 sf per box. Also, 2 rolls of underlay.

Painting
Sold on MaxSold for $3150
A painting measuring 26X21 inches.

Lot of WWII military items.

Green 1975 Honda 550 motorcycle with title and 14,565 miles. Needs work. Untested. Some wear. Bring trailer or truck to haul and help to remove. Note: Helmet has not been verified to conform to current safety standards and regulations. Come to pick up at Category C time slot.

La Cimballi M21 Junior, Professional espresso machine. Same brand as is used at Small World Coffee Shop in downtown Princeton. Cup and saucer ARE included. Very lightly used. Untested.

Assorted LEGO plus many custom pieces and The World Of LEGO book.

Etched and signed on bottom of bowl. Nemours bowl. Heavy made in France.

Franklin Mint, Six Jackie Doll accessories and dresses, all in original boxes.

Mad Magazines Collection dating from 1975 to 1990. Over 150 magazines.

Manual included. Ez lite cruiser. Personal mobility aid. Folds up.

Nautical compass and barometer and mounted brass bell. Original price marked on inside of box.

Metal Signs
Sold on MaxSold for $180
Various metal signs including Abbey Road Beatles souvenir, Route 66 and Coca Cola.

Chess set in original box. Chess board comes from the other set. See pictures for details.

Five pipes with pipe holder and tobacco container. Two lighters, untested. Collection of tobacco pouches. See pictures for details

Rare collectible item. Made by The Conestoga Corporation, PA, USA, Model FC-66, Produced between 1935 and 1950. Leatherbound. Condition according to age. See pictures for details.

Marvel wine cooler with glass door designed for in counter installation but can be used alone, some finish loss on top and edges, in working order, 24X25X34.

Large credenza or sideboard with drawers for hanging folders and shelf storage. 108x20x26. Be sure to bring help to carry this heavy item as well as a vehicle large enough to accommodate size.

Assortment of sterling, including spoons, forks and serving spoons.

Collectible leather bound Easton Press classic books. "The Jungle Book" Rudyard Kipling, "Aeneid" Virgil, Short Stories by Oscar Wilde and more. Come to pick up Category A time slot.

Over 10 copper cookware pieces. Pots with covers, jello molds and bowl.

Two Shelves of collectible leather bound Easton Press classic books. "War and Peace", "Ben Hur", "Of Mice and Men" and more. Come to pick up Category A time slot.

Antique Rocking Horse 23X19X12.5

Vintage Meridian Loonie Bubble Gum Machine, comes with keys, takes loonies and working condition, an excellent stand alone piece. Measuring approx 53 inches tall, comes with orientsl Beaver stamped and chromed base. Good condition, wear appropriate with age. ***Christmas lights NOT included***

Benaya tall figurine in original box. Signed and in very good condition

36 comics in total for this lot- 5 different series. The Amazing Spider-Man has 23 issues in total. Issue #'s 103-107, 109, 111, 115, 116, 118, 119, 121-124, 127, 128, 130, 131, 133, 134, 137, 146. Key issue #'s 119, 121, 122 and 134. The Amazing Spider-man King Size issues x 2. Spider-man-Marvel Team Up issues x 6. Spider-man Giant size Super Heroes issues x 2, Spider-man-Marvel Tales issues x 3. Good condition.

Aviation Archive limited edition die cast model airplanes. Lot of 6 models includes De Havilland Mosquito Prototype, Sopwith Camel, Fokker DR.1, Fokker DVII, Gloster Gladiator MK. I, and RAF SE5a. Excellent condition, new purchase price $47.99-74.99 each. Note items located on second floor.

Dell Alienware Area 51 gaming computer including 27" monitor, Gladius Pro programing mouse, Asus Strix Tactic pro keyboard. Saitek X-55Rhino HOTAS flight stick and throttle. Lot includes box of miscellaneous computer games, cords etc. Note items located on second floor. Bring boxes to pack.

Ebel woven resin outdoor propane fire pit table-50" dia x 24"h 32"w x 36"d. Can be used as a low dining/cocktail table-see height measurements-when fire pit is not in use. Note propane tank NOT included.

Great assortment of hand tools including tool belts, fabric tool box, various clamps, Motomaster battery charger, metal shelf and more-see photos. Note pegboard and hooks are NOT included in this lot. All items located in basement. Bring boxes.

Men's vintage Peugeot road bike and vintage Norco bike. Trek men's road bike with TCT car one frame. Lot includes accessories. Note condition as seen in photos. ITEMS LOCATED IN BASEMENT.

Nikon D800 digital camera with Sigma 24-105mm F4 DG art lens. Nikon quick guide manual included. Back pack camera bag, battery charger and mini table top tri-pod included. Note items located on second floor.

Nikon Nikkor 50mm AF-S lens.

Set of 2 woven resin wicker outdoor club style swivel glider chairs by Ebel furniture. Original purchase price over $1500 EACH as seen in photos. Thick, plush cushions included with protective MISMATCHED covers also included. 34"w x 36"d.

Set of 6 Disney Star Wars coins including Captain Phasma, Rey, Kilo Ren, BB-8, Poe Dameron and Finn. Each coin listed as 1 oz silver, limited edition.

Sony XBR Bravia 49" 49X900E model 4K HDR Ultra HD tv including remote. Manual, wall mount holder and stand included. Note items located on second floor. Bring tools, tv is wall mounted as seen in photo. 2 persons to move.

Vital portable Infrared heat sauna with timer, installed radio, inside electrical outlet for phone use or mp3 and indoor / outdoor lights. Must be dismantled for moving (approx. 1/2 hr). In working order. Bring help for moving. 48X42X75. Includes remote and manual.

800 albums from the ages 1950s and up, a mix of classic rock, rock, classical, soul, R&B, pop culture and movie soundtracks as well as off the beaten track assortment such as Soupy Sales. Tina Turner, The Pink Panther Sound Track, Greatest Motown Hits, Sheherazade, David Bowie. Includes turntable which powers up, but otherwise Untested electronic devices

Vintage Pepsi machine measures 25X15X52.5.

Asian collector plates and collector plates. 14 in total. Documentation included.

Set of 2 crystal candelabras with gold trimmed globes and sconces. thought to be purchased in Paris in 1940's, Hungarian.

1998 Sea Doo Challenger Boat. White, purple and green. 18ft. Brand new upholstery and 2 new engines. Hull identification number: CECAO415B898

Three Older Pins That Includes 1948 NFL Championship Playoff Pin

Includes coffee pot, teapot, cream and sugar, felt bags.

Tested works. Comes with original users manual. Needs new batteries.

37X18X38. Very minor wear. Needs securing.

Albums of collected postcards, some from early 1900s. Chatelaine magazine from 1960-70s. The Globe and Mail, Life magazine and more.

Inside tag reads National Picture F & A Co. Ltd Portable Lamp. Measures 9"L x 4.5"W x 9"H. Glass ball is removeable to change light bulb. Currently not working. Wiring frayed is some areas. See photos.

Bowl with handle Width 15 inches Height 10 inches.

From Fantasia limited edition 20x18 inches

Silk screen of Lady Slipper orchids. Presented by Casson and his wife Margaret as a Christmas gift. Matted and framed. Overall Size 12 x 15.

All items you see are included in this King Tut life-size bust museum like display, all apart of bidding. The focal point king tut mask bust was created by Limoges Creations Ltd in Brooklyn, NY. One life size bust of king tut was created for each of the 50 Birks Jewellers stores as a promotional item for an upcoming Egyptian exhibit to be held at the Art Gallery of Ontario in 1979/80. Their is the Limoges creations signature stamp on the bust. Also comes the original tag when purchased. The life-size bust is in excellent condition, needing only a slight dusting. Made of hard like mache? resin plaster, Measuring approx 21.5 inches tall & 15 inches across. 2 iron candle holders (23 inches tall) with glass inserts as well as two Egyptian pictures believed to be on papyrus framed are also included. 1 red theatre divider with hooks and the wood shelving base with glass door is all apart of the lot for bidding. What you see is what you get, ready for instant set up in its new lovely home.

Norval Morriseau framed like new condition, measures approx 25H x 21W Certificate of authenticity on back.

Assorted glass paper weights, handmade Boda egg on stand and more. Some are signed but illegible. Seller says most from Scotland.

Lidded miniature containers, jars, ginger jar on stand made of assorted materials including metal and ceramic. Seller says some have jade and cinnabar accents.