MaxSold completed over 220 auctions in January 2018. We were also able to launch MaxSold in the state of Arizona! We take pride in helping that many customers find new homes for their unused items, while getting them maximum value. If you are looking to sell everything quickly and profitably for no hidden fees, MaxSold is the best solution. Whether you're downsizing, moving, or settling an estate, MaxSold can help you SELL EVERYTHING!
"Don't know how we would have managed without Max Sold! Thank You, Thank You, Thank You! We never would have managed to get rid of all of our stuff in the time we had allotted, and it made our lives so much easier! Staff was wonderful! As people were coming to pick up their purchases and hauling it away, all I could think of was; That could of been us doing all of that loading and hauling away by ourselves! So thankful, we didn't have to do it! ...Thanks again!" - Karen and Brian D.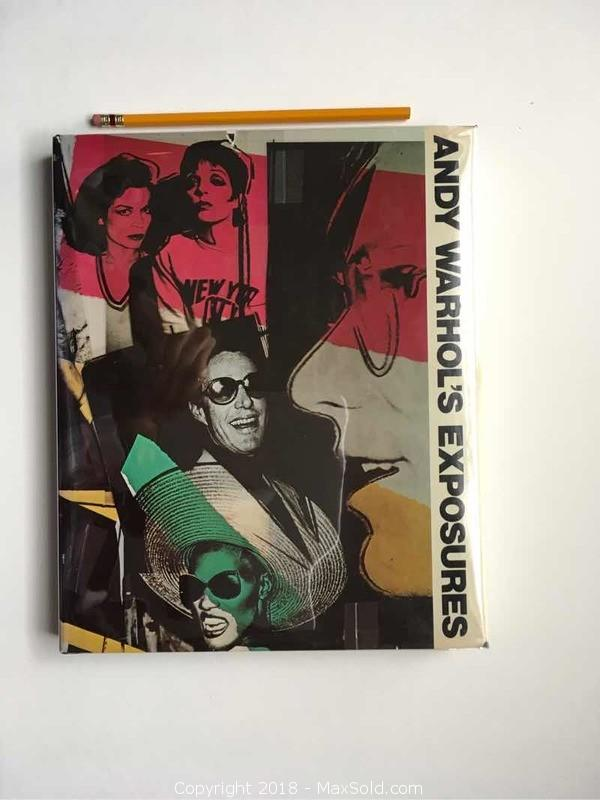 Signed by Andy Warhol in the title page. Book clean and unmarked in the inside. Sold as is.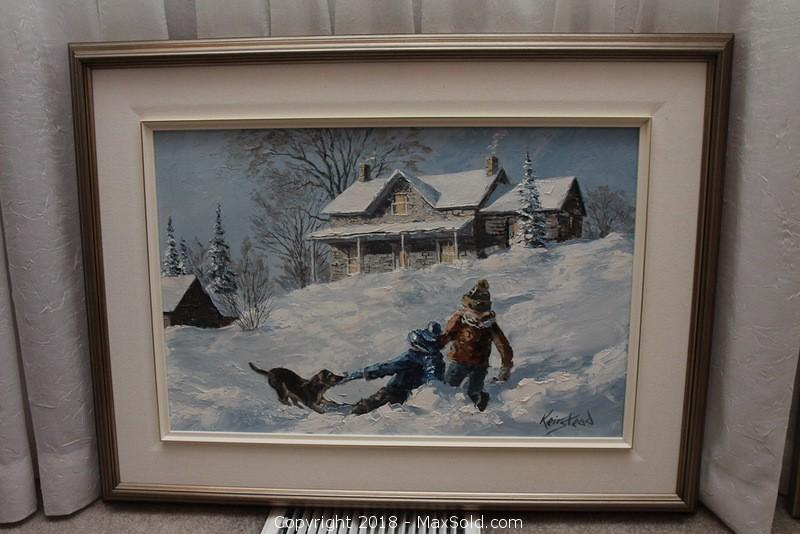 Mitt Fight in Maberly, oil on board, signed by Keirstead on back, 1982, 16X24 plus frame.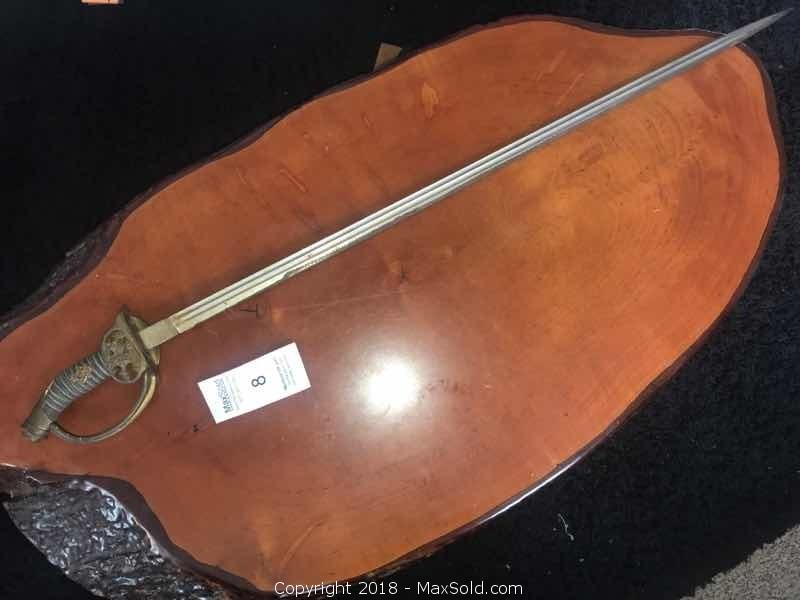 Old sword in fair condition with nice eagles and hinges on the handle.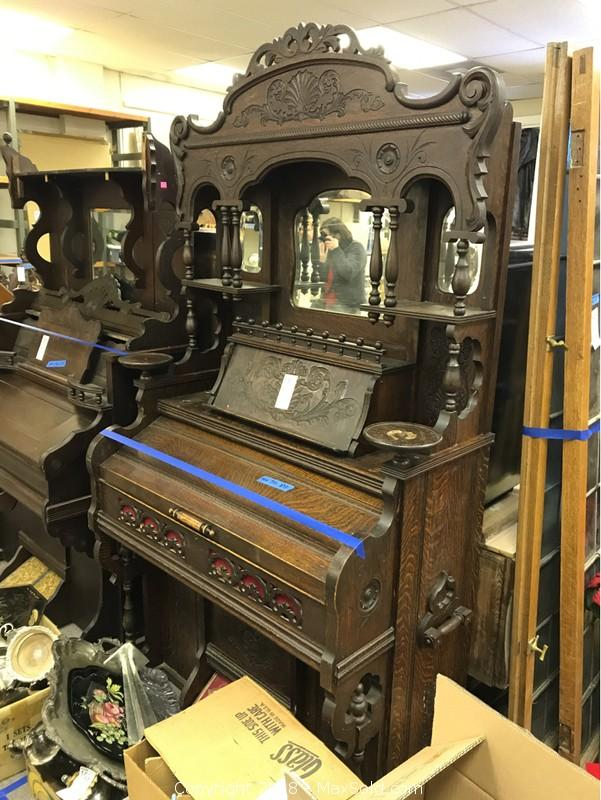 Antique Pump Organ with carved wood and detail. No keyboard. Does not play. Gutted. Ready for re-purposing as a desk, bar or other statement piece! Top can be lifted off for easier transport. HEAVY.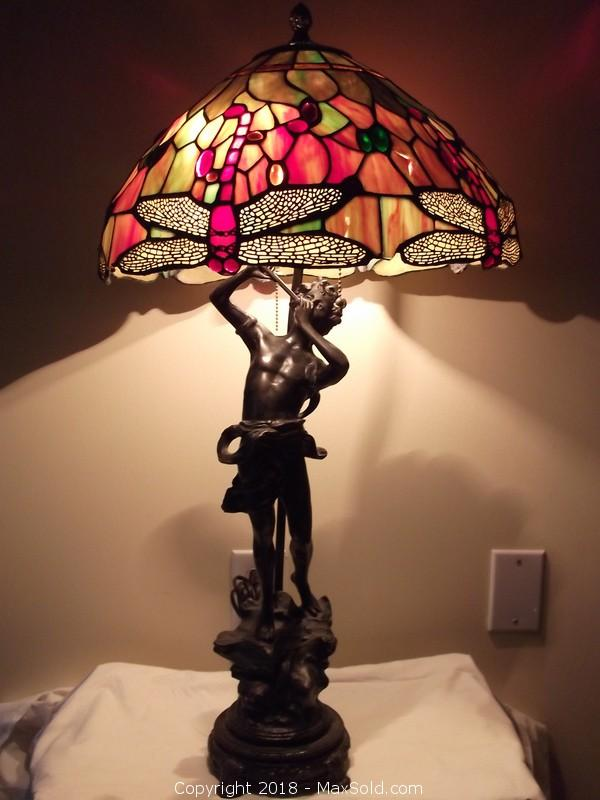 Antique French bronze lamp with Tiffany-type shade. 32"H. 16"D shade. It is signed "Francaise - Paris". I think it is bronze because it's very heavy, but it could be some other material. Note: few cracks on the stained glass shade.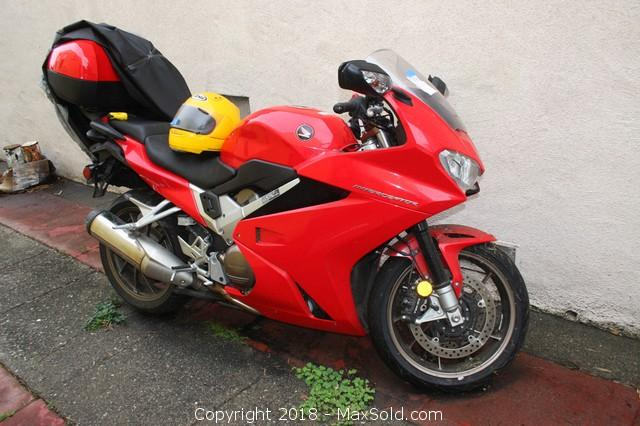 A 2014 Honda Motorcycle, note battery is currently dead. (can be recharged with a trickle charger). 3780 miles. Original owner, and as per seller bike has never been dropped. Pink slip available, registration may not be. Buyer is responsible for bringing California Drivers License, and proof of car insurance to pick up. Only the purchasing person registered to hers or his Maxsold account may drive this motorcycle off site.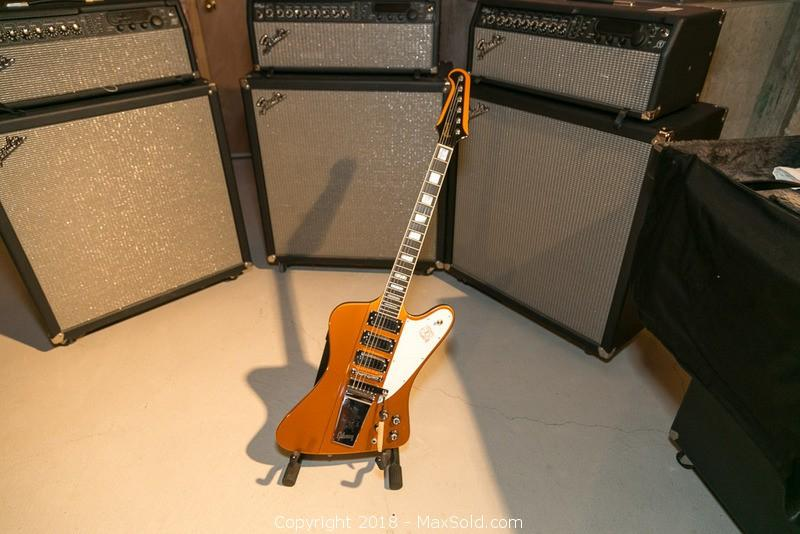 2003 Gibson Firebird VII Limited Run Copper Metallic (beautiful) chrome HDWR Guitar with added custom shop sticker. Serial 01153544. Very slight wear, working as per owner. Includes case.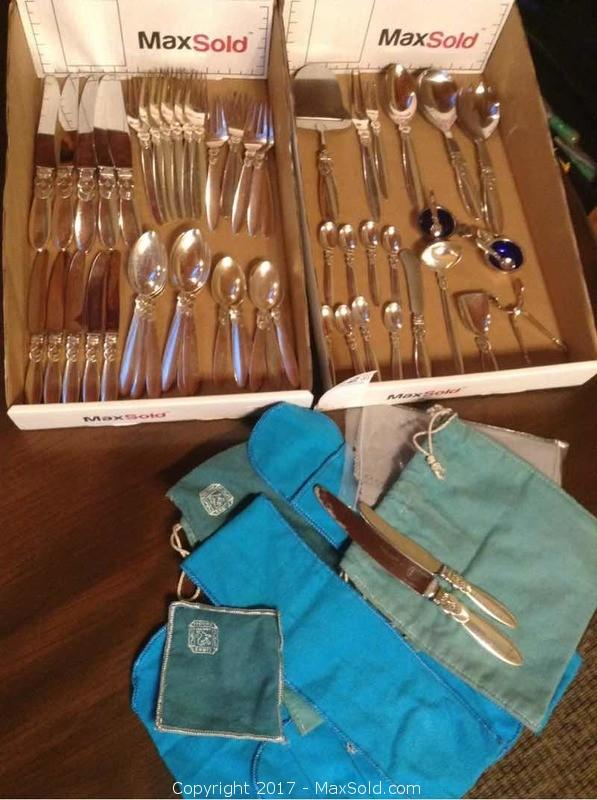 58 pieces includes 6 dinner forks, 6 dinner knives, 6 tablespoons, 6 dessert forks, 6 teaspoons, 8 5 O clock, 1 salad set, 1 serving spoon, 1 butter knife, 6 butter knives, 1 sugar tong, 1 sugar scoop, 2 serving forks, 1 ladle, 1 cheese slicer, 2 salts w/ condiment spoons. Note 2 knives have some deterioration between handle and knife with some scratches to one knife blade.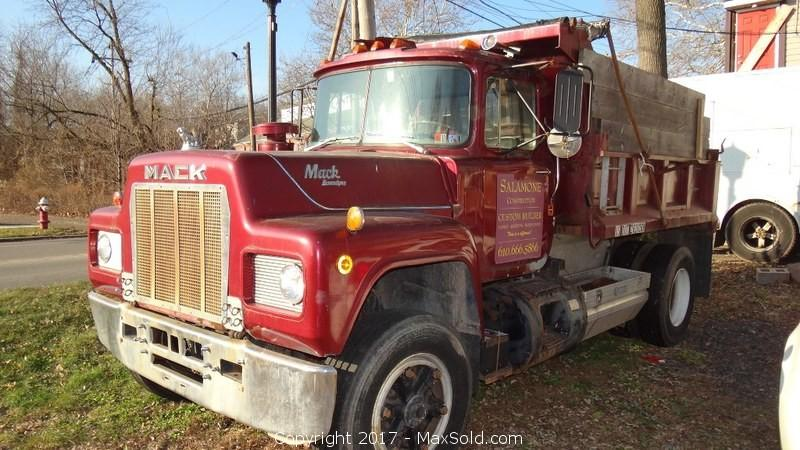 1978 Mack Dump Truck. Diesel. Inspected till June 2018. Seller states in working condition. Bring ID and required information to transfer.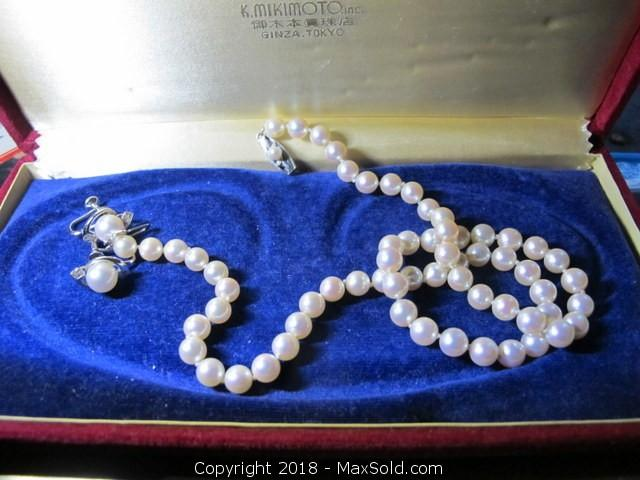 14k white gold clasp- Pearl necklace with matching earrings. Untested if real pearls, though are individually knotted. Box markings from Japan.


Stitch Work
Sold on MaxSold for $240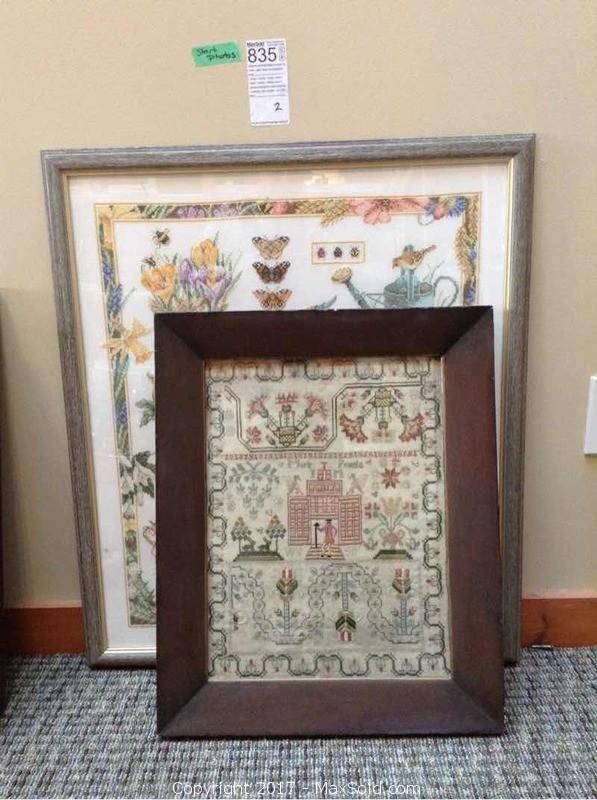 17x12 family cross stitch art piece comes with written family history of Mary Pringle. Cross stitch 26.5x22.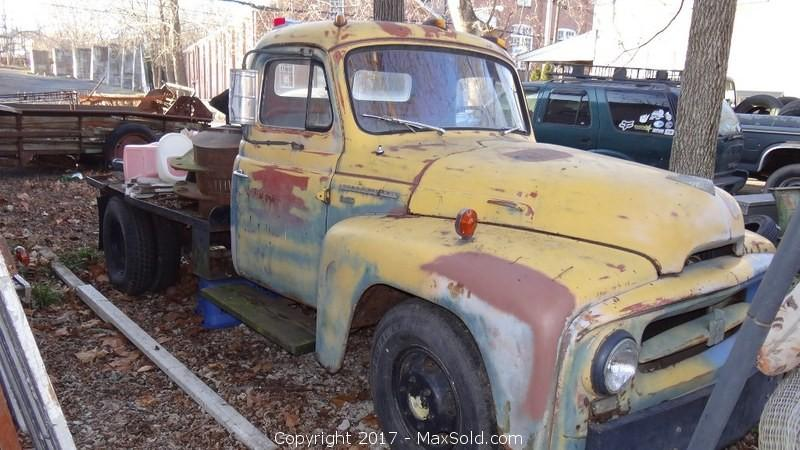 1955 R-132 Model International Pick Up Truck. ODO 42226. Inspected through Sept 2016. Metal Running boards included. Contents on truck bed not included. Not tested. Bring ID and required paperwork to transfer.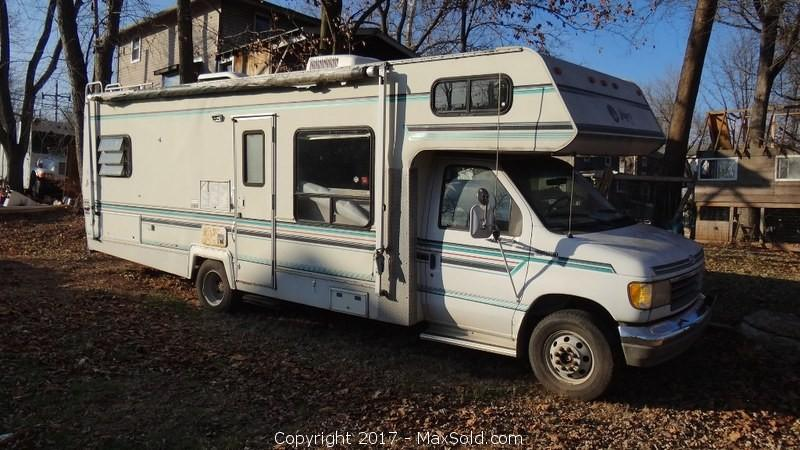 1992 Jayco Ford Motorhome Camper. Gasoline. E350. Running. Inspection good till August 2018. Includes contents. Radio Shack CB Radio, Mini Fridge, Gas Stove, Oven, Fridge, Freezer, Loft Bed, Table into Bed, Sofa with damaged cushions, 2 single beds, full shower, separate bath with sink. Children toys are included. Nothing tested; however it is in running condition and was used this summer. Bring ID and required paperwork to transfer.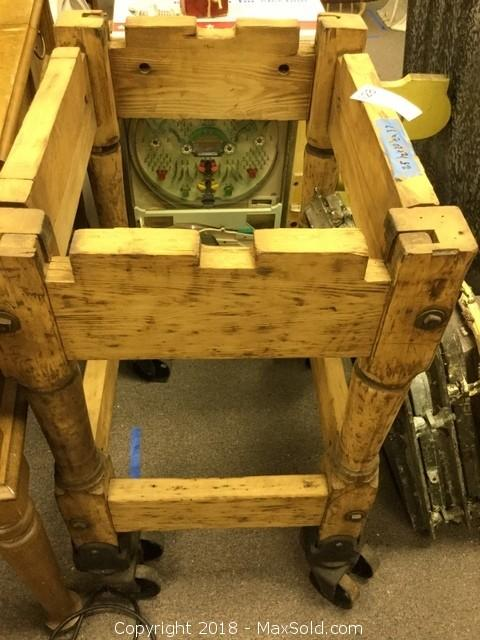 19th Century Printers pegged and bolted turtle table on double cast iron wheels. Note: this is the base only, no top. Measures 26x21" 36 1/2" high. It was used for letterpress composition layouts and is exceedingly rare. Expected wear noted.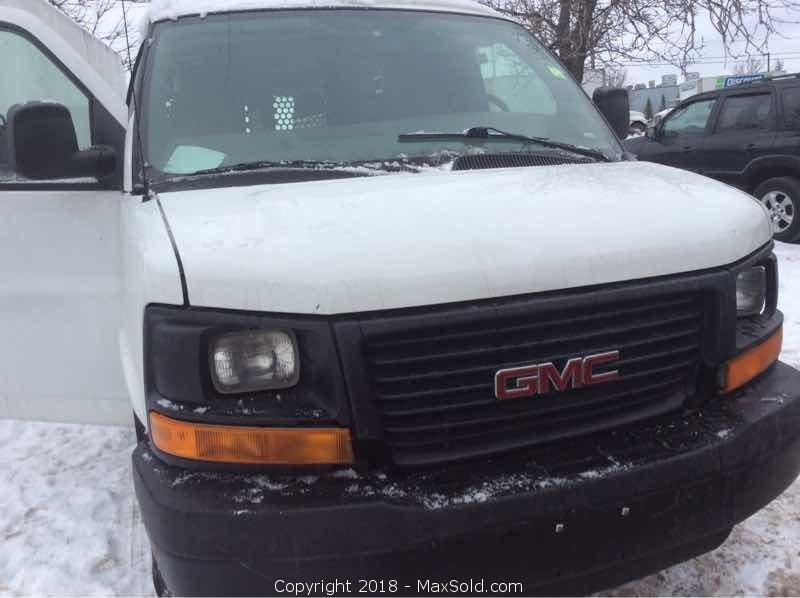 2008 GMC Savana Cargo Van. Trailer tow capacity. Engine In working condition. Recently serviced with new fuel pumnap, new battery and new headlight. Includes tool rack and back protector cage. Odometer reads 206705 kms. VIN number 1GTFG15X581132193. Buyer must be prepared to register the transfer of ownership and remove vehicle from property no later then one day. Printed receipt and ownership needed to complete this at Service Canada. Small amount of Rust on rims and a few small dents. Passenger armrest and side door lock needs repair. Van sold As is condition. Van location is a ten minute drive from Auction address. Seller will accompany you there at end time of category A or sellers contact information will be provided so that transfer can be completed on Monday January 22 at a mutually arranged time. https://youtu.be/jkXtAyjtLGF-op

Teacups
Sold on MaxSold for $166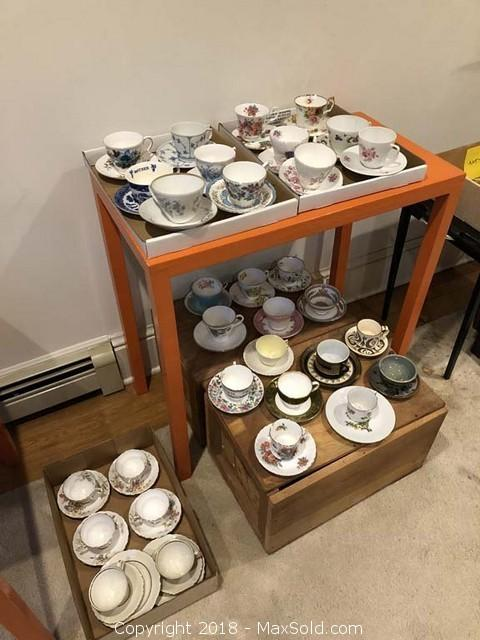 32 tea cups and saucers. Schumann Bavaria. Rosina bone China made in England. Hammersleys bone China made in England. Wedgwood. Porsgrund. Regency English. Belleek. Crown bone China. Duchess bone China. And more. Bring boxes to remove.


Records 
Sold on MaxSold for $210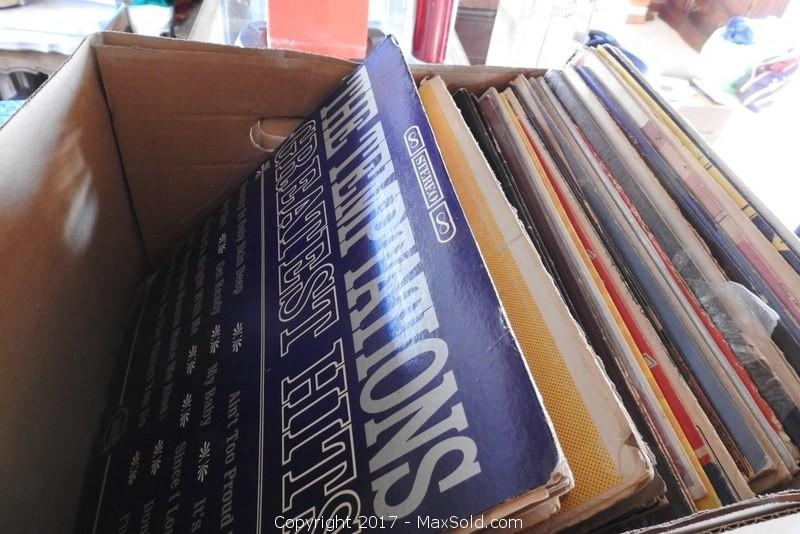 33rpm LP Records including The Temptations, Rolling Stones and more. All untested.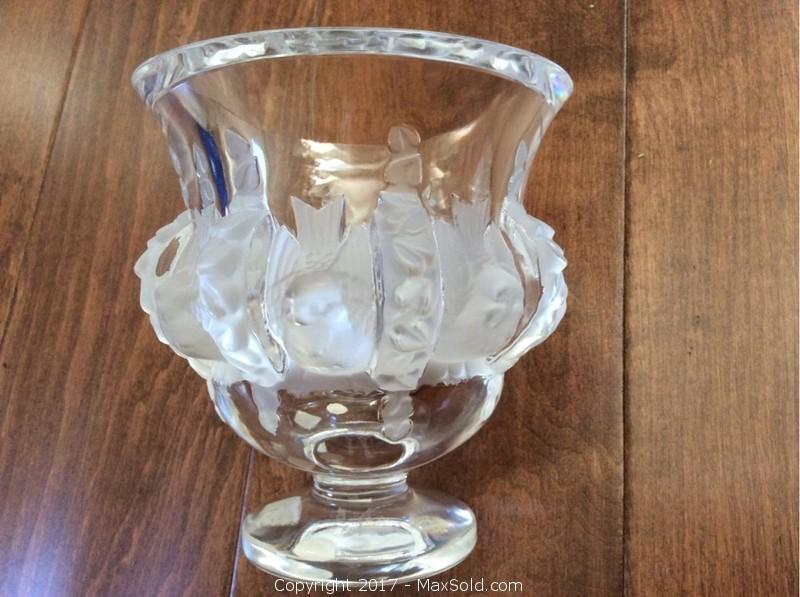 5 in Crystal Lalique France Vase.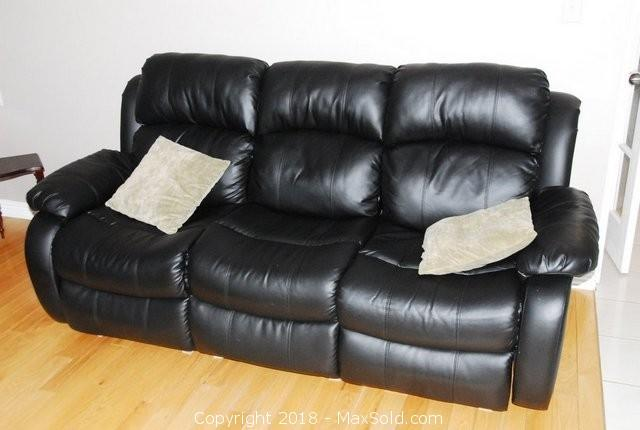 87X34X41, both ends become recliners, both in working order, includes decor pillows. Heavy bring help.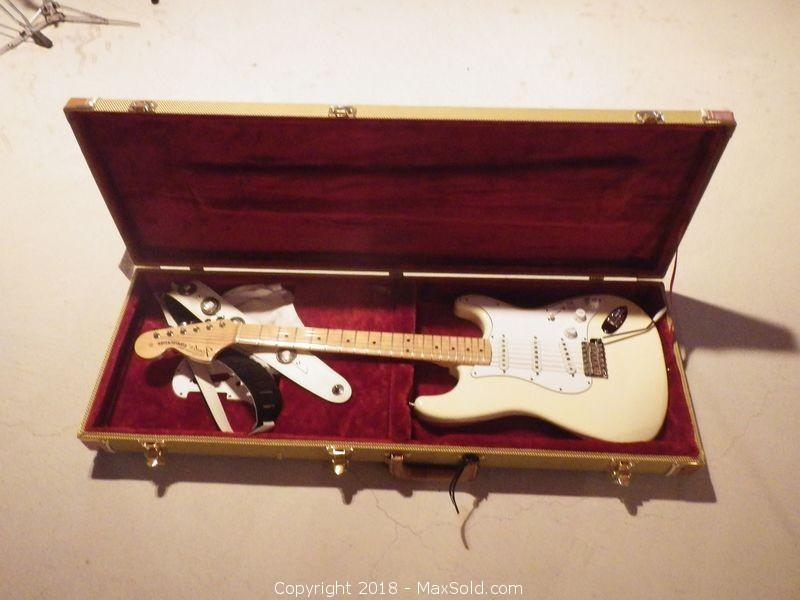 90's-00's Fender White Hendrix Tribute Stratocaster Guitar. Mirror image Fender logo. Added strap lug on back. Slight wear, working as per owner. Includes tweed Fender case.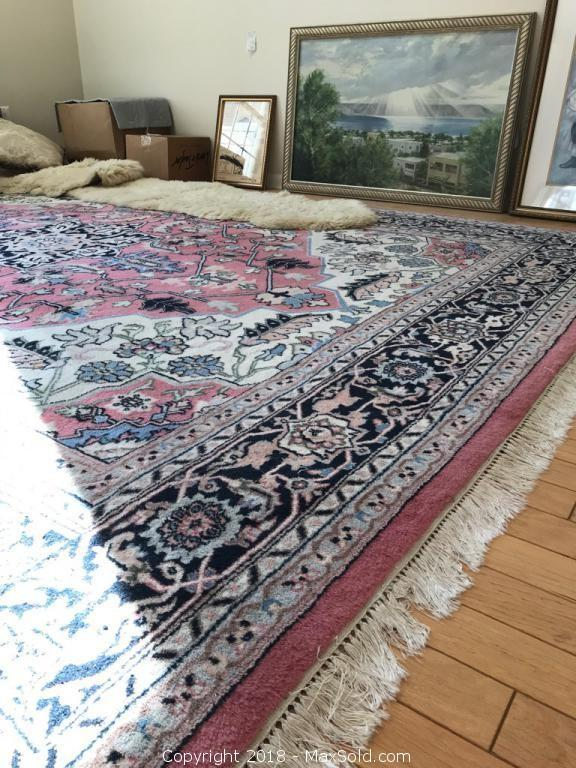 9X12. Heavy wool with pad. Irregularities in pattern suggest handmade. Minor fading from being under table.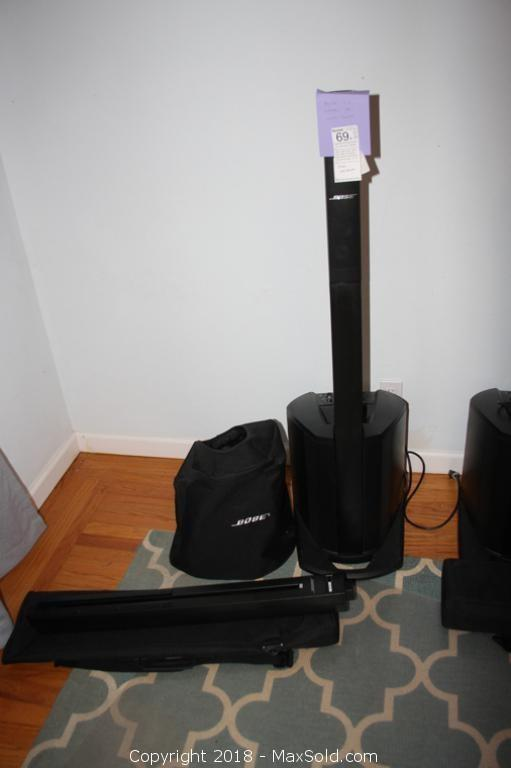 A Bose L1 PA system used primarily for amplifying vocals or instruments at small venues. Includes an extension to raise the tweeter speakers another 2 feet and case. In working order as per seller. Note minimal wear.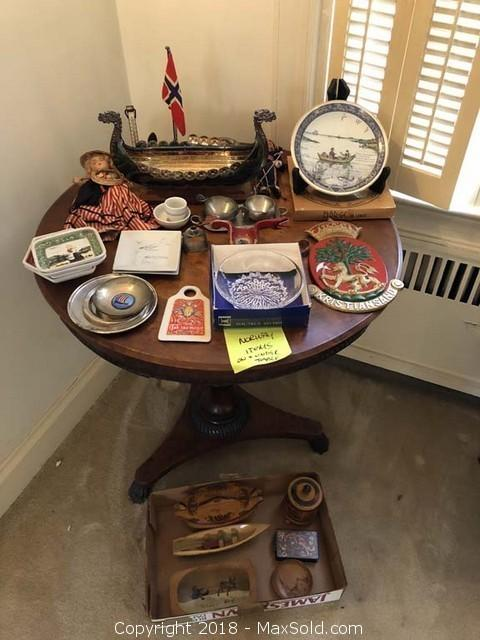 A collection of decor from Norway. Includes four hand painted Oslo plates, Handeland Norway nautilus 160 mm bowl, dishware, dolls, wooden boxes, boats and more. Table not included.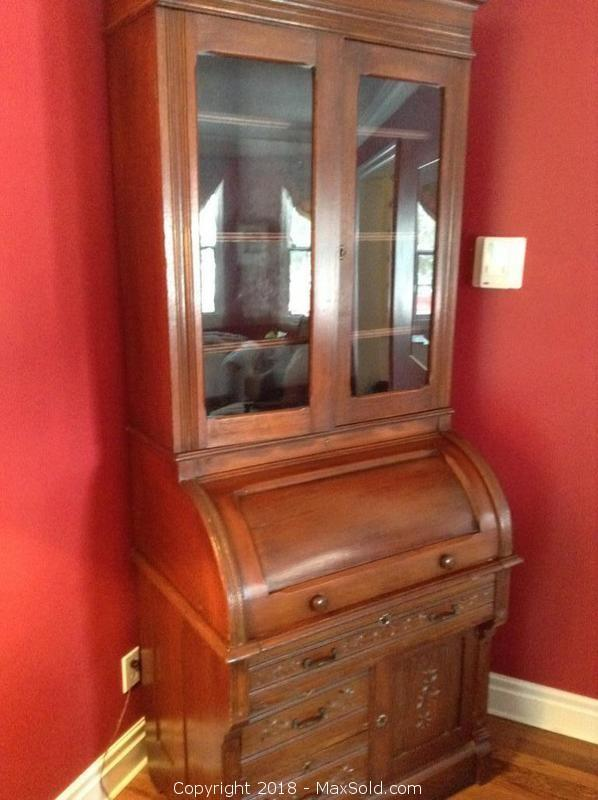 All one unit with two door bookcase on top. Dovetail construction. Felt inlay on pull out desk tray. Note: key only turns some latches, some chips and dents. Repair on latch on bookcase door. 36X24X87. Very heavy bring help to move.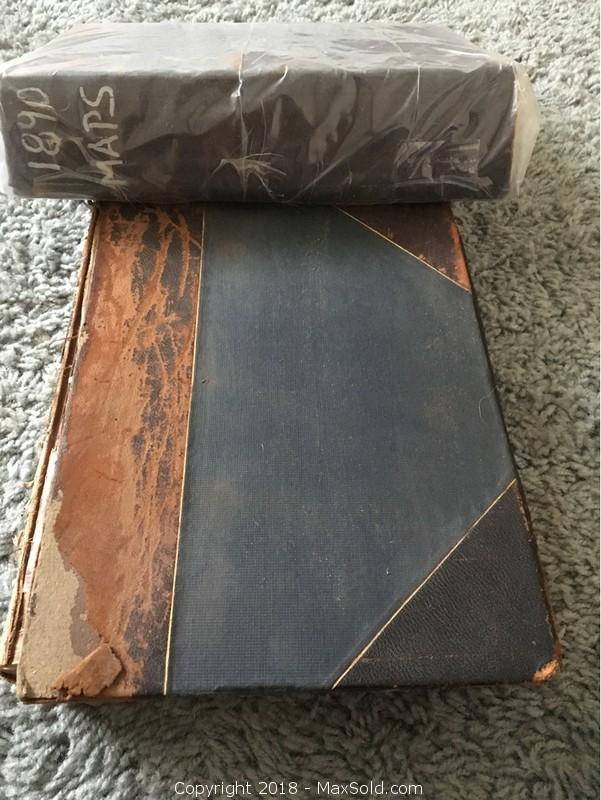 Antique books of atlases. Hundreds of 1890 world maps. One wrapped in plastic and is hand marked 1890.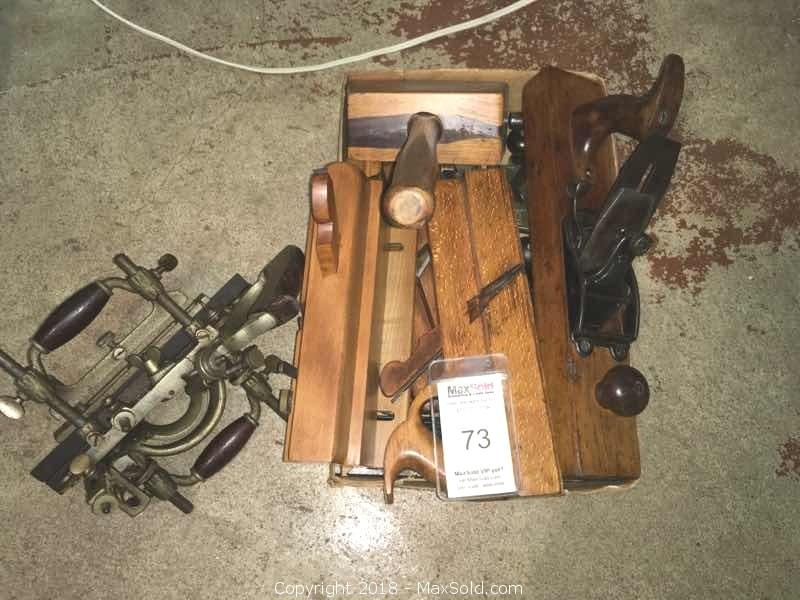 Antique wooden molding planes, wooden mallet, rulers, hammer and more. All in very good condition. Located in basement.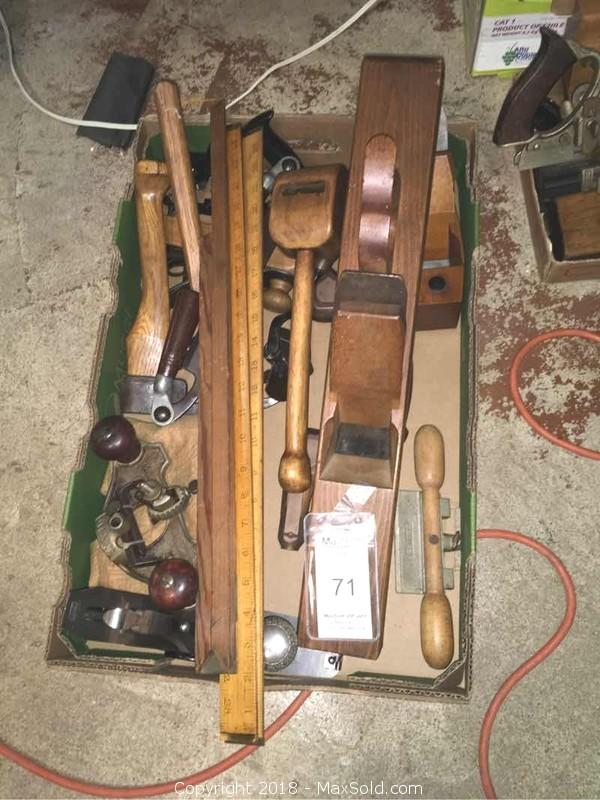 Assortment of antique wooden hand tools including hatchet, hammer, hand planes, draw knives (scrapers), hand brace, extra blades, and rulers. All in very good condition. Located in basement.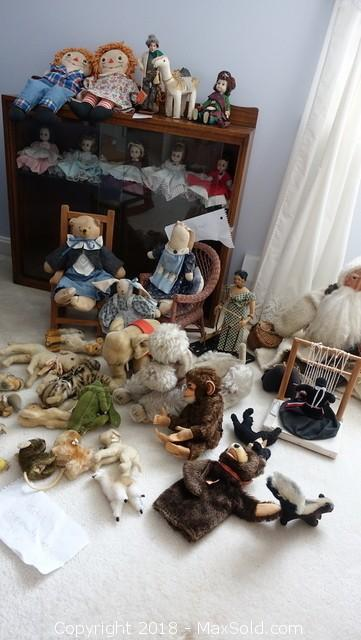 Assortment of dolls and plush animals. 24 pieces total. Includes a doll with loom titled Navajo Looms, made by Native Americans. With COA.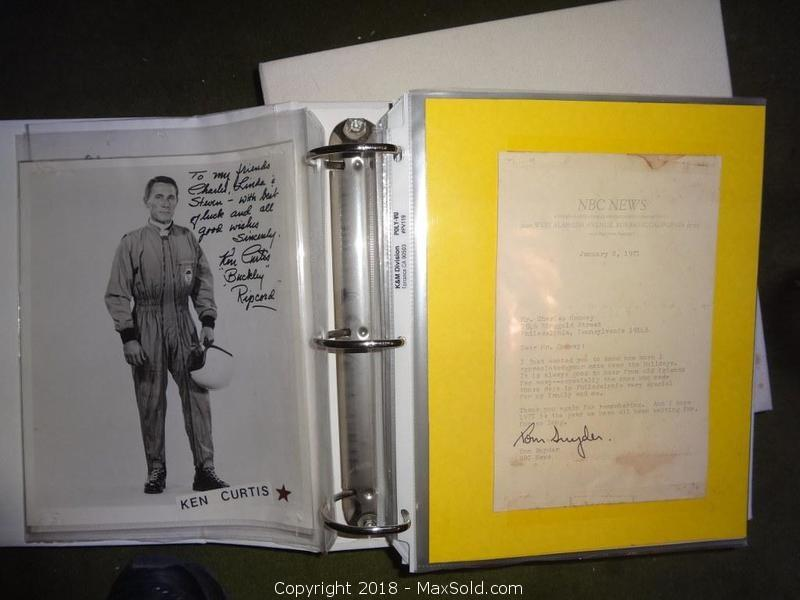 Autographed stock photos most autographed to the Conway family. Lots of typewritten notes from stars like Doris Day, Mitzi Garner and Bob Crane. Too early for COAs All In loose leaf notebook 12X12X3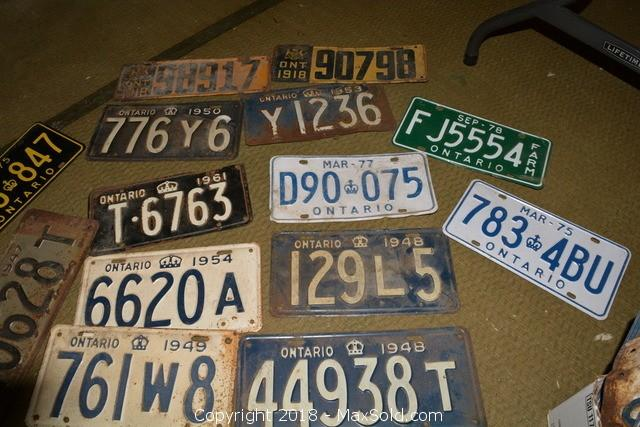 Box of old license plates 1914, 1915, 1918, 1919, some 1940s and 1950s. And more.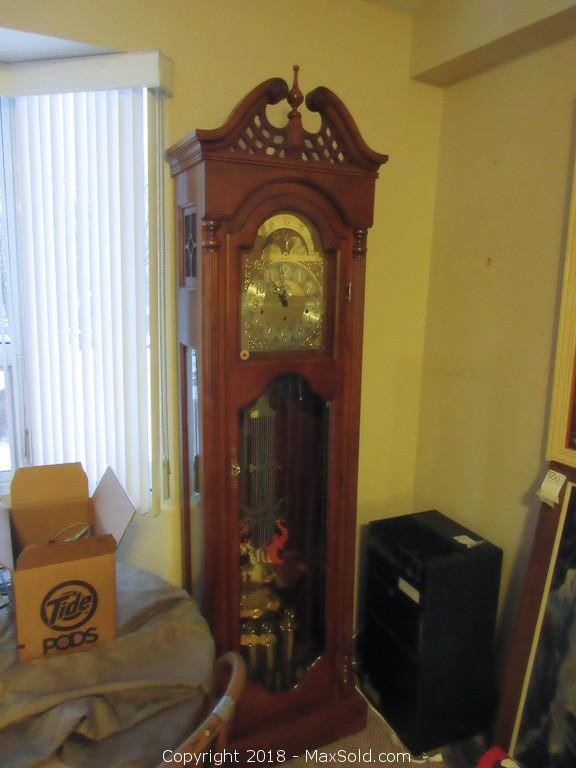 Bulova 7 day clock, purchased in 2003, includes weights and keys and winder. Includes instructions, 22.75X12.5X82. Heavy bring help.

Teak Screen 
Sold on MaxSold for $238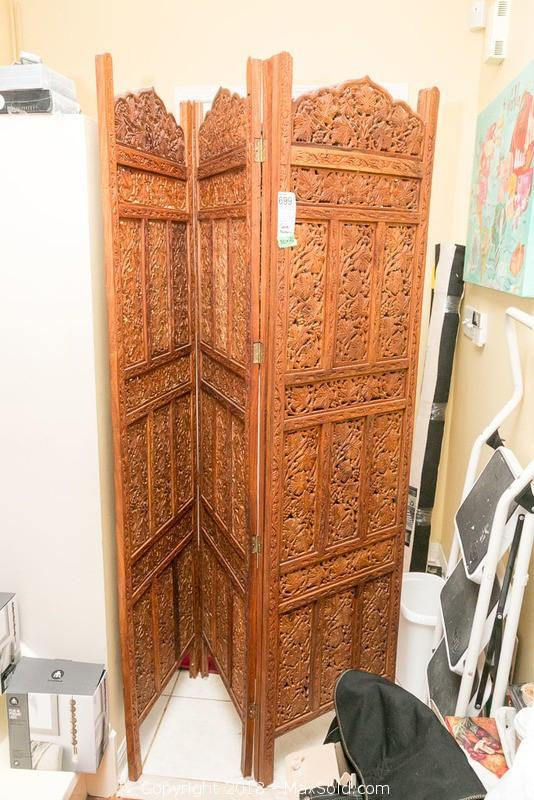 Carved decorative 4-panel teak screen in very good condition 80X72.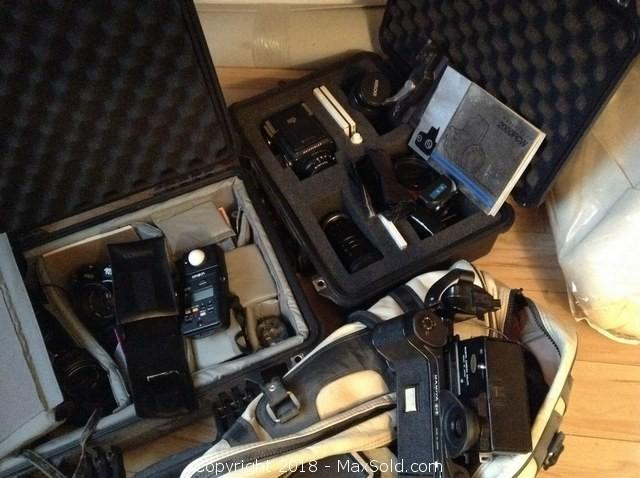 Cases include Asahi Pentax, Nikon FM2, Mamiya 6x9, Hasselblad 2000 FCW and assorted lenses not sure of matches. Hanimex tele-lens, Kenlock 80 to 200 zoom lens and Mamiya 250mm lens. Minolta and Braun flash, assorted camera accessories, 2 cases and a duffle bag.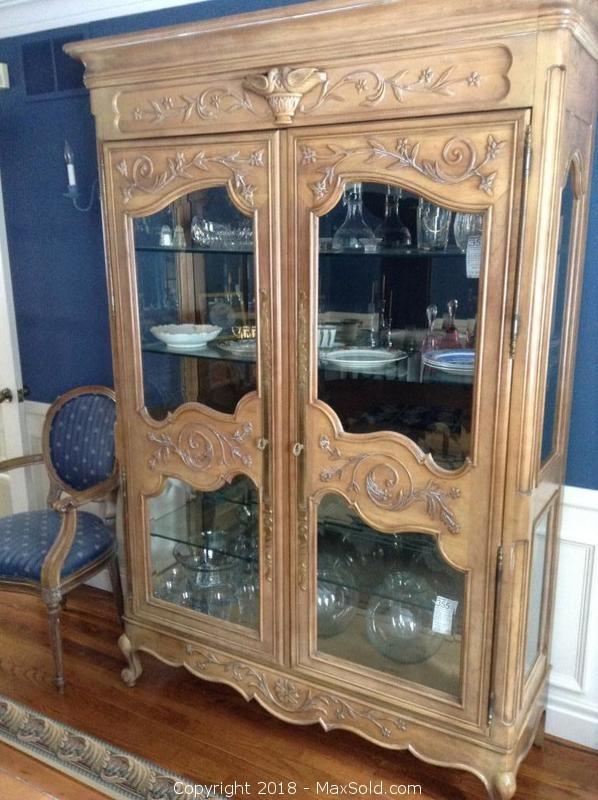 Chardonnay walnut cabinet with doors and glass shelves manufactured by Century. 52X18X83. Matches Lots 363.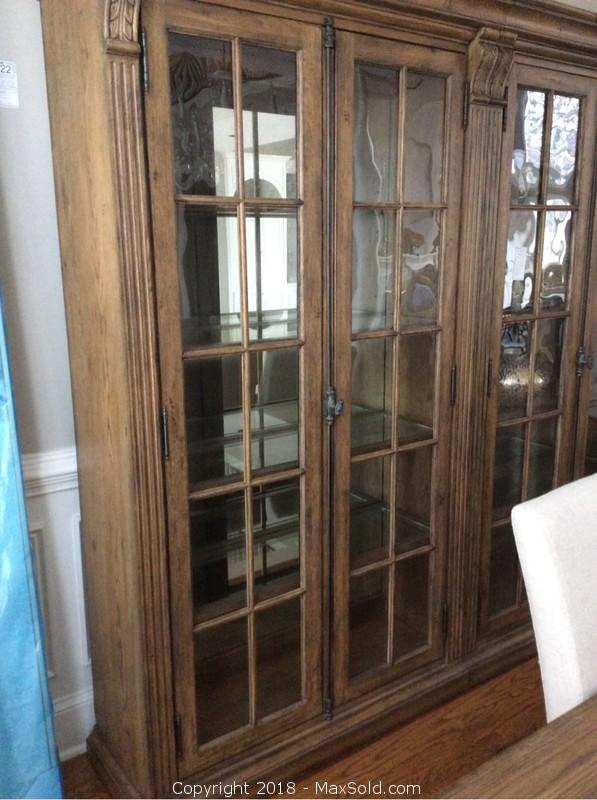 China cabinet two parts each part 43.5X19X82 together 91.5X19X82 each has lights in inside untested glass shelves with wood frame, has grooves for plate display. 4 shelves in each and are adjustable. Mirror backs in both cabinets Contents are not included. Heavy bring help to move.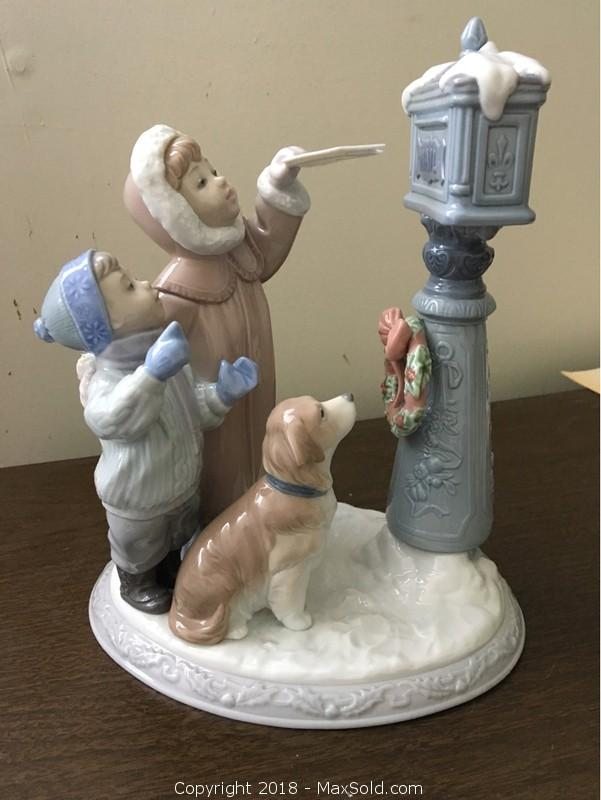 Christmas wishes in classic soft tones. 010.08010. Children and mailbox with dog. Boy with snow man Talk to me. 010.08168. Classic soft tones.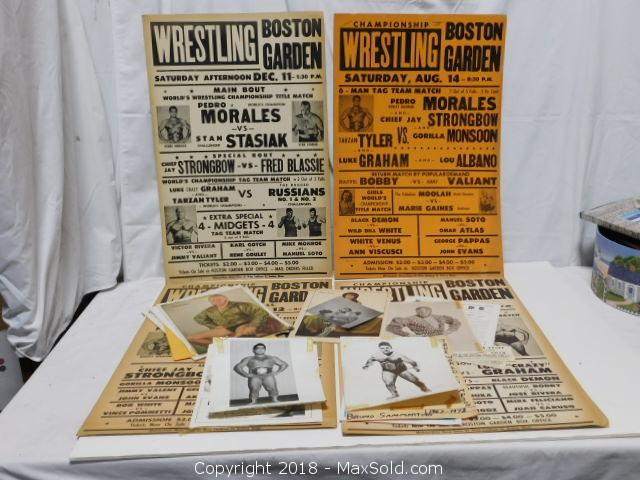 Collection of wrestling posters, photos, programs and more. Exact items pictured are the items in this lot.


Game Table 
Sold on MaxSold for $350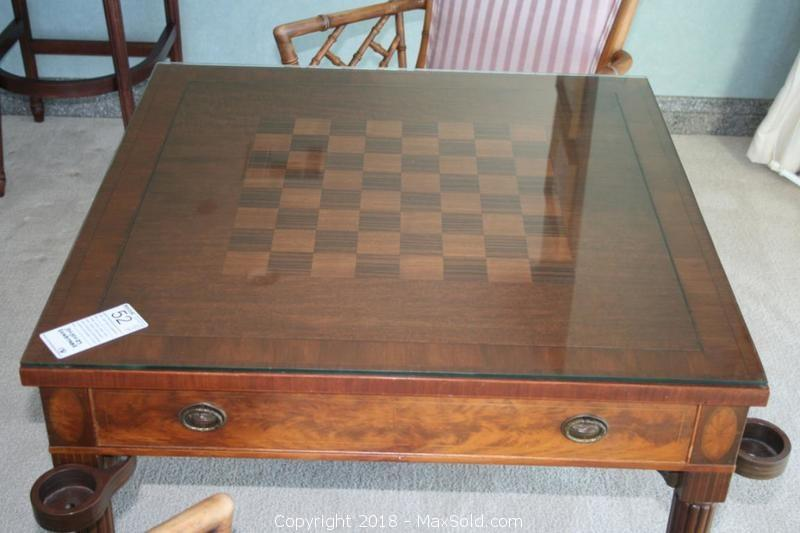 Custom Game table by Schmiege and Kotzian NYC circa 1950. Comes with glass protective top. 30X30X29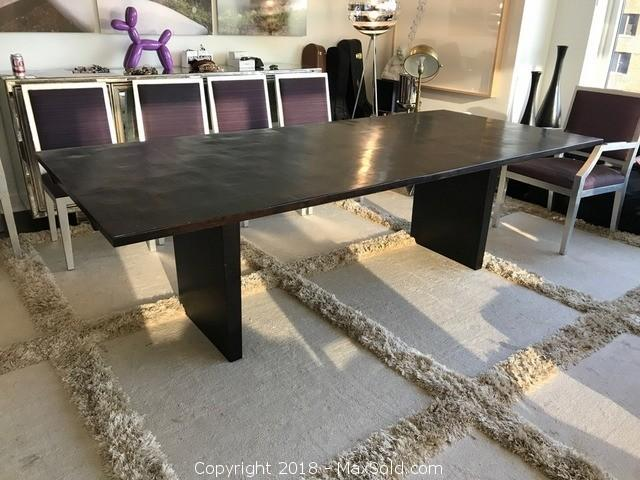 Custom Split Bamboo Dining Table With Black ebonized finish. 96X42X29.. Note: minor scratches and wear. Includes two 18X42. Leaves. Matches lots 476-477.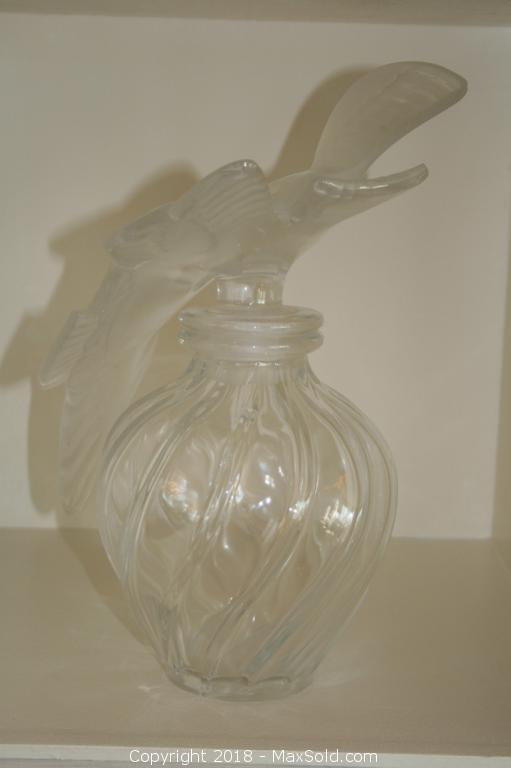 Dept Store LALIQUE signed perfume counter display. All in very fine condition.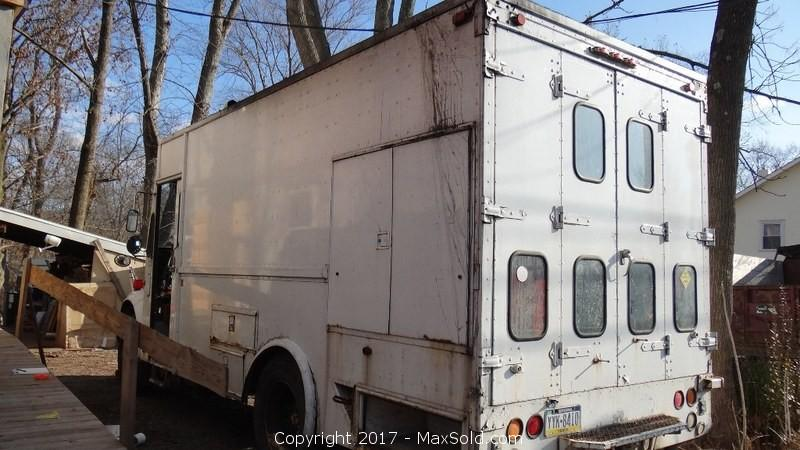 DuraStar Construction Work Truck with SMF Truck Equipment. Running. Inspection good till June 2018. Sullair PTO 185 UDFC. ODO as of last inspc 107830. Includes Exterior tool boxes with equip. Orange construction sign, fire extinguisher, wheel blocks, mounted electrical equipment, mounted interior aluminum brake. All equipment, supplies, material, tools in and on shelves is not included. Running condition. Bring ID and required information to transfer vehicle.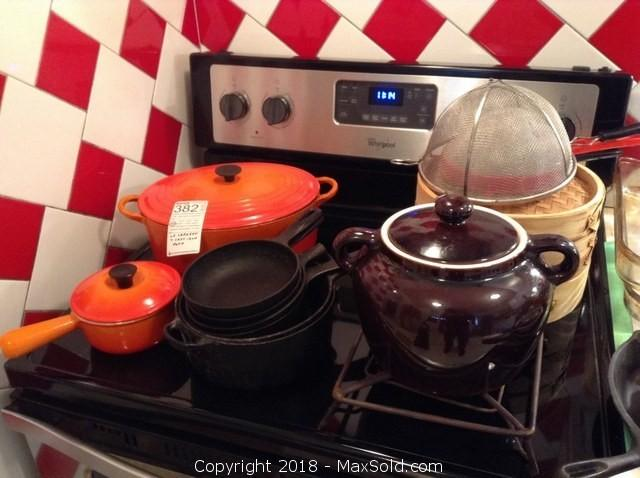 Dutch oven, small lidded pot, cast iron pot and fry pans. Steamer bamboo and more.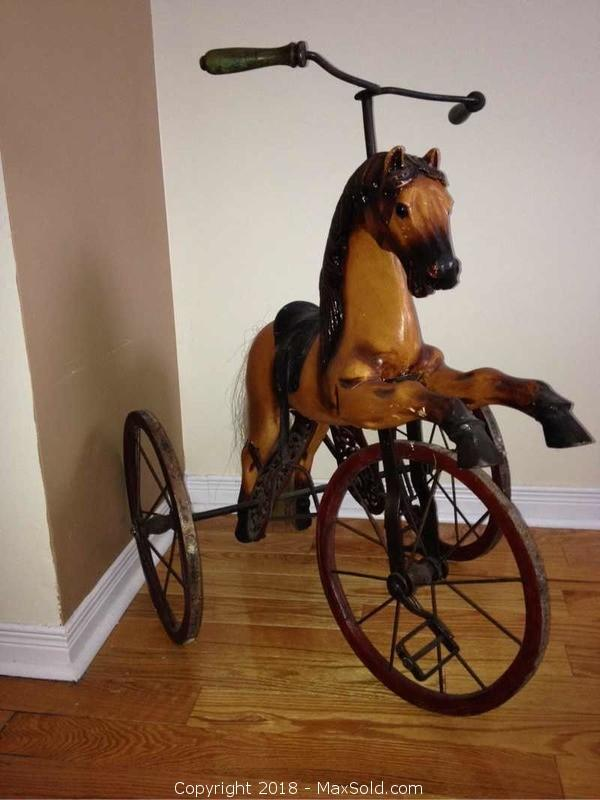 Early horse tricycle/velocipede with plenty patina, made with real horse hair, wood rims with steel, leather mounted saddle, working condition, age is unknown but with patina and some wear. Cast iron with green wood handles, see pictures for fine details on this very early looking horse tricycle. Measures approx. 25 inches wide, 30 inches long, 34 inches tall.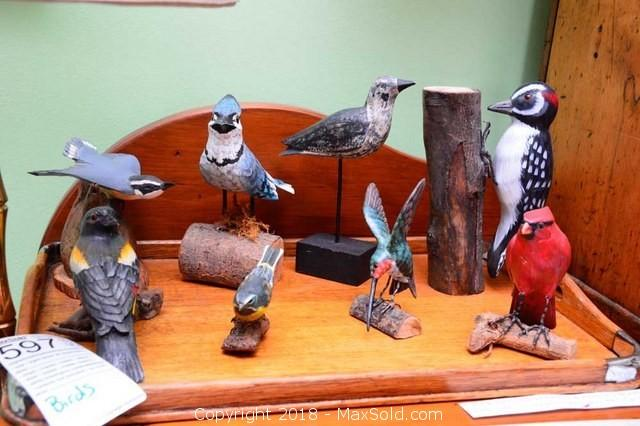 Eight folk art hand carved and painted birds. Some signed by artist. Tray not included.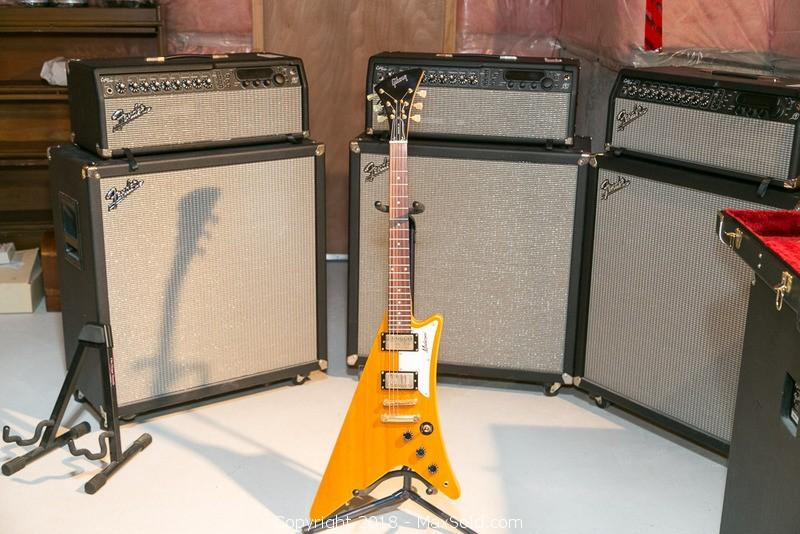 Epiphone Moderne Guitar with Gibson sticker. Slight wear, working as per owner. Includes case.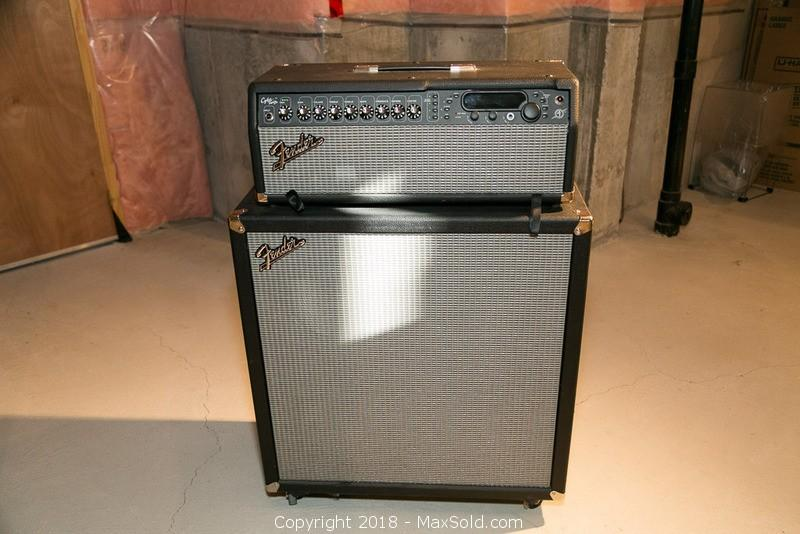 Fender Cyber Twin Amp 26X10 Serial Number: M1264132 note: 1 knob broken. Fender Showman 412 S Speaker Cabinet 30X33 Serial Number: M1371342, slight wear working as per owner. Only requires new knob to turn for effect (sound not affected, pot below is intact)


Pens
Sold on MaxSold for $230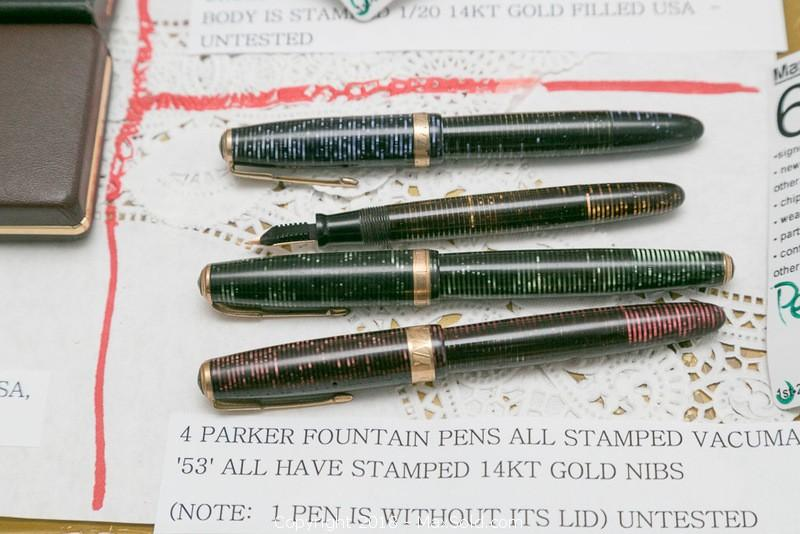 Four Parker fountain pens. All stamped Vacumatic '53'. All have stamped 14KT gold nibs. One pen is without its lid. All untested.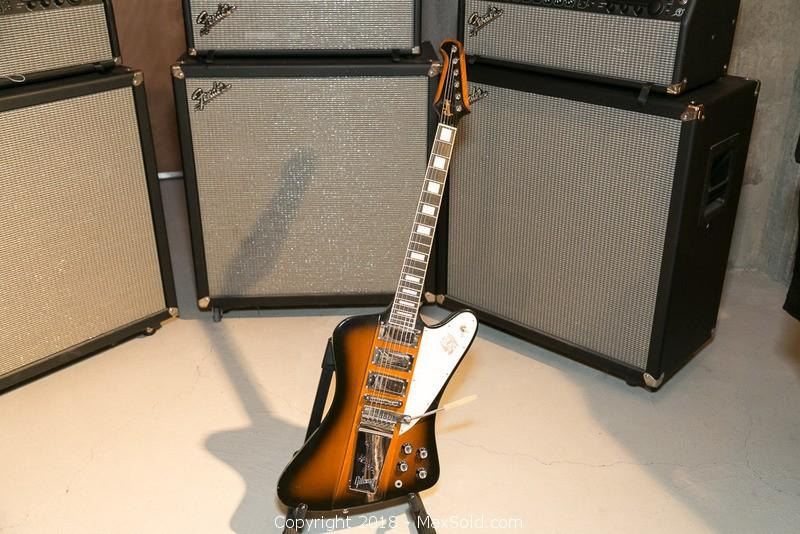 Gibson Firebird VII - 2005 Like Brian Jones played Mahogany Coffee Guitar with 3 pickups. Serial 00495456. Custom shop sticker added. Includes case. Slight wear, working as per owner.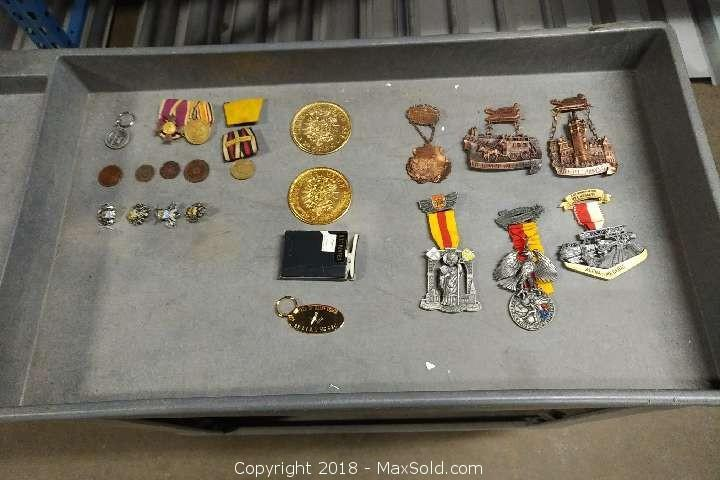 Good collection of masonry pins coins medals etc some rare and some very old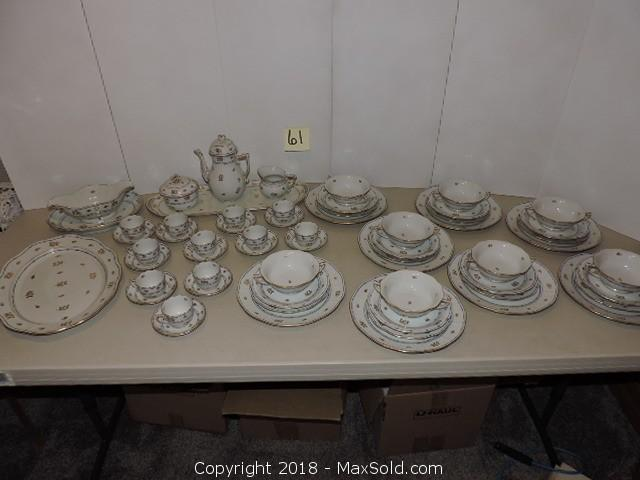 Herend Hungary Hand Painted Dish Set Serves for 8 Never Used 10 cup and saucers,8 dinner plates,8 bread plates,8 soup and saucers,1 tea pot,1 creamer,1 sugar,1 large platter,1 long platter,1 gravy boat and saucer 7 spare pieces included(2 dinner plates,4 bread plates,1 saucer"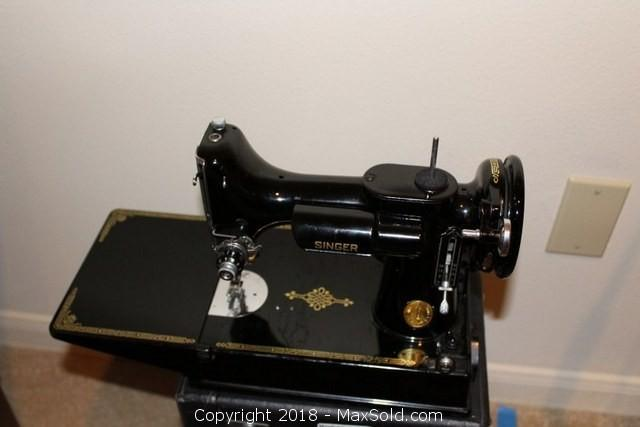 Singer Featherlight with case. Not tested. Cosmetically clean condition. 15 x 7 x 10


Sony Walkman 
Sold on MaxSold for $216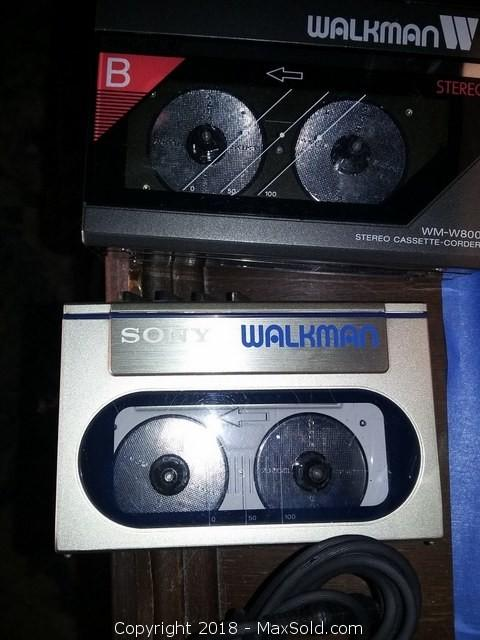 Sony Walkman, WM 10. Untested. Includes carrying case, battery, and charger.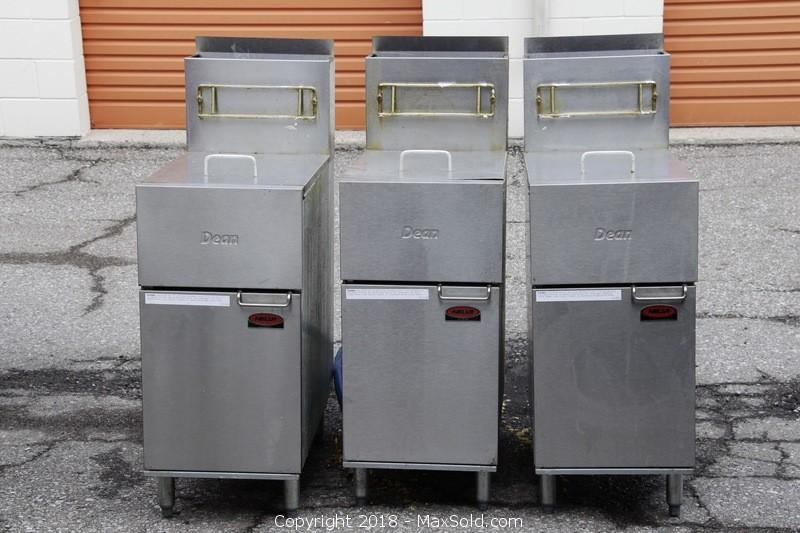 Stainless Steel Nella DEAN Deep Fryer. Attn: This auction is only for the deep fryer in the center. Heavy, please bring help. Not tested recently but was working when put in storage. Bought directly from Nella Cutlery Toronto


War Medals
Sold on MaxSold for $220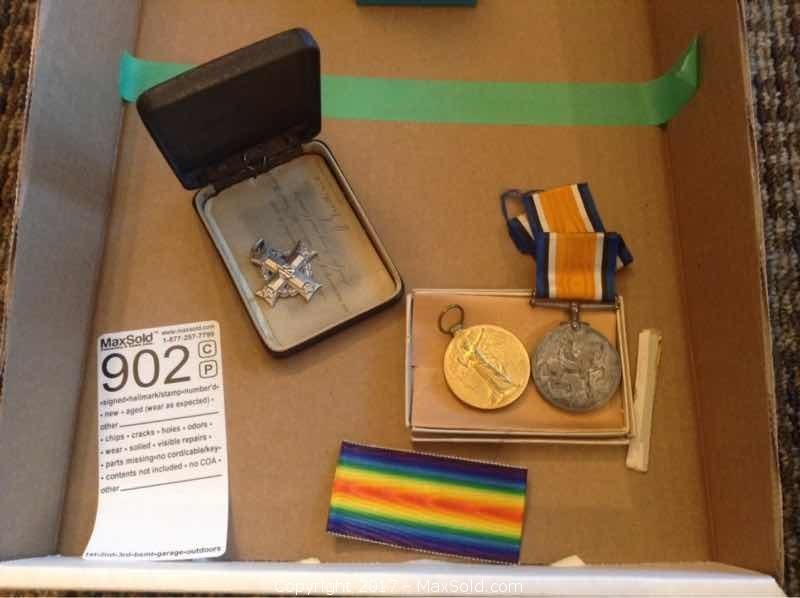 Sterling cross medal in memory of soldier Pte G Smith in WW1, war medals from 1919.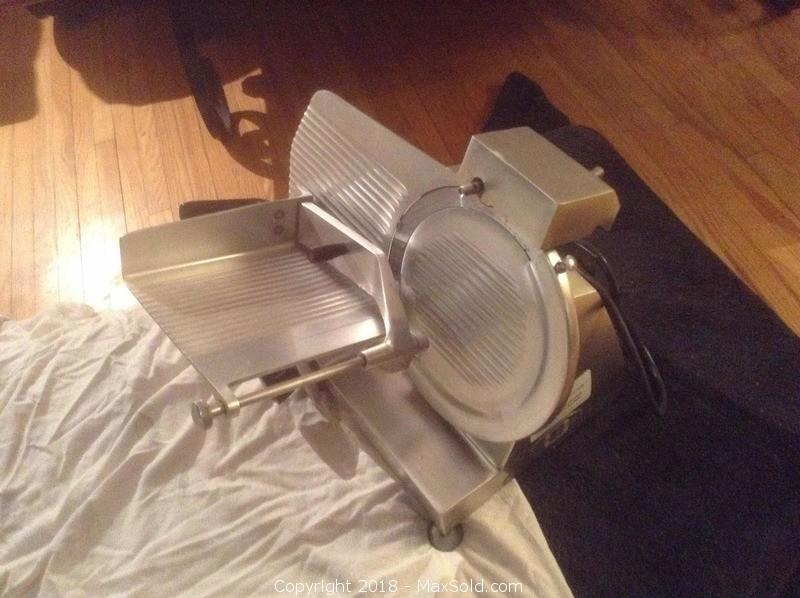 Tested and works great.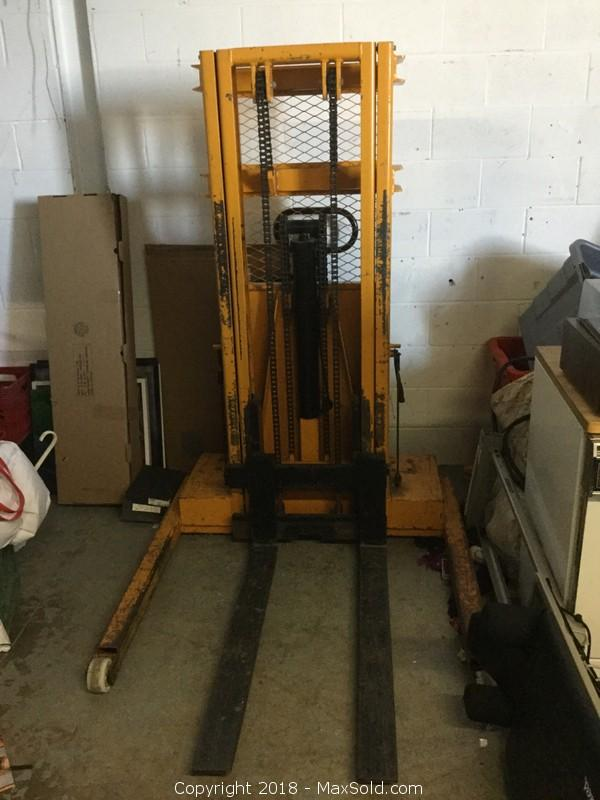 Tested working, measures 68X62X69 inch, very heavy, please bring proper transportation for removal.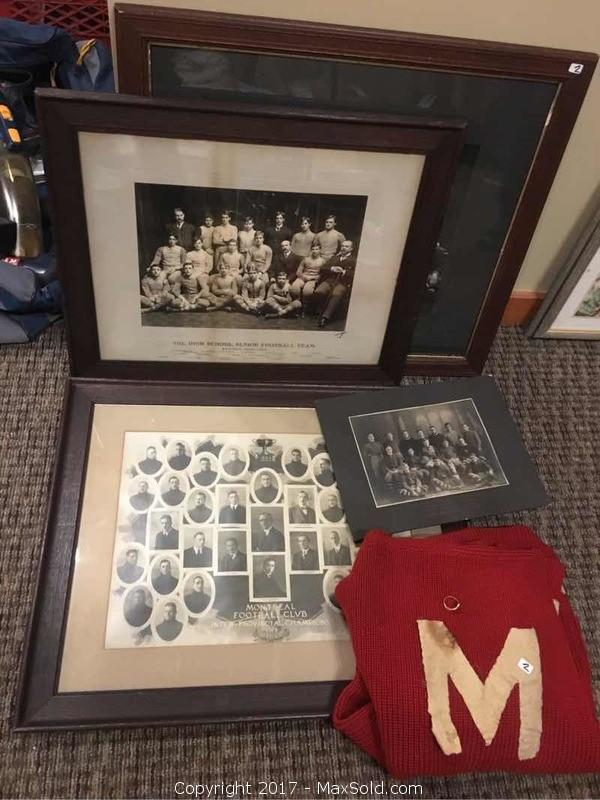 Three framed photos of McGill football team from 1904, 1909, 1919, football jersey, football ring engraved.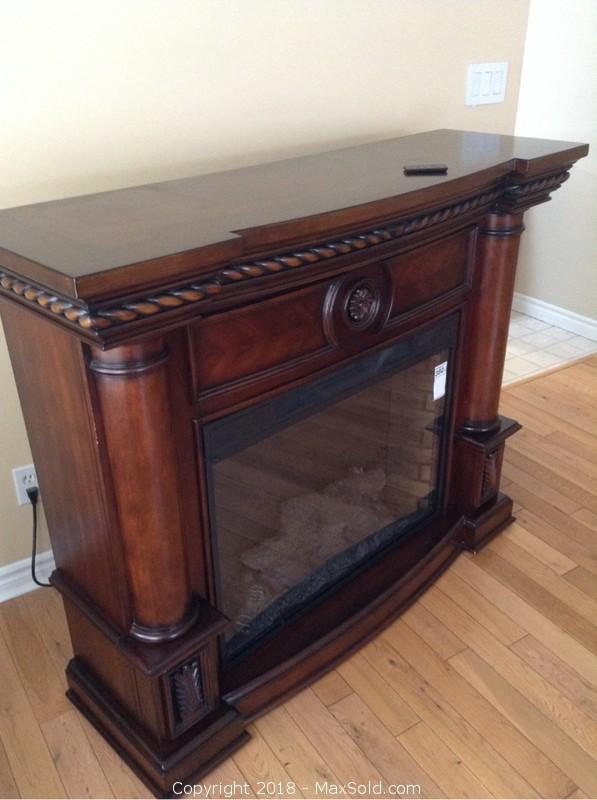 Twin Star, model 33EF010GRA, 55x17x45. Note: very minor scratches.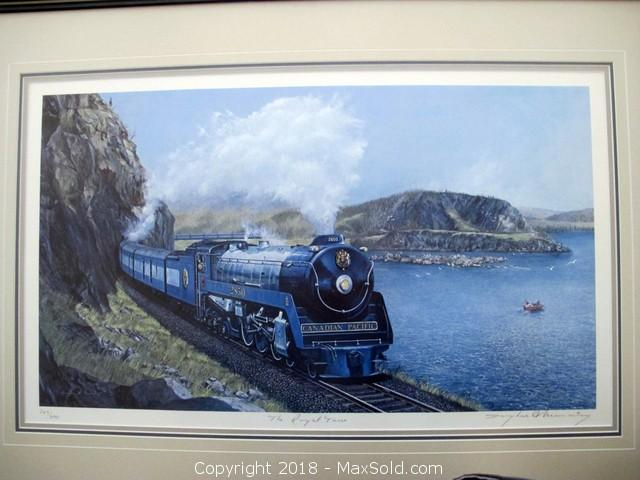 Two large black and white photographs of train engines 35"X15" with frames. A numbered print 343/350 and signed 31"X22".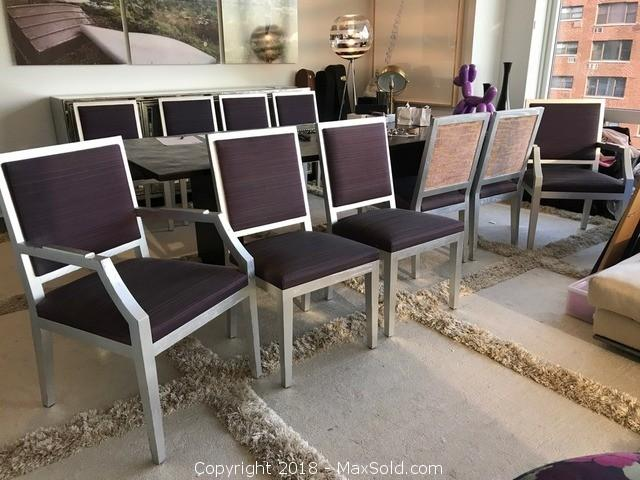 Two Mahogany Louis XVI Side Chairs And Four Arm Chairs with custom silver finish. 19X21X35. Matches lots 476,478. Note: minor scratches and wear.


Iron Gates 
Sold on MaxSold for $310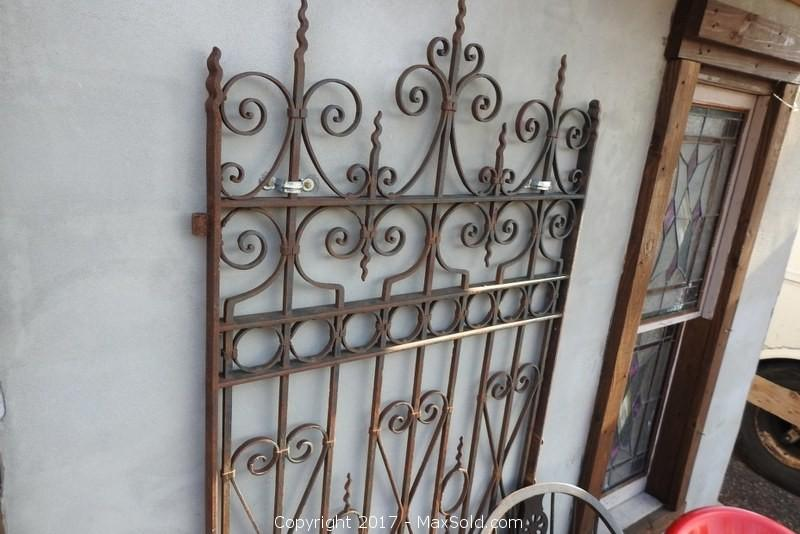 Two metal gates, largest measures 78.5X38 inches. Rust noted. Bring Philips screw driver to remove.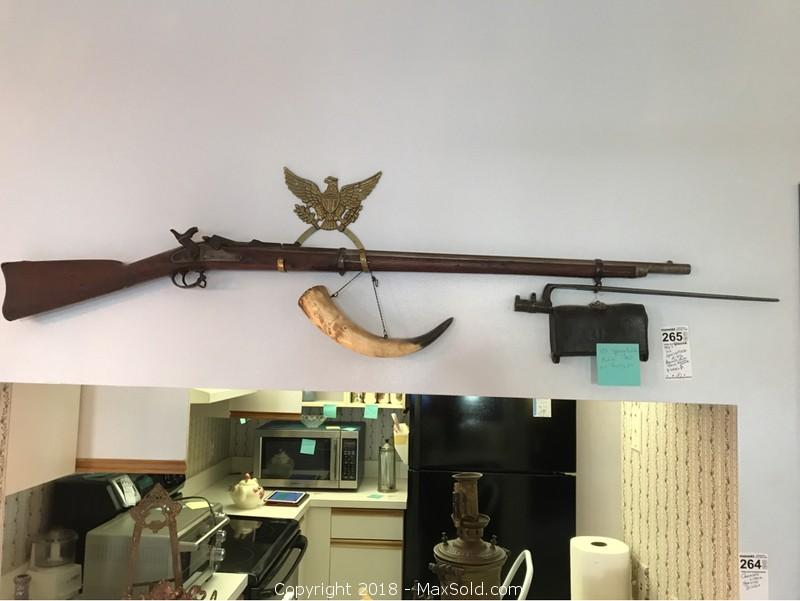 US Springfield Rifle 1863. No firing pin. Bayonet. Ammunition Pouch. Powder Horn. Wall bracket for gun. Wall decor.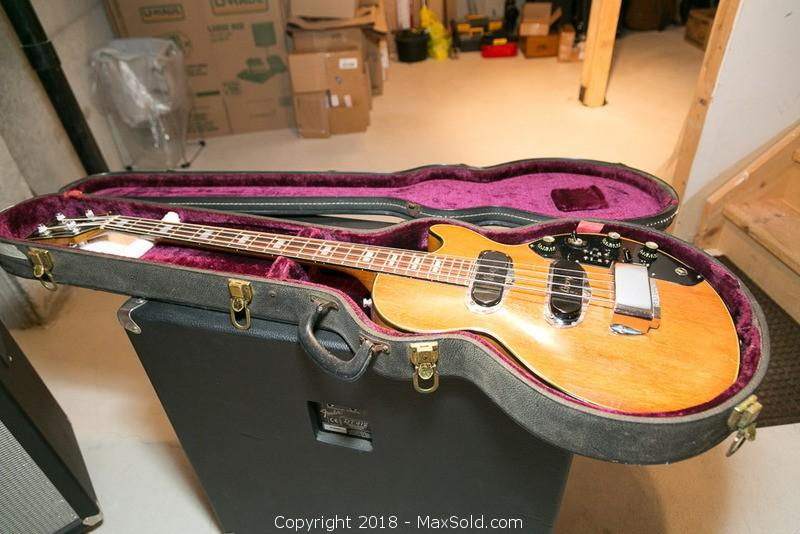 Vintage 1970's Gibson Les Paul Recording Bass. Badass bridge. Cool bridge cover with case. Note: repaired headstock break. Slight wear, working as per owner.


Gibson V2
Sold on MaxSold for $2600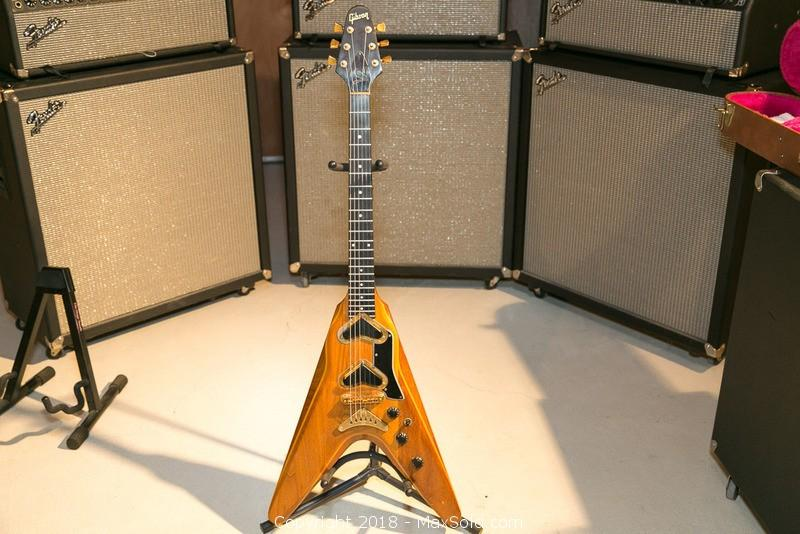 Vintage 1980 Gibson Flying V2 Guitar with ebony fret board. Serial 80080101. Slight wear, working as per owner. Includes case.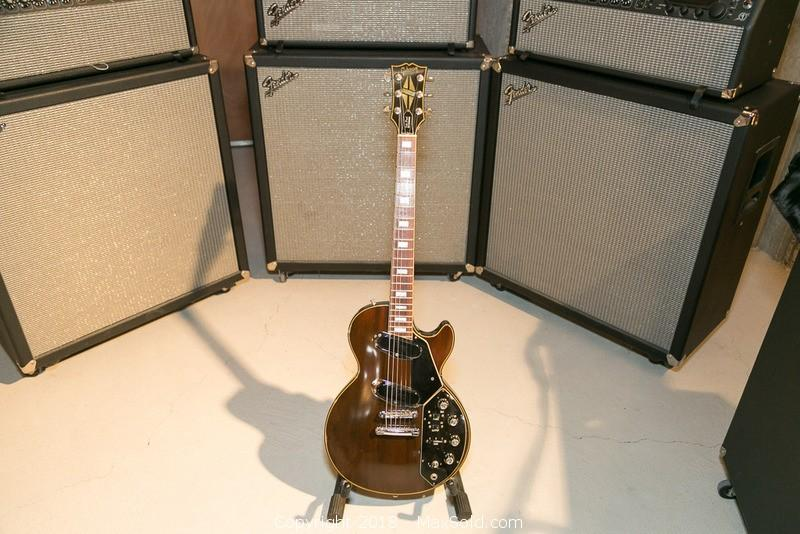 Vintage 70's Gibson Les Paul Recording Guitar. Serial number 726972. Includes non-original case. Slight wear, working as per owner.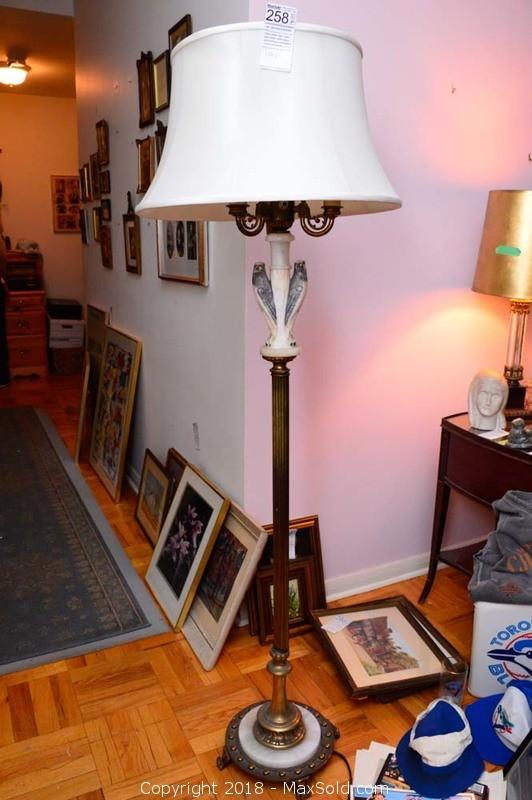 Vintage floor lamp with four bulbs, brass stand, three armed brass light arms, one light in centre. Onyx and marble centre carving of two Falcons with fine detail. Lamp does need rewiring and new shade.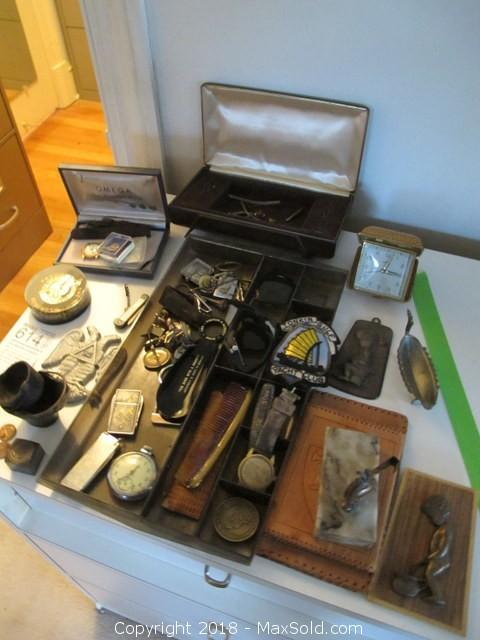 Vintage men's cuff links, comb, watches, shoehorn, tie bars, pins, pocket watch, pocket knife, wallets, travel clock and more. Untested.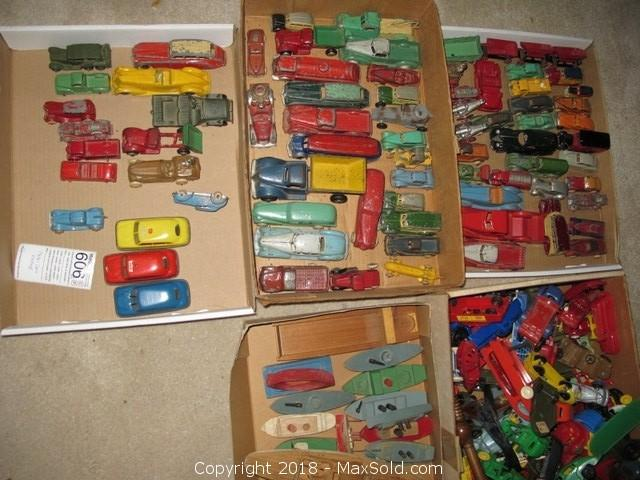 Vintage metal cars and trucks, finish worn through on many, fire trucks and taxis, wooden boats, plastic cars and trucks.


Vintage Toys 
Sold on MaxSold for $210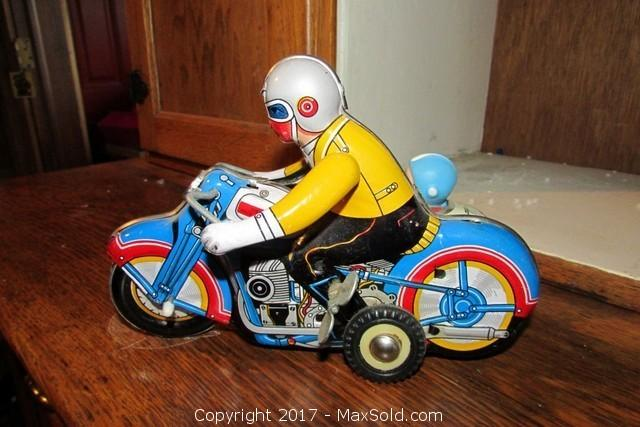 Vintage metal toys including a gum ball dispensing machine, top, motorcyclist, and More. All untested. 2nd floor.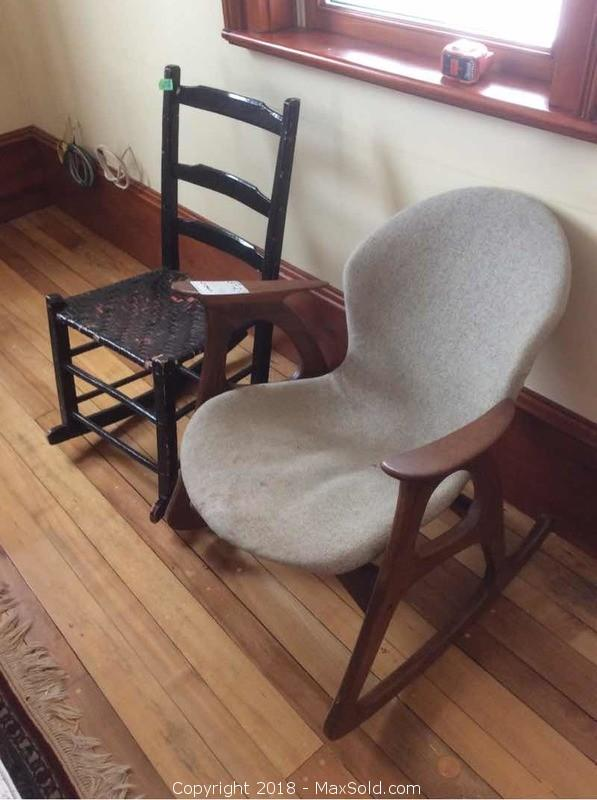 Vintage rocker with teak frame and fabric seating 25X25X29. Note soiling. Painted wood rocker with rattan seat 17X26X31.


Scale Models 
Sold on MaxSold for $545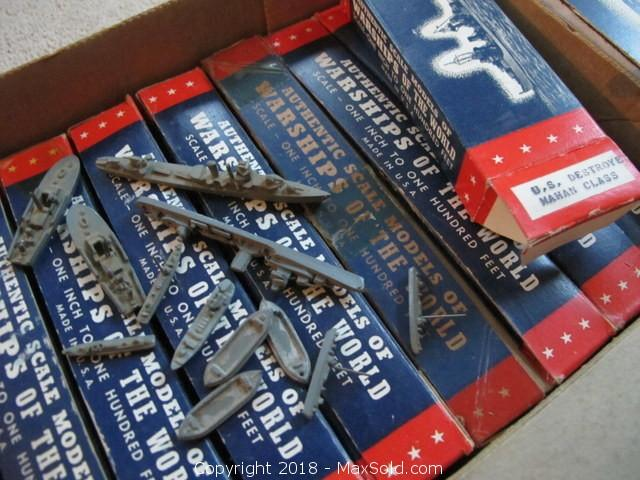 Vintage Scale models of war ships and tanks.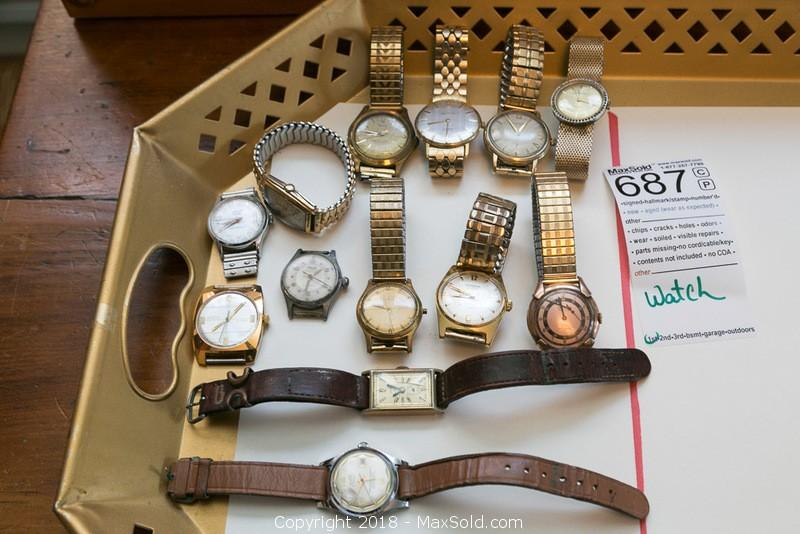 Vintage watches including Romania, Wostok, Gruen Thin, Berna, Benrus, Louis Freedhand, Bulova, Tenor, Oris, Longines, Donada, Elgrene, Felix. Some wind up, some battery operated. Some damaged, some missing straps, untested. One missing parts.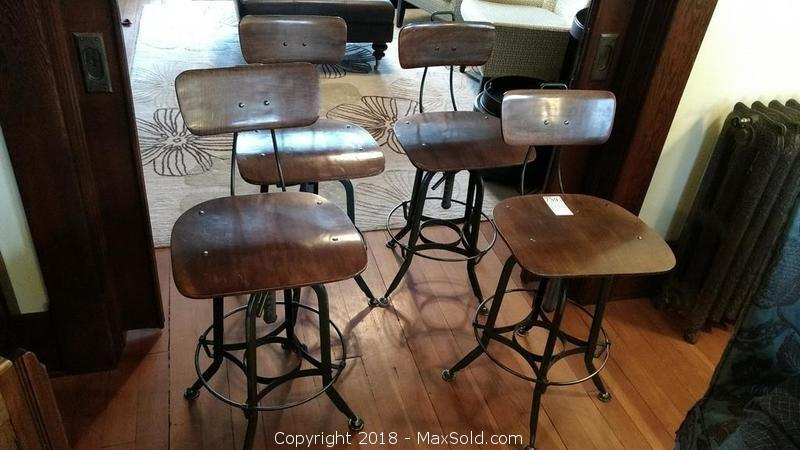 Vintage-style adjustable metal base swivel stools. Has adjustable tilting back rest and all original hardware in place and in working order. Some wear to wood from normal use. 16X21X36


Lighters
Sold on MaxSold for $165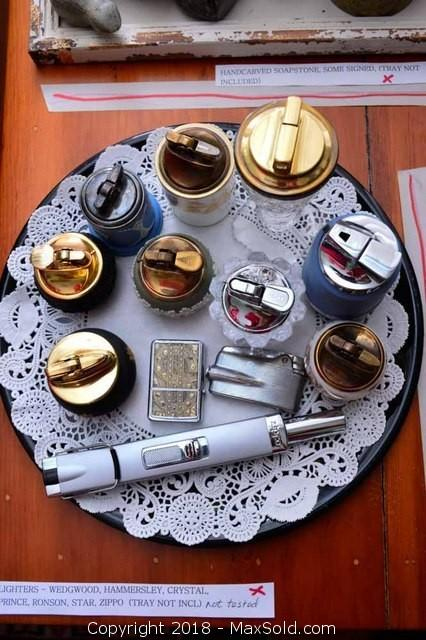 Wedgwood, Hammersley, Crystal, Prince, Ronson, Star, Zippo. Tray not included.


Art Easel 
Sold on MaxSold for $105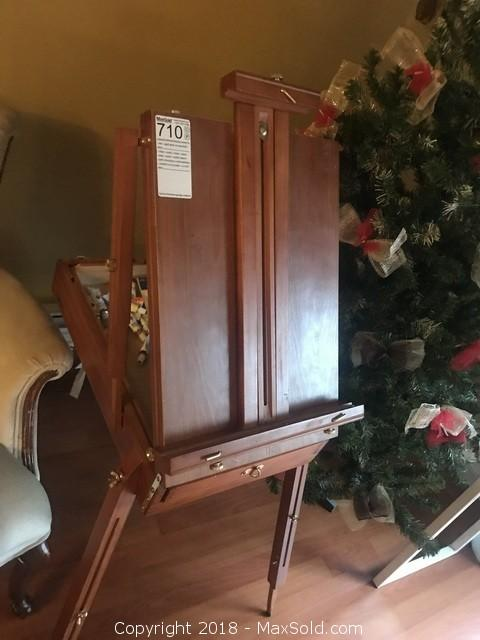 Wood art easel that converts into a box to hold supplies. Stands 42 inches as seen in picture and is adjustable.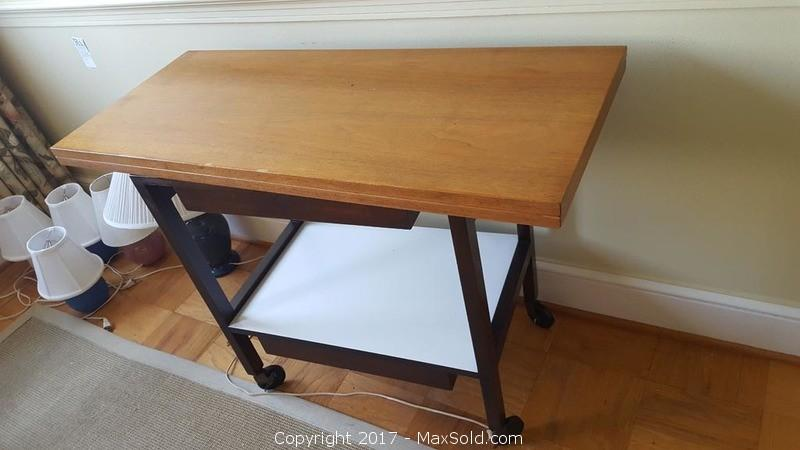 Wood bar cart with Center drawer, top spins and the opens, lower shelf storage, 40X17X30, some discoloration on front surface. On wheels.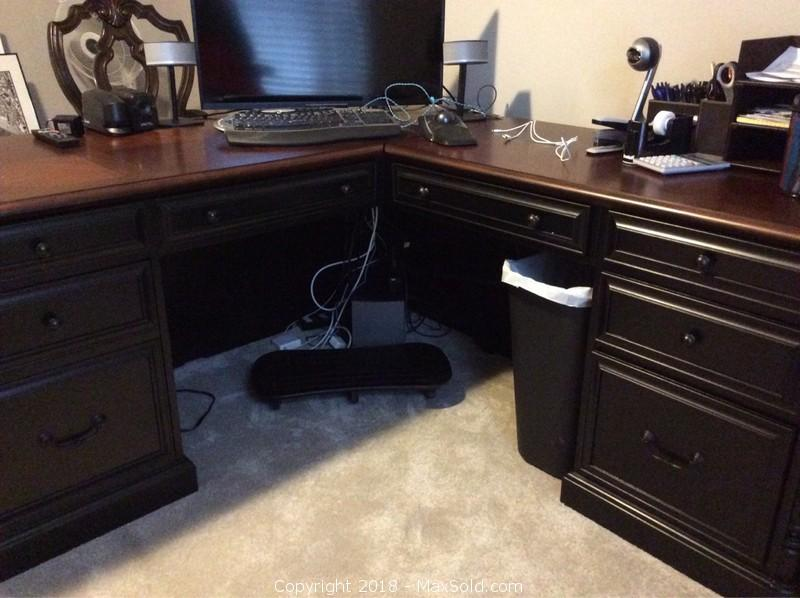 Wooden l shaped desk 68X73X30.5 and 68X73X28.25 can be taken apart to move bring tools upstairs bring help to move items on top and inside desk are not included