MaxSold completed over 300 auctions in November.  Highlights below...   

Total 52 pieces. Includes 6 dinner forks, 6 dinner knives, 6 tablespoons, 6 dessert spoons, 6 teaspoons, 6 5 o'clock spoons, 1 salad set, 1 serving spoon, 1 butter knife, 6 butter knives, 1 sugar tongs, 1 sugar scoop, 2 serving forks, 1 ladle, 2 salts with condiment spoons.
Total 9 sterling napkin rings. Includes a silver plated figural napkin ring.
'Evan Sharma's painting depicts a landscape of Peggy's Cove and is entitled ""The World Needs More Canada"". It is a acrylic on canvas, 48 inches horizontal x 40 inches vertical.
"Backstage" Tragically Hip Painting by Kingston Artist, Patti Leishman. This acrylic on canvas 48"W X 30"H painting was inspired by a backstage scene of the band just before they went on stage for their final show in Kingston. Based on an image from CBC footage.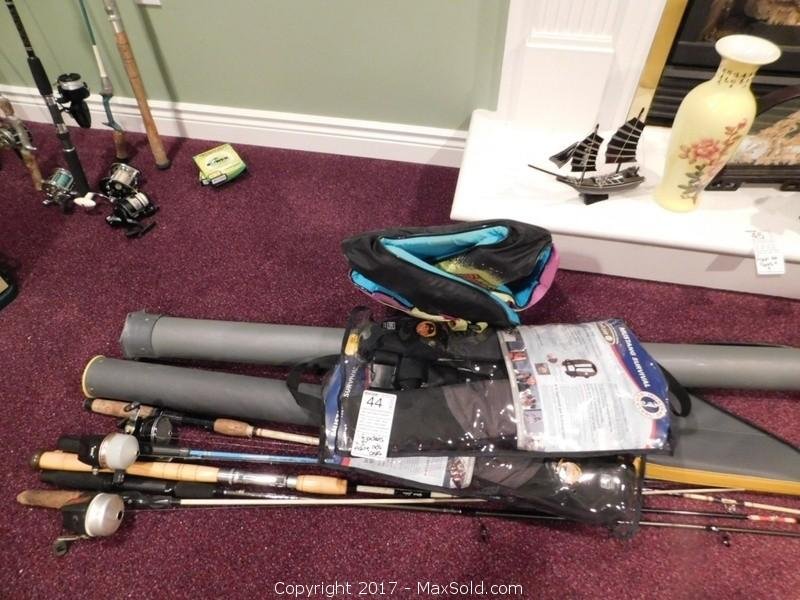 1 Taperflex life jacket and 2 mustang survival jackets and 6 fishing rods including Shakespeare OM 2650-002, Johnson and 2 cases for fishing rods. Wear.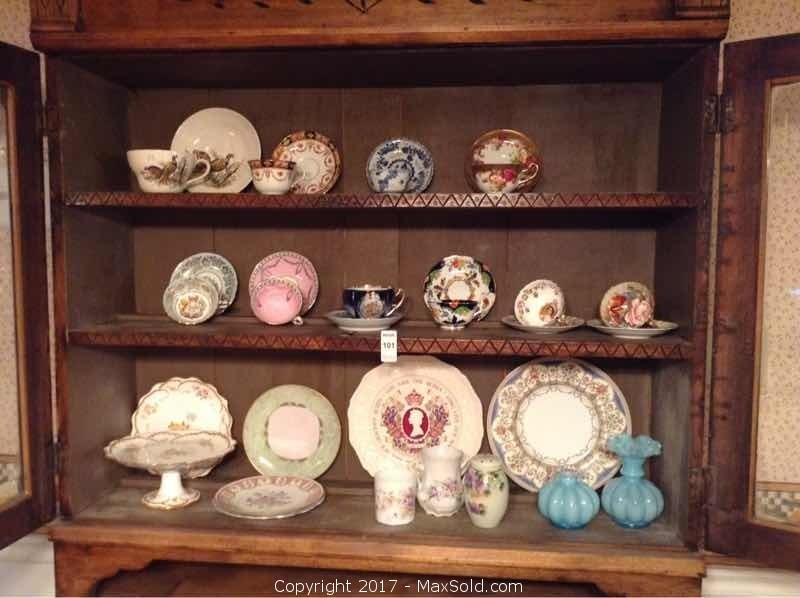 10 cups and saucers (Paragon, Royal Albert, Aynsley, more). Includes china cake plate, collectible blue glass vases with fluted edges, hand painted sugar shaker, serving plates, more. Note: chips possible.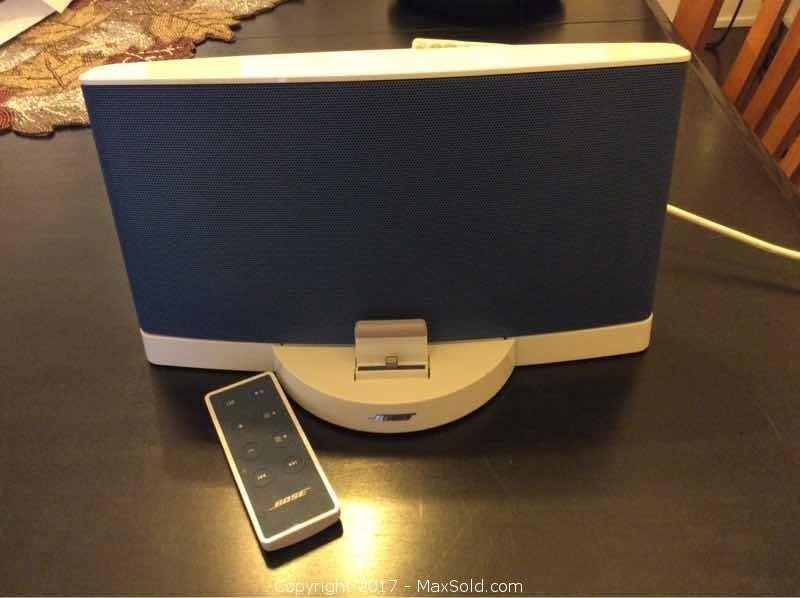 12x6x7. Includes remote control

Wood Canoe
Sold on MaxSold for $431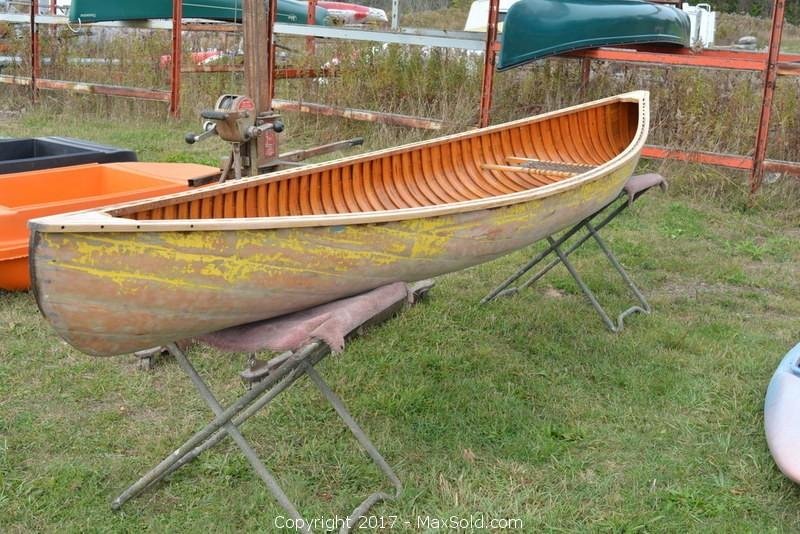 14 Foot wood canoe. Fibreglass coated outside. Needs some restoration. Bring appropriate truck and extra help to remove.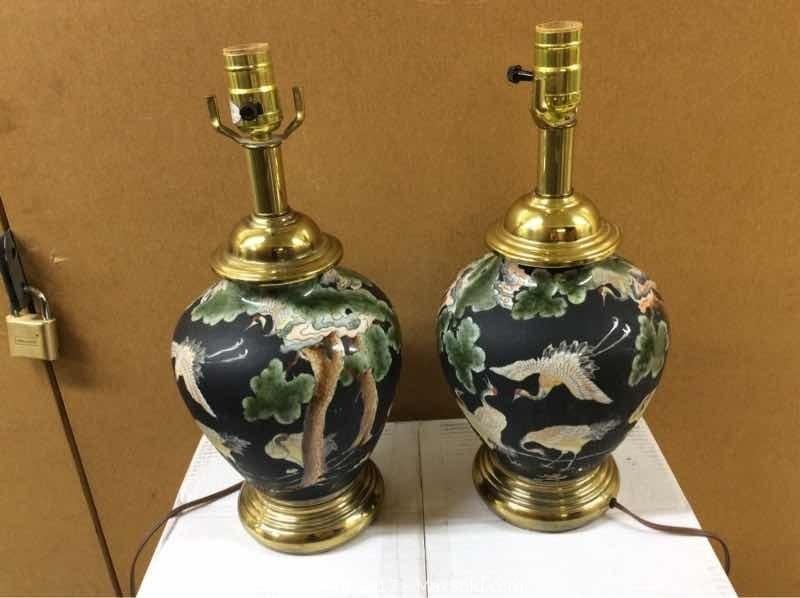 16 inches tall. Includes one shade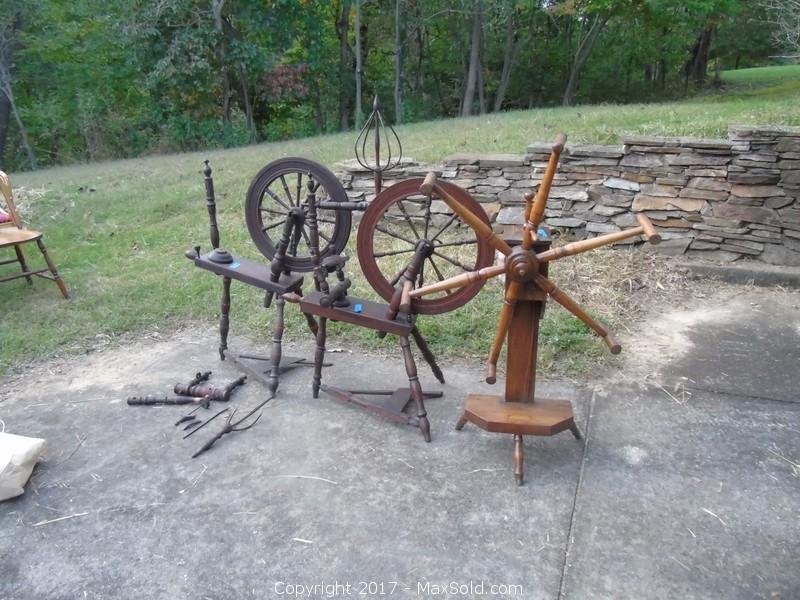 2 antique spinning wheels (32 x 28 x 48) and yarn winder (28 x 12 x 45) with counter. Note condition. One broken but with parts. Come to pick time slot A.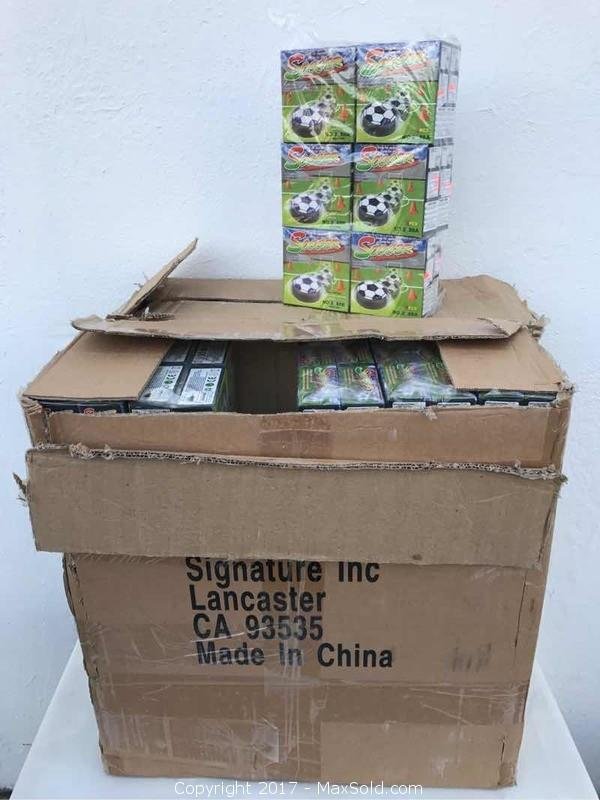 2 cases over 200 pieces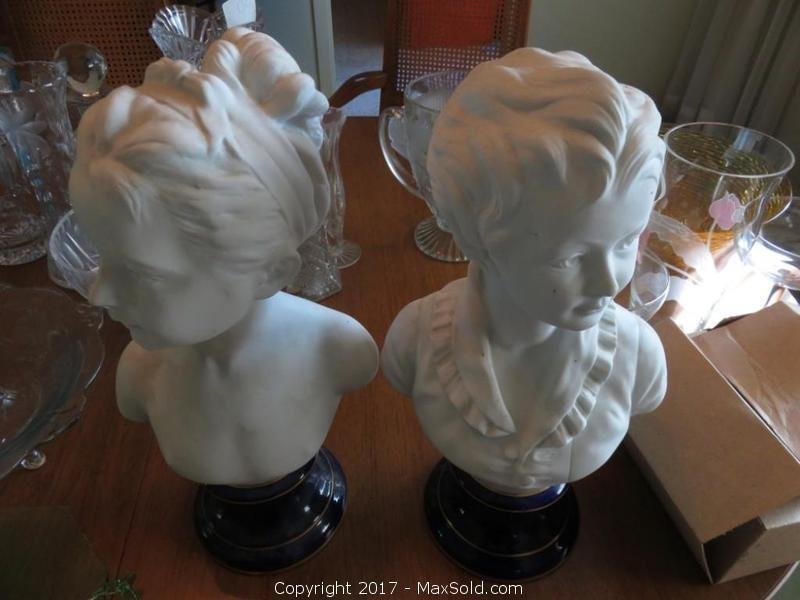 2 Limoges busts, 16" tall. Marked Goumot Labasse, Limoges France.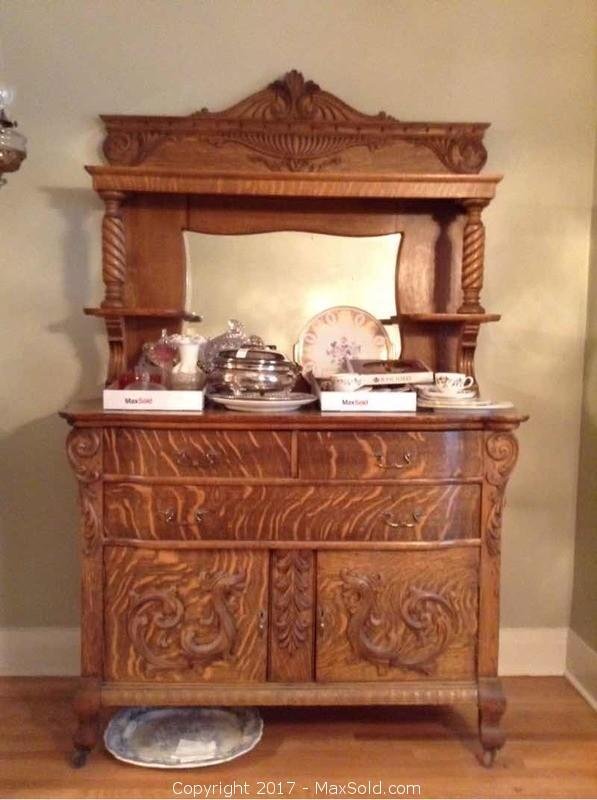 3 drawers, 2 lower cupboard doors, beveled mirror, approx 54x24x80. Note: aged wear, contents NOT included.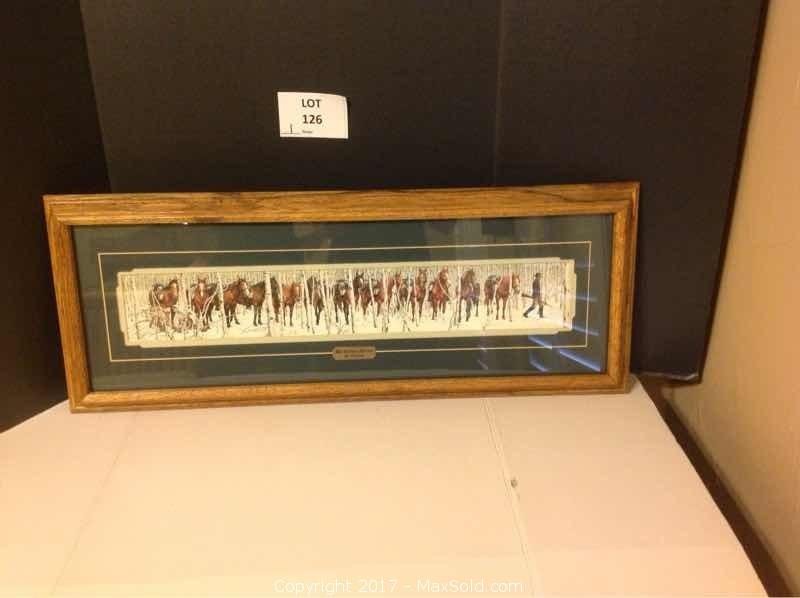 32x 12 Framed art

Small Chest
Sold on MaxSold for $100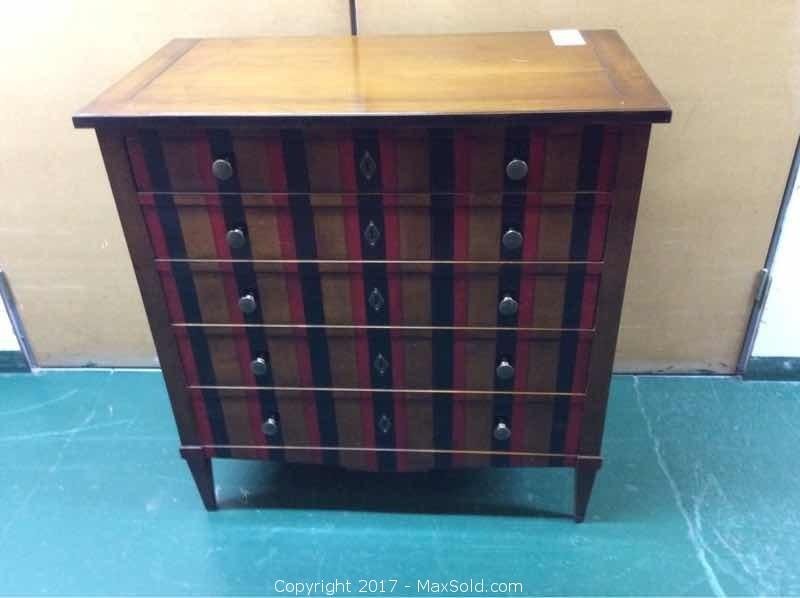 33.5x18x34.5. Dovetail drawers. Custom Made in USA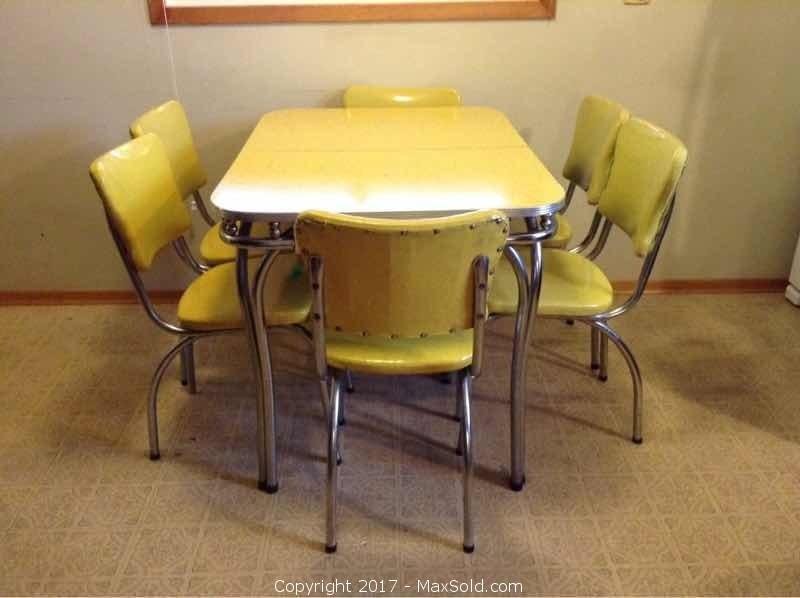 41x30x29.5 table with 11" extension leaf and six 16x16x32 chairs. Note tear on one chair, aged wear.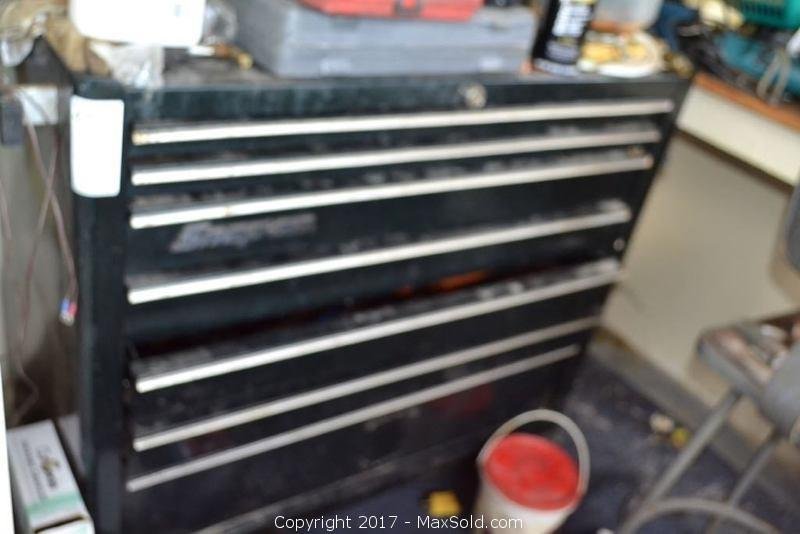 7 drawer tool chest, 42X21X38 and contents. Full of Tools. 1/2"" impact guns, etc. 75th anniversary model, tap sets, misc. Must Bring trailer or heavy truck and Help !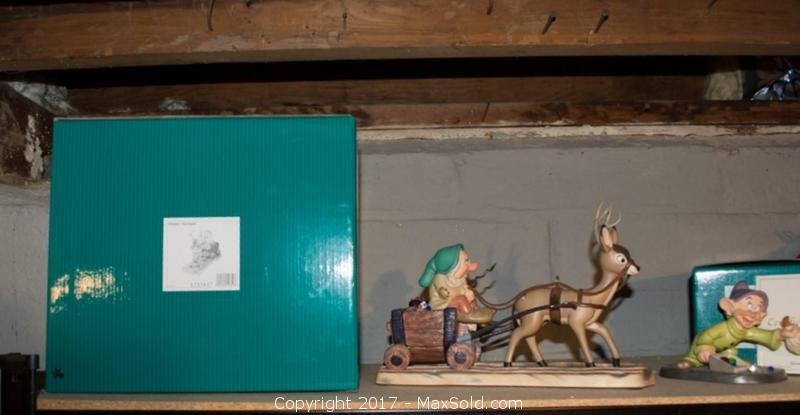 7 Dwarf Sleepy in cart with deer, titled In a Mine, In A Mine, and Dopey with dustpan, titled We Pick Up Everything In Sight. With boxes and COA.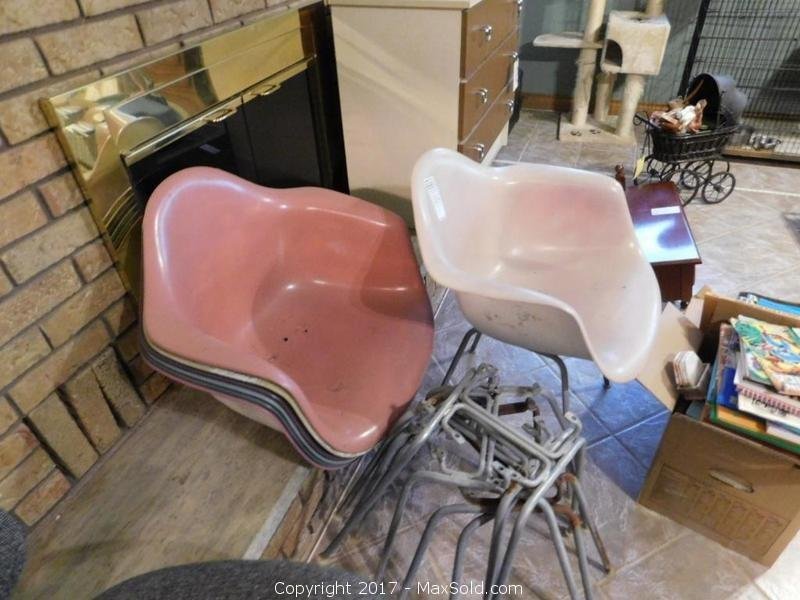 7 Fiberglass chairs with metal bases. Note bolts holding the chairs to the frames are missing. Chairs are 24X24X30.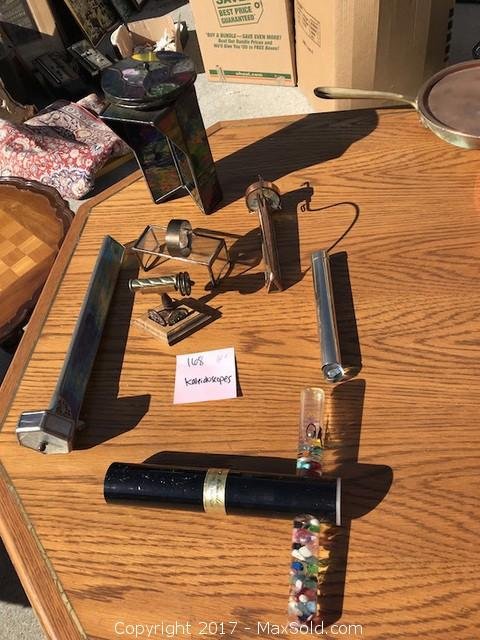 A collection of kaleidoscopes constructed of metal, glass and or plastic. Largest is 14" long.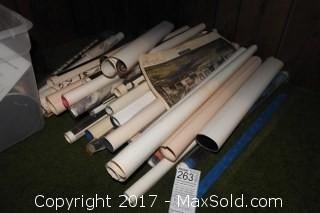 A large collection of Elvis Presley and Graceland posters, including Elvis' movie posters, army posters, tour posters, and more.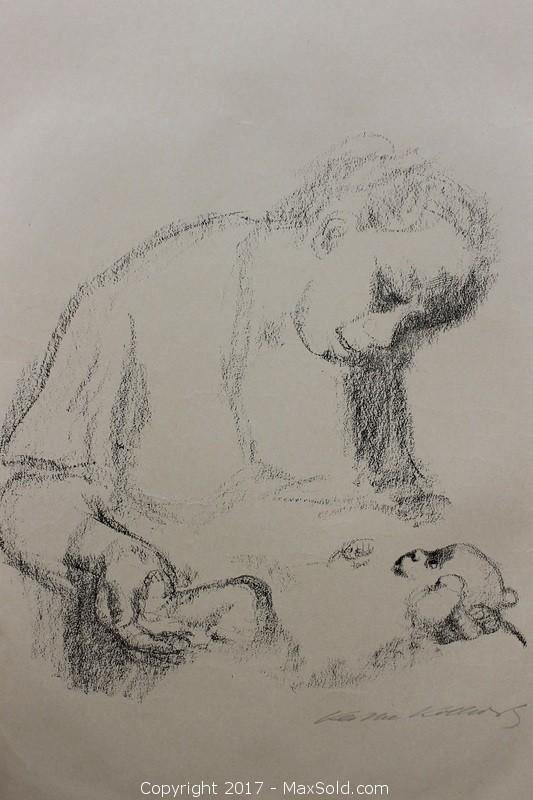 About 50 x 38 cm paper size; 28 x 28 cm image size (approx.), signature in LR.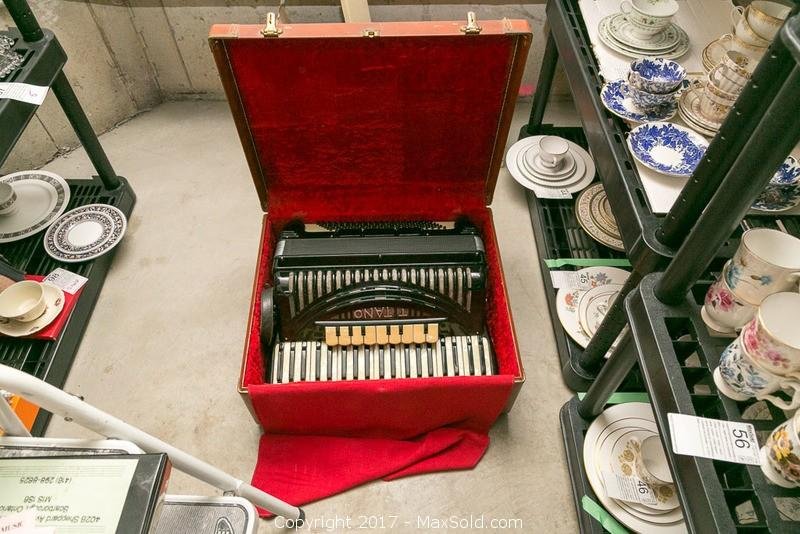 Accordion in hard case untested T Tano.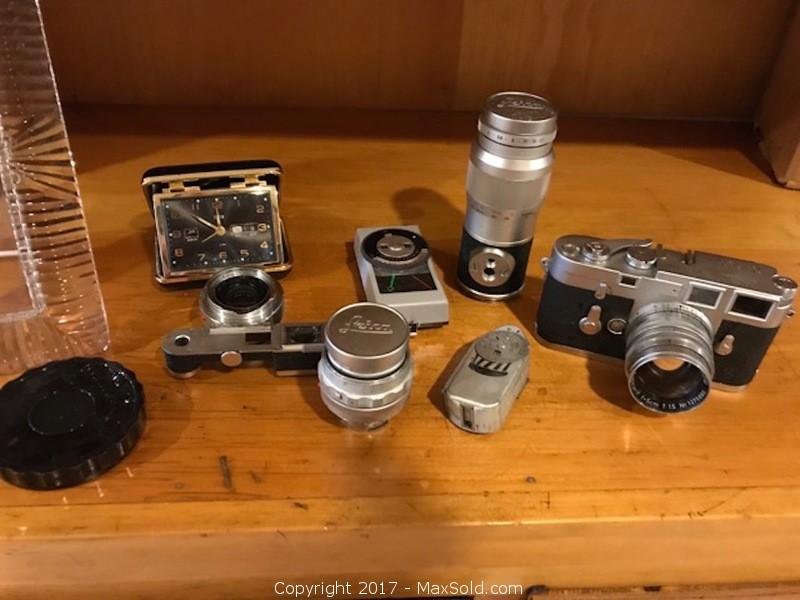 All in Good shape.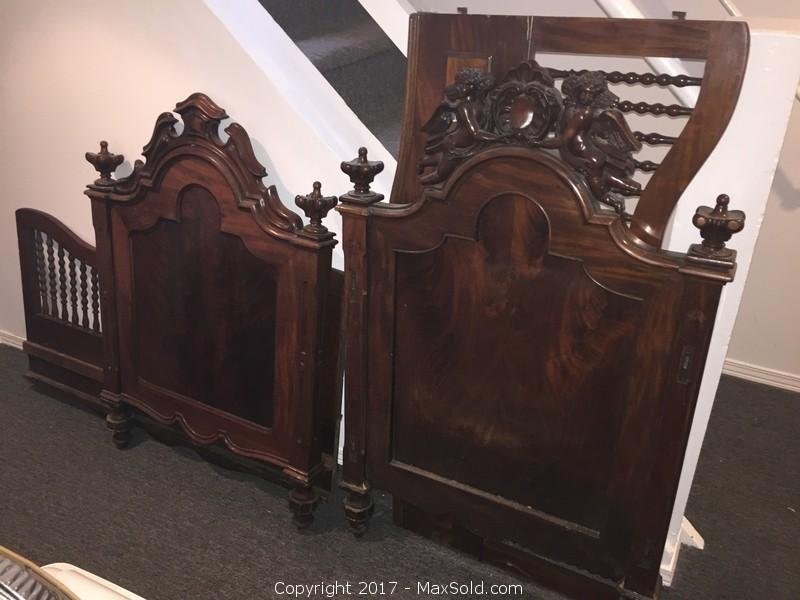 Antique crib, one wooden spool damaged, no slats 51"x47"x31" Not safety tested for use with children or infants. No mattress or slats, best use for safety reasons would be for re-purposing.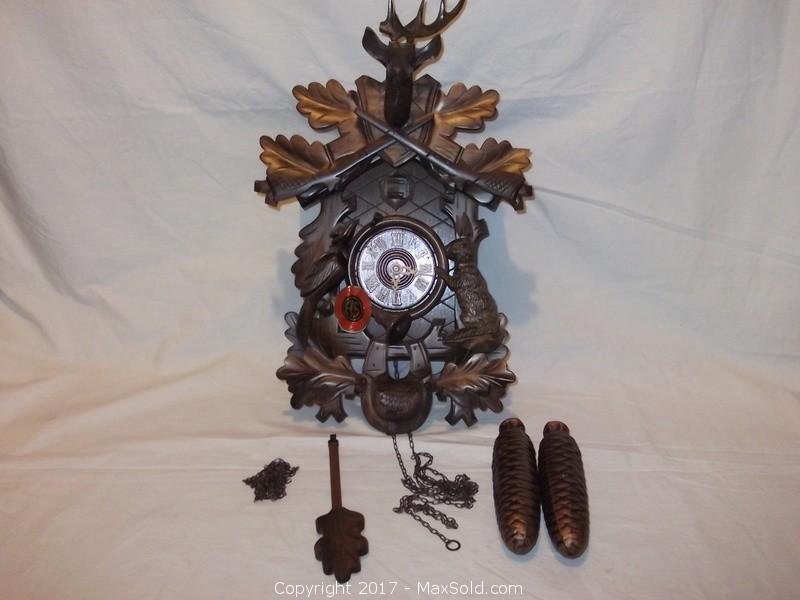 Antique German Black Forest very large cuckoo clock. Mint condition with all original labels. 18"L x 12"W. Note: one of the deer horns have small missing piece, and one of the chains fell down during moving. Untested.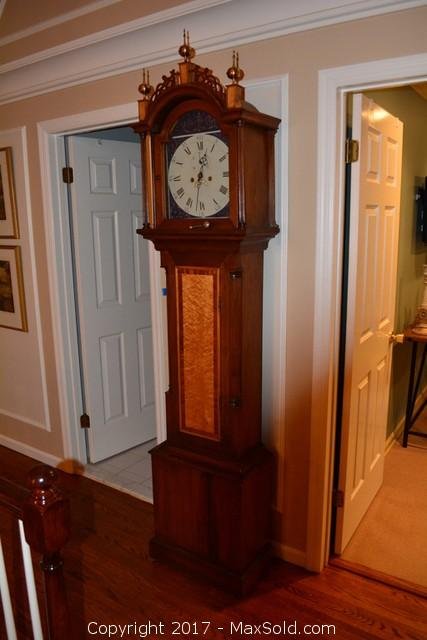 Antique Grandfather Clock, circa 1860-1870. Measures 20X89x11.5. Currently not running. Located on the second floor. Recommend professional moving. Come to pick up at category A time slot.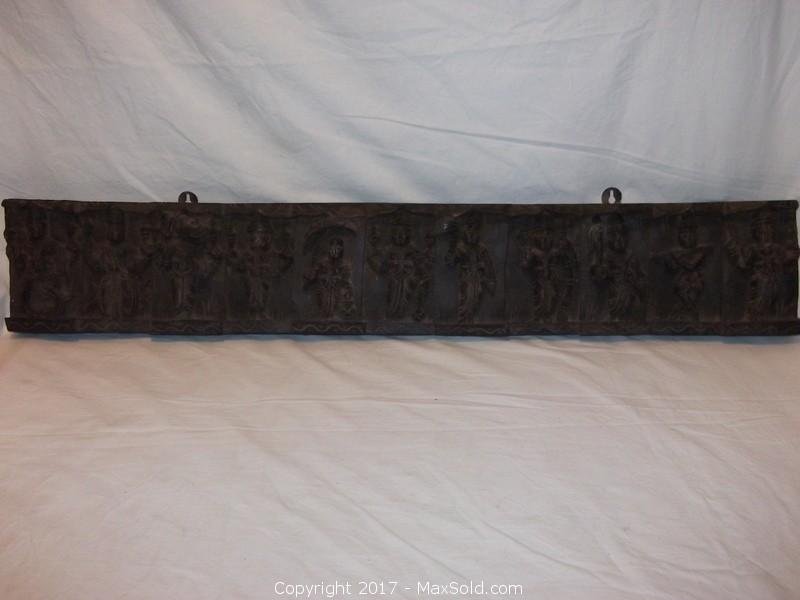 Antique large oriental Buddhas hand-carved wood panel. 36"L x 6"W.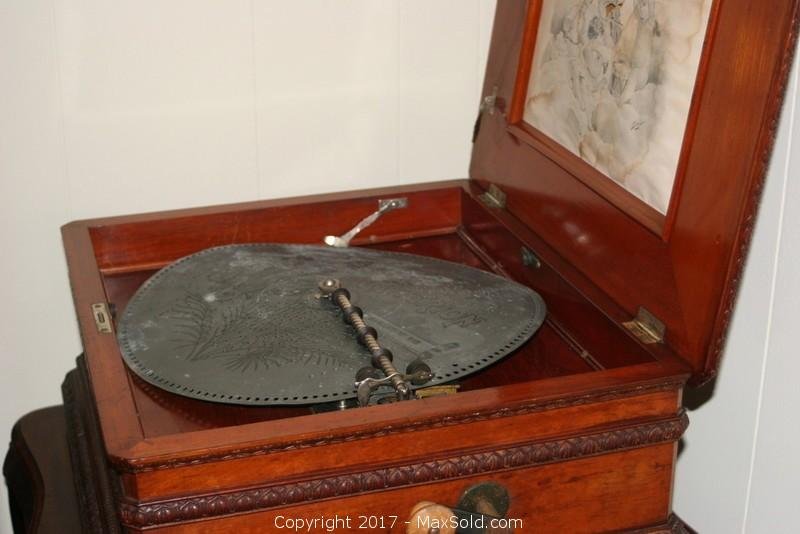 Antique the Criterion Regina music box, 15 1/2" disc, total of 12 discs. Seller states working condition, Table 24X24X30 mahogany.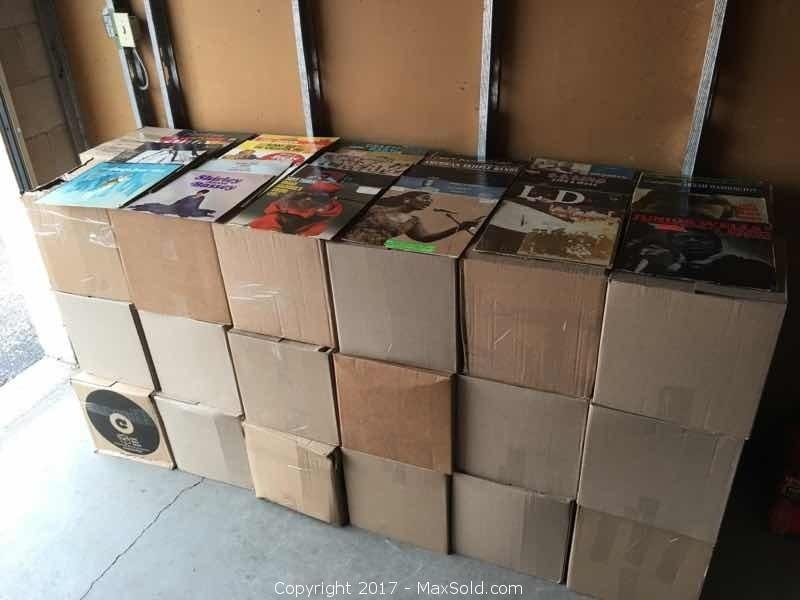 Approximately 3,000 records in total. 36 boxes of records, all untested, condition of records not know. Heavy bring help to move. This is a mystery lot, by bidding you understand. Of the few records that were photographed some showed signs of wear and damage on some of the sleeves, records were not examined.

Le Creuset
Sold on MaxSold for $1307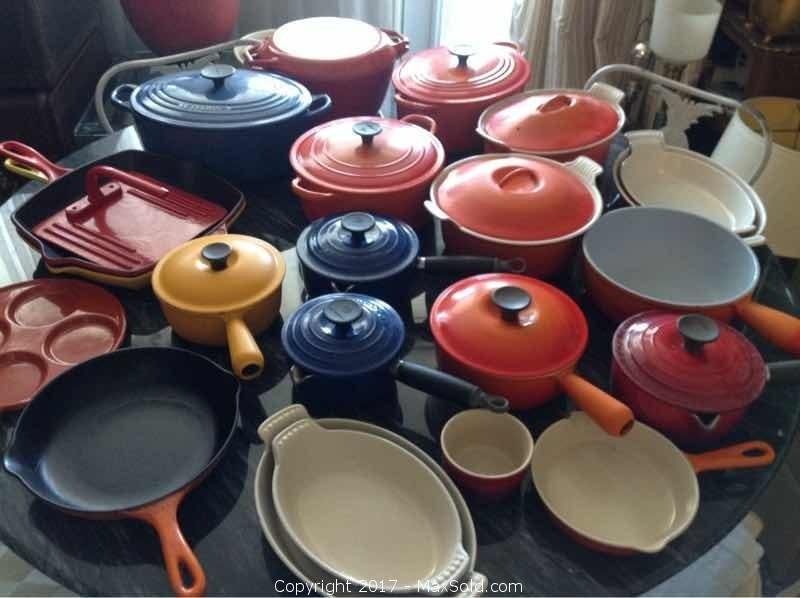 Assortment of Le Creuset pots and cookware.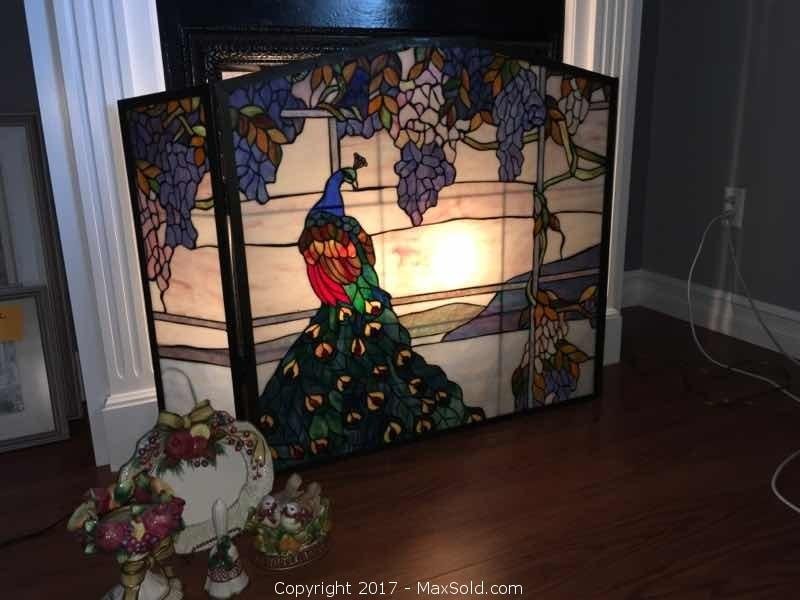 Beautiful and unique stained glass decorative fireplace screen. Elegant and colourful peacock design.

Sideboard
Sold on MaxSold for $701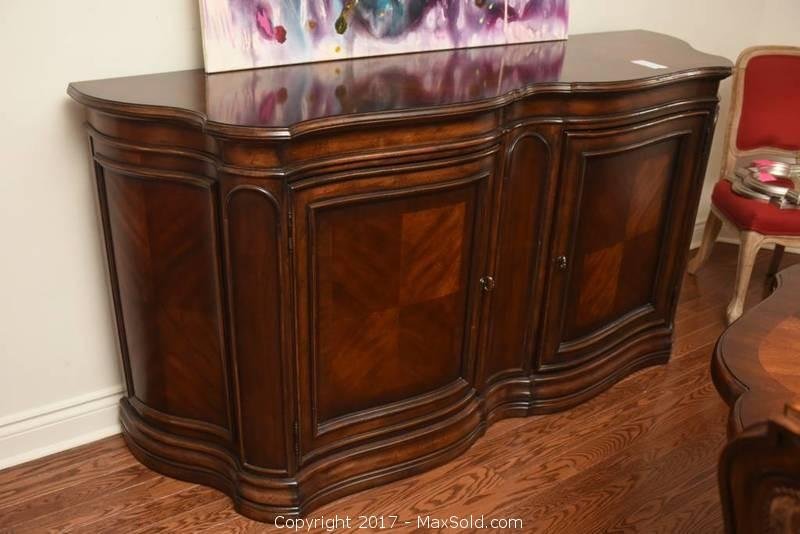 Bernhardt sideboard, two internal drawers, one lined in felt for cutlery. Two lower doors with two shelves per side. Light wear. Heavy bring help.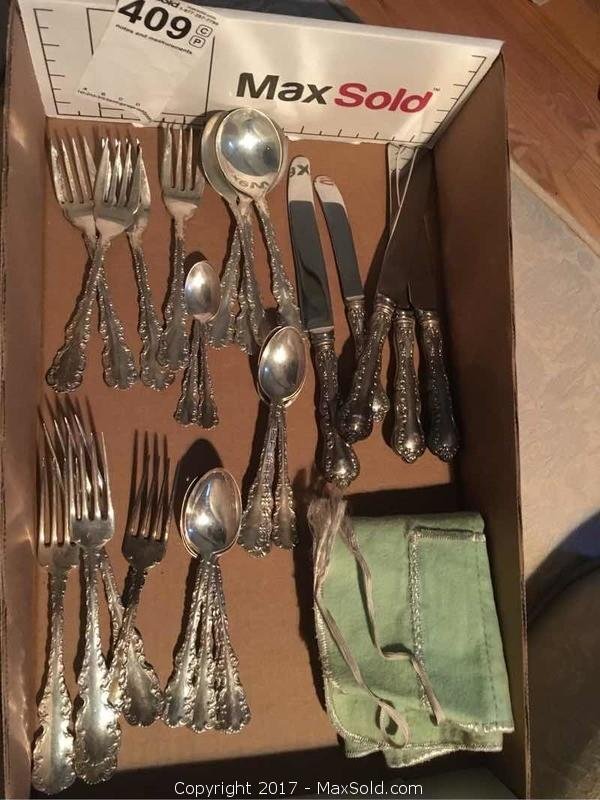 Birks Sterling silverware 27 pieces in total.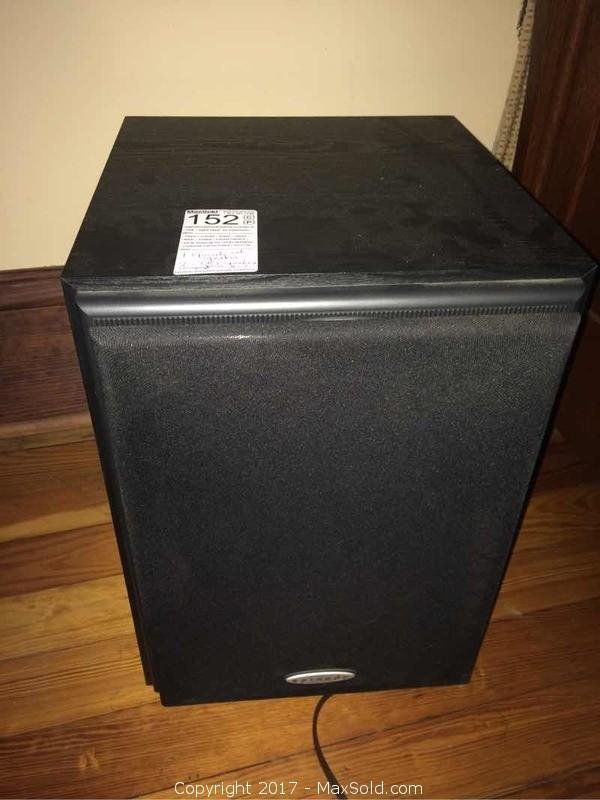 Black Episode subwoofer 13 x 14.25 x 18 and six white TBI hanging surround sound speakers 5 x 4.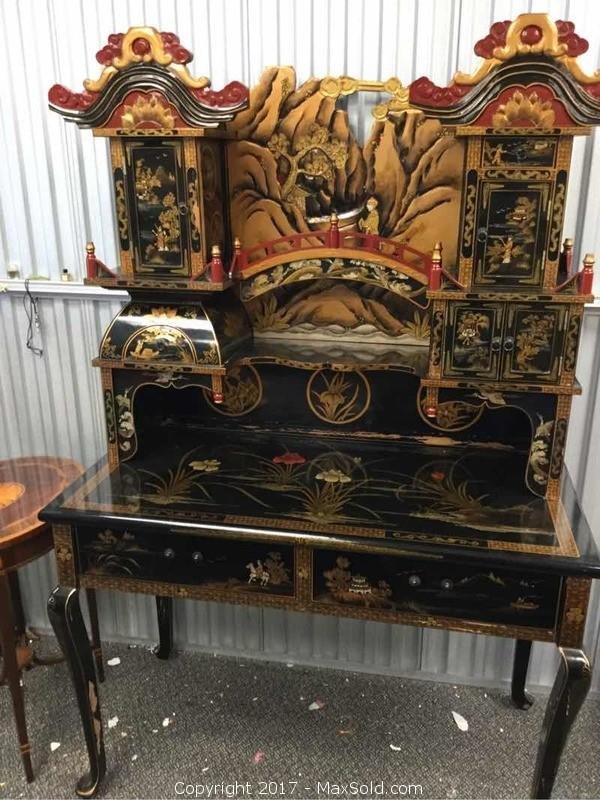 Black Lacquer and handpainted with 2 drawers. Height 72 inches Width 46 inches Depth 25 inches. Note Some damage to lacquer on legs back board and one side. Drawer pulls off but included.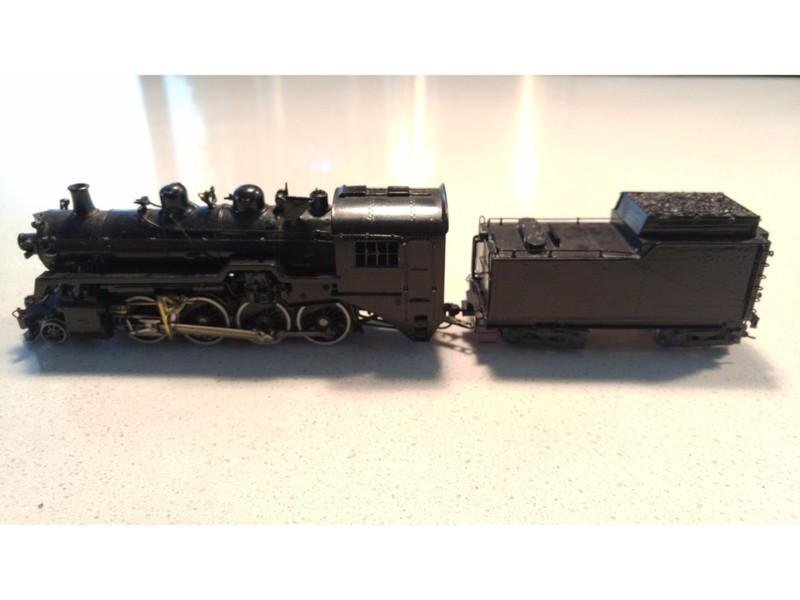 Brass Locomotive 2-8-0, Consolidation w/coal CPR N-2, circa 1974 (2 pc's) - Pickup at Category B time-slot

Samovar
Sold on MaxSold for $260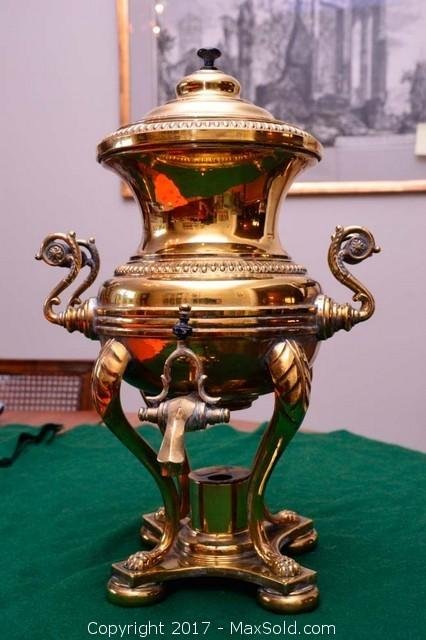 Brass samovar, 18X10, with spigot.

Sticks Mirror
Sold on MaxSold for $303.99
Brightly painted framed mirror by Sticks, Iowa. 21.5X28.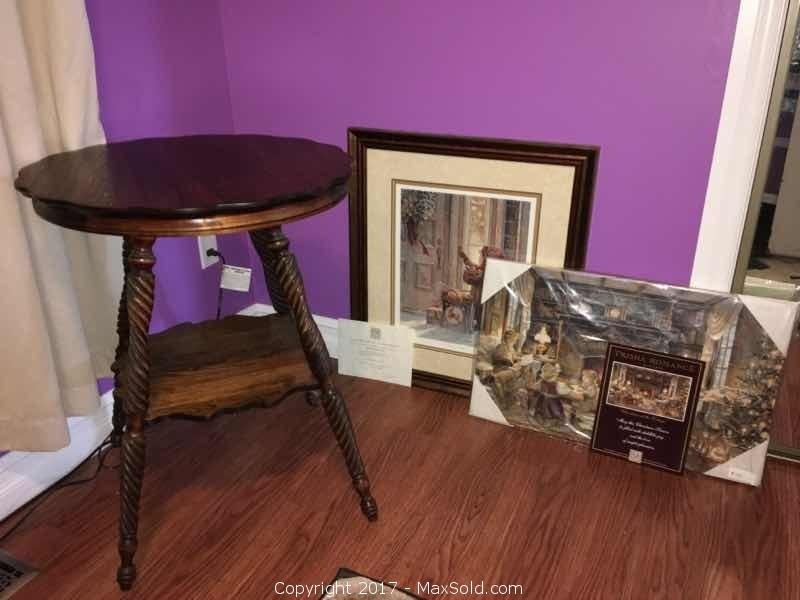 Candlelight Stroll 8315 of 15 000 30"w x 22"h signed, "Faithful Friends" 12 698 of 15 000 16.5"w x 19.75"h signed, "Vingnette of Candlelight Stroll" 12"w x 16"h, "Generous Heart" framed and triple matted print, 8102 of 10 000 signed with certificate of authenticity 14.5"w x 17.75"h, "Christmas At The Cottage" canvas print 27"w x 16.5"h. Lot includes antique oak parlour table with scalloped edges and carved leg detail 24" dia x 29"h very good condition.

Cello
Sold on MaxSold for $850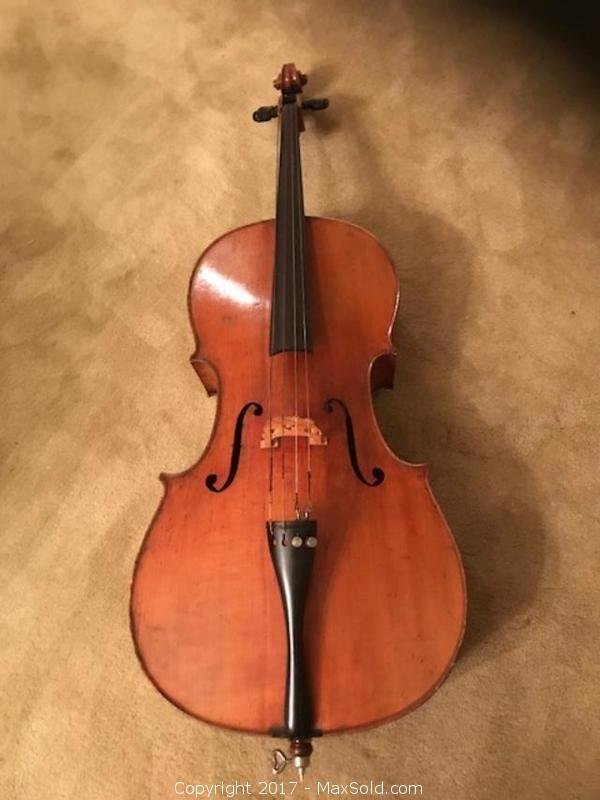 Cello with case and music instruction book. Untested.


Concept 2 brand rowing machine. 96" in length. Note electrics are not in working order. In basement bring help and tools to remove.

Marbles
Sold on MaxSold for $100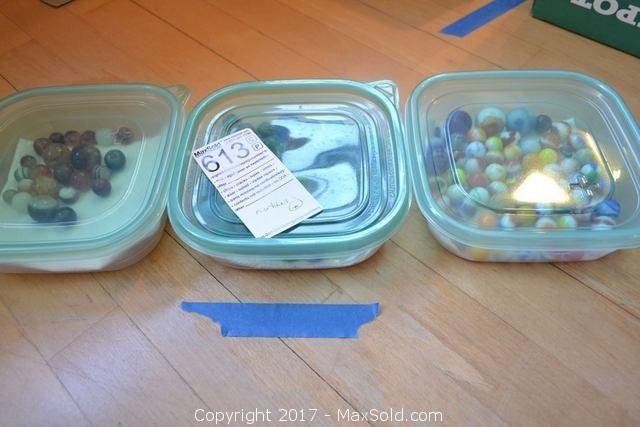 Container of marbles, various size, colors, quality.


Contemporary Swivel Barrel Chairs in beige leather. B596. Leather is in excellent condition with some wear and light markings. 31x31x31.

Lawn Tractor
Sold on MaxSold for $632.5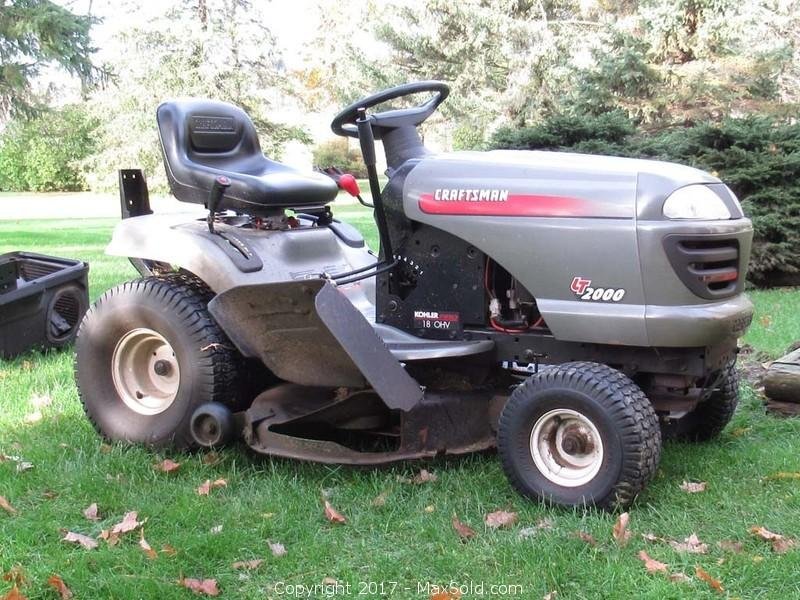 Craftsman LT2000 lawn tractor with Kohler 18 HP engine and 42 inch deck. Includes bagger system. Working but may need boost.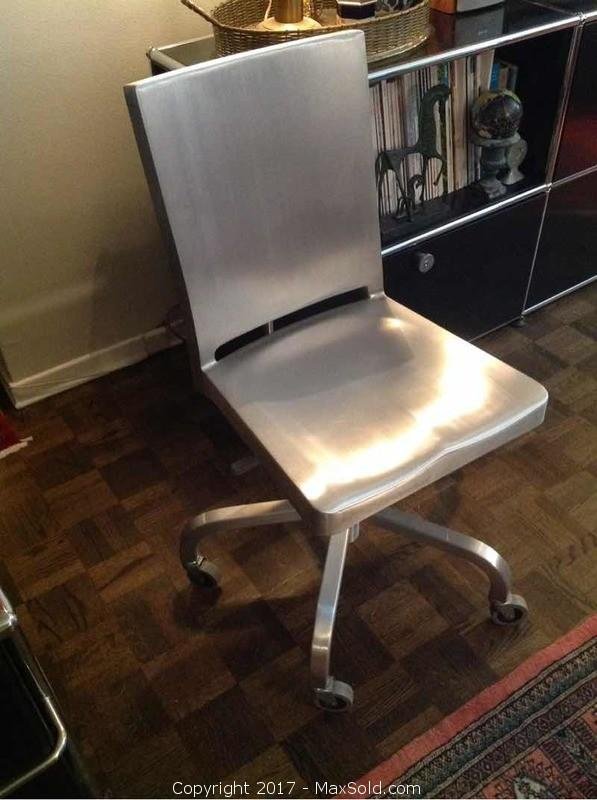 Designed by Philippe Starck in 2000, the Hudson chair is named for the Hudson Hotel in New York. Marked Emeco by Starck on the back of the chair. 16x16x34. Note some scratches on the aluminum.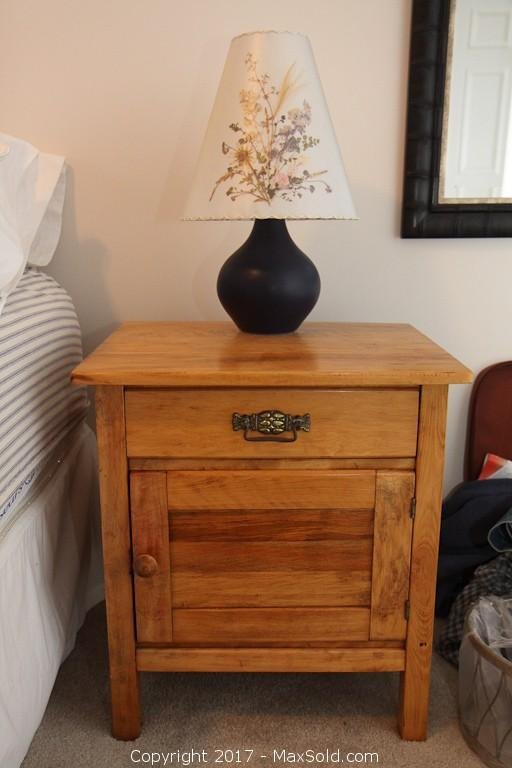 Dornbusch lamp 20 high, stamped and working, end table has one drawer with dovetails and a swing door.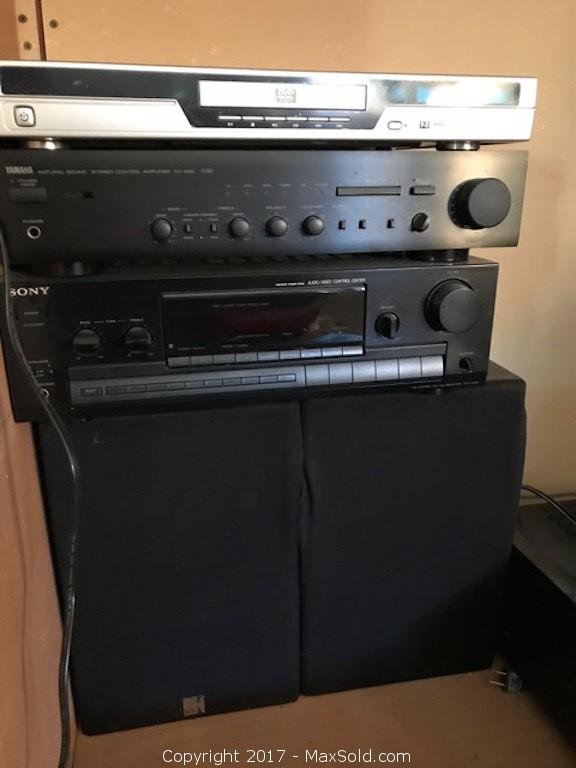 DVD player, receivers, etc SONY, Philips, Yamaha, Samsung, KEF speakers - more than what is listed in picture, Cables and remotes too. Come to Pick-up B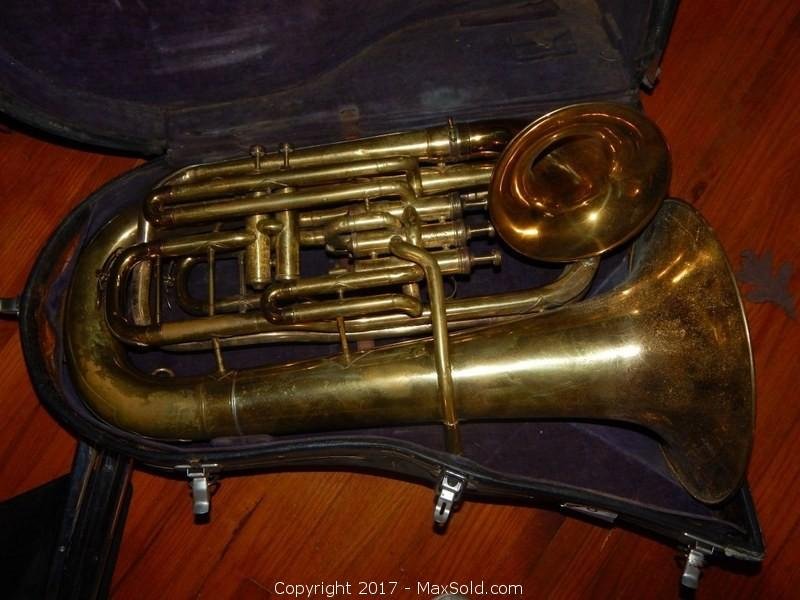 Early 20th century Buescher double bell euphonium made in Elkhart, Indiana. Shows some finish wear and minor denting. MOP fingerings. Mouthpiece missing. Velvet lined case shows wear.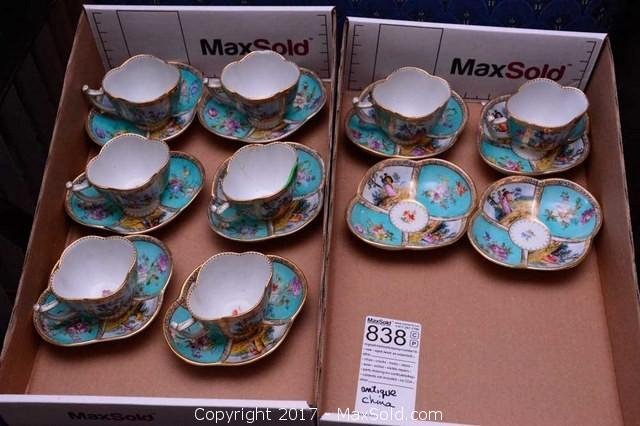 Eight Antique teacups and saucers. Two saucers without cups. Few chips, on cups.


Elvis Presley Sun Label record assortment. Blue Vinyl Record included. Some in plastic sleeves. Most are in very good condition.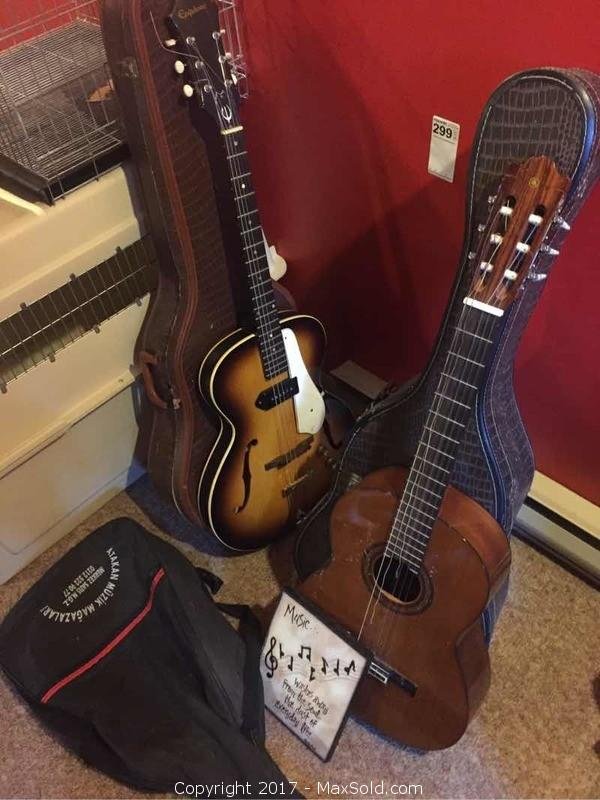 Epiphone electric guitar, acoustic guitar, two hard cover cases and one soft case, print.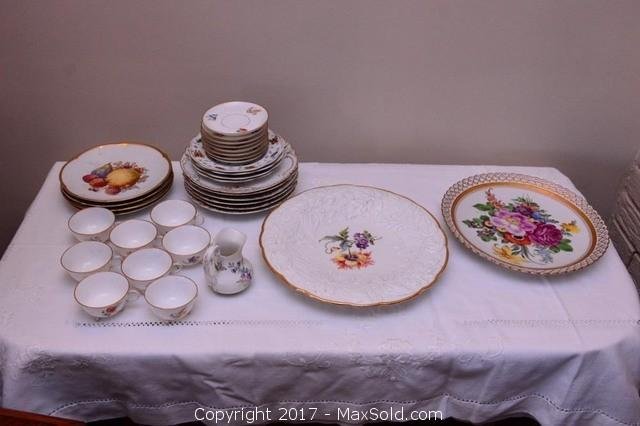 Fine china selection, Bavarian fruit plates, wear on gold rims, gold filigree edge floral plate,11", round, 12" floral plate. Fine antique porcelain, unmarked, four tea plates. Eight cups, two damaged, eight saucers, one small repaired matching jug.

Five speakers and one subwoofers, Sony multi channel AV receiver surround sound system with HDMI STR-DN1050, and a speaker selector by Audioplex Technologies. Note: 5 speakers are wall mounted.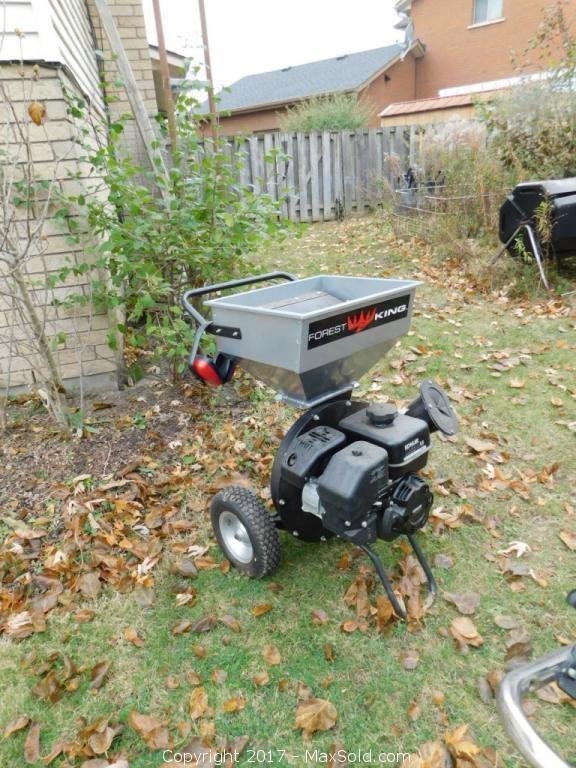 Forest King wood and leaf chipper/shredder with 196cc Kohler Courage motor. Almost new condition. 23X29X34.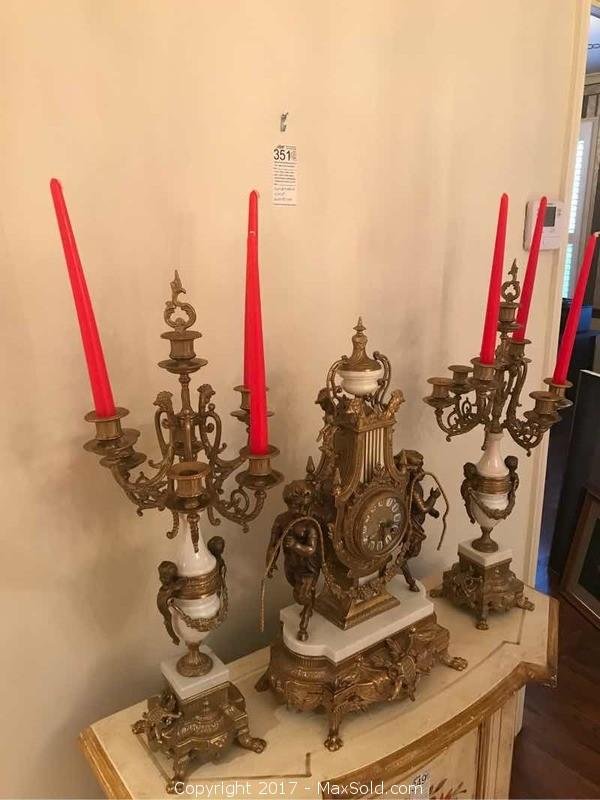 Frank Hernle Antique Imperial Italian clock and matching candelabras garniturn set. Very heavy bring help.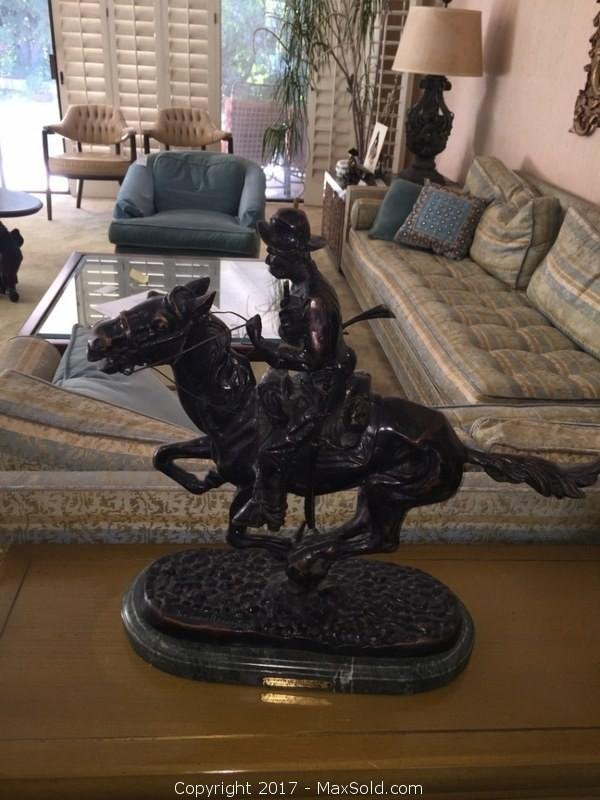 Frederic Remington No.67 Trooper of the Plains 22X8X21.50.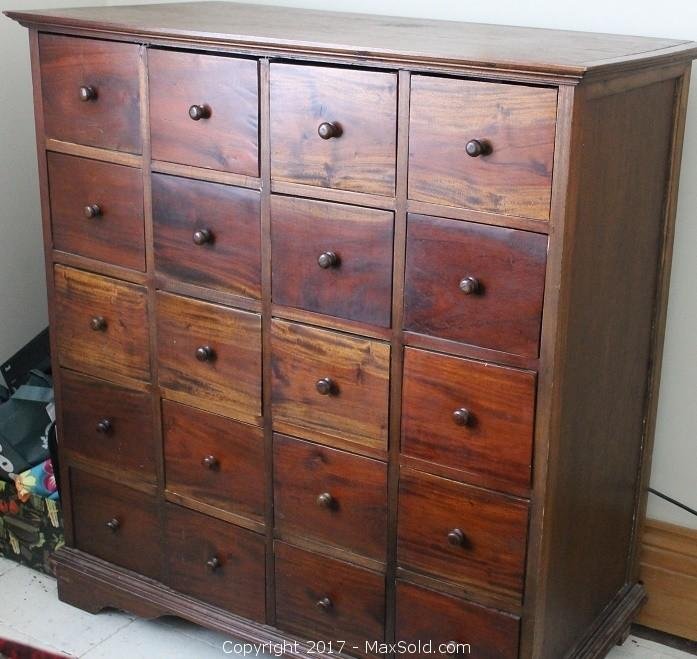 From a Port Perry area grocery, circa 1890. About 21.5 by 43.5 by 47 inches. Scratches and wear to finish and one foot replaced (see photos). Very heavy BRING HELP to move! Come to Category B pick up time.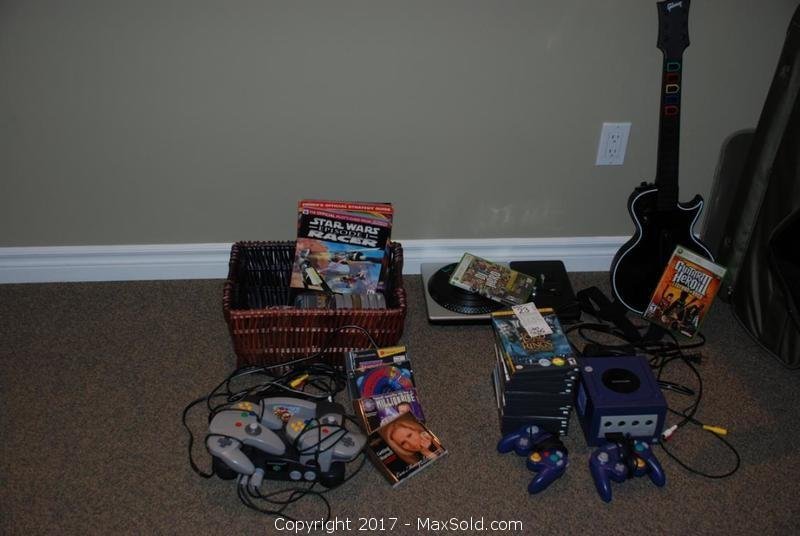 GameCube comes with 2 remotes, 14 games ie: NHL 2003 and 2005. The Nintendo 64 comes with 2 remotes and several games ie: Mario golf, pokemon stadium and donkey Kong. X Box 360 Guitar Hero 3 With Gibson replica guitar and X Box 360 DJ Hero Game With Turntable. Please bring boxes.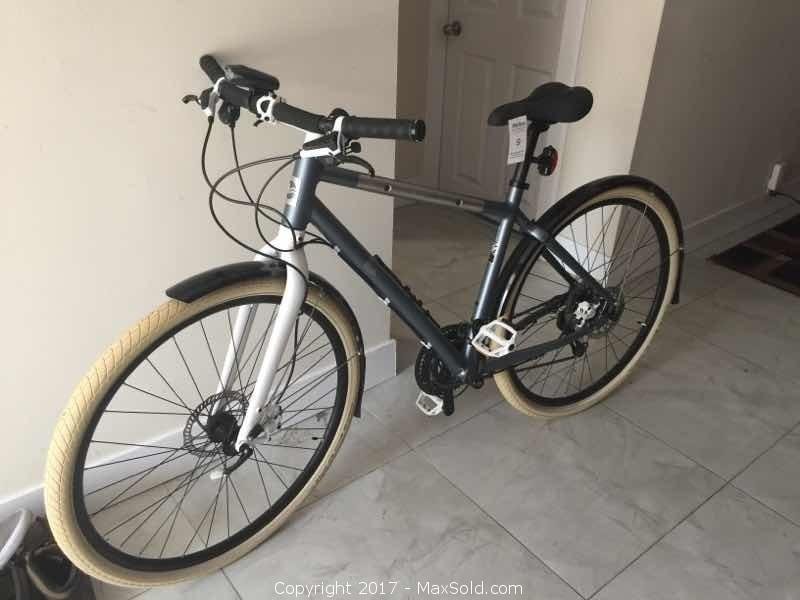 Giant Seek Urban Bicycle with extra seat and other other related items.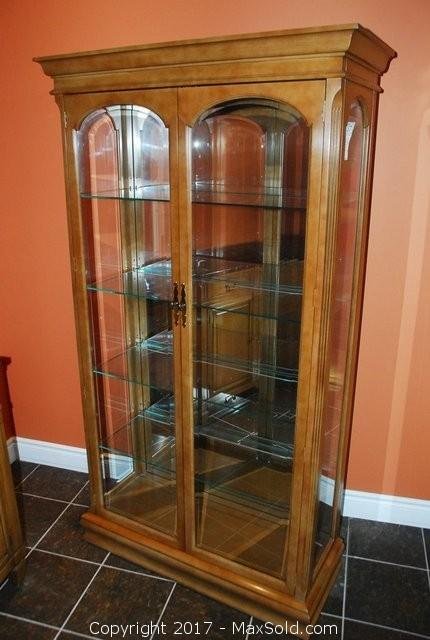 Gibbard display cabinet with tag on back. 4 glass adjustable shelves inside with beveled glass outer panels. Lighting in top. Like new. Bring help.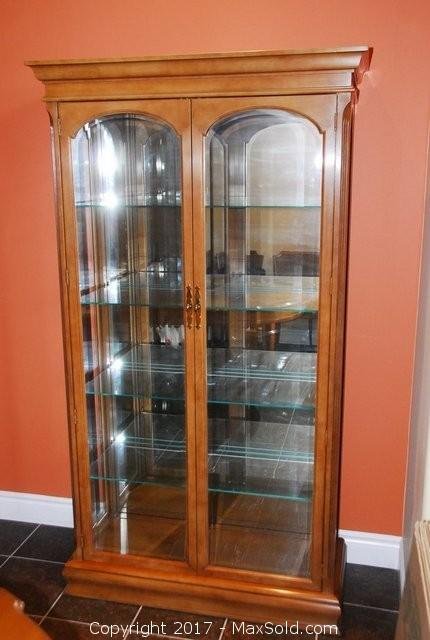 Gibbard display cabinet with tag on back. 4 glass adjustable shelves inside with beveled glass outer panels. Lighting in top. Like new. Bring help.

Sauna
Sold on MaxSold for $1055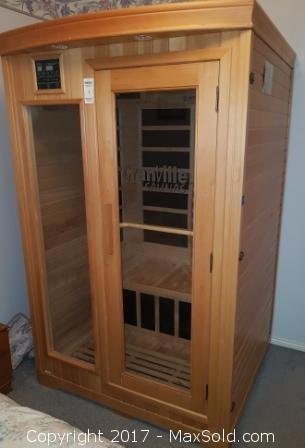 Granville two person sauna with built in stereo AM/FM/MP3. Pick up in time slot 'C'. Bring help and your own dolly. Already disassembled.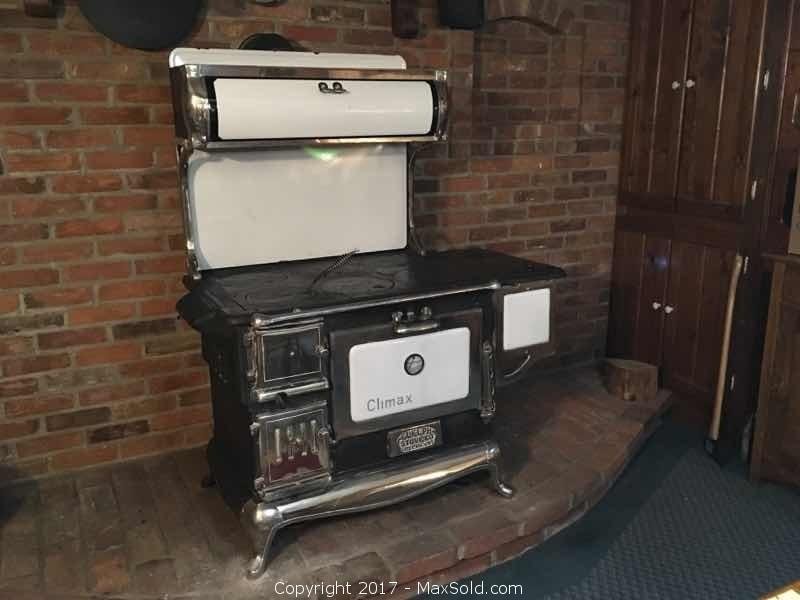 Guelph stove cast iron and enamel finish wood burning stove by Guelph Stove Company 50"w x 59"h x 32"d. Excellent condition. Including accessories such as casts iron pots, skillet pan, and crock pots. Note Items located in basement. Bring tools. 2 persons to move.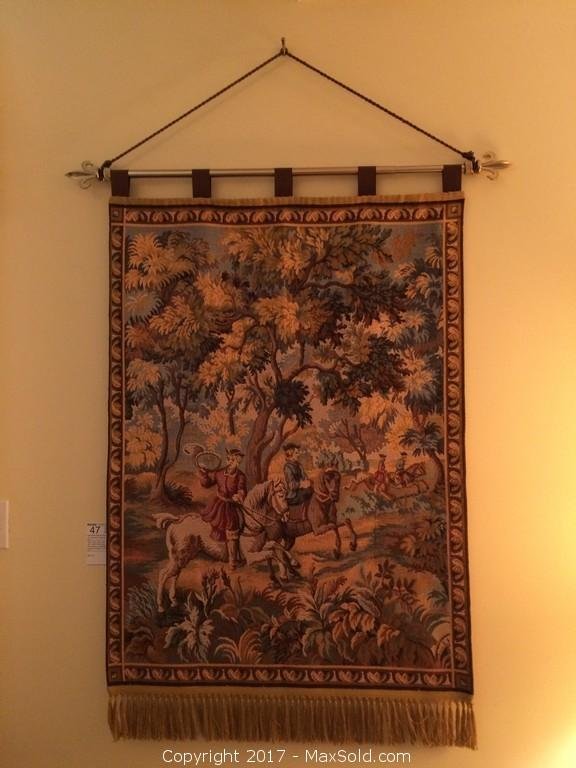 Hanging vintage wall tapestry 32X51. With hanging rod.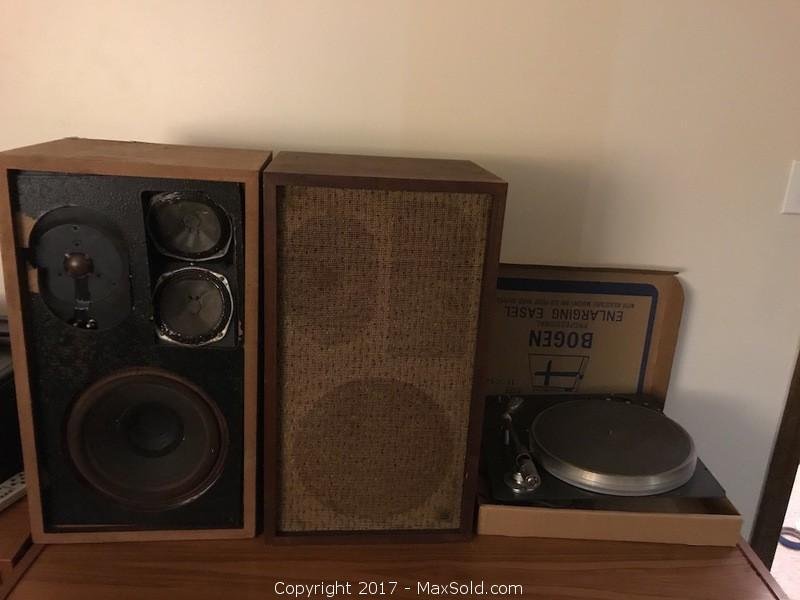 Harman Kardon "Lyric" tuner and "Epic" Amp w manuals, with AR speakers, and a vintage turntable. Parts upstairs and downstairs - Come to C pick-up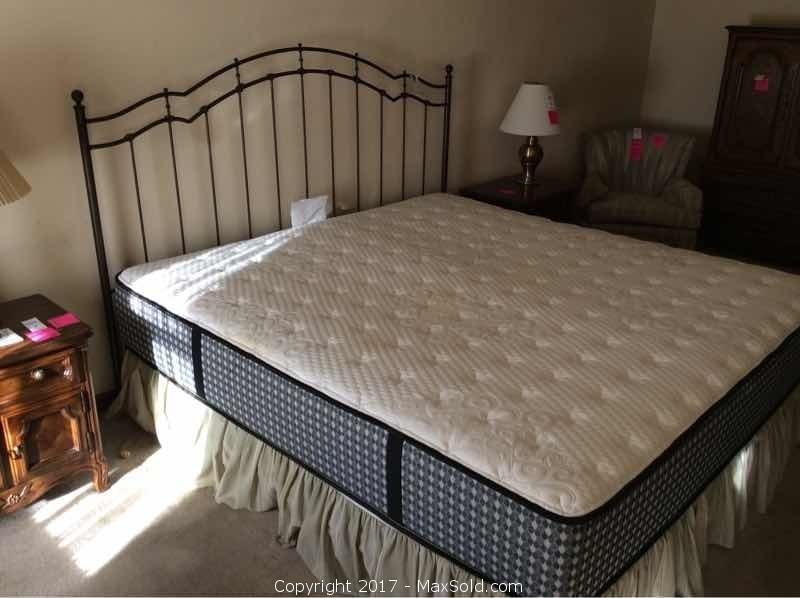 Headboard has an iron appearance. Seller says Restonic Comfort Care Select - Bradham mattress and matching boxspring purchased at end of 2016 and used for just 3 months. Tallest point of headboard is 55h.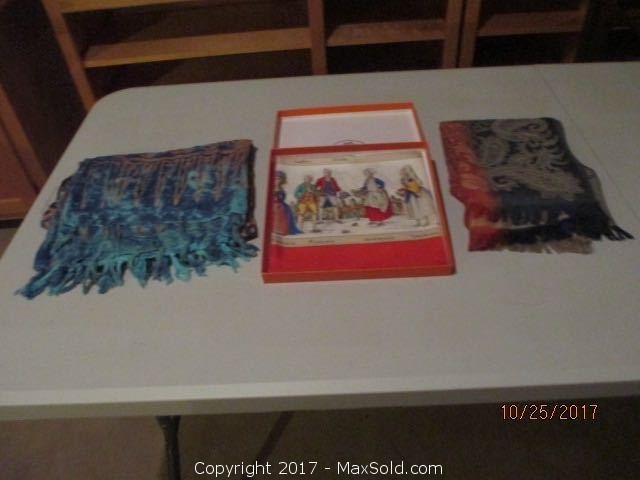 Hermes scarf, new in original box. Two accessories scarves one in blue and the other in earth tones.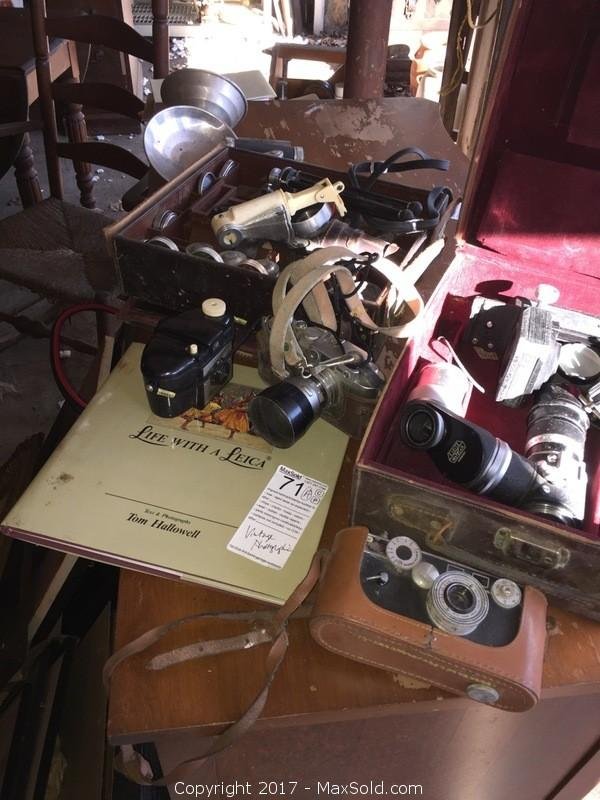 Includes Kodak Brownie 127, Leica Earnest Leitz camera, Leica lenses and accessories, cases.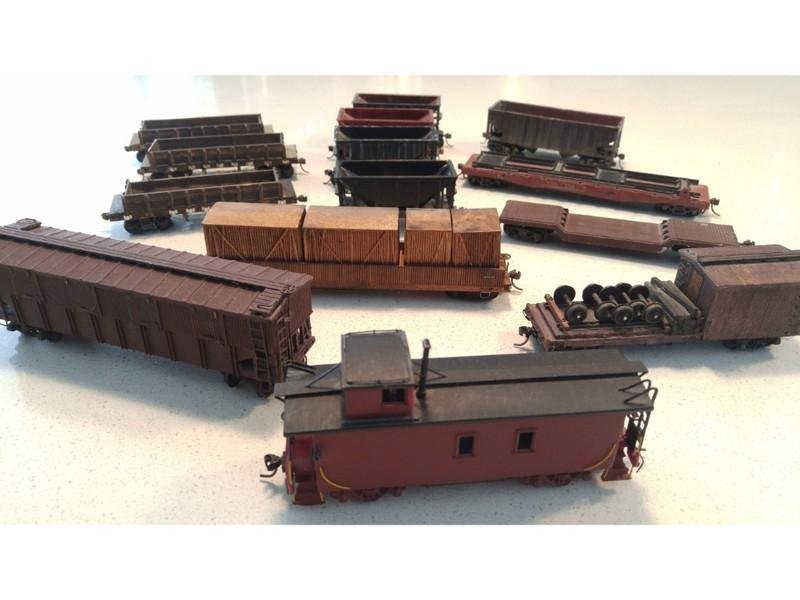 Includes: Metal Caboose, Metal Gondola, Wood Gondolas, Wood Gondola with Crates, Metal Flatcar w/depressed centre, Wood Yard Maintenance Car, Wood Hopper Car, Ore Hopper Cars (14 pc's " metal, plastic, wood) - Pickup at Category B time-slot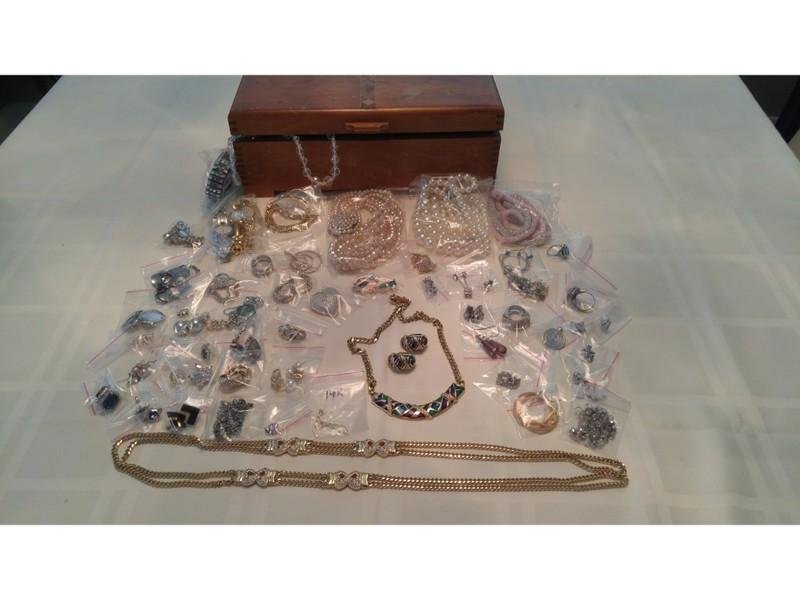 Includes: Sterling Silver, Gemstones, 5th Ave Collection, Gold, Vintage & Costume Jewelry - Pickup at Category B time-slot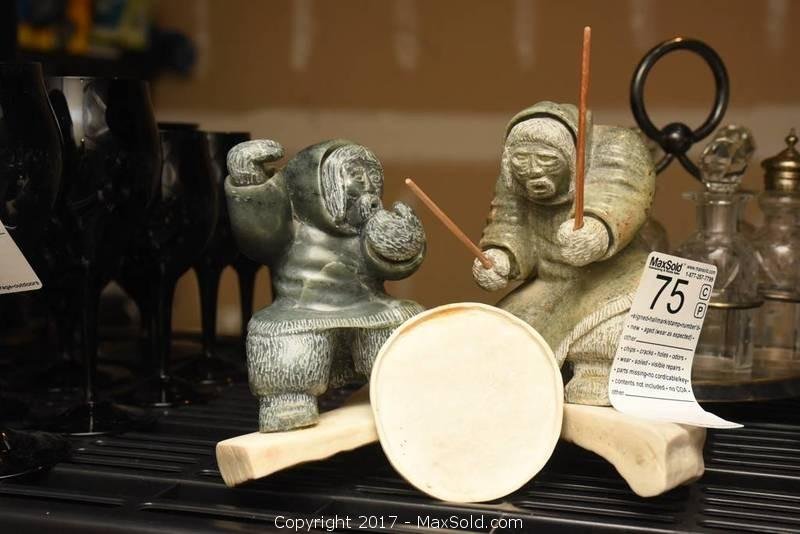 Inuit sculpture by Lee Garland, 7X8".

Jewellery
Sold on MaxSold for $509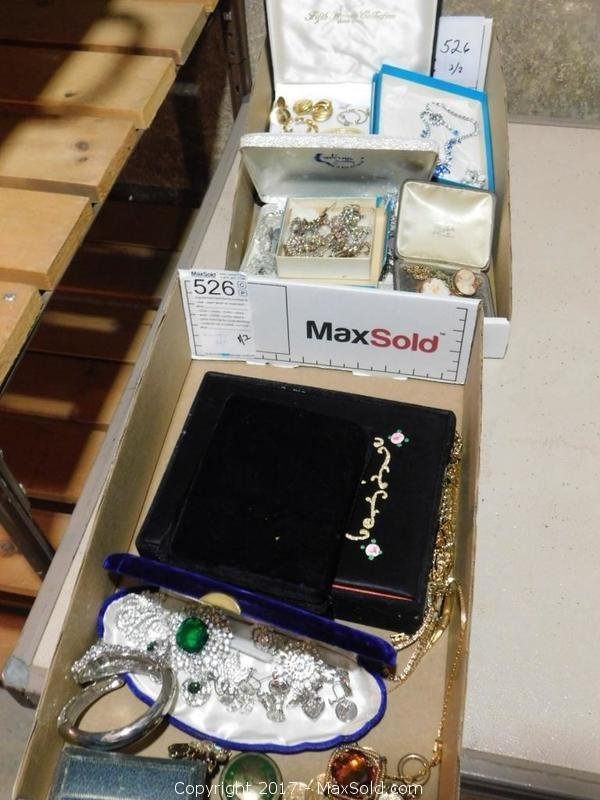 Jewellery including necklaces, earrings, and more. Note wear.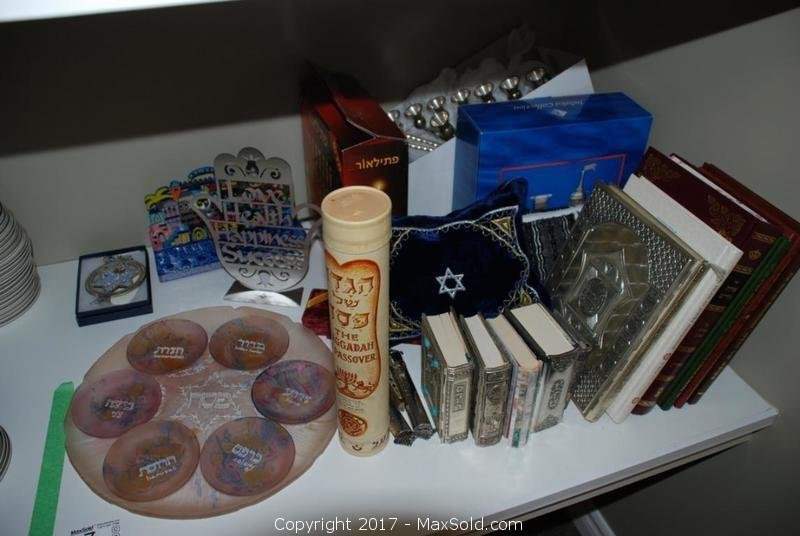 Judaica Collection Includes: Siddurs, Passover plate, Menorahs, Tallits, Mezzuzahs and more. Please bring boxes and packing material.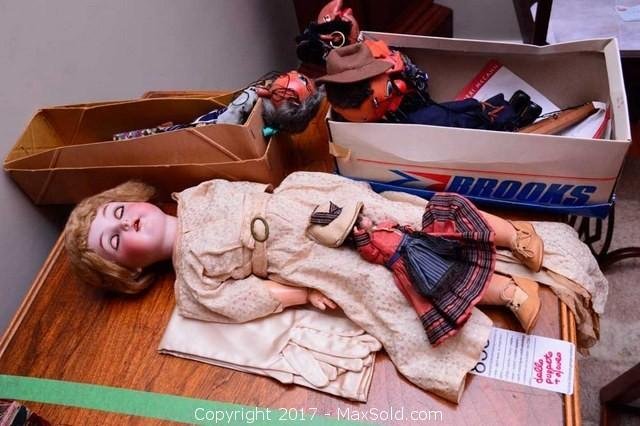 K&R (Kammer & Reinhardt) antique doll, in original wedding dress, shoes and undergarments; damage to right arm, needs repair. Wear. Additional small dressed doll. Original Pelham puppet in original box. Two other Puppet's in box. Pair of evening gloves,

Kensington Pattern - SERVICE FOR 12 Very good condition, NO chips or cracks - 12 Dinner Plates, 12 Luncheon Plates, 12 Dessert Plates, 12 Fruit Nappies, 10 Tea Cups & Saucers, 7 Coffee Cups & Saucers - Pickup at Category B time-slot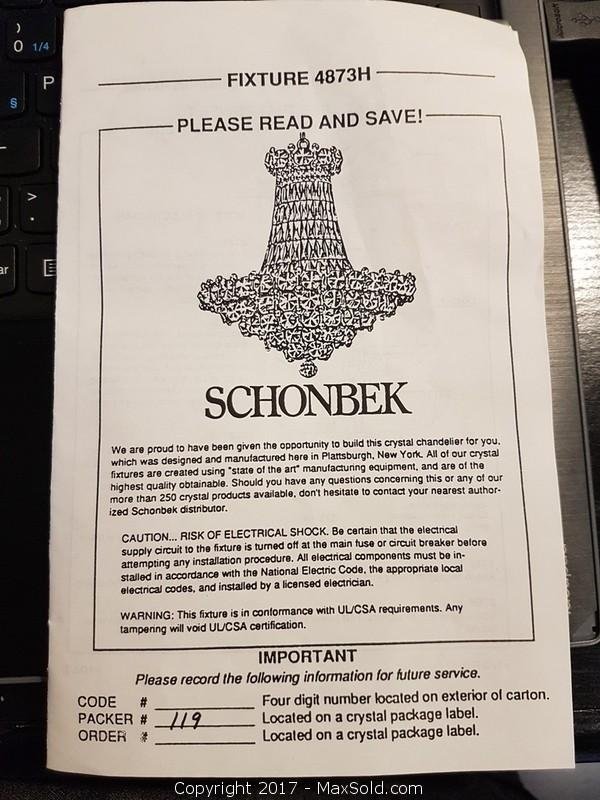 Large Schonbek 38-Light Crystal Chandelier with gold/brass and silver finish. "Baronet" Model. Approximately 30" Diameter and 30" Height (total body length of the frame). Untested and disassembled since 2004.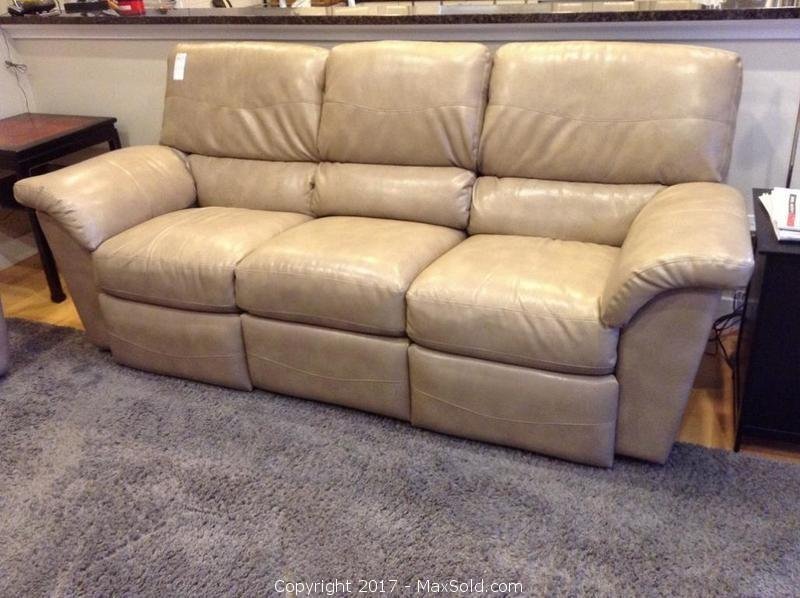 Leather La-Z-Boy electric reclining sofa. Five years left on warranty. 90X37X40. Excellent condition.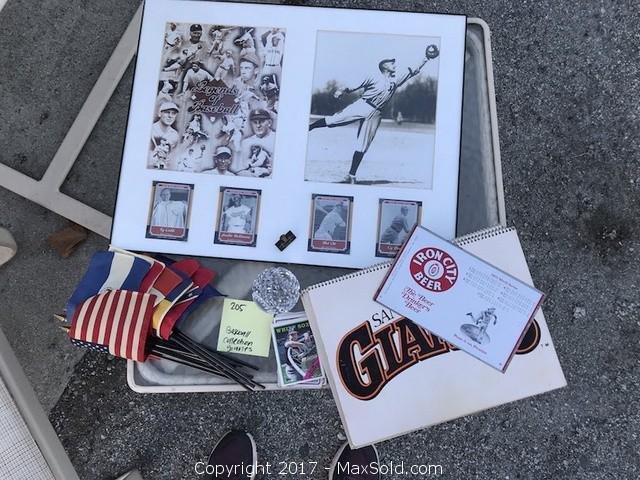 Legends of Baseball framed commemorative photos, San Francisco Giants pin and score cards, SF Giants paperweight, miniature flags and more.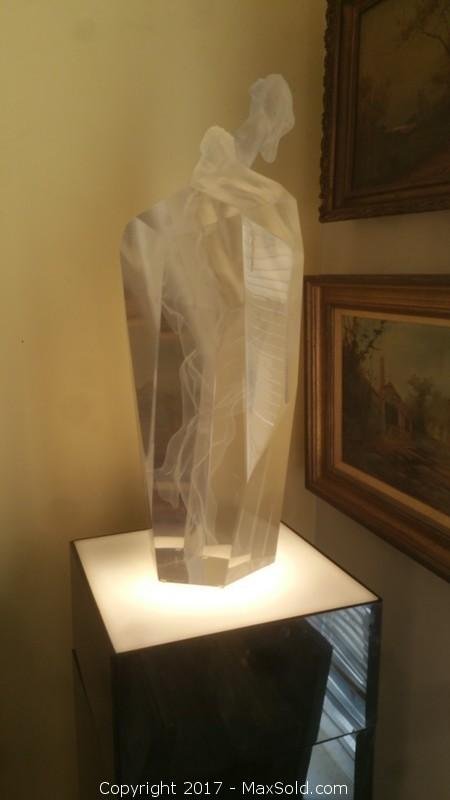 Limited Edition Frederick Hart 'Dance of Life' Acrylic Sculpture 1997 Size: 23in. x 7 in. x 8 in. wide. Signed and numbers 346 of 350 At bottom of sculpture. Depicts nude Man and woman embrace with woman up over man. Clear acrylic sculpture has been damaged and repaired at the top portion of nude. The custom back light swivel stand with dimension 36 in. by 15 in. by 12 in included. Hart (1943-1999) - Artist and sculptor and stonecutter in the classical style, Frederick Hart was an apprentice at the National Cathedral in Washington DC and learned there about sculpting and stonecutting.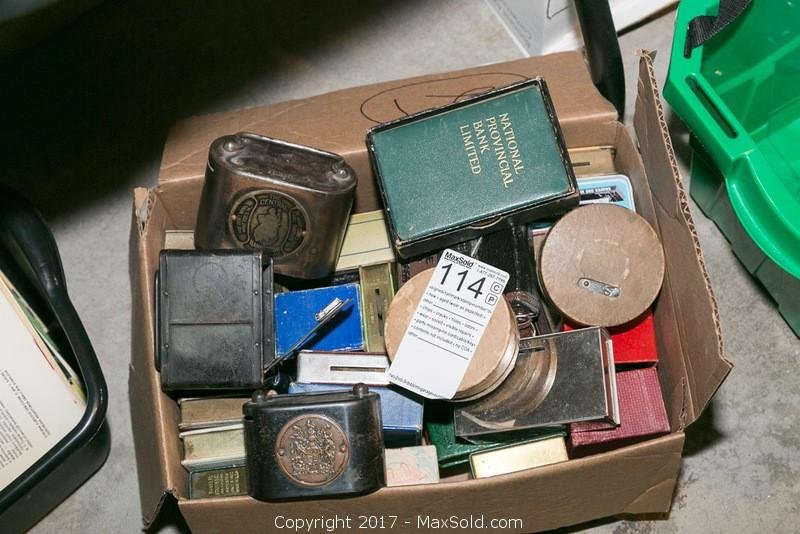 Made of various materials, Central Bank of India, Provincial Bank, Post Office bank and many more. Some have coins no keys.

Man Cave
Sold on MaxSold for $205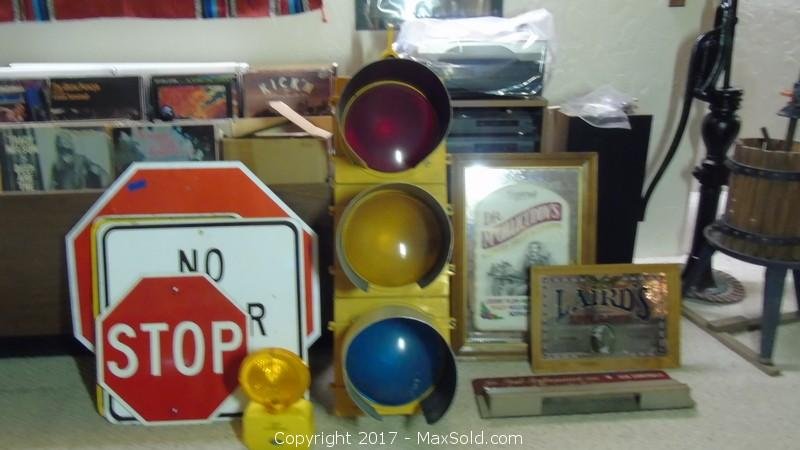 Man Cave Lot, Stop Light and assorted automotive signs (30 x 30), assorted real estate signs, 2 mirrored liquor signs, baseboard heater salesman sample/display, beer can collection circa 1970 s. Come to pick time slot C.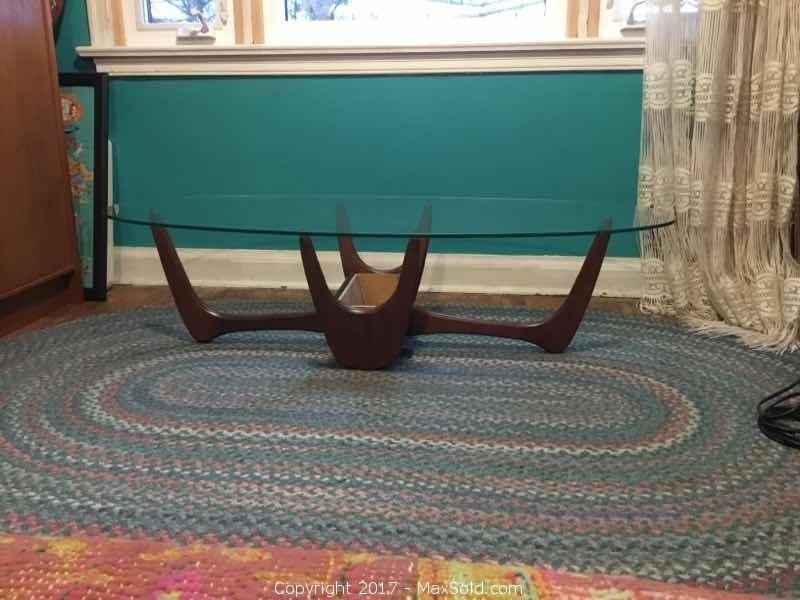 Mid Century Modern style. Heavy weight glass. Adrian Pearsall style. Wood planter box insert. Please note scratches and chip on glass. See matching side tables in Lot 5 and 6. 60X24X15.5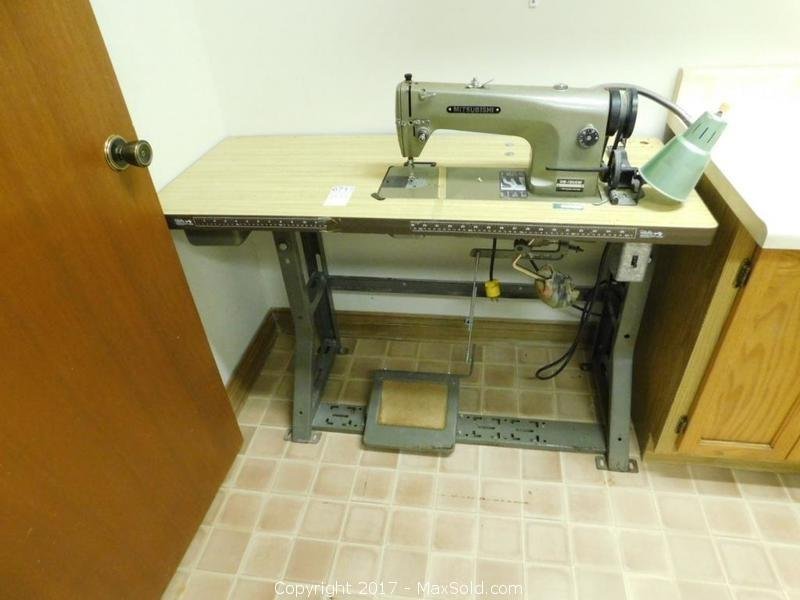 Mitsubishi industrial sewing machine. Not tested. 48X20X38.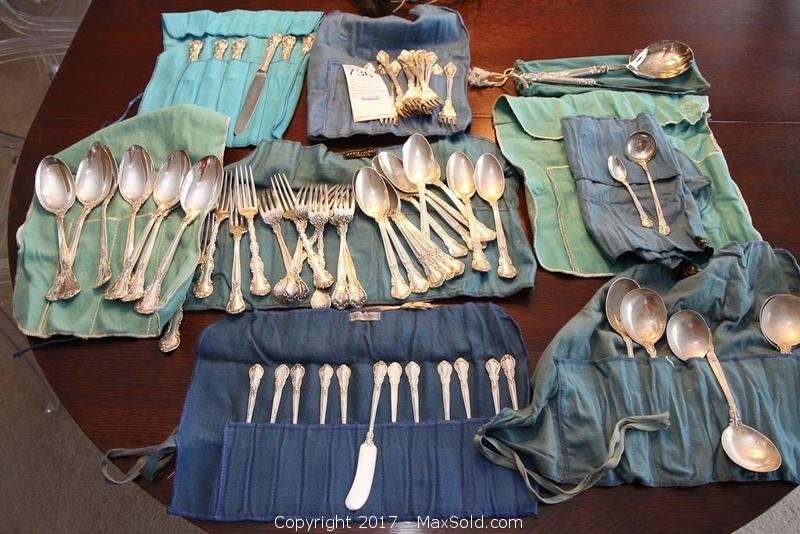 Mixed pieces Sterling silver cutlery most Chantilly pattern, 6 knives, 6 soup spoons, 12 desert forks, 11dinner forks, 12 tablespoons, serving spoon and fish knife, 7 serving spoons, 12 butter knives. All come with protective Sterling bags.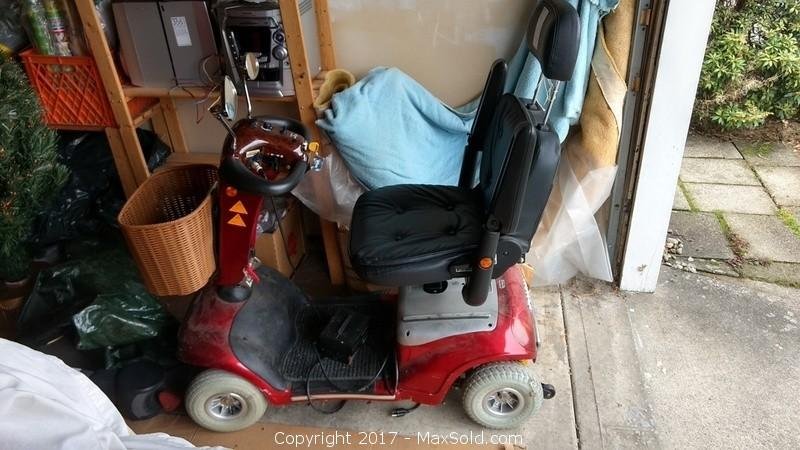 Mobility Scooter 50X22X49 has key. Seller states working.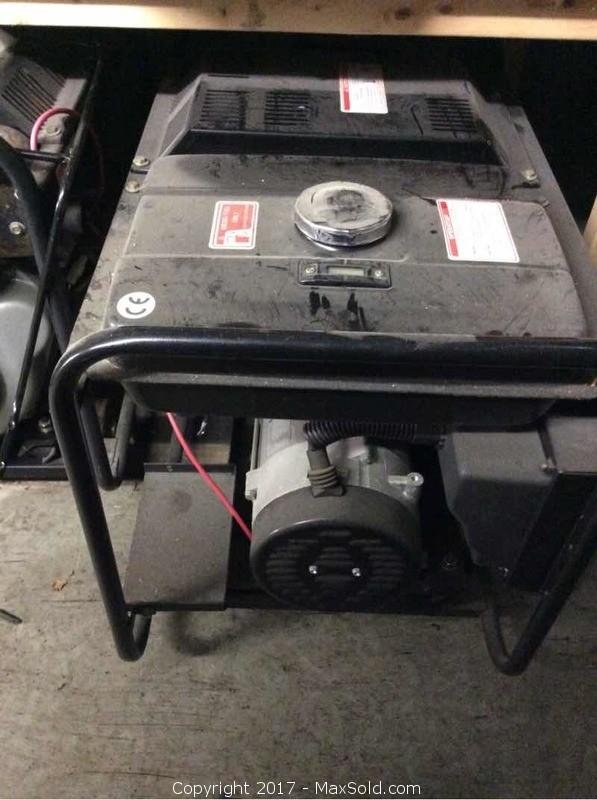 Never used. New. Has been sitting. Unknown Condition. Has wheels to be installed.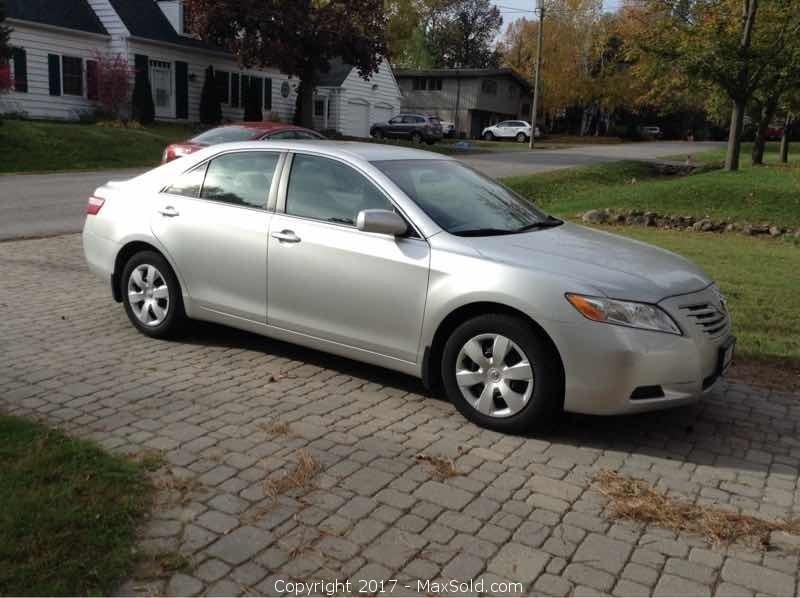 One Owner 2009 Toyota Camry, 31461 kms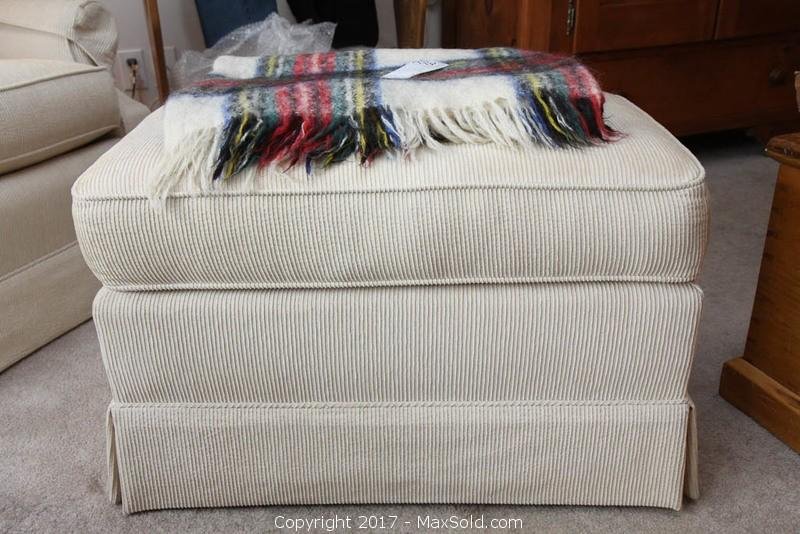 Ottoman matches chair in Lot 687, and appears to be in good condition, on castors, 30X19X18. Wool and mohair throw made in Nova Scotia. Dog friendly home.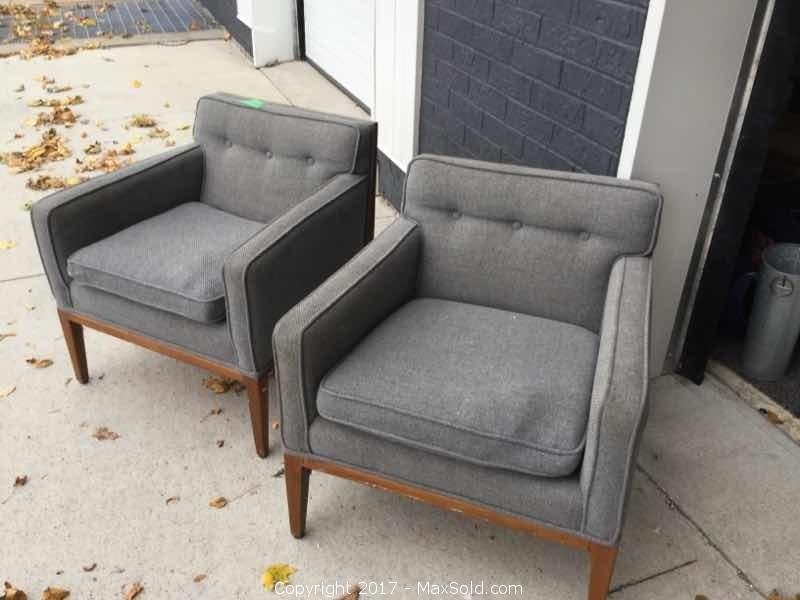 Pair of upholstered chairs with caning at the back. Width 28 inches. Note white marks on wooden frame.

Persian Rug
Sold on MaxSold for $510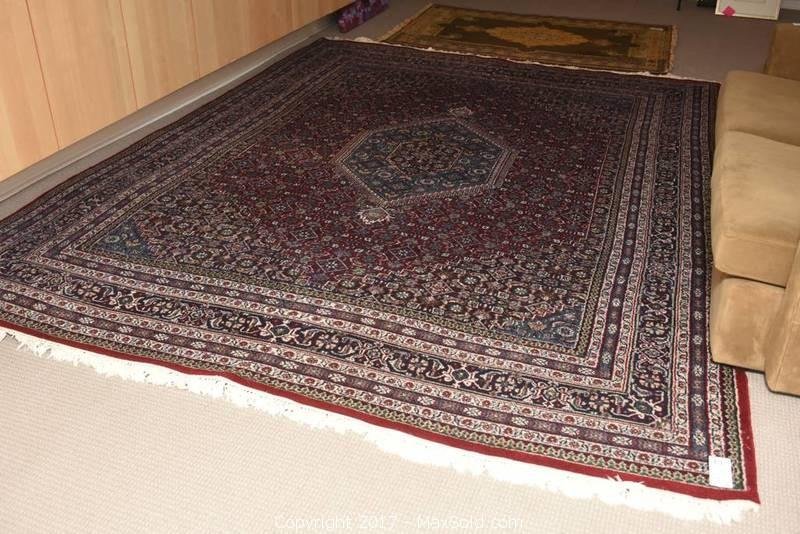 Persian 12X9, wool rug with fringe. Recently cleaned by Turco Persian. Very light wear.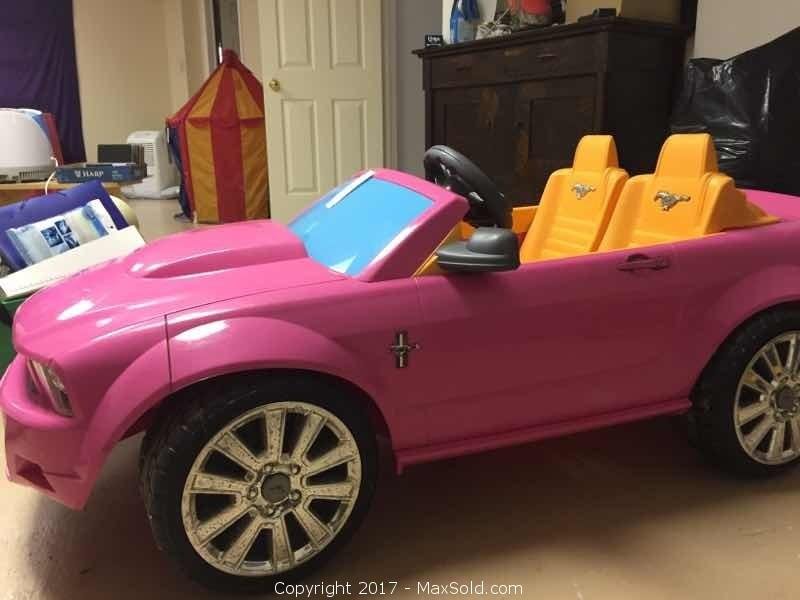 Pink Mustang with battery and charger. Untested recently. Radio in car plays on battery. Gently used, Single owner, low mileage.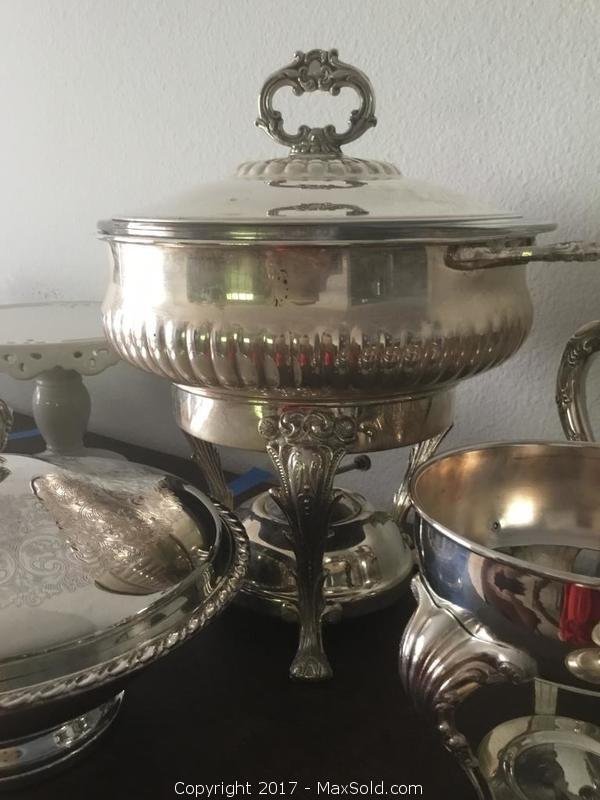 Plate water pitcher, food warmers, covered chafing dish and marble candlesticks.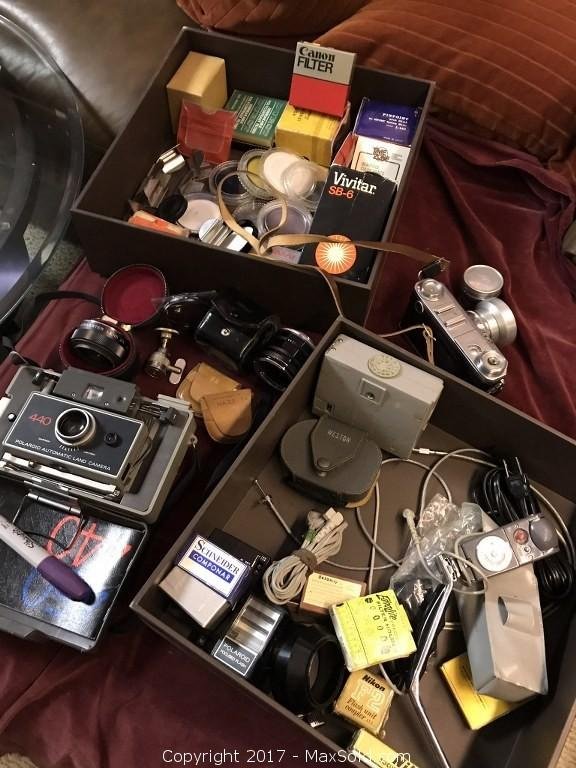 Polaroid Land Camera, Contax camera. Film, lenses, slide & audio etc equipment. Too much too list! Must see pictures!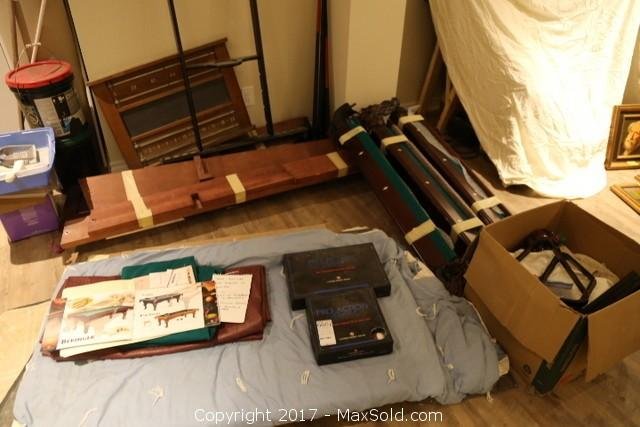 Pool Table includes: 1 inch Bella Slate, 6 inch wide Profile Rails, Mother of Pearl Diamond Sights, Top Grade Leather Pockets, Deluxe dark mahogany Stain Finish. 4 x 8 playing surface overall dimensions larger. Seller states there's some scratches and gouges on wood rail. Also Includes: Limited Edition Series Pool Ball Set, Snooker Ball Set, Wall Hanging Scoreboard and Pool Table Cover. Already disassembled. Heavy item! Please bring extra help.

Moorcroft
Sold on MaxSold for $151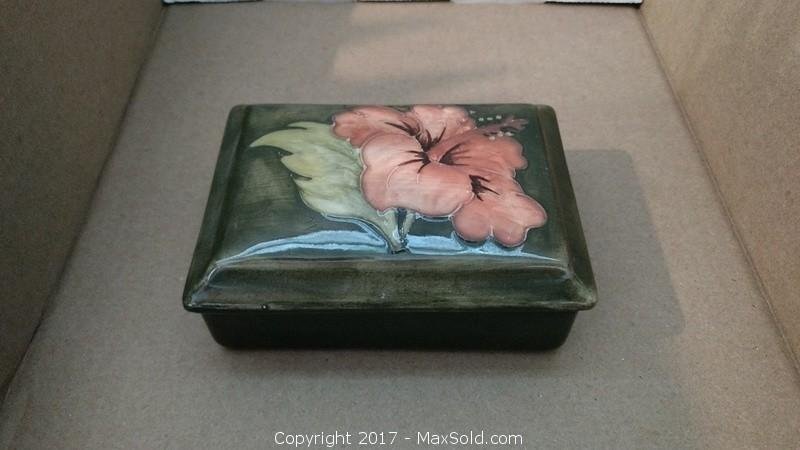 Rectangular Lidded dish 5X4X2.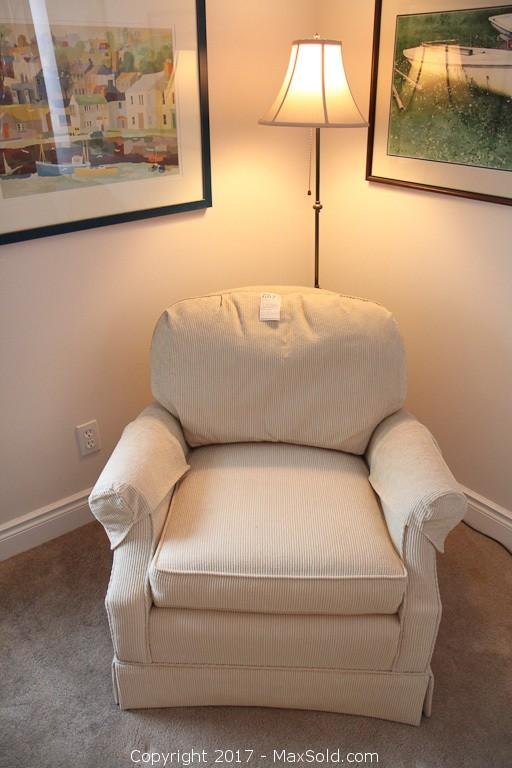 Ribbed cream fabric chair is 32X34X30. No stains or tears noted. Note: Dog friendly home. Lamp with patterned metal base is 58 inches to top of shade.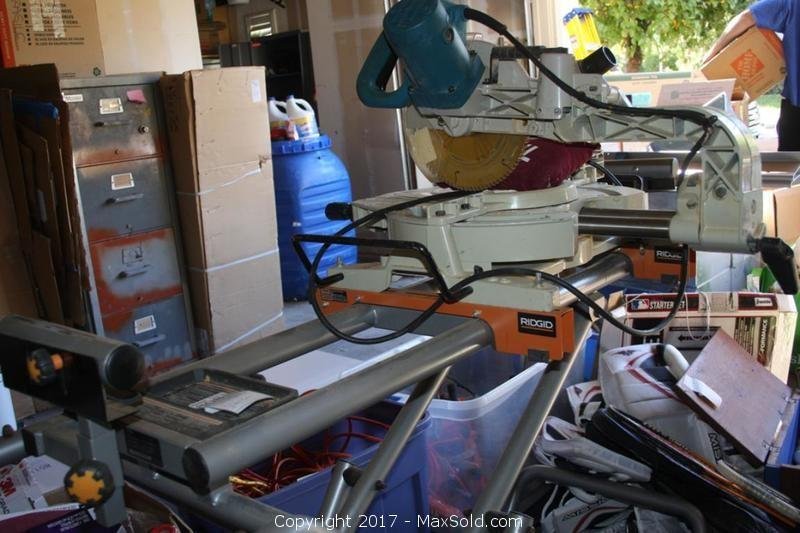 Ridged table, with Makita compound mitre saw. MS-UV model.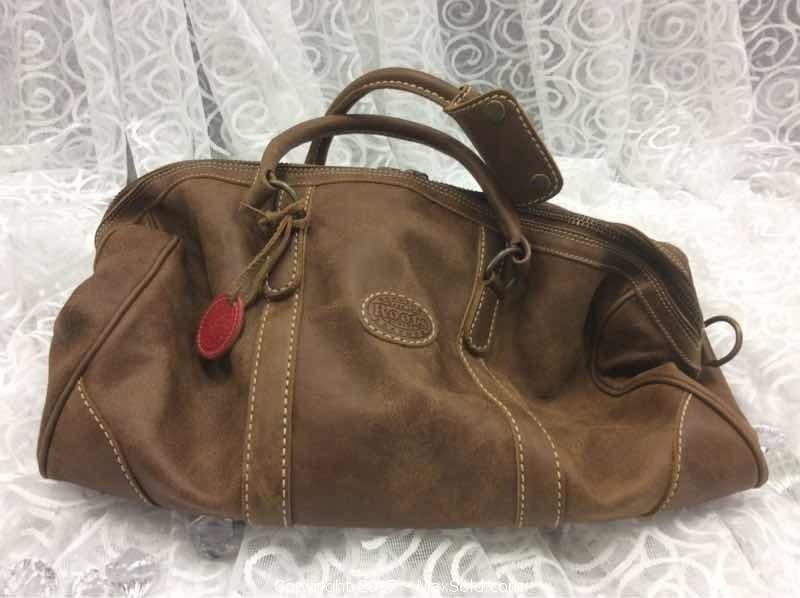 Roots Leather Banff Bag , Colour Africa; www.roots.com; Donor: Roots Canada; Value: $428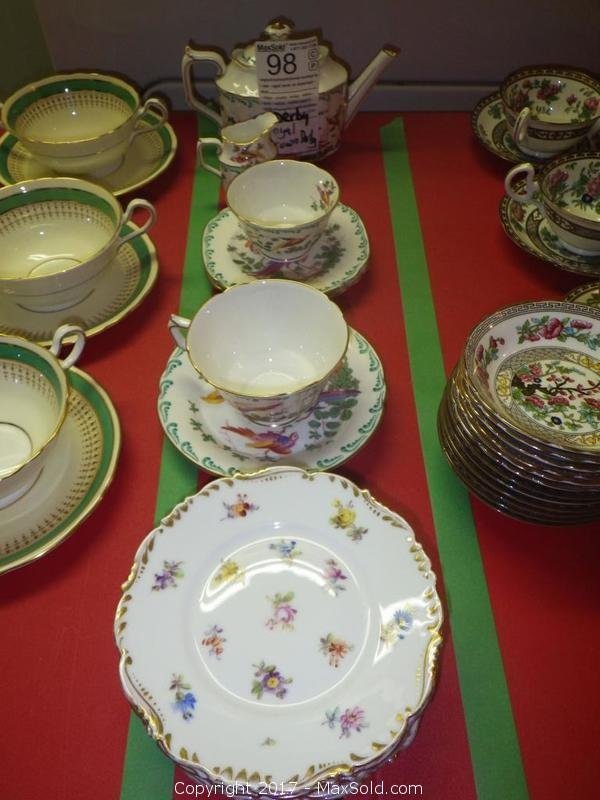 Royal Crown Derby tea set. Included are six Dresden dessert plates. May not be from the same year.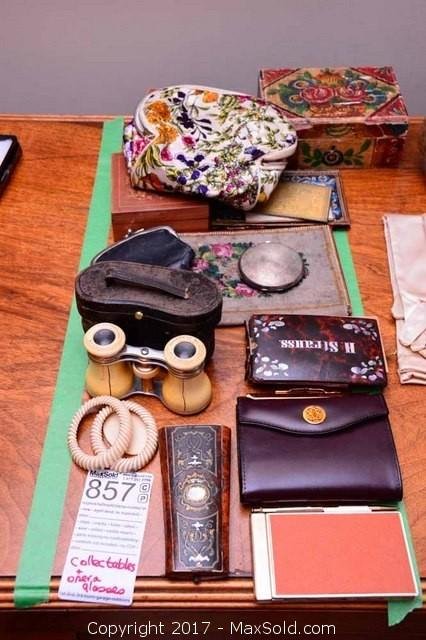 Selection of boxes, wallets, antique inlaid burled maple sewing kit. Vintage evening purses and opera glasses. Damage on exterior of glasses, with case and more.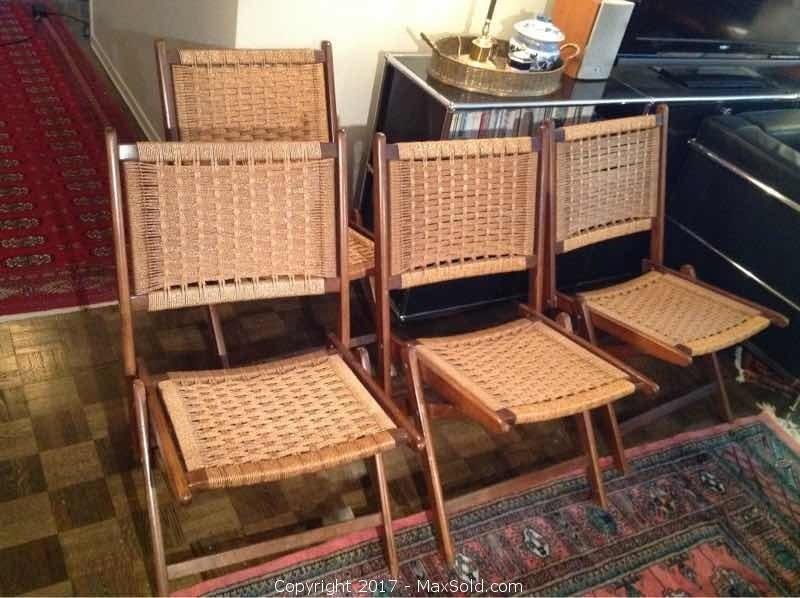 Set of four wood chairs with woven seats and back. Excellent condition with some minor scratches on the wood. 19.5X30X22.5. 3'x6" when folded. Marked Yugoslavia.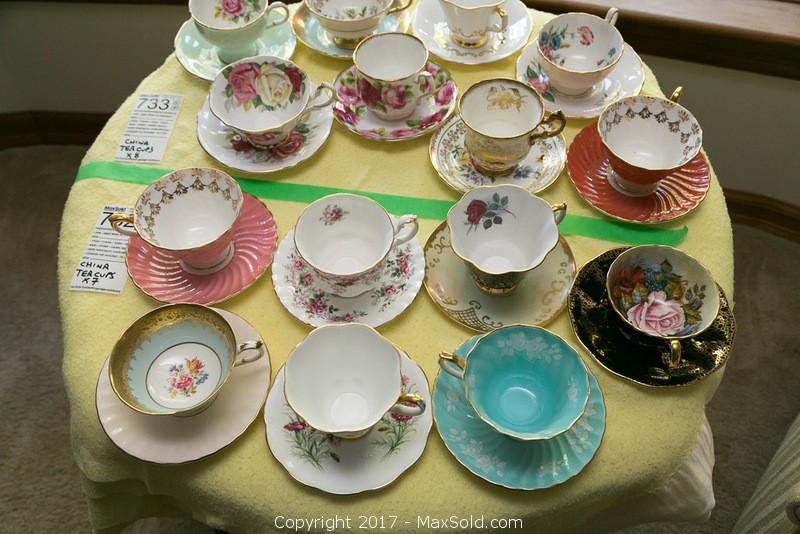 Seven fine bone china teacups and saucers. Includes Paragon, Aynsley, Royal Albert. NOTE There is one mismatch of cup/saucer which will be corrected before pick up, See notes in photos.In case of any other sets not matching, that CUPS will stay in existing lot and saucers may be moved as needed to match between lots 0732 and 0733, when available.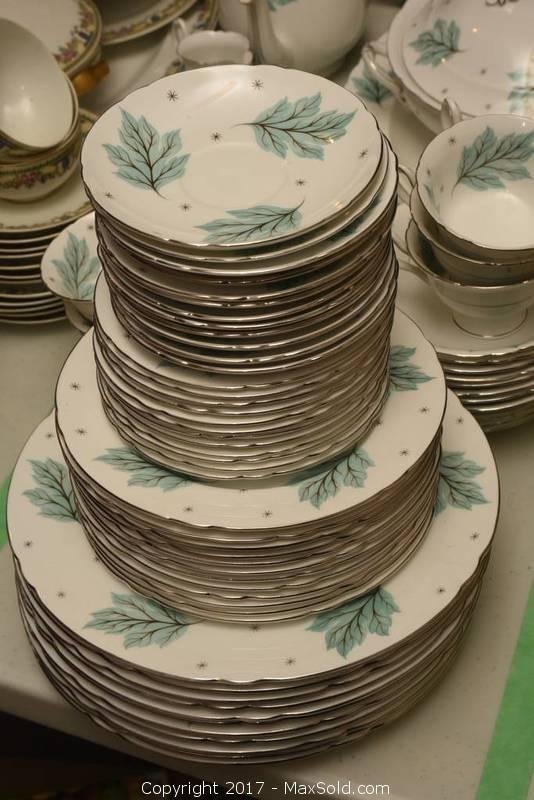 Shelley England bone china set, "Drifting Leaves"? pattern, eleven dinner plates, twelve salad plates, twelve side plates, eight fruit nappies, twelve saucers and eleven cups. Matches lots 23,24.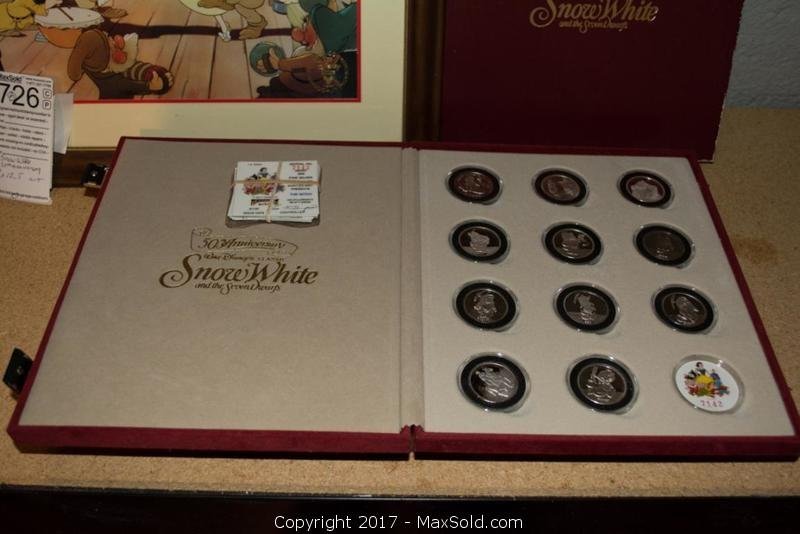 Silver Coins commemorating Walt Disney's 50th Anniversary, all in an album for display. Also included is a Snow White picture, 9X12.5.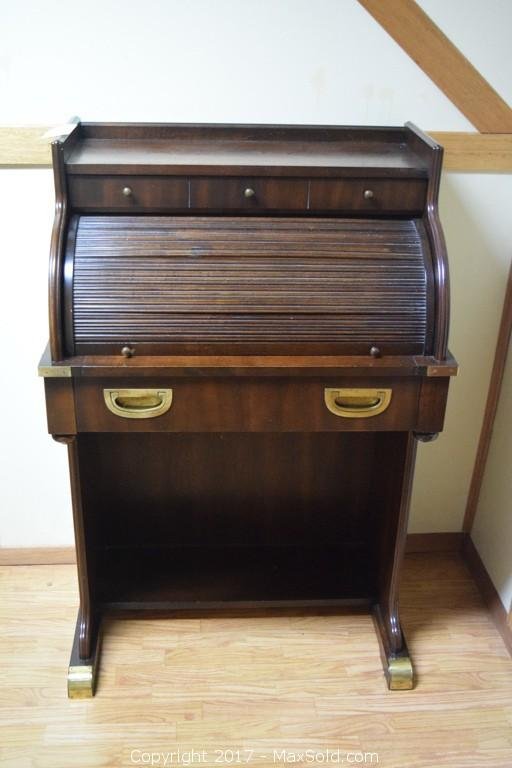 Smaller roll top desk with brass accents and 2 drawers 27X17X42. Minor wear.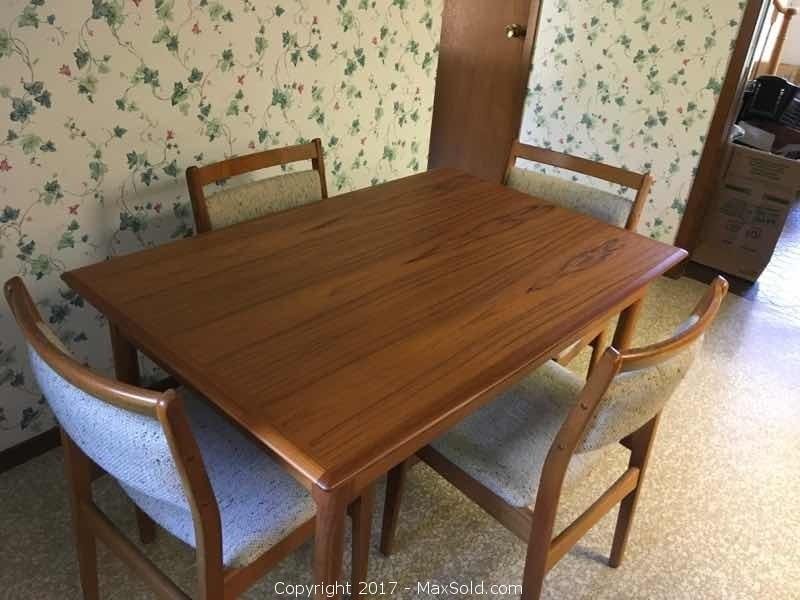 Teak dining table with original finish in excellent condition-note very minor indent near edge- with 2 pull out extensions 48"l x 32" w not including extensions. Extensions measure 17"each, overall length can be 7'. Minor colour variance with extensions that were rarely used. Lot includes 4 matching chairs all in very good, sturdy condition. 2 persons to move, legs unbolt, bring tools.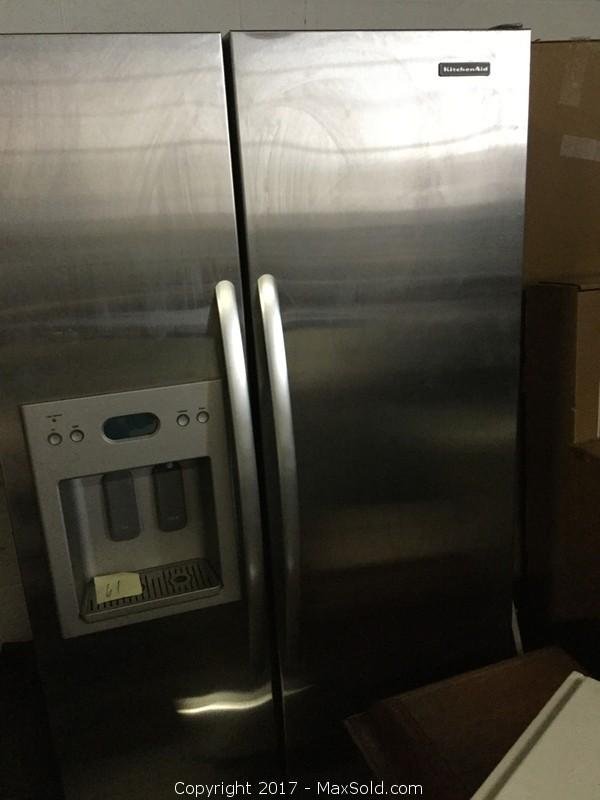 Tested working, lights working, all screens working, Model kitchen aid kscs25fvms03 , Depth 27 x Width 35 X H 70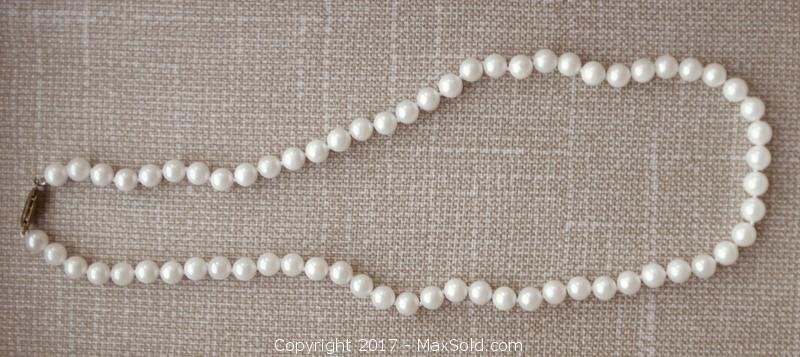 This classic and elegant necklace, is designed as a 17 strand of uniform 6 mm genuine white Akoya cultured pearls ending with a gold filled clasp. Good luster, no wear and very slight imperfections.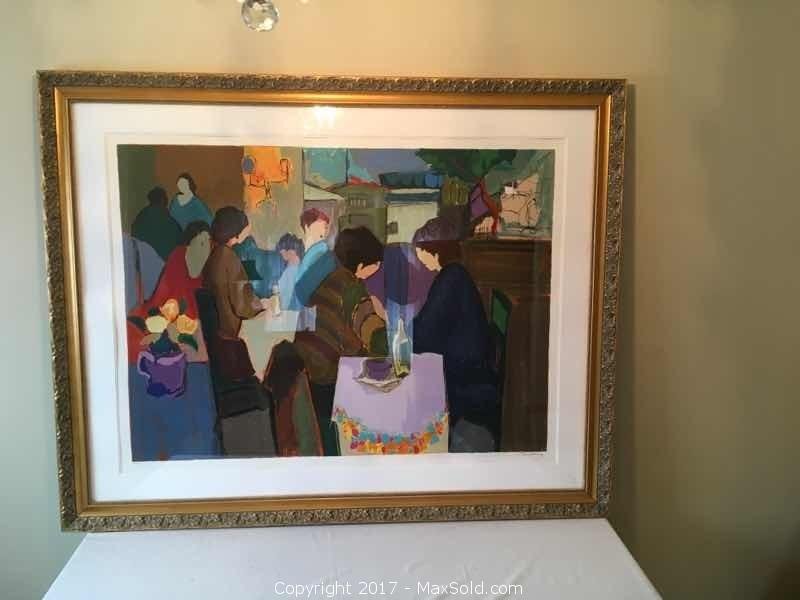 This is a very large signed and numbered serigraph by listed artist Itzchak Tarkay and titled Quiet Afternoon. The framed piece measures about 57.5X46 inches. The artwork is in good condition but there is wear and minor damage to the frame and scratches to the Plexiglass.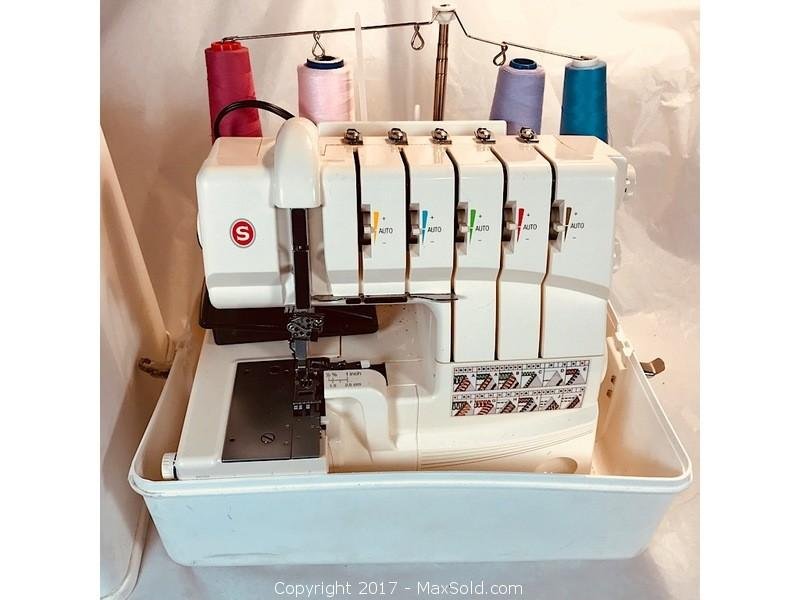 This was $500.00 when purchased new and was barely used, there is lots more brand new unused sealed thread and other accessory bits for it not pictured but included. Check it out online, Singer 14T968DC.

Crocks
Sold on MaxSold for $105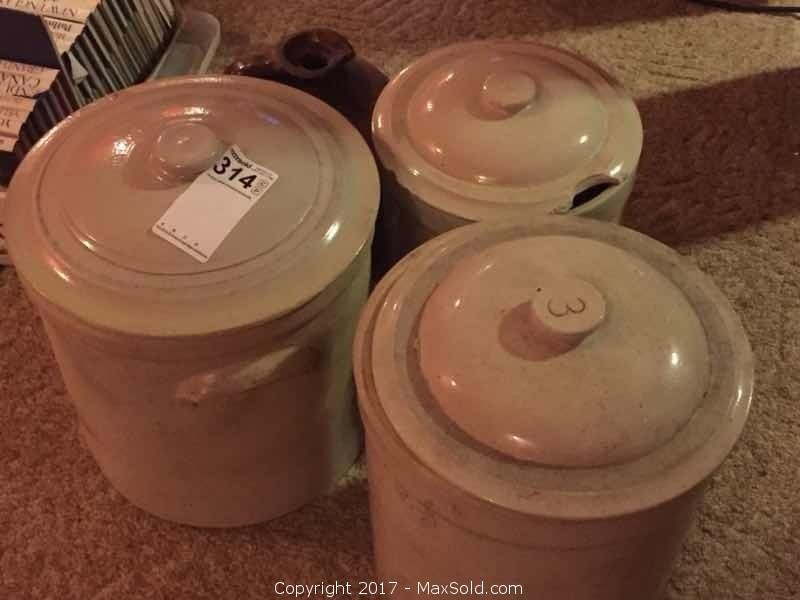 Three crock pots with lid note one has chip. Stamped 4, 3, 2. and jug.

Elvis Dolls
Sold on MaxSold for $88.69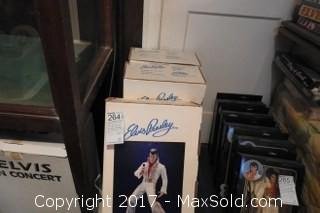 Three Elvis dolls from the World Doll Celebrity Collection. Three different outfits represented. An Elvis in Concert doll and an Elvis doll from The Bradbury Mint. COAs included.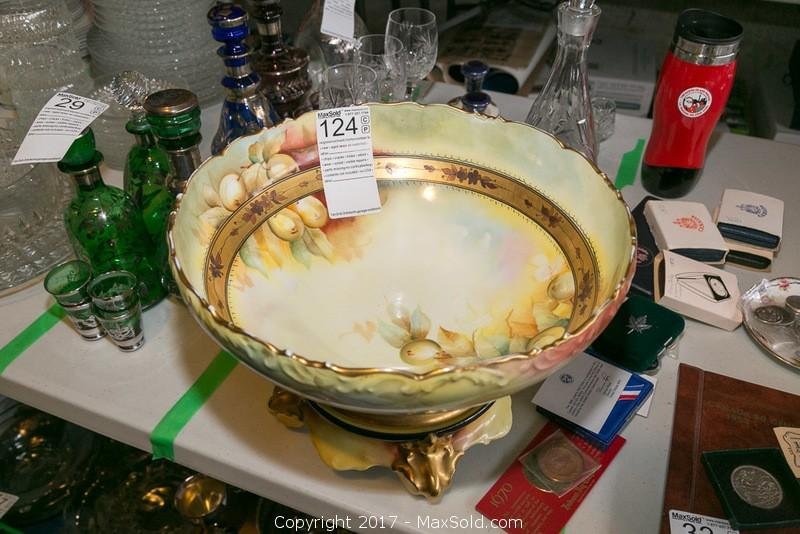 Tressemann & Vogt hand painted Limoges 13"X9" large bowl on matching stand. Gold trim. Hand painted by E.W. Donath. Some Wear on gold trim edge.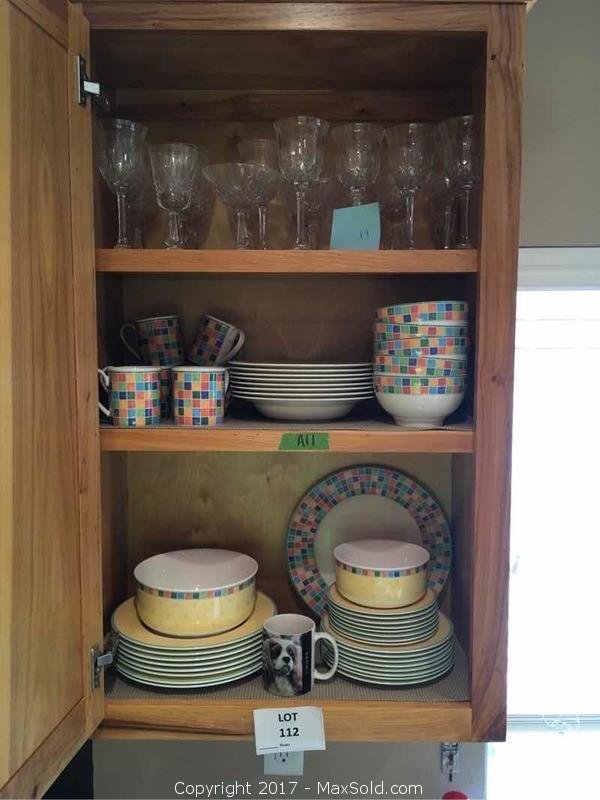 Twist Alea Limone 8 place setting dishes w platter and 2 Serving bowls. 19 pieces of stemware.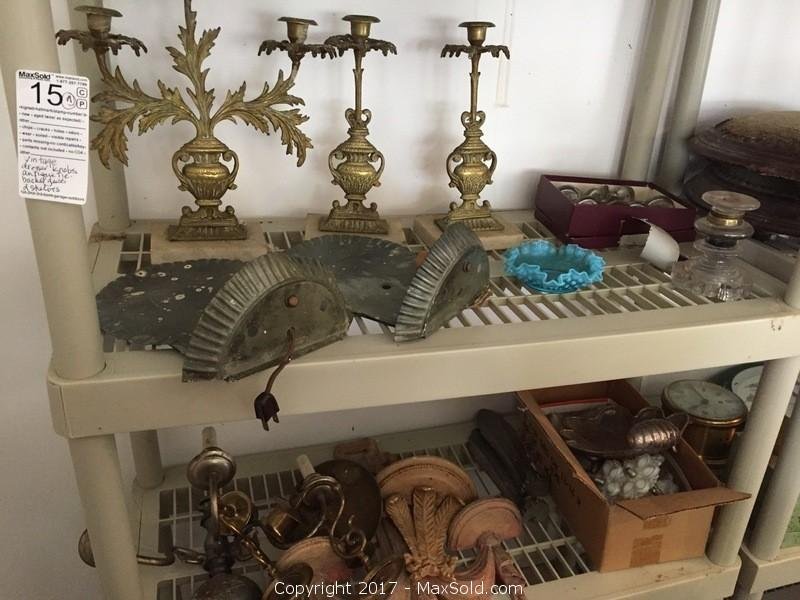 Two antique brass candle Sconces. Two antique tin electric sconces, two antique metal wall shelves, box of glass doorknobs, two antique single candle stands, one antique dual candle stand and more.

Two Urns
Sold on MaxSold for $210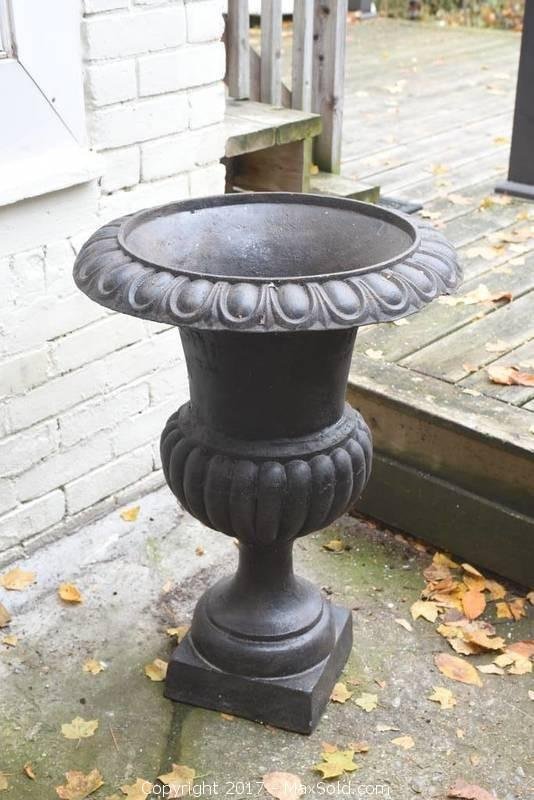 Two heavy metal urns, 22X30, heavy. One in backyard, matching urn in front.

Violin
Sold on MaxSold for $261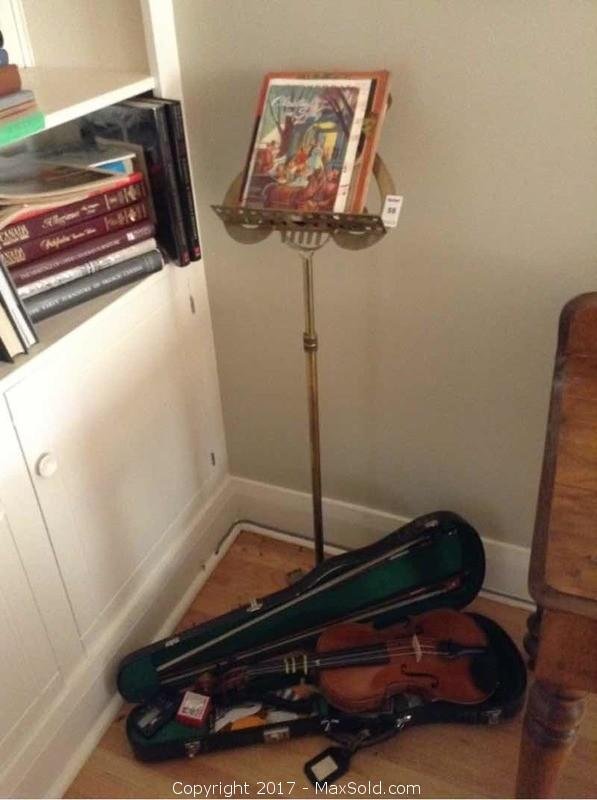 Unsigned violin with 2 bows in violin case, Korg tuner, brass music stand and music Christmas music. Note: violin untested, wear.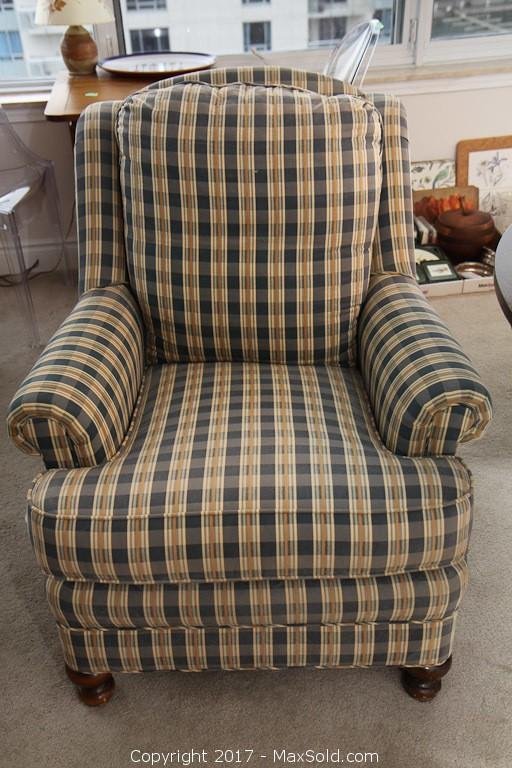 Upholstered chair, 32X38X37, separate cushions, no damage, no rips and tears, heavy, dog friendly home.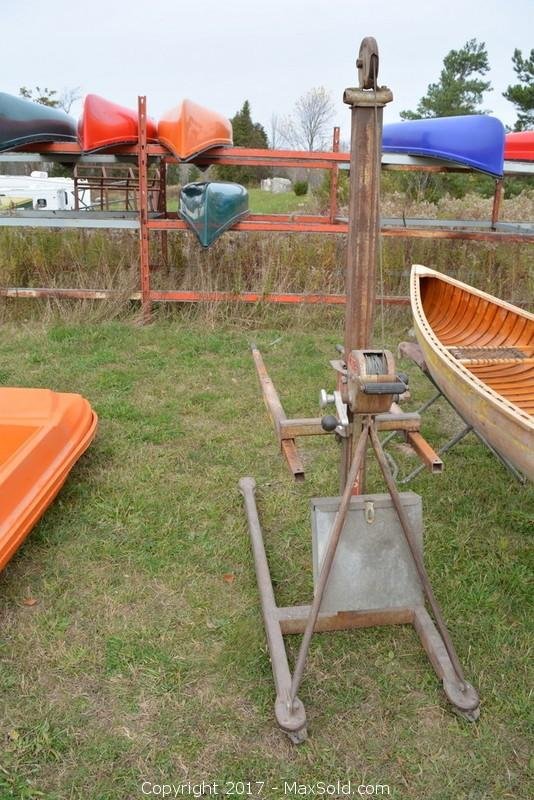 Vermette Machine Company Inc model 520 lift. Center load up to 500 pounds. On metal caster wheels. Crank handle to lift. Bring extra help and appropriate truck to remove.

Vitrine
Sold on MaxSold for $300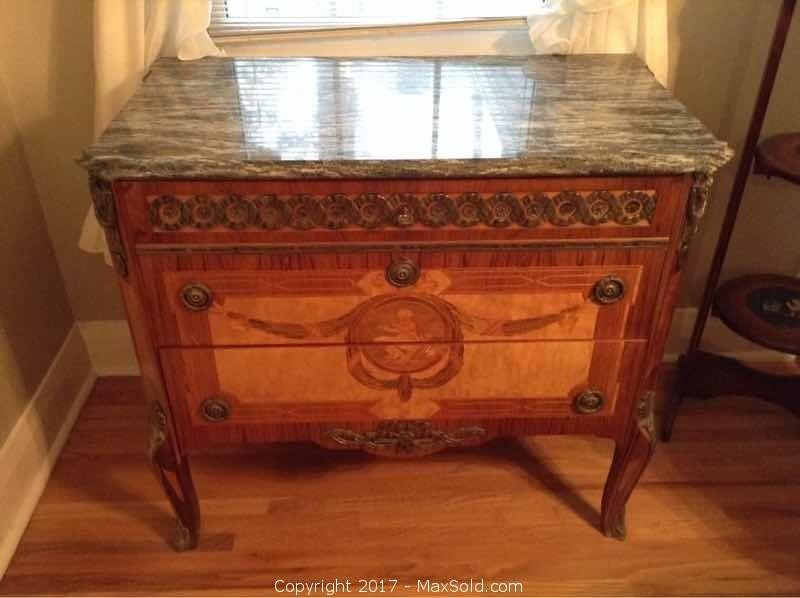 Very ornate, marble top, inlay (including a cherub), brass accents, key, 37x21x33.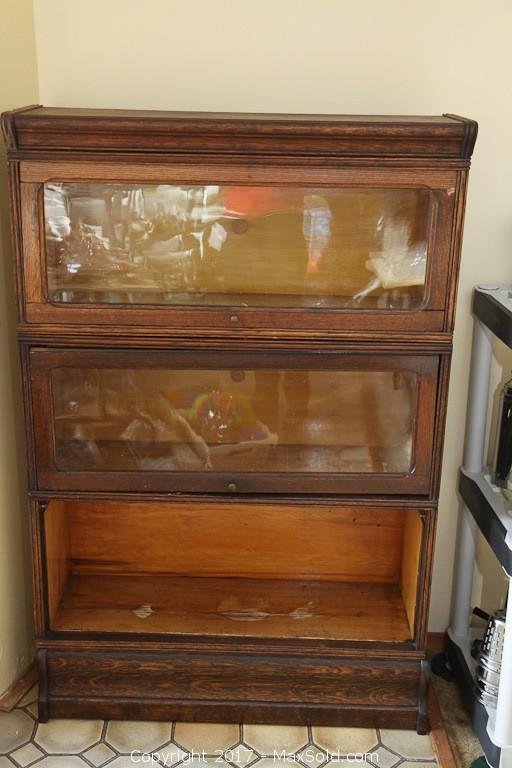 Vintage bookcases, 34X11X52, 3 boxes, one missing glass and one with loose glass front.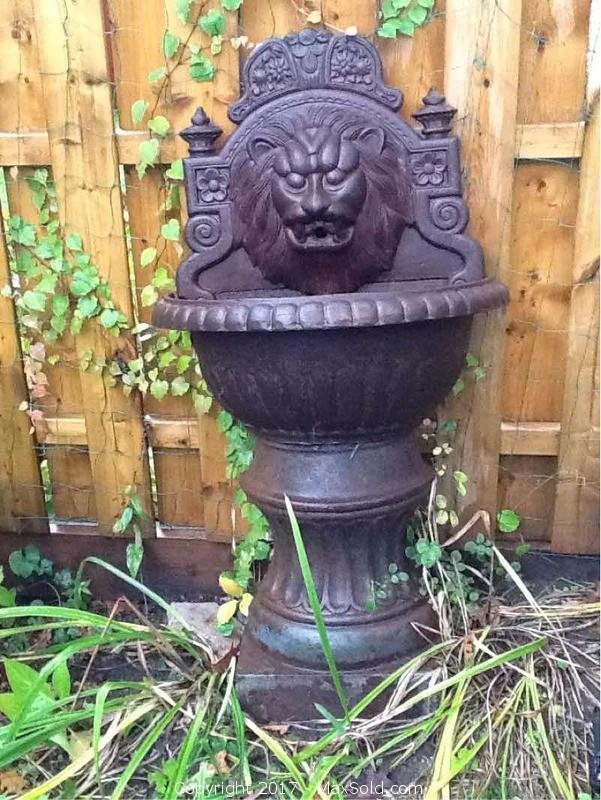 Vintage cast iron garden fountain. Please note the fountain needs a pump. The water would pump through the lions mouth. There is a clear hose to use with a pump. This weighs at least 200lbs maybe more, and is large. You would need a truck or a wagon to remove it. Actual measurements are 53X29.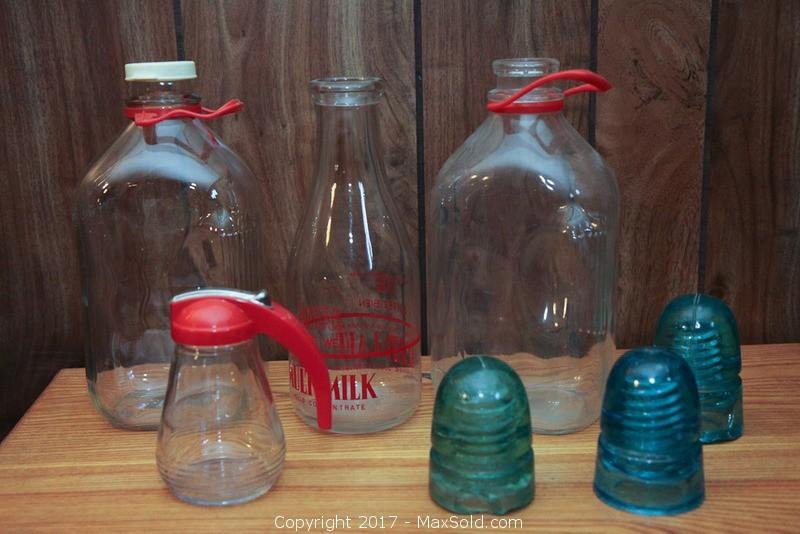 Vintage dairy bottles, one with Roblin Dairy lid. Includes 3 glass insulators with chips and a syrup dispenser.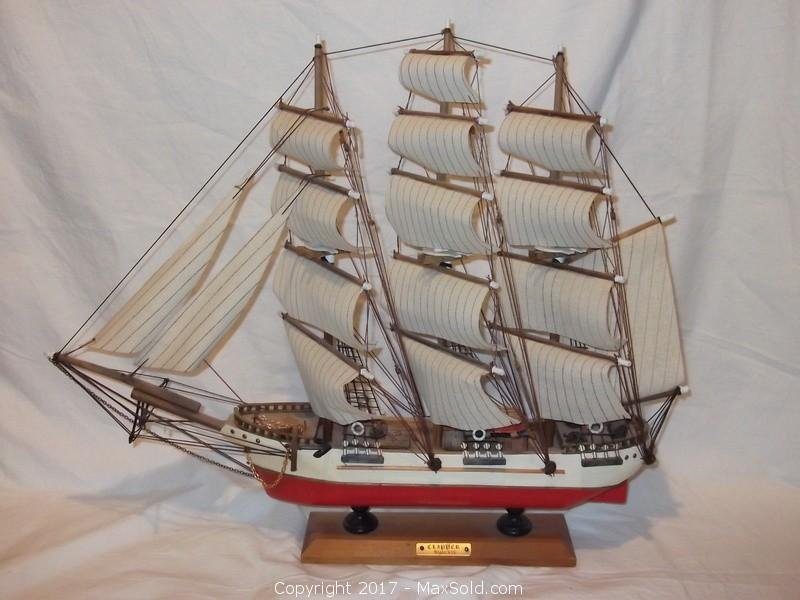 Vintage hand-made ship model. 19"H x 23"L.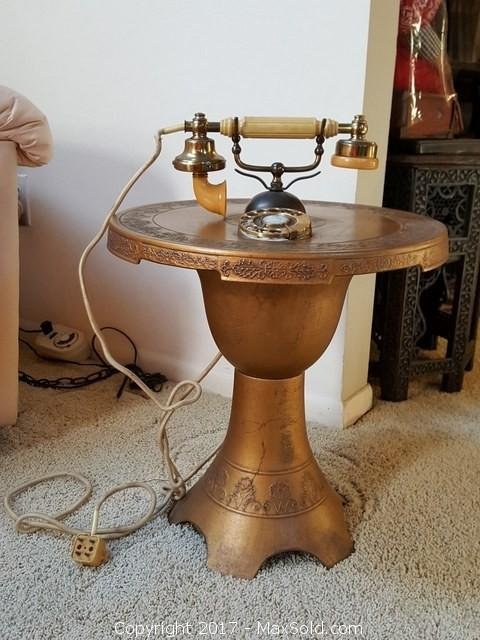 Vintage phone set into metal table. Bakelite and brass receiver. Rotary dial. Older four-prong plug, would need to be changed out to use. Untested. Good condition. 16X16X22.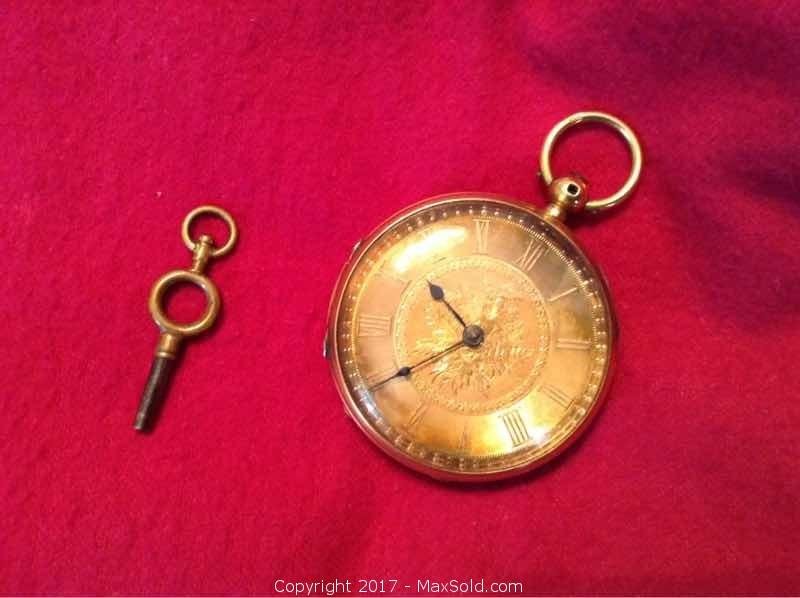 Watch is an open face pocket watch made from 18 kt yellow gold. The gold dial has Roman numerals and floral design centre and blue hands. The case and movement number are 15901. The watch has a key would fuse maintaining power movement and is stamped Ann Smith Huddersfield Milnes bridge does not appear to be running. Weights approx 44. 0 grams and is stamped JE 18 with hallmarks. Fair market value appraisal $900.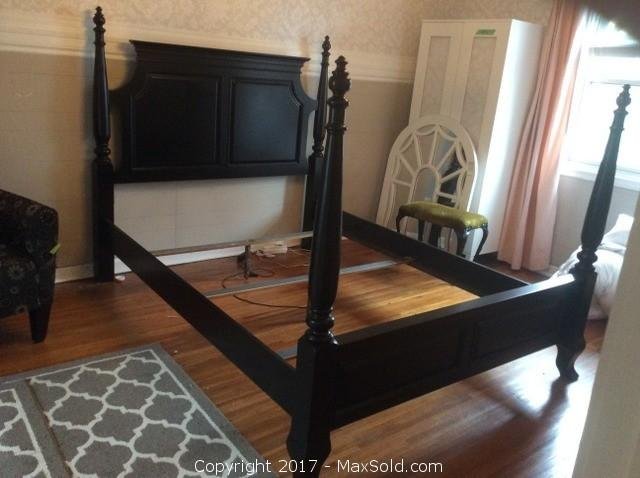 Wood bed. Headboard 66X63. Footboard 67.5X56.5.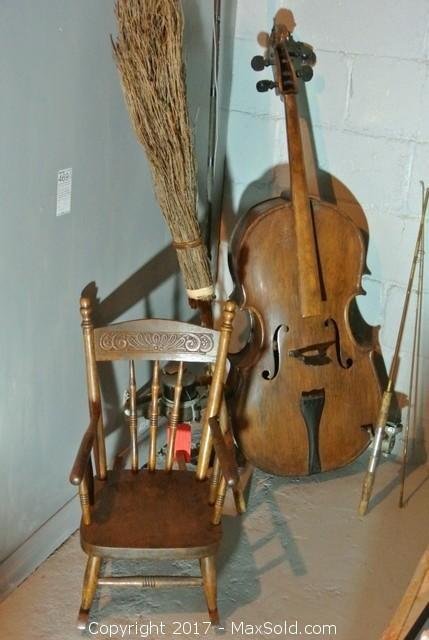 Wood cello, 18X7X52. Missing strings and foot rest, chipped and scratches. Wood rocking chair 14X24X26.5. Fishing rod. Broom.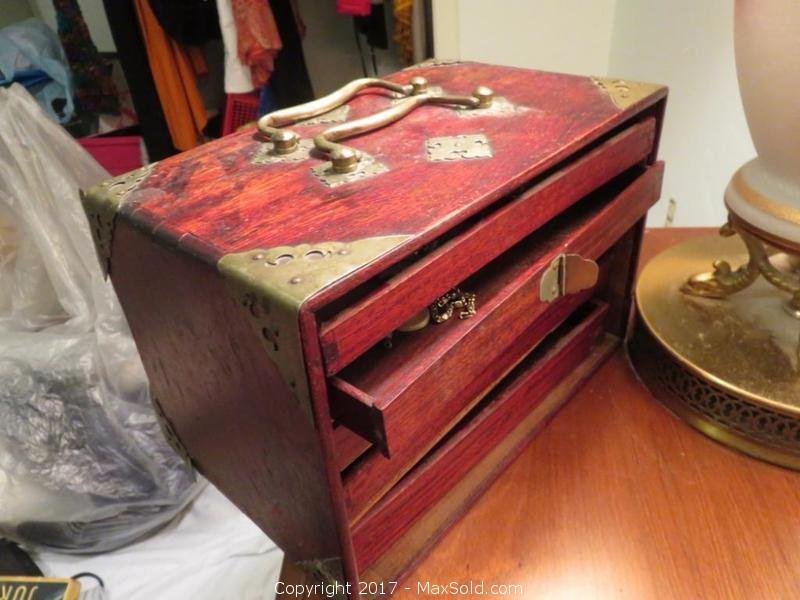 Wood vintage jewelry box. Some damage to drawers. Mixed lot of bracelets earrings and more sold as is.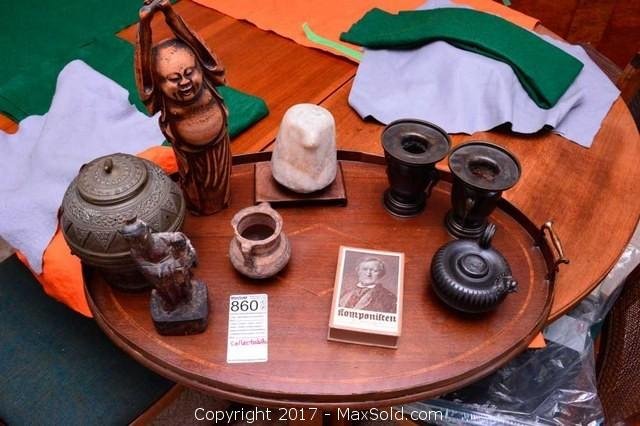 Wooden tray with collectables.