It never ceases to amaze us how many treasures we are able to sell for people going through an Estate Sale or a Downsize.  
400+ auctions in April opened by MaxSold for our downsizing and estate clients helps us identify trends in the Downsizing and Estate sales space in North America.
Early Chinese items are not to be missed, also trending this month are Art Nouveau and Art Deco, Teak, even early Perfume Bottles. A few of the trending items are in the list below.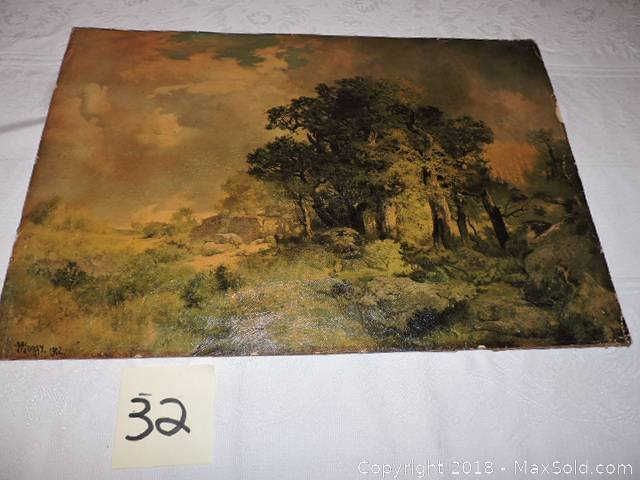 Landscape Scene Painting Unframed Signed Moran Dated 1902 Aged Condition 22"" W x 15"" H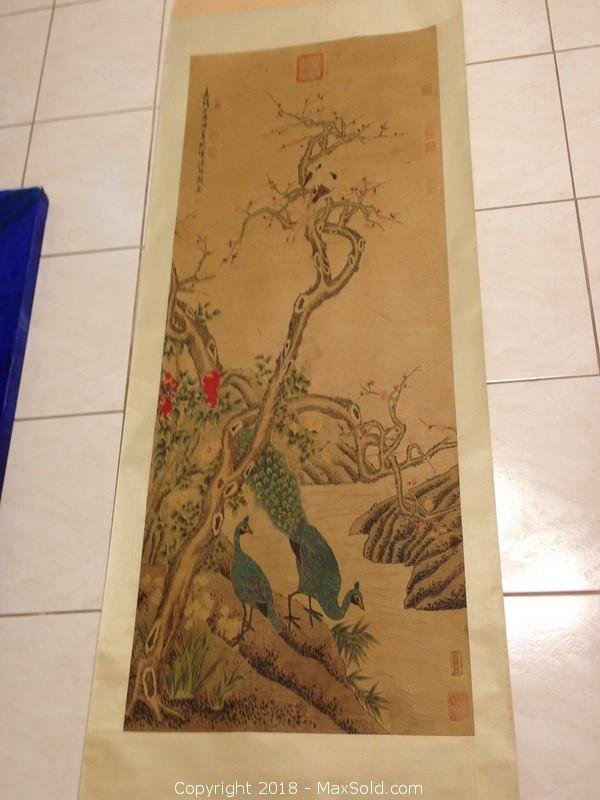 Long size scroll.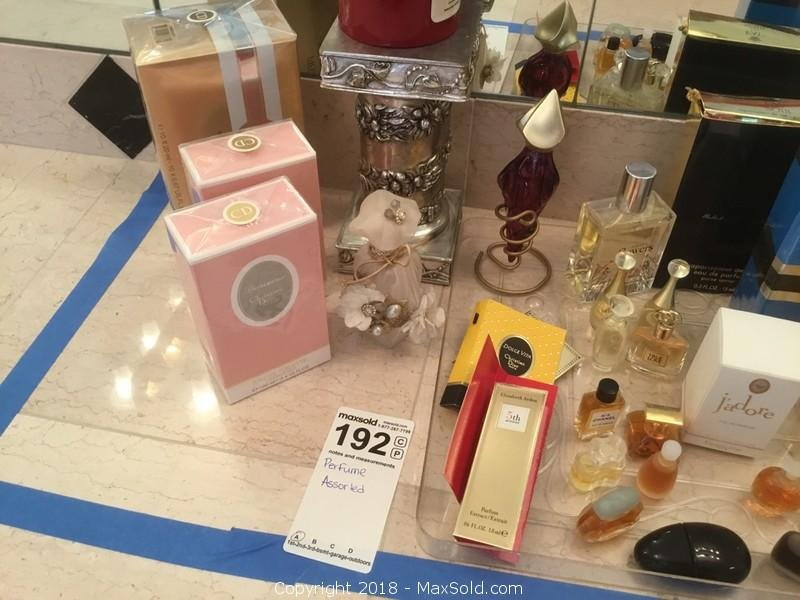 Christian Dior, J Adore, Shalimar, Guerlain, and more perfumes. Some in boxes. Some are sample bottles. NOTE: "scent may be diminished."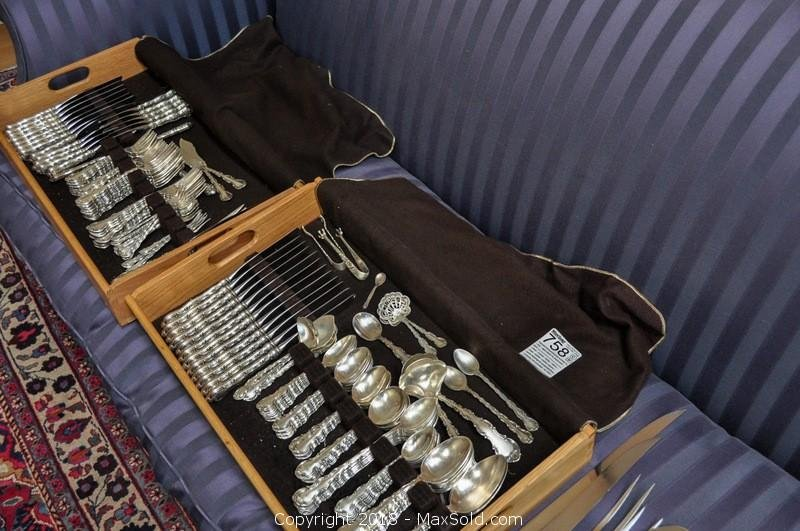 Gorham Sterling Silver Strasbourg pattern, setting for 12. Setting includes 19 dinner knives, 12 butter knives, 2 butter servers, 11 large dinner forks, 12 medium dinner forks, 20 salad forks, 12 large oval spoons, 12 grapefruit spoons, 24 tea spoons, 2 sugar spoons, 2 serving forks, 1 large serving spatula, and more.
Silk Carpet
Sold on MaxSold for $3101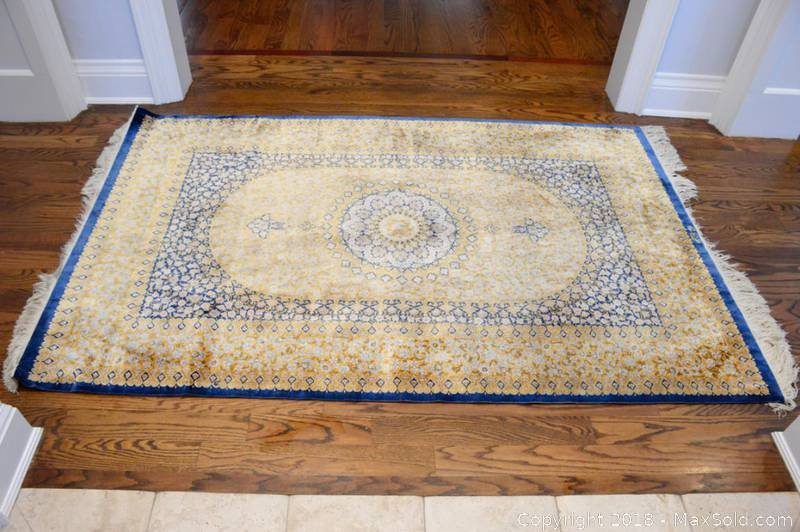 Silk highest quality Nain hand made carpet. Signed by carpet maker. Blue and gold coloured. 82X53. Has protective leather strips on back. Note shorter fringe strings in the center.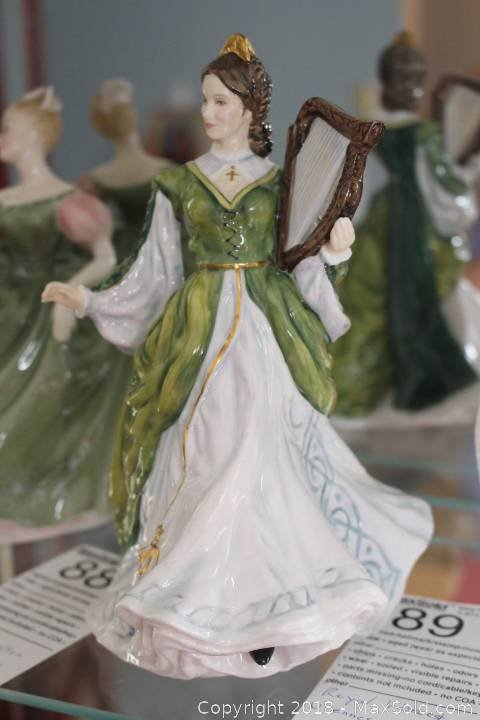 Royal Doulton figure, 8 tall. Ladies of the British Isles. Ireland. HN3628.


Gold Bar
Sold on MaxSold for $1060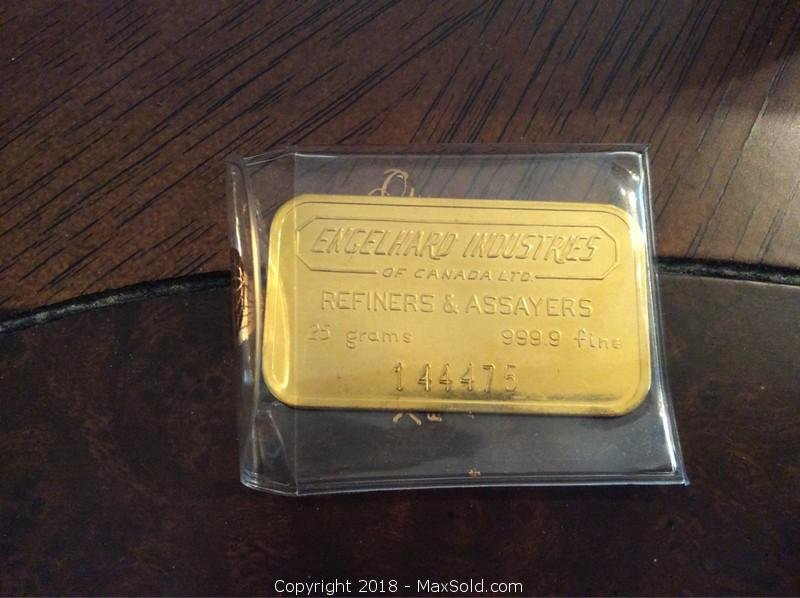 Says Engelhard Industries Of Canada Ltd. refiners And Assayers 25 grams, 999.9 fine. 144475.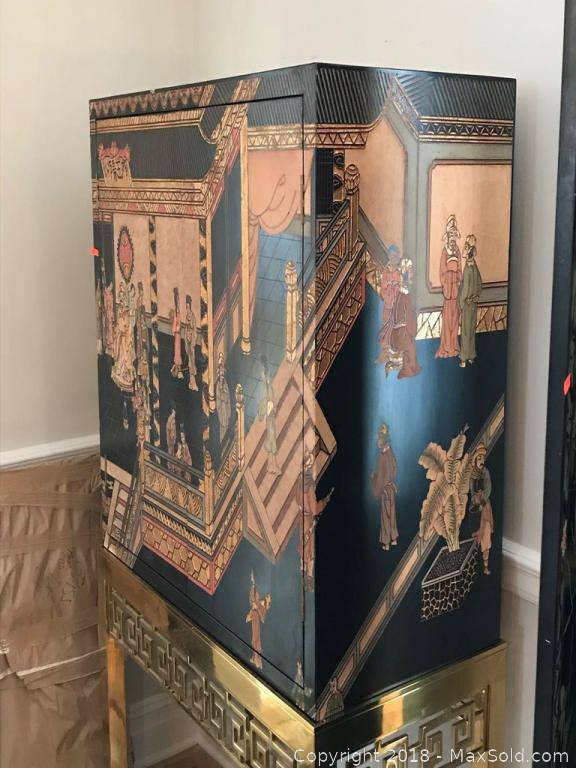 Large hand painted Asian Chest. Glass shelves included. 39X20X67. Large and heavy, bring help.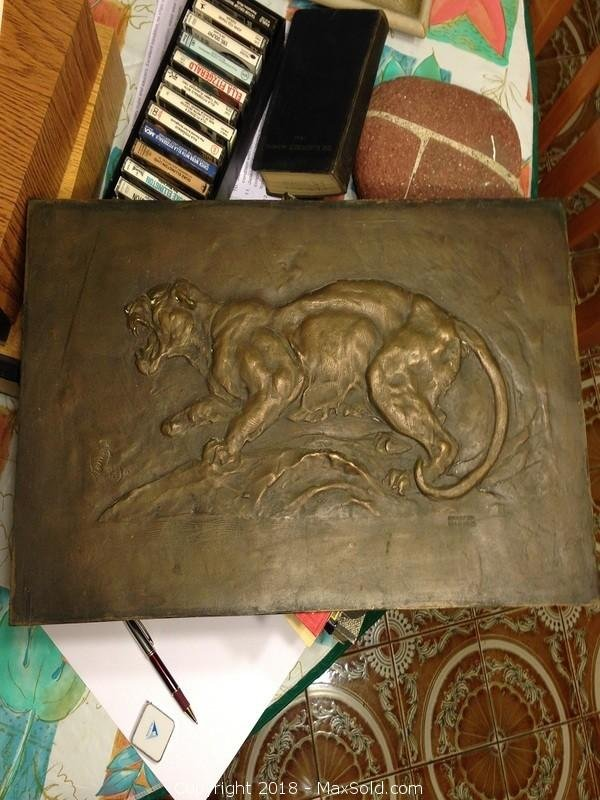 Edward Kemeys (January 31, 1843 ?__ May 11, 1907) was an American sculptor and considered America's first animalier. He is best known for his sculptures of animals, particularly the two bronze lions that mark the entrance to the Art Institute of Chicago Building in Chicago Illinois. Kemeys was also a Captain in the 4th United States Colored Heavy Artillery, Company H, writer, lecturer, and adventurer in the Western United States. AUTHENTIC BRONZE SCULPTURE weighing in at a heavy 10.4 KILOS. Signed and dated 1894. Copyright Winslow Bros.-Co. No damage. Measures approx.. 23 1/2 inches wide and 13 1/2 inches high and 3/16 inches thick.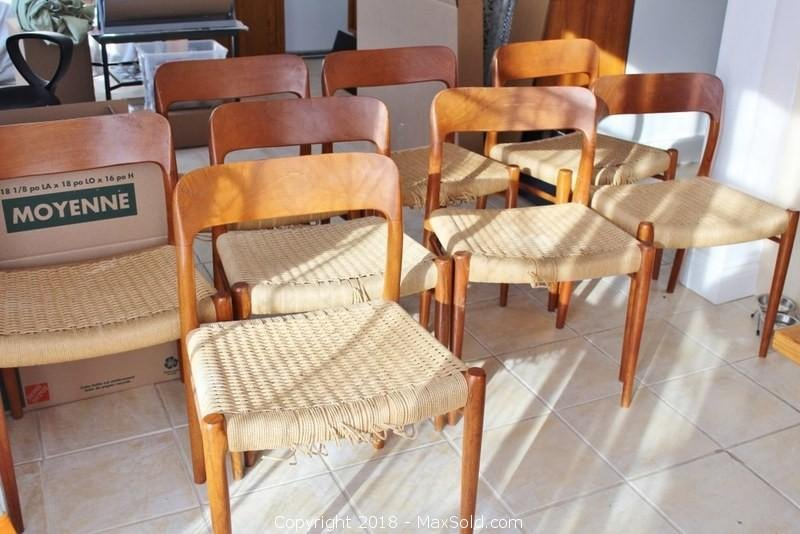 Eight MCM teak chairs, with woven seats, 18.5X17X18 five out of the eight chairs have frayed seats. Scratches on finish, normal wear as per age of chairs.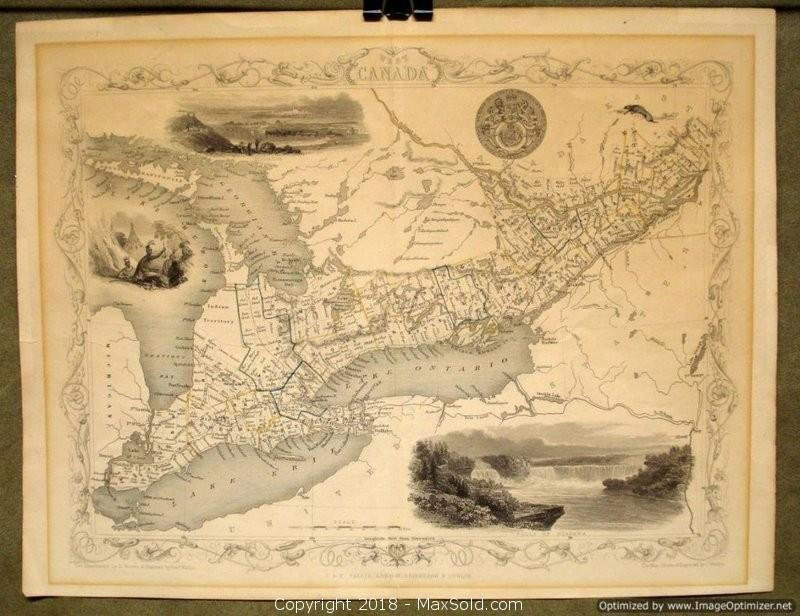 Published by Tallis, circa. 1860. 11" x 14". County outlines hand coloured. Three etched vignettes. Border tanning from previous matting. Some small repaired tears at edges.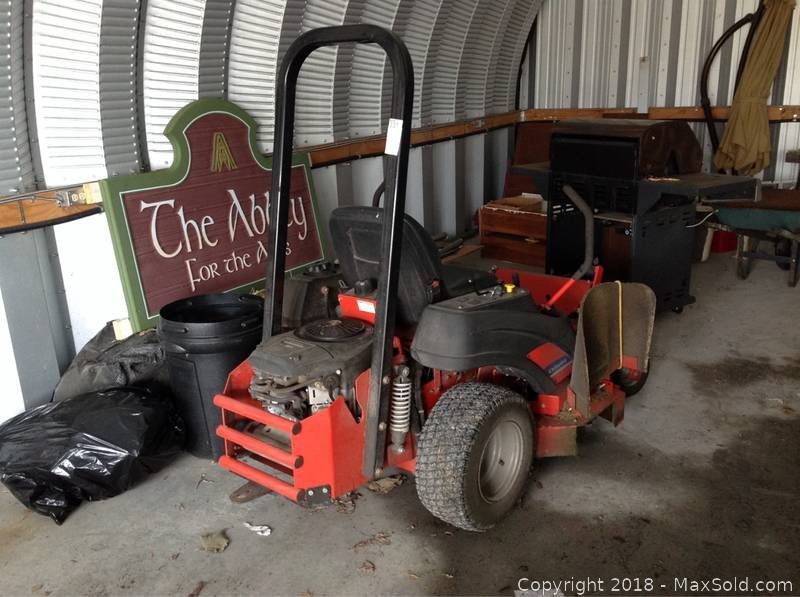 Briggs and Stratton professional series engine. 724 CCs, 26.0 Gross HP. In working order as per seller. Attachments for the machine available in other lots.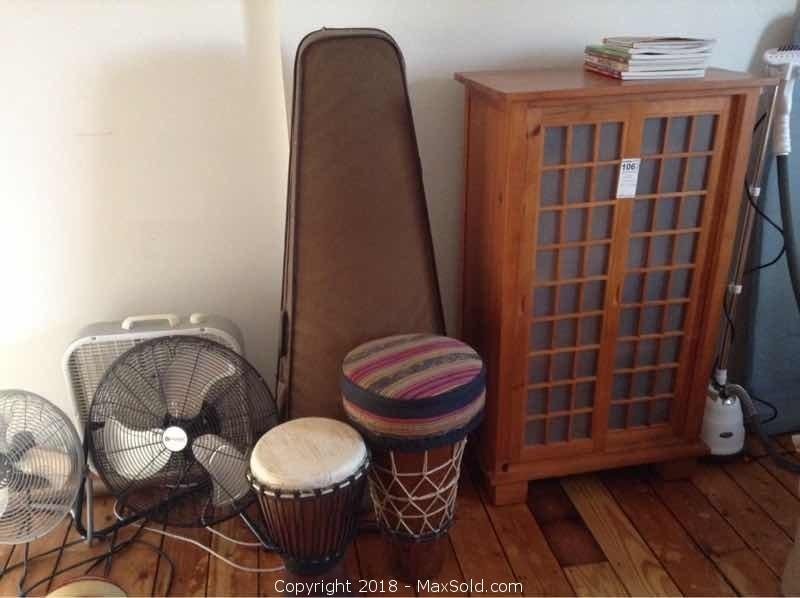 1 Hard cello case with canvas cover, custom made cello with a solid back. Internal sound stick needs to be re-glued. and 2 handmade djembe and slat drum.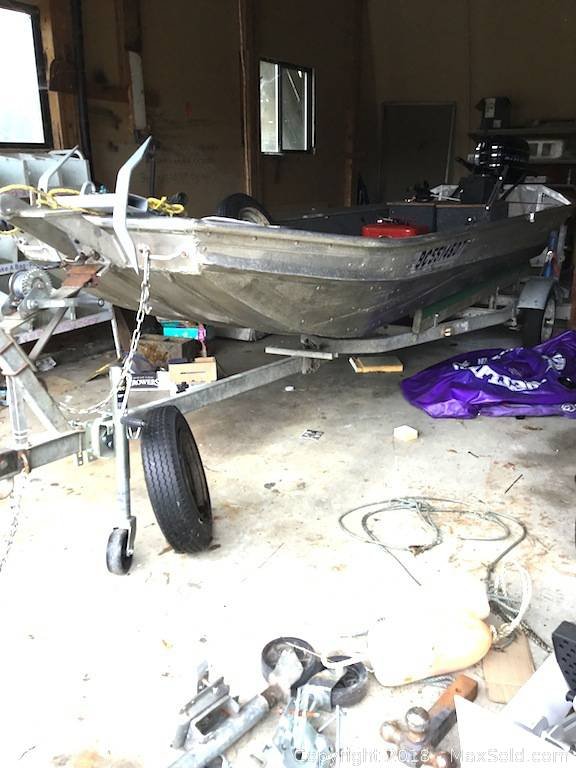 15 foot fisher marine flat bottom boat registration number BC5514507 with road runner trailer registration number 000818. Includes Mercury 402 40 HP motor with jet motor attached. Untested, includes batteries, fish finder, anchor, water toys and more. Lock for ball joint needs to be cut off of trailer. Boat stored in garage.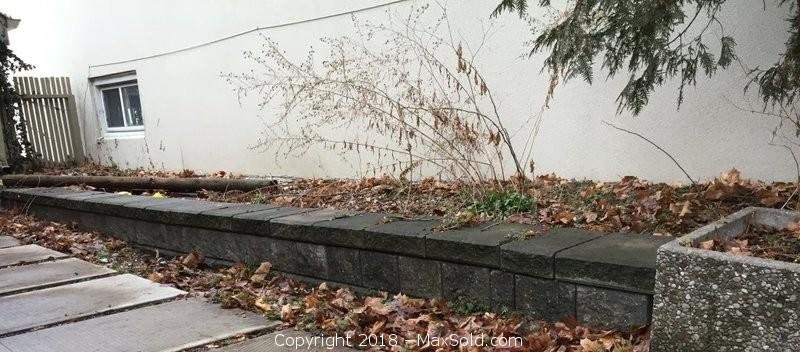 24" long. It has 24 stones on top 12"x12" and 72 stones 8"x8"x8" which forms the wall.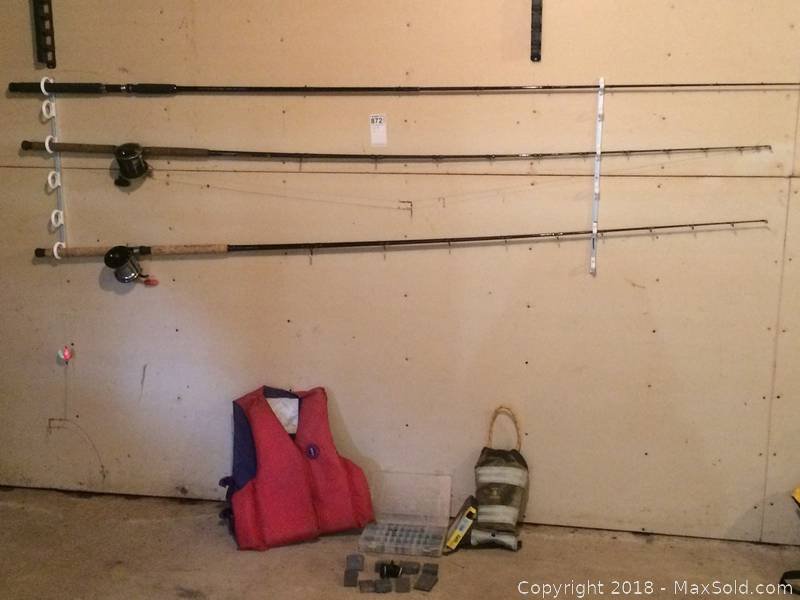 3 sturgeon fishing rods 108inches, 96inches includes weights, float, mustang life jacket. Condition untested.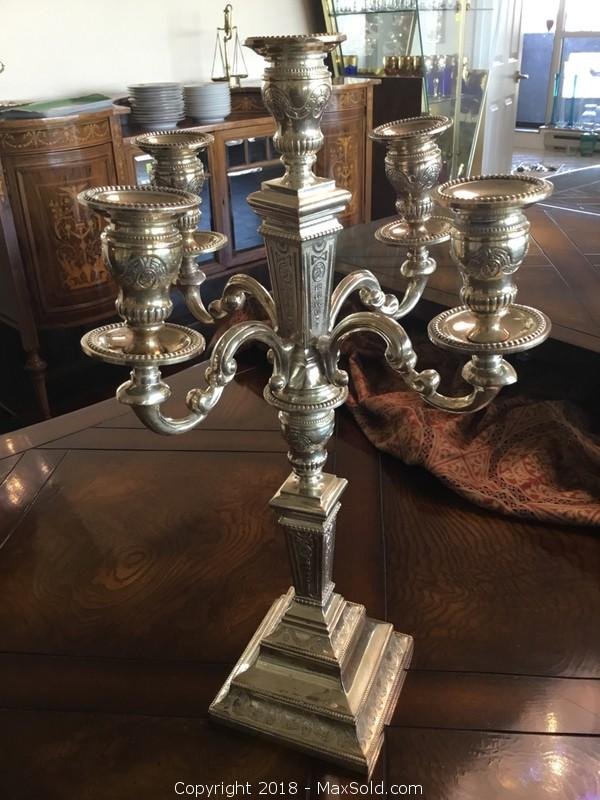 800' marked silver candelabra. Mark partly obliterated. 1,221 grams. 17" tall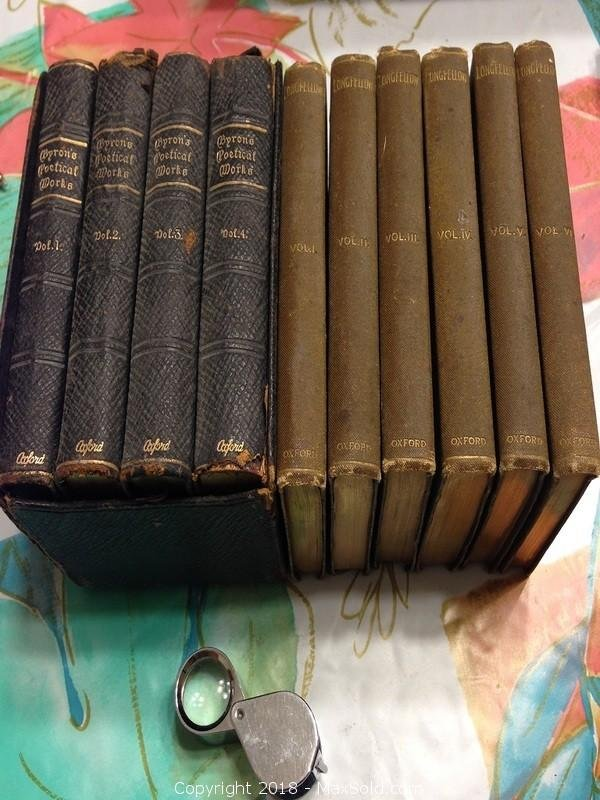 Good condition.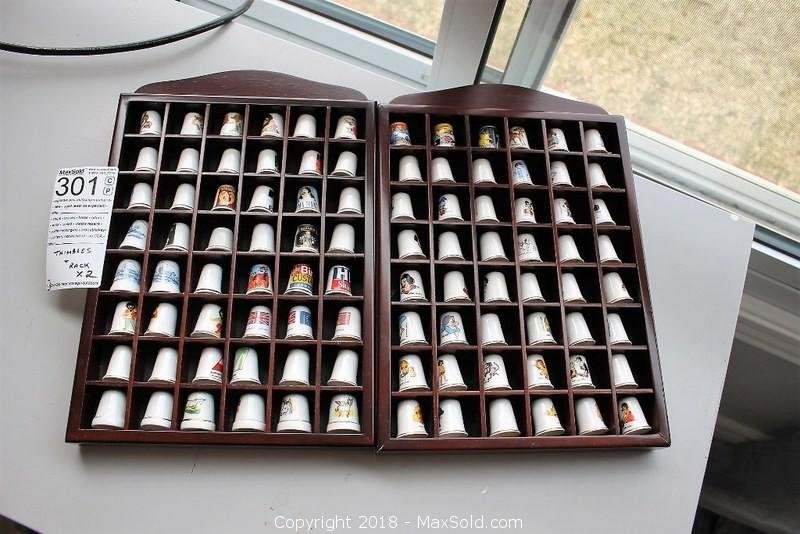 96 assorted English Bone China & Porcelain thimbles with two wooden racks.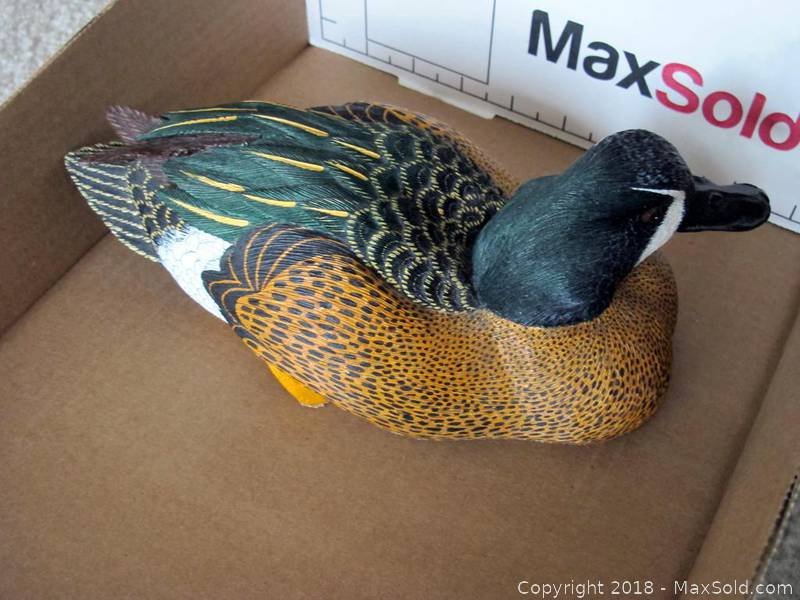 A Blue Winged Teal figurine number 289 of 650 and signed by Roger Desjardins. Made in 1989. One small piece of tail feather chipped off.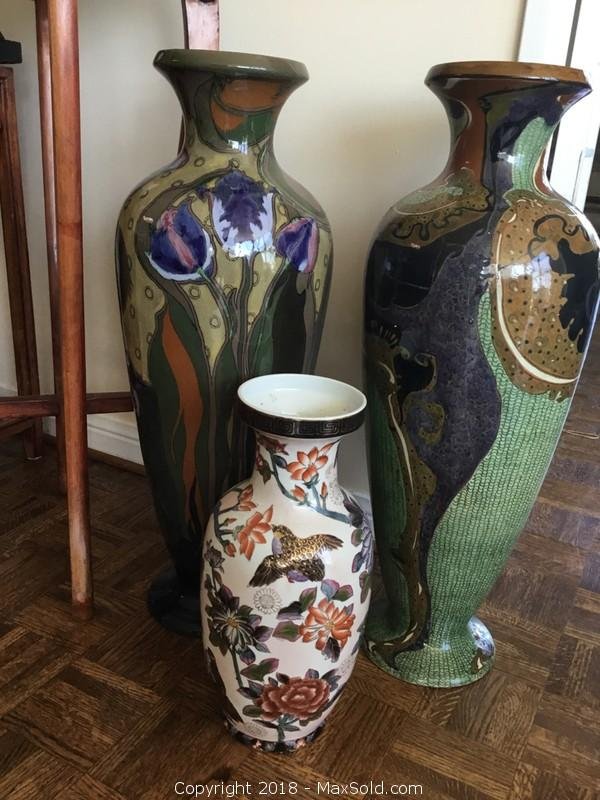 A pair of Art Nouveau floor vases with bonus oriental vase. One of the vases very damaged broken and glued. 26" high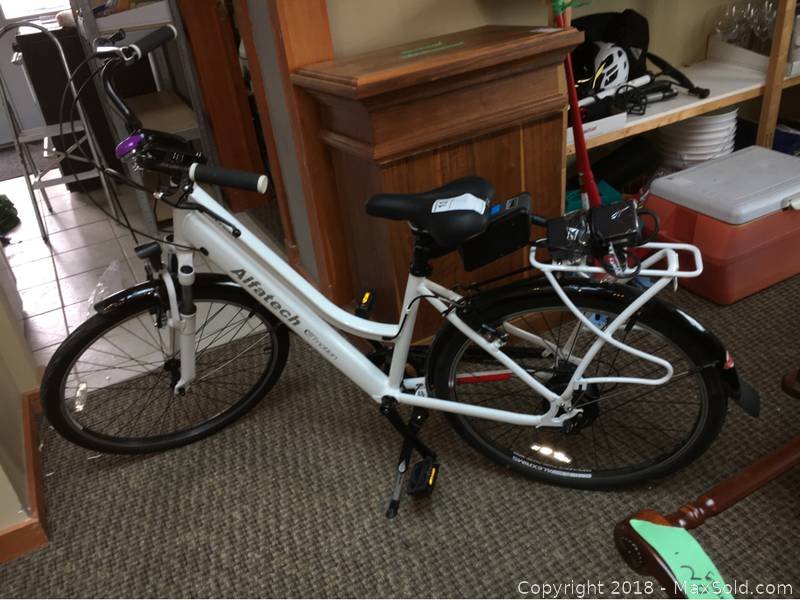 Alfaech Easy Motion electric bike with charger, 25D tire size, untested. Electric charge so does not take batteries. 26" wheel.


Telescope
Sold on MaxSold for $689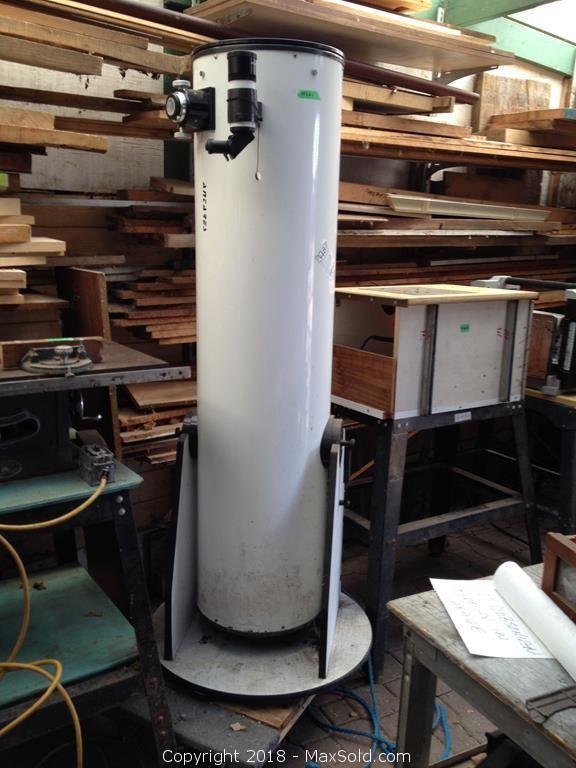 Antares Telescope GSO-DOBSonians. 12 inch DOB. This is a large item. Bring appropriate vehicle, tools and help to move. Untested. Note wear and scratches.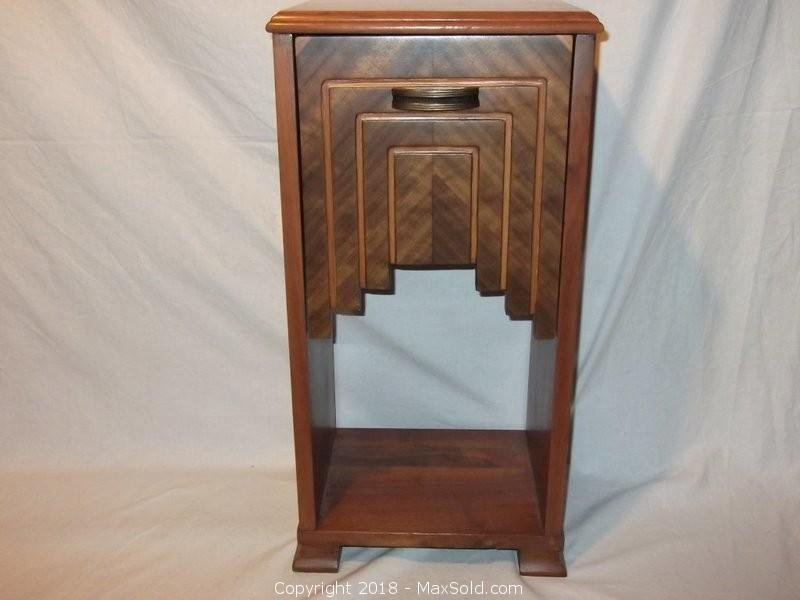 Antique Art Deco side table. 24"H x 12"L x 10"W.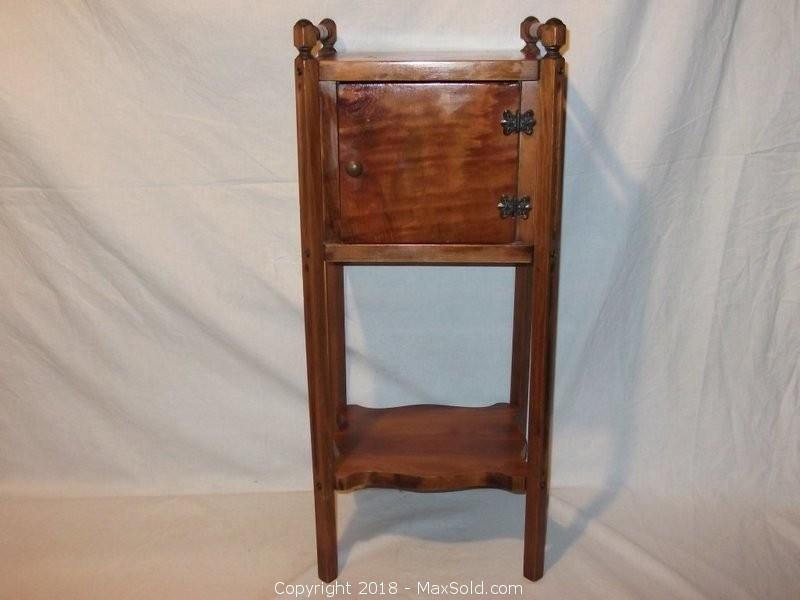 Antique smoker's stand cabinet. 27" x 12"L x 9"W.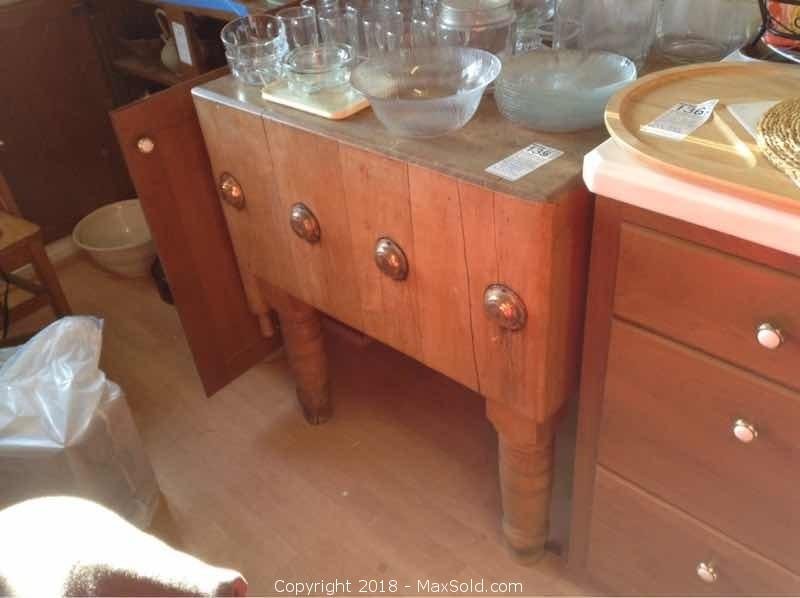 Antique wooden butchers block with copper design. Shows wear, scratches. 30X25X34. Extremely Heavy, must bring extra help to carry out of home.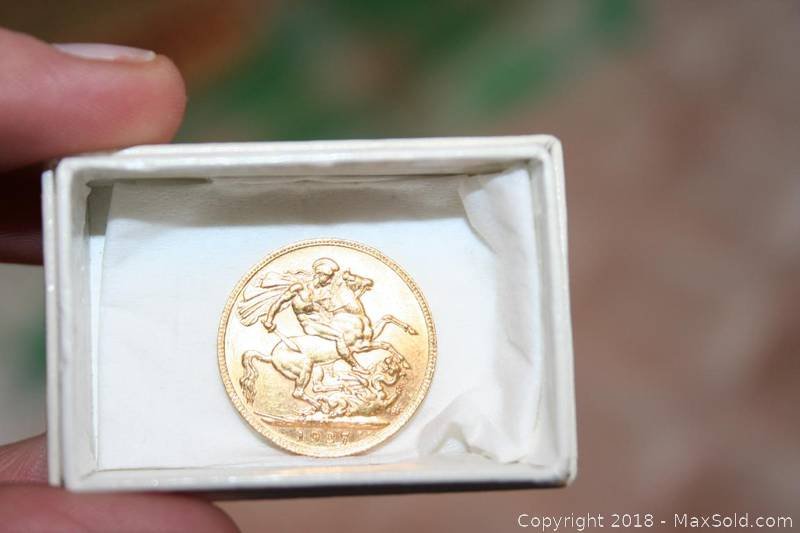 Appraised at $600.00 by P. & D. Cnossen Appraisers in Hamilton in January 2016.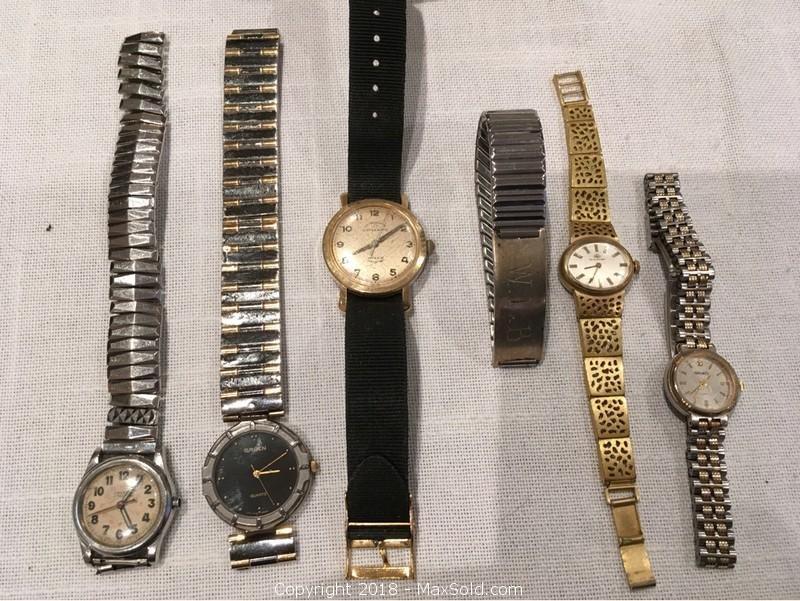 Assorted men's and ladies watches. As is. See photos for details and condition. Bring paper and bags to wrap.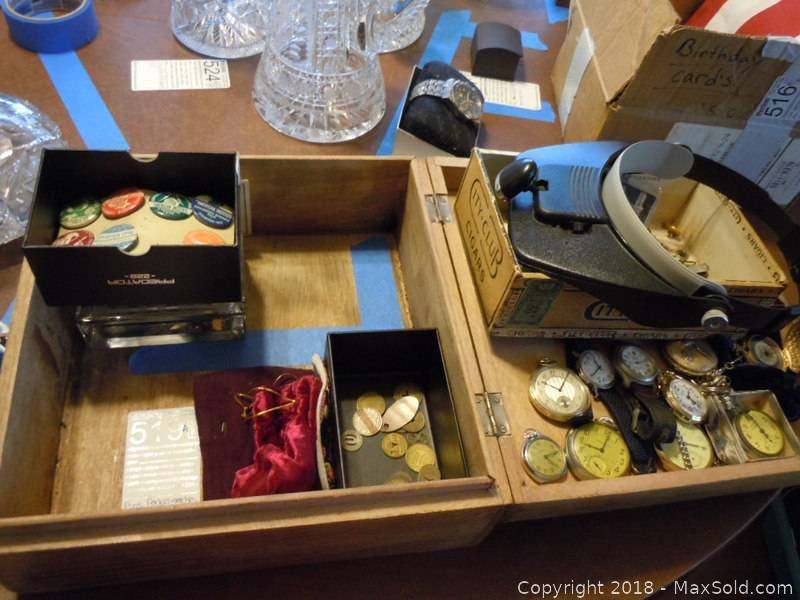 Assortment of watches including Ingersol, Howard, US Navy, Remington, watches Swiss Army, Times. 2 watch pedometers, buttons, military pins, lighted magnifier with additional lenses, subway tokens, train tokens, vintage science fair pins includes wood box.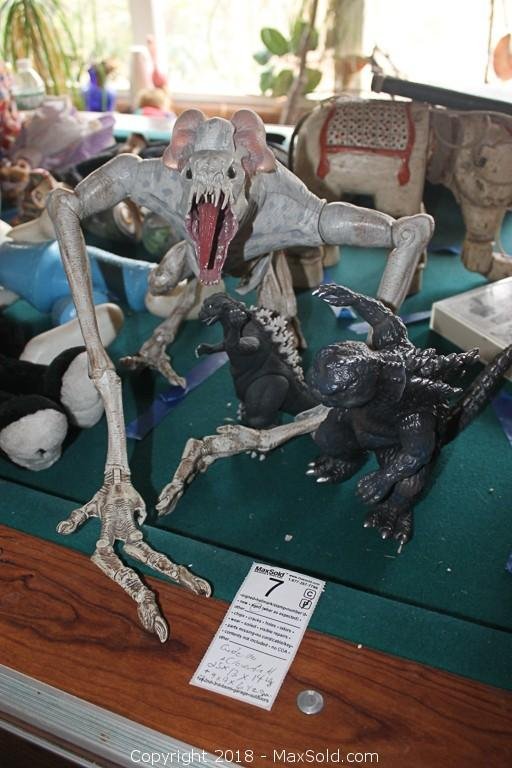 Big and small Godzillas and Cloverfield Monster with box. Largest 25X13X14 smallest 4X9X6.5. Some wear.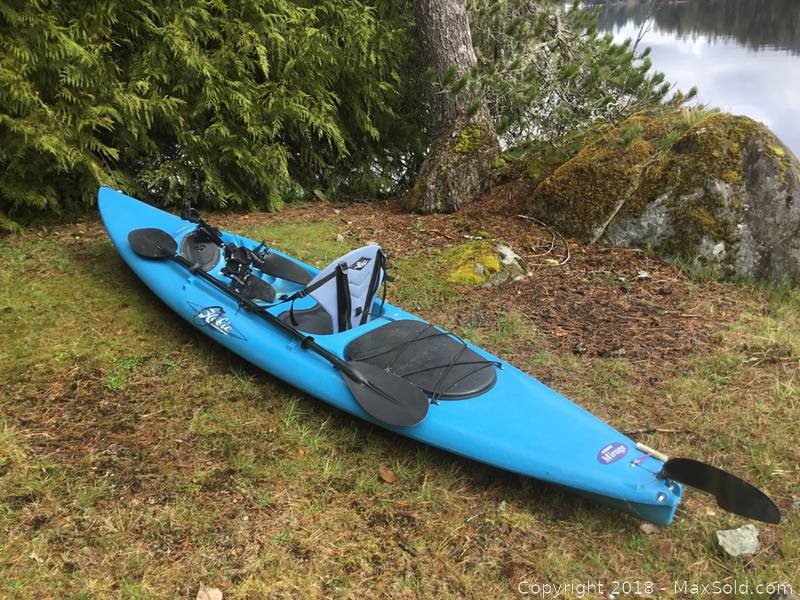 Blue Hobbie pedal kayak with paddle. Untested. 31X140.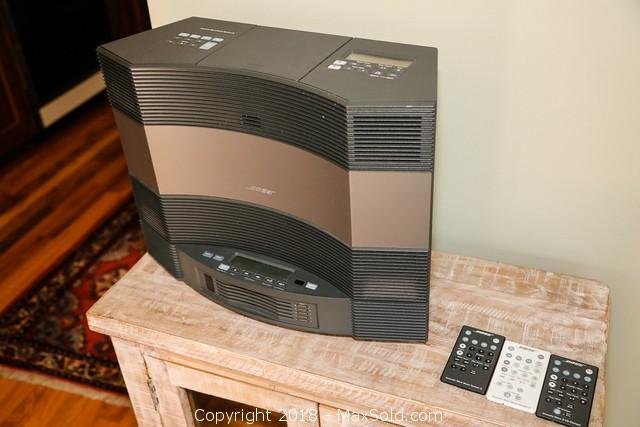 Bose Acoustic Wave Music System II with multi disc changer base with multiple remotes. Per owner, in working order.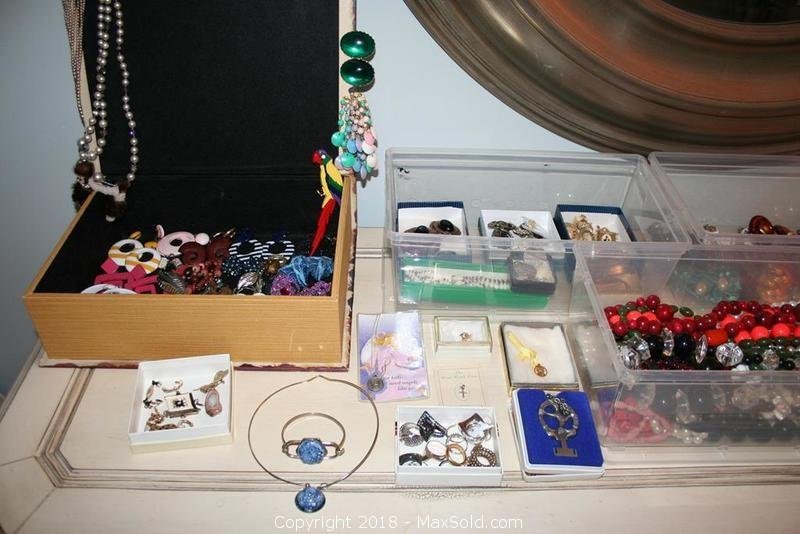 Bracelets, necklaces, clip-on earrings, watches, rings and more. Brooch with bow contains genuine stone. Oriental geisha brooch and earrings are from the 1950's. Esquire watch is new in box, purchased in 1980's for over $250. White glass pendant hand made and blown by a Hamilton craftsman.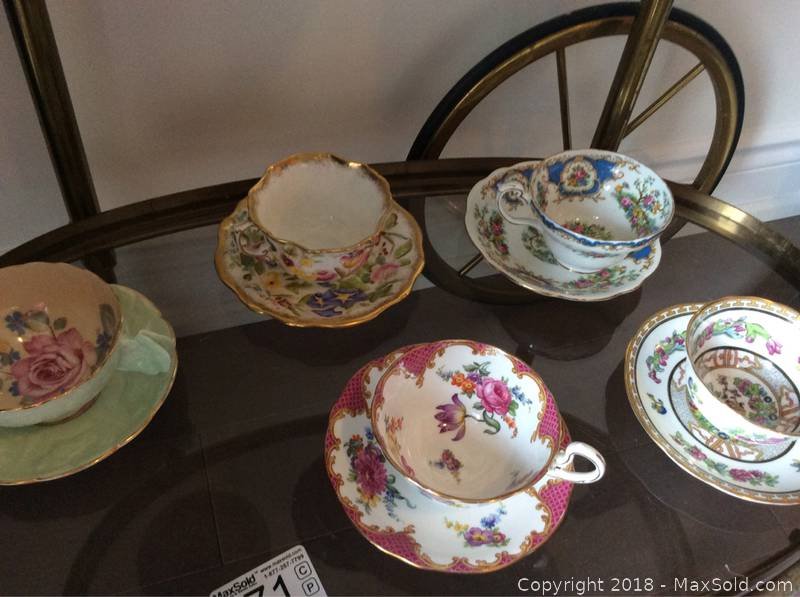 Broadway, Aynsley and more.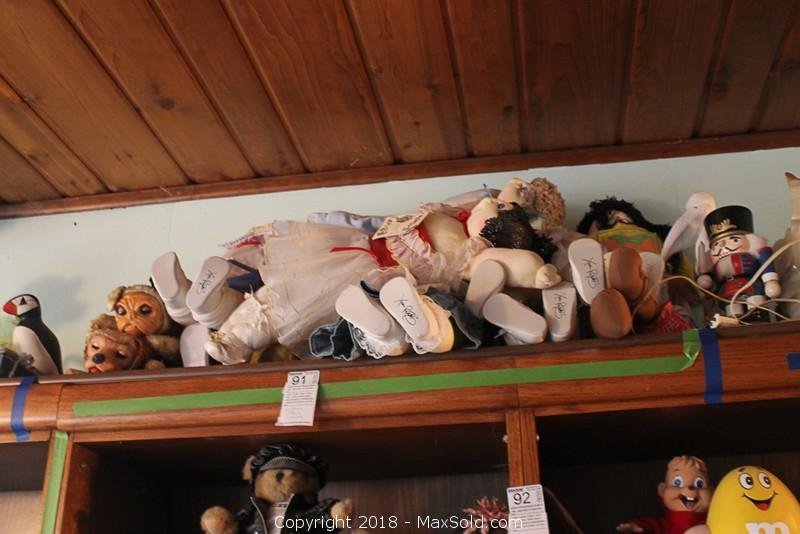 Cabbage Patch dolls, sleeping dog stuffed toys, nut cracker and more.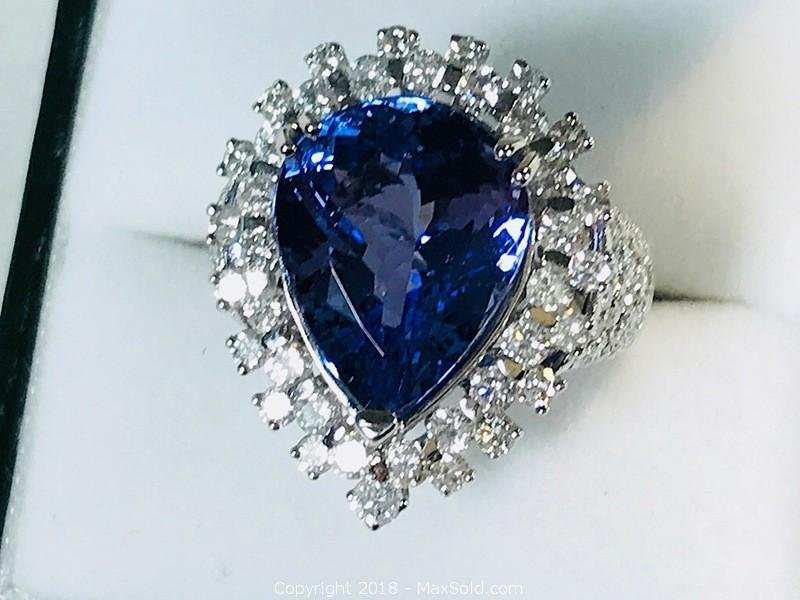 Natural Center Tanzanite: 8.96 ct, Colour: Blue, Cut: Pear (15.49mm x 11.69mm). Natural side diamonds are 2.79 ct total. Colour: H, Clarity: SI2, Cut: Round. 18k solid white gold and weighs 8.45 grams. Includes certificate of appraisal, retail replacement value $ 19,000.00 CDN. See pics for details. Appraisals are provided to us by the sellers and when provided are always insurance value appraisals which are usually much higher than retail value.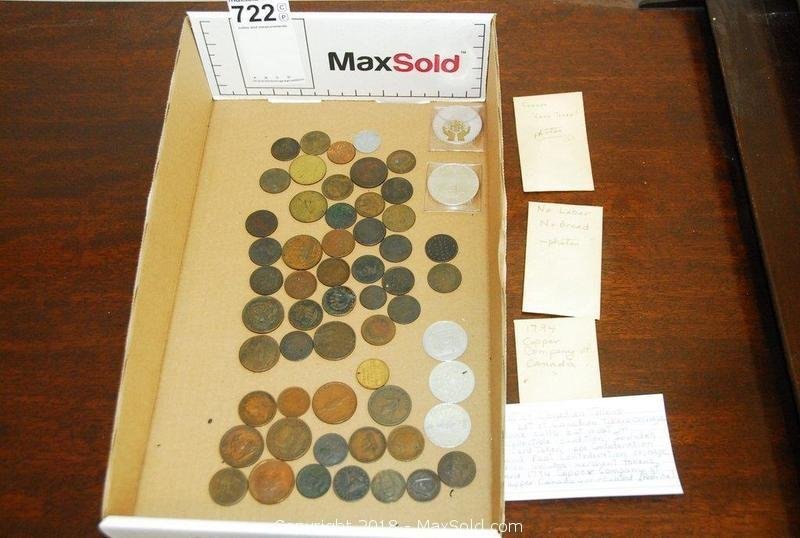 Canadian tokens, some culls but most in collectible condition. Includes card token pre confederation and post confederation coinage. Also includes merchant tokens and 1794 Copper Company Of Upper Canada uncirculated Restrike.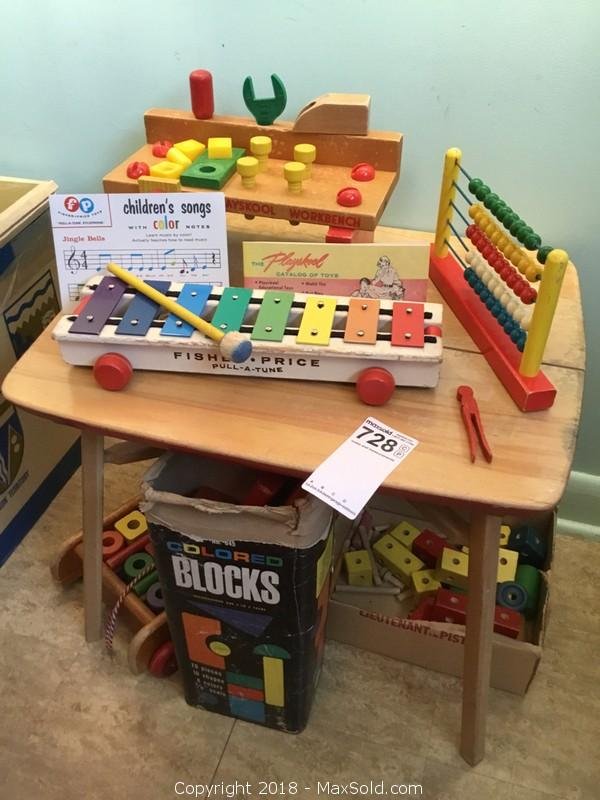 Childs table 20x16x17.5, Fisher Price xylophone, abacus, PlaySkool workbench and wagon, coloured blocks. Note: wear.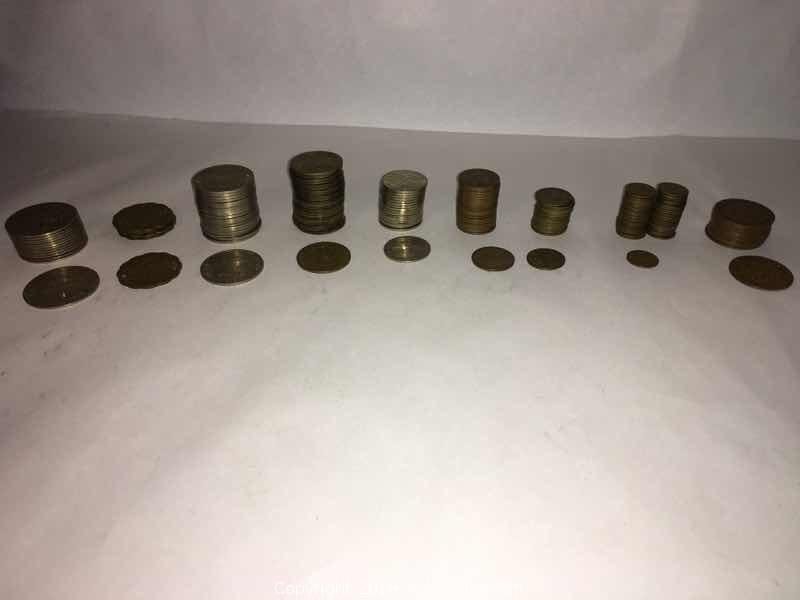 Coal Company Store Coins. C.H.Mead Coal Co. EAST GULF No.1 Store - 13 One Dollar Coins. The Warner Collieries Company, Mammoth W. VA - 5 Five Dollar, 20 One Dollar, 23 Fifty Cents, 21 Ten Cents, 16 Five Cents, 43 One Cent Coins. Mead Smokeless Coal - 13 Fifty Cents Coins.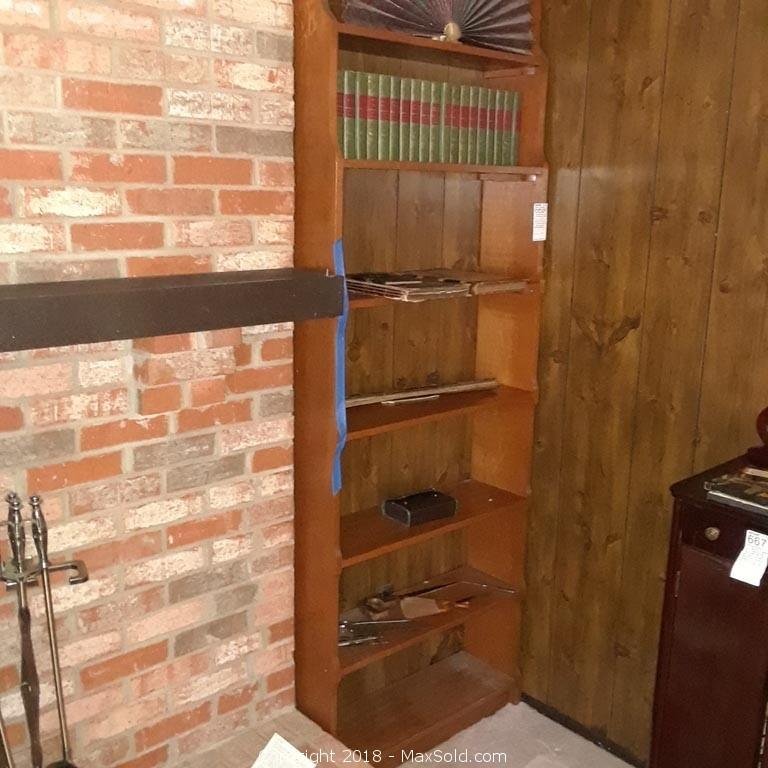 Collection of antique surgical tools. Collected works of Joseph Conrad. Leather hardback bound record of Cincinnati College of medicine and surgery log from 1879. Bamboo scroll of southeast Asian origin. Large decorative Asian fan. Bring boxes.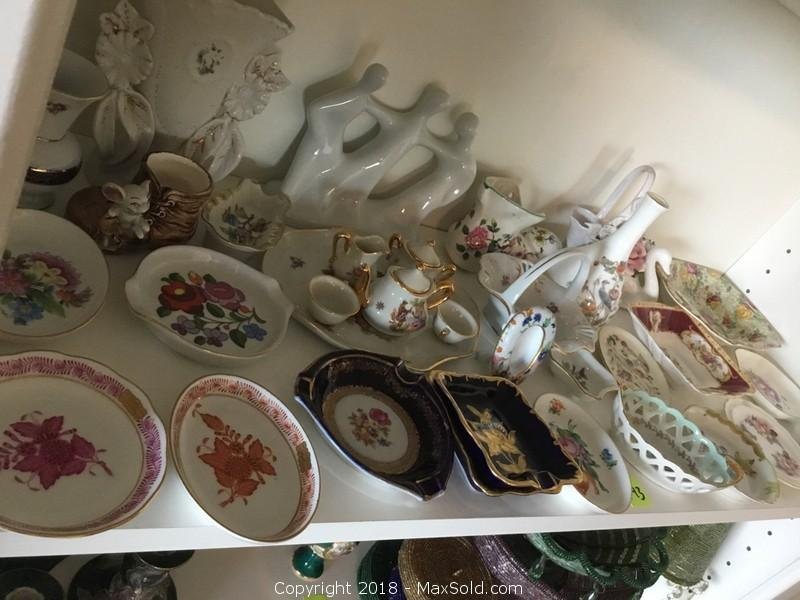 Collection of pin dishes and miniatures includes Lord Nelson Ware, Coalport, Wedgwood And others. 30+ pcs.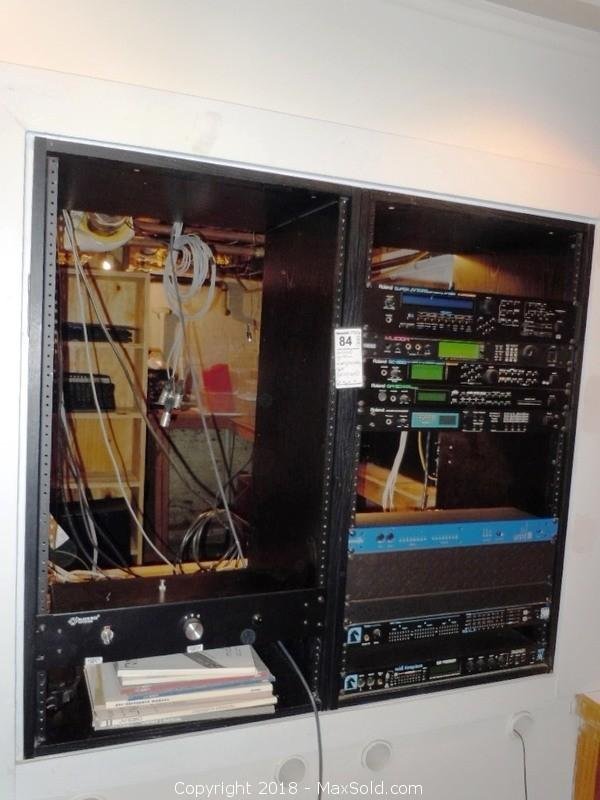 Collection of recording equipment. Includes Roland Super JV-108064 voice synthesizer, MOTU midi time piece, Yamaha MU 100R, Emagic amt 8 and more. Untested. Also included are mounting brackets and cabinets. Bring this to remove and help to move. Stored in basement.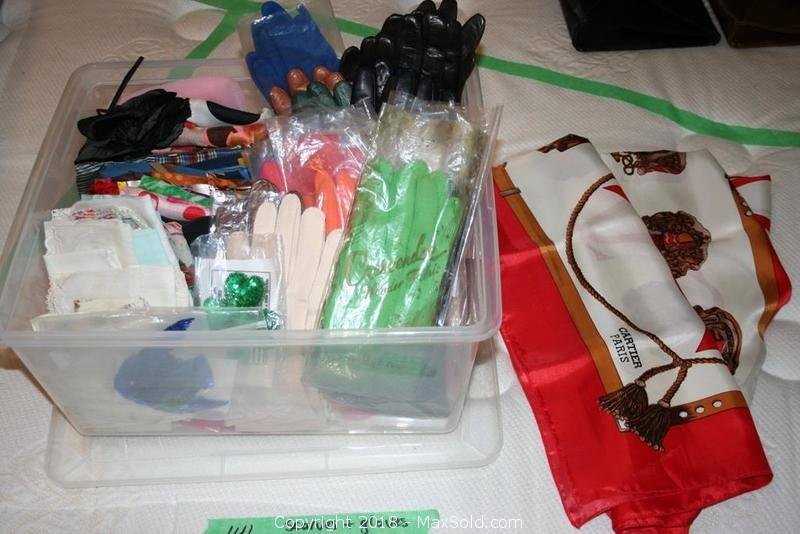 Collection of scarves including Cartier, kid leather vintage gloves, and new gloves in various colours.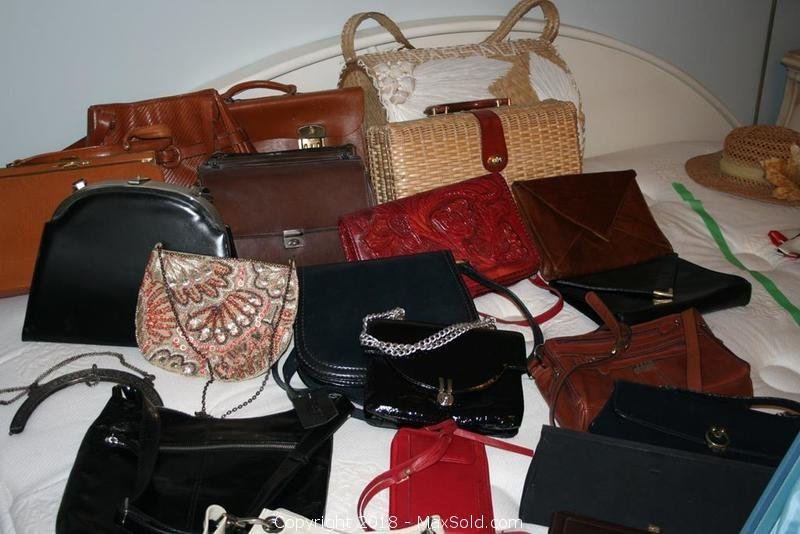 Collection of vintage and antique bags, purses and clutches. Vintage suitcase and photo holder case. Many are Italian leather.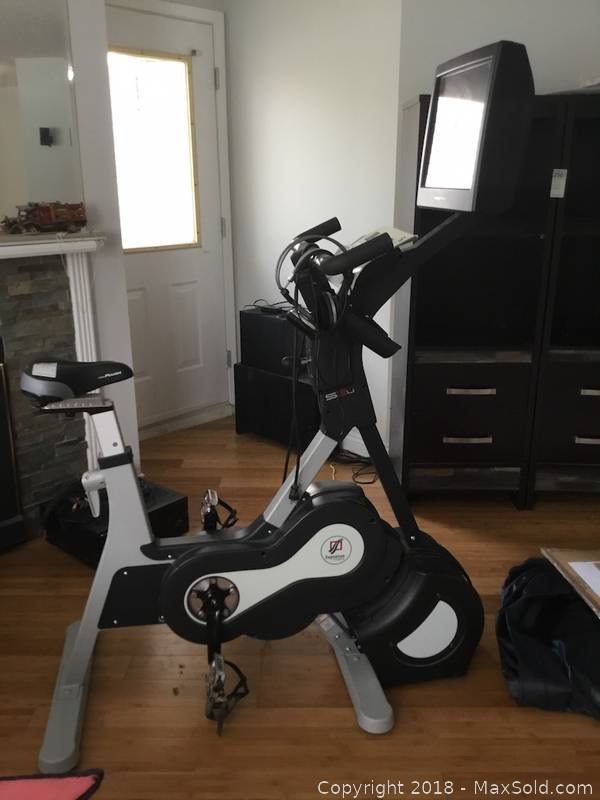 Espresso Fitness Machine with headphones and manual in working condition as per seller. Must be removed down a flight of stairs. Please bring help to move.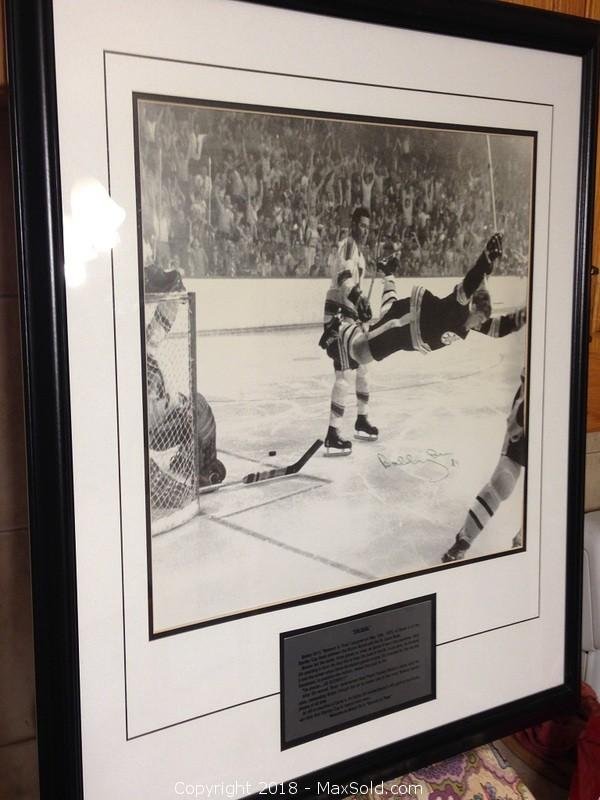 Famous Bobby Orr "The Goal" with authenticity certificate on reverse, signed on front by Bobby Orr, framed and under glass , image measures 19" X 15 1/2 ", frame measures approx.. 29 X 27 ". Very good condition.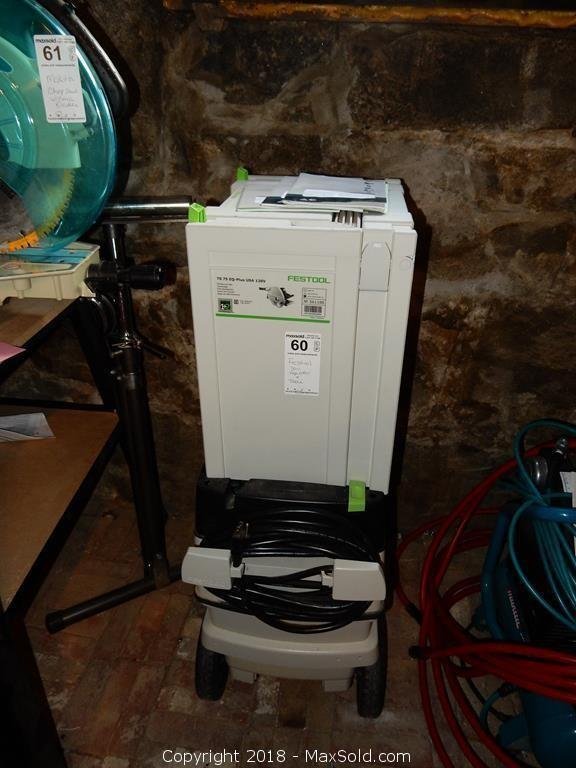 Festool tool system in excellent condition. Including table and accessories , Hepa dust extractor, TS 75EQ-plus 120 V plunge cut saw.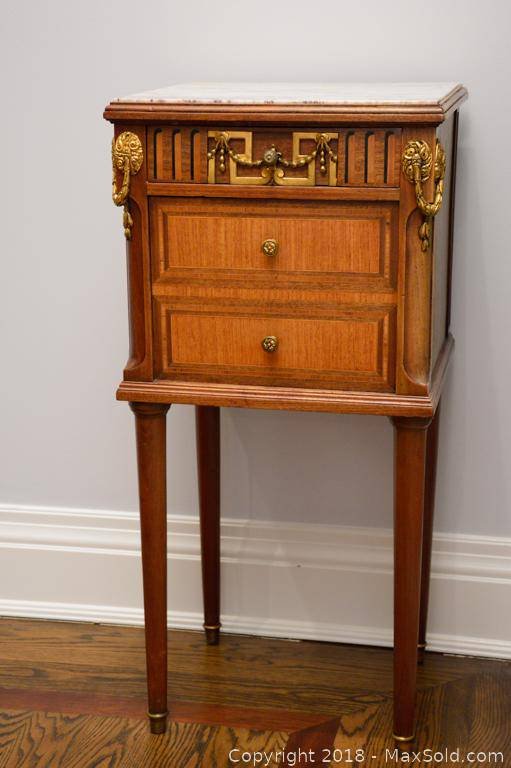 French antique side table with wood base, gold coloured accents, brass accent and marble top. Dove tailed drawers. 15X14.5X31.5. Note door has been stained closed. Contents not included.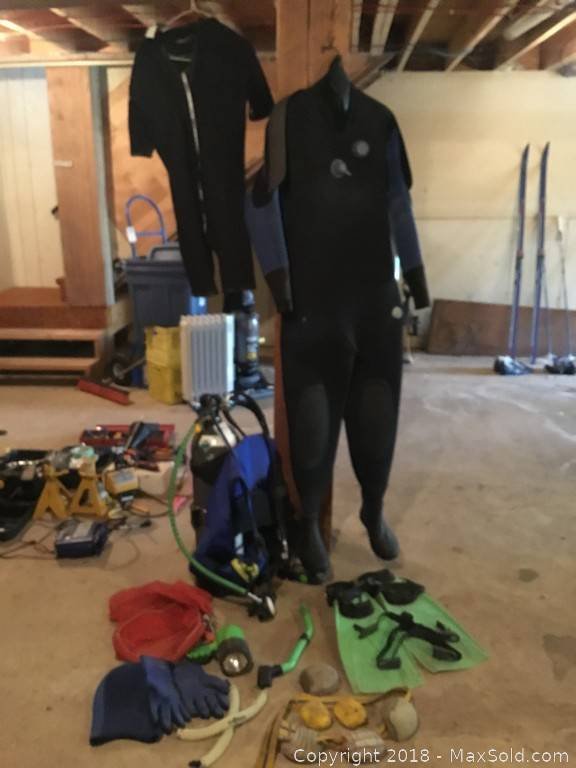 Full scuba wet suit, approximate mens large. Condition unknown. Half wet suit. Approximate size mens large. Condition unknown. Flippers. Air scuba tank. Untested and condition unknown.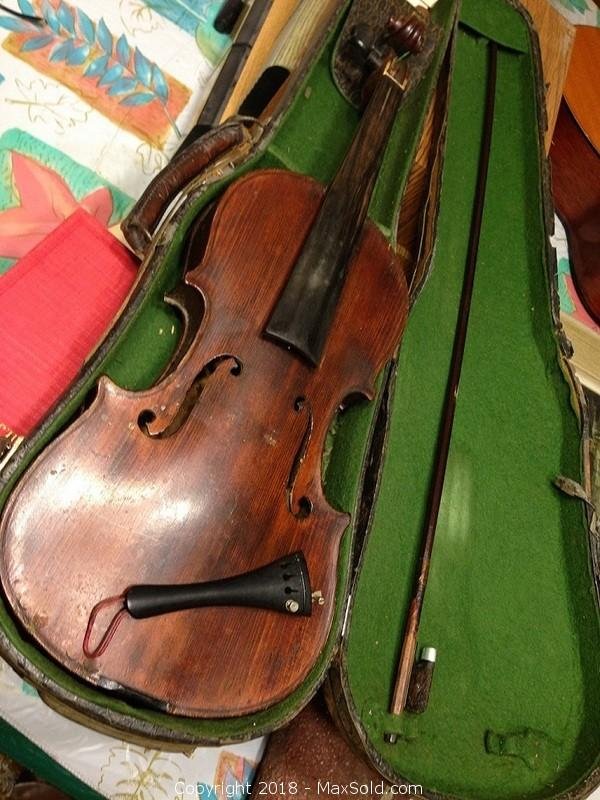 Full size old violin in good condition, comes with case and bow. I could see a label with the name AMATI on the inside.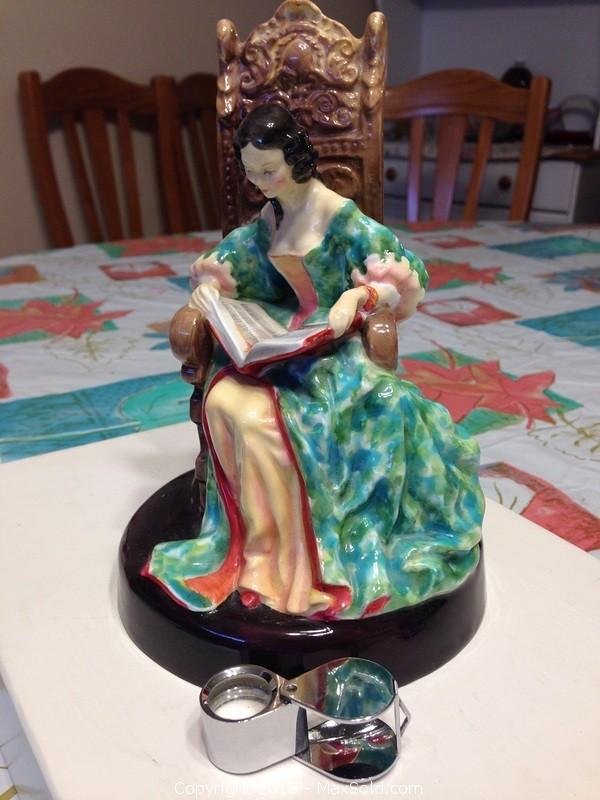 Good condition no chips or cracks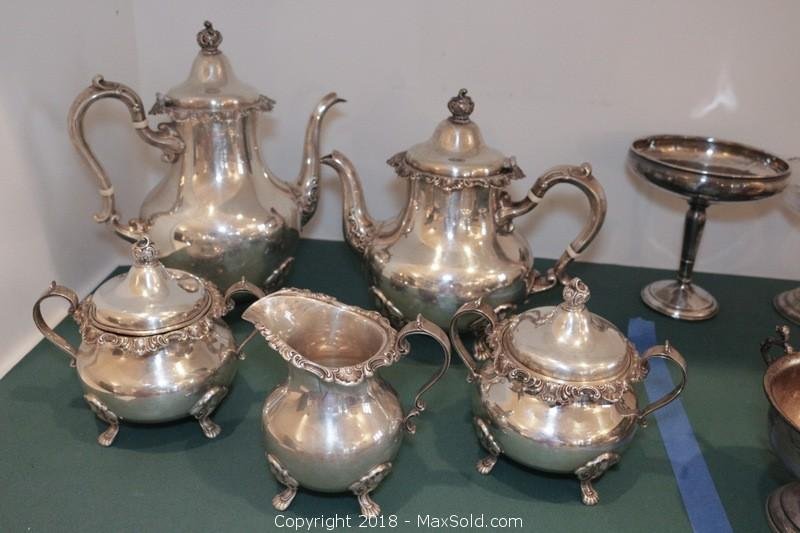 Gorham sterling serving ware, including two tea pots, cream pot, and more.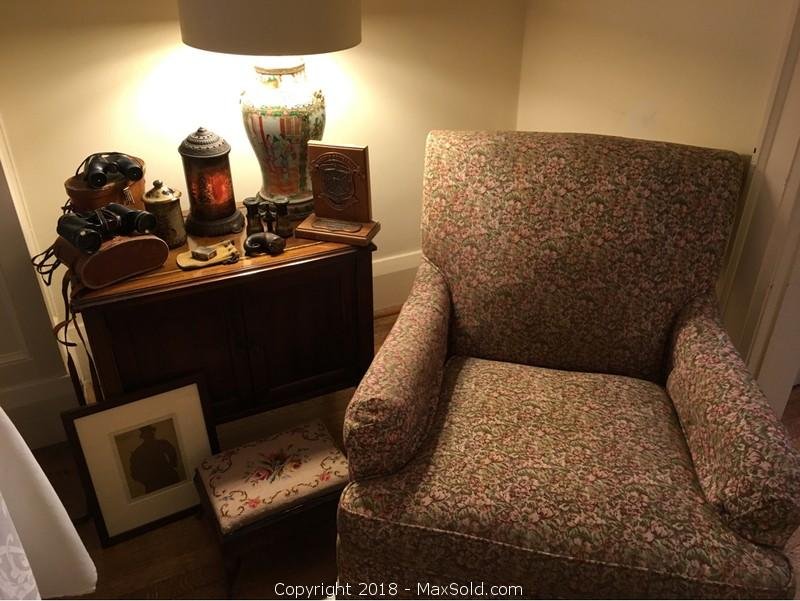 Great assortment of vintage items. Lot includes vintage arm chair, petti point mini foot stool, record cabinet and more. Mini vintage binoculars and antique mini table lamp with forest scene. See photos for details and condition. Bring 2 people to move and paper and bags to wrap.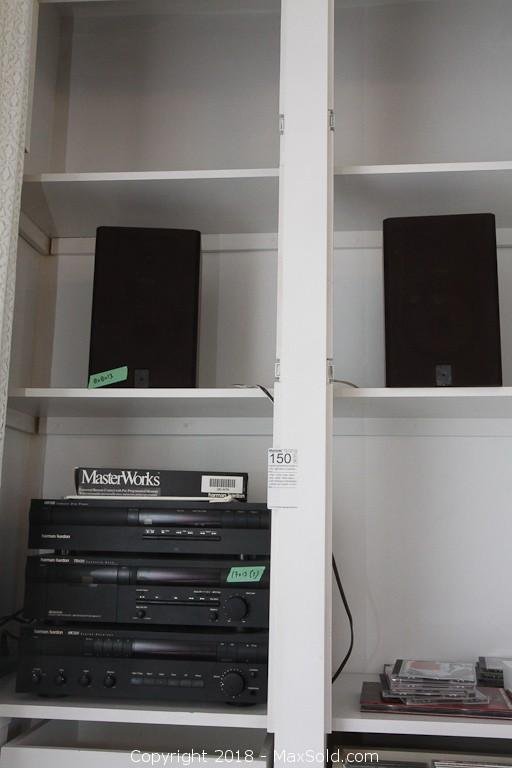 HD7300 compact disc player, TD 4200 cassette player, Hk3300 stereo receiver, with Masterworks universal remote. All in working order per seller. Each 7X13. Comes with pair of Celestion Ditton 100 speakers, also working.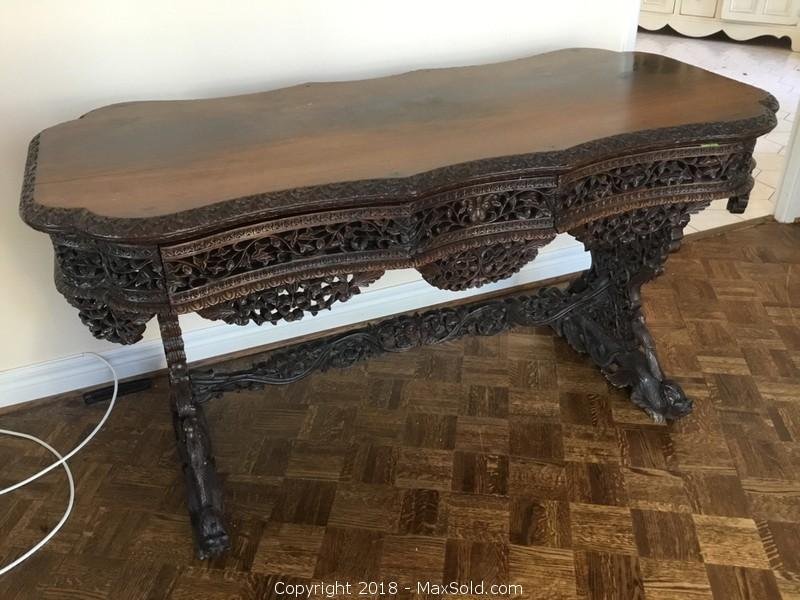 Heavily and ornately carved Renaissance style antique desk. Scratches Wear 54x25x29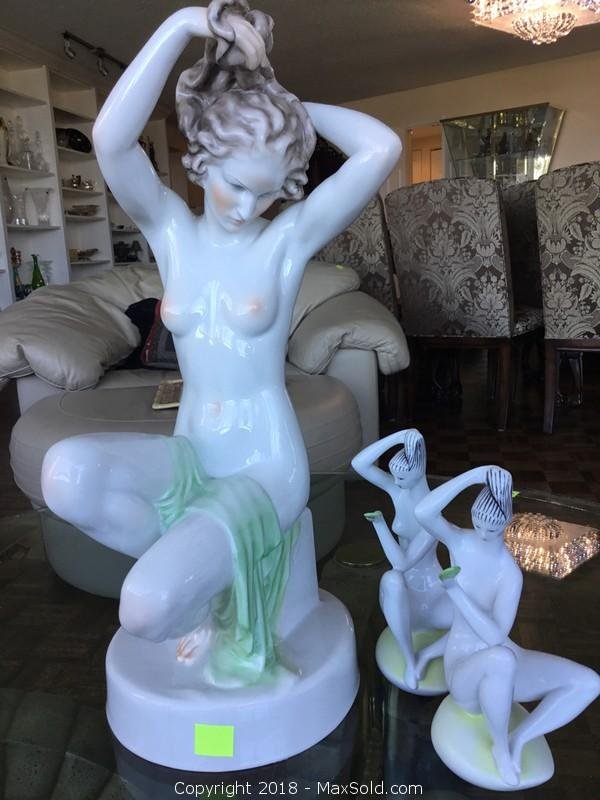 Herend nudes. tallest is 22" high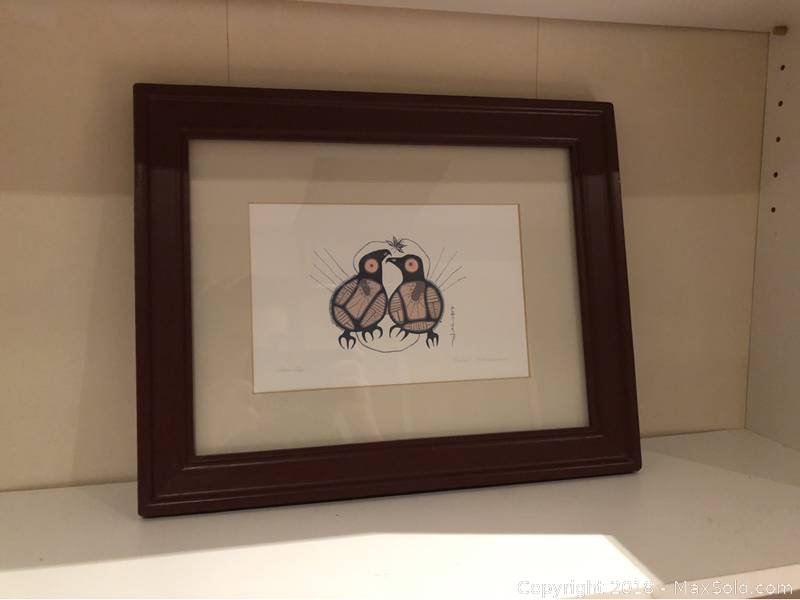 In very good condition, Serenity. Approx. 15 inches x 12 inches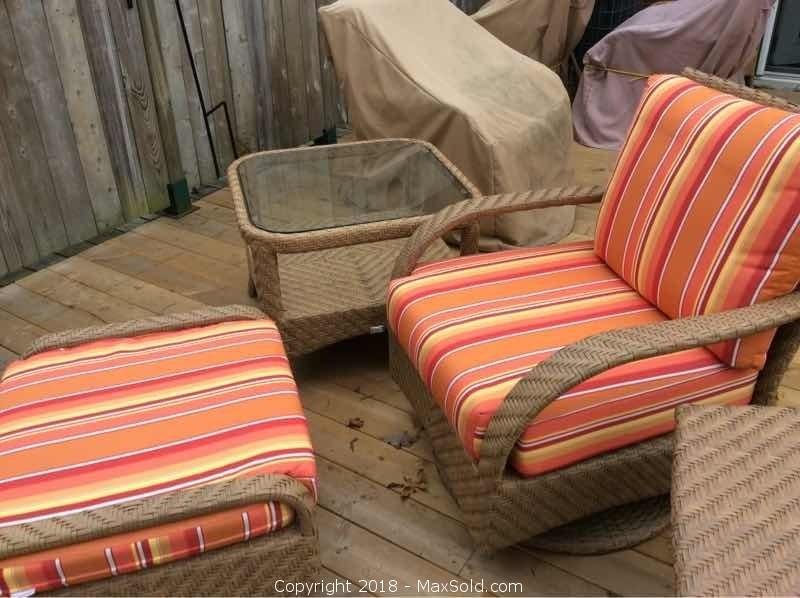 Includes 1 coffee table (42x42x21), 2 glass topped end tables ( 28.5x28.5x21), 4 chairs, 1 foot stool. Covers for the chairs. One seat cushion requires new foam insert.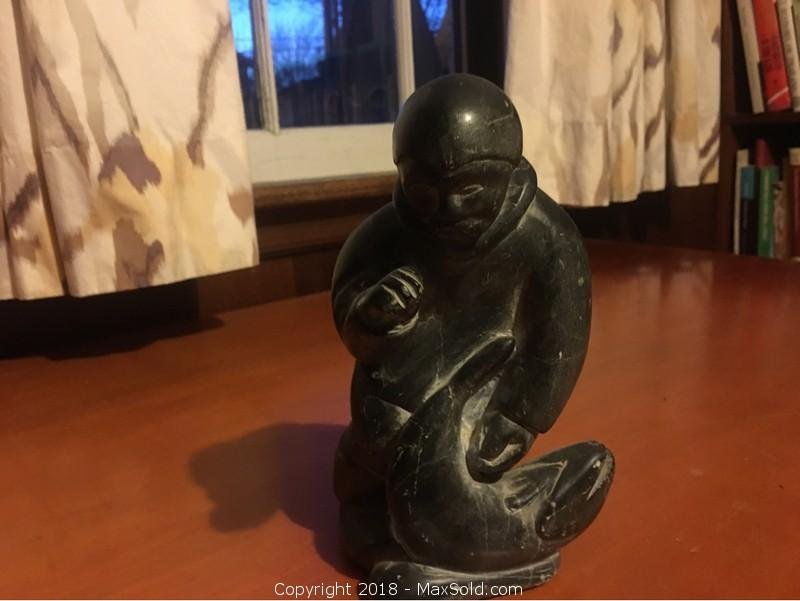 Indigenous fisher, 8H, numbered Eskimo art.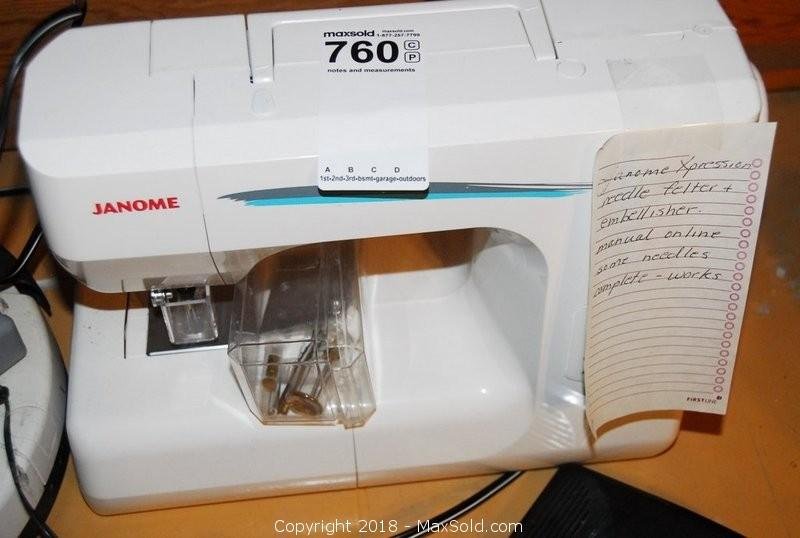 Janome Xpression needle felted and embellisher. Manual on line, comes with some needles. In working order.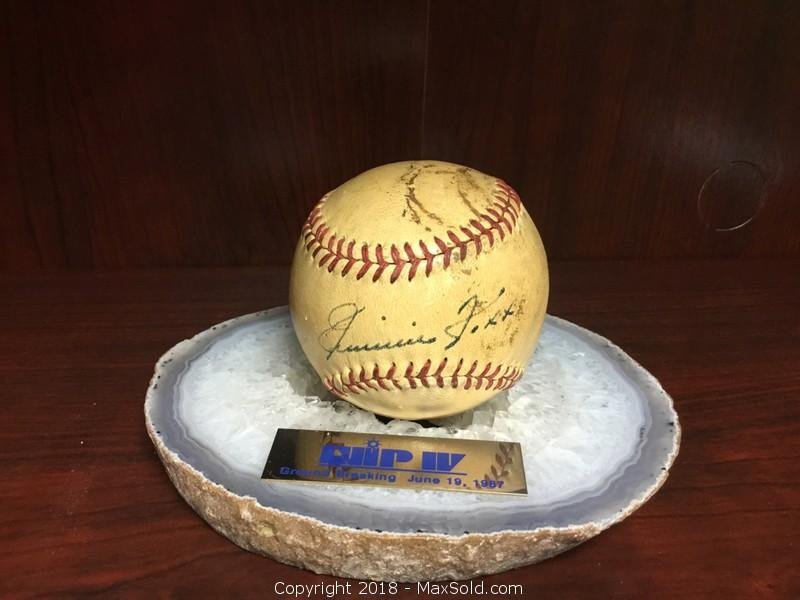 Jimmie Foxx signed baseball from the Philadelphia Athletics. 1933. No COA, not authenticated. Wear noted. Located in basement.

Daum Vase
Sold on MaxSold for $1009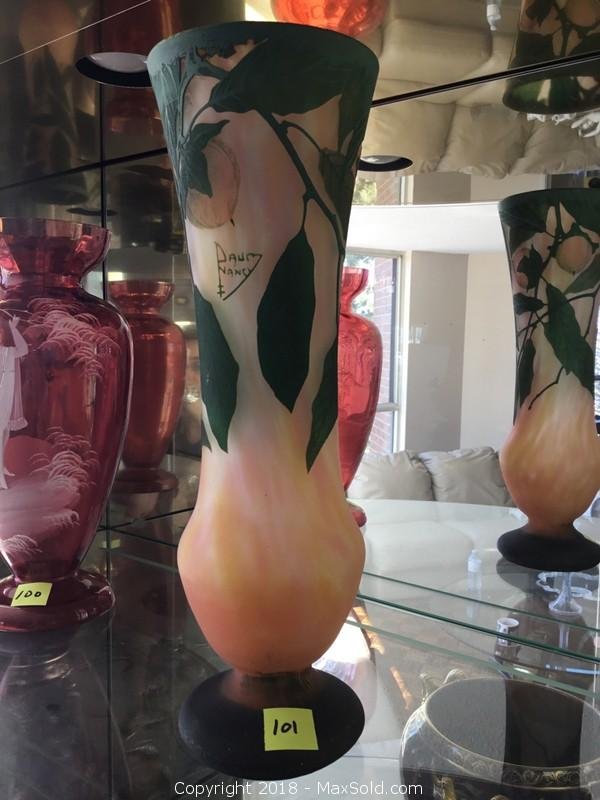 Large Daum Nancy vase. 15" tall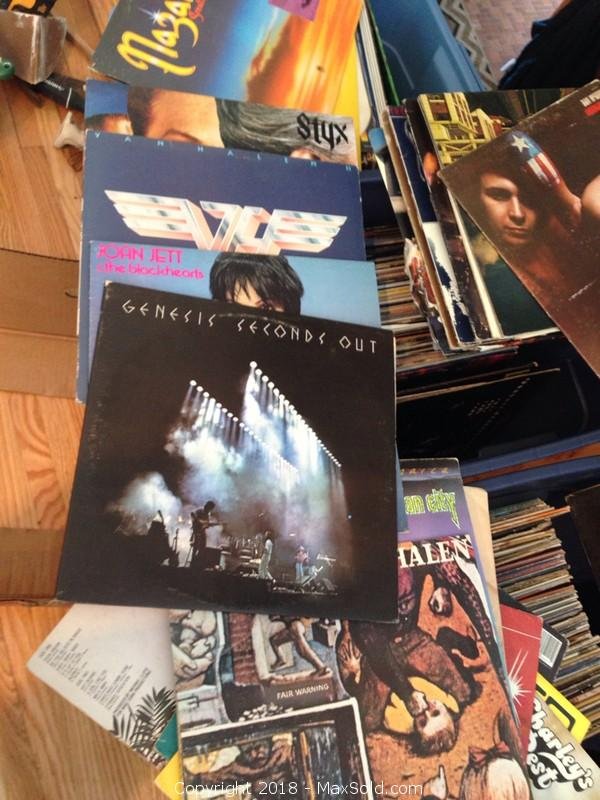 Large group of records AC DC Black Sabbath Nazareth too many to name, 3 bins plus aprox. 250 records untested.

Stone Steps
Sold on MaxSold for $150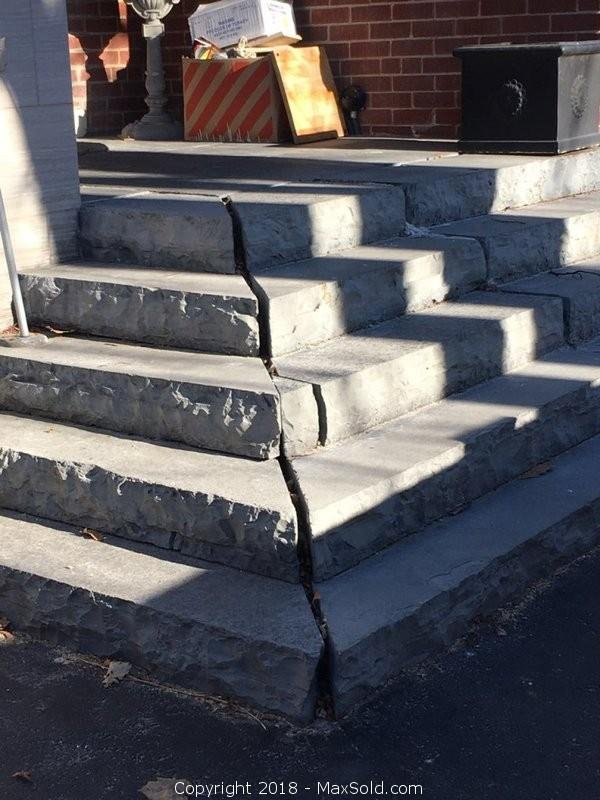 Large stone steps in front of door of home. Note: stone steps cannot be picked up until Sunday April 8th. Seller will be present at 10AM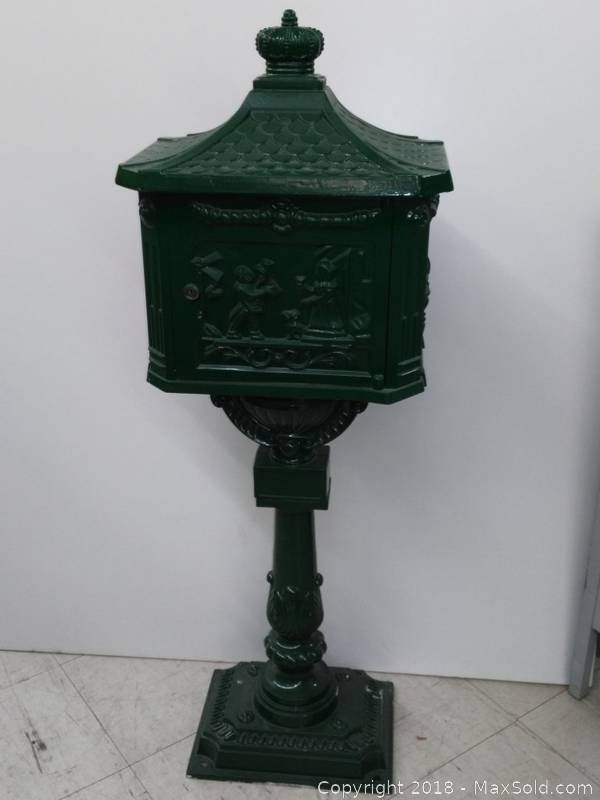 Large Vintage Cast Aluminum stand up Mailbox brass letter slot .. no key locked 16""x12"" x46 1/2"" tall


Serigraph
Sold on MaxSold for $510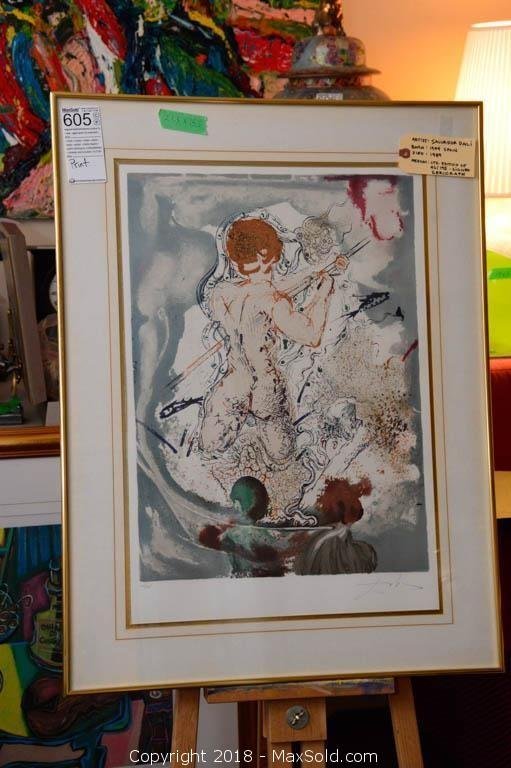 Limited Edition by Salvador Dali Signed. 21.5X15.5.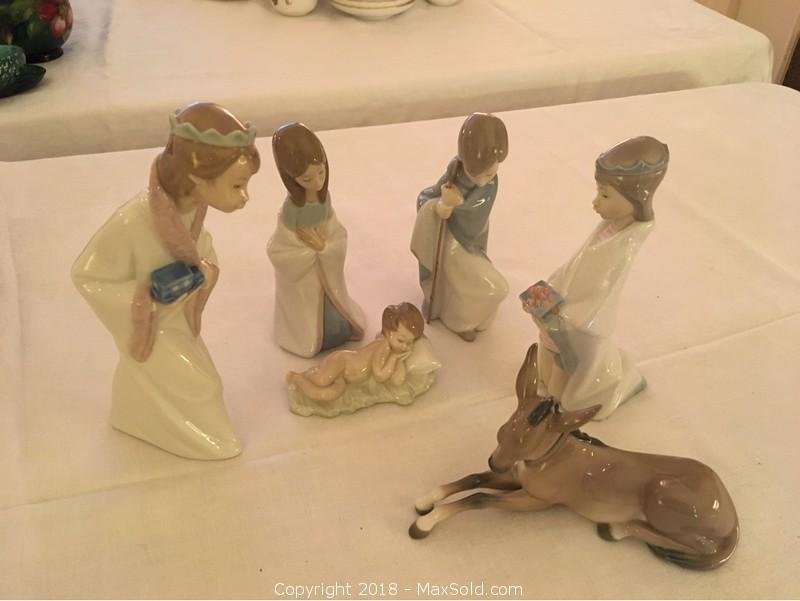 LLadro partial set of nativity collection. 6 figurines in total lot. Excellent condition as seen in photos. Bring paper and bags to wrap.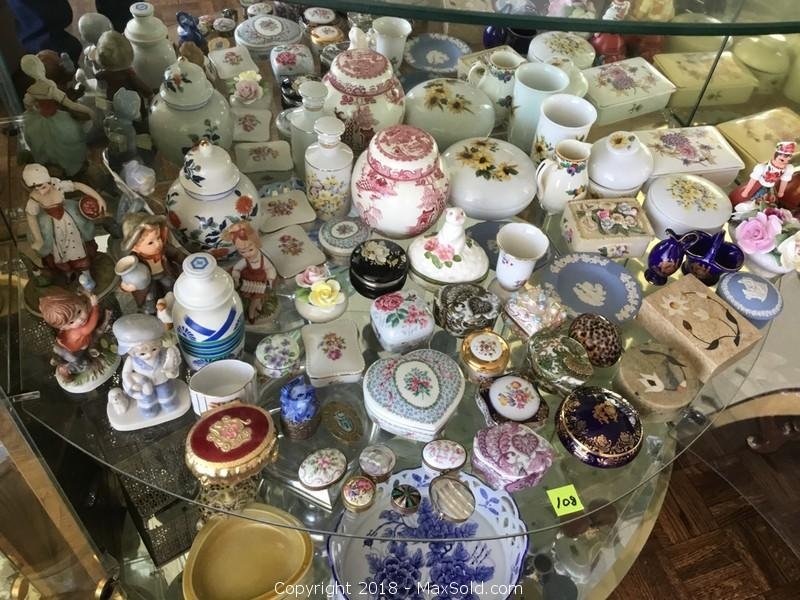 Lot of trinket boxes, etc. 40+ pcs.


Lynx Grill
Sold on MaxSold for $1065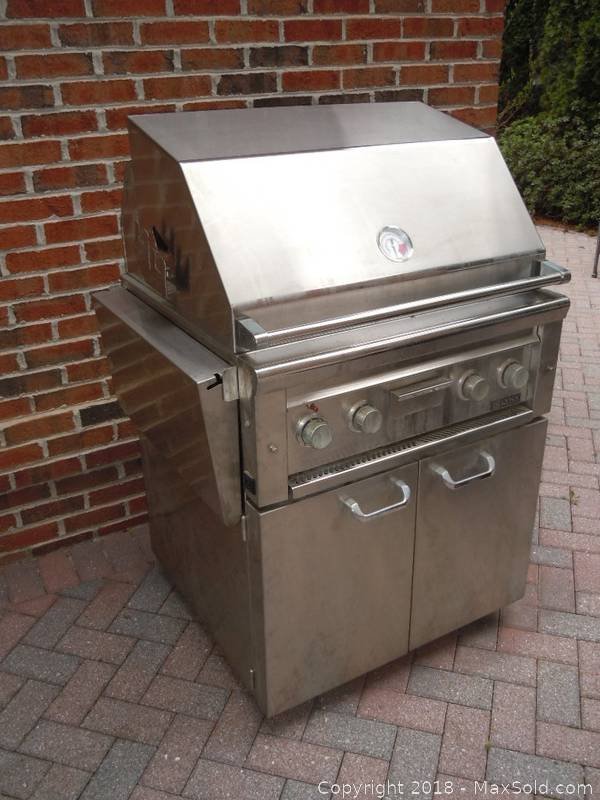 Lynx propane grill with reusable briquettes and vinyl cover. Note rust and wear from use. 34x24x59. Heavy, bring help for removal.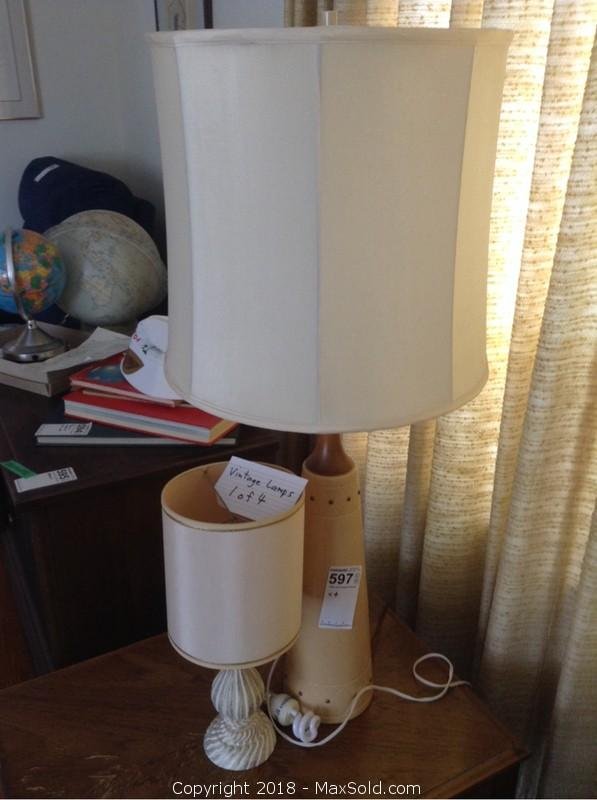 Matching 38H lamps wood and leather styled wrapped. Pair of 17H table lamps . 59H floor lamp with woven wood strip shade. Assorted plastic ceiling shades and more. Note: Untested.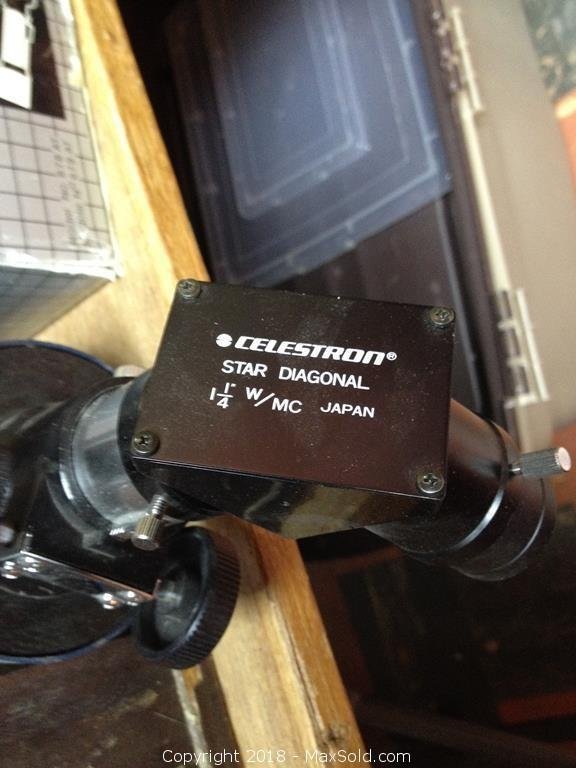 Meade Viewfinder, Meade Off-Axis Guider, Meade electric motor drive, tracking motor, optics, sighting scope and more. Note wear and untested.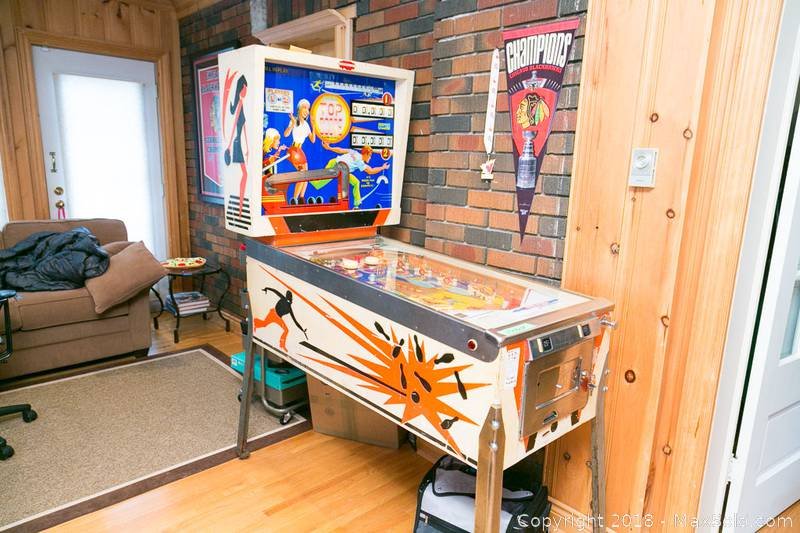 Measures, 29X54X67, in working condition, indicated by seller, shows wear. Heavy, bring help.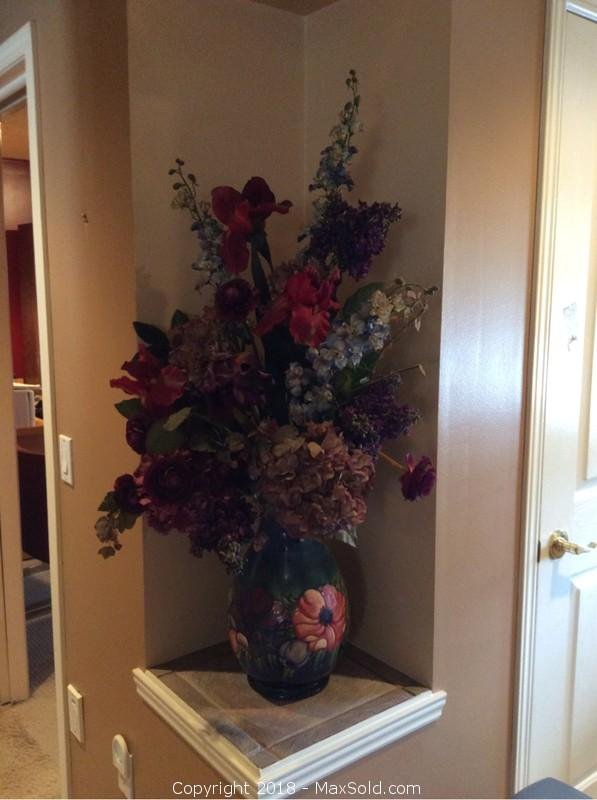 Moorcroft vase 15 inches high, faux flowers included. Signed. Note crazing.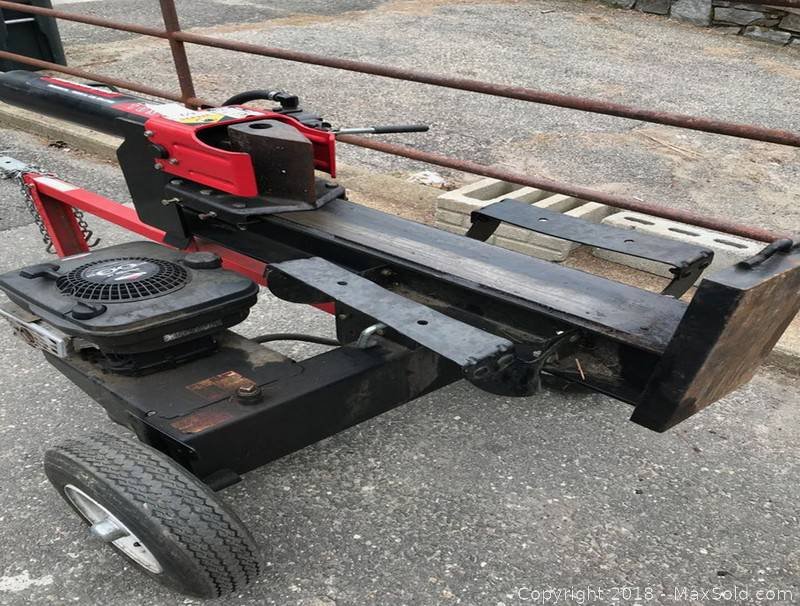 MTD Log Splitter. 25 Ton, Briggs Stratton engine.51.2X43.5X47.5. Good condition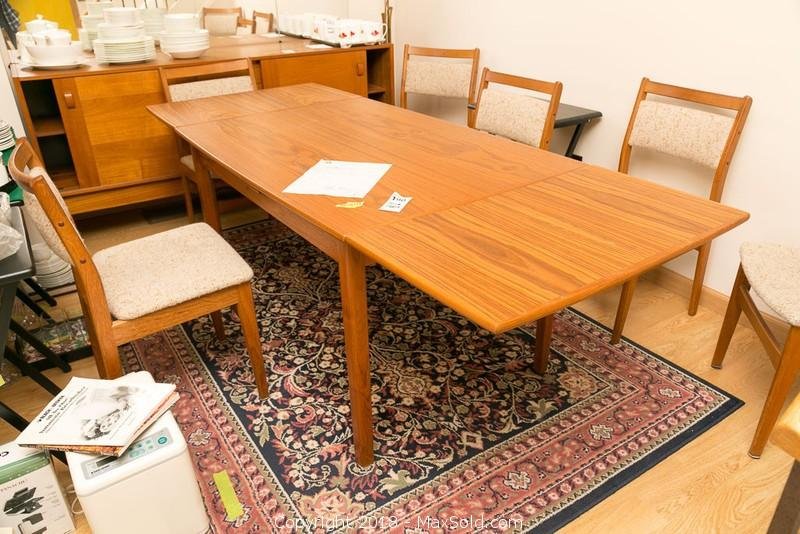 Nordic Furniture, matches lot 191 and 192, measures 84X36X29, two attached leaf extensions are stored within the table, measurements are with leaves extended. Wood frame and legs. Minimal wear, heavy, bring help.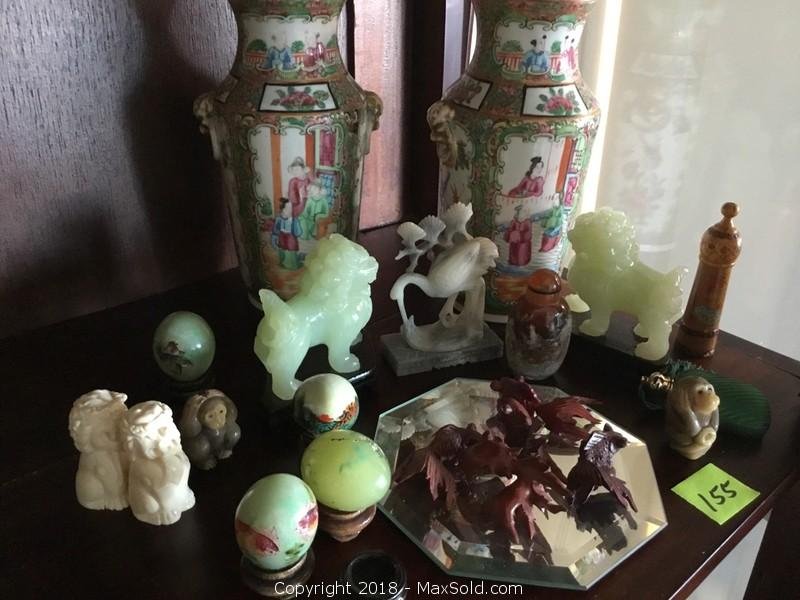 Oriental vases and miniatures. 15+ pcs.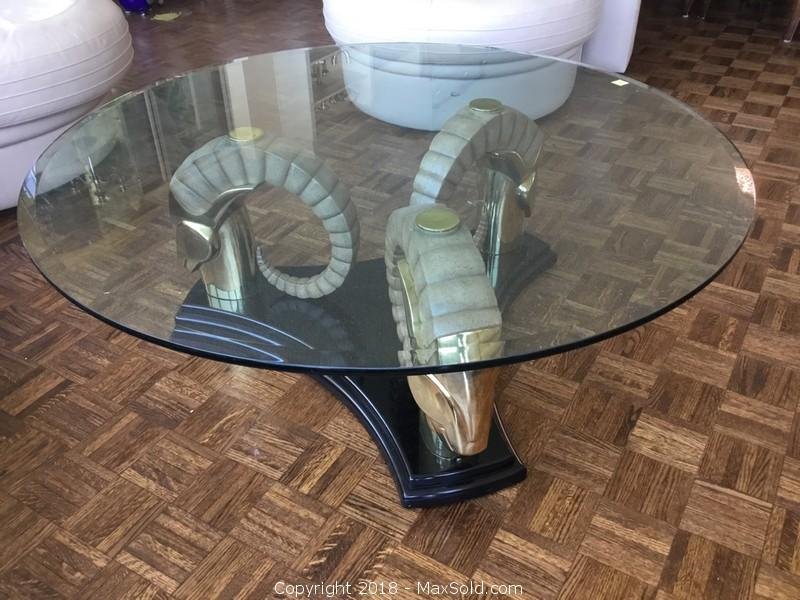 Rams head Art Shoppe glass top coffee table. Scratches Wear. Diameter 47" height 17"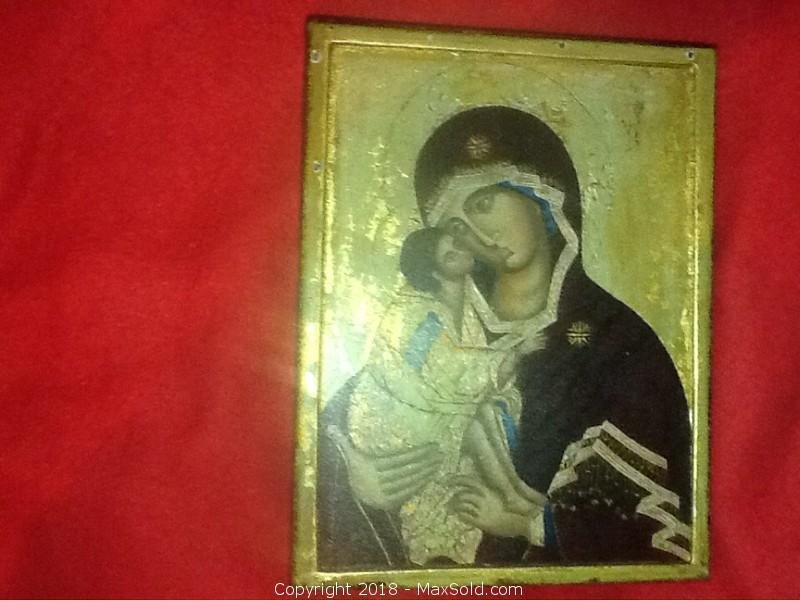 Religious painting of Madonna and child on wood. The gold on the surface has come off in a lot of areas. The main painted areas are intact. It is 10 x 7.5 inches on heavy wood one inch thick. Label on back m. Boska Donska rosja xiv. This Is painted not is print.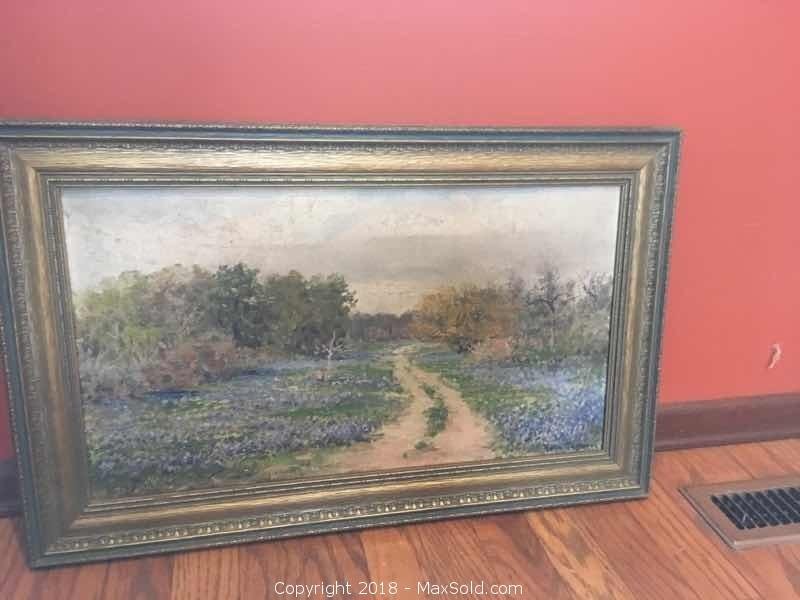 Rolla Taylor Framed Oil On Canvas. Framed 22 x 14.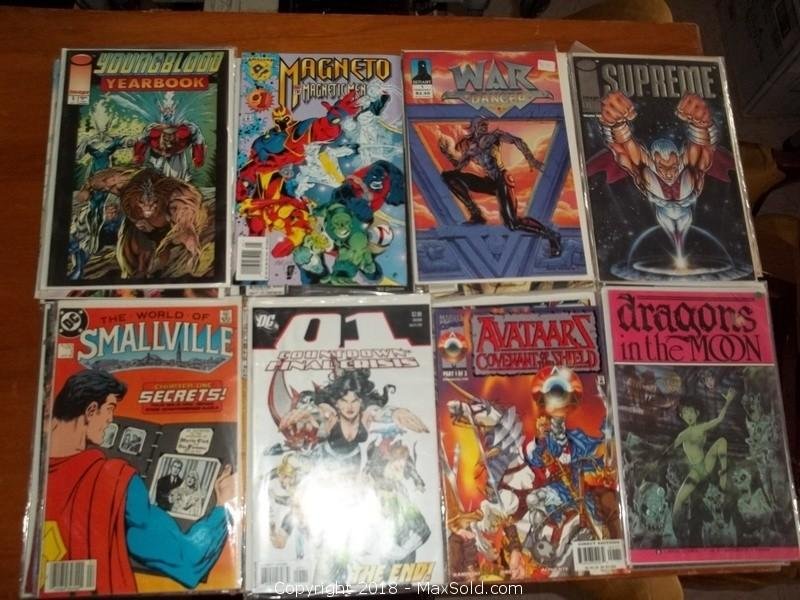 Selection of 1st issue comics including Robotech, Enigma, Xero, Smallville, Aquaman, Solo, Youngblood, Supreme, and more. Bring box for packing.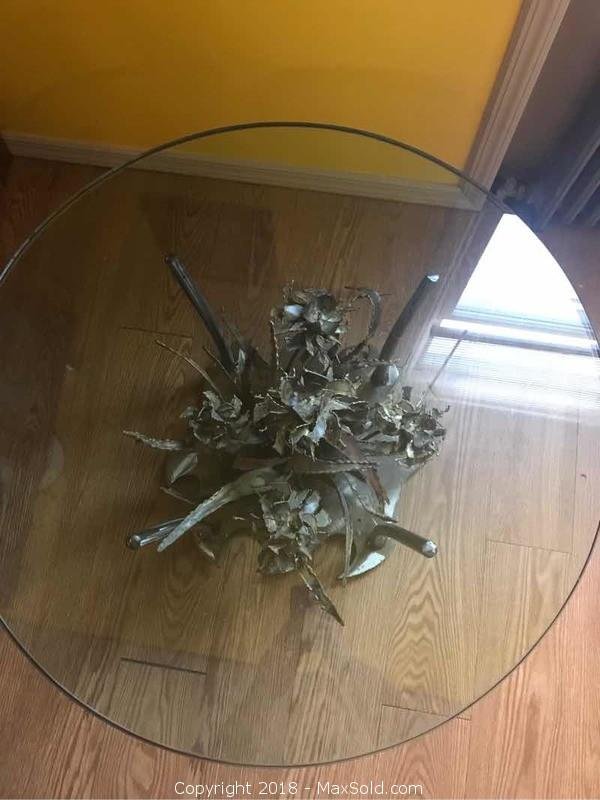 Signed 1980 original 1 inch thick glass top table with base hand made of metal flowers. 34" in diameter , .75" thick, base 15" tall x 20" wide. Very heavy please bring appropriate help. Originally paid a few thousand for this. Very collectible in great condition important furniture artist from NYC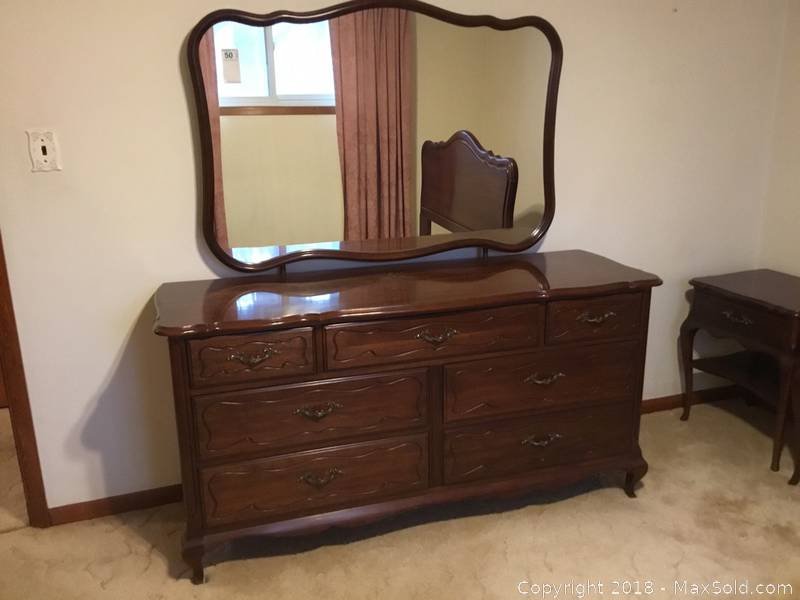 Solid cherry, 7 drawers, 62x20x32. attached mirror 49x33. Note: very minor surface wear, matches lot 49 and 51.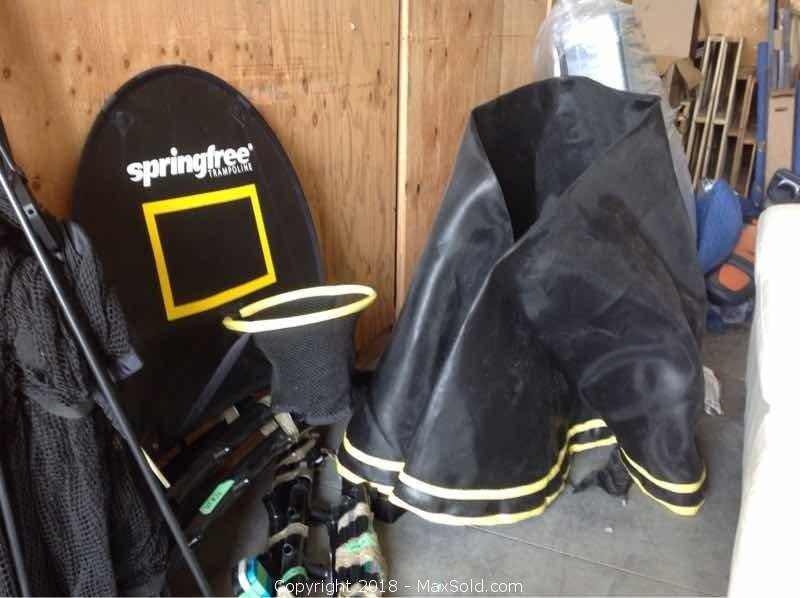 Spring free Trampoline. Includes basketball net. Measures 8x11. As is.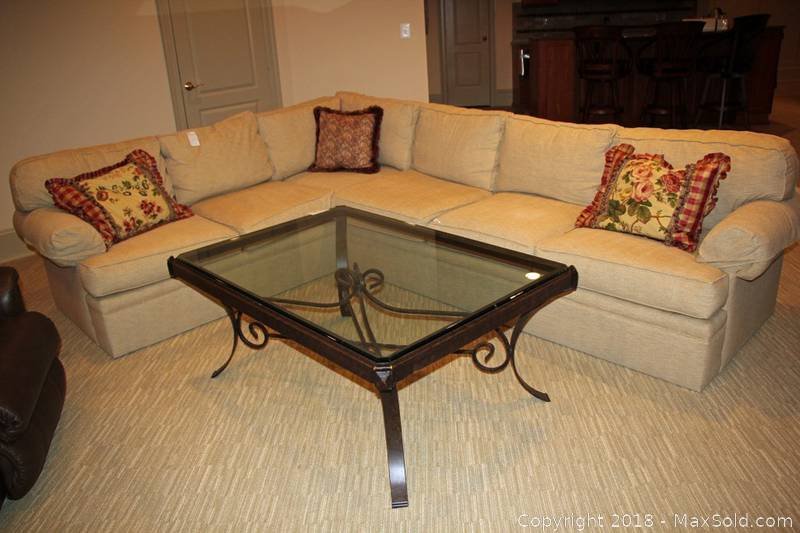 Stannis beige colored sectional with three throw pillows. 93X36X38 and 80X37X38.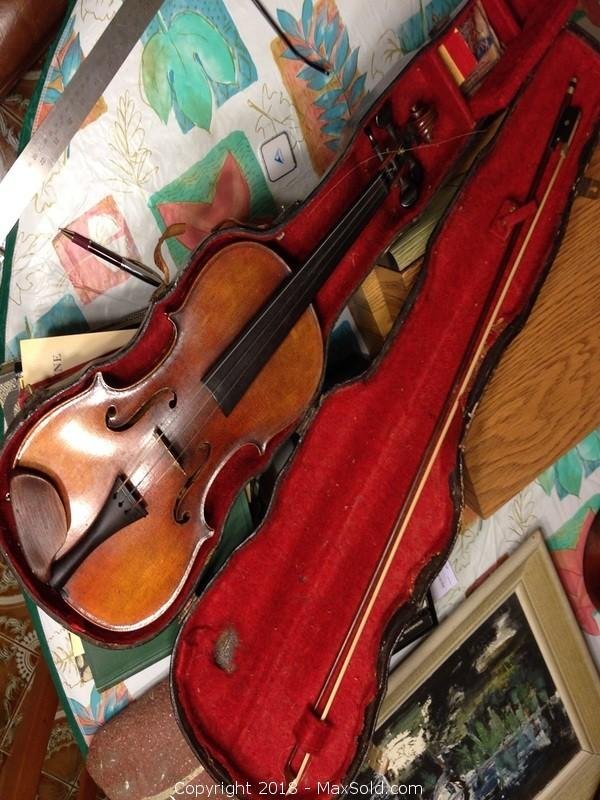 The violin is intact and in very good condition, no cracks, no splitting of the seams etc. comes with bow and original leather case. Has desired specifications in measurements.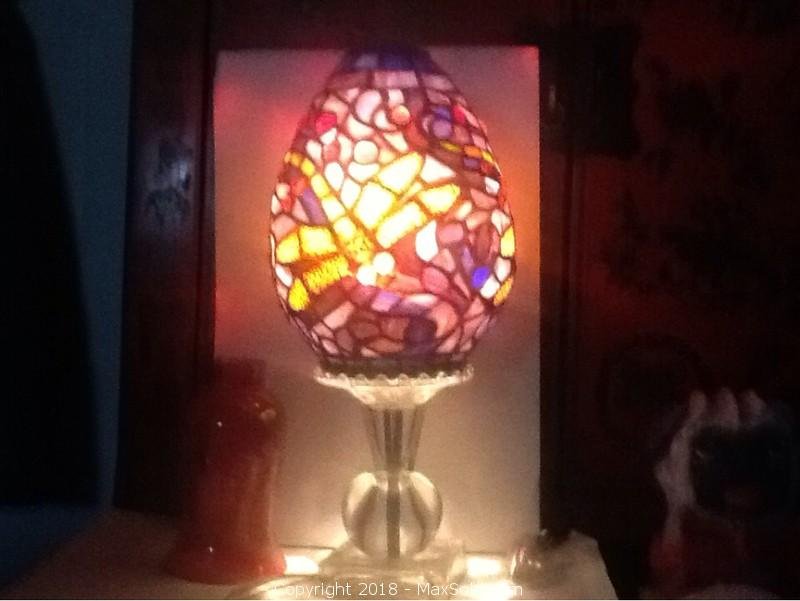 This is an antique lamp. The base is glass. It has one red richness shade and one stained glass egg shape with dragonflies design. You can change the to depending on your mood. The cord has a power switch. Working condition. No cracks in glass shades. The lamp with red shade is 13 inch tall. The lamp with stained glass egg shade is 15.5 inch tall. The stained glass Egg shade is 10 x 7 inch.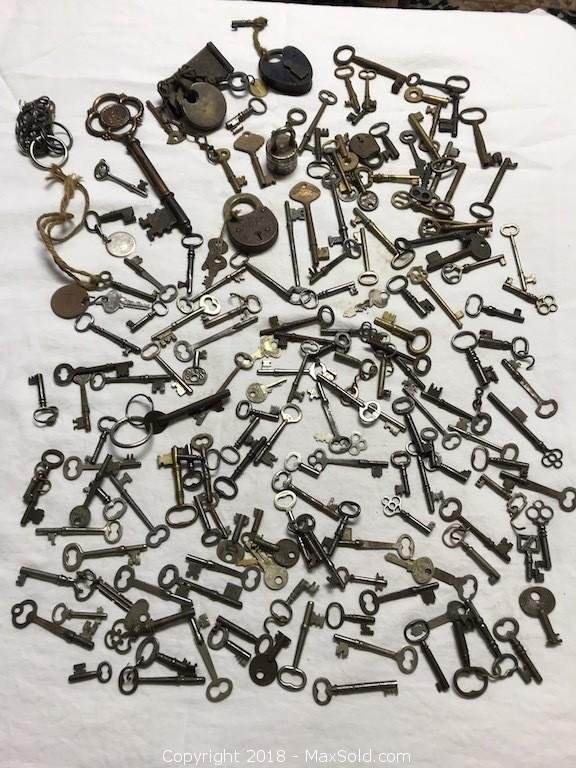 Tons of interesting church keys and locks.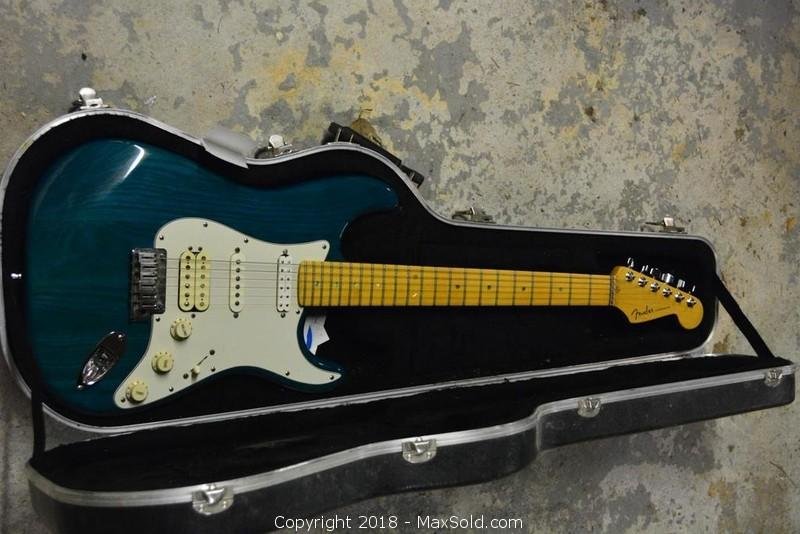 Turquoise Fender Stratocaster custom guitar and Fender case with key and accessories. Some wear and untested.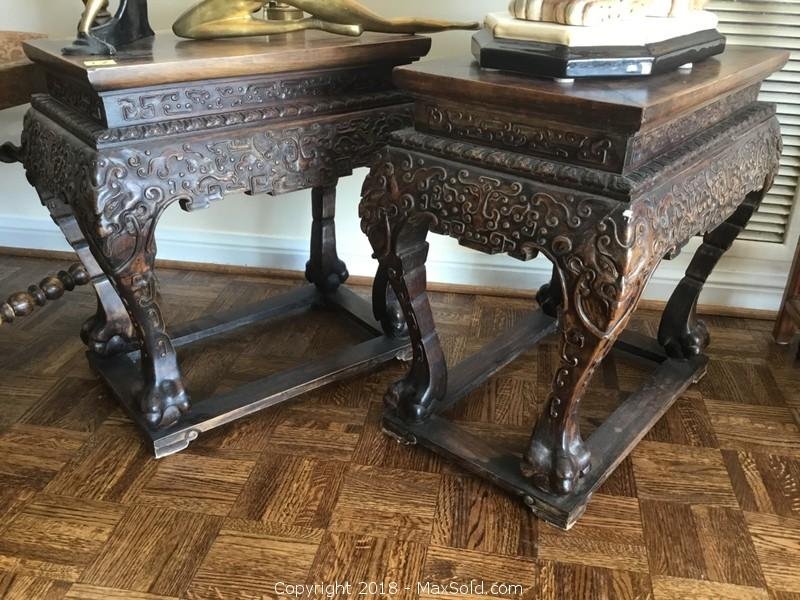 Two oriental side tables. very heavy. Wear Scratches. 20x13x20


Venetian Urn 
Sold on MaxSold for $331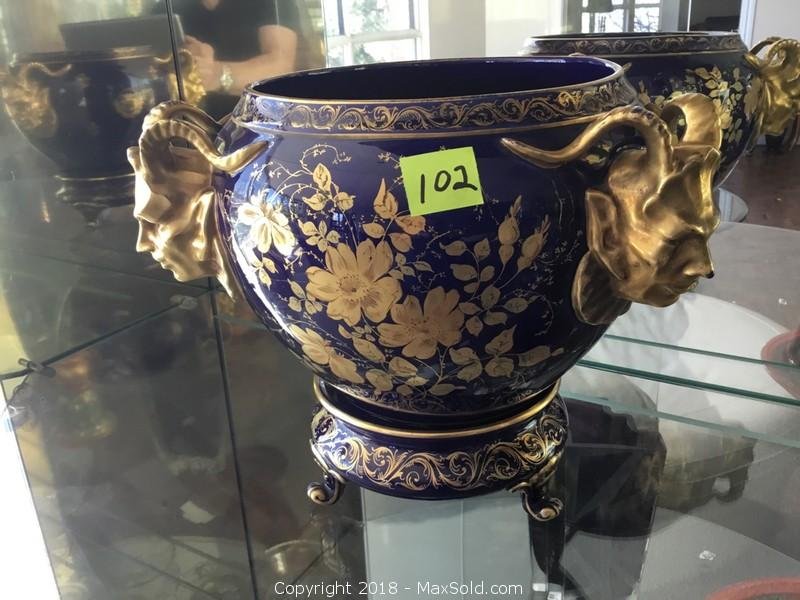 Venetian style urn on stand. 10" tall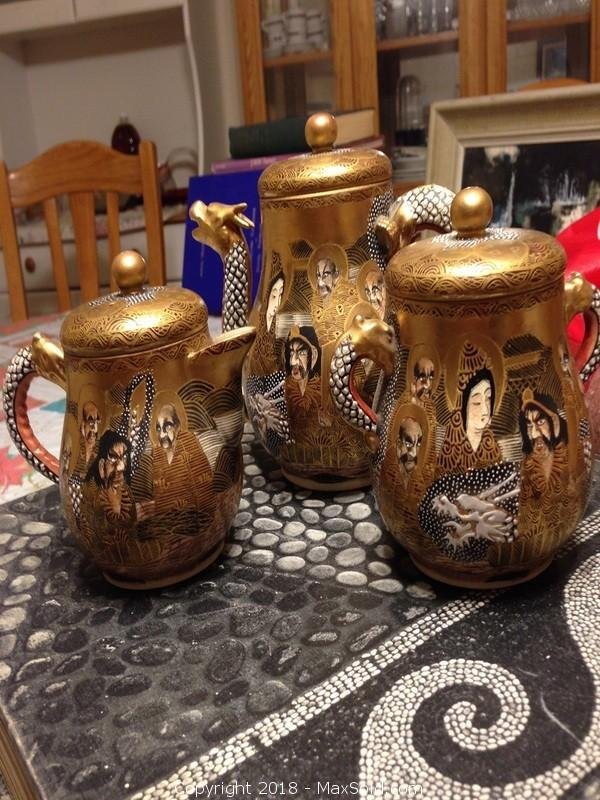 Very good condition with overall crazing and some staining associated with this type of pottery, teapot height is 5.5 "" high.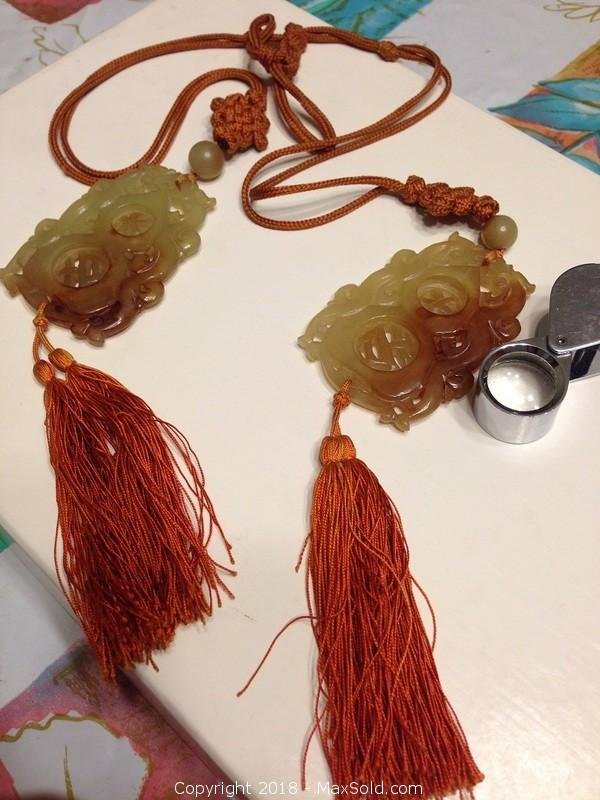 Very good condition. The central carved circles are movable and rotate.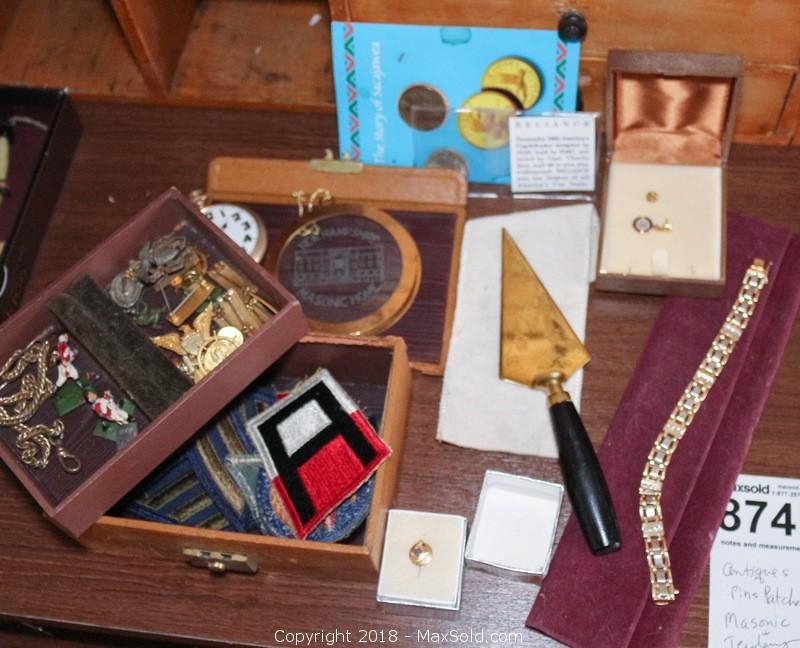 Vintage jewelry, watch, pins and patches. Also included are Masonic items like spade, pin, diamond and 14K gold mens bracelet, and window ornament.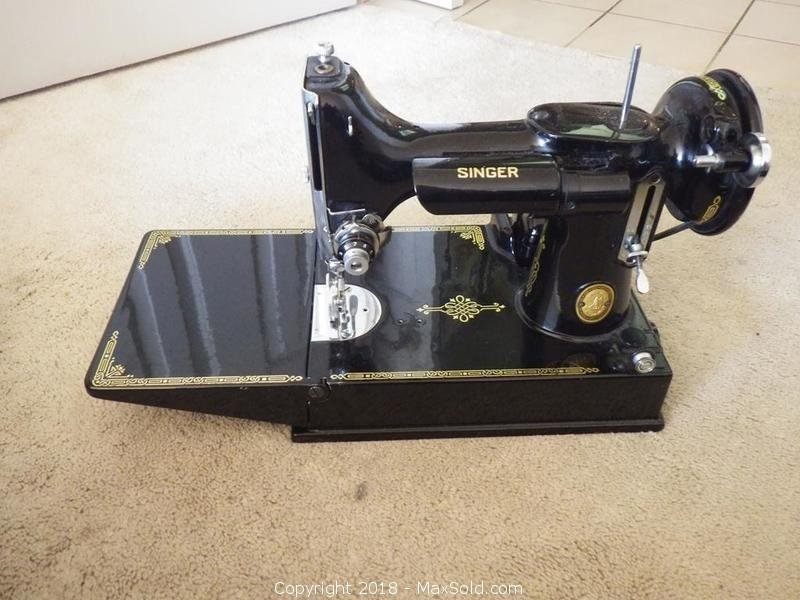 Vintage singer sewing machine. Note wear and untested.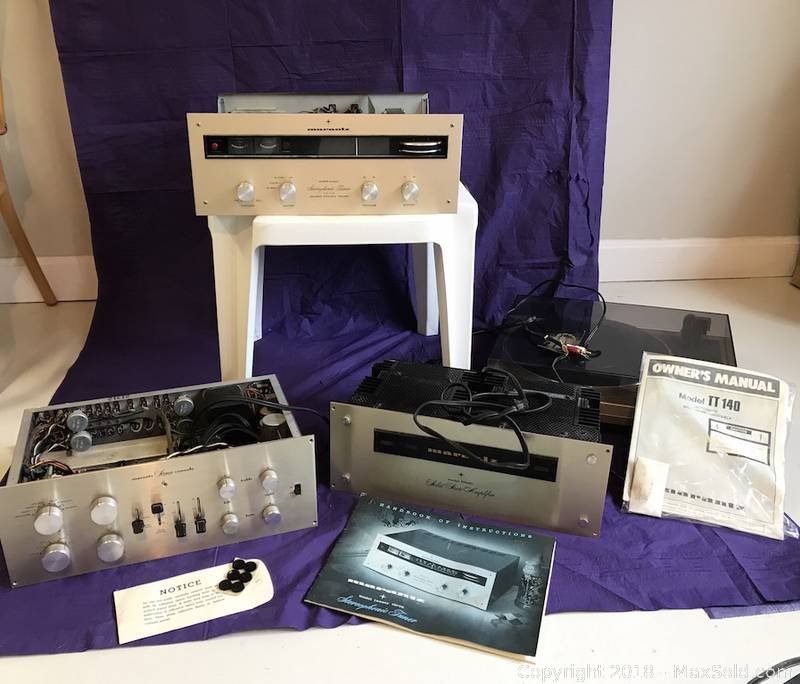 With Manuals: dusty but intact... - TT 140 Turntable - Model 23 Stereophonic Tuner - Model 15 Solid State Amplifier - Model 7 Stereo Console *** As with all our electronics, we will try to match you with the proper cordage but we're not responsible for missing cords and we have not tested any components.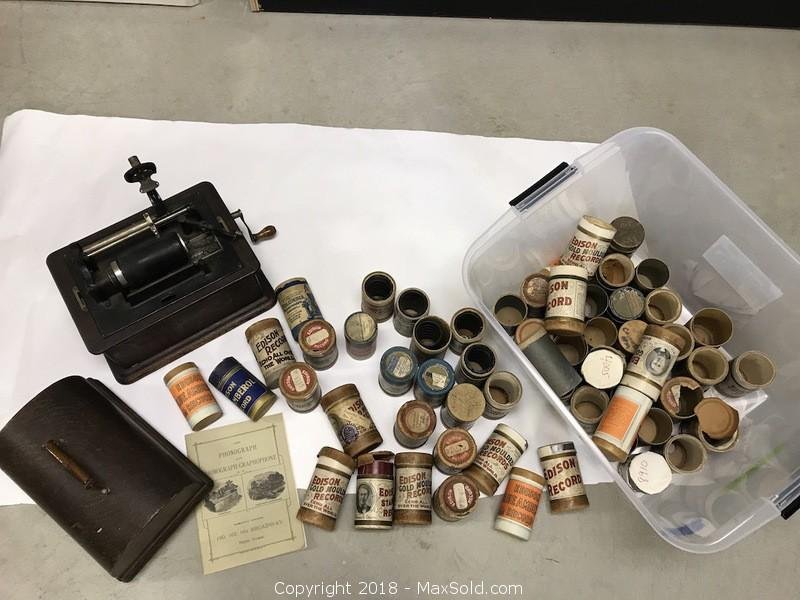 with original cylinder cases and some with intact cylinders. VERY heavy.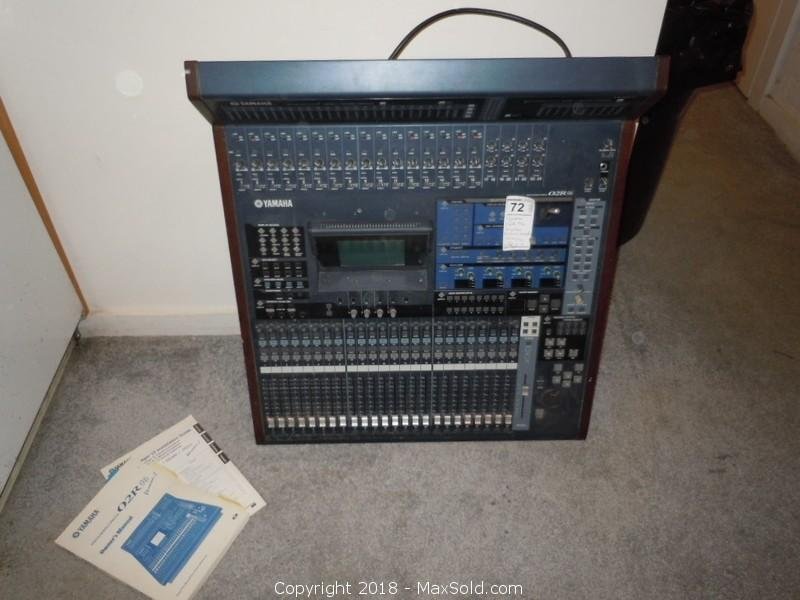 Yamaha 02R 96 version 2 digital mixing console. Measures 28x32x10.5. Untested. Heavy. Located in basement. Bring help to move.

MaxSold is committed to providing a respectful, easy, transparent, and profitable solution for individuals going through this very tough phase in their lives. For MaxSold it's HOW you sell, not WHAT you sell, that matters.