This past month MaxSold was excited to share the story of "David's Table." We were fortunate enough to capture the Lee's family auction in the 1000 Islands and shared the passing on of items from one family to another. At MaxSold, we are on a mission to find new homes for items every day, where they will continue to be treasured! Check out the top trending items from this past month!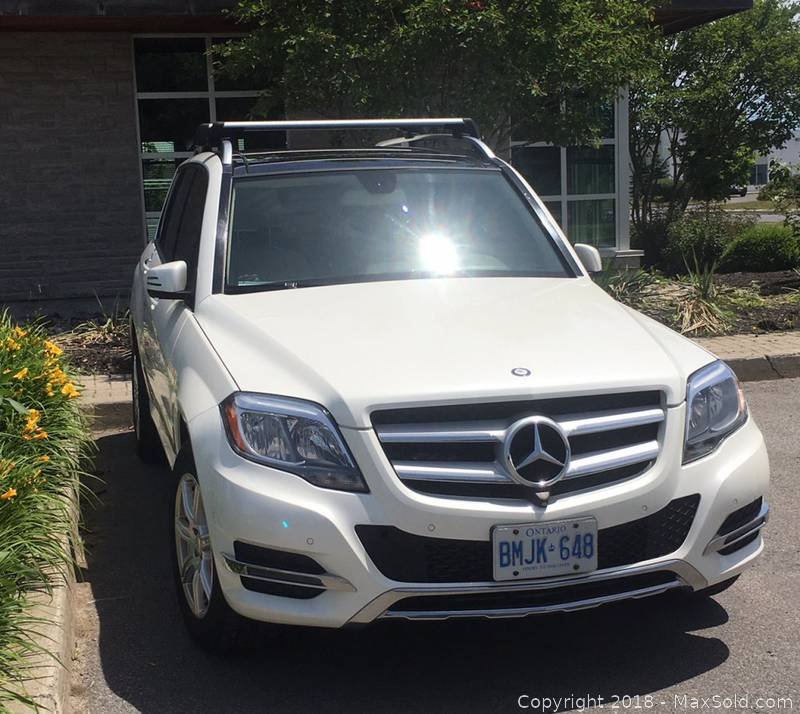 Certified. Diesel 2014 Mercedes Benz GLK 250 69792 Km. VIN WDCGG0EB2EG293493 Automatic White 4 door, leather interior, power package, double sunroof, note 2 scratches one on front bumper and one on rear bumper shown in photos. New rotors and safety certified. Only 1 key Fob.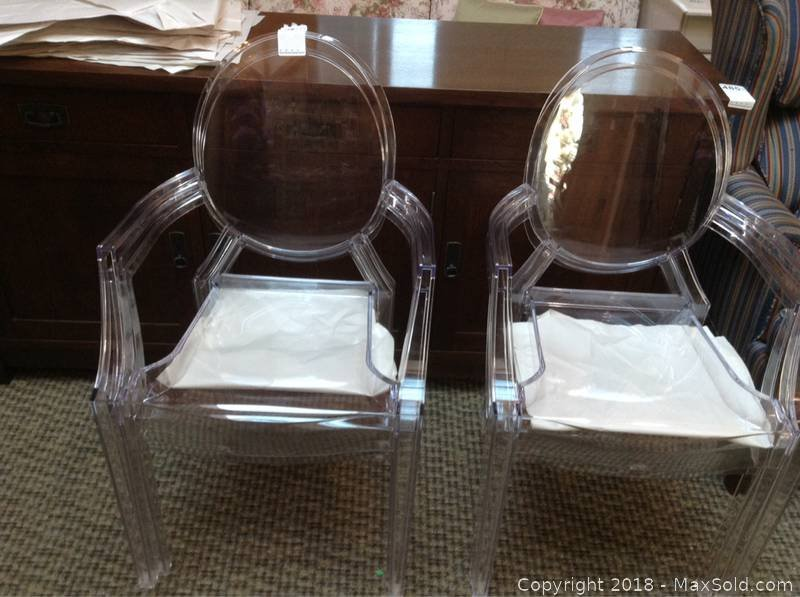 Six acrylic clear chairs 36H by Kartell. Note wear.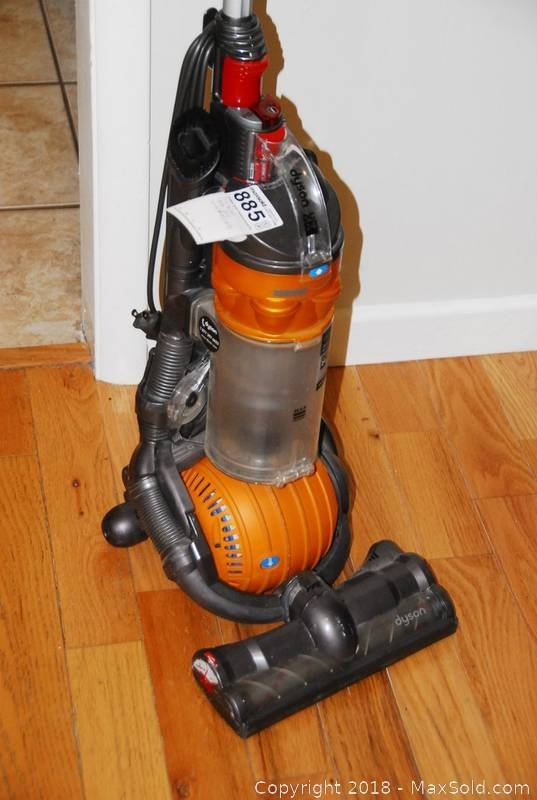 Dyson DC24 vacuum. Working as per seller.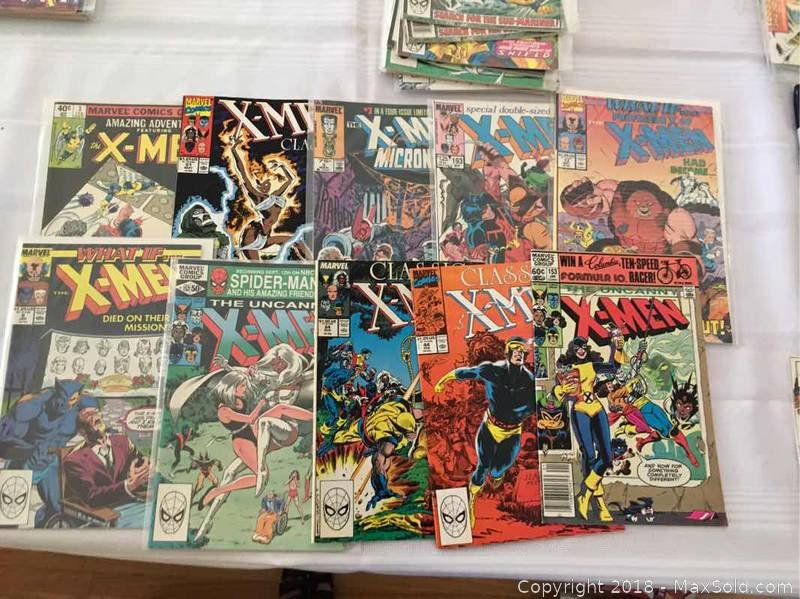 All different periods and prices. Condition looks good. Sold as shown.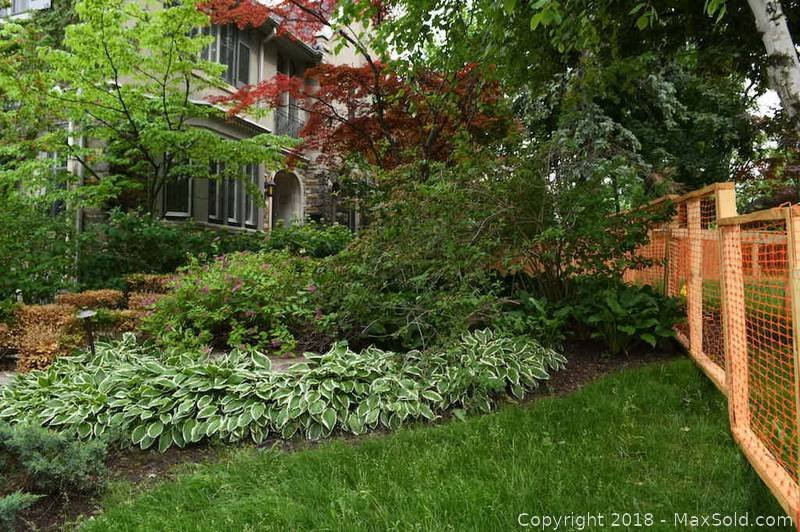 Front yard plantings in bed to the left of the door. Does not include large trees. Bring tools to remove.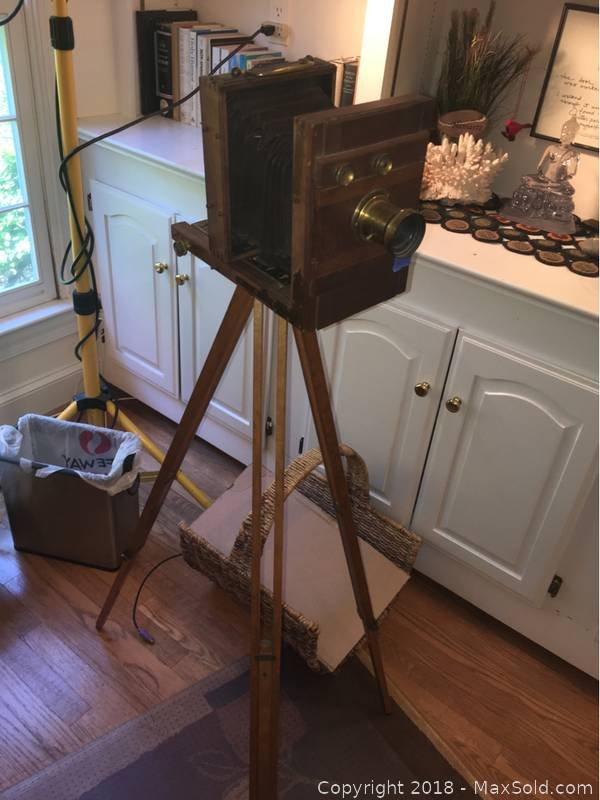 Antique camera lense, untested. 53 Inches tall with legs extended.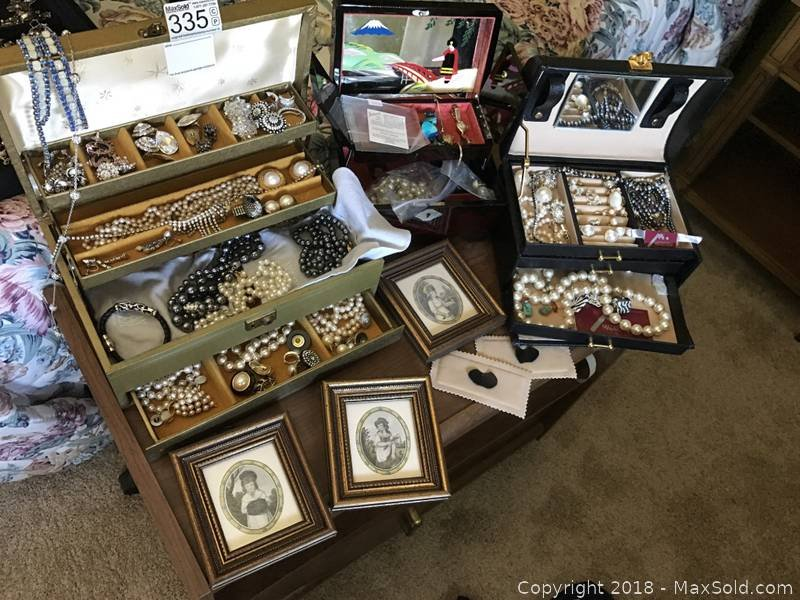 Pearl necklaces, vintage watches, costume jewelry, jewelry boxes and some pieces with 14 karat.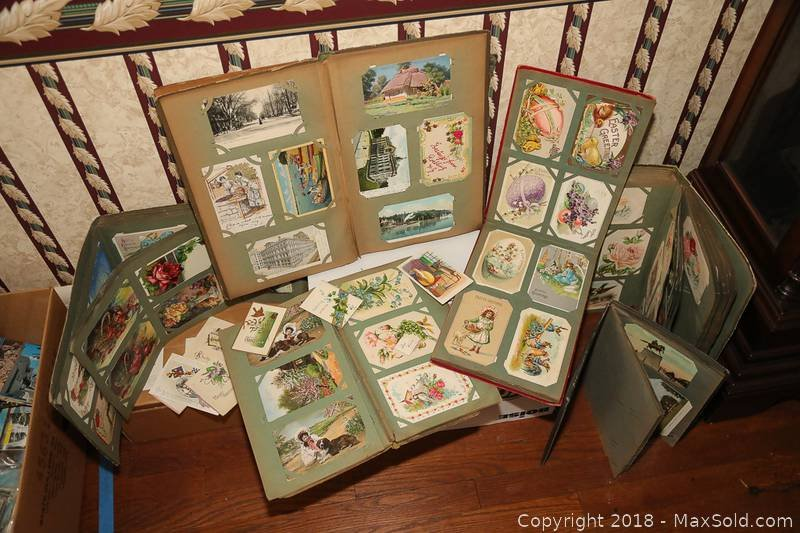 A collection of antique postcards in albums.
Floor Lamp
Sold on MaxSold for $180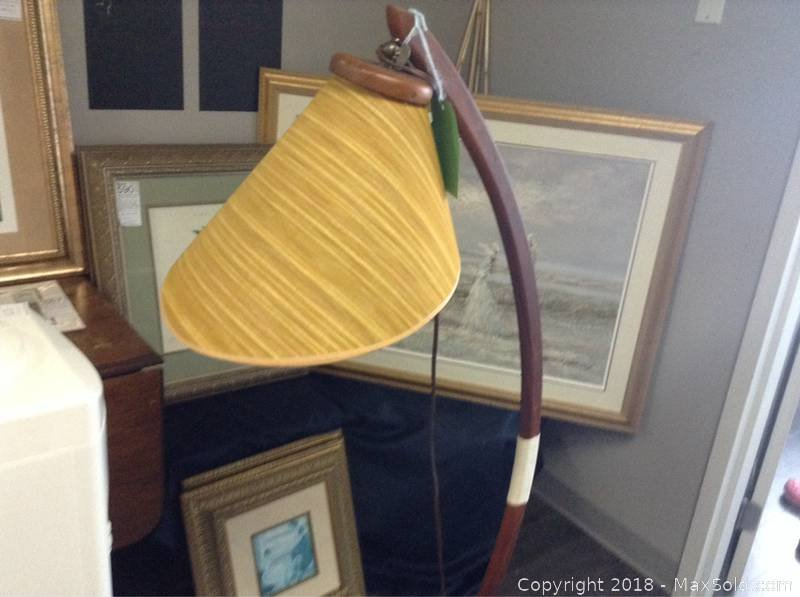 Wood floor lamp, tested, 57 inches tall. And table lamp.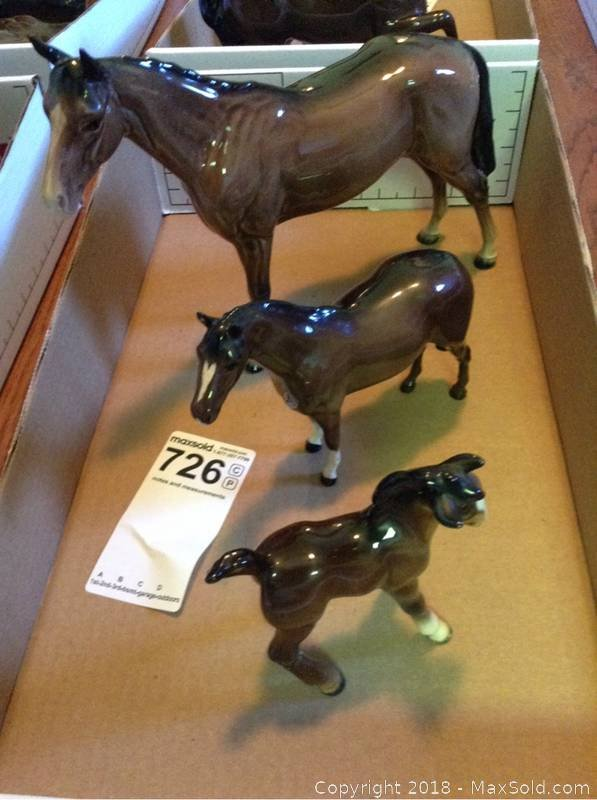 Three horse figures, tallest 8H stamped Beswick England.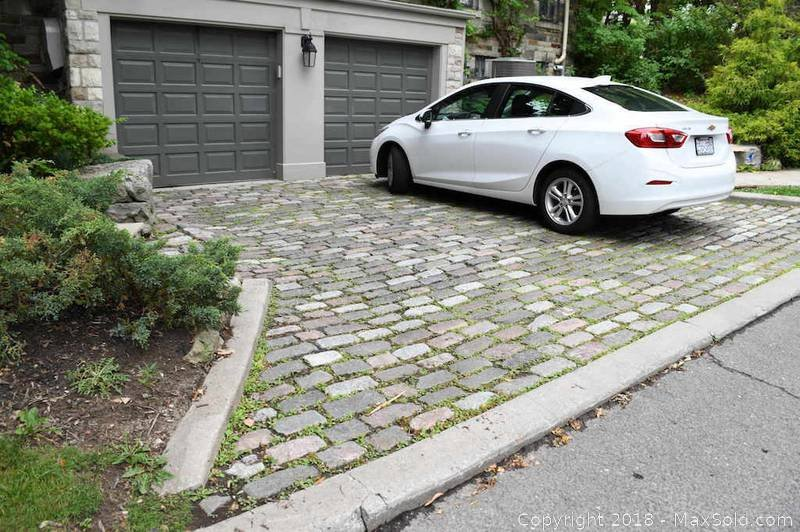 Cobblestone driveway with over 100 pieces. Note: Please bring tools to disassemble.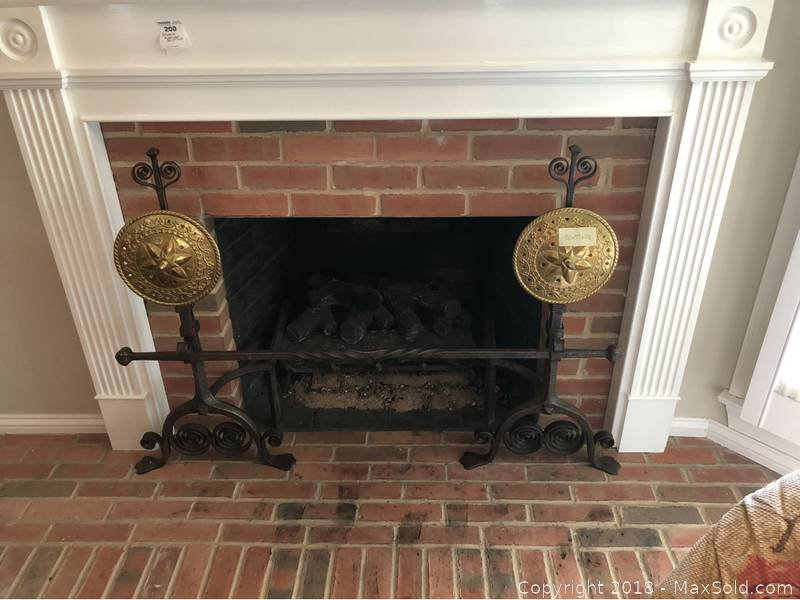 1923 Fireplace andirons, 36X47X24.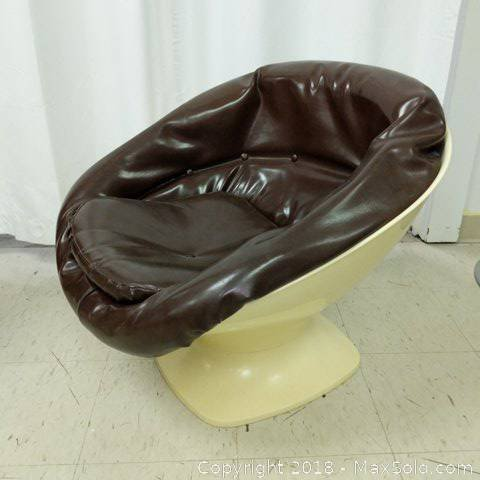 Plastic base. Tufted brown vinyl seat and removable cushion. 24" tall x 30" deep x 30" wide. 15" to the top of the seat cushion. Vinyl seat partially attached to back plastic base. Vinyl needs slight reshaping from storage. Buttons have wear.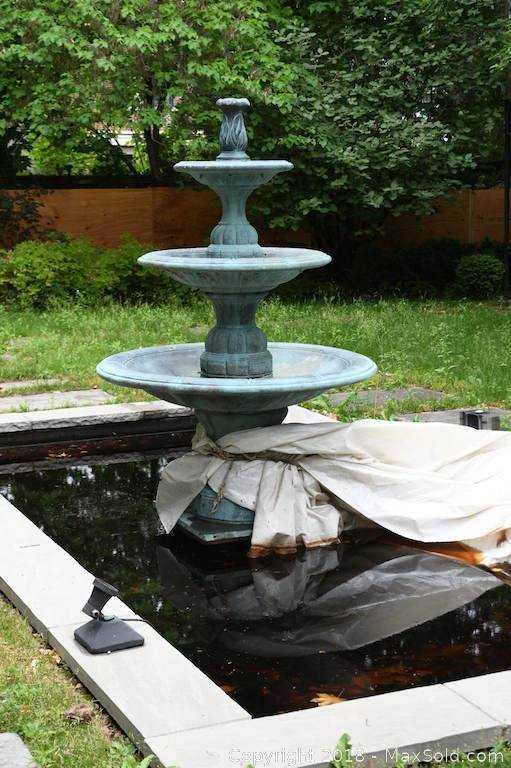 Concrete 42X76. Note: Please bring tools to disassemble and boots as pond will not be drained.
Hummel
Sold on MaxSold for $188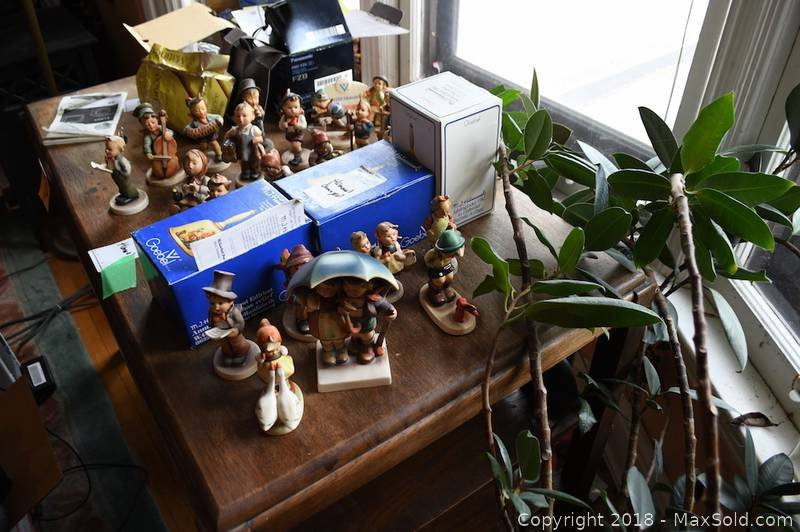 Hummels Including 3 From West Germany and 3 from Germany. 3 Hummel bells. Note crazing.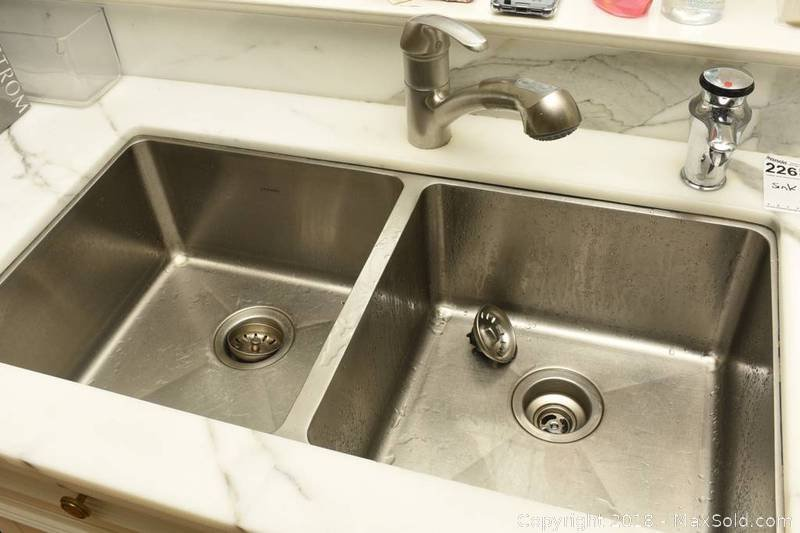 35X9X17. Includes faucet.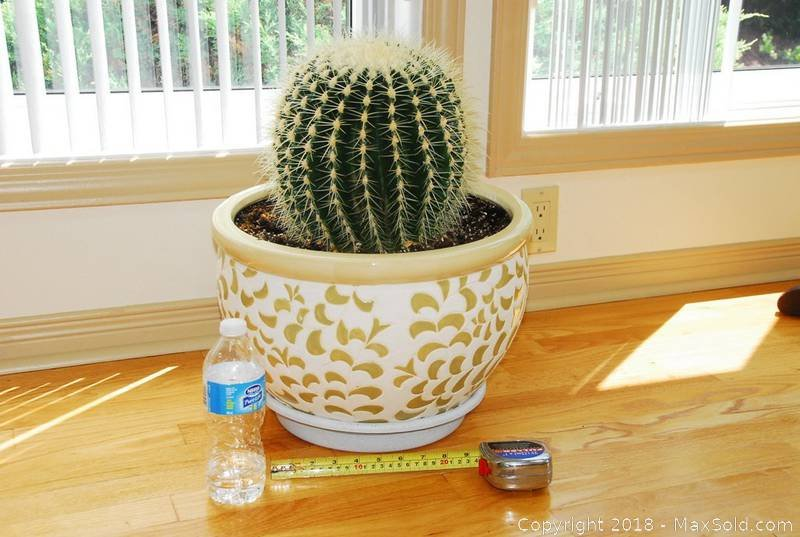 Mix of various plants, includes large mature Jade and cactus, all in good condition and healthy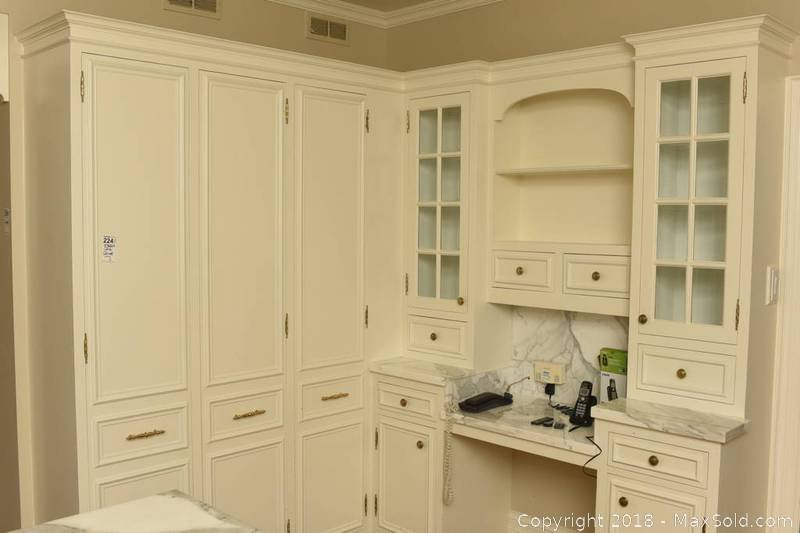 Painted wooden cabinet with white marble countertops. L-shaped unit 110X89 And Single Unit 36.75X89. Note: Please bring tools to disassemble.
Sauna
Sold on MaxSold for $421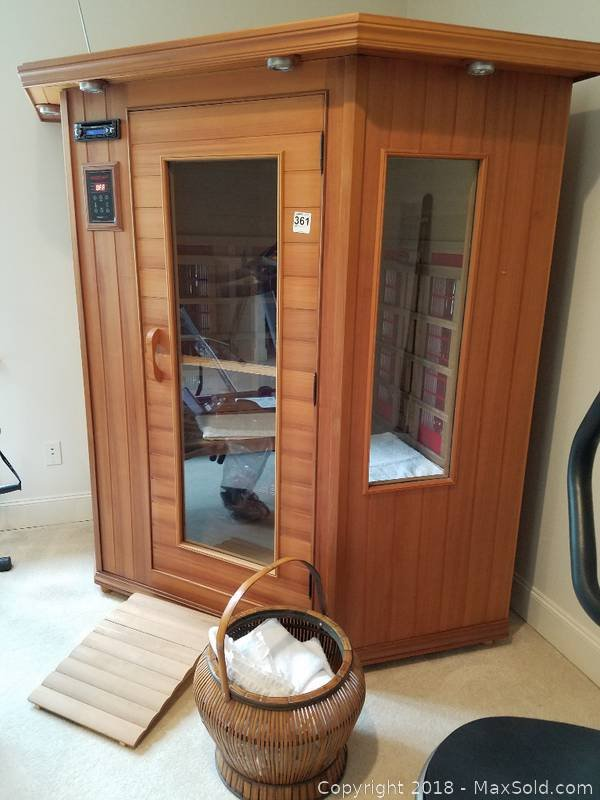 Healthmate home sauna with Panasonic CD player. Untested. Heavy item, bring help to move.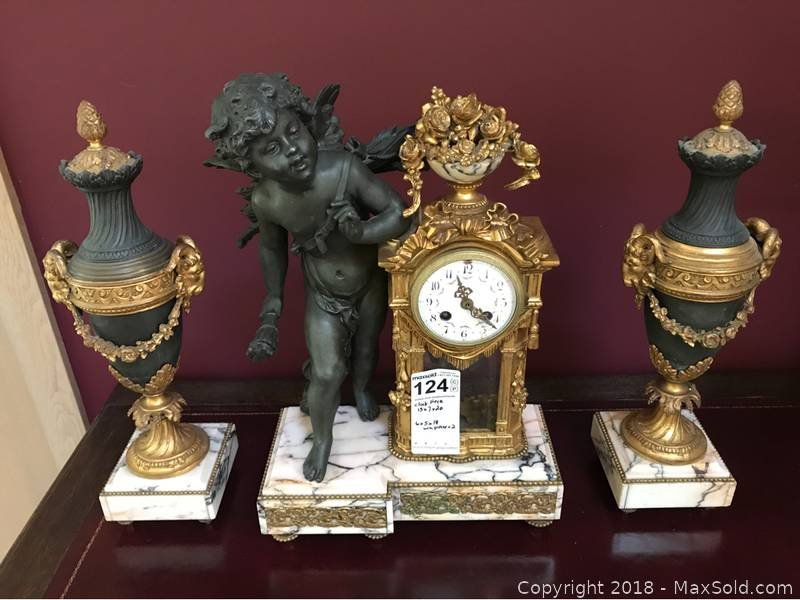 Clock. 13x7x20 inches. Urns 6x5x18 inches.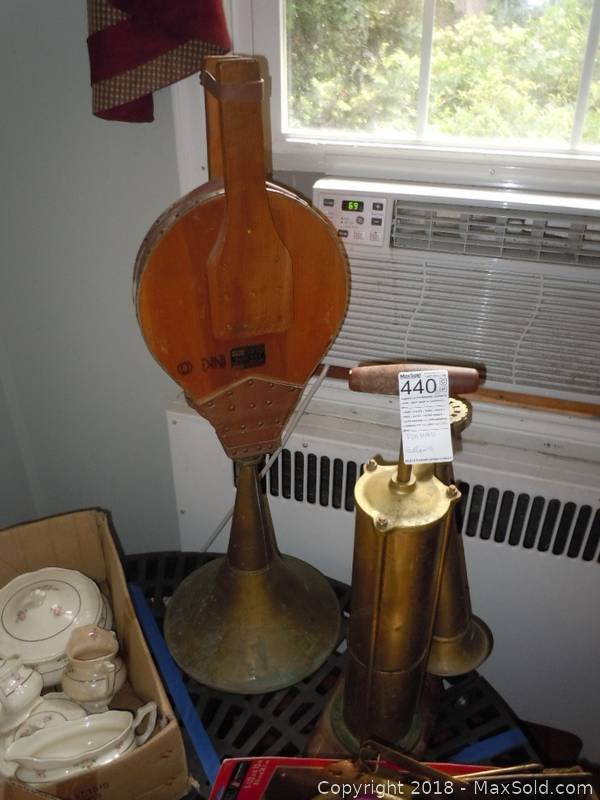 Large ships horn with bellows made in 1972. Plus a second ship horn with a push type handle. Both brass that needs some polishing. Handle has some wear and indentations.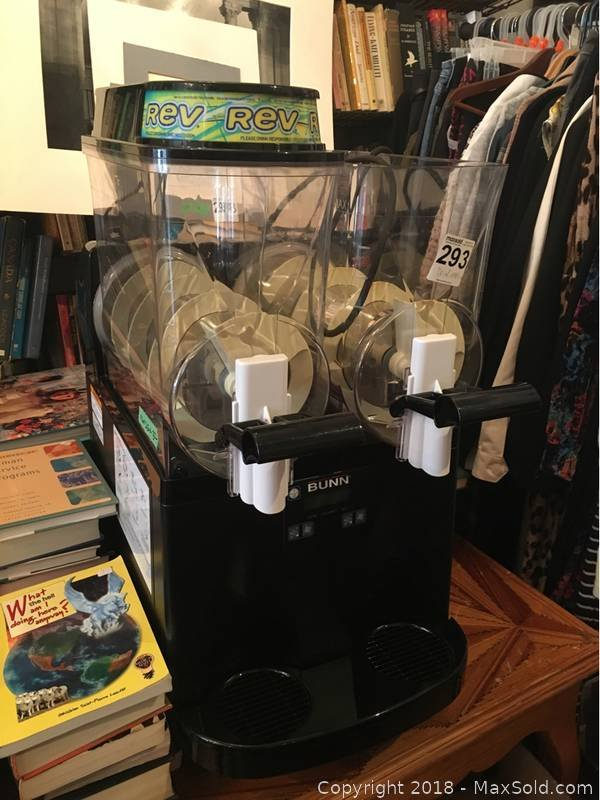 A Slushie machine, manufactured by Bunn. Note second tank is missing the lid. Heavy, bring help. Untested.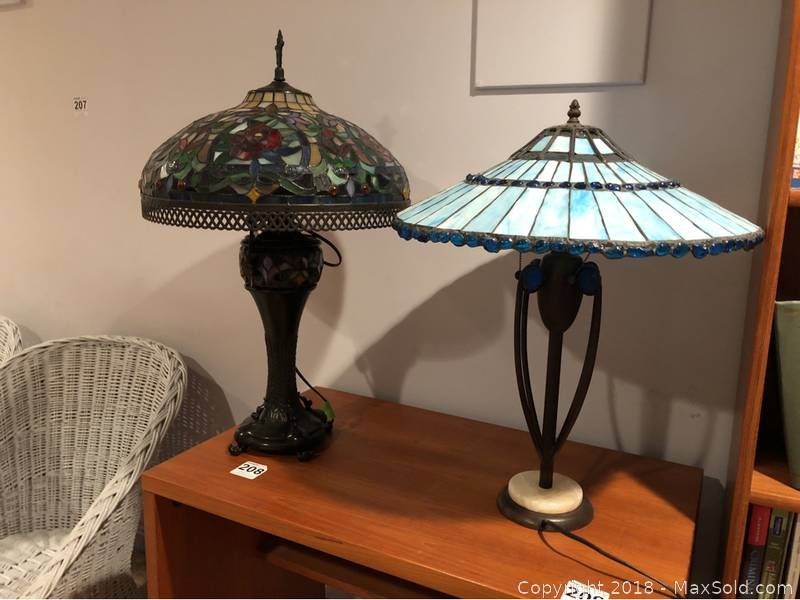 Metal based lamps, one with ornate stained glass blue shade with cabochons and metal and marble base, 24 in. Stained glass rose design shade and black metal base 30 in. Both Untested.
Steins
Sold on MaxSold for $262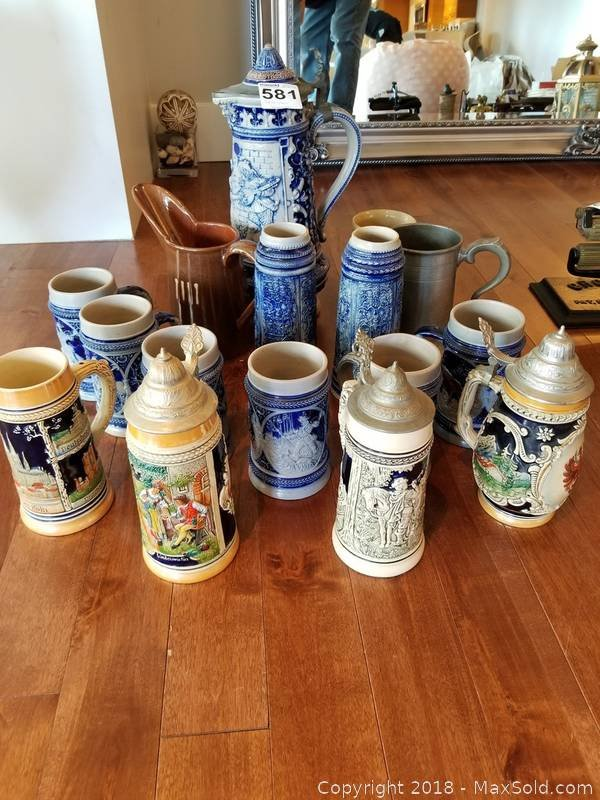 Vintage inscribed pewter stein, 7X14 lidded blue ceramic stein, stoneware mug and jug.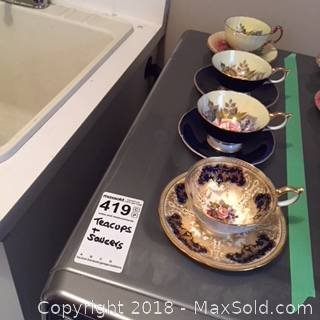 Four vintage Aynsley teacups and saucers, very light wear.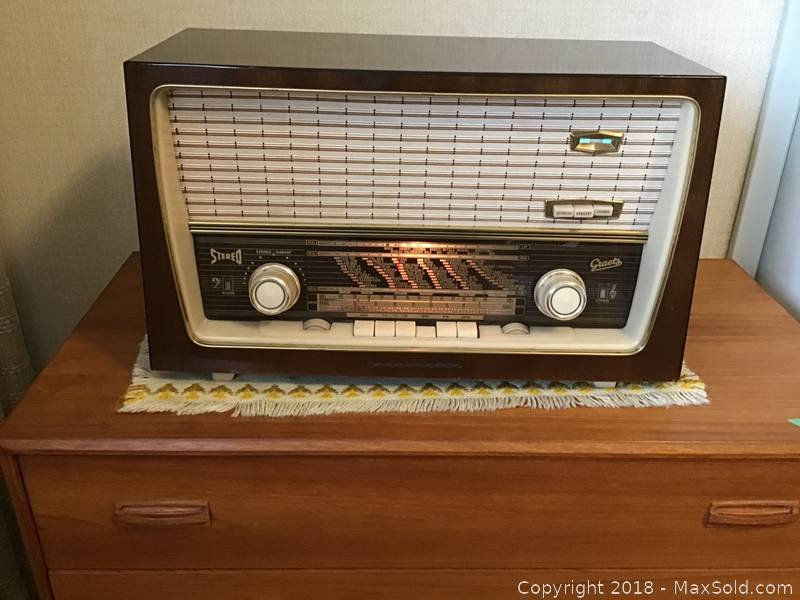 Vintage Graetz Canzonetta 816 German Tube Radio. Year 1959 to 1960. Tested, working. 21 inches wide x 10 inches deep x 13 inches high.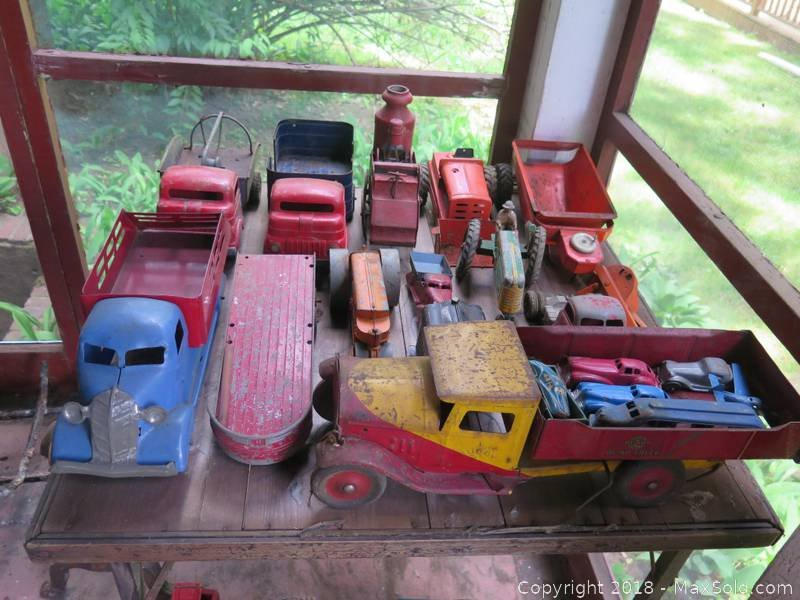 A collection of vintage toy trucks. Includes a tractor, dump trucks, an airplane and more.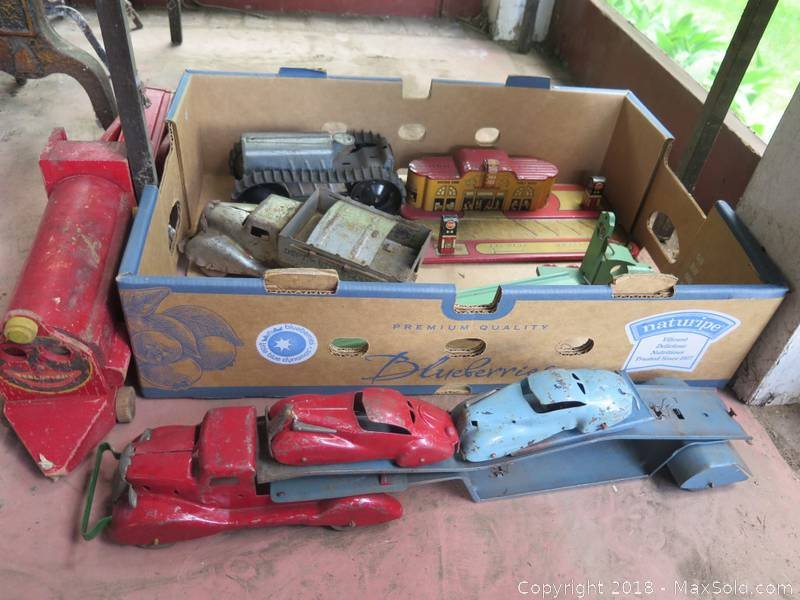 Metal car carrier with 2 cars, 23x4.5x4, dump truck, bus station, tractor and more.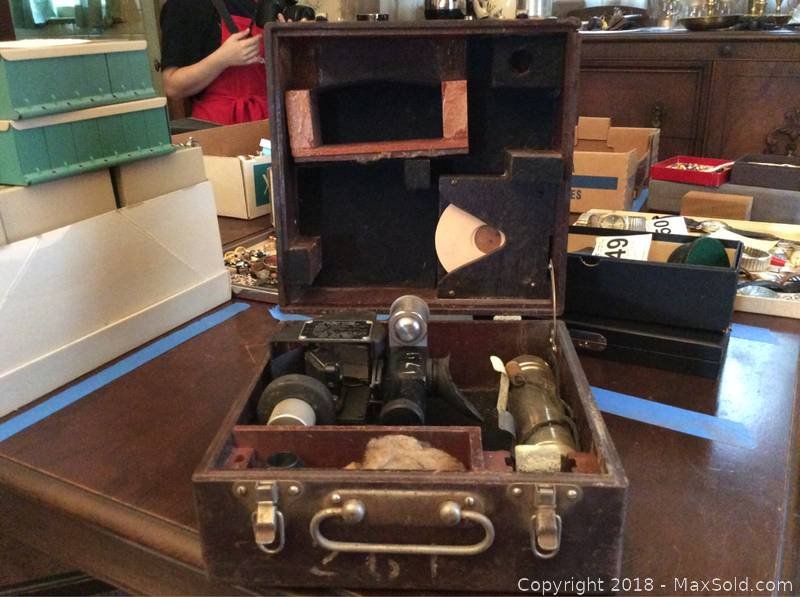 Fairchild Camera and Instrument Corp. Aircraft sextant A-10-A. Condition consistent with age. Untested.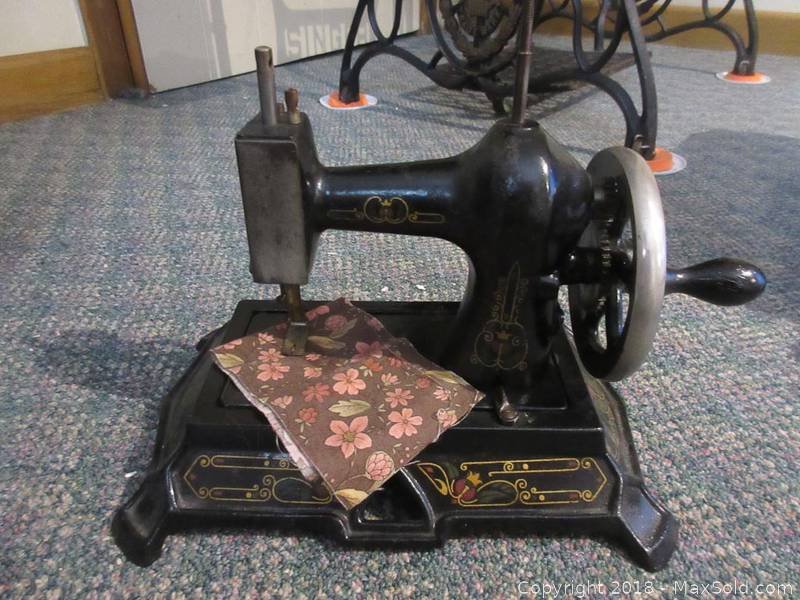 Very old and very small hand turned straight stitch sewing machine.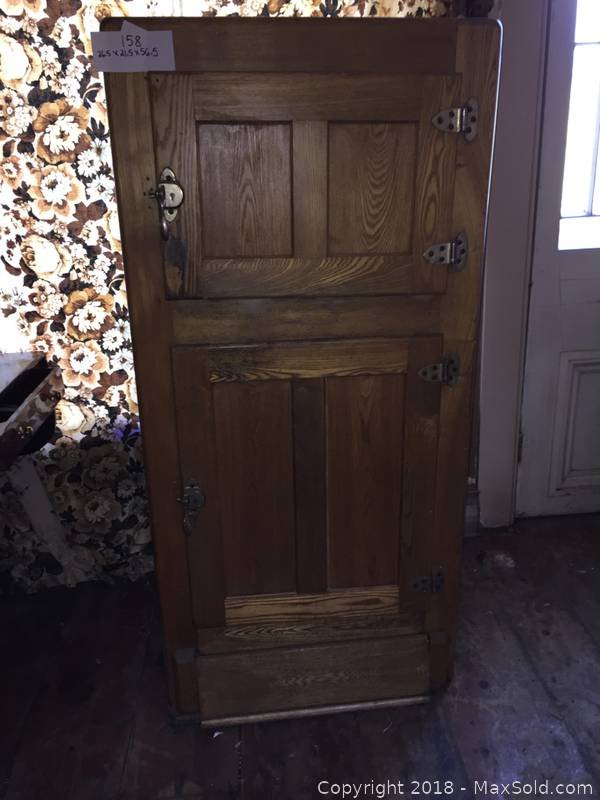 26.5 wide 21.5 deep and 56.5 tall. Oak. Note stains and damage to side. Note: Heavy item.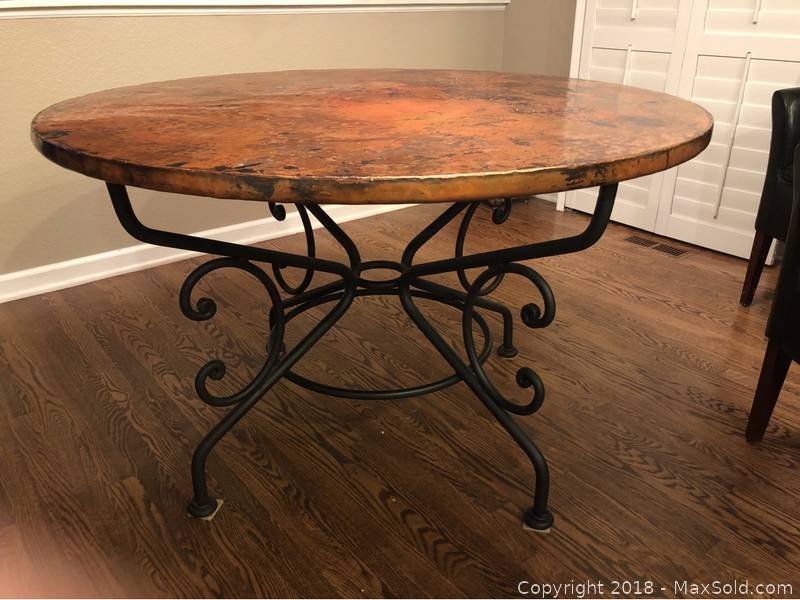 Arhaus round dining table. Good condition with a few scratches and water stains. 47.5X29.5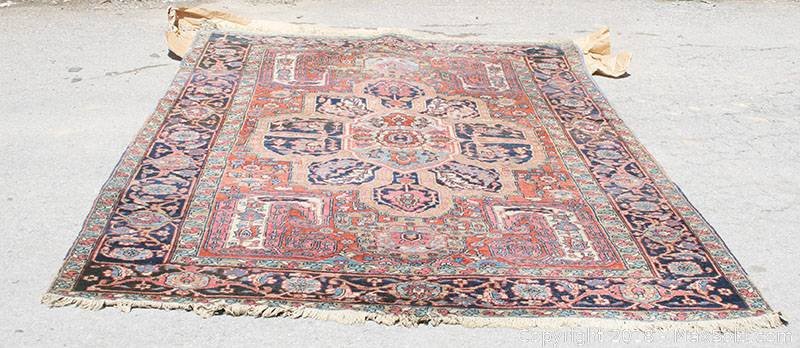 Beautiful Area Rug - Needs Cleaned. Some Wear on Edges, Otherwise In Good Shape. 10' 11" x 7' 8"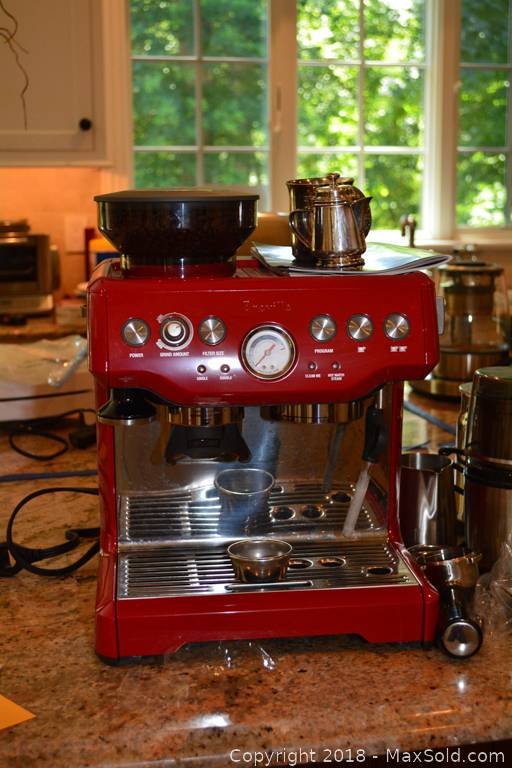 Breville Barista Express, red, untested, shows sign of use, and more. Heavy item located in kitchen. Bring help to carry.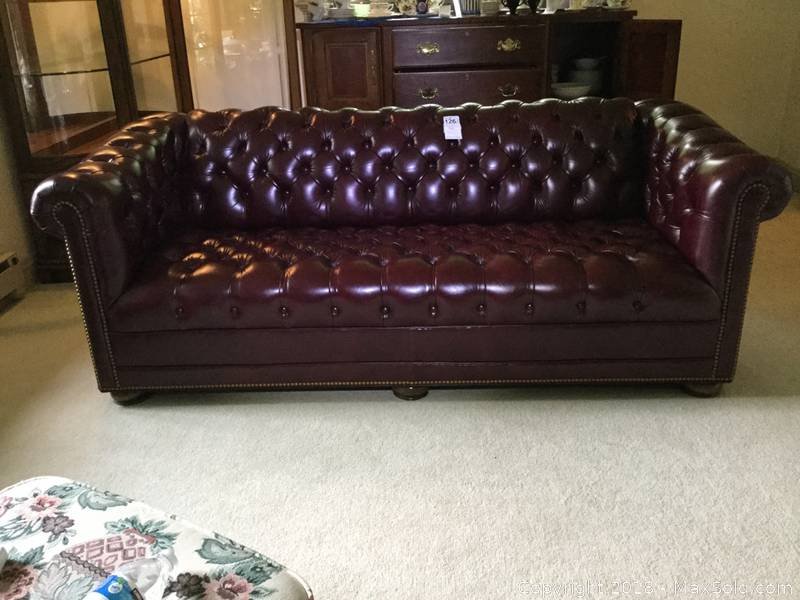 Chesterfield sofa by Hancock and Moore. No wear noted. Heavy bring help to move.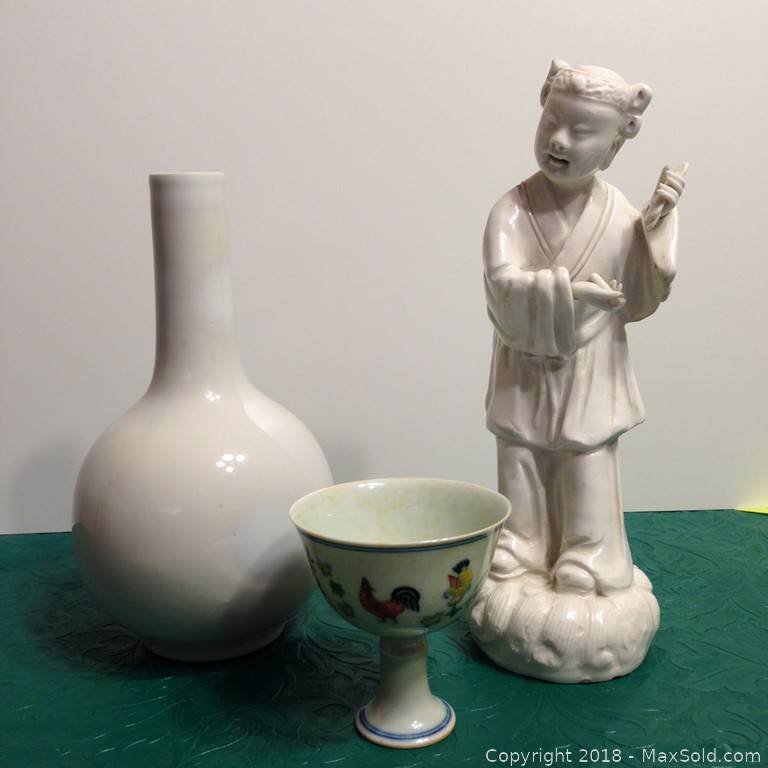 Chinese porcelain items. Unusual white vase with spots design approx. 8" figurine has chip to hand holding the scroll. Footed small cup with chickens good condition.
Copper Ware
Sold on MaxSold for $170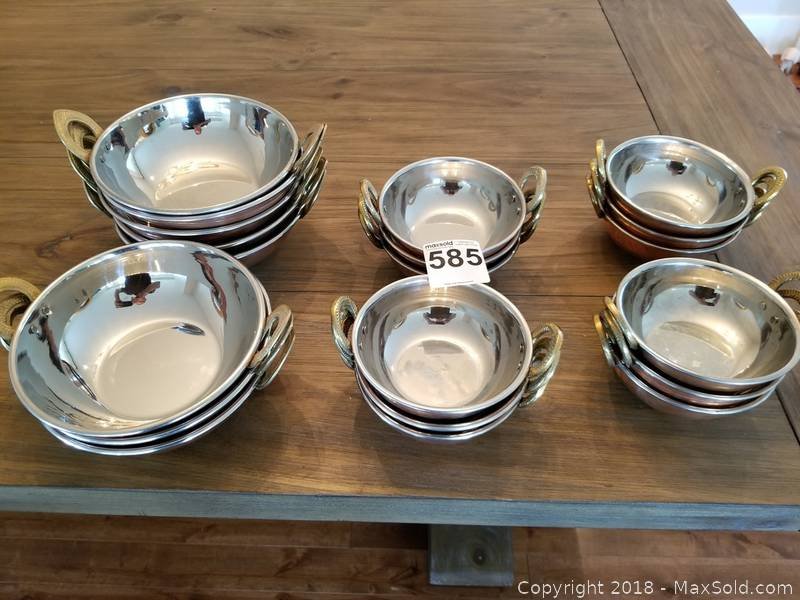 Assorted size Indian copper bottom dishes including seven 7i inch wide and 14 five inch wide. New.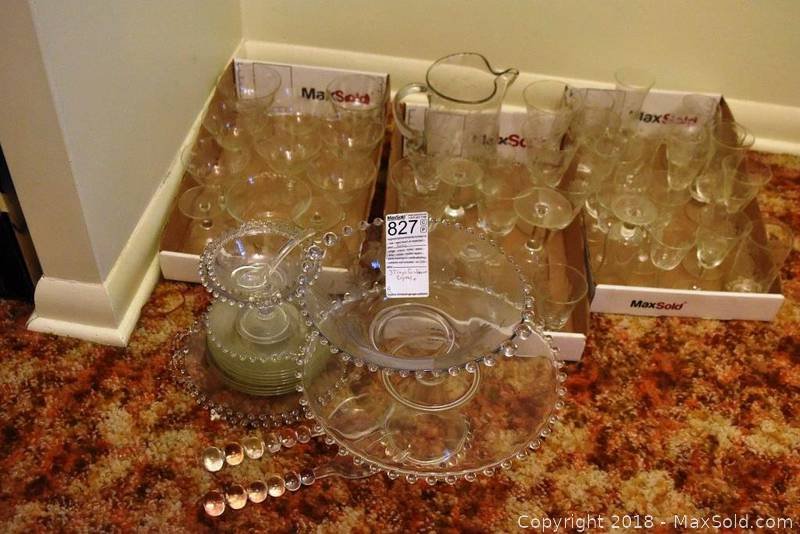 Large collection of various pieces of Cornflower crystal. Includes stemware, pitcher, bowls, salad fork and spoon footed pedestal cake display, luncheon size plates, serving plates and glass spoon.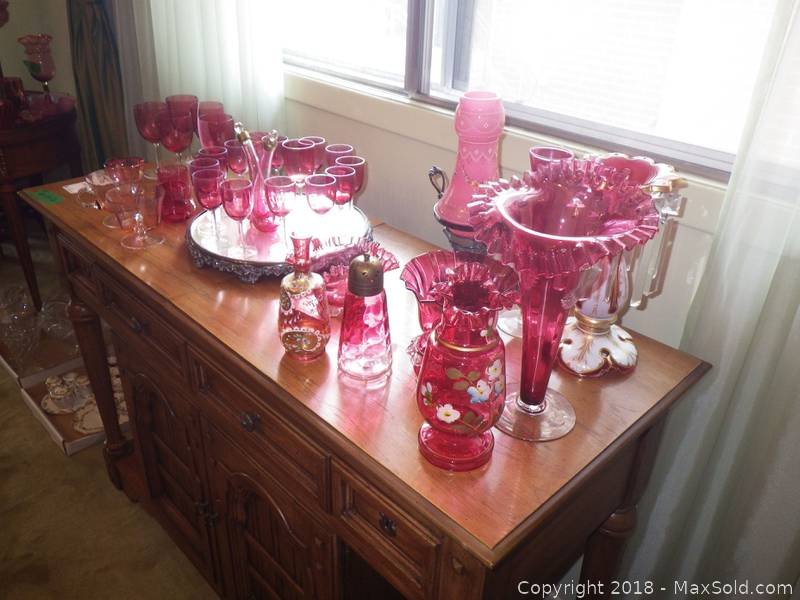 12 shot glasses, 5 wine glasses, 2 espresso cups, 2 mugs, note: chips, candy dishes, vases, candle holder and more, note: flee chips on some.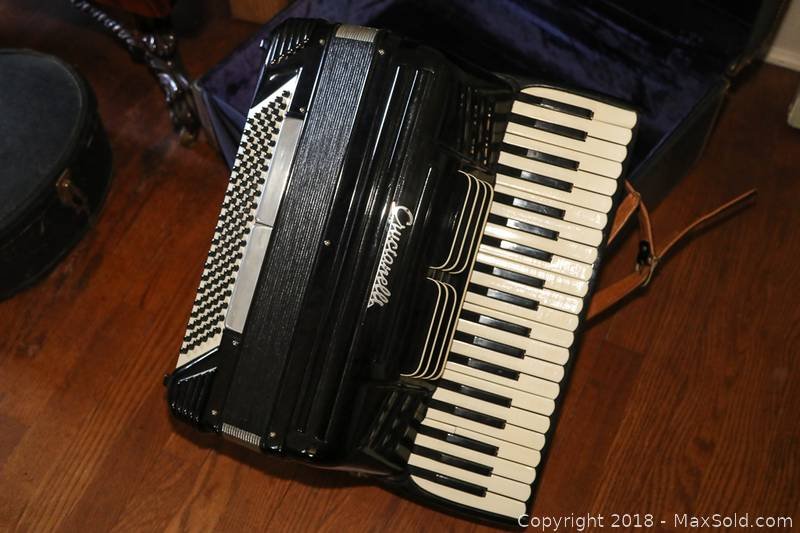 Crucianelli accordion in Pancordion Inc. case. Untested.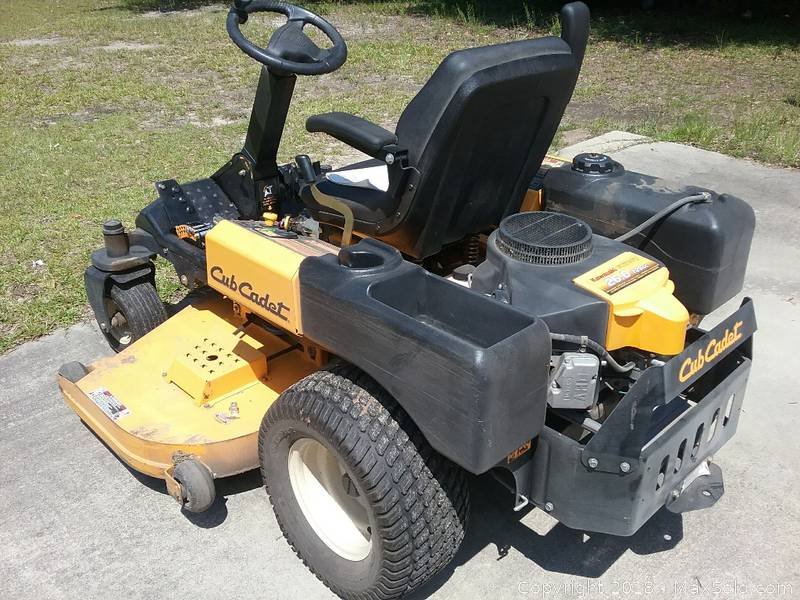 Cub Cadet Z-Force S riding mower. 60-inch deck. 26 hp Kawasaki V-twin motor. Untested.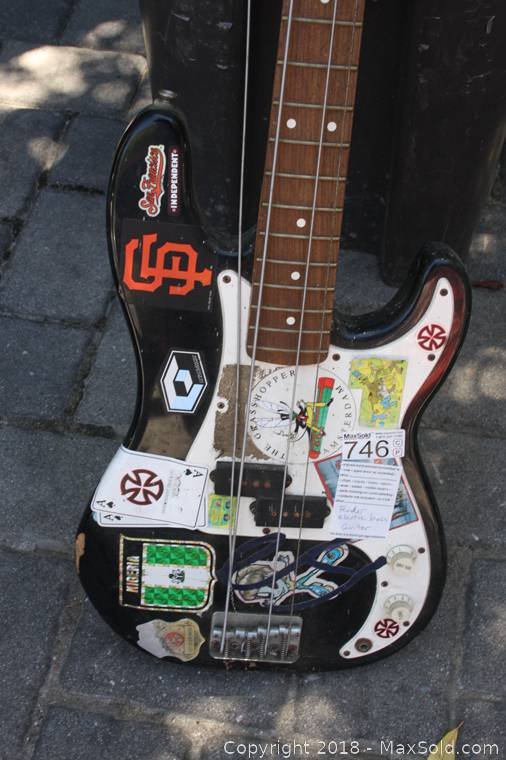 Fender brand electric bass guitar. Traces of rust and scratches on the neck, it can be cleaned up. Volume stops just short of going to 11. Goes to ten.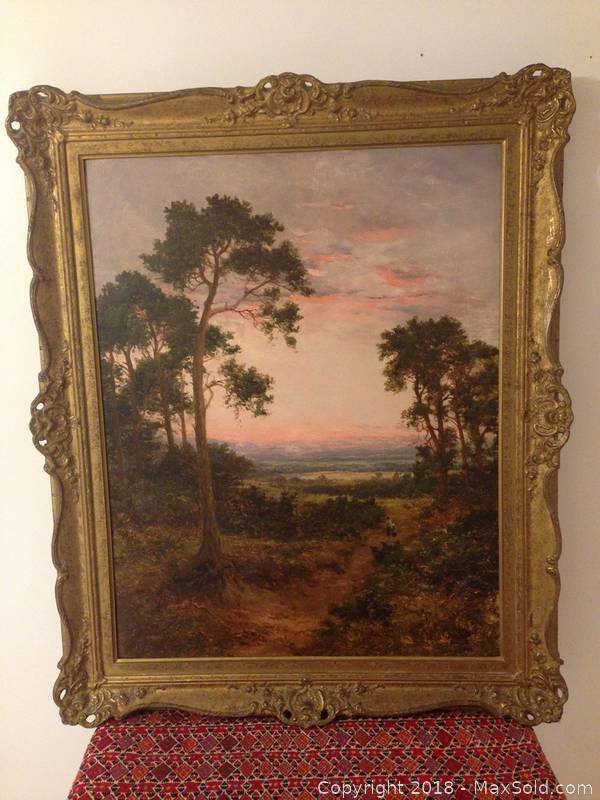 Titled "the Golden West" good condition in nice ornate gold frame. Some minor wear. Overall size approx. 44" x 36"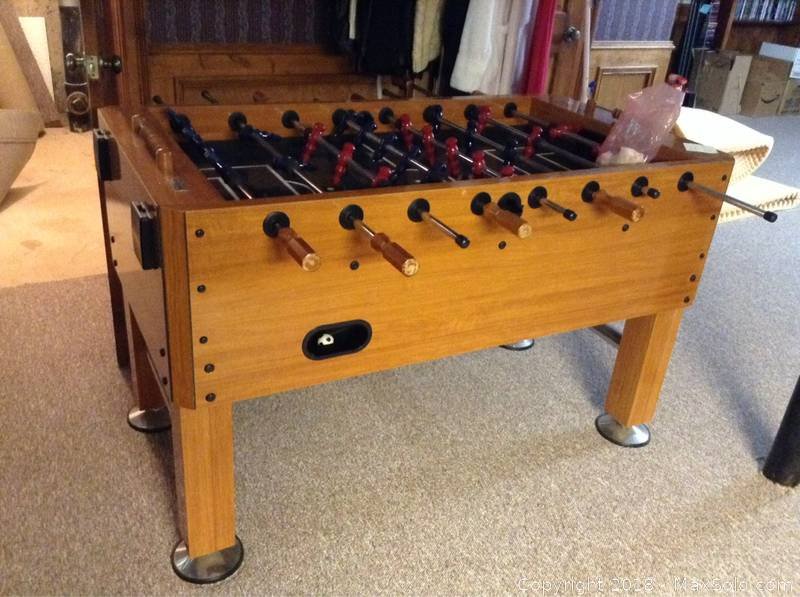 Foosball table 55.25 x 29.75 x 34.25 and accessories. Heavy. Located in basement. Bring help to carry out.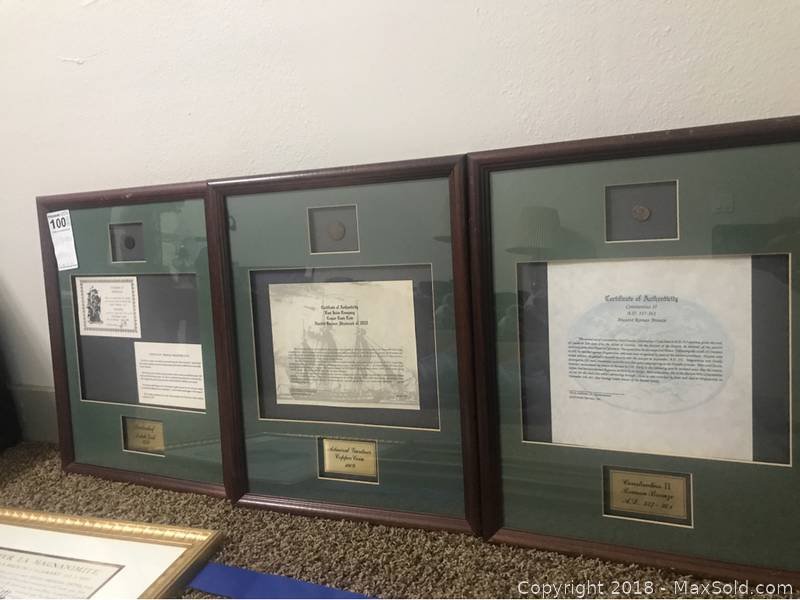 Brendenhof Dutch Doit 1753. Admiral Gardner Copper Coin 1809. Constantius II Roman Bronze Coin A.D. 337 to 361. 20X15.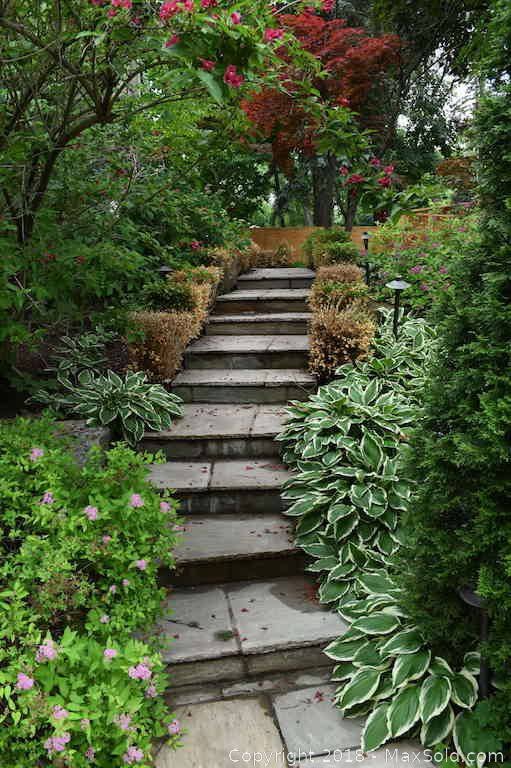 All flagstones on front walkway only. Does not include side by garage. Extremely large lot in varying sizes. Note: Please bring tools to disassemble.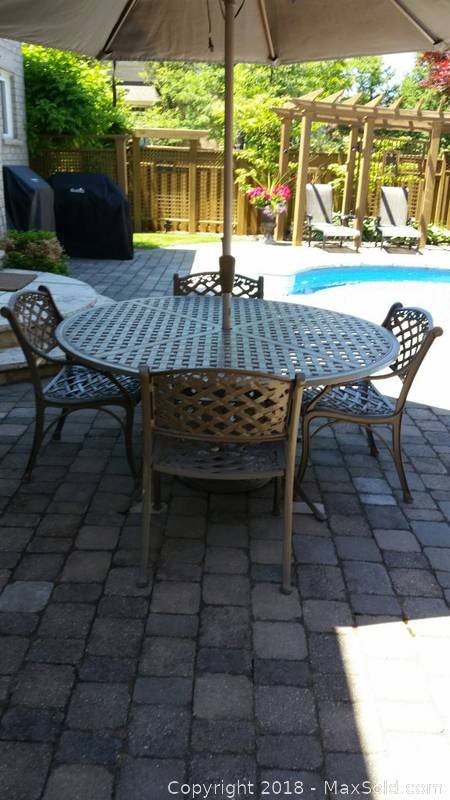 Hauser patio table with 6 arm chairs and umbrella. Table is approx. 60 inches diameter.
Iron Gate
Sold on MaxSold for $630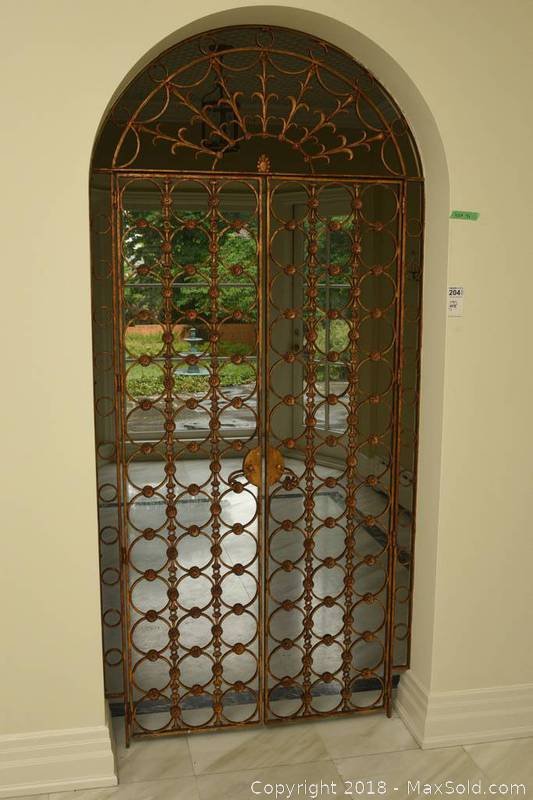 Interior decorative arched gates. 43X91.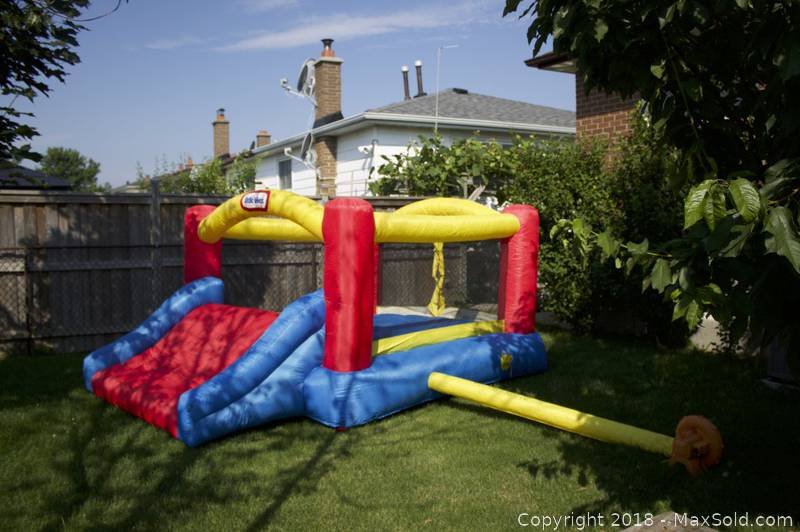 Little Tikes Bouncey Castle. Approx. 12' x 10' x 72".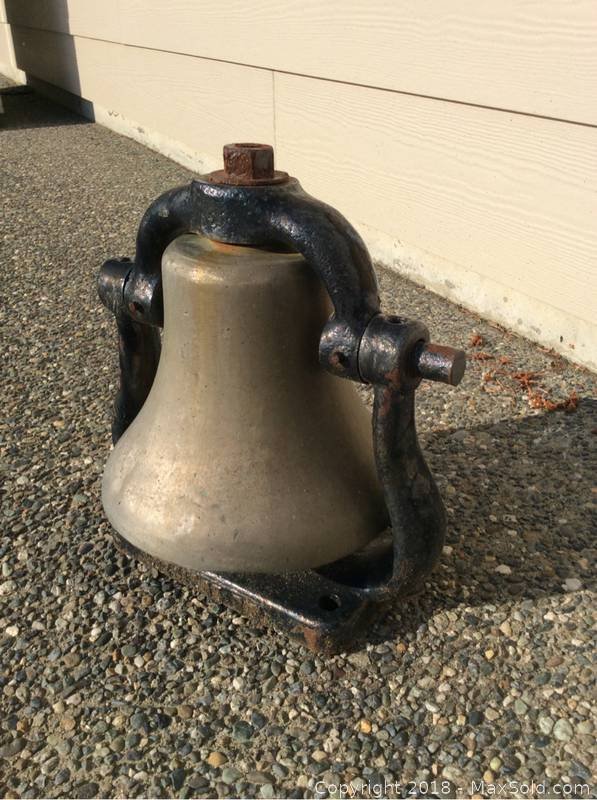 Vintage Locomotive Bell.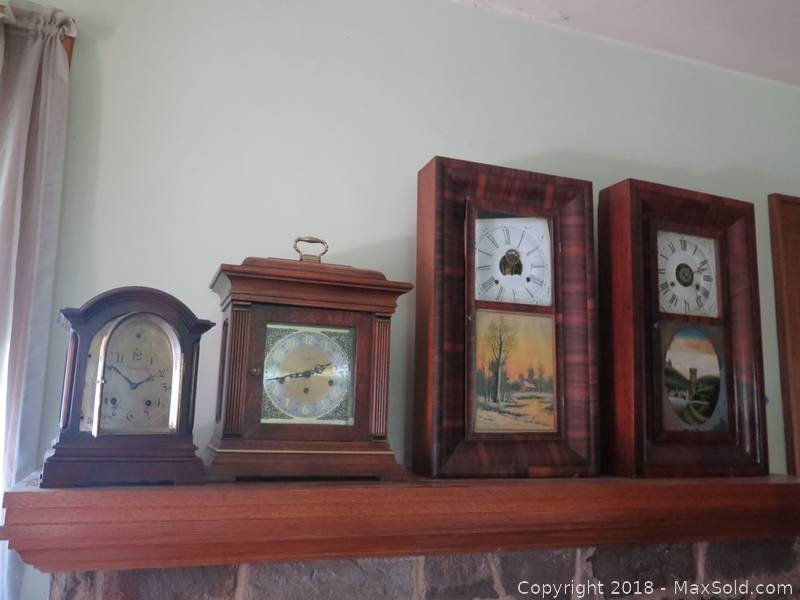 Four mantle clocks, untested. Two can hang on wall, painted glass doors, 15.5x4.5x34. Chips noted on cases, all parts may not be there.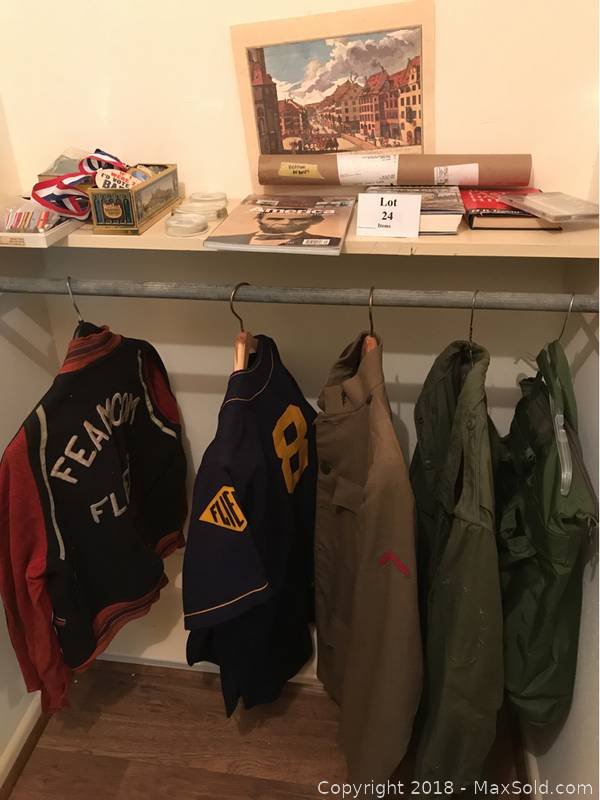 Flight bag, Military jacket, military uniform with 2 pair of pants and a hat, map of all military bases in Vietnam during the war, medals, books, and more.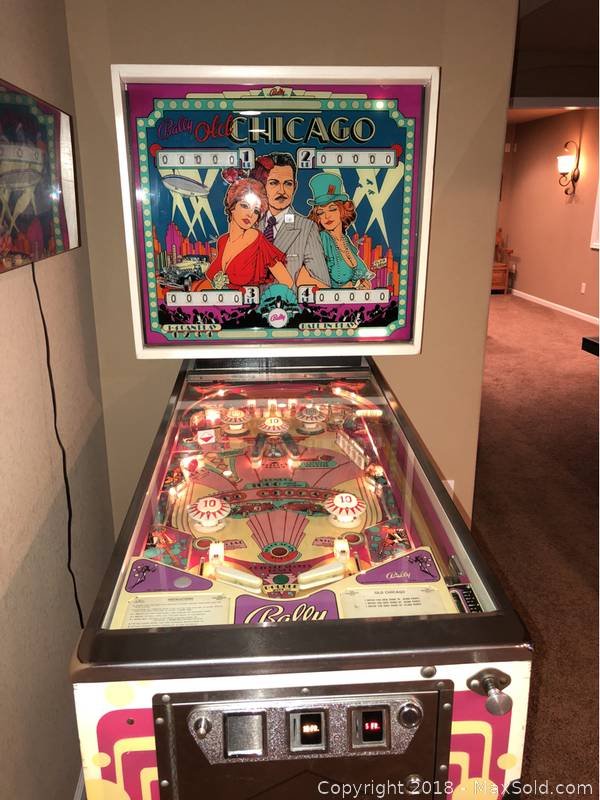 Ballys Old Chicago pinball machine. Good condition. 30X51.5x69.
Quilts
Sold on MaxSold for $166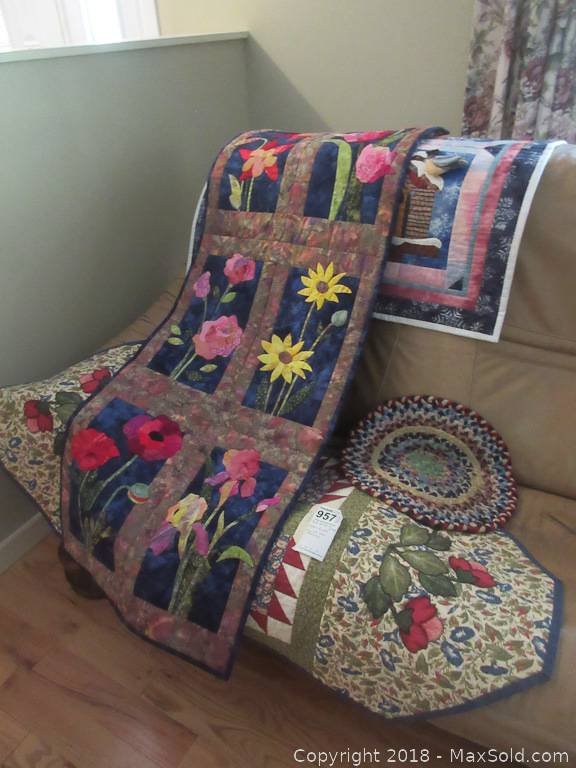 Two Quilted wall hangings and a table runner. All made by Candace Featherstone Oakes.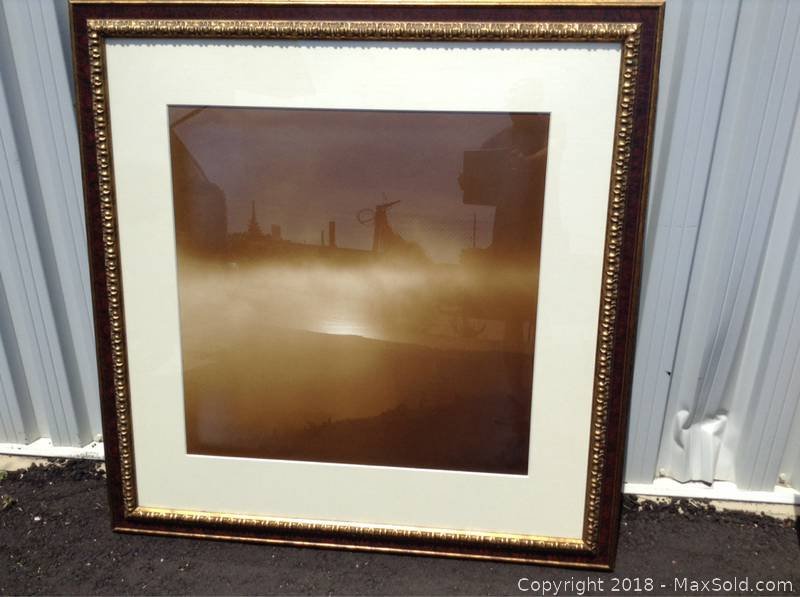 29.5 X 29.5. Framed size approx 45 X 46 inches. Very good condition with some minor wear to the frame.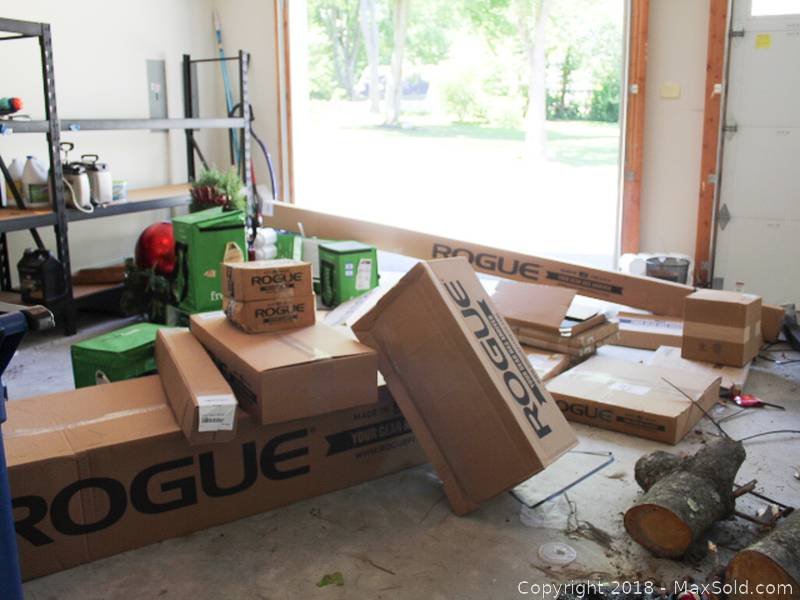 Complete Rogue fitness work out & weight plates. It is unassembled, all in 20+ boxes. - Located in garage.
Saxophone
Sold on MaxSold for $385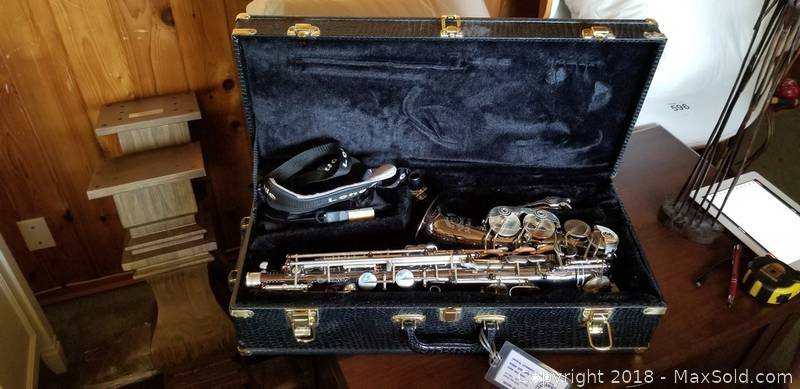 Cannonball musical instruments Salt Lake City saxophone with case.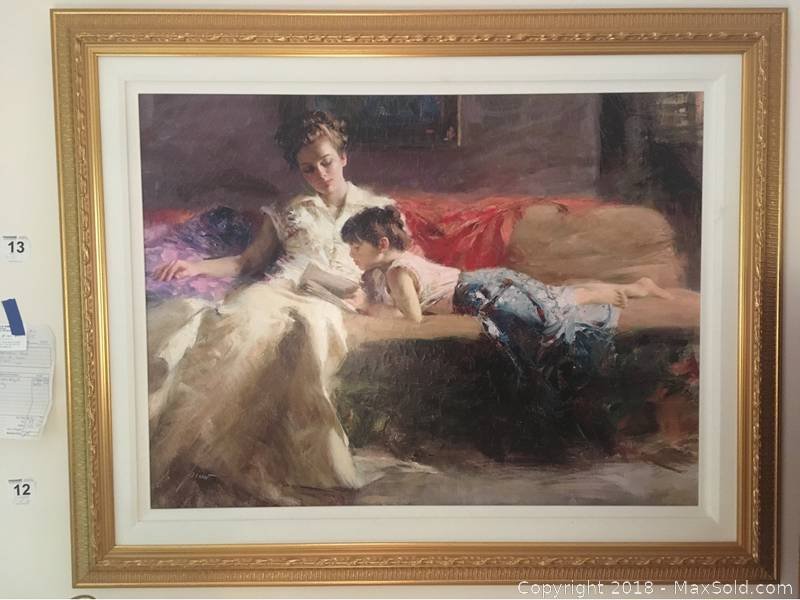 Signed painting named Late Night Reading by Pino Daeni. Beautiful ultra realistic brushwork. Receipt included. 51x41.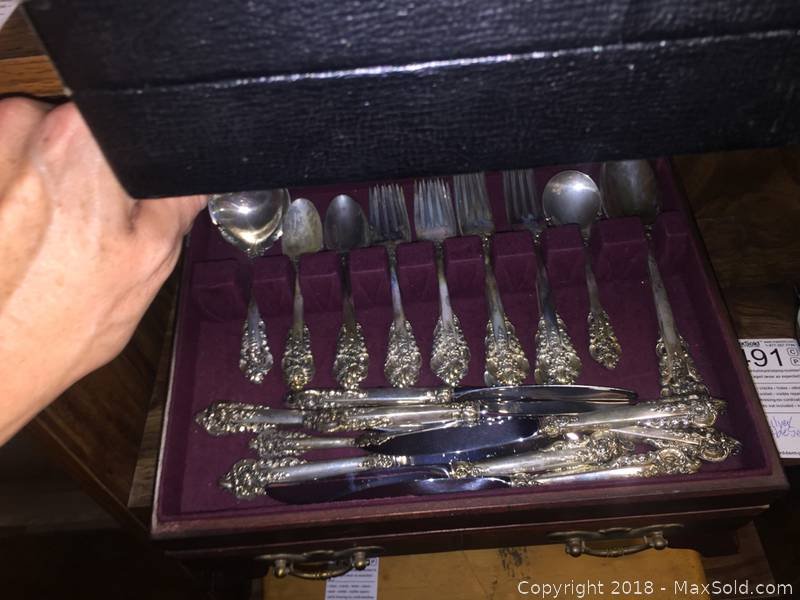 Sterling silver Wallace Grand Baroque pattern set 8 complete 4 piece place setting, per seller. Butter knife, serving spoons and more included.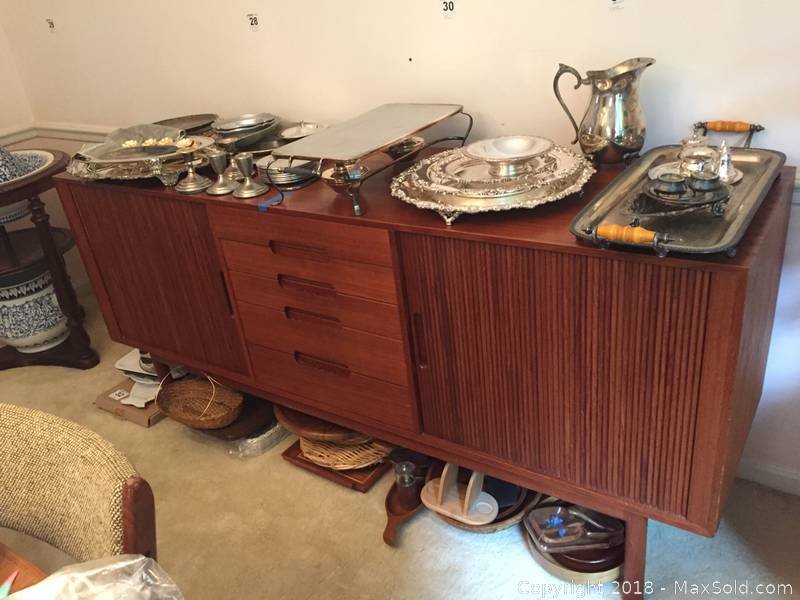 Mid century buffet from Denmark, 72X20X33, with two Cabinets with roll away paneled doors. Five drawers included, two lined and partitioned for silverware. May show wear from use over time. Heavy bring help.
Stair Lift
Sold on MaxSold for $699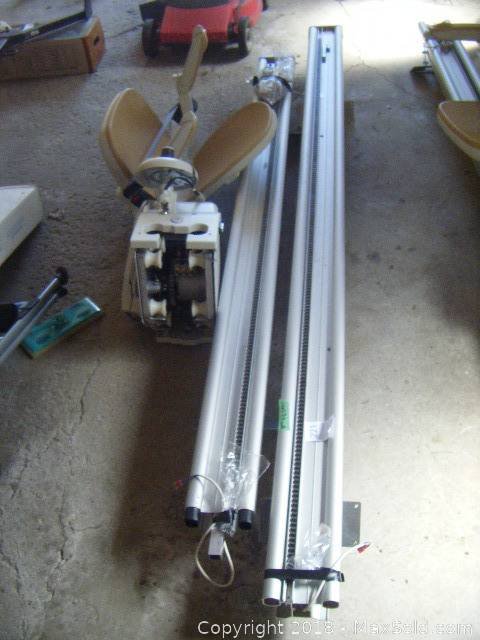 Acorn Superglide 130T700 chair lift. Like new only used a few weeks. Removed and ready to go. Includes one 8 ft rail and one 6.5 ft rail with hardware, remote, seat, and motor, drive assembly. Was working when removed.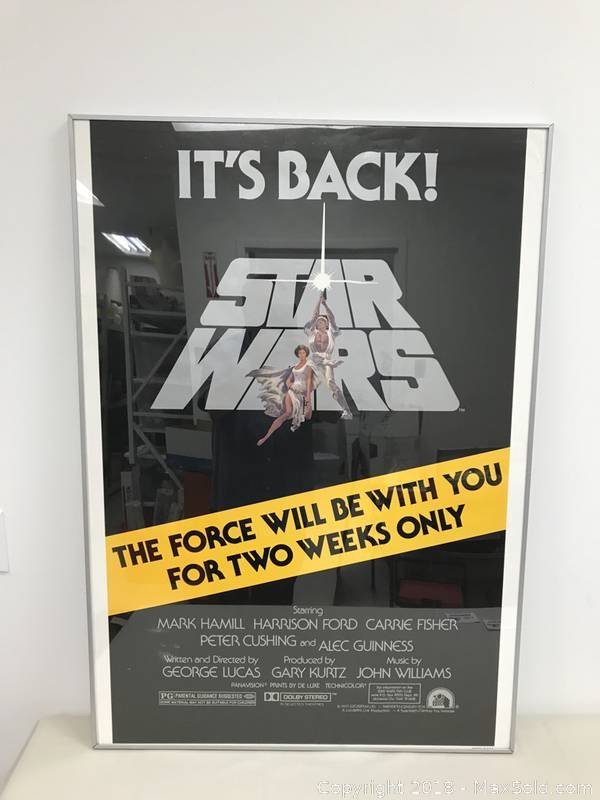 Star Wars Original 1977 Re-Release "2 Weeks only" Poster. Poster is 27" wide x 40" tall. Has been framed in slightly smaller height so poster top lip is folded over in frame.
Strings
Sold on MaxSold for $665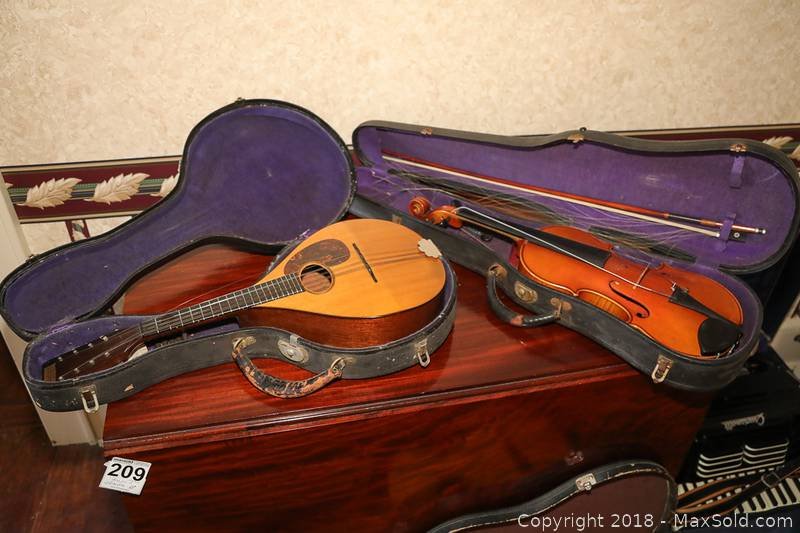 A violin in its case 23 inches, and a mandolin in case. Both very worn.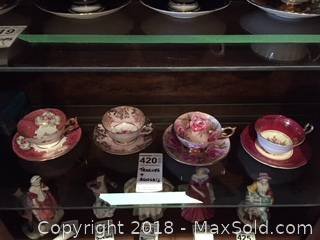 Four vintage teacups and saucers, includes two Aynsley, one Paragon, one Coalport. Light wear.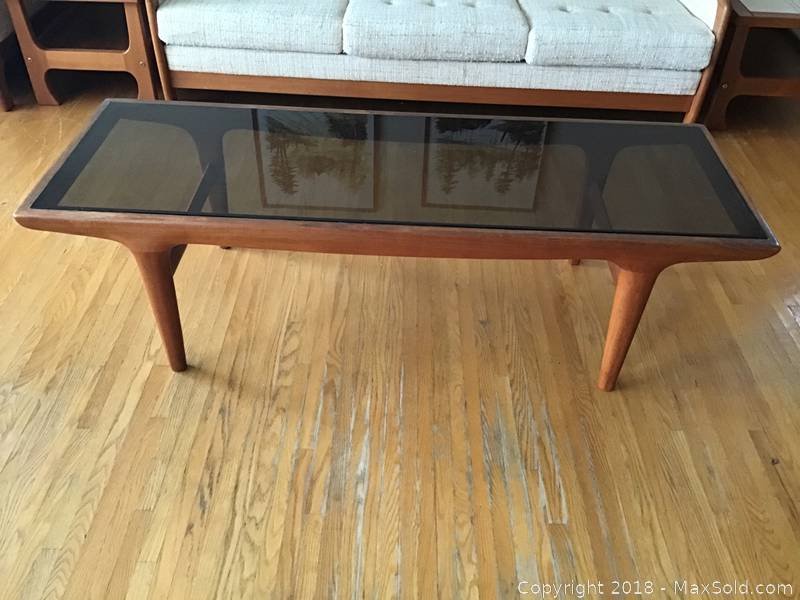 Vintage mid century Teak Framed Coffee Table with smoked Glass Top. 62 inches wide x 22 inches deep x 17.5 inches high.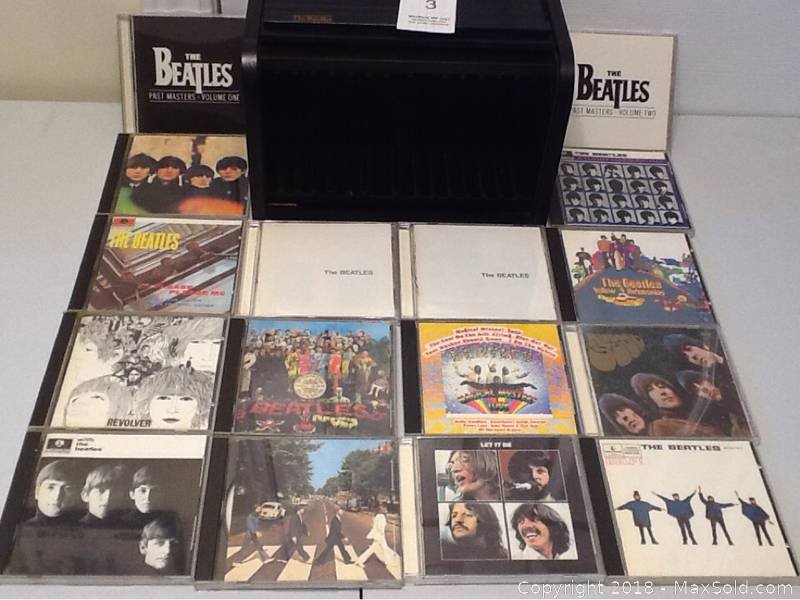 16 CD Beatles Breadbox set. The disks are in excellent condition.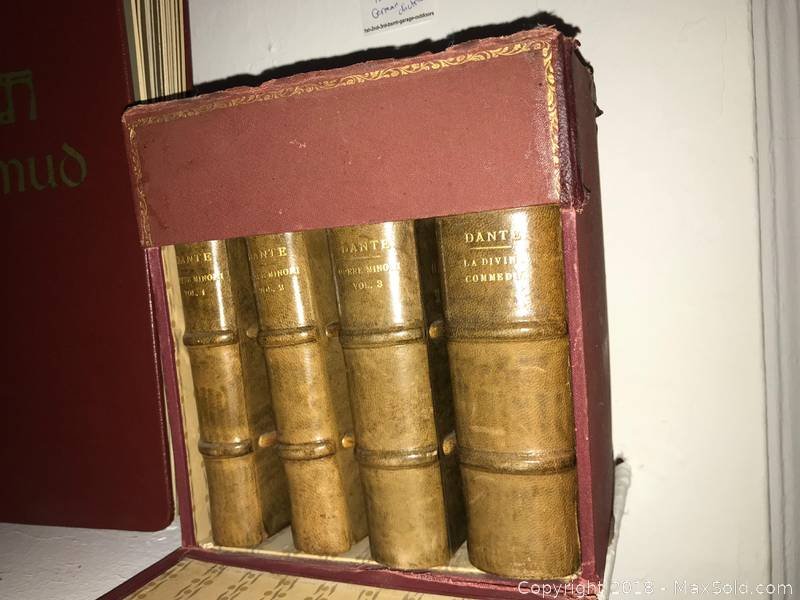 The Talmud folio, written in both Hebrew and English. Four c. 1908 volumes of Dante Operas in original case, written in Italian, in good condition. Two antique Italian to German dictionaries c. 1911, marbleized covers, some shelf wear.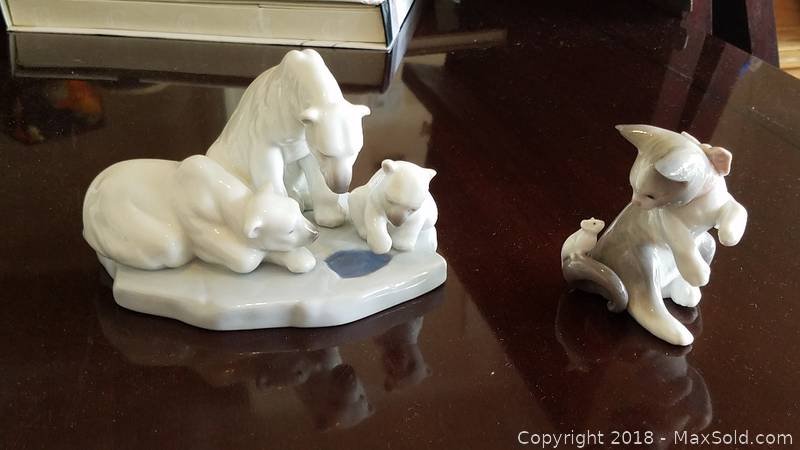 One Lladro figurine 1443 BEARLY LOVE depicting three polar bears at an ice hole. Also one Lladro 5236 CAT AND MOUSE which shows a cat and mouse looking at each other, the mouse is sitting on the cats tail.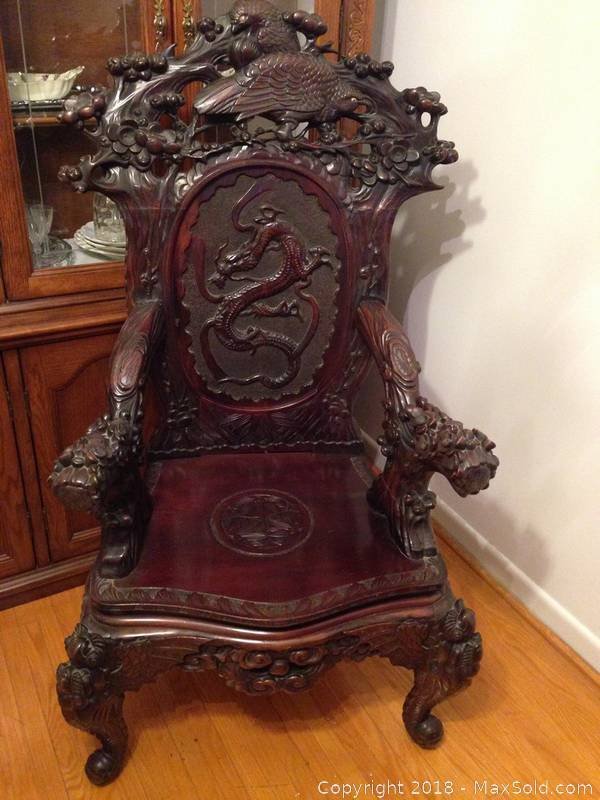 Incredible fine detail. Some very minor wear / chips. One or two superficial minor cracks in the wood that doesn't affect the quality and could be overlooked . Sturdy item. Approx. 54" high and 30" wide.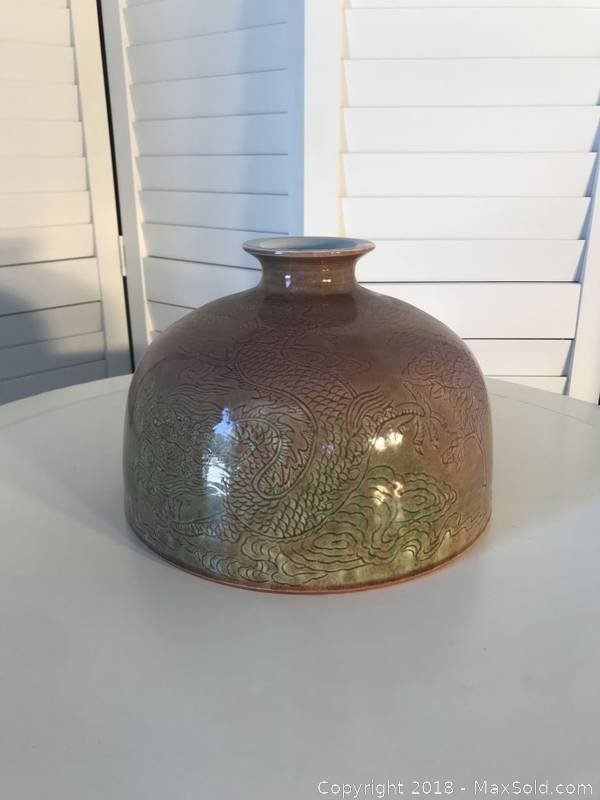 Vintage Large Vase with Drawings on it of Dragons.
Wood Screws
Sold on MaxSold for $200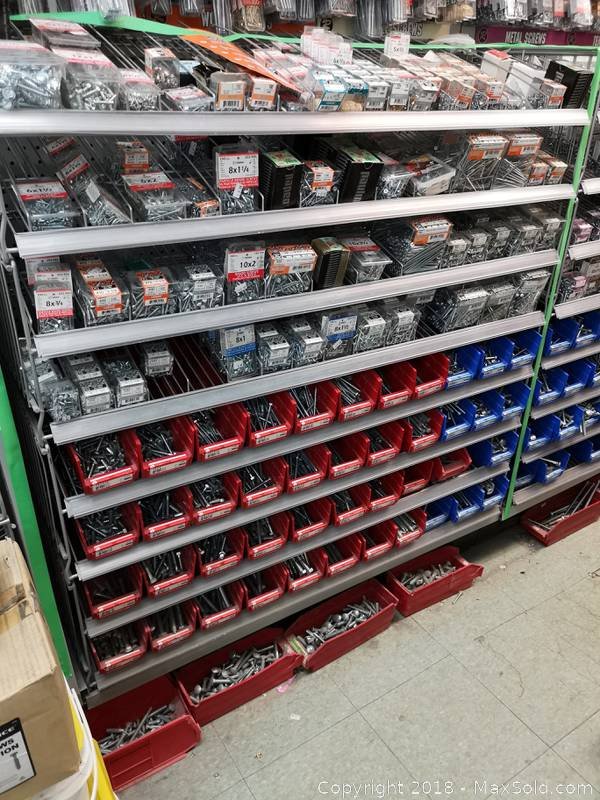 Plastic packages of wood screws and loose screws in plastic display boxes.