It's finally starting to feel like summer! At MaxSold that means that we're starting to see a lot more auctions going online all over North America! From Los Angeles to Arizona to New York, MaxSold has helped thousands of people successfully downsize or settle an estate.
Part of what makes MaxSold great is the amazing collection of items that we come across every month. To us, every sale contains hidden treasure just waiting to be discovered and bid on. In the month of May alone we sold thousands of items ranging from a 2009 Toyota Corolla and a motorboat, to Chinese Antiques and Swarovski crystal, and of course no list would be complete without some beautiful Lladro figurines and a Royal Derby Tea Set. With that, we'd like to show you some items that are trending in online estate sale and downsizing auctions for the month of May 2018.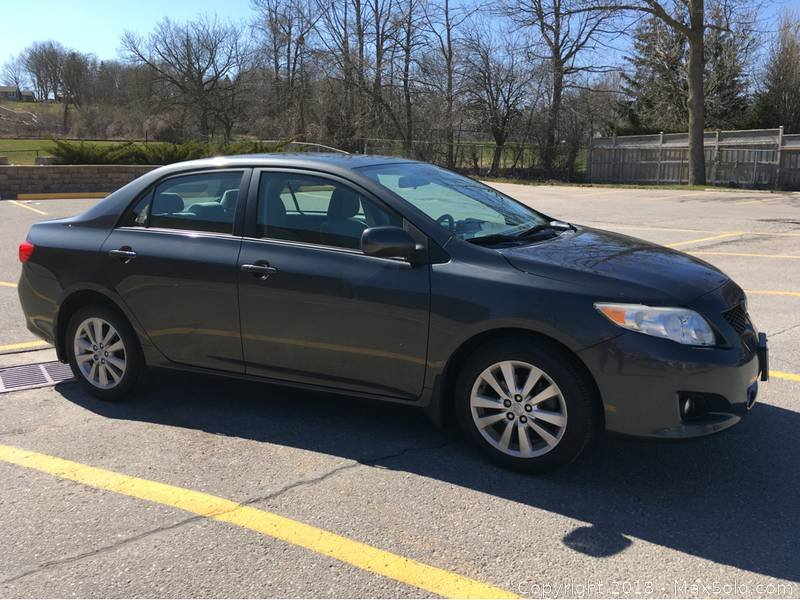 2009 Toyota Corolla with only 28,000 plus kms. Safetied as of May 1st/18. Package includes power moon roof, 8 way power adjustable driver seat, rear seat fold down centre, power lumbar support, console box. 4 brand new all season tires (May 2018) Brand new battery, receipt attached. A few scuffs on bumper but no rust seen at inspection. Bring your own plates (current plates not included). Pick up at 1pm on pick up day. UVIP completed.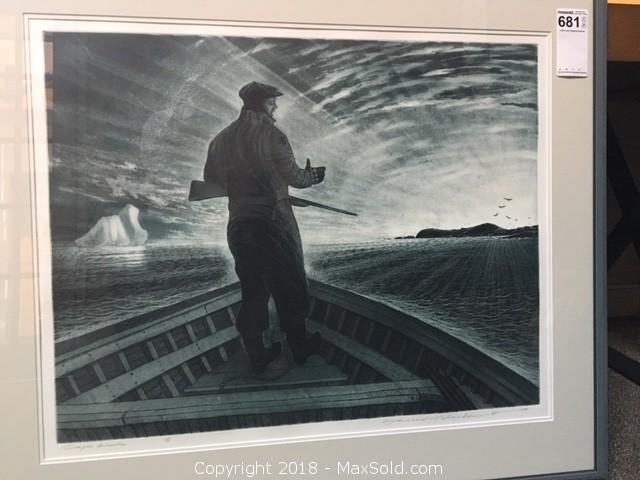 Cape Freels, original etching, number 29 of 50, 1984, 23x29.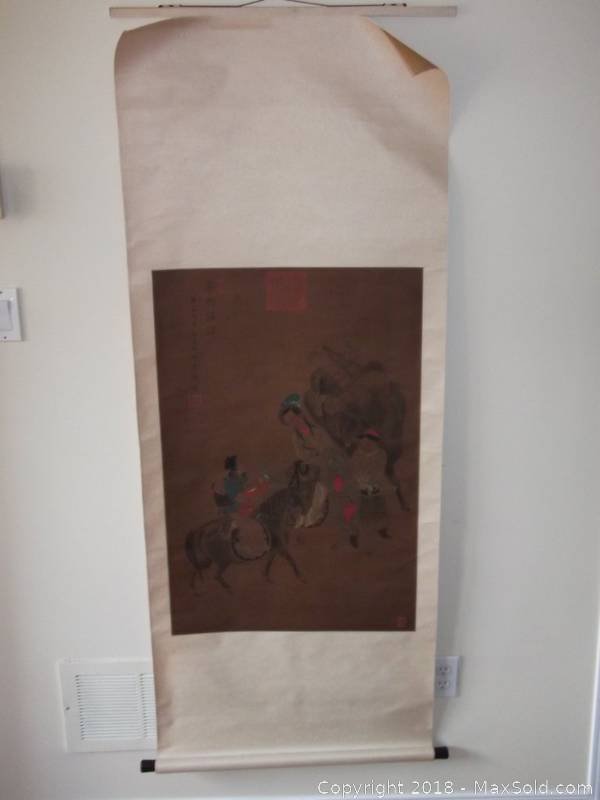 Antique Chinese large hand-painted scroll art. 67""H x 28""W. Painted most probably on silk. Note: 2 rips on the top bar.
Chinese bowl
Sold on MaxSold for $2550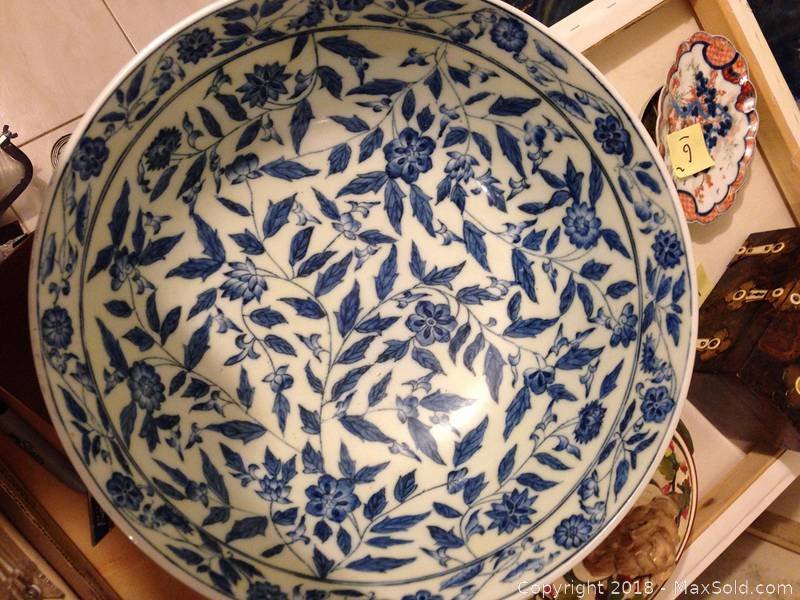 Very large Chinese signed porcelain bowl. Good condition, no chips or cracks approx. 14"" diameter. Category C pickup.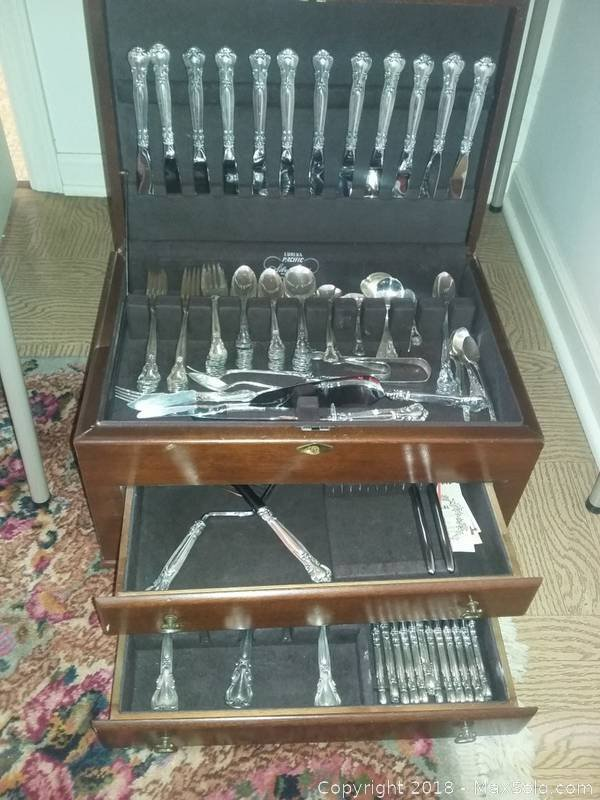 12 dinner knives, 12 dinner forks, 12 dessert forks, 24 teaspoons, 12 soup spoons, 8 dessert spoons, 12 spreaders. Serving spoons and forks. Cake server. Carving fork and knife and more. Wood case.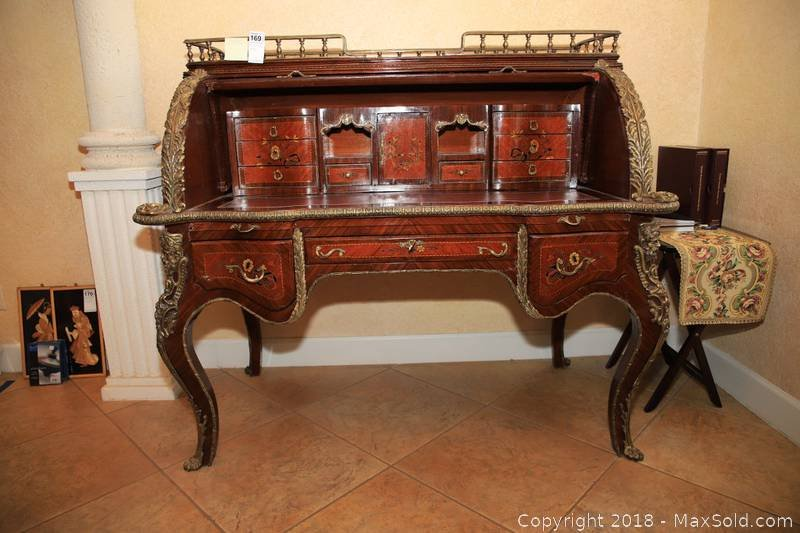 Ornate roll top desk, 63X33X54, with brass embellishments, embossed leather writing surface, and decoratively painted.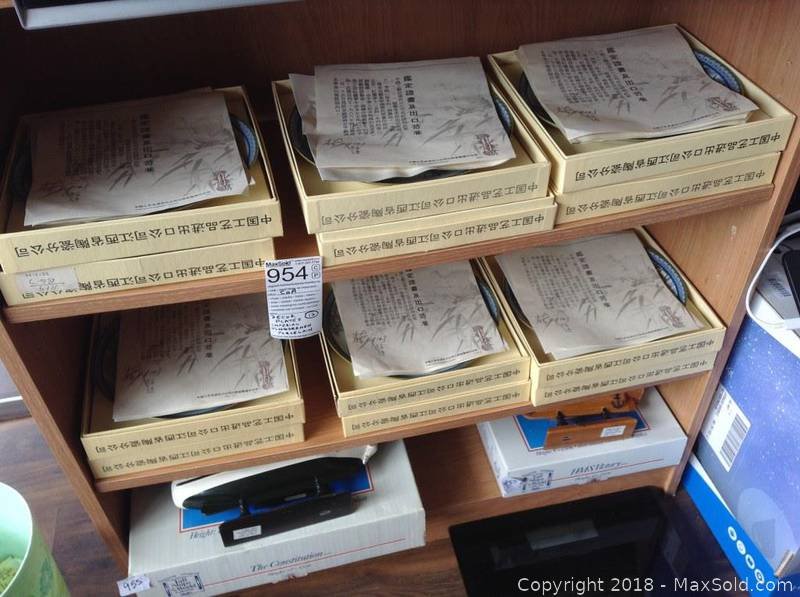 Twelve Imperial Jingdezhen porcelain plates in original boxes with COAs.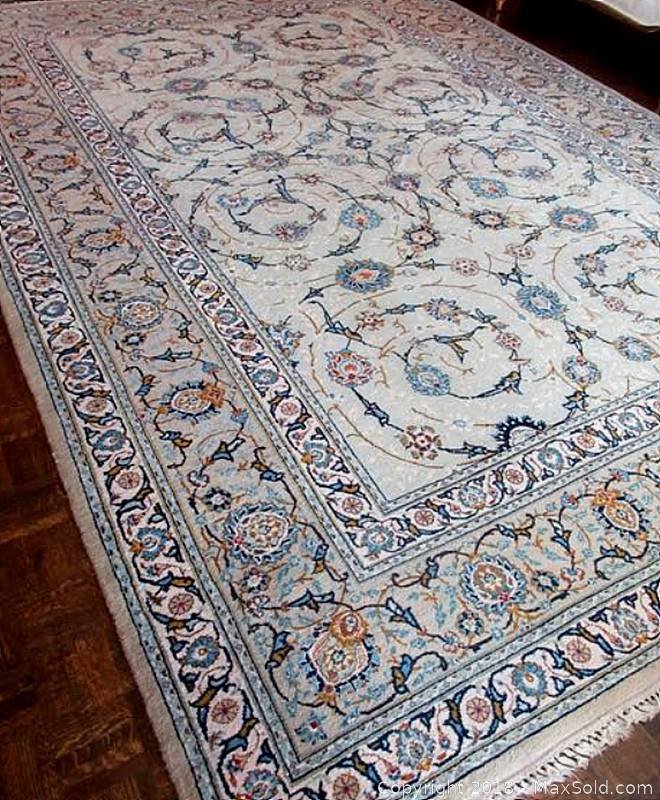 From Turco Persian 2011-Very Clean Measures 11'x 8'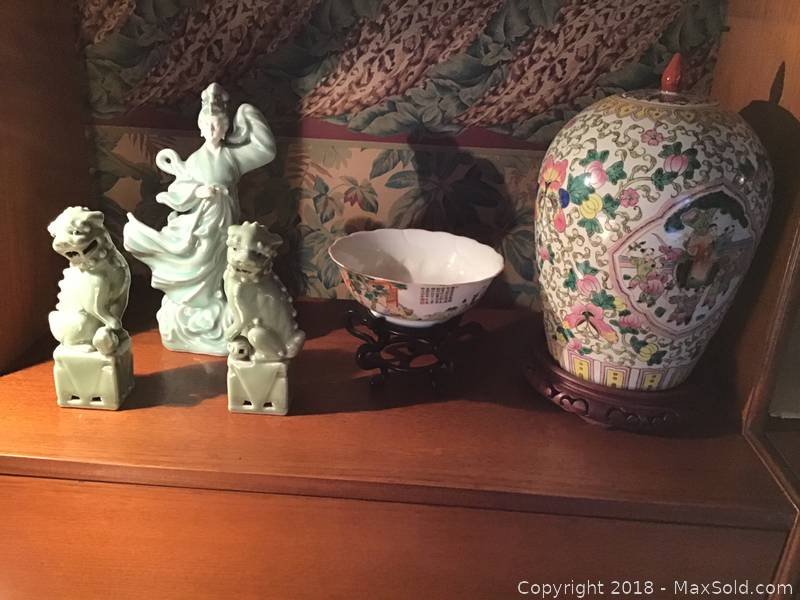 Chinese Figurine 11.5 inches high, Foo Dogs 7.5 inches high, Ginger Jar with stand 12 inches high, Bowl with stand 2.5 x 7 inches.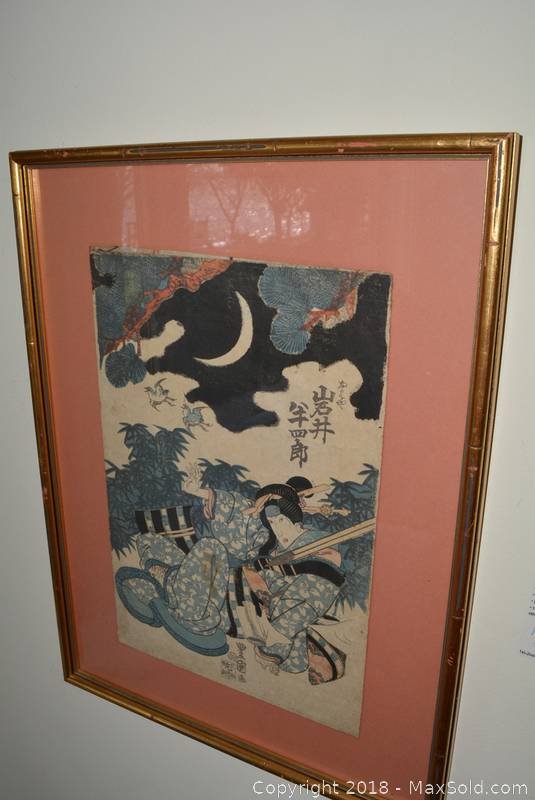 Signed and frame Asian painting with info on back. 10X15. 1820 work by artist Utagawa Toyokuni - the subject of the work is famous Kabuki Actor, Iwai Hanshiro. Toyokuni was born in 1769.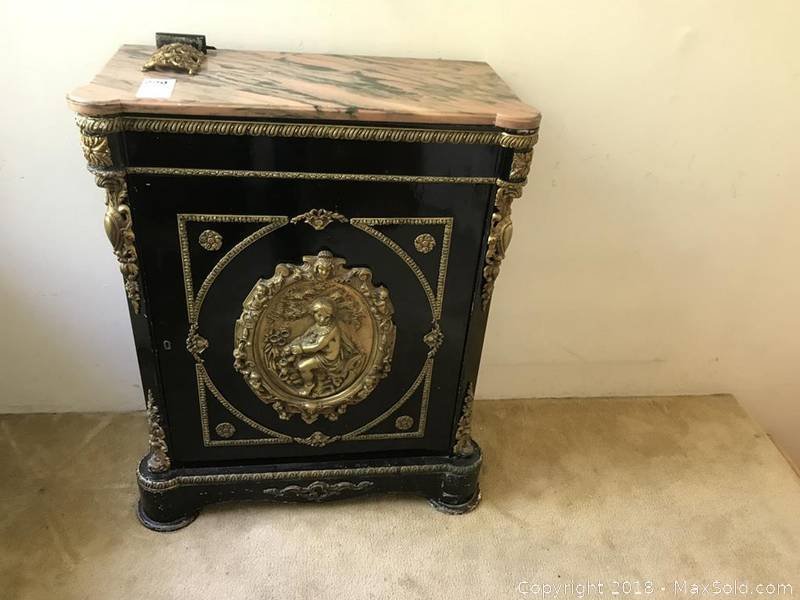 Ornate cabinet with key, one shelf inside, brass accents,31X15X38, marble top, purchased from France. Heavy. Please bring help to move.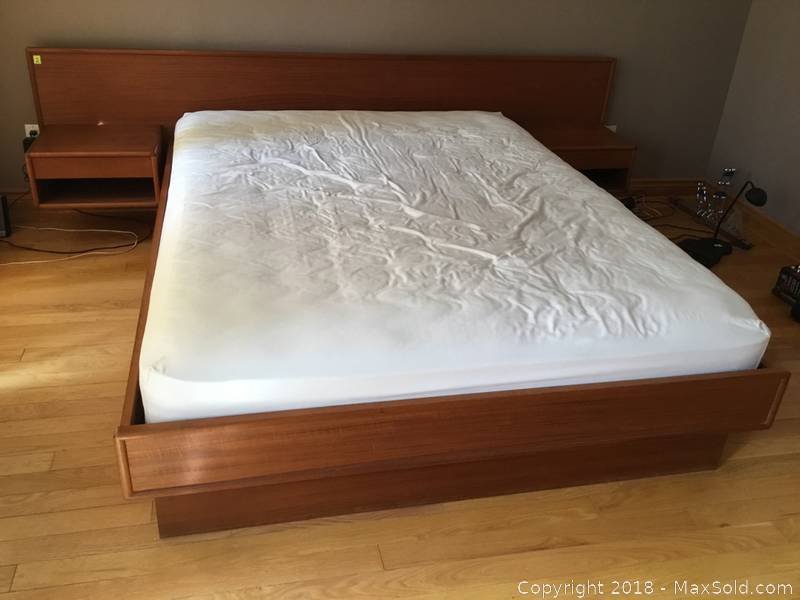 IC Interform Collection Danish Teak queen bed with floating nightstands. Made in Denmark. Note: Condition, has some marks or scratches, but in generally good condition. Note: To be removed from home, items must be moved up or down a flight of stairs. Note: Heavy item, please bring appropriate assistance as needed to move this item. Mattress optional. Headboard 104 wide and 29 high. Bedframe is 84x62.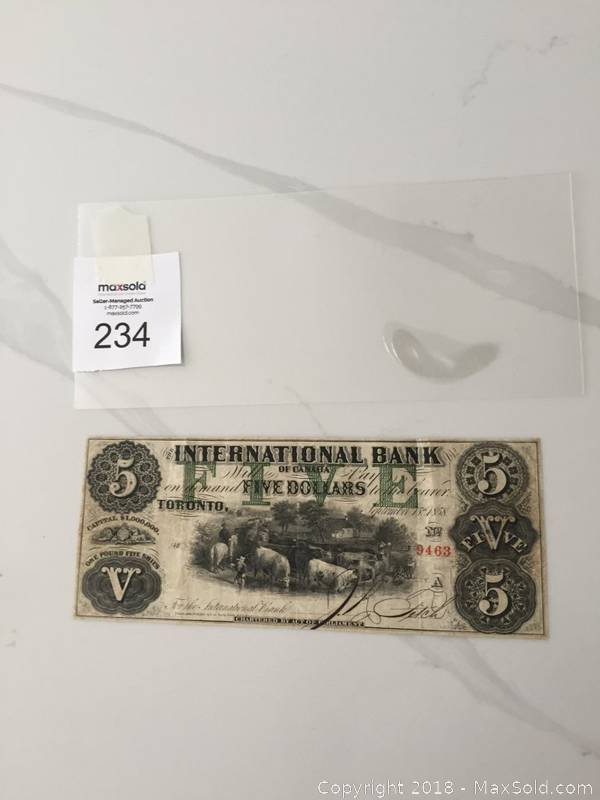 1858 International Bank Of Canada ""Five Dollars"", Very good Condition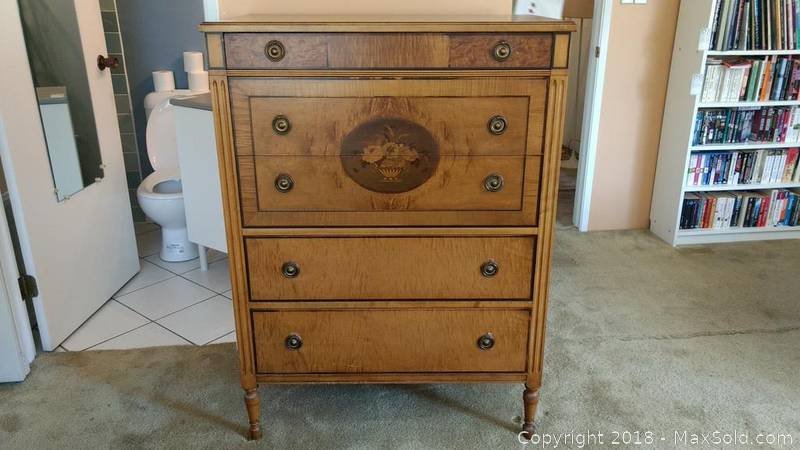 Vintage solid wood John Widdicomb five drawer tall boy dresser 36X20X49. With in, at floral design on front. Matches lot 578. Note: To be removed from home, items must be moved up or down a flight of stairs. Bring help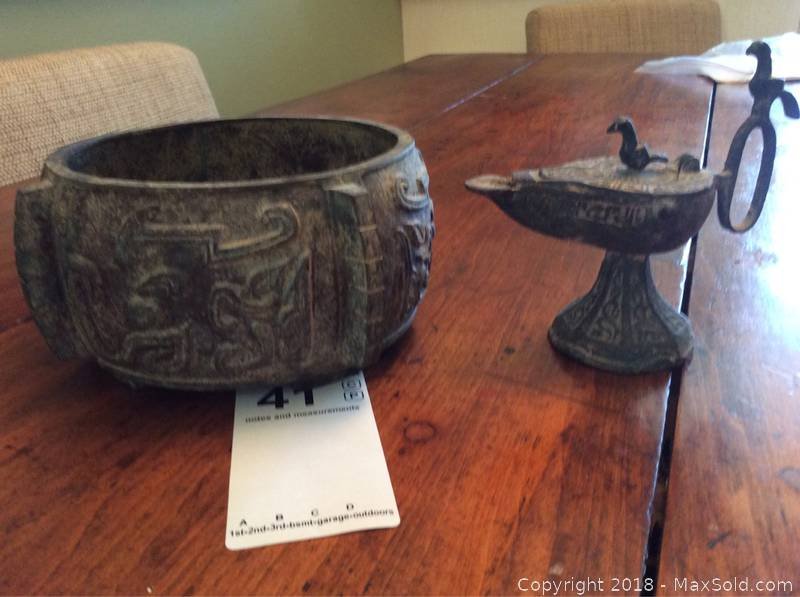 Bowl 6 inches diameter and 3.5 inches tall
Rug
Sold on MaxSold for $2450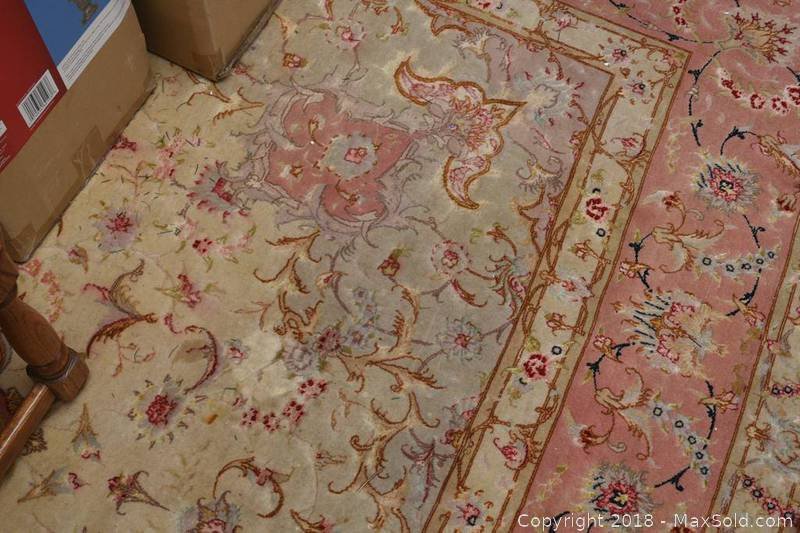 Area rug that measures 8 X 11.5 feet note wear and damage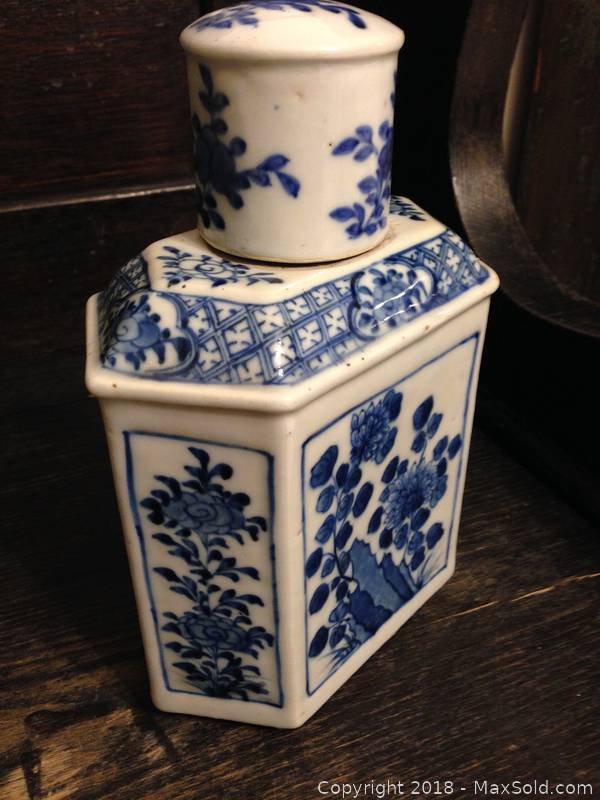 Old Chinese porcelain blue and white tea caddy jar. Good condition, some minor glaze faults, signed.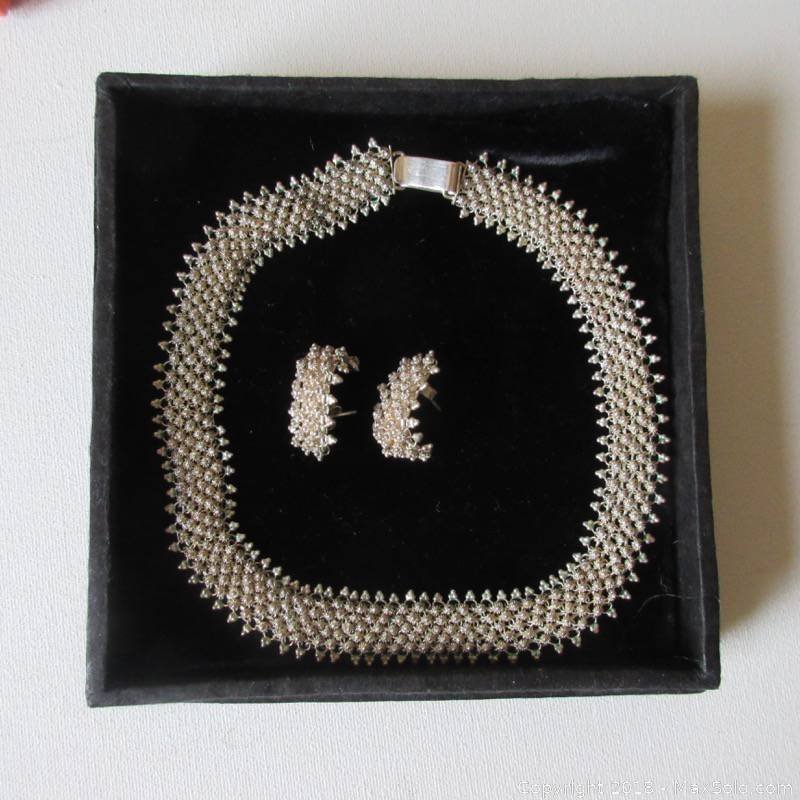 Silver Jadau style choker earrings set marked 850 15 " x 5/8" 1 x 5/8' earrings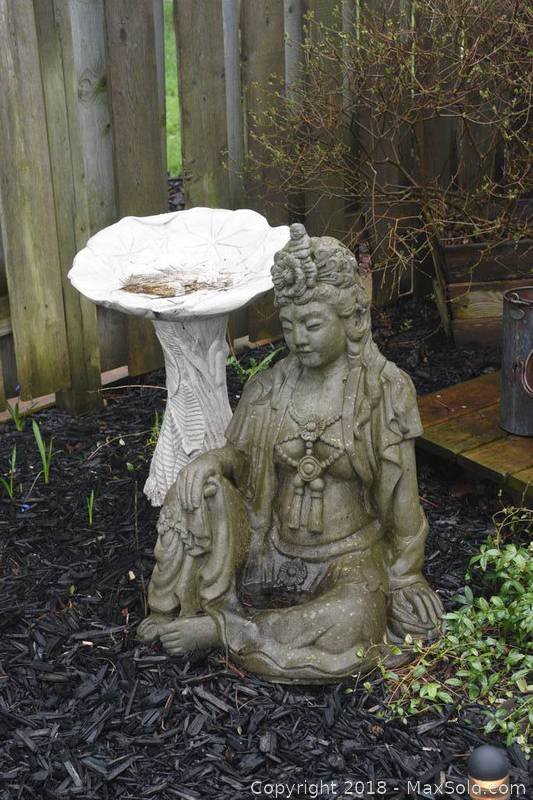 Birdbath resin 18X24, shows wear. Concrete statue seated woman 19X18X26. Some wear consistent with outdoor use. Very heavy. Need help to move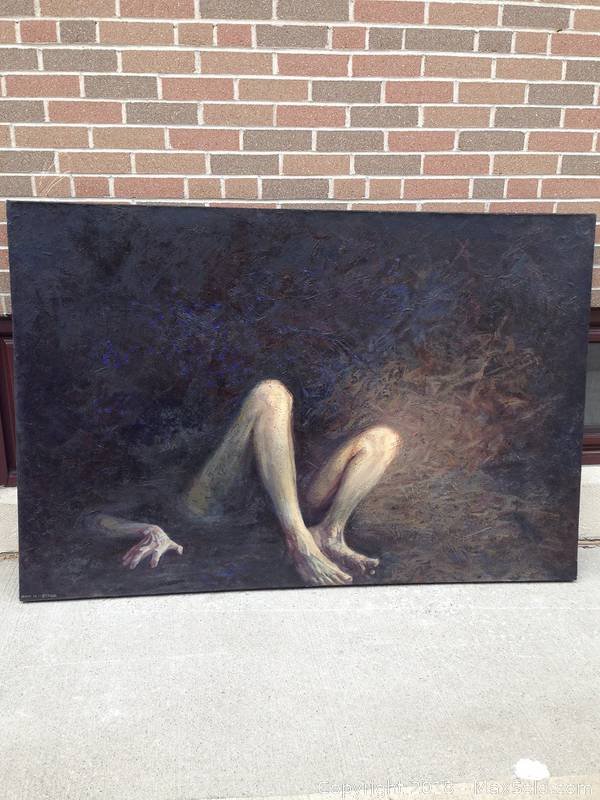 Hugh Mackenzie ( 1928--) artwork, (LISTED CANADIAN ARTIST) Titled-""The Last Romantic. "" Dated 1997. Large oil on canvas. Measures 6' X 4' X 2"". Note original Bauxi gallery details on reverse. Good condition.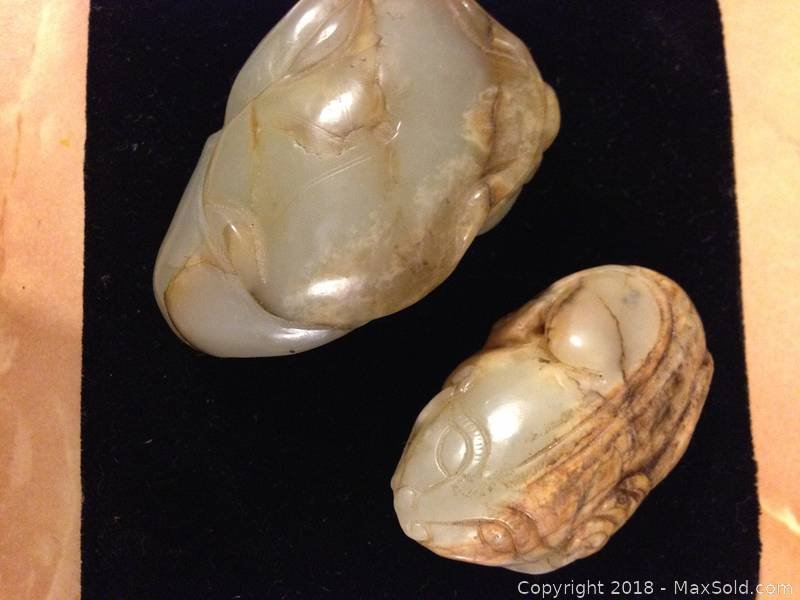 Two Chinese hand carved Jade pendants / sculptures. Nice interesting design of fish or mythical sea creatures. Good condition. Largest approx. 2.5"" long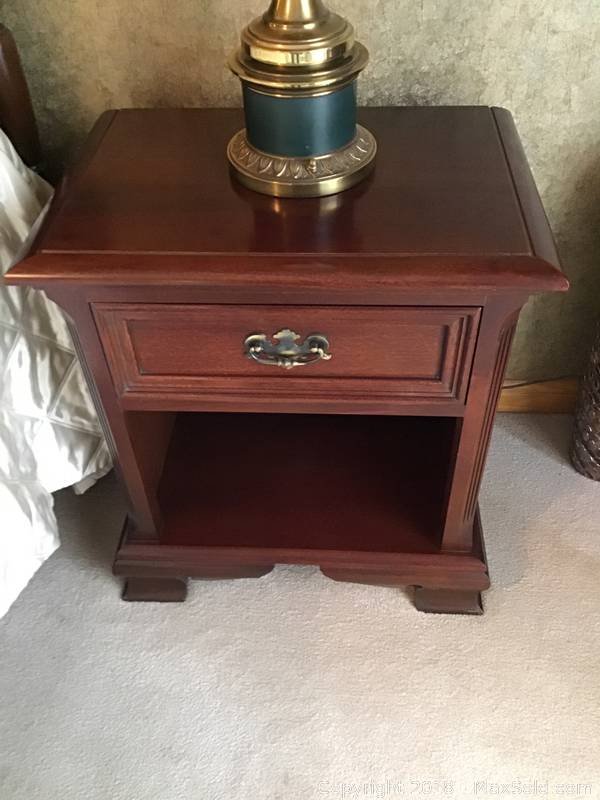 Gibbard solid mahogany night tables, pair. 22X15.5X25 Note: To be removed from home, items must be moved up or down a flight of stairs. Condition, has some minor marks or scratches. Matches lot 35, lot 36, lot 38, lot 39
Longaberger
Sold on MaxSold for $360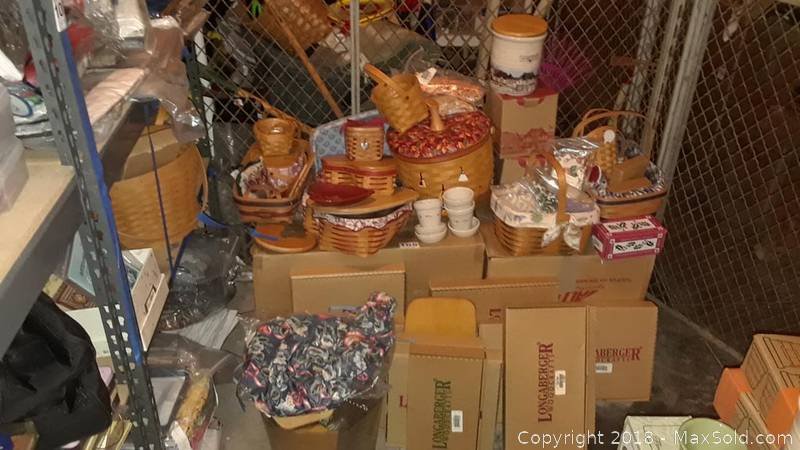 Longaberger baskets, liners, ceramic wares, canisters and much more.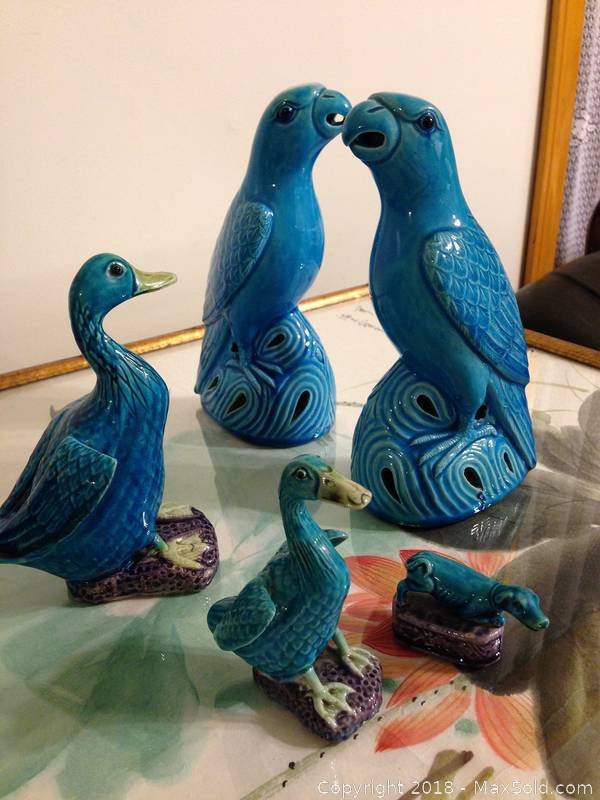 5 items. . Late Qing dynasty/ early republic. One parrot has a crack in the head but it is not broken otherwise. all others in good condition. 8.5"" high (Tallest)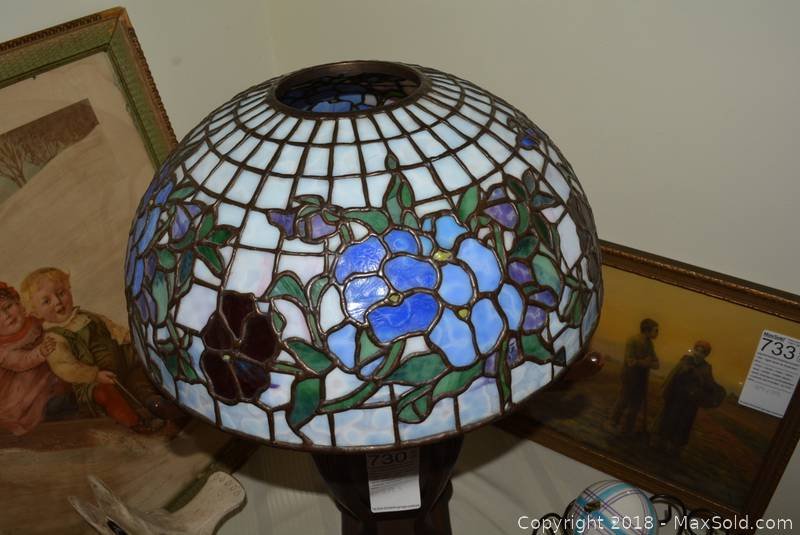 Tiffany style metal based lamp with stained glass shade. 23 inches tall, heavy bronze base.
Kiln
Sold on MaxSold for $535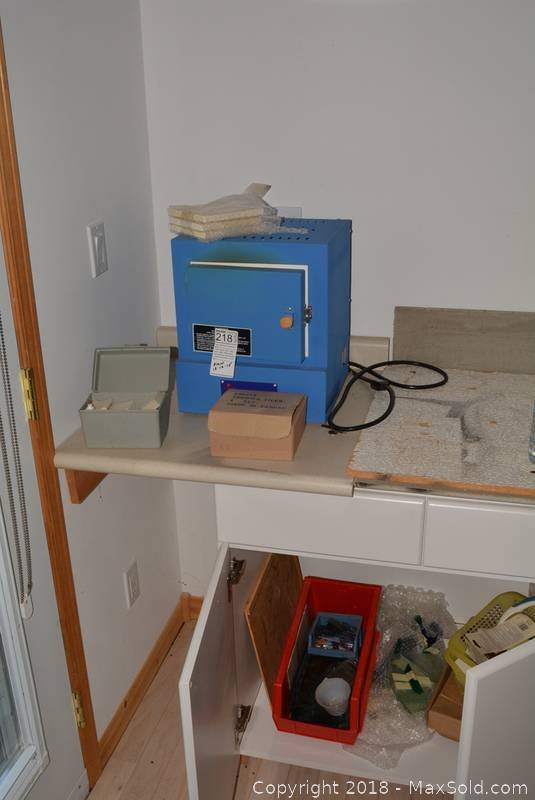 Paragon kiln. Working condition. Used for making jewelry using precious metal clay. Lot includes contents of cupboard.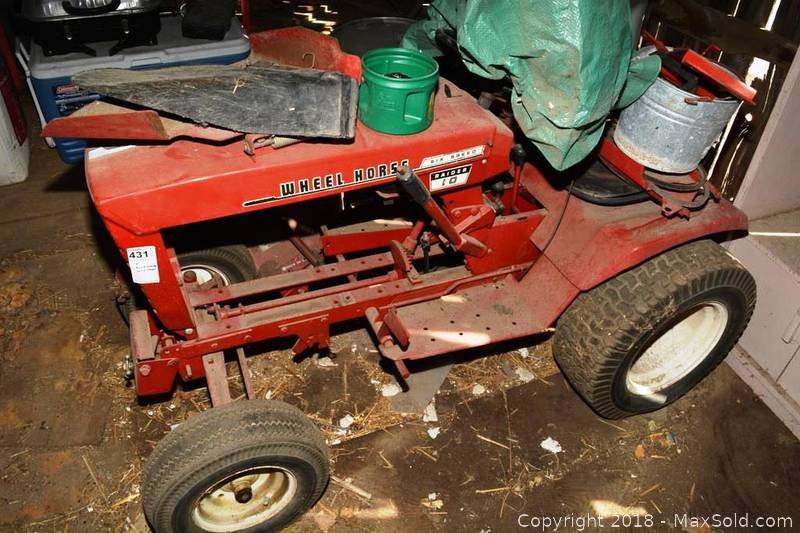 This girl needs some work. Attachments are included but alas the motor is not. Bring help to get her out.
Accordion
Sold on MaxSold for $360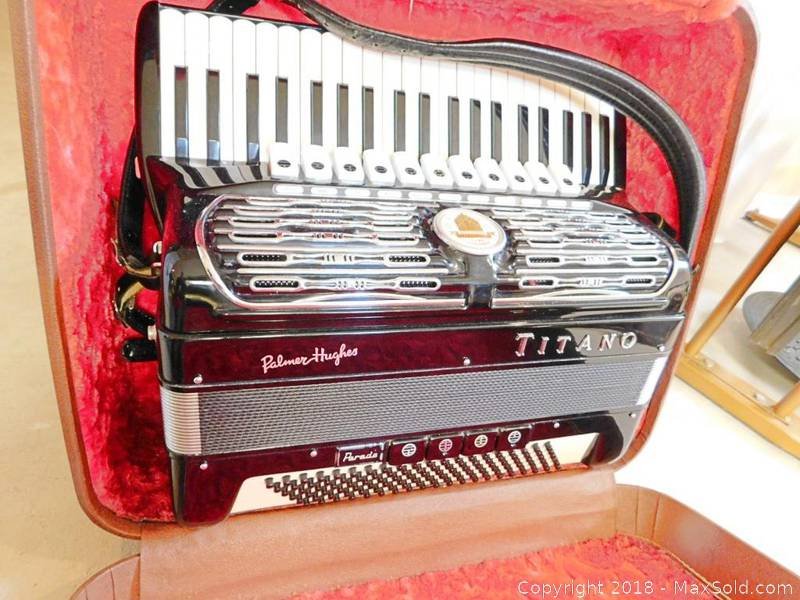 Palmer Hughes accordion in hard shell carry case.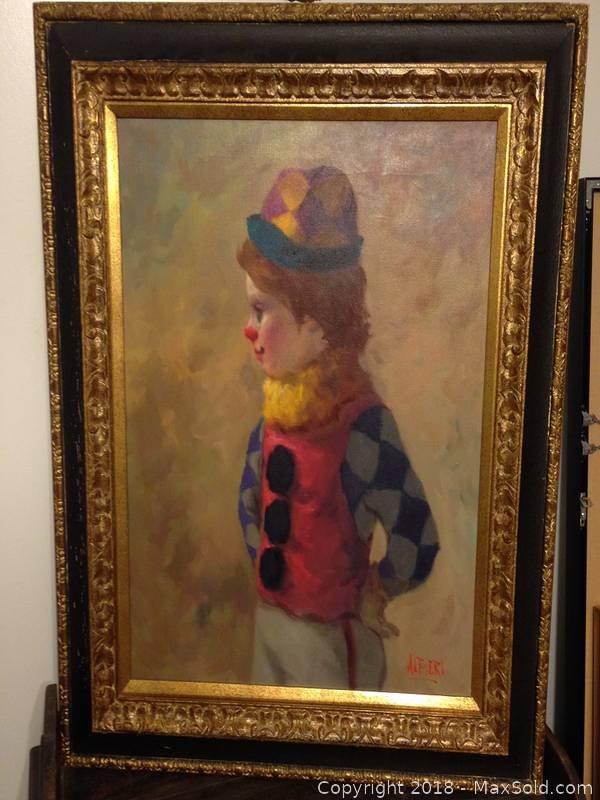 Clown oil painting on canvas signed Alfieri ( Philippe Alfieri, 1921-2009) listed artist. Very good condition and nicely framed. Some minor wear to the frame. High quality painting and detail. Overall size approx. 32""x 28""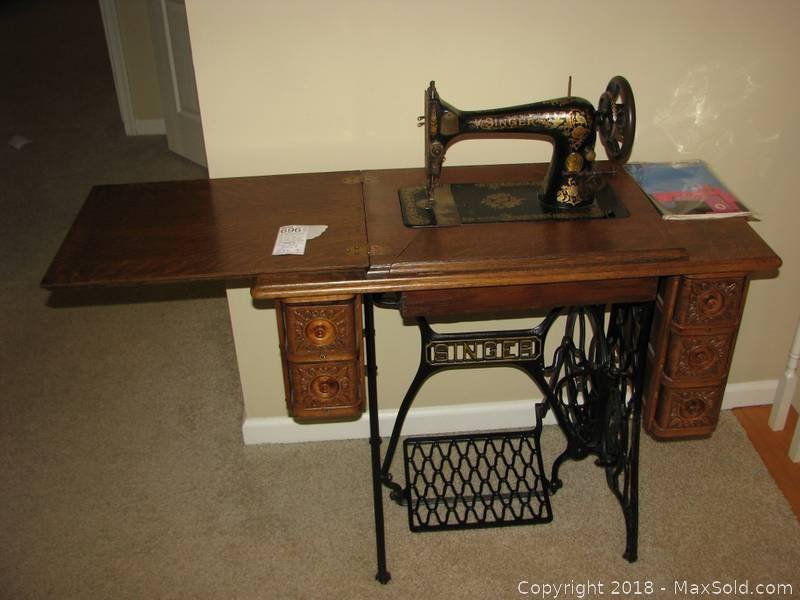 Antique Singer sewing machine in oak cabinet 50x18x30 opened. Souvenir Singer book NY Worlds Fair 1964. Seller states working. 2nd floor. Wear noted.
Jewellery
Sold on MaxSold for $1152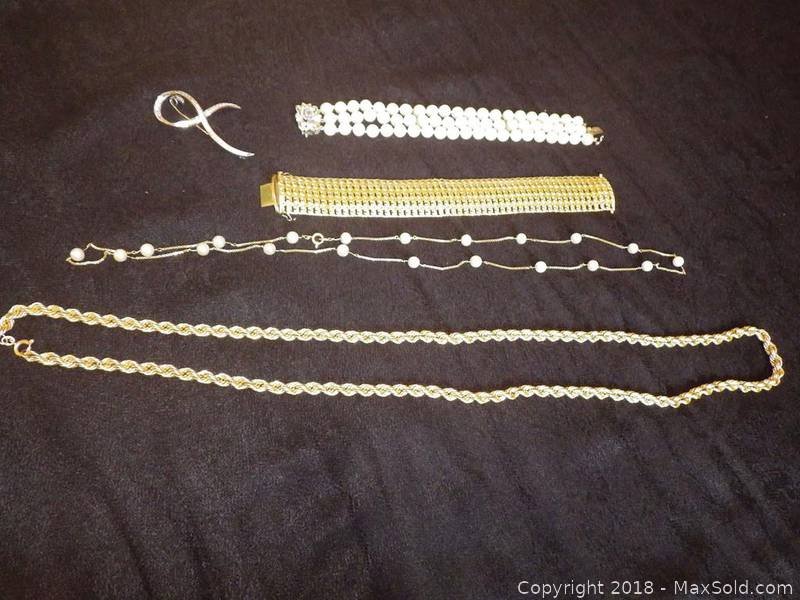 Pearl bracelet with three tiny rubies, marked 751. Bracelet marked 585, amethyst pendant, brooch, ring, necklace marked 10k, necklace marked 585, one gold earring with diamond.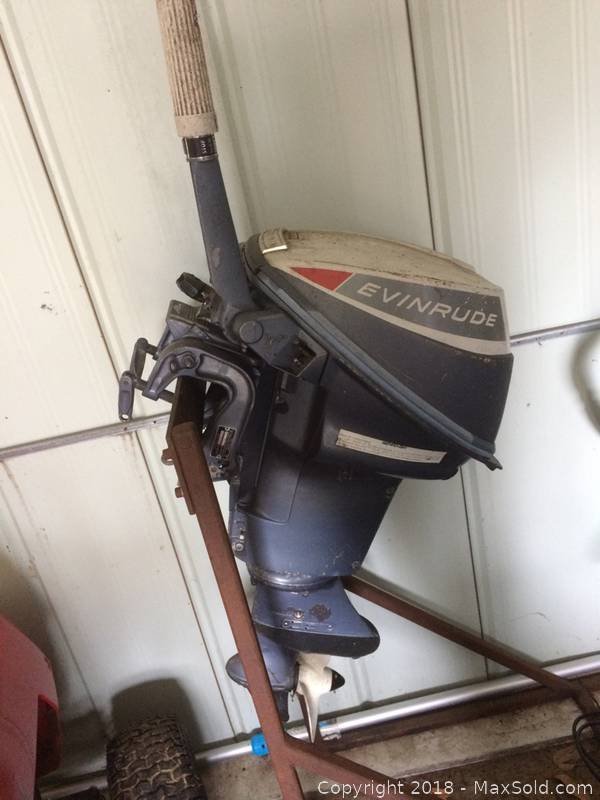 Always ran well and started anytime it was in water. Was last tried 2 years ago, amd started up 3rd pull. Untested this year, motor stand not included.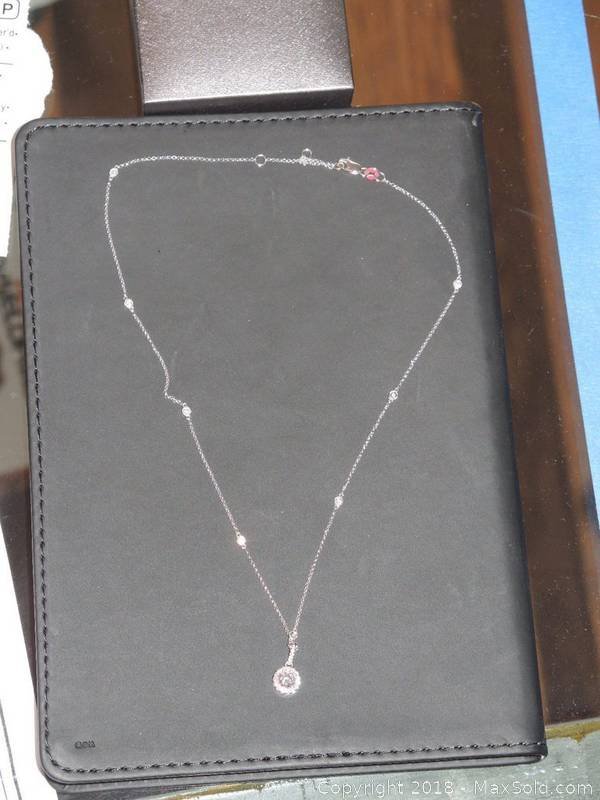 Round diamond pendant in 18k mounting on 14k chain. Pendant diamond is .58 karat. See appraisal for further details. Appraisal provided by seller, not MaxSold.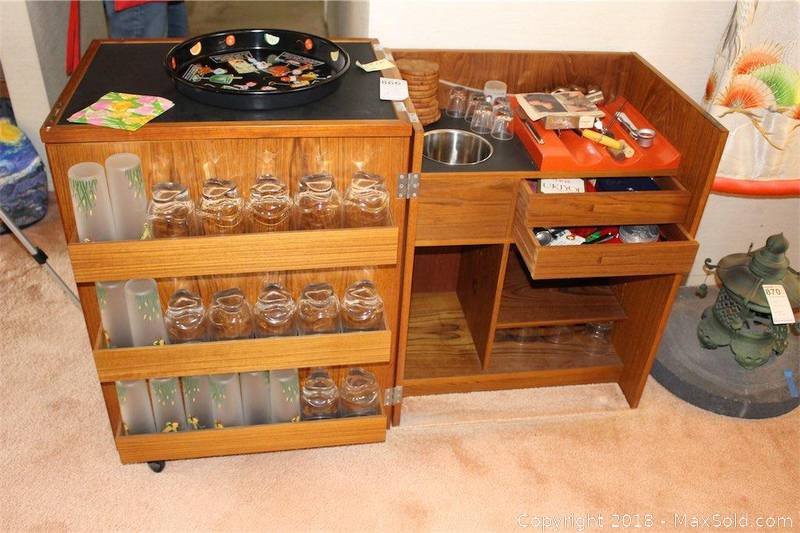 Vintage Mid-century Modern Dry Bar and Contents. Includes barware and glasses. 48X18X30. Age appropriate wear.
Floor Lamp
Sold on MaxSold for $370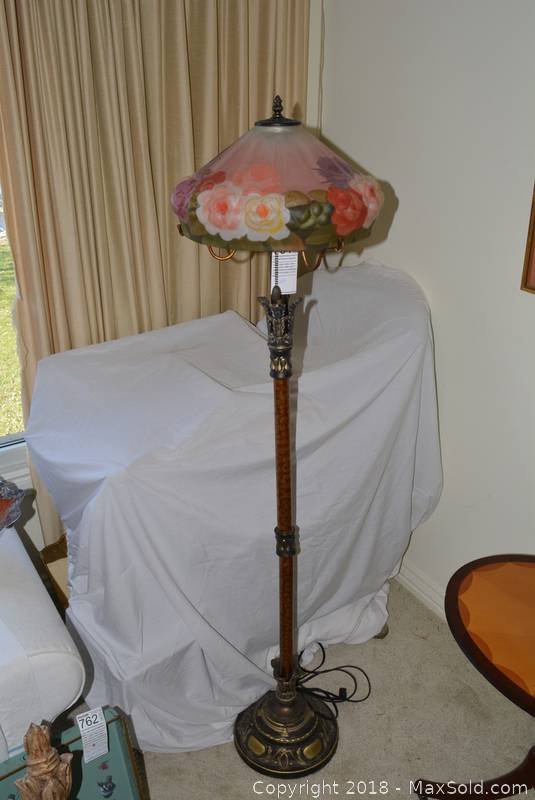 Ornate floor lamp, metal base with floral glass shade. 60 inches tall.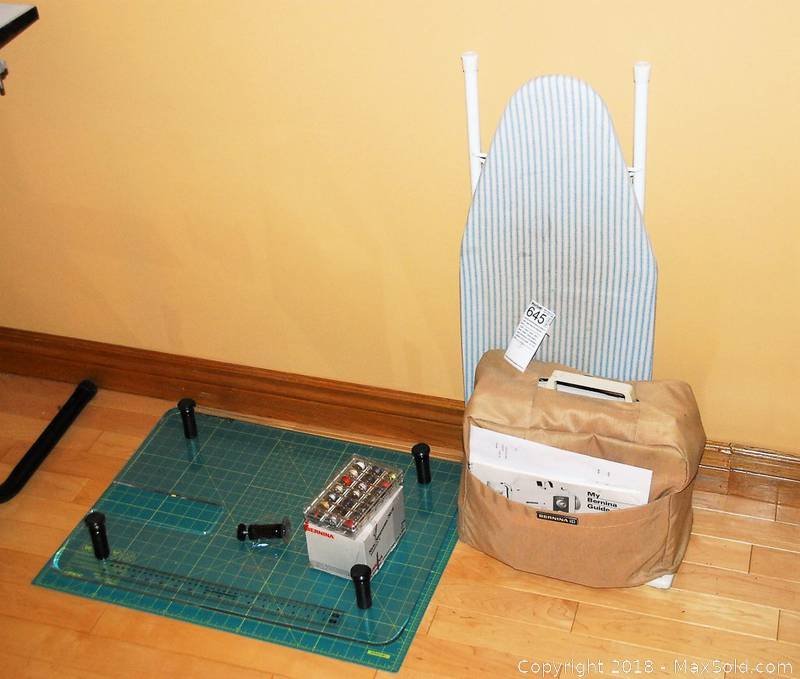 Bernina 801 Sport, in working order as per seller, with manual, and accessories. Includes a walking foot, collection of bobbins, quilting table and more.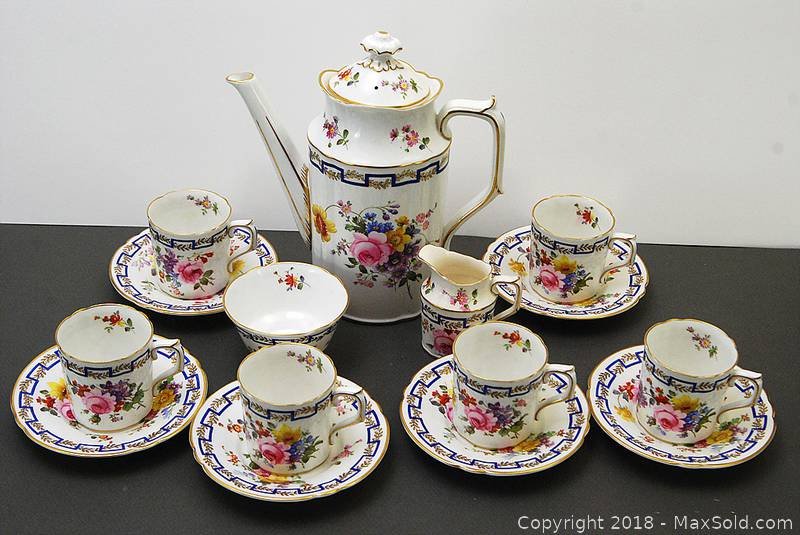 Minor wears.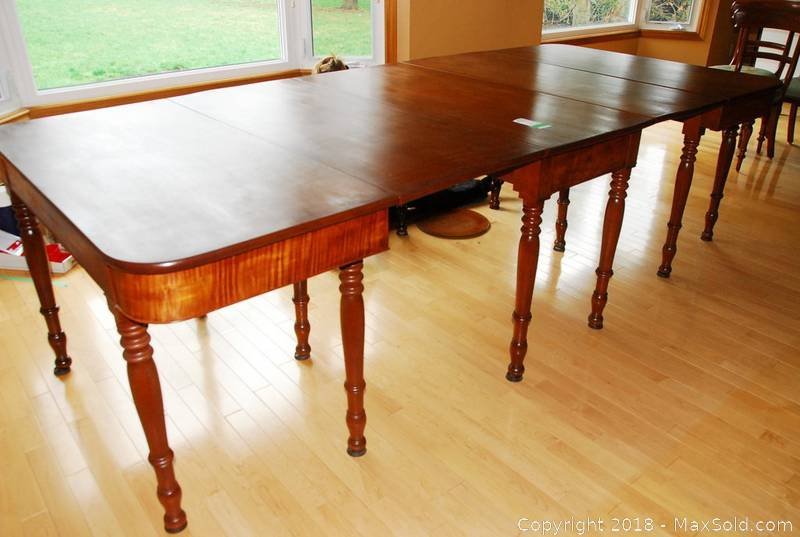 Large solid cherry dining banquet table, made in the Colborne area circa 1830, all parts made from one tree, comes apart in 3 sections. Trimmed with birds eye maple. Two Demi lune tables plus middle dropleaf table section. When all connected, total length is 108X38X31, includes two 20 inch leaves.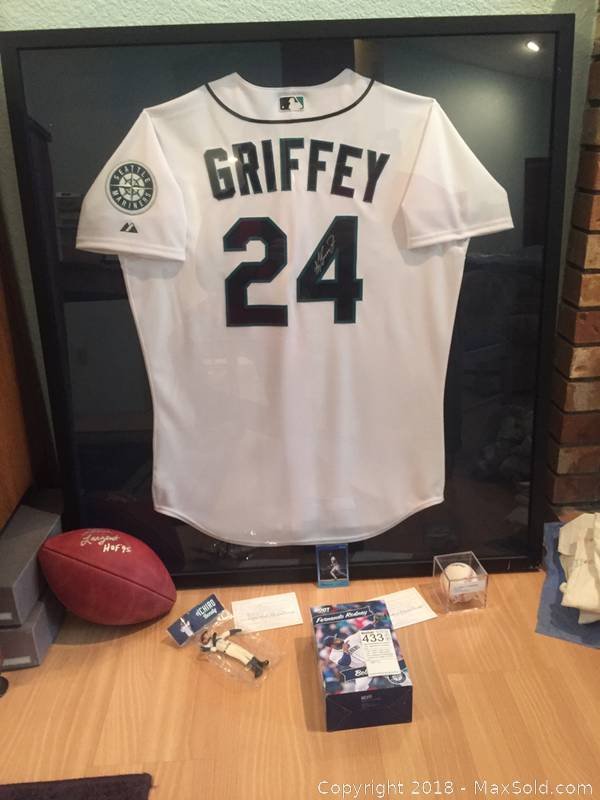 A signed Ken Griffey Jr jersey in a frame measuring 39X42 inches. A baseball signed by Ken Griffey Jr. A Ken Griffey baseball card. A football signed by Steve Largent. An Ichiro bendy, And a Fernando Rodney. A 2015 Fernando Rodney bobble-head. Ken Griffey, Jr Baseball card Season 2 (1988).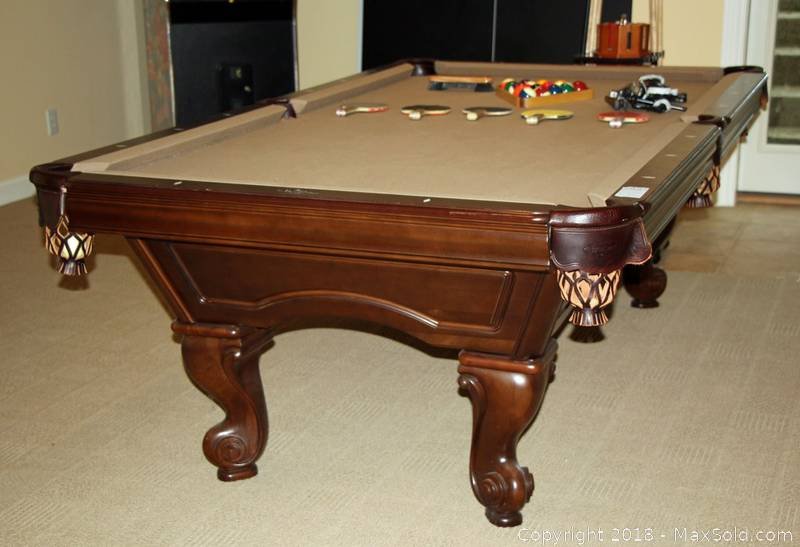 Brunswick pool table with balls and rack. 99X55X32. Comes with table tennis top and accessories. Used. This item is extremely heavy. Bring tools and help for disassembly and removal.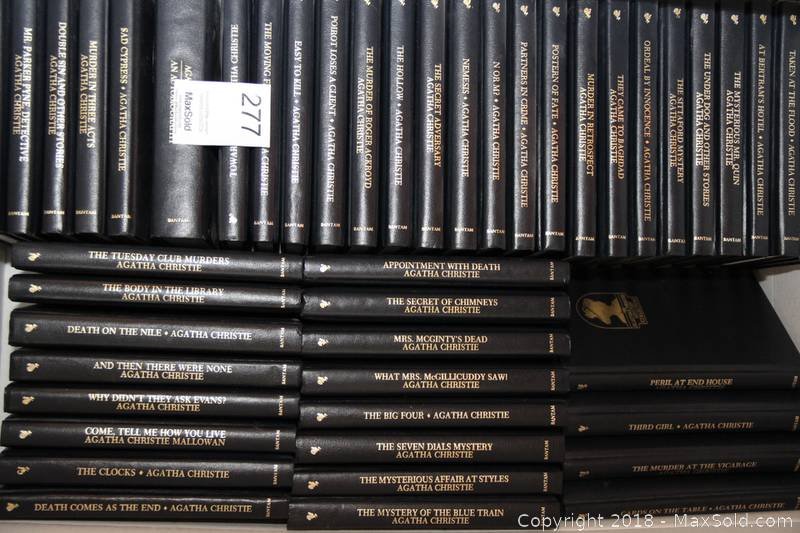 Set of leather bound Agatha Christie books, 46 in all.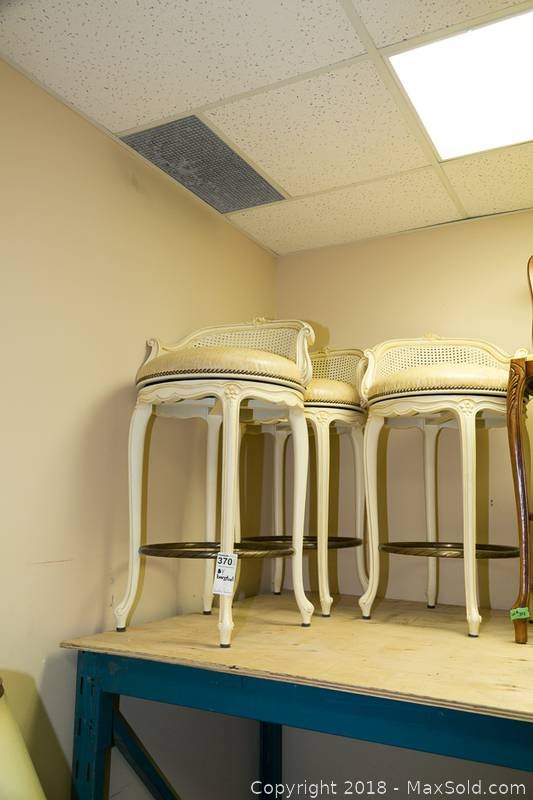 Four quality bar stools, cane back, heavy snakeskin pattern upholstery, few chips and scuffs, 24X24X40.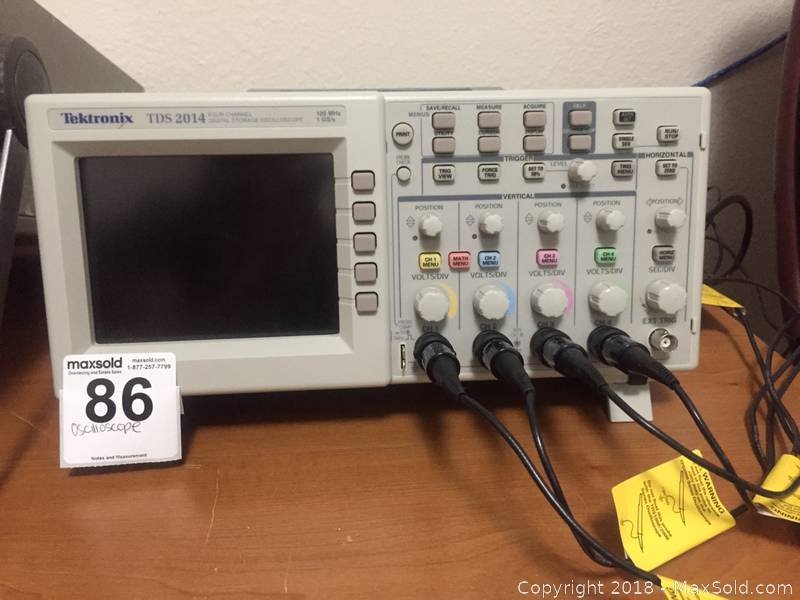 Two oscilloscopes LBO 5825, TDS 2014 untested.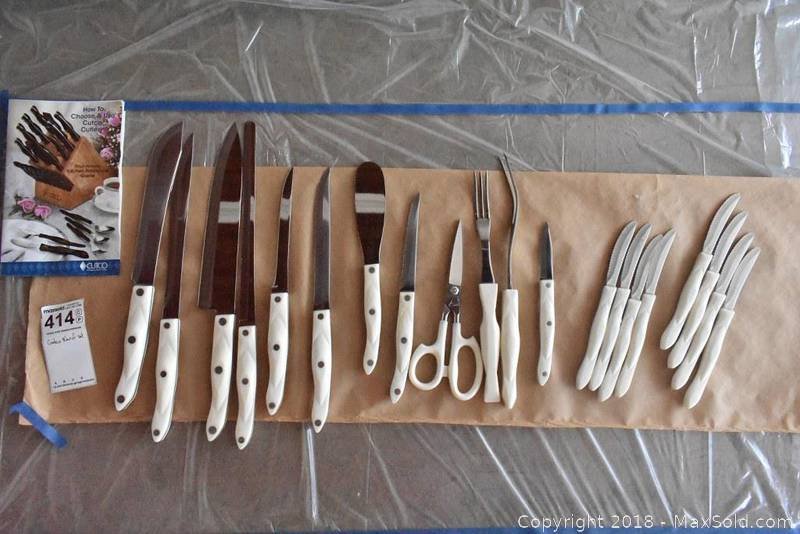 Cutco knives full set in good condition with manual.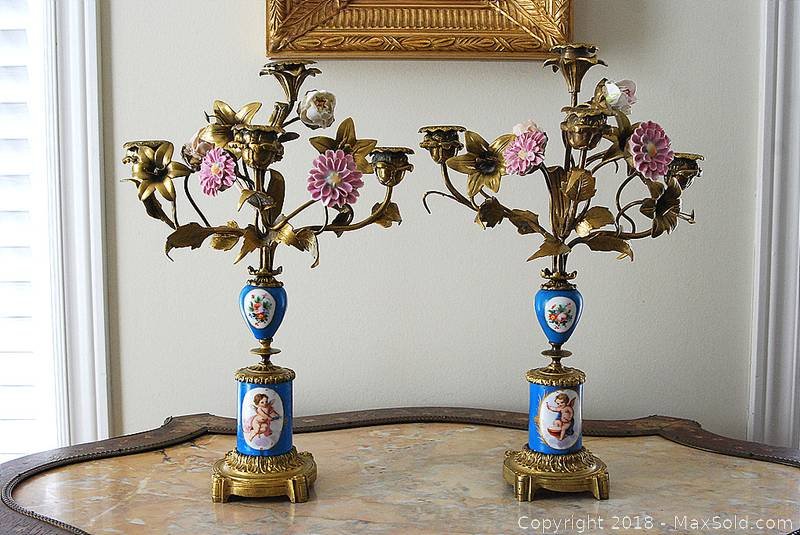 French Antique Porcelain mounted Candelabras. Size : 16 ? x 10 ? wears and chips on flowers.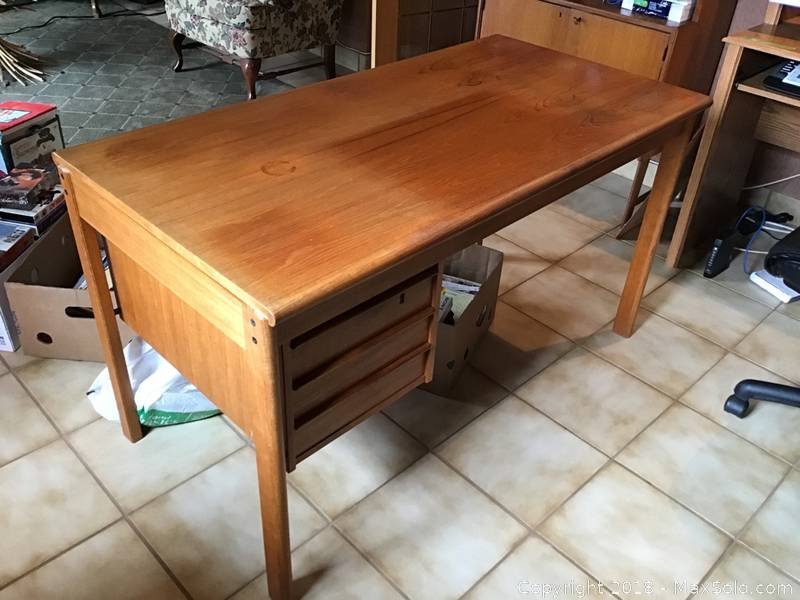 Vintage Teak Danish slide desk. By Peter Lovig Nielsen. 1970s. 52X27X29. Note: To be removed from home, items must be moved up or down a flight of stairs. Condition, has some marks or scratches. Heavy item, please bring appropriate assistance as needed to move this item.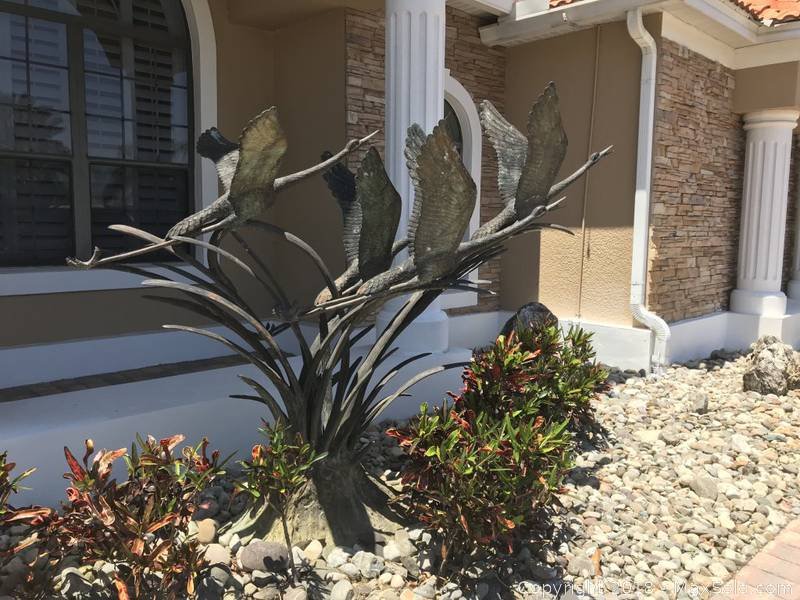 Outdoor bronze yard sculpture of birds. Metal, very heavy, bring help to move.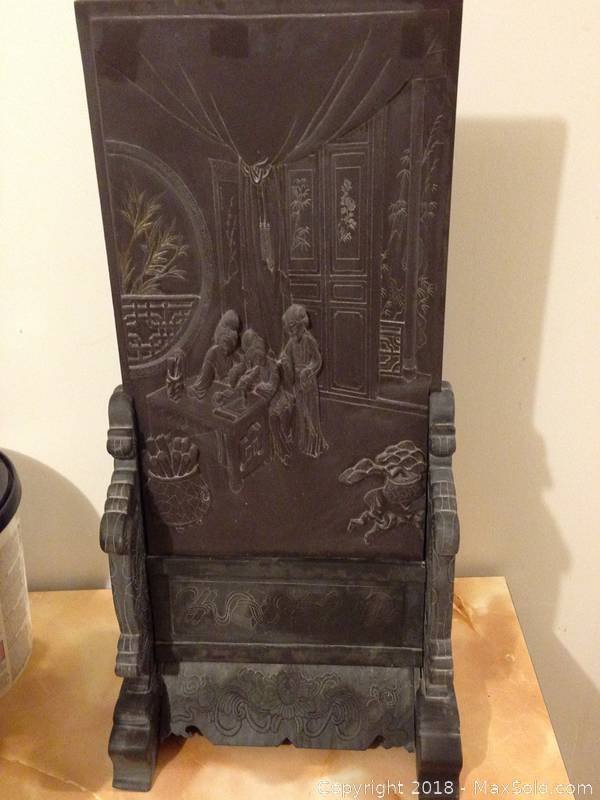 Fine detailed carving. Comes apart in sections. Fairly heavy .Overall size 22"" X 13"" . Good condition some minor chips to the base.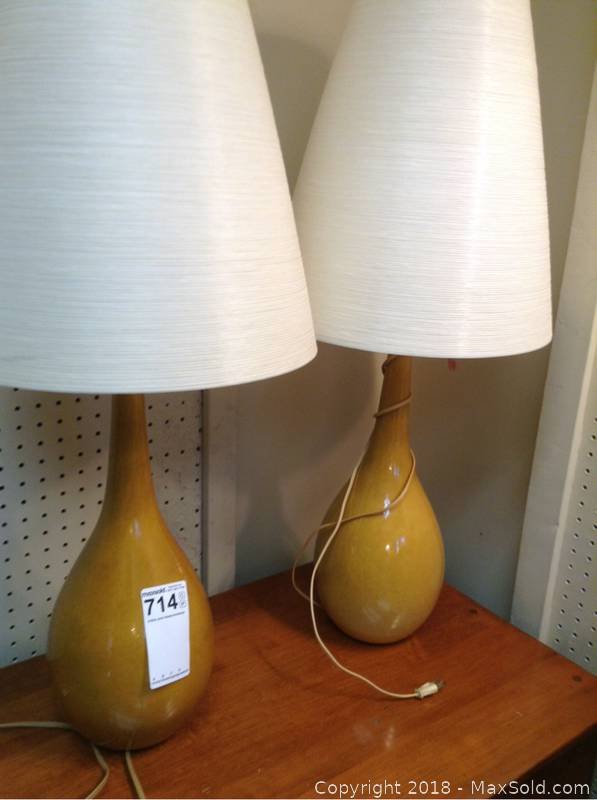 Gold ceramic base, 34H.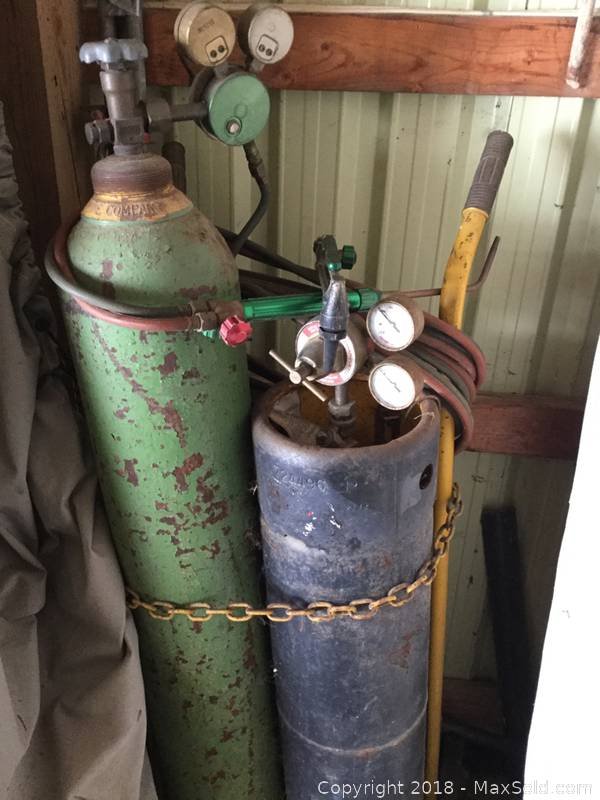 Tanks,hose,welding torch and cutting torch and the cart. There's some gas in the tanks.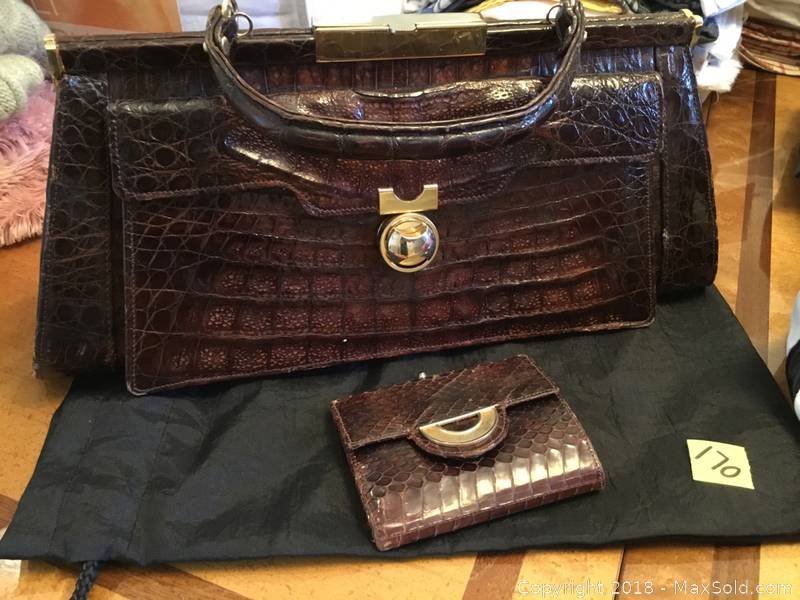 Vintage handbag and change purse. Some wear.
Receiver
Sold on MaxSold for $550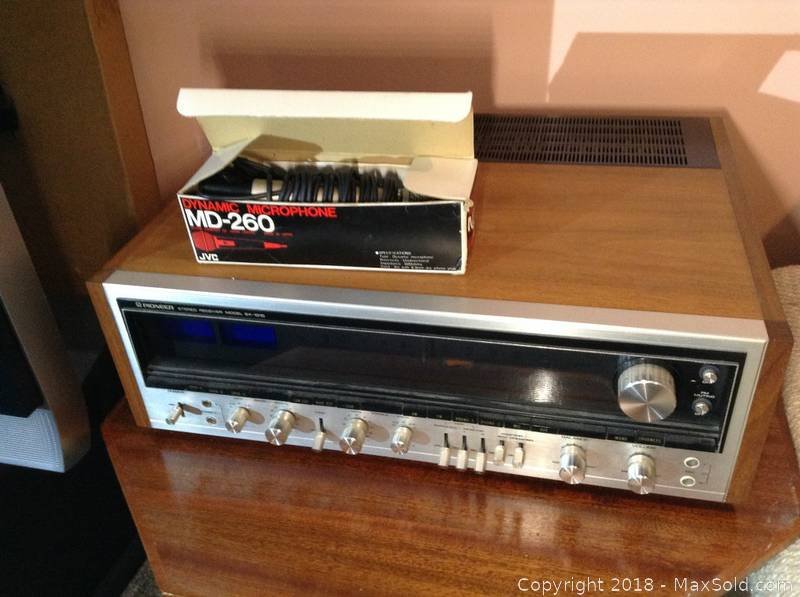 Pioneer brand stereo receiver. Model SX-1010. Untested. Dynamic MD-260 microphone. Table not included.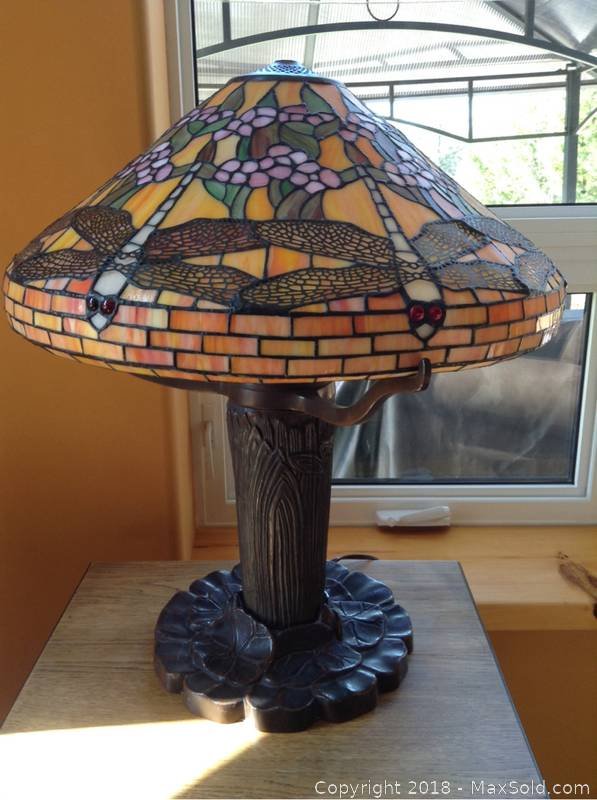 Stained glass lamp with dragonfly motif. 26Hx20D Working.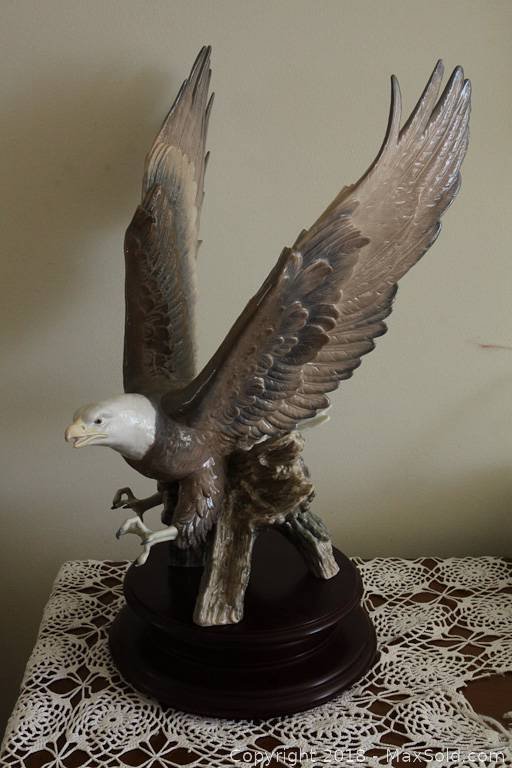 Large figure sitting on wooden base, 21 inches tall. 1992 - THE MODEL BY D. SALVADOR FURIO AND D. ESTEBAN ORDAZ.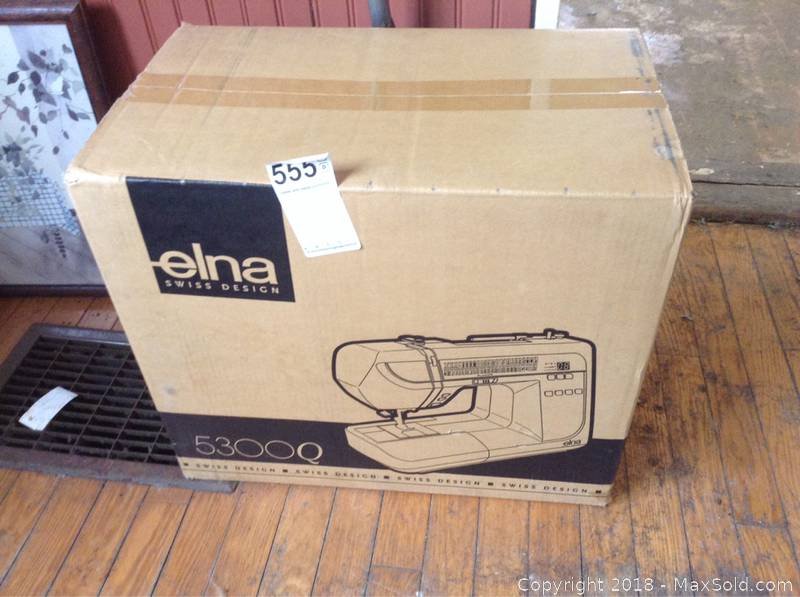 Model 5300Q, new in box.
Mixer
Sold on MaxSold for $322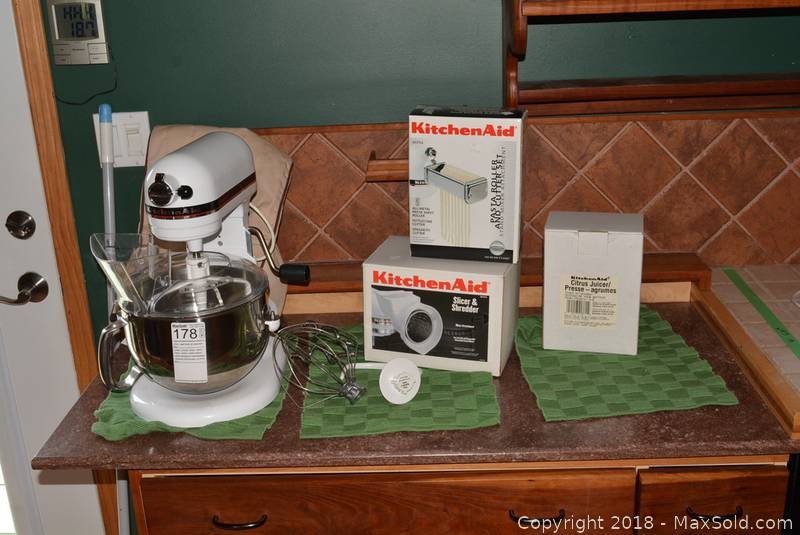 Kitchen Aid Professions 6 electric mixer with mixer blades and dough hooks. includes manual, slicer and shredder, citrus juicer and pasta sheet roller. Mixer used minimally, juicer once, other parts unused, as per seller.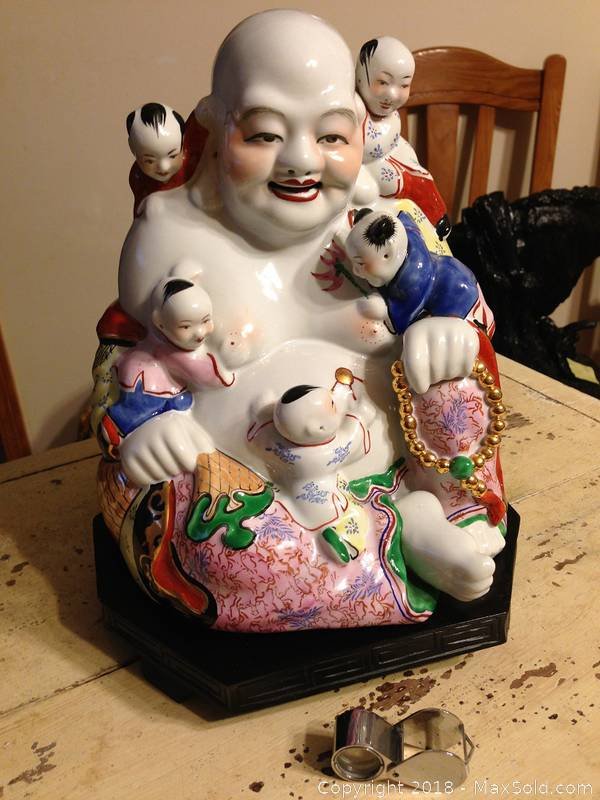 Chinese porcelain Buddha with wooden stand . Impressed mark underneath. Approx 10 "" high. Good condition, no chips or cracks.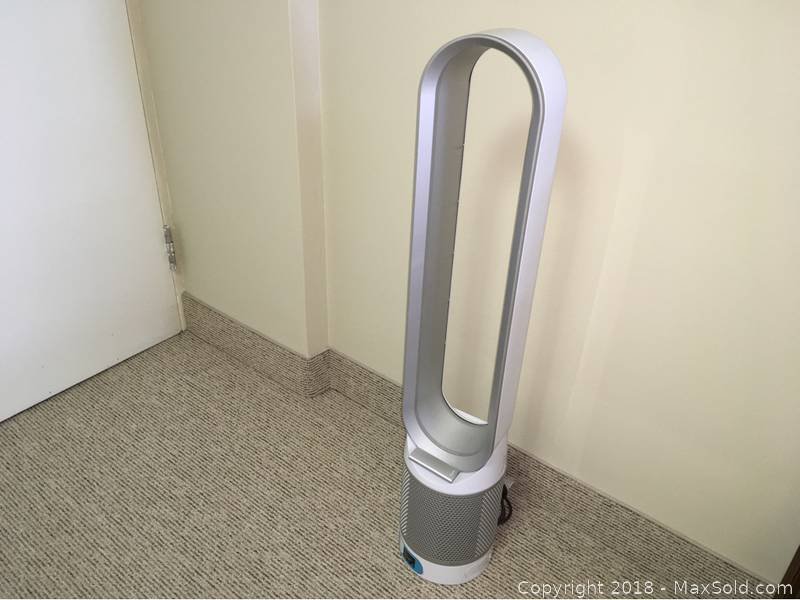 Newer Dyson bladeless fan with remote. Stands 40 inches high, light weight, and has programmable features. Lot also includes 1 other floor fan and 2 table top osculating fans.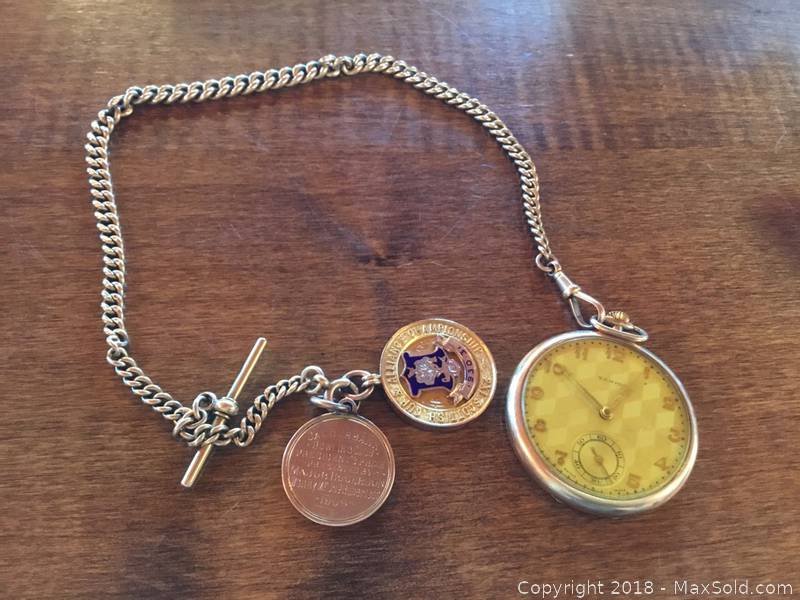 Tempo, Swiss made, unmarked gold case, with engraved medallions. Note: watch untested.
Film Camera
Sold on MaxSold for $310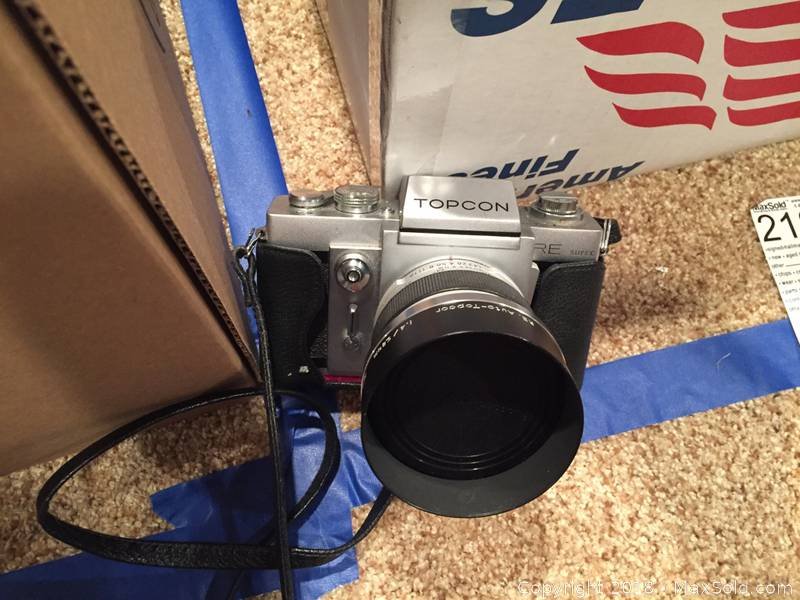 Topcon Film Camera with lenses, filters, flash and more not tested.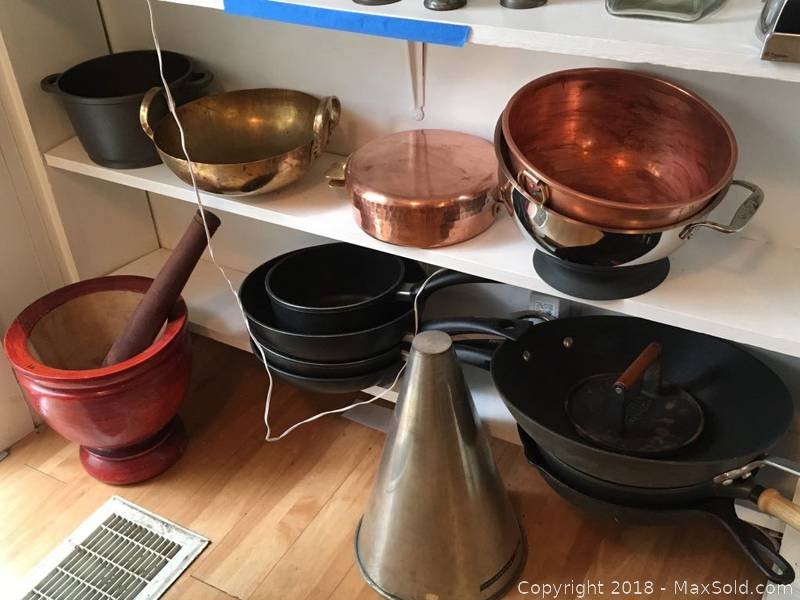 Cooker Cookware, as well as other household items. Located in dining area on first floor.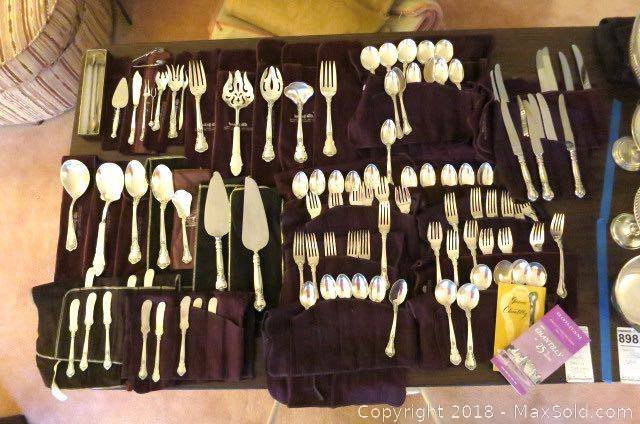 Gorham Chantilly Sterling Silver Flatware, and Serving Pieces.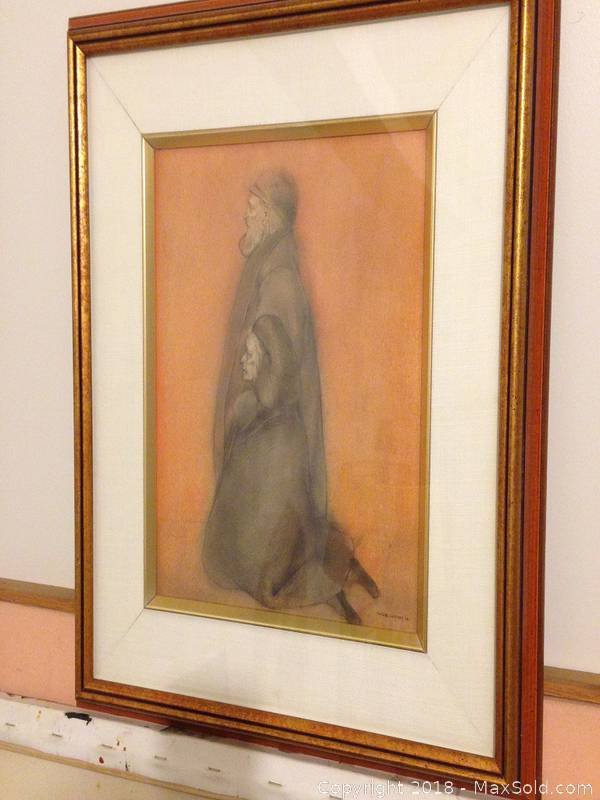 Rafael Coronel signed watercolour/ mixed media painting on paper. Excellent condition and nicely framed. Dated 1968 Rafael Coronel, born 1931, famous Mexican painter and son in law of Diego Rivera. Overall size approx. 21""x 19""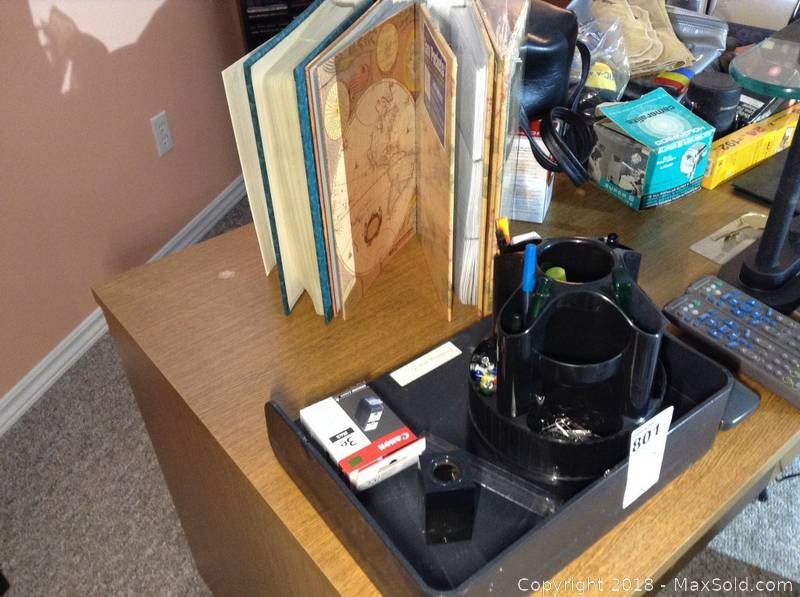 Contents of desk top including Nikon AF camera and assorted lenses including Nikon F micro 55mm, Nikon AF-S DX Micro Nikkor 40mm, Nikon 55 mm and Nikon speedlight SB-500. Table lamps, pen caddy, photo albums, slide and film scanner.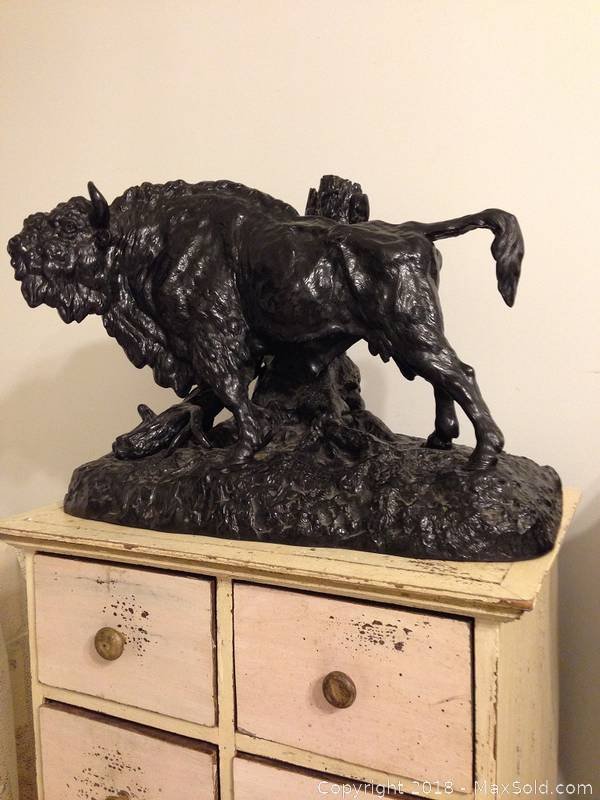 Impressive large and fine detailed Russian cast iron Buffalo. Good condition , approx. 21 inches long and 15 inches high. Foundry marks to underneath dated 1978. and signed on the base. Very heavy item !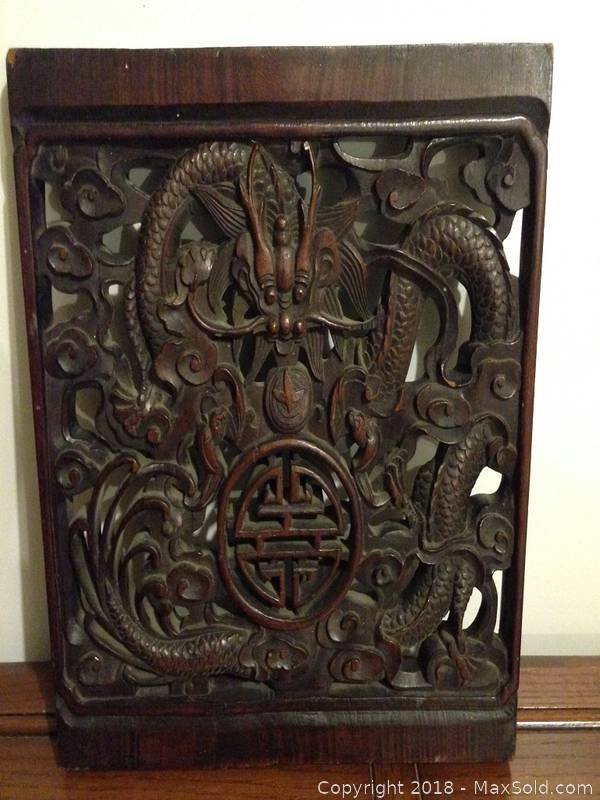 Very heavy wood, Chinese carved dragon wooden panel. Double sided. Approx. 15"" x 13"" minor wear and does have some cracks and chips. Probably imperial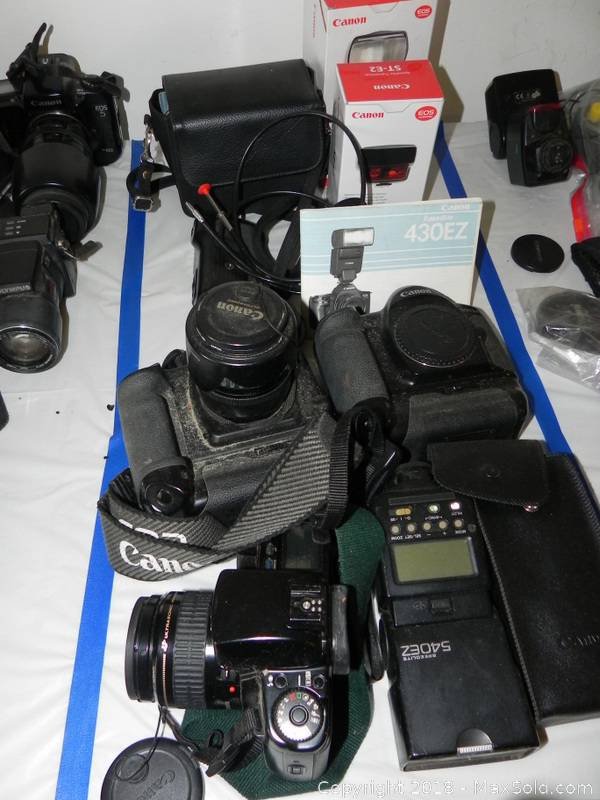 Canon EOS3 and EOS1N, EOS Elan, Canon Speedlites, Canon EOS accessories in original boxes, and more.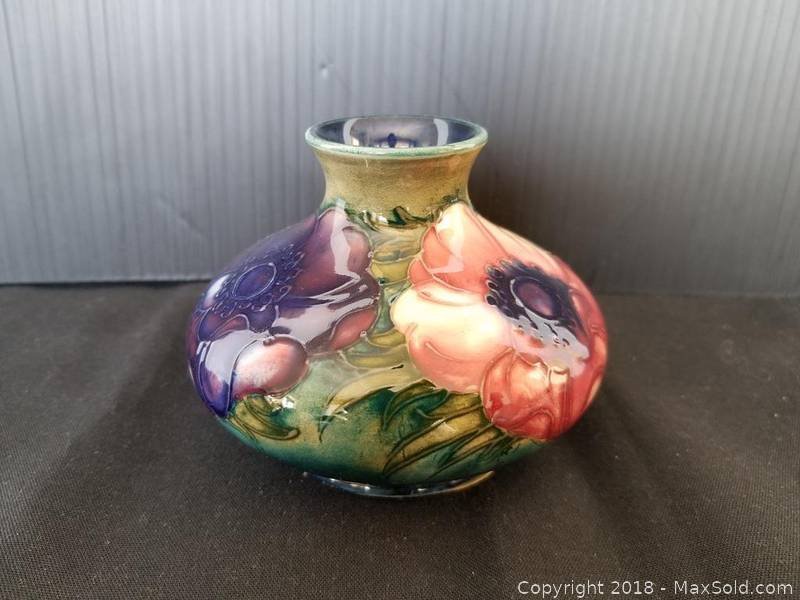 4.25X3.25 Signed Moorcroft Vase with no chips or cracks.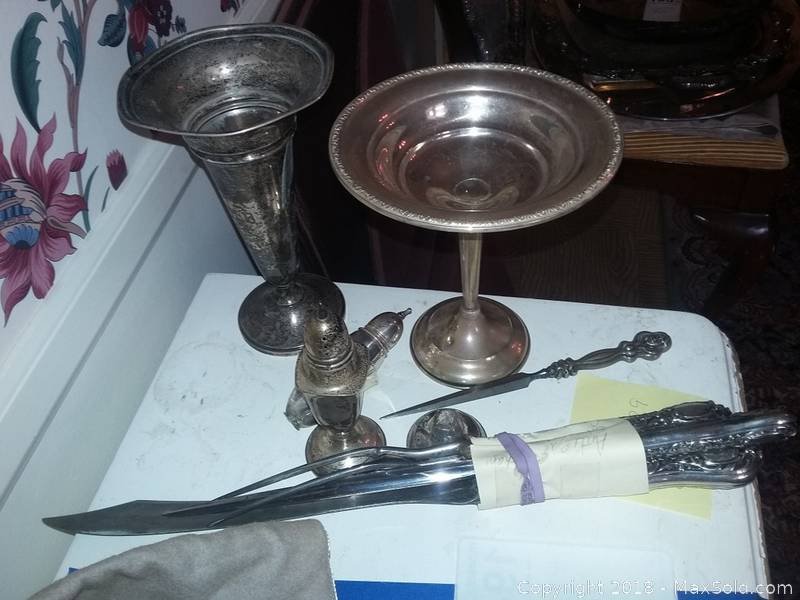 Salt and pepper shakers, one broken. Antique Gorham Strasbourg silver handle carving set.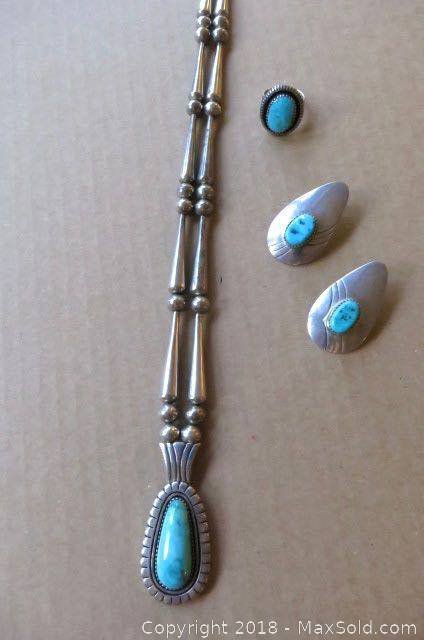 Indian Turquoise and Sterling silver pendant and earrings, fashioned by Native America artist Mary Marie. Also includes additional turquoise pieces.
Fridge
Sold on MaxSold for $620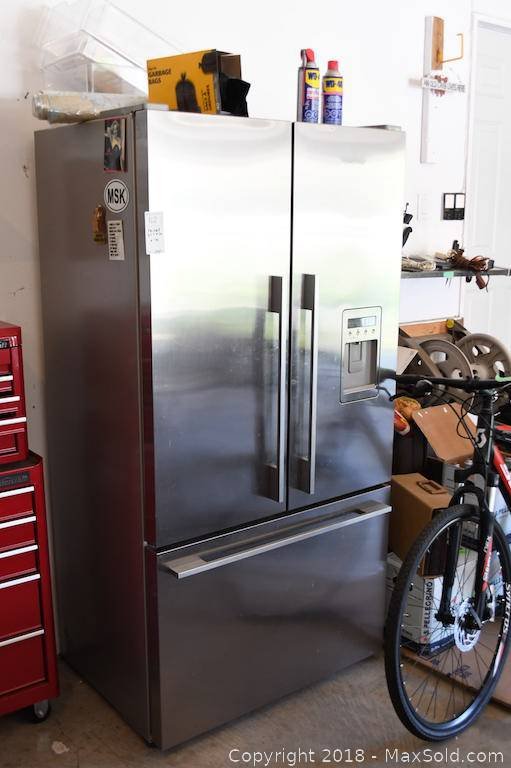 Fisher and paykel refrigerator. Model rf201a. 35.5X26X70. Note scratches.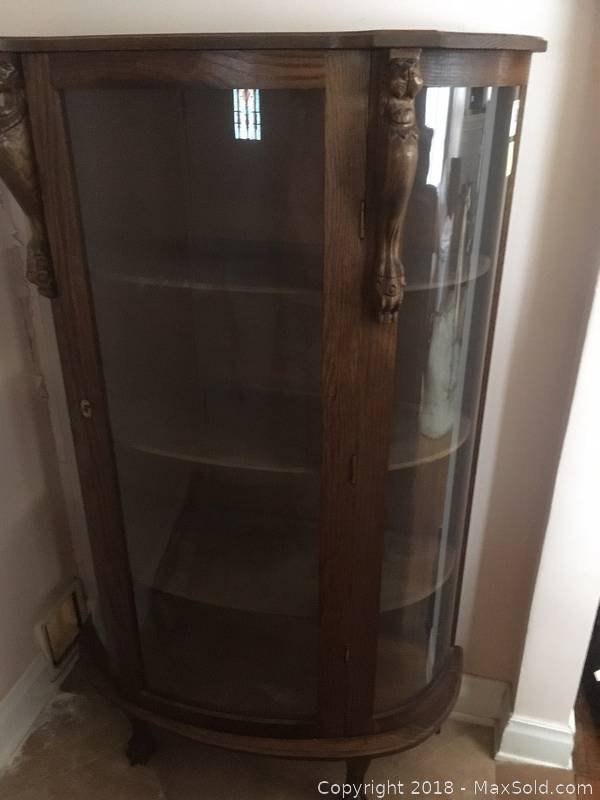 Antique Curio. 36X17X61. Note: Heavy item, please bring appropriate assistance as needed to move this item.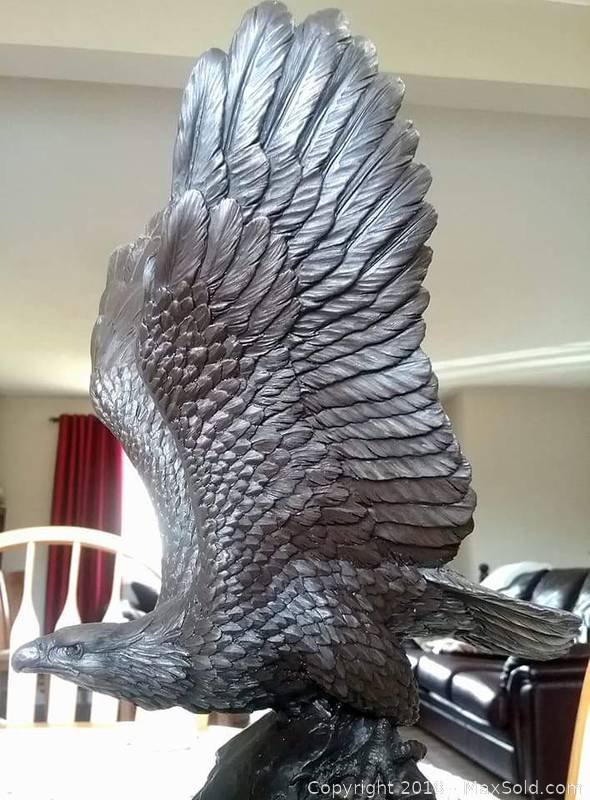 Gorgeous Large Display Bronze Sculpture, Eagle On Granite Rock From Sudbury, Ontario Region Sculpture by famous sculptor, Tom Mackie '81, Display Piece, Rock Base with blood red granite veins. The detail of the bronze eagle is amazing. This piece is large at 8""wide x 10"" deep x 16"" tall, and weighs 20 pounds. Excellent condition, not necessary, but could use a bit of sanding touch up on the rock (glue from eagle mounting process).
Le Creuset
Sold on MaxSold for $140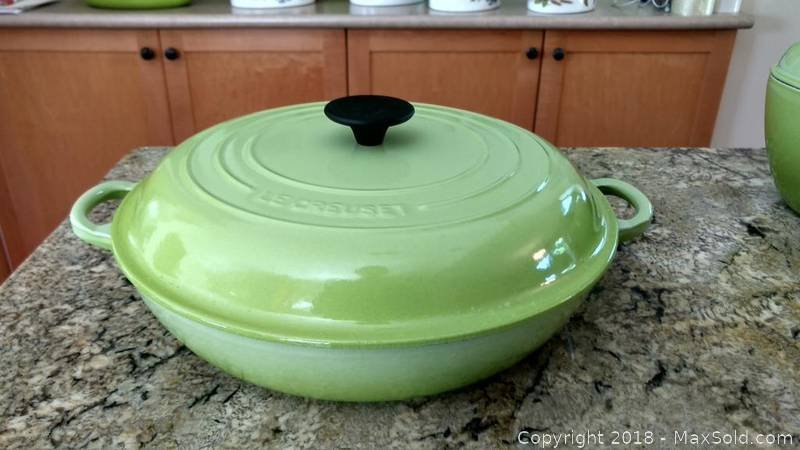 No 30 Le Creuset round lidded cookware 15X11X5.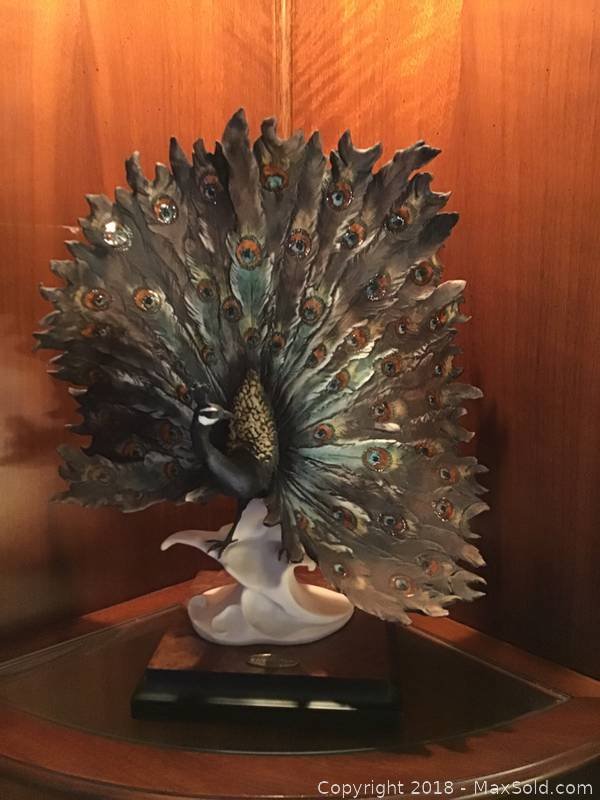 Giuseppe Armani Peacock Figurine. 13.5X12X6.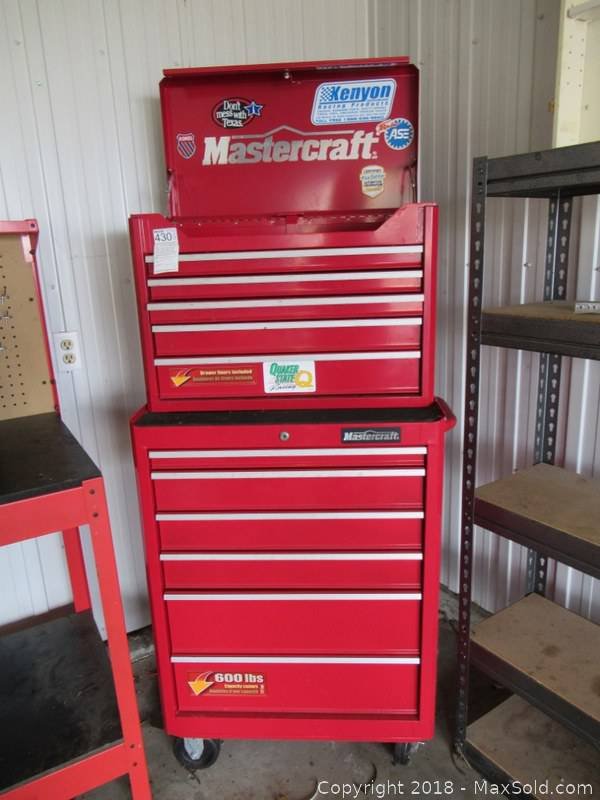 Mastercraft rolling 2 section tool boxes, top section 26X14X19, 5 drawers, Bottom section 28.5X18X38 6 drawers, all drawers have liners. Both sections are empty of tools.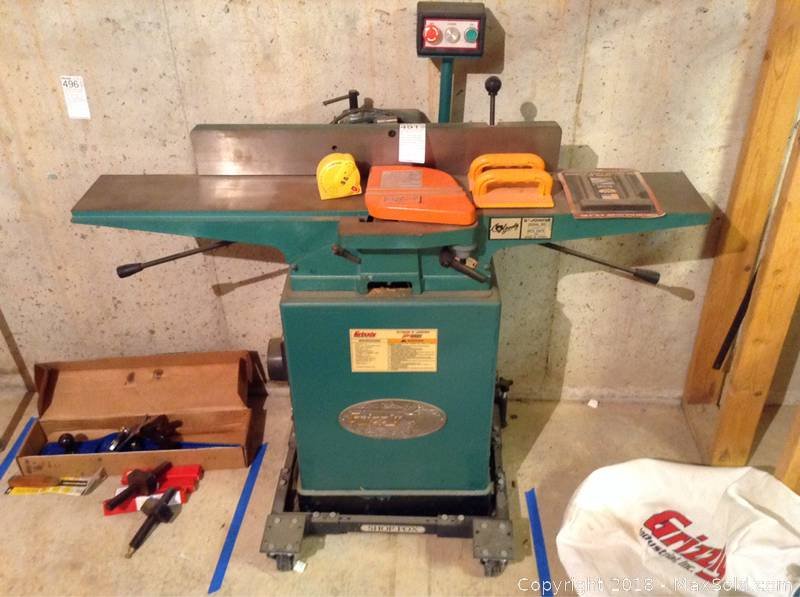 Grizzly G1182ZX jointer with shop fox cart. Untested but working as per seller. Seller states very lightly used. Heavy. Located in basement.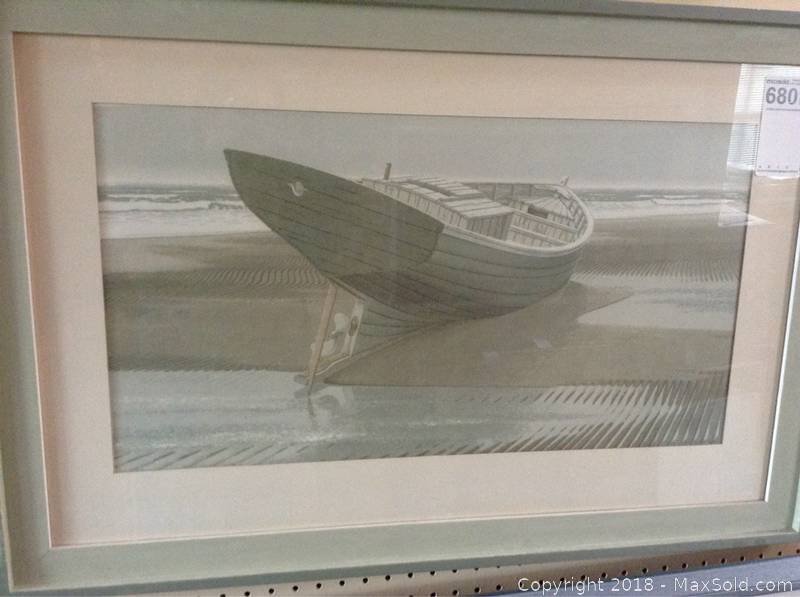 Boat in Sand, serigraph on Fabriano w.c. Paper, numbered 20 of 25, 13.5x25.5.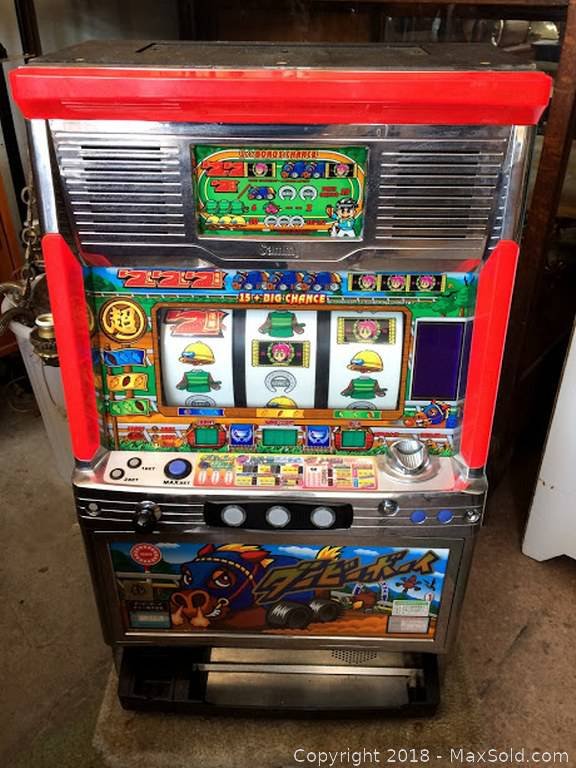 This slot machine measures 18.75"" wide x 14.5"" deep x 32"" high. There is a key. It does have power and lights up. Untested. Bring help to move.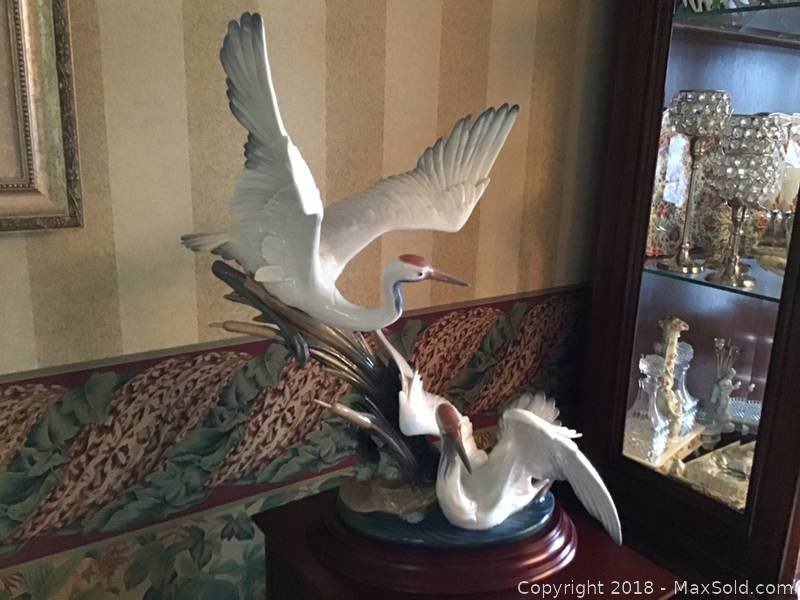 Large Lladro figurine number 1456 Cranes. Designer Salvador Debon. 21.25 inches high x 21.75 inches wide. Includes base. Please see photos for retail price paid. Note: Bring packing materials. No certificate of authenticity.
Sonos
Sold on MaxSold for $415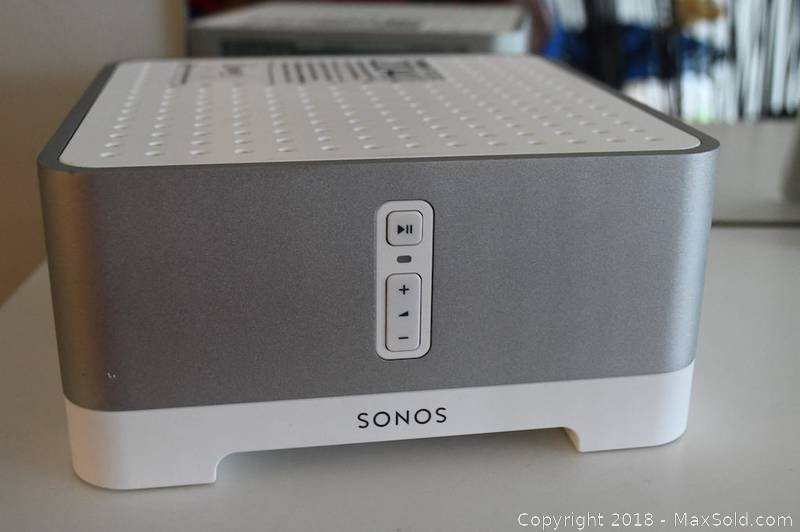 Brand new Sonos amp. Missing cords and remote untested.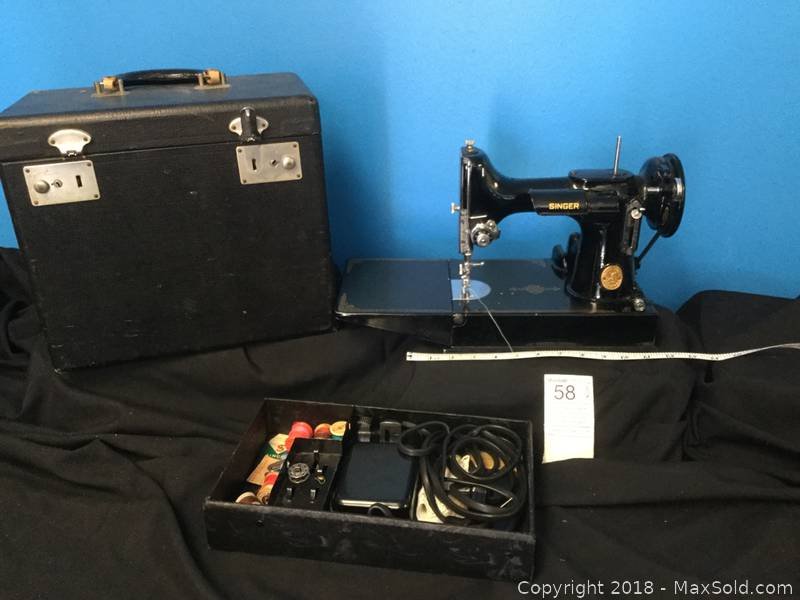 Singer Sewing machine with carrying box Vintage model with buttonholed. Working.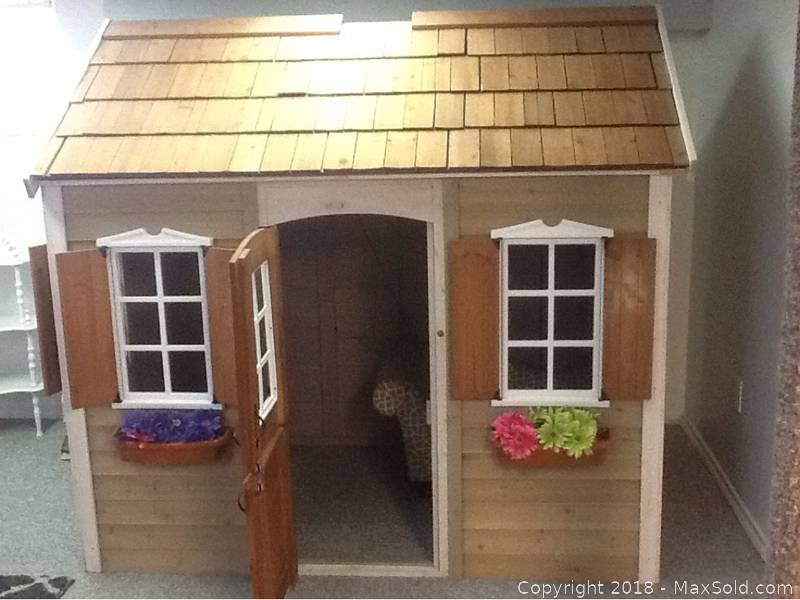 Indoor or outdoor cedar wood play house, purchased as an outdoor playhouse but it was always used indoors. Shutters open and close and the doorbell works as it is battery operated. Approximately 9 years old. There is also a weathervane was too high to have it on the house indoors, however if you have a higher ceiling or use it outdoors it can easily be attached. We will have it dismantled for you when you arrive for pickup. Currently Measures 72 inches long X 53 inches deep by 67 inches high. The furnishings are being sold separately.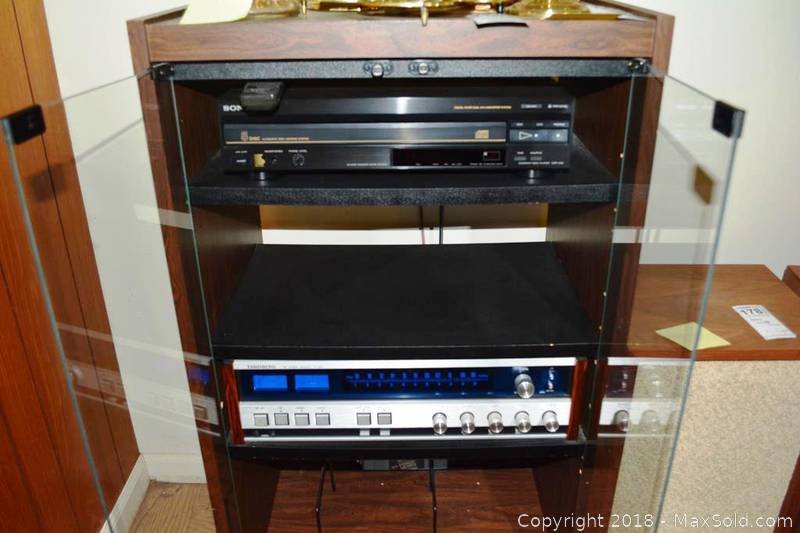 Sony 5 disc CD player. Model CDP C30. Tandberg receiver, model TR 2055. All untested.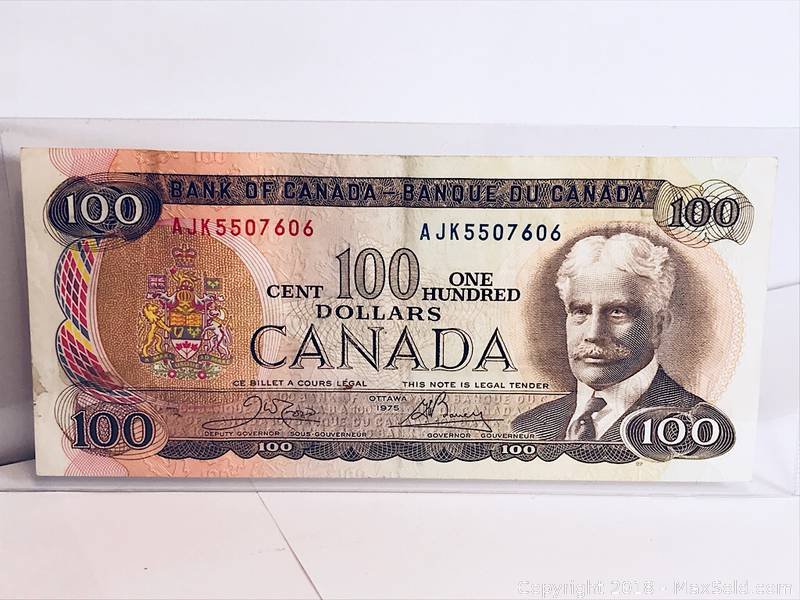 Comes in protective sleeve as shown, see pics for details.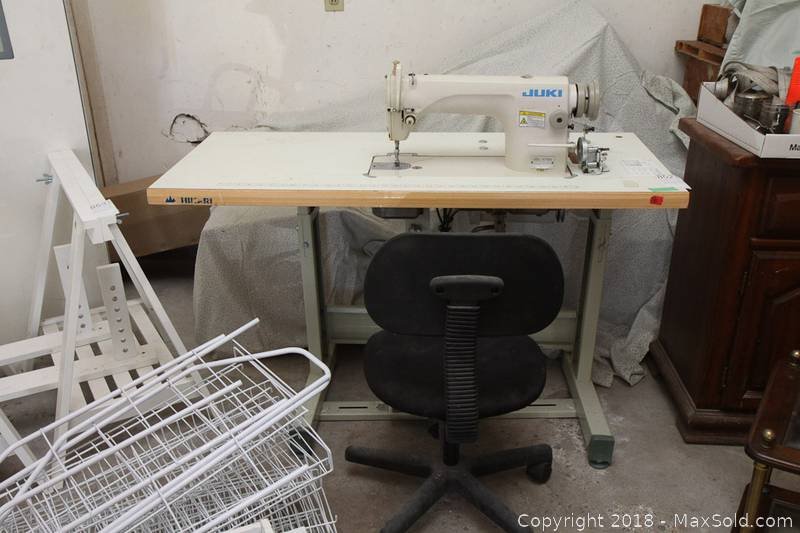 On a Hikari table, 47X21.5X29. Includes small office chair. Untested. Very heavy, please bring help to move.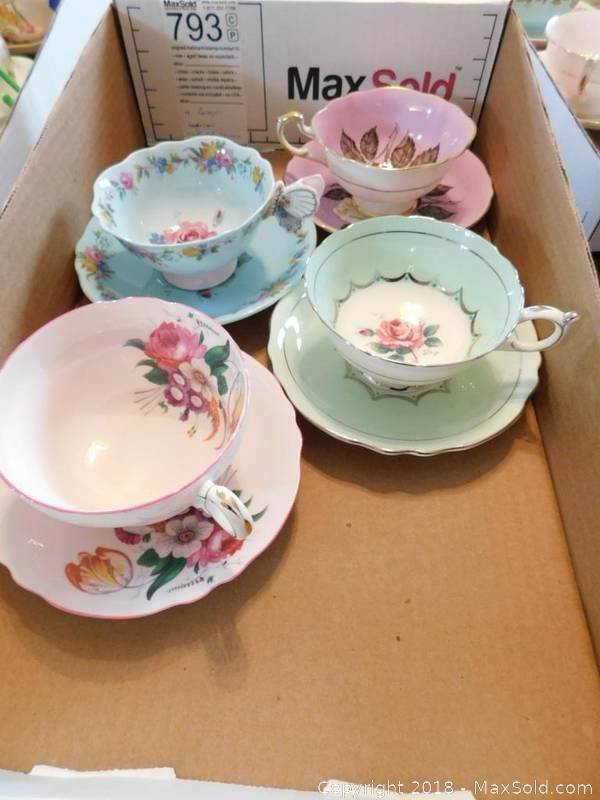 Four Paragon cups with matching saucers.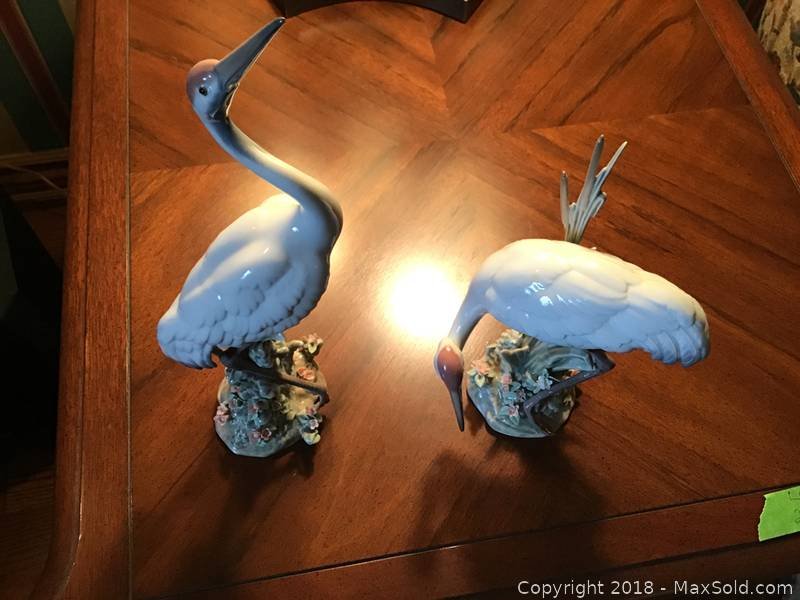 Lladro figurines numbers 1613 Bowing Crane 7.75 inches high and 1614 Dancing Crane 11.5 inches high. No certificate of authenticity. Note: Bring packing materials.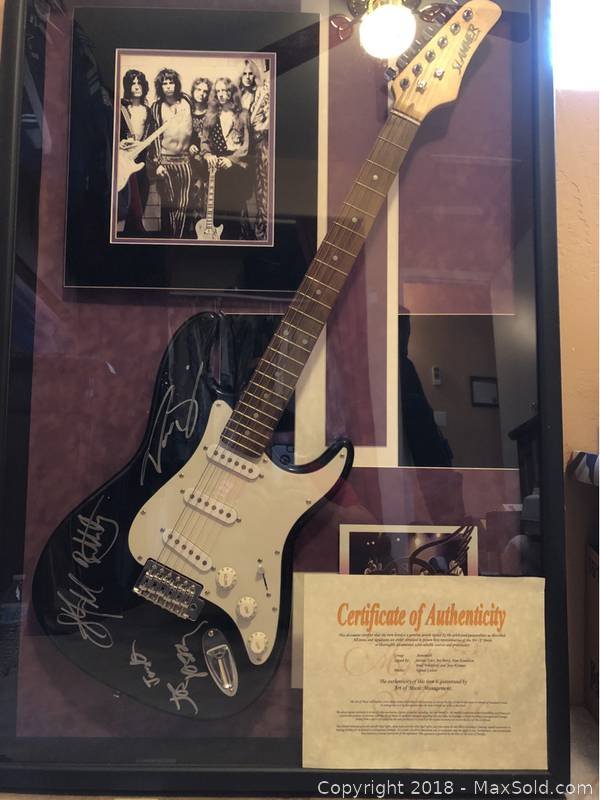 Autographed Framed Aerosmith Guitar with certificate of authenticity. 27X41.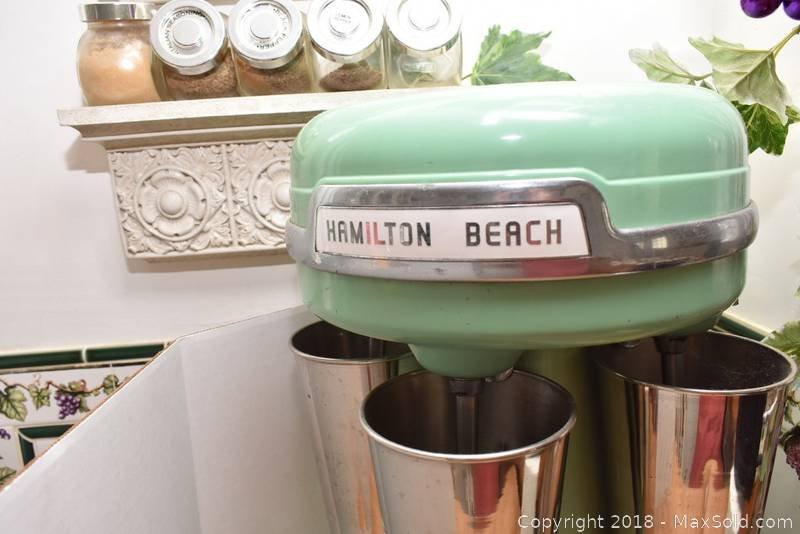 Vintage original Hamilton Beach Shaker. With 3 tumblers which are not vintage. Good working order. Slight wear.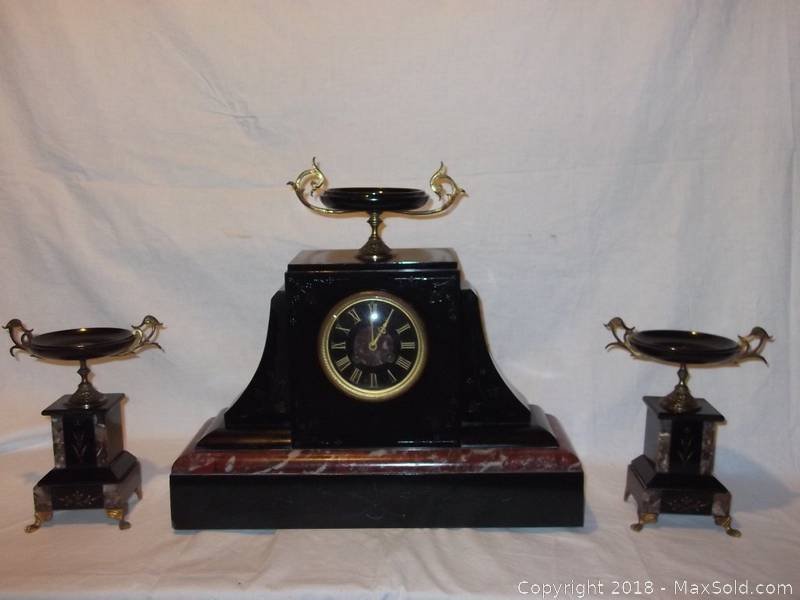 Large antique French marble, very heavy mantel clock with bronze ornaments and side stands. Made by famous French clock maker Alexander Dehais. 18""W x 16""H. Very, very heavy. It appears to be working, but I do not know how to attach the pendulum.
Star Wars
Sold on MaxSold for $85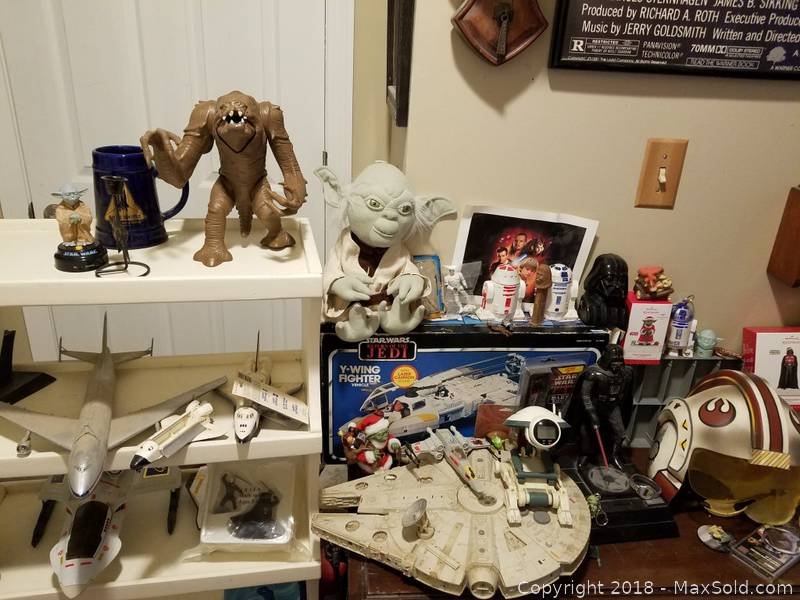 Y wing ship in box, Millennium Falcon, Yoda hand puppet, helmet (cracked and repaired on r front) some trading cards, Christmas ornaments, Han Solo Stormtrooper (special offer, still in bag, Indiana Jones small figure with bull whip and gun, imperial probe droid alarm clock, past tv buses with Star Wars covers, some with holography, Rancor monster and more.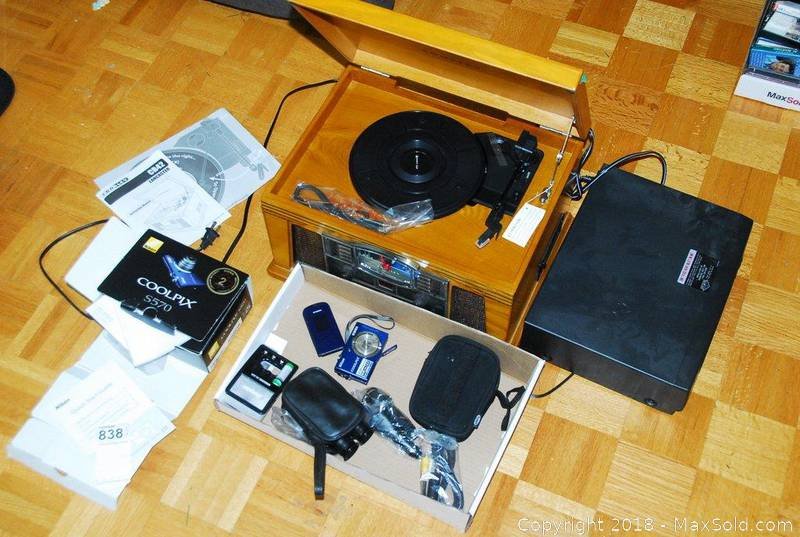 Lancaster radio record player by Crosley, CR42 with manual, appears to be new, 16.5x12x10. Includes an ORION VHS player untested, and a Nikon Coolpix digital camera with manual and case. Note: all untested, condition unknown.
Safe
Sold on MaxSold for $600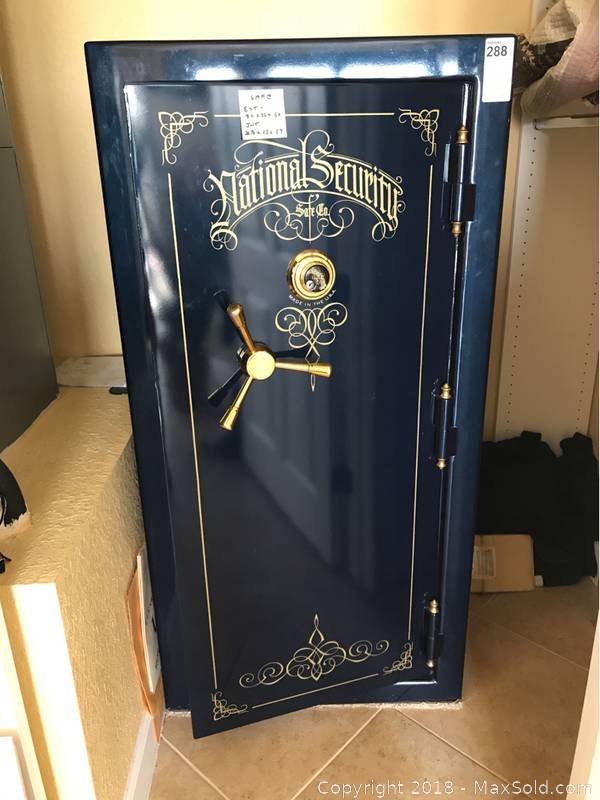 National Security safe. Exterior 30X26X60. Interior 26.5X23X57. Serial number C7150. Heavy, bring help to move.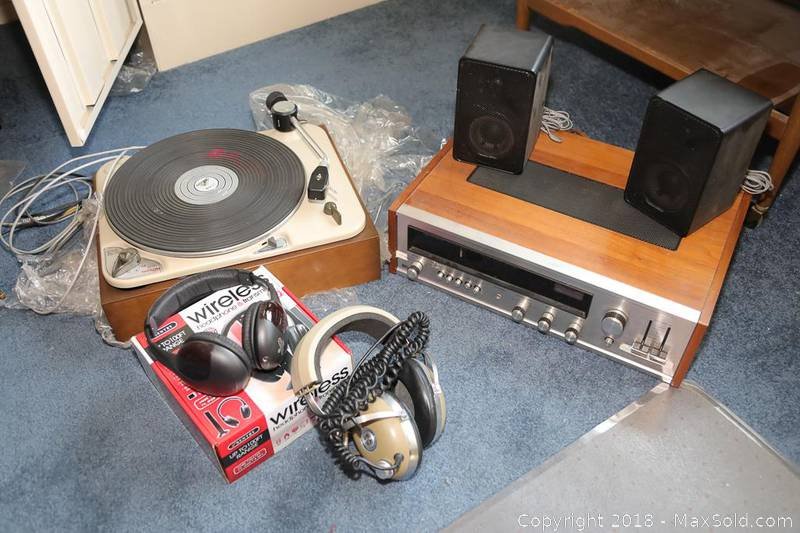 Thorens Turntable, Realistic AM FM Receiver, 31 2056, Realistic Speakers, and more.
Ducks decor
Sold on MaxSold for $110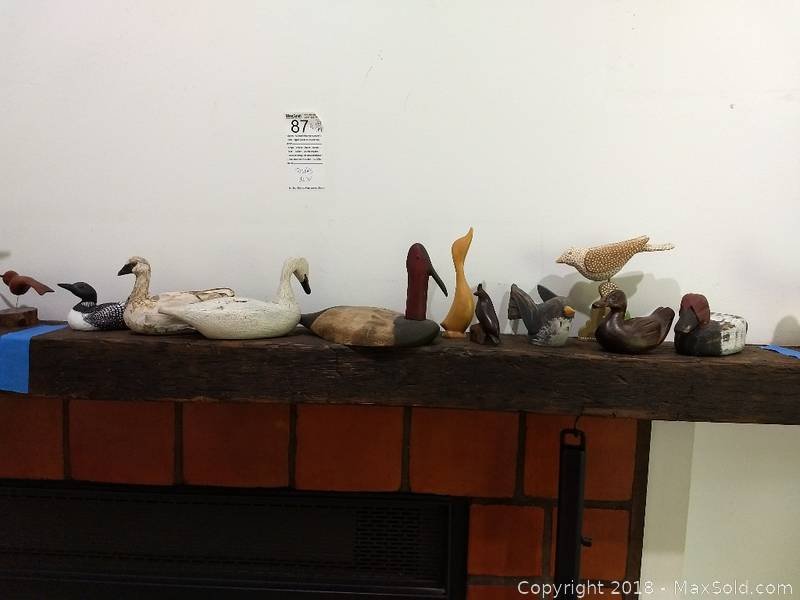 Assorted decorative wooden ducks.
Mirrors
Sold on MaxSold for $125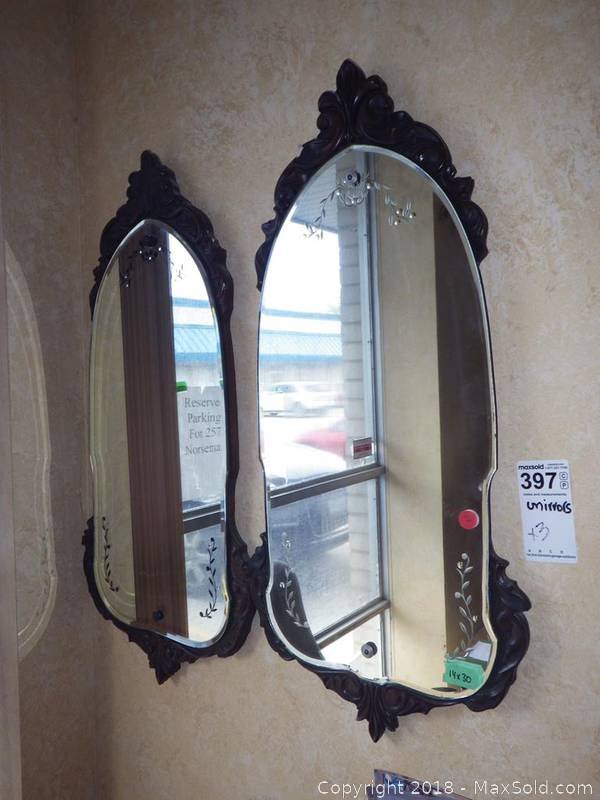 Three mirrors, two matching, 14X30, one non matching, plastic frame, 27X14"".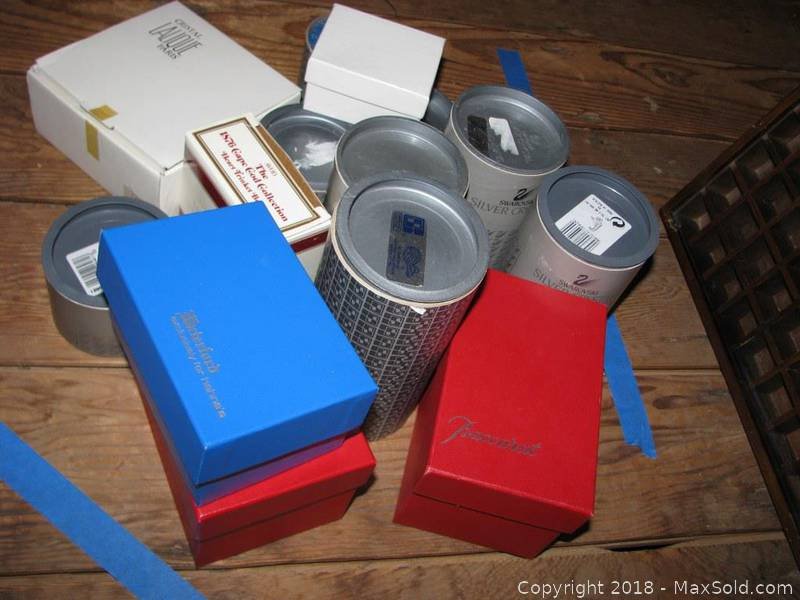 Swarovski includes parrot, fox, goose, Waterford perfume spray bottle, baccarat perfume bottle and more. All NIB.
Books
Sold on MaxSold for $530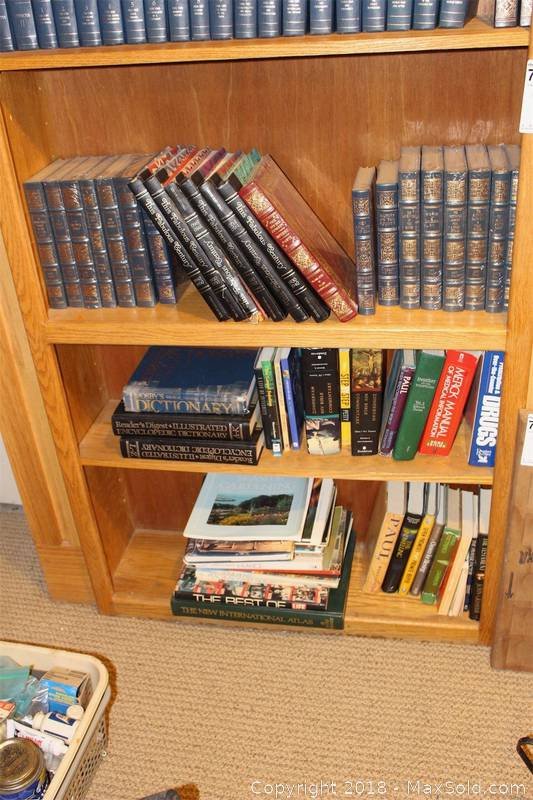 Books on lower three shelves of left side of bookcase. These include titles by Mark Twain, Dante, as well as Time Life Book Series This Fabulous Century, religious books, and more. Located in basement.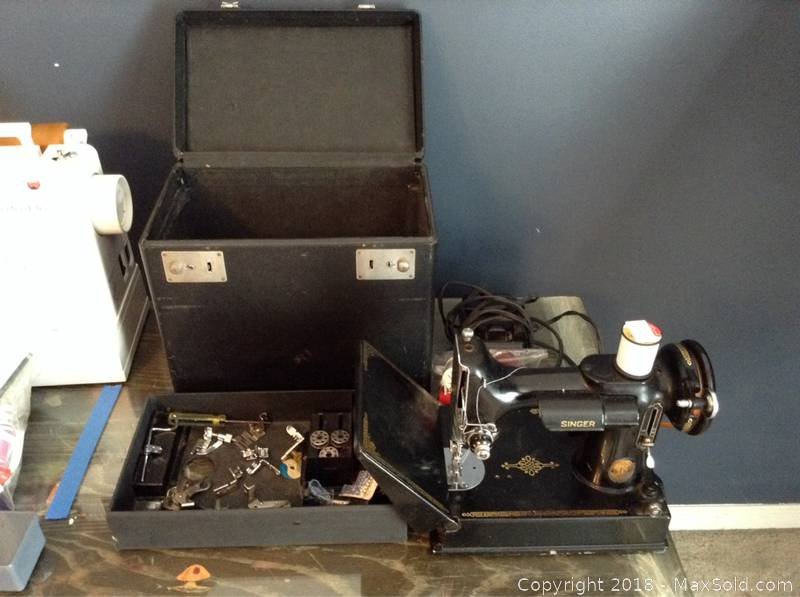 Singer sewing machine with case and accessories. Working per seller. Located upstairs.