June was an exciting month for MaxSold! Not only did we have a TON of auctions this month, but we also helped so many customers find new homes for their used goods. We've seen a lot of articles lately about how "No One Wants Their Parents Stuff," and even videos of pianos being thrown into landfills! However, at MaxSold we are on a mission to reverse this trend. Re-use is the highest form of recycling, and although we may not always get 1000s or 100s of dollars for items, they are being re-used and re-purposed, and not ending up in a landfill! So with that being said, check out the monthly highlights below!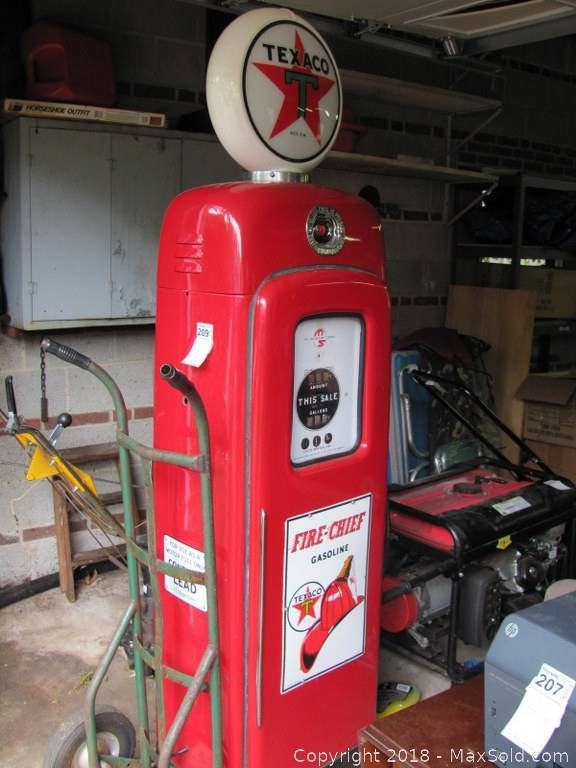 1951 Fire Chief gasoline pump. The Wayne Pump Company Salisbury MD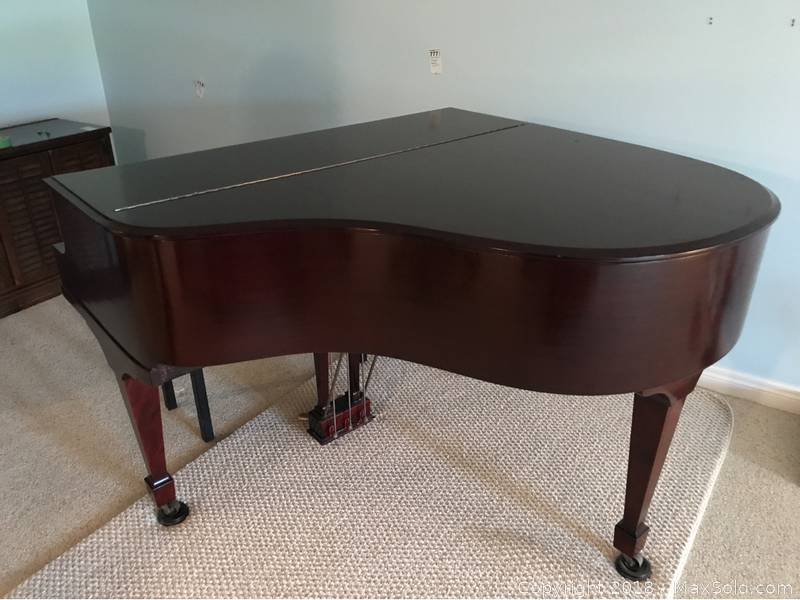 Starr Piano Co. Richmond Indiana grand piano with wood music sheet holder. Minor chip and wear. 55X60X40.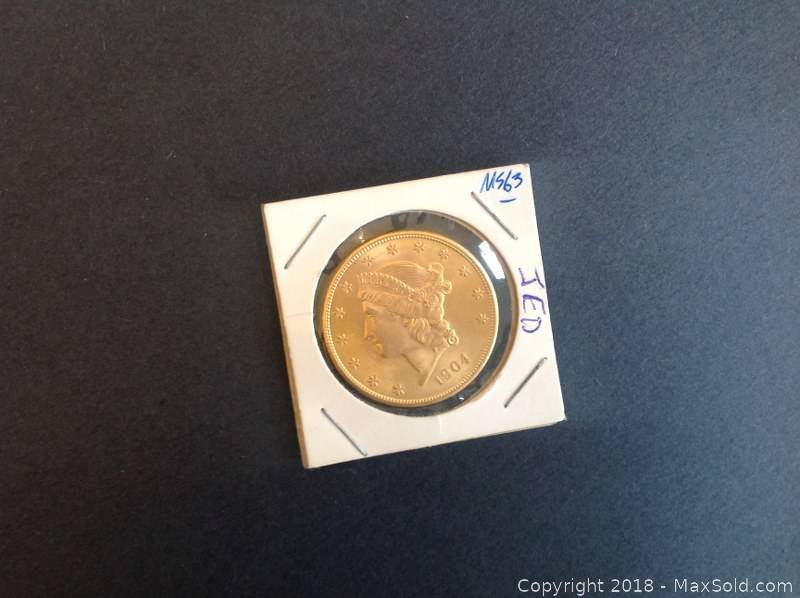 Rated by coin dealer MS 63. Very close to perfect mint condition. Very good us 20 dollar ms 63 gold coin.


Snowblower
Sold on MaxSold for $630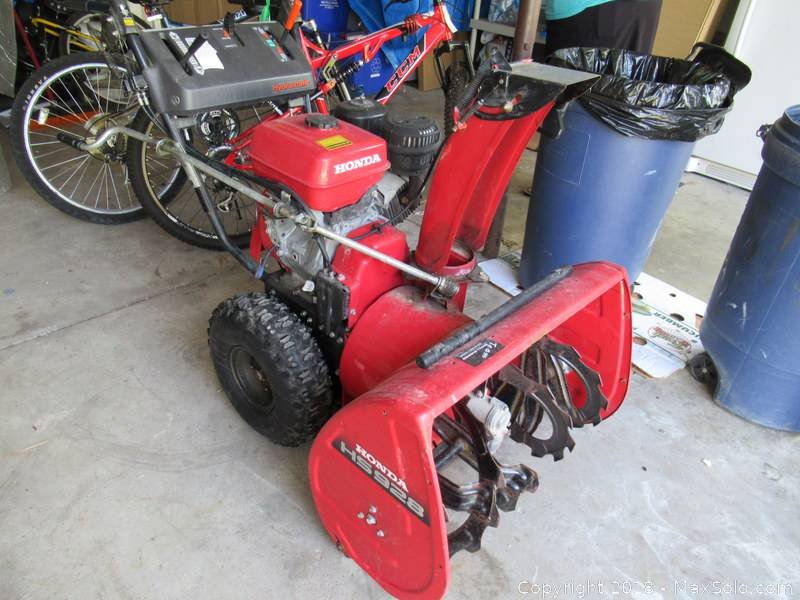 Honda snowblower, hydrostatic, forward reverse, fast slow, 28 inch cut, some surface rust, one tire is soft, in working order as per seller. Made in Japan.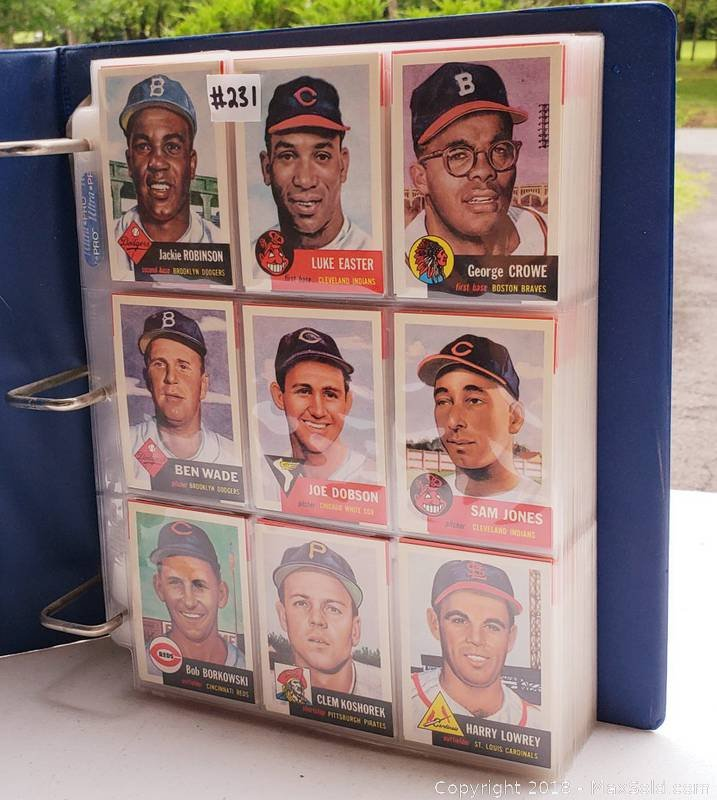 Binder has 33 pages over 600 cards. These are all in nice well kept shape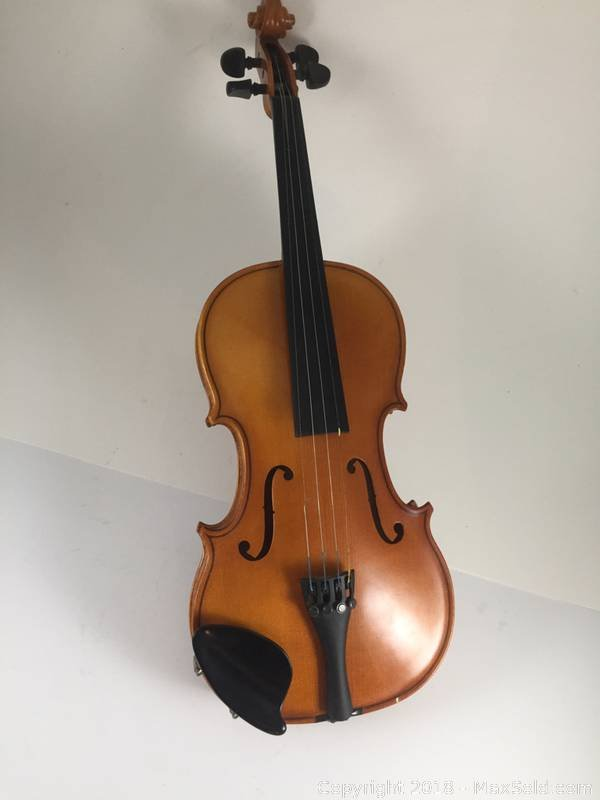 Violin is 22 inches long. Handcrafted in Czech Republic by Shunal. Includes case and bow as seen in photos.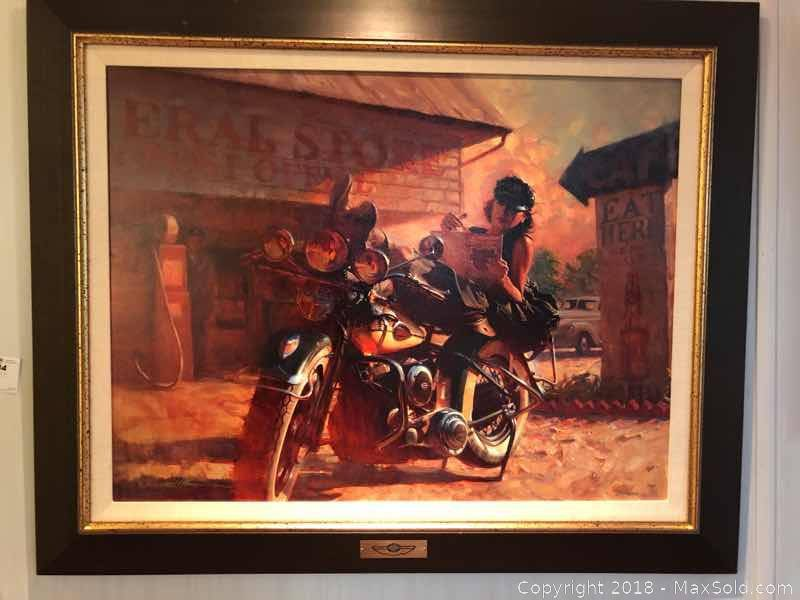 Harley Davidson Giclee signed by artist. 34/250. 34x42.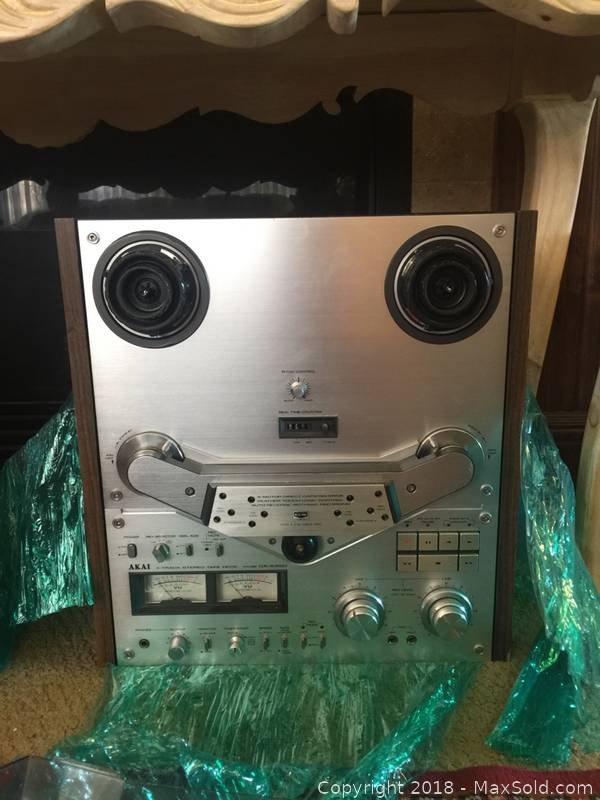 Model GX 635D model Reel to Reel player. Untested.
Planter
Sold on MaxSold for $595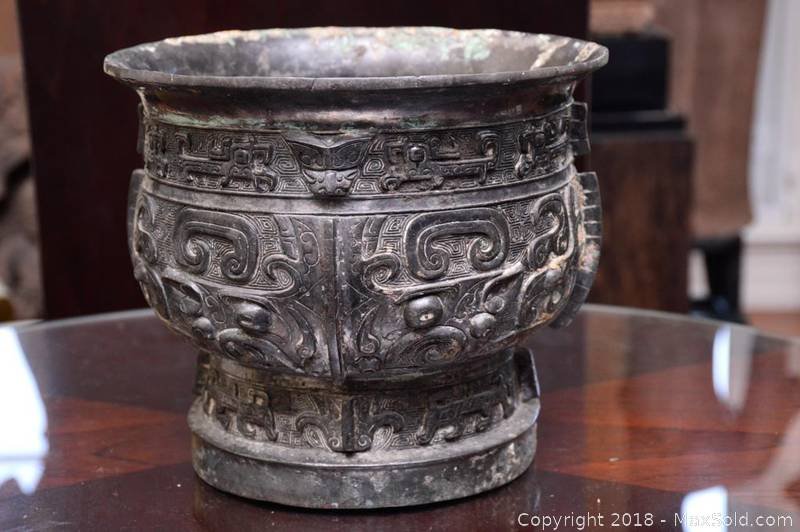 Antique bronze planter. 8X7. Note wear.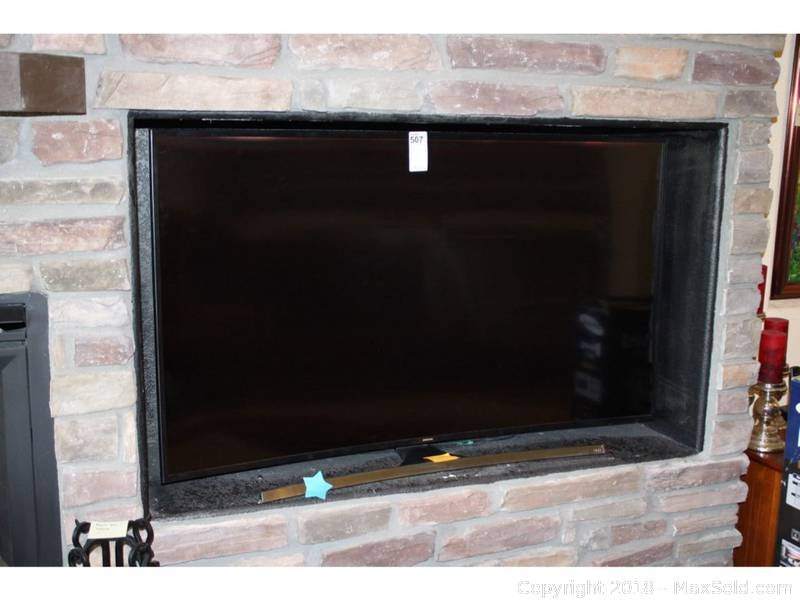 Curved Screen Samsung 65in UHD Smart TV, working, with remote and base. With base 57X14X36.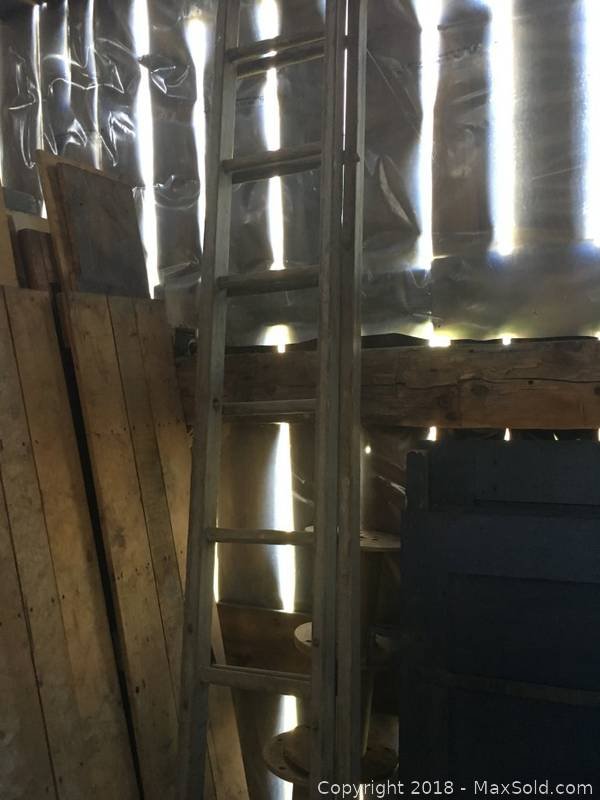 Well used. One rung missing


Lawn Tractor
Sold on MaxSold for $1,400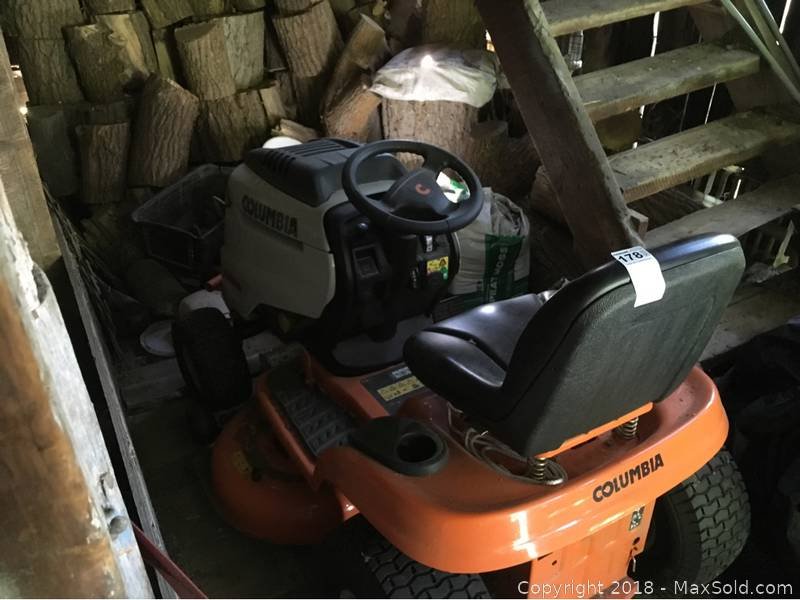 Columbia lawn tractor with cover. Untested. Kohler 7000 series engine. Note battery has not been charged and tractor may have to be pushed onto a trailer for removal. Heavy bring help to move.


Mason Jars
Sold on MaxSold for $291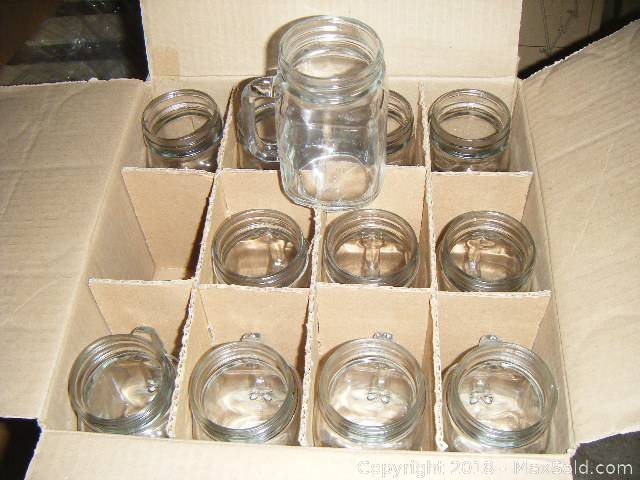 Libbey mason jars with handles for drinking. 15 x 1-dozen boxes makes 180 glass jars of 16oz. Great for wedding receptions, restaurants and more. Most are in sealed boxes.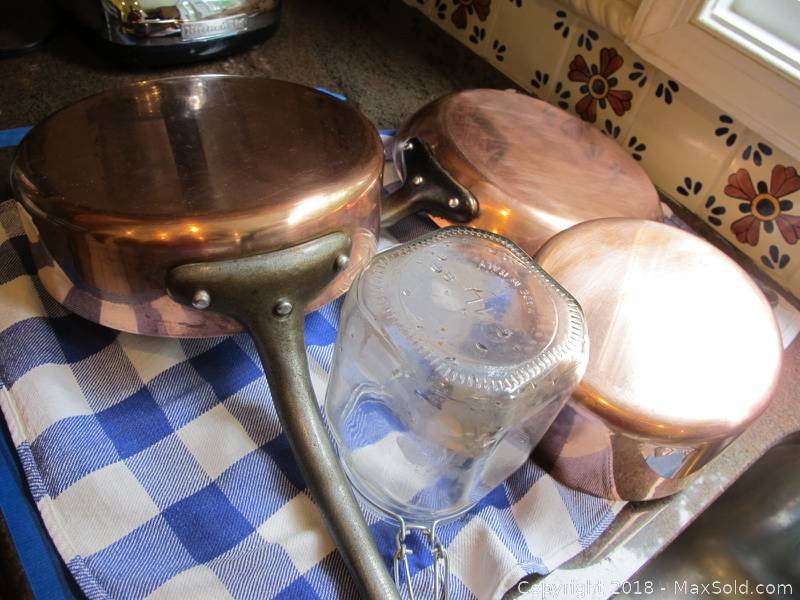 A 3 set of Mauviel French copper cookware with iron handles and more. Some scratches.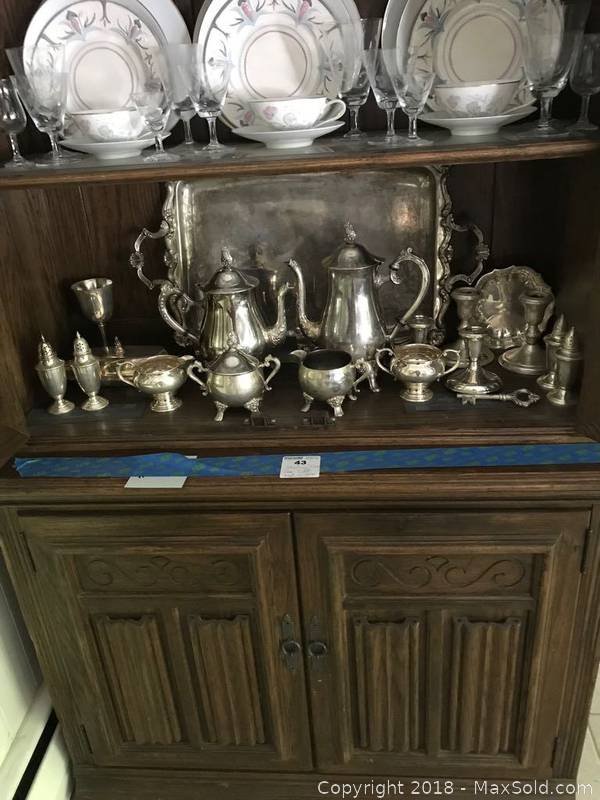 Candle holders, salt and pepper, multiple sugar bowls, butter dish, wine goblet, serving tray,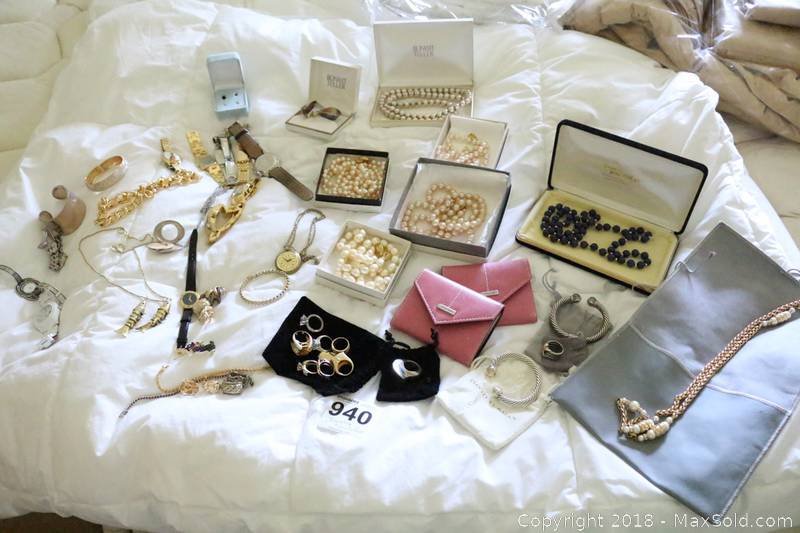 An assortment of jewelry. Necklaces, rings, watches, and more.


Front Door
Sold on MaxSold for $325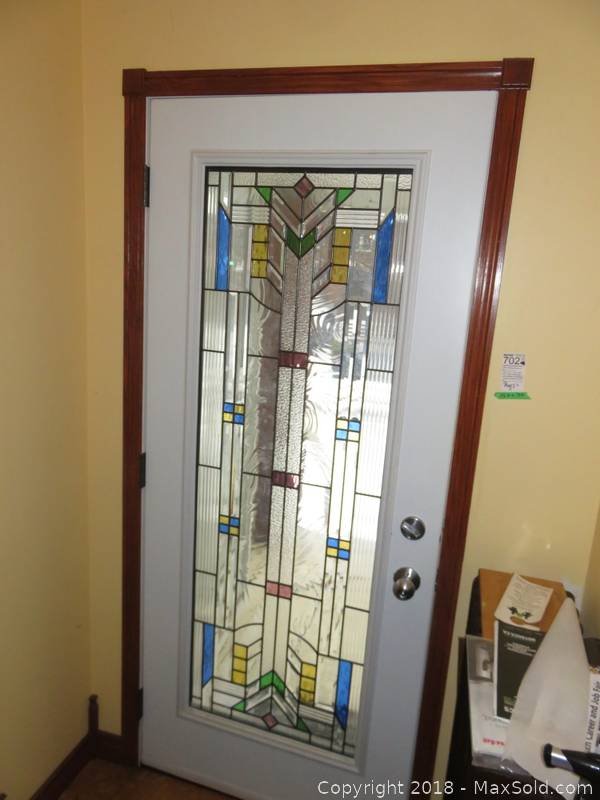 Measures, 33.5X79. Includes decorative glass insert, hardware and trim moulding.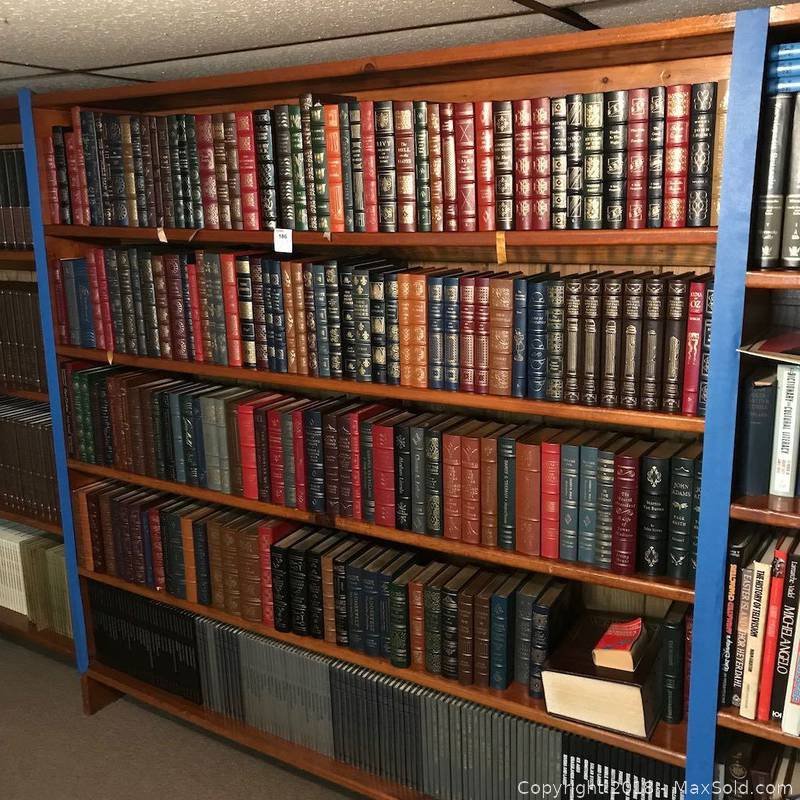 Over 200 Easton Press books, volumes of nature and history books.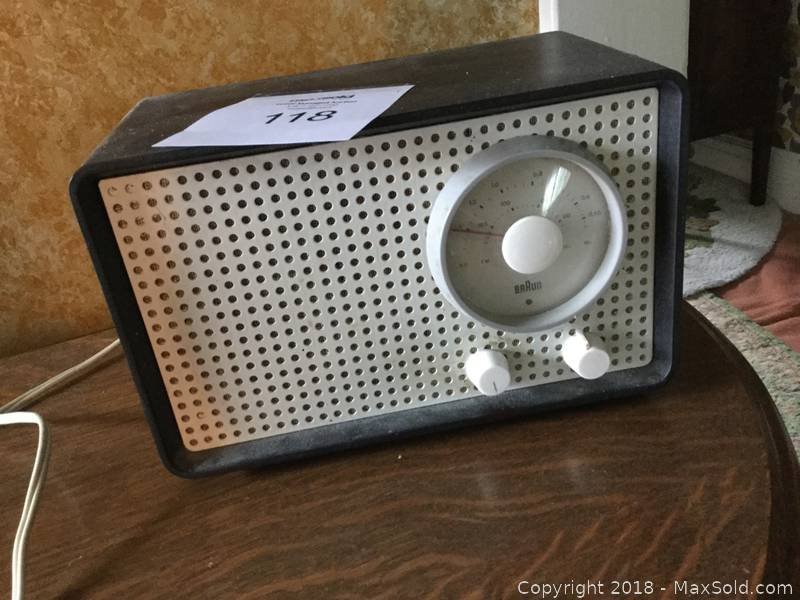 Vintage tube radio not tested. as is.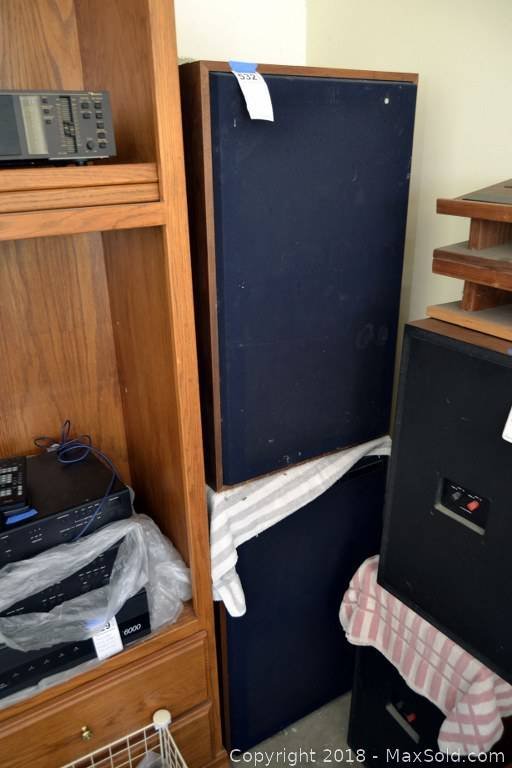 JBL Studio Monitor model 4315 1 pair. 33.5 x 20 x 12. Large Speaker, bring the correct size vehicle.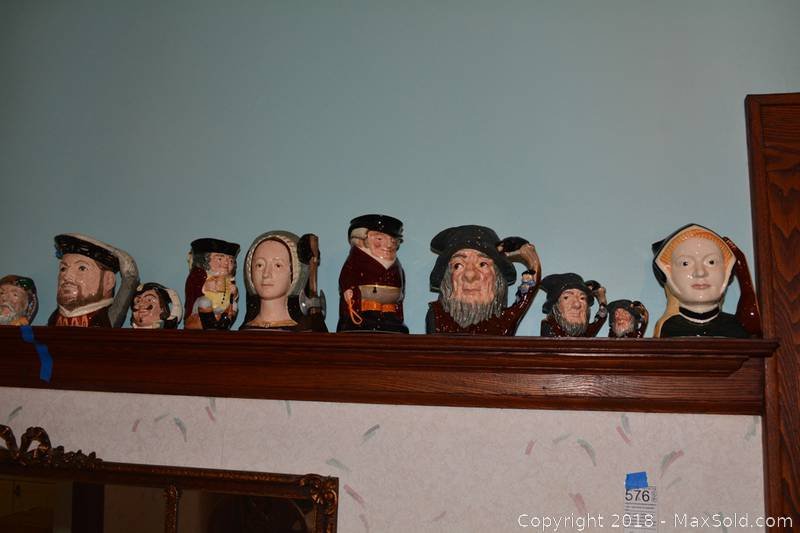 9 pc royal Doulton Toby Mugs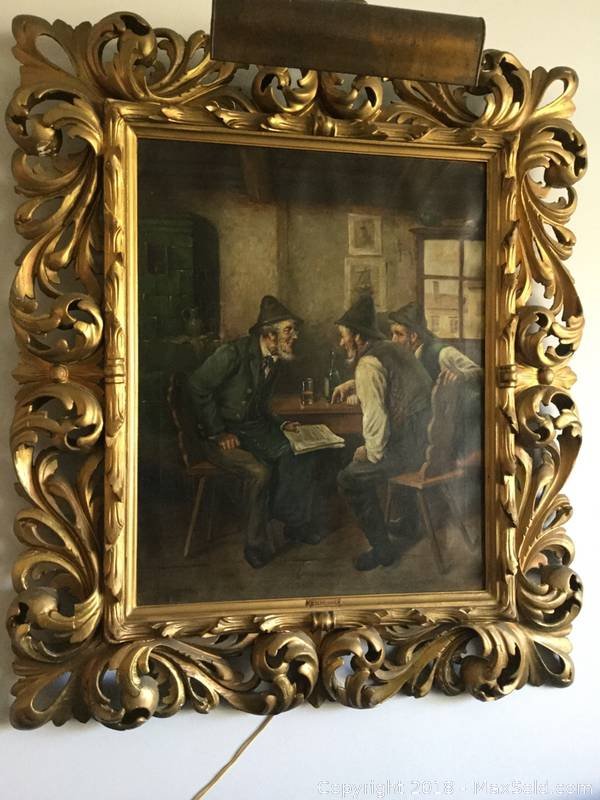 "Three Fisherman" by Rudolf Klingsbogl. Austrian painter 1881 to 1943. Measures 26X21. Very ornate gold gilded wooden frame with light. Frame is 7 inches wide all around. Overall size with frame 40X36.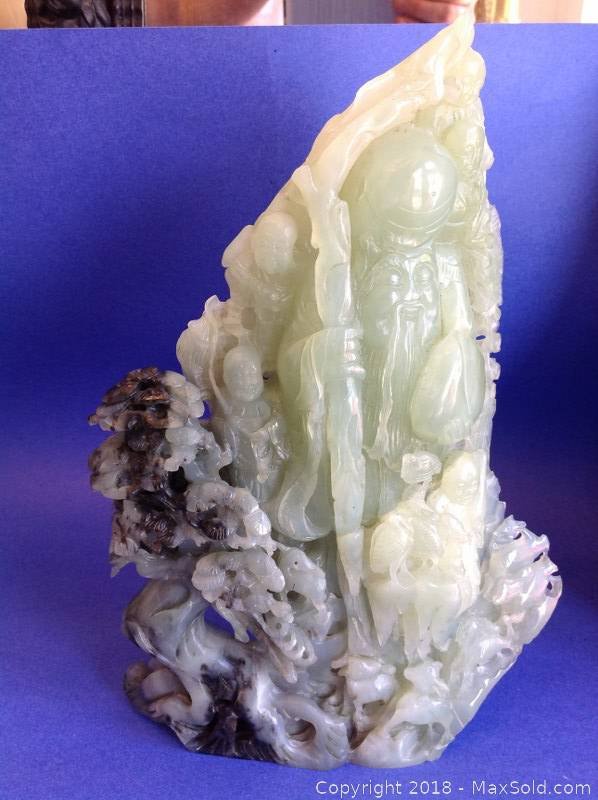 Impressive large carved and signed nephrite statue. Tested Nephrite heavy(weighs around 4 kilos) large carving from Toronto estate. 13 inches high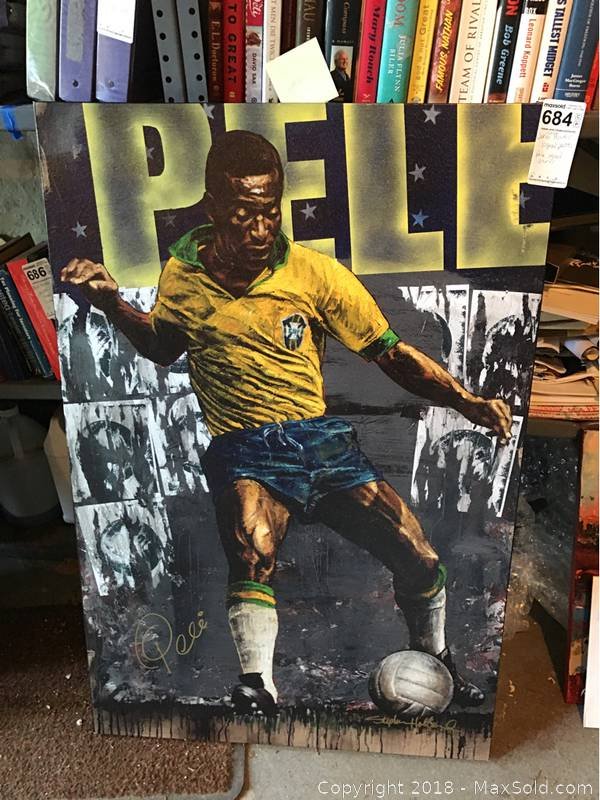 A Stephan Holland Painting Of Pele, signed by Pele. 27X41 Poster Of Team KHS, by JOHN Howard and signed by John Howard. 18X24


Original Art
Sold on MaxSold for $2,035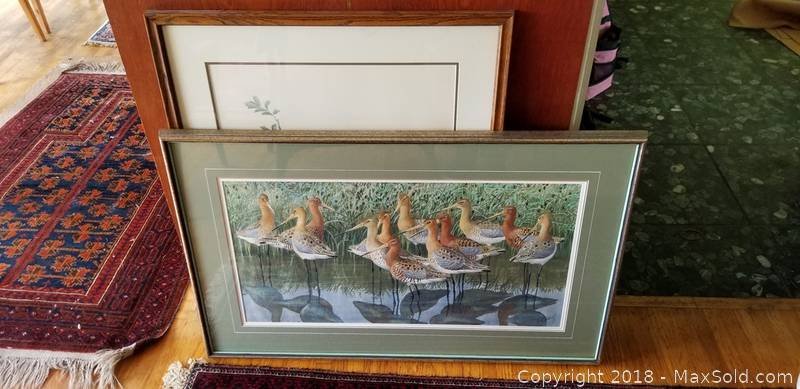 Two original paintings signed paintings of birds. 29X15 and 18X25.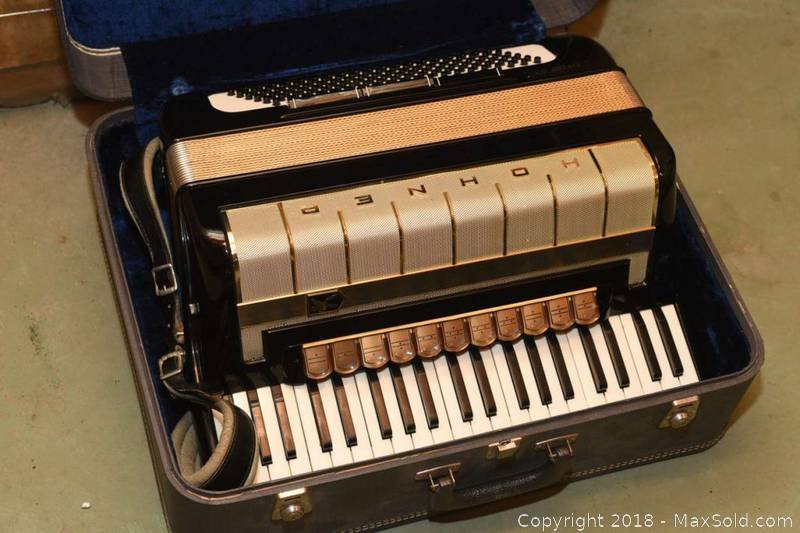 Quality Hohner Favorite IVP accordion in its case. Light wear, working condition according to owner.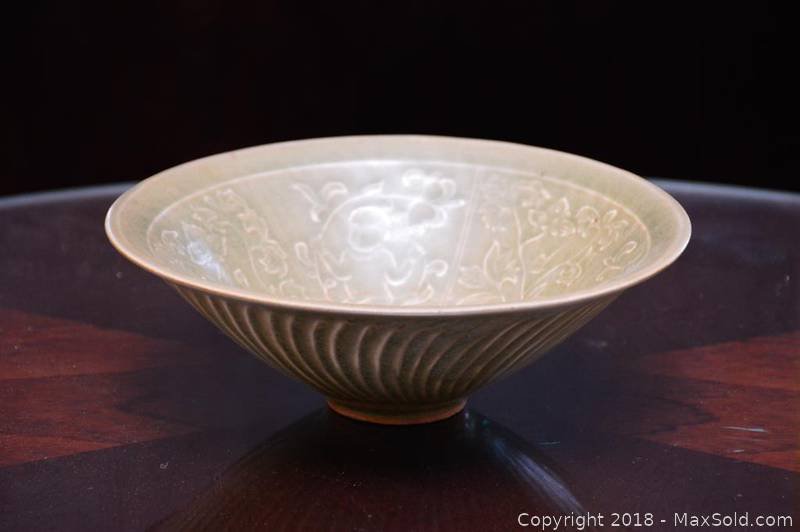 Antique Asian style bowl. 7.5 inch in diameter. Note crazing.


Patio Set
Sold on MaxSold for $560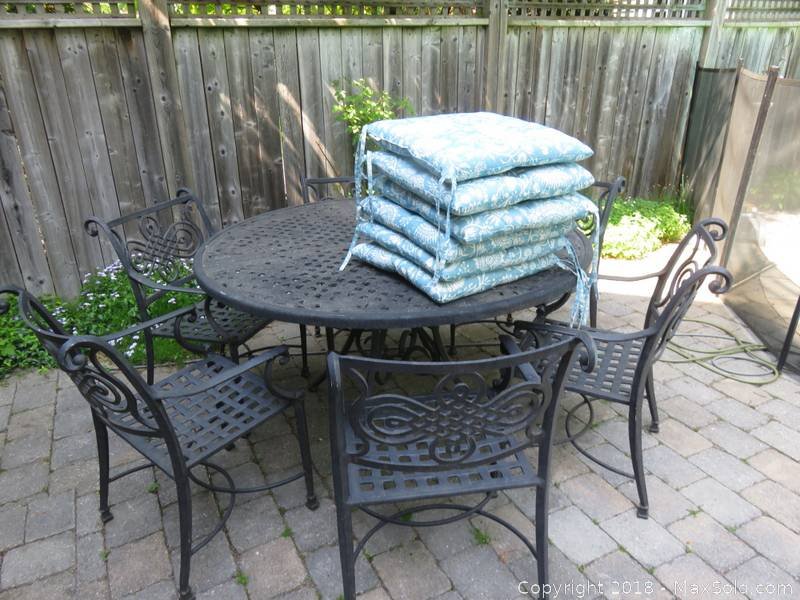 Black iron set with six chairs. Round Table 56X30 and Chair 21.5X20X34. Comes with four Pottery Barn Seat Cushions.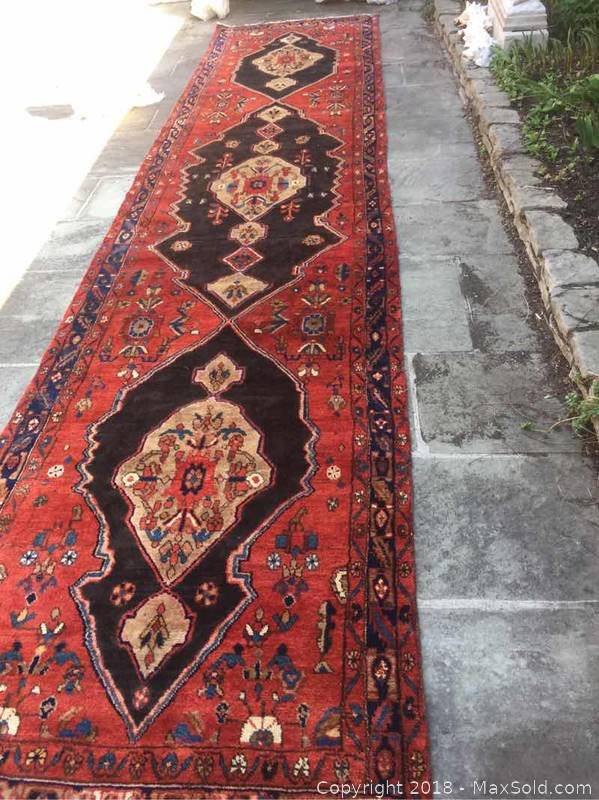 Long oriental Carpet, 48" X 227" Very good condition, very clean, no areas of wear, fringe is good, strong colours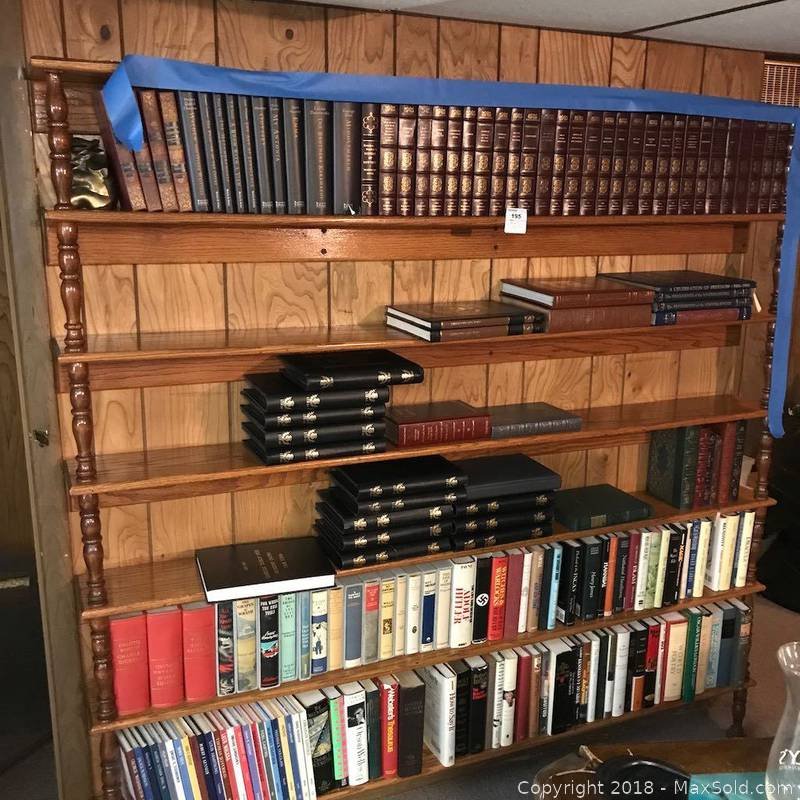 Over 150 hardcovers, all genres.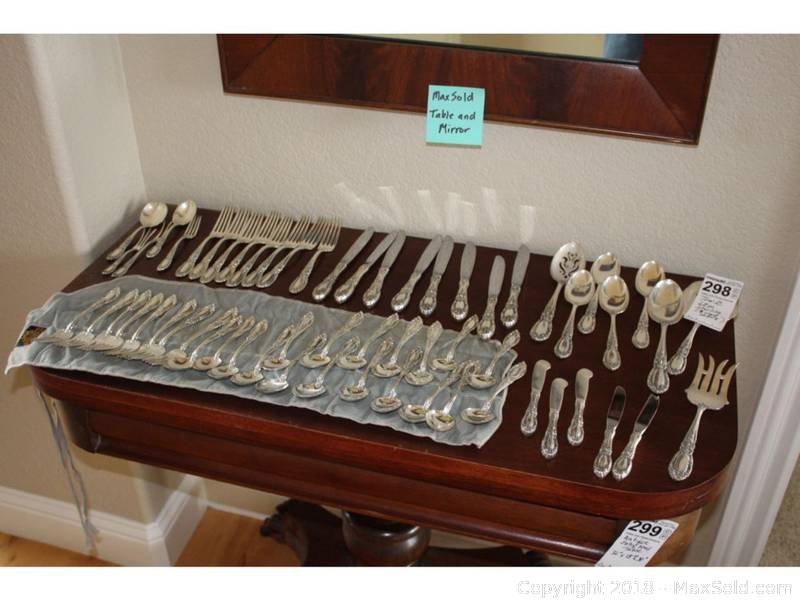 60 piece Towle service for eight, with serving pieces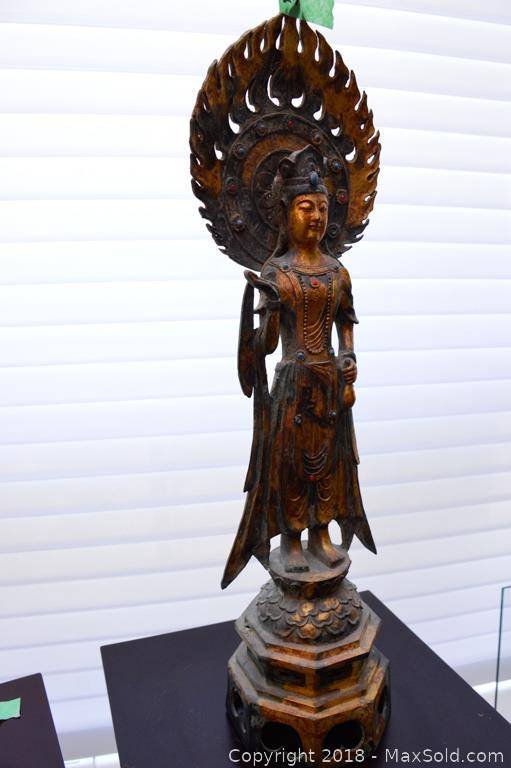 Bronze Bodhisattva Figure. 21 inches tall. Note wear.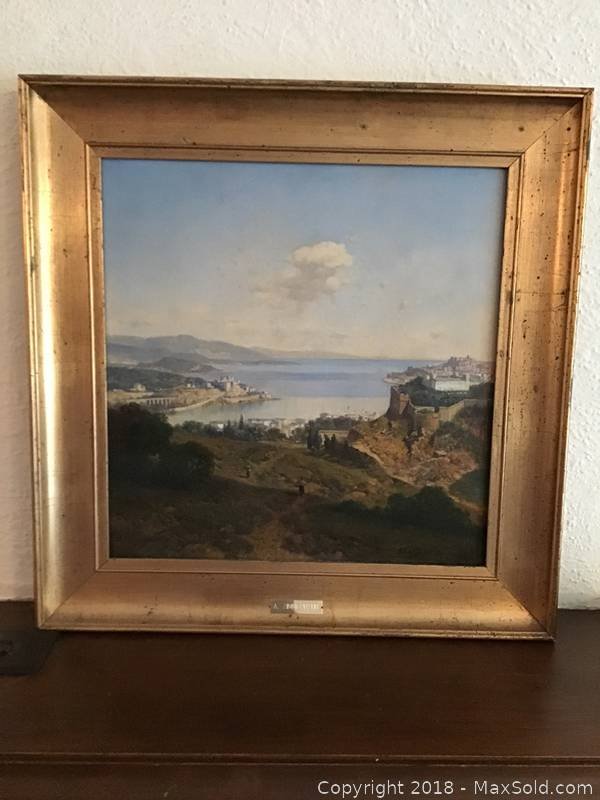 Oil Painting by German artist (1808-1888) Albert August Zimmermann. Signed. Titled Aus Sammling, Bobbe, 1937. 15.5 inches high x 14.75 inches wide.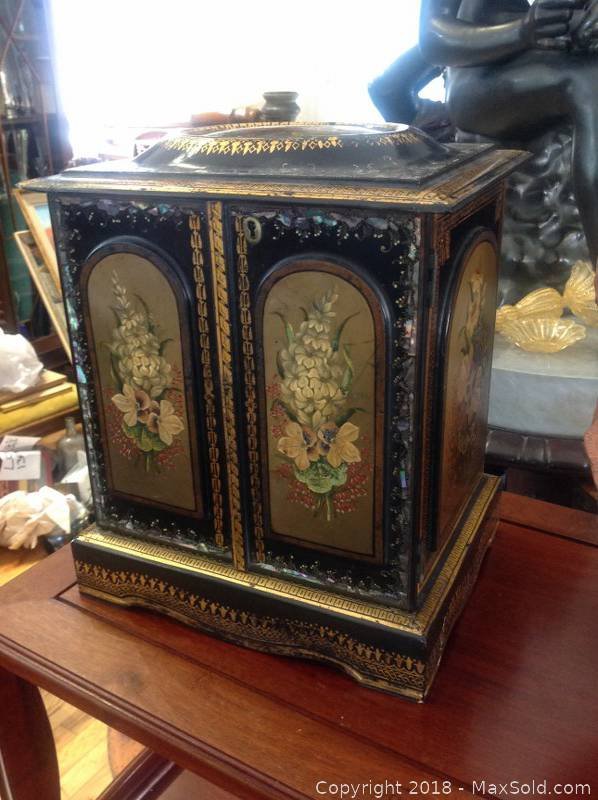 Hand painted papier mache, English, jewelry box, 19th Century, 4 drawers & jewelry shelf, size is 11 1/2 " high 10" wide, 8" deep. Top hinges & hinged doors, inlaid mother of pearl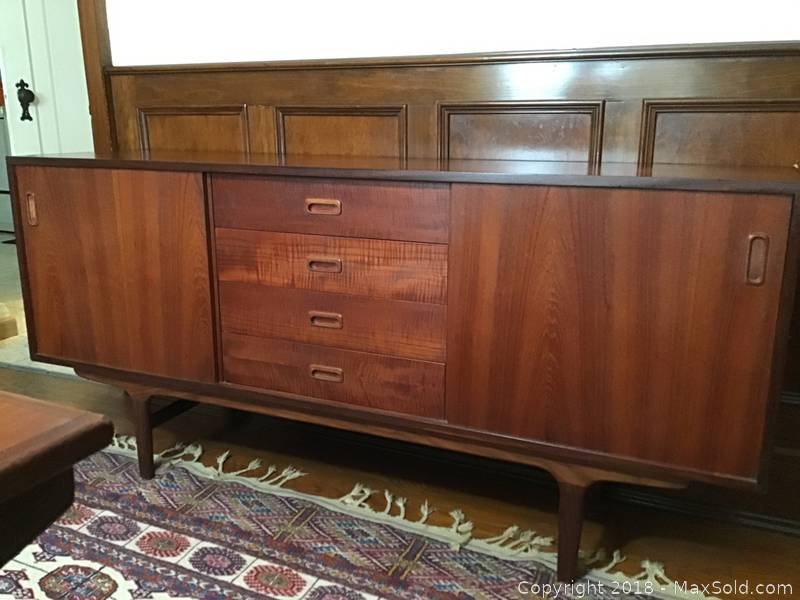 Vintage Mid Century Teak Buffet. 66X16X31. Note: Contents not included. Heavy item, please bring appropriate assistance as needed to move this item.


Board Games
Sold on MaxSold for $285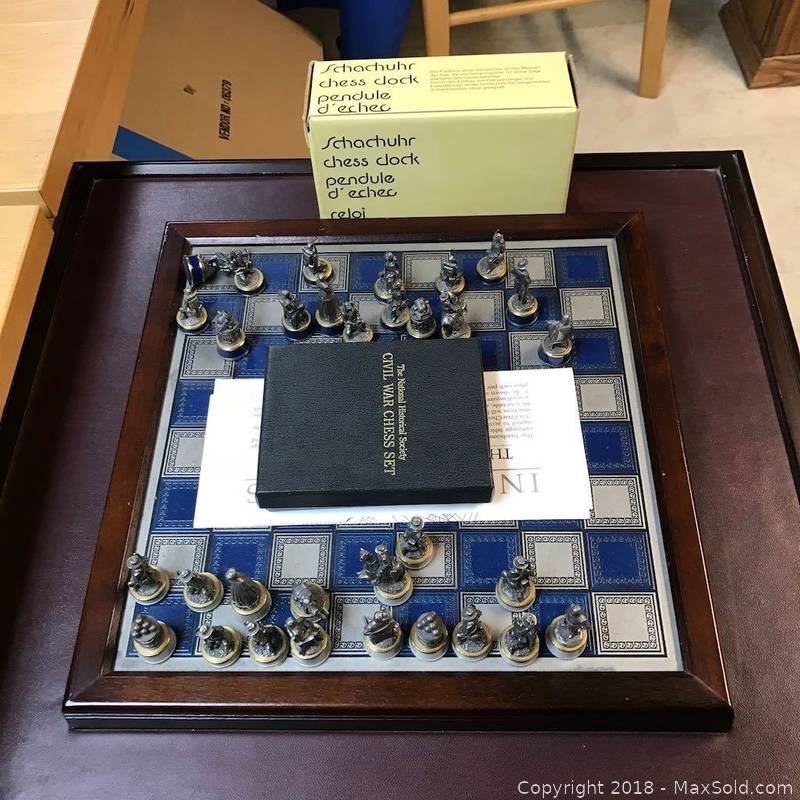 Collectors Edition Scrabble with brass letters, comes with the Official Scrabble Players Dictionary. Vintage c. 1985 Kasparov Turbo 16K Chess Computer by SciSys, untested. The National Historical Society Civil War Chess Set, comes with Chess Clock.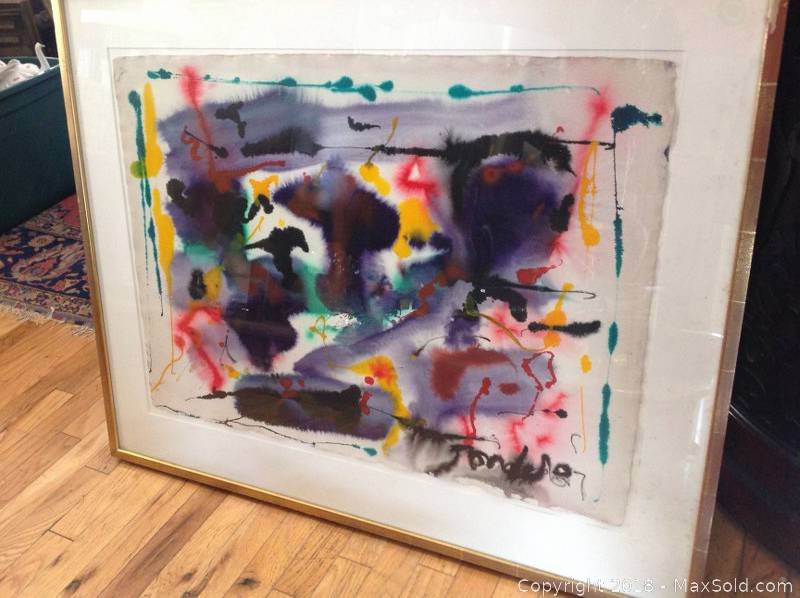 This is not a PRINT or LITHOGRAPH, it is an authentic watercolour on paper by William Ronald. Frame measures 30 by 38. Actual image is 21 by 30 inches. Glare to glass in photo but good condition.


Night Table
Sold on MaxSold for $650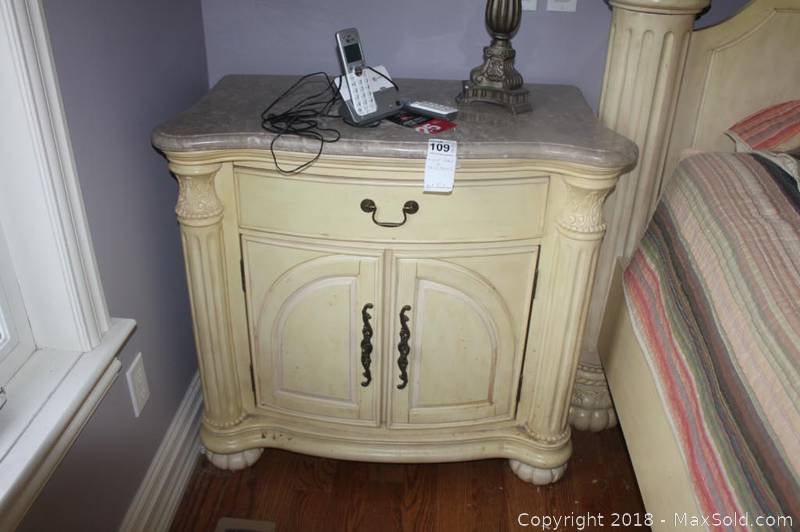 Very large night table with granite like top measures 36.5X19X33.5. Has wear see pics.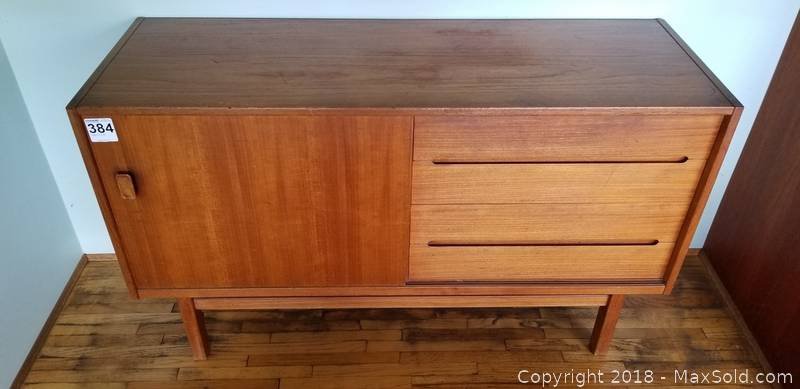 One sliding door and four drawer Sweden made stamped Nils Jonsson sideboard 50X17X31. Note: watermarks and stains from use.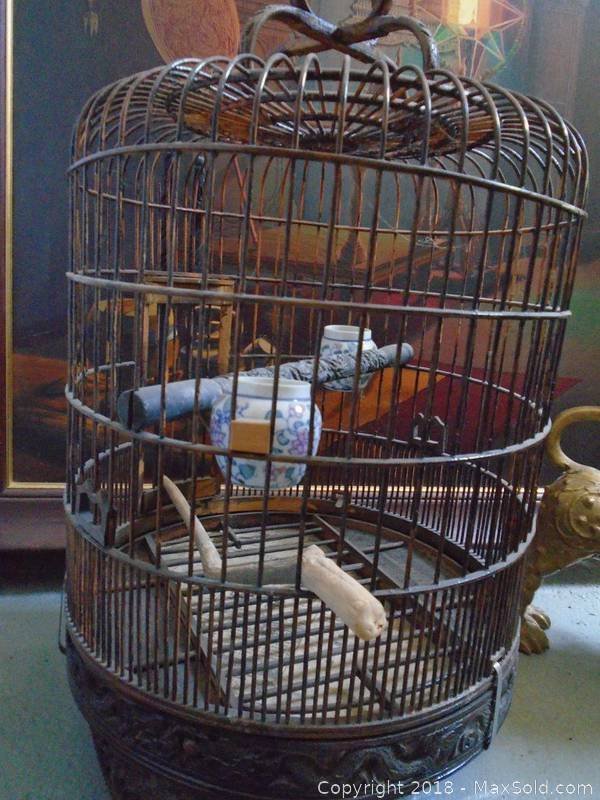 1930s Shanghainese Bamboo Bird Cage with two water containers and removable base for cleaning. As is. No Scratches. No Cracks. Excellent Condition. 28" in Height 13" in Diameter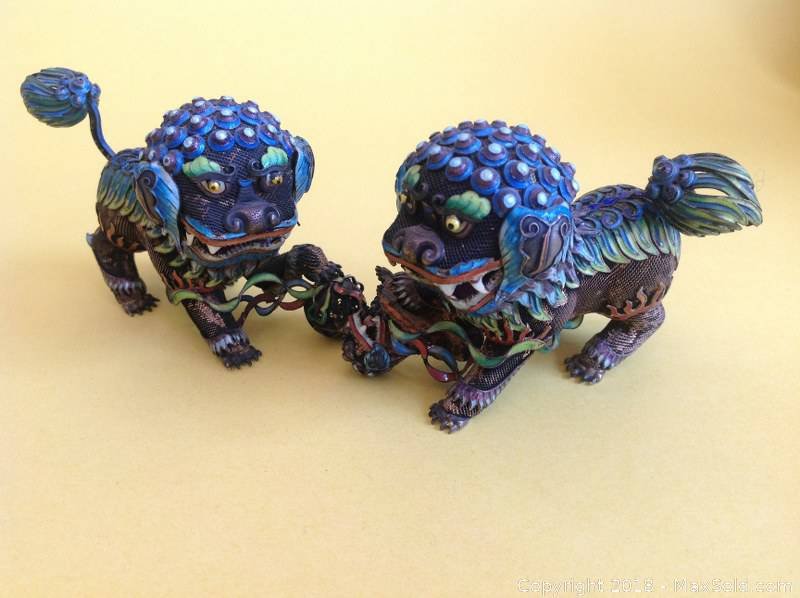 Remarkably detailed "Foo Dogs" (actually stylized lions). They are coloured enamel on SILVER. These are of Chinese origin. Authentic. The weight is 244 grams.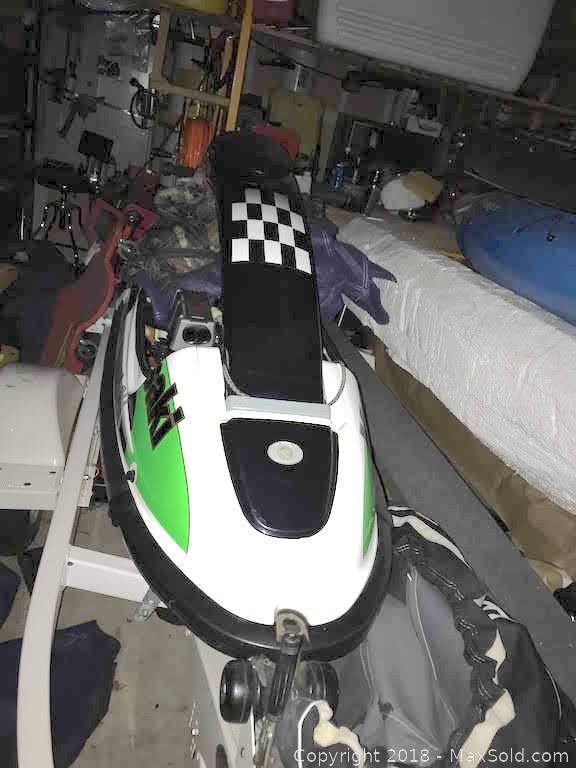 Includes the jet ski, a foam boat and a double wide trailer. The jet ski is currently licensed but working condition unknown.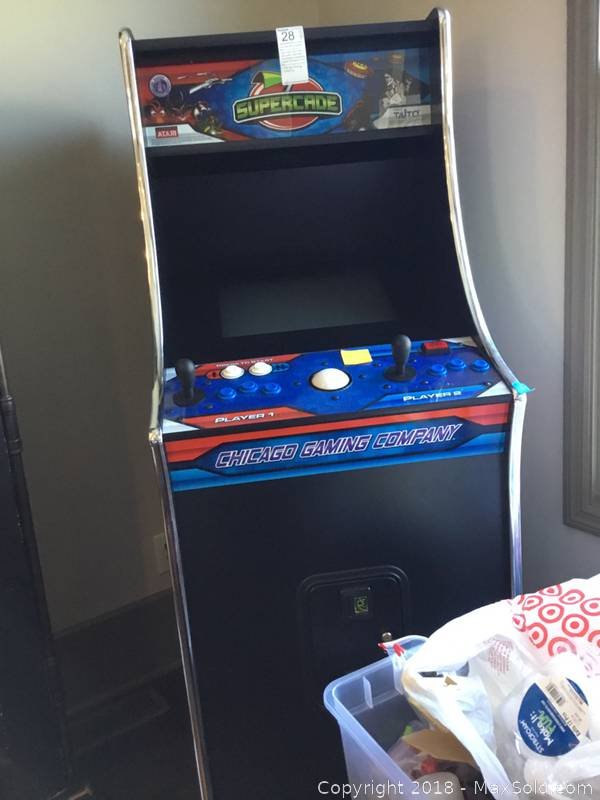 A Chicago Gaming Co. upright electronic two player gamer loaded with 50 classic Atari games, centipede, Pacman, Tempest. Less than a year old, per seller. Heavy.


Clock
Sold on MaxSold for $710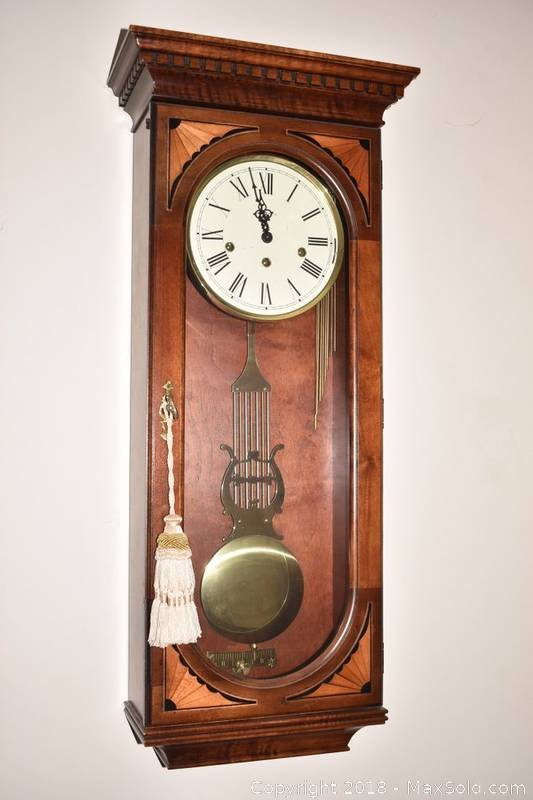 Clock with chimes, untested.


Important signed hand painted LARGE plaque with hardwood frame. 47 inches high by 14 inches wide not including frame. 58 inches by 25 inches including frame.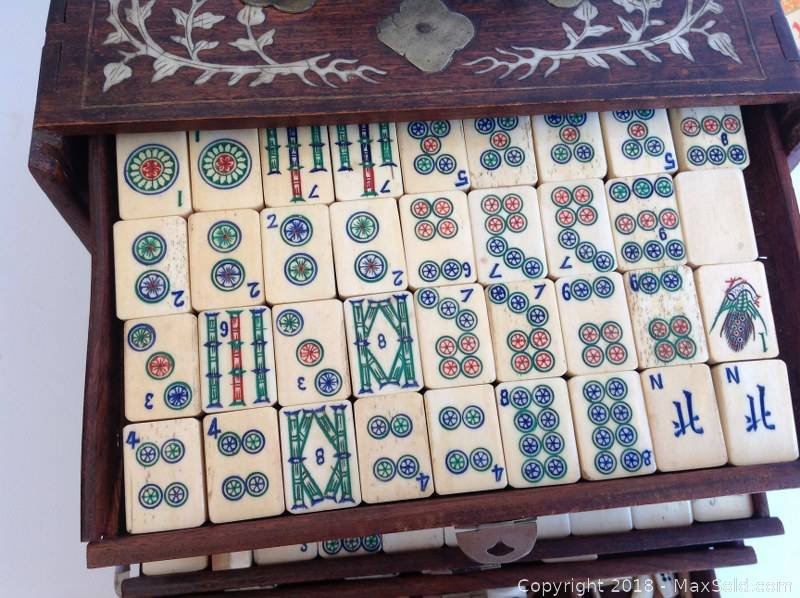 Well made MAH JONGG game fashioned for Lillywhites limited on London, England. Dimensions: 6.25 inches high, 6.5 inches deep, 9.25 inches wide. Inlaid. Front slides upwards to reveal game pieces. Some breaks to wood veneer and indication of gluing. Two of the brass pulls show some damage. The pieces appear to be completely intact. Reasonable condition. See pictures and examine carefully. In short, this game is fairly intact after years of use. Amazingly good shape for its age (late 19th century).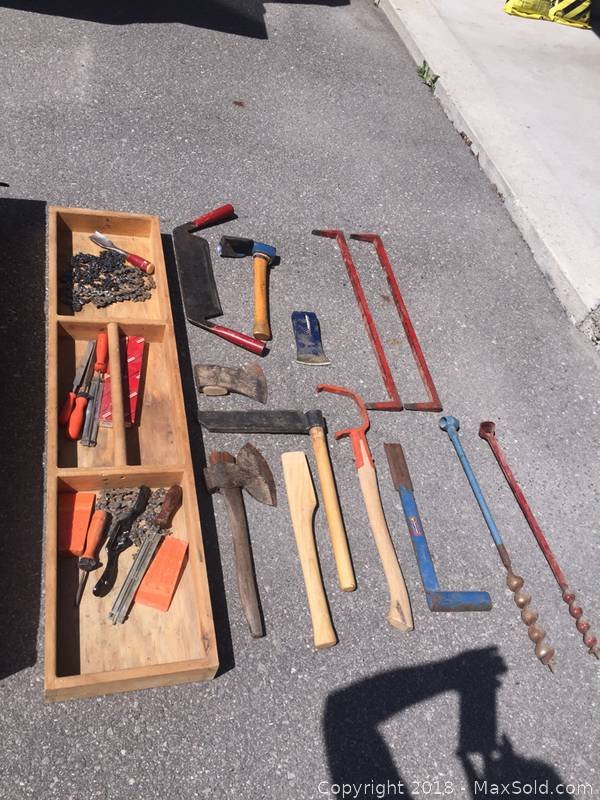 Heavy, bring help.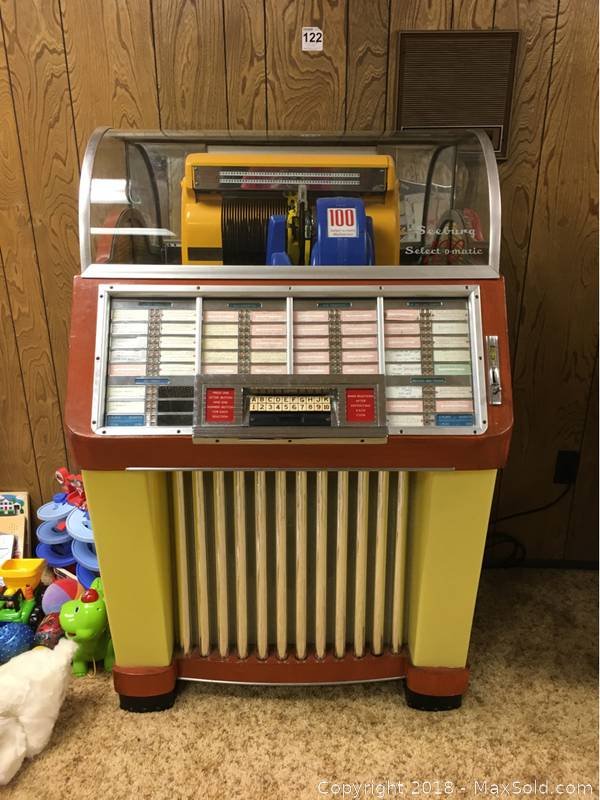 Seeburg Select o matic 100 jukebox. 34X26X53. Owner verified working. Needs servicing. Some scratches on cabinet. Heavy item bring extra help for removal.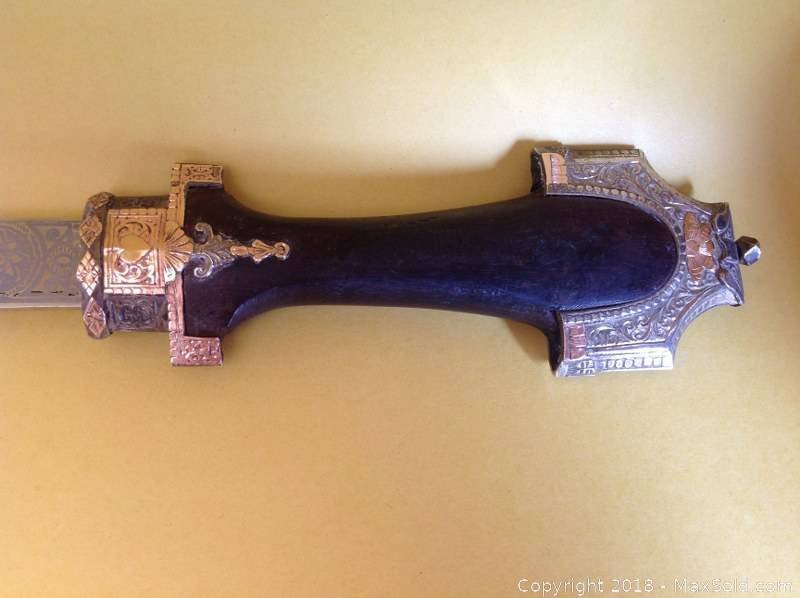 This is a REMARKABLE offering. An authentic antique PERSIAN dagger made of SILVER and GOLD. The blade is in incredible condition and is hallmarked: Le Melositte, INOX (which means "stainless steel"). 18 inches long.400g total weight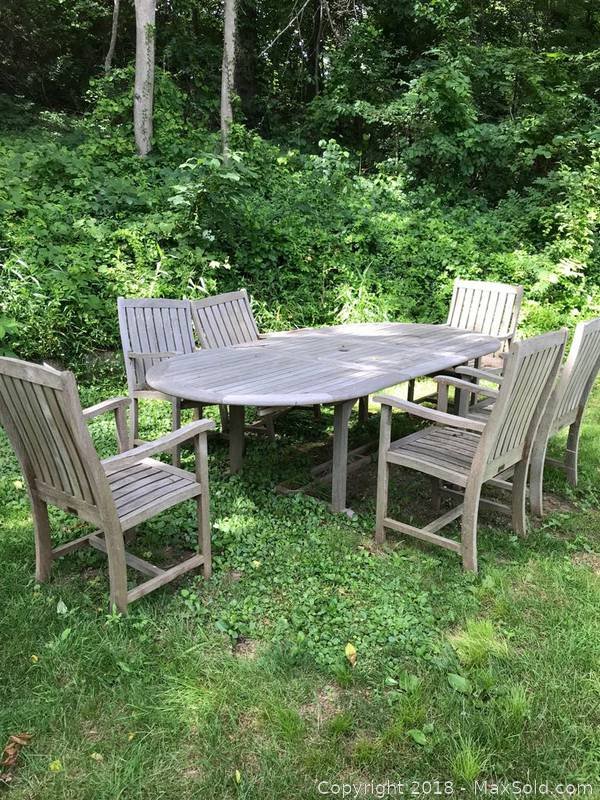 Teak Outdoor Dining Set. 96X48X29. 23X25X39. Age appropriate wear. Table and six chairs.


Chimes
Sold on MaxSold for $231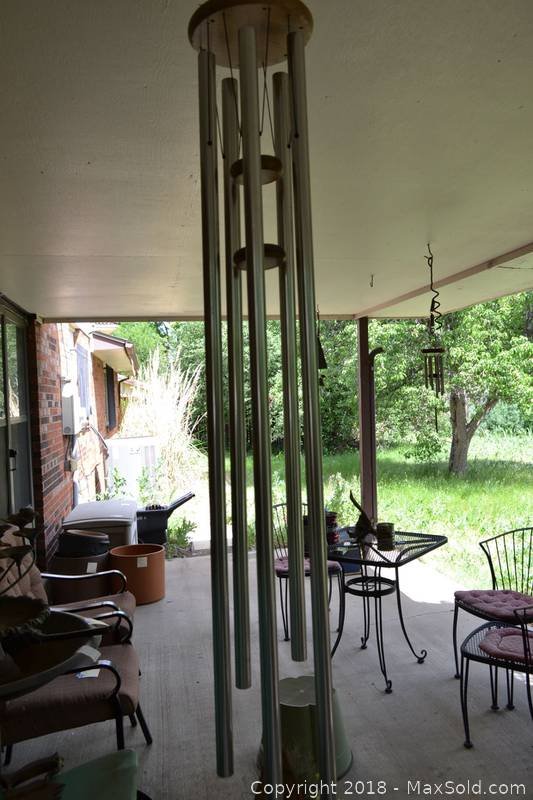 Set of five chimes, small, medium and large.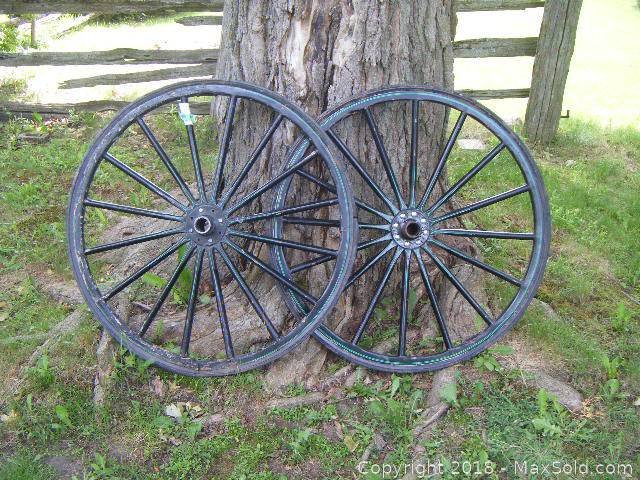 Old wood wagon wheels painted black with green trim. Note aged wear, damage on outer rim of one.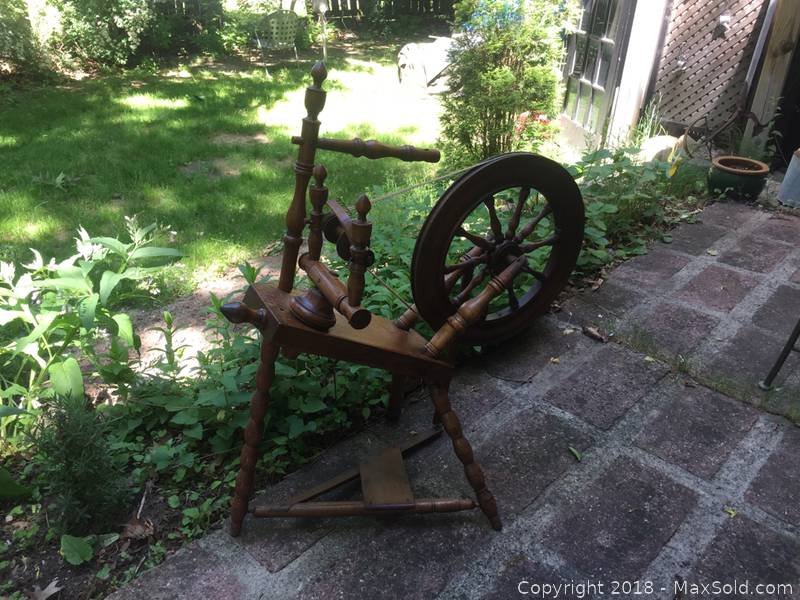 Complete oak spinning wheel. Circa 1800s.31X18X38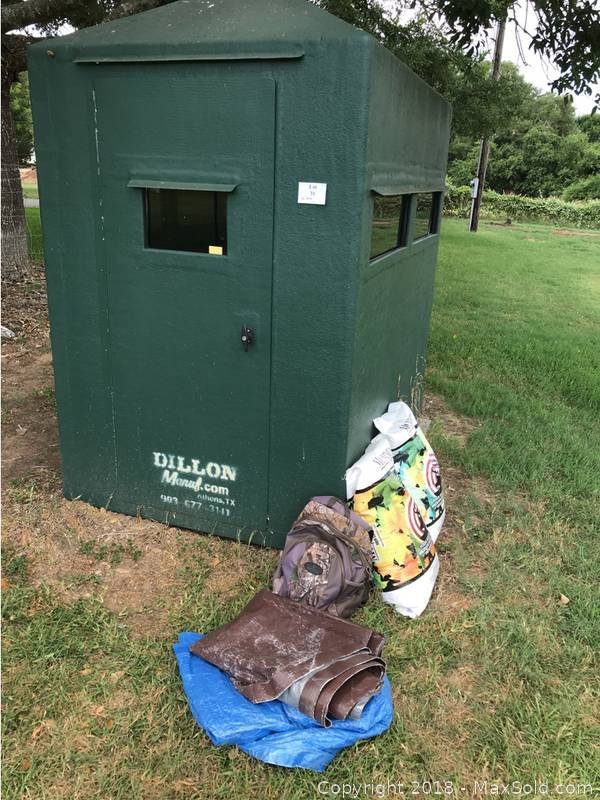 Dillon deer blind with flip open windows and lockable door 48X72X81 in. 2 bags of Mummes deer corn, came backpack and 2 outdoor tarps.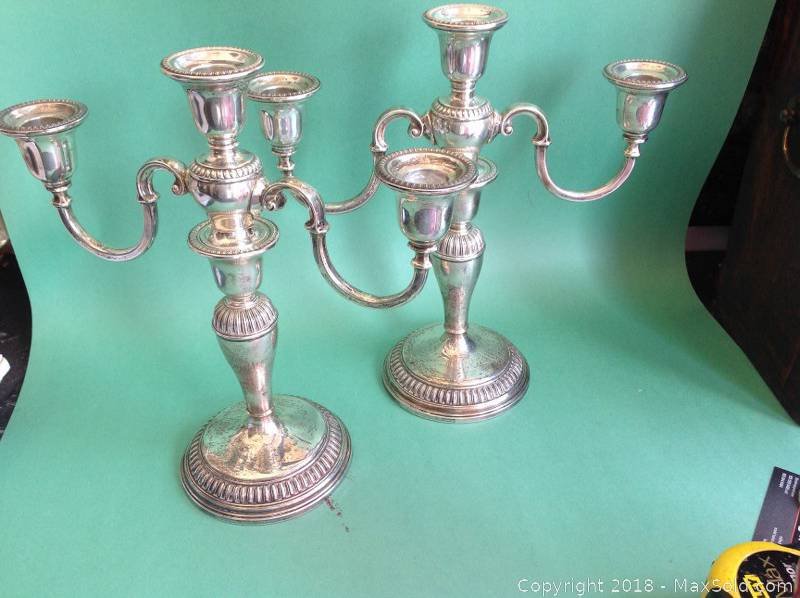 Pair of Birks Sterling silver candle sticks, tops weigh approx. 650 grams of silver,11 " high, bottoms about 200 grams silver Total weight about 1,777 grams, 10.5 inches wide. Convertible to candle sticks.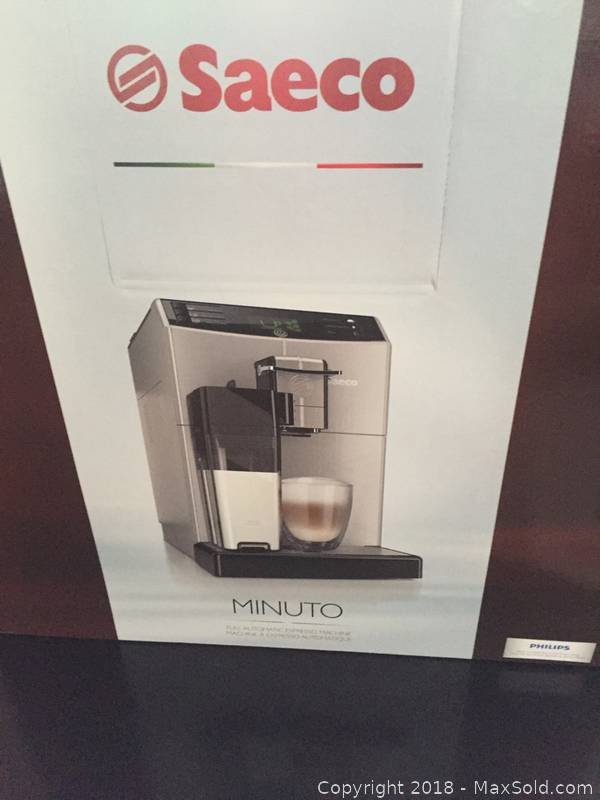 Like new. In box. Working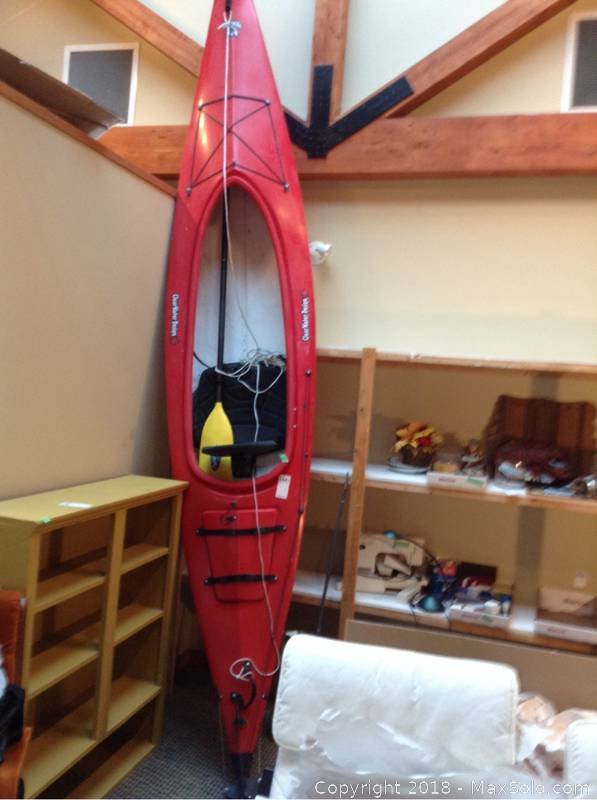 Open water kayak, with paddle, and hatch, keel and foot peddles, model no. QKWO6785C212, made in Canada. Approx 29Wx160L. Note: wear.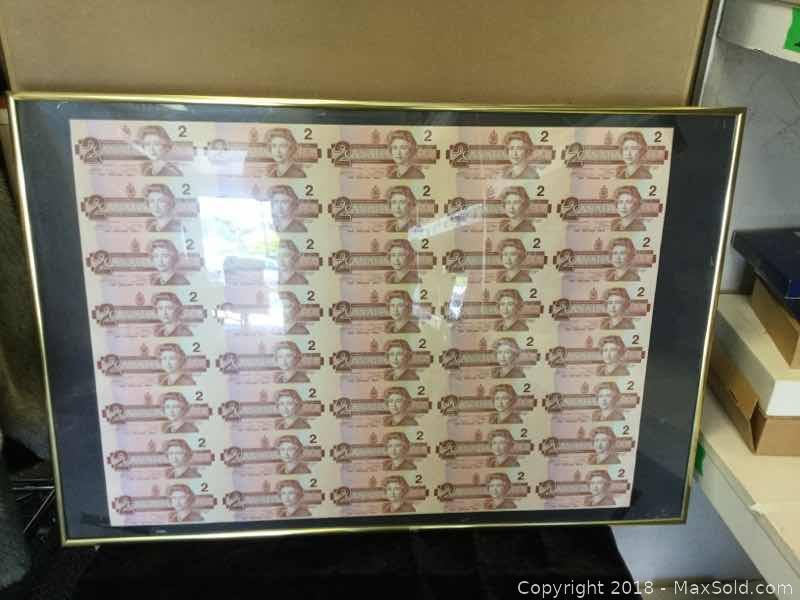 40 framed 2 dollar bills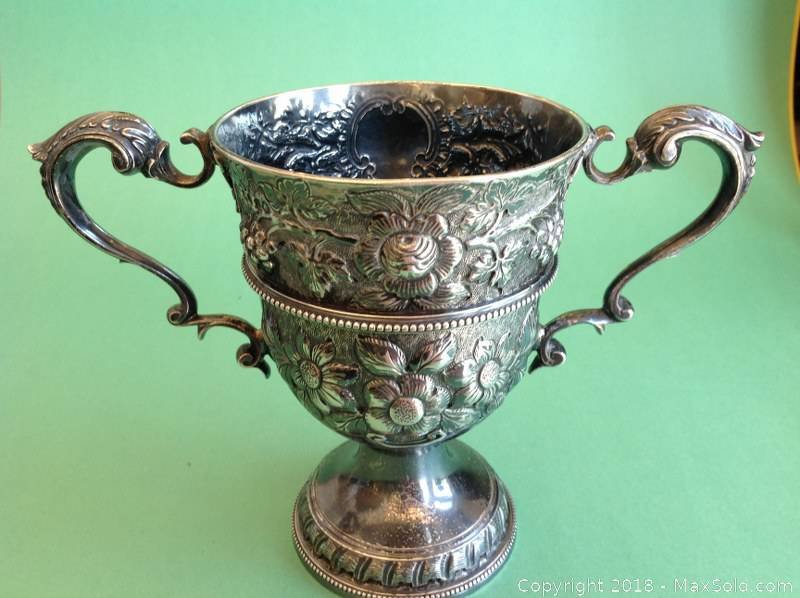 Very good condition.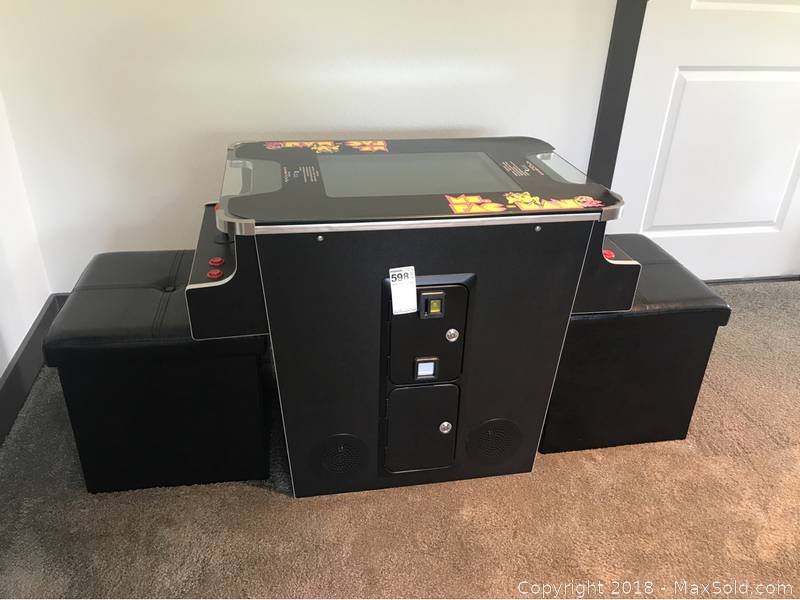 Vintage Ms. Pac-Man Arcade Game And Storage Seats.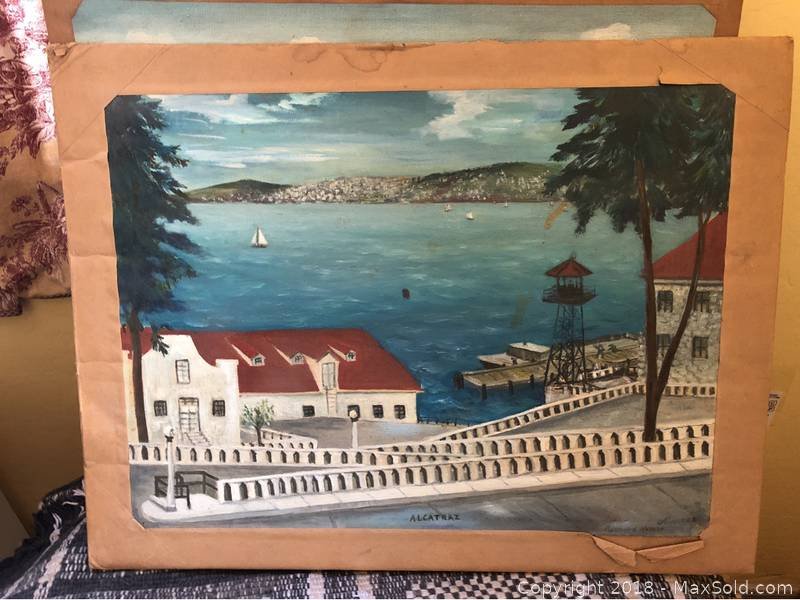 Inmate art. Painted by prisoner at Alcatraz signed by prisoner. 18X16. No COA. damage and some dirt.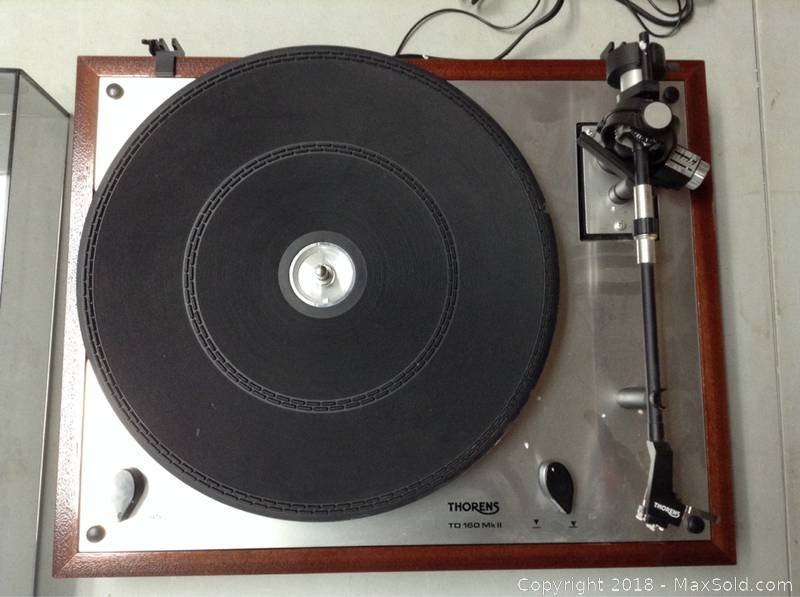 Thorens record player, model TD 160 MK 11 no. 424922.


425 Pokémon cards, 33 rare, 47 foil, 41 1st edition, 11 promo 1,141 Yugioh cards, 108 super rare, 65 ultra rare, 4 ultimate rare, 15 secret rare, 13 prismatic secret, 33 mosaic, 14 Japanese All cards from 1995 - 2005 and almost all in mint or near-mint condition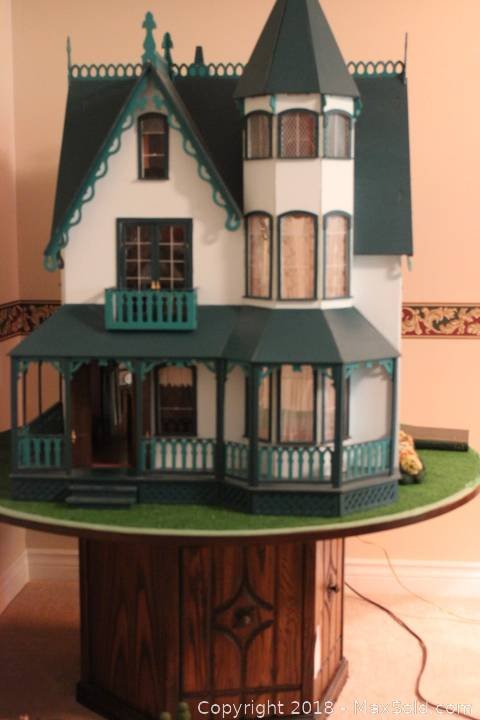 Greenfield Dollhouse The Garfield purchased as a kit and completely finished inside and out with drapery, wall paper and lighting fixtures, art and foundation plantings in 1912 era. Comes with table fitted with custom made rotating top. Doll house measures approx 43 x 32 x 42. Table measures 45 x 22. Furnishing for this house in subsequent lots. Not wired for electricity.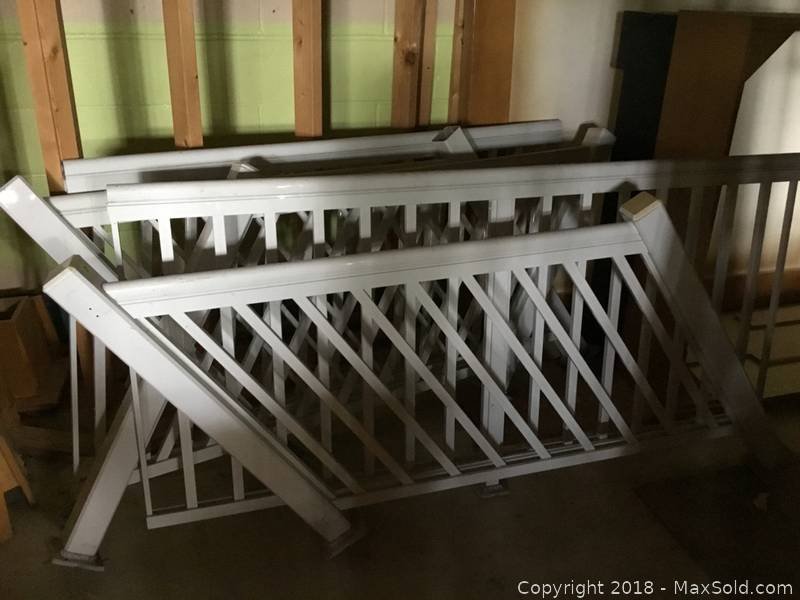 82 feet of lightweight metal fencing including 3 stair railings. 36 inches tall. 14 sections in all. May be dusty from being in storage.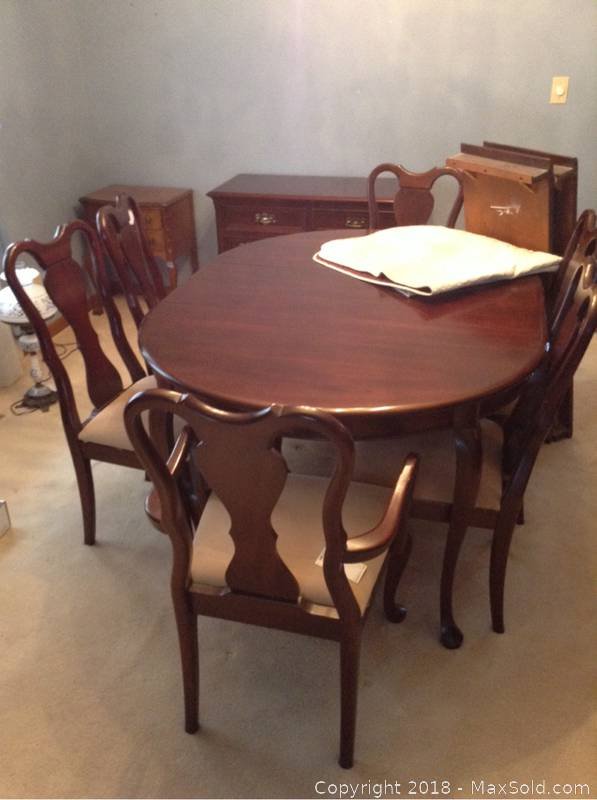 Gibbard mahogany oval table with three 16 inch skirted leaves, table with one leaf measures 60x44x30. Includes 6 matching chairs with beige upholstered seats, 37H. With sounder. Note: minor wear, scratches on leaves.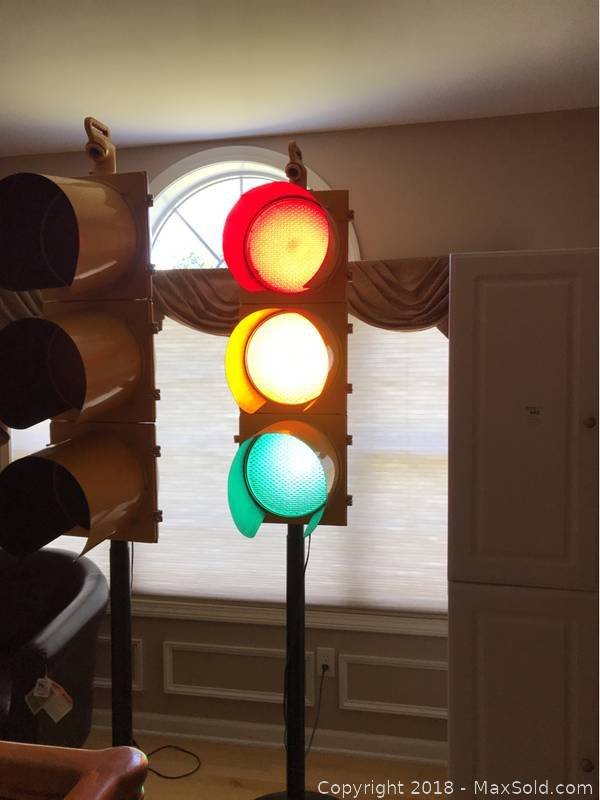 Genuine Manhattan, New York traffic light. 17X17X88 Seller states in working condition. Heavy. Bring help to remove. Untested.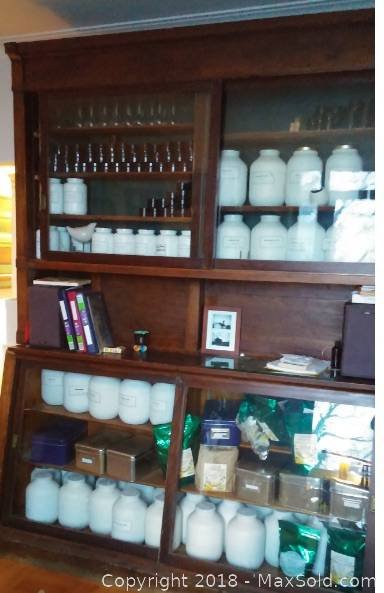 One section of custom apothecary shelving unit. 4 rolling glass doors - move well. 73.5" W and 96" H, bottom 23.5" D, upper 12" D. is likely 1870's. Original turquoise staining at back. Mild age appropriate wear but good condition. Surprisingly light for its size but you will need two people. Top half of cabinet separates from bottom. All shelves adjustable and removable. All but one glass pain is the original pulled glass.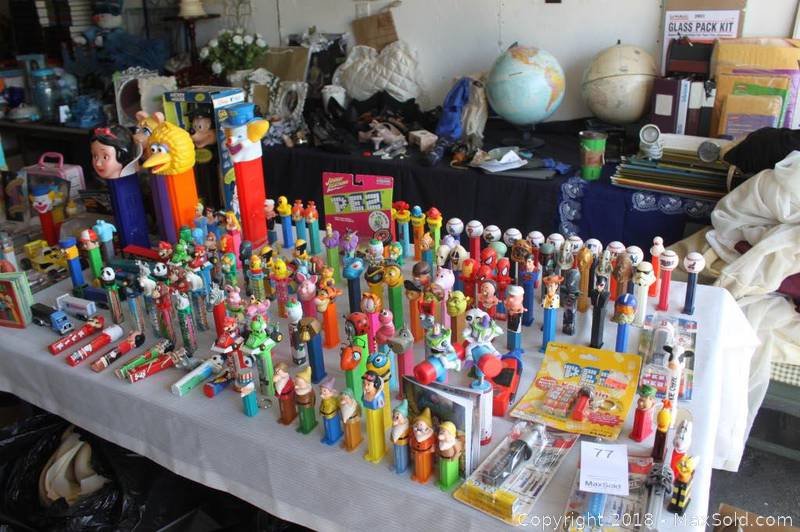 Collection of vintage PEZ dispensers, including Betty Boop, Super Heros, Disney, Star Wars, and many more.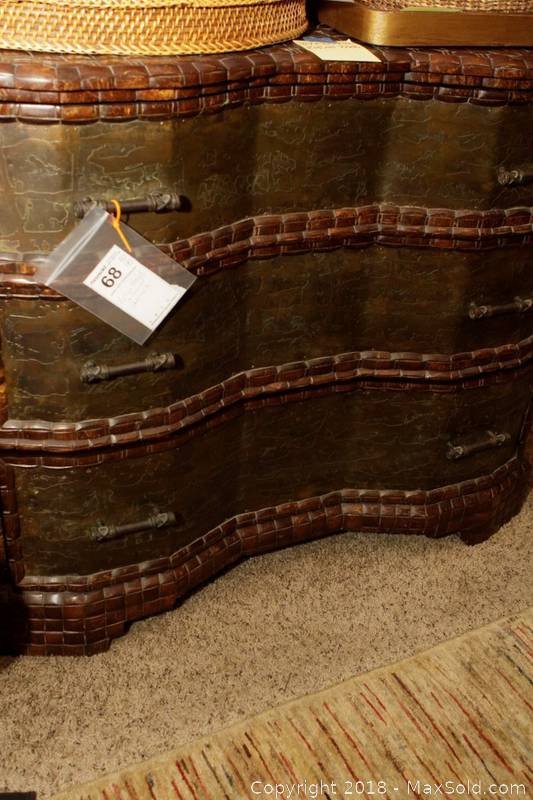 Maitland-Smith side dresser made of koka wood measures 37X20X32.


Lamp
Sold on MaxSold for $480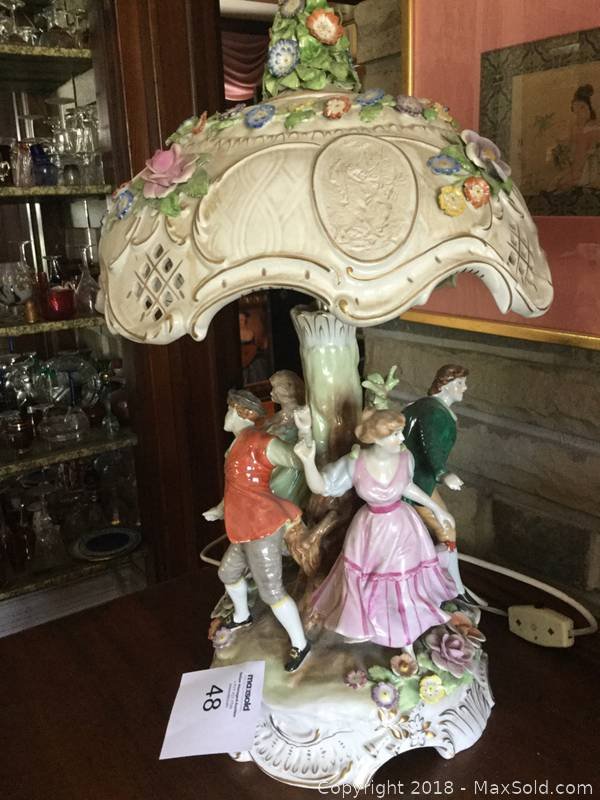 Lamp is 23 inches tall. Not tested. Shows wear may be chipping cracks as is.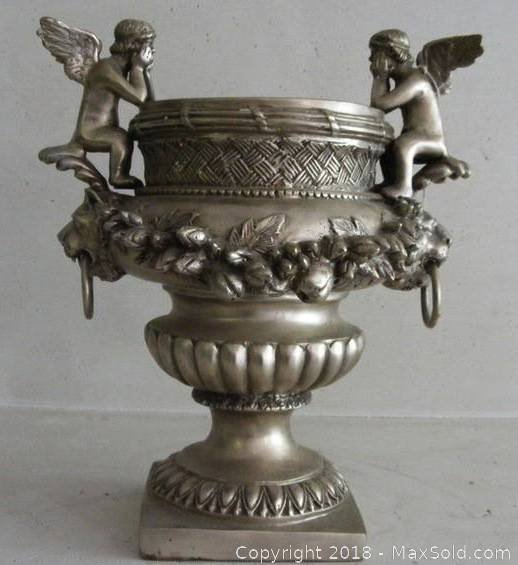 No Damages. As is.12" or 1 ft. in Height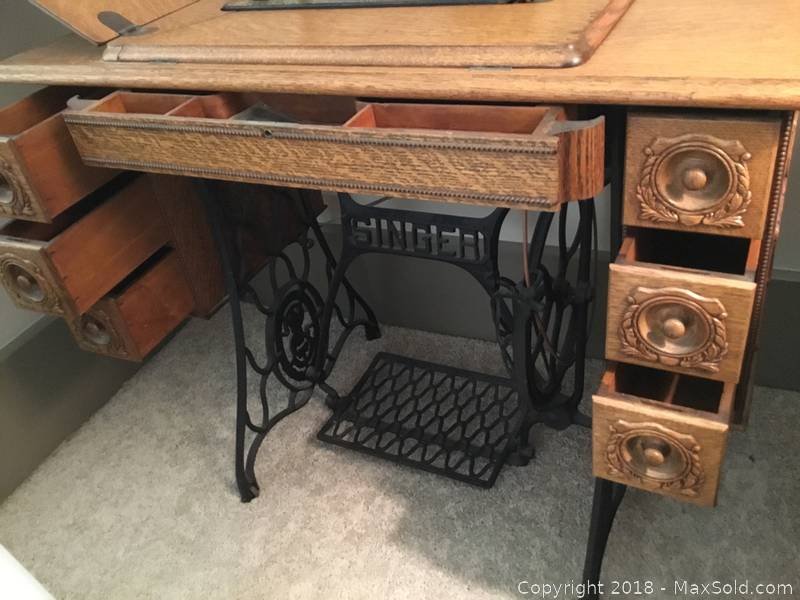 A 1906 pedal driven antique Singer Sewing Machine with Cabinet featuring a center drawer and three drawers on each side with original operating Manuel. Untested.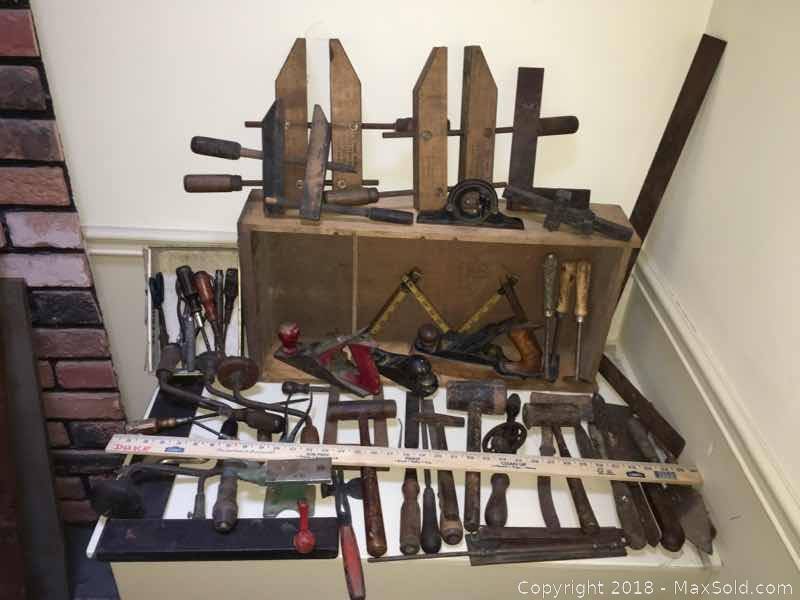 Large Lot of Antique Tools, Including Jorgensen Wood screw clamps, mallets, Bailey, Fulton and Stanley Planes, Much More.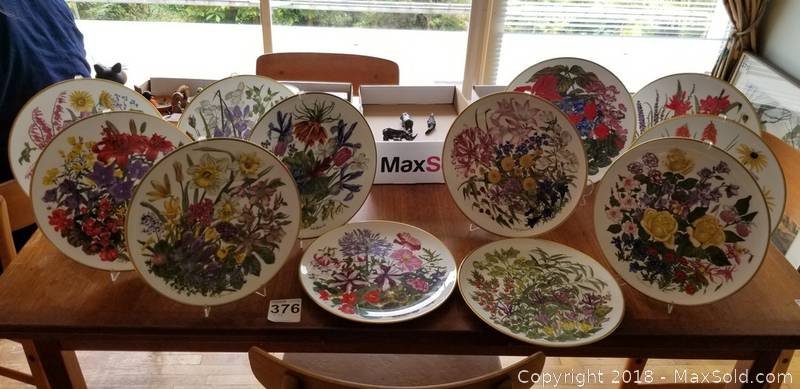 12 eleven inch flowers of the year by Franklin porcelain plates.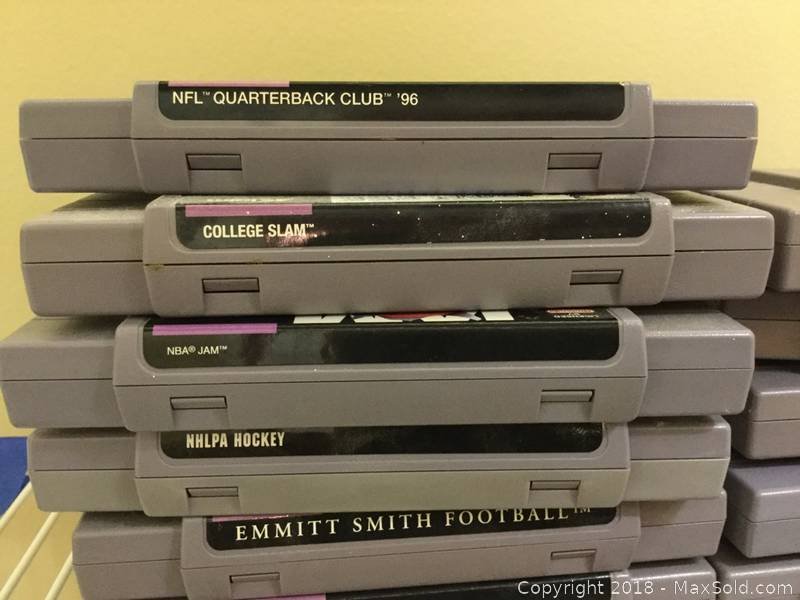 Selection of more than 25 Super Nintendo cartridges. Games include Yoshis Island, Super Mario World, Donkey Kong Country, Mighty Morphin Power Rangers, X Men Mutant Apocalypse, Biker mice From Mars and more.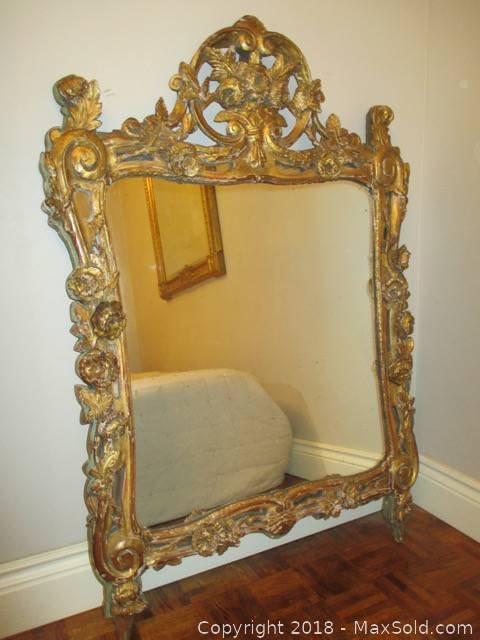 Includes the British Royal Seal of Antiquities. As is. Mirror intact. Stamped "France" on its back. Very Heavy. N.B. Please bring packing materials.46" in Height31" in Width.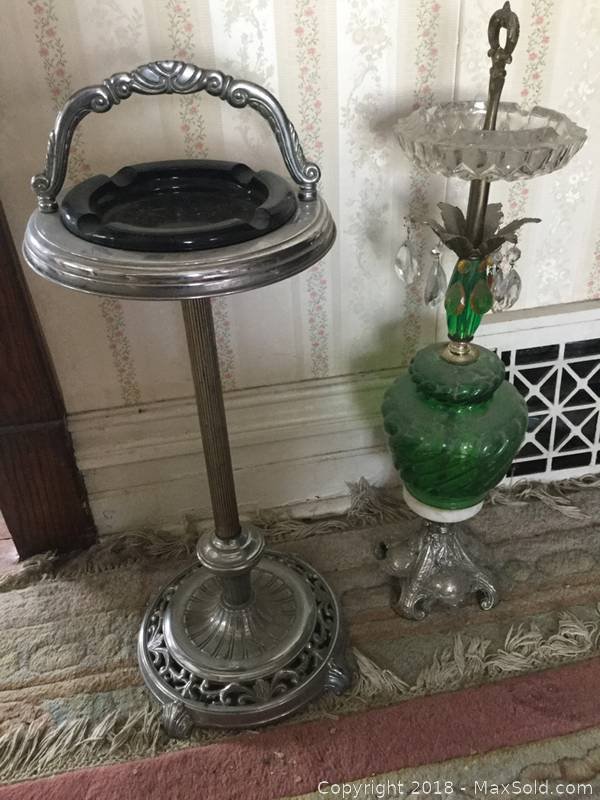 Both ashtrays are 30 inches tall. 
Dentures
Sold on MaxSold for $125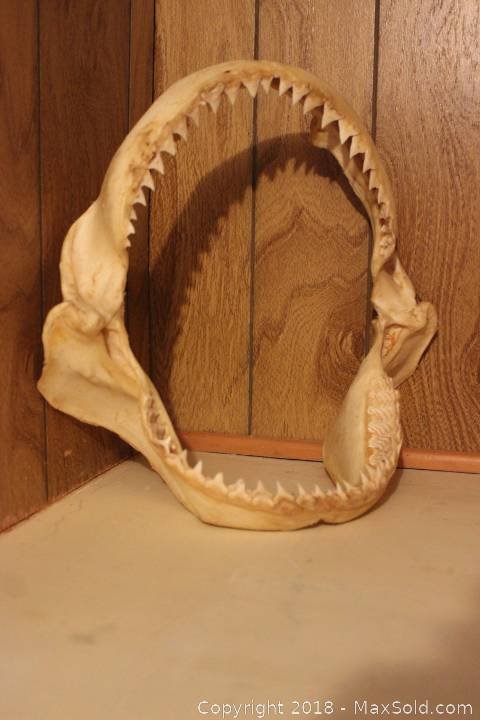 Set of real shark dentures. 12 x 14.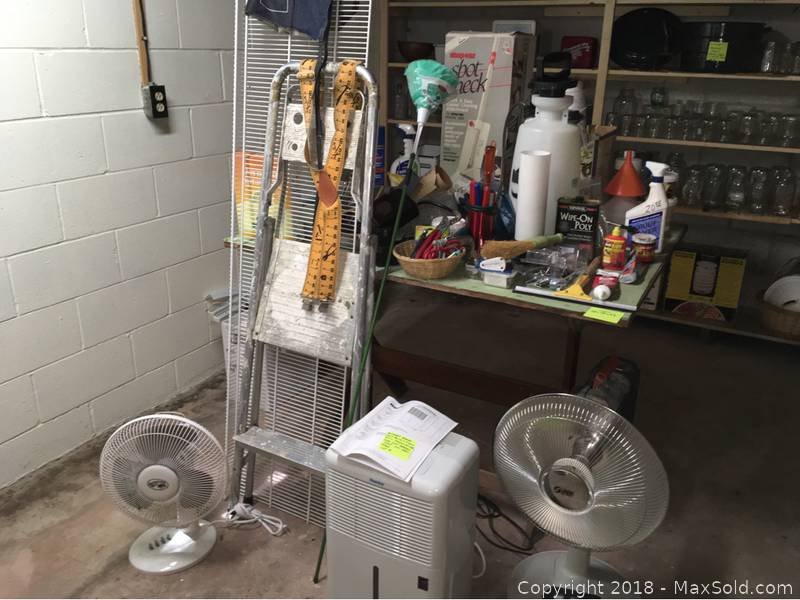 Good assortment of household tools and repair accessories. Lot includes Denby dehumidifier, radiant table top heater, aluminum ladder, assortment of hand tools, drafting table or work bench 36X48X33. Items located in basement. No internet at location must bring printed receipt and paper and bags to pack.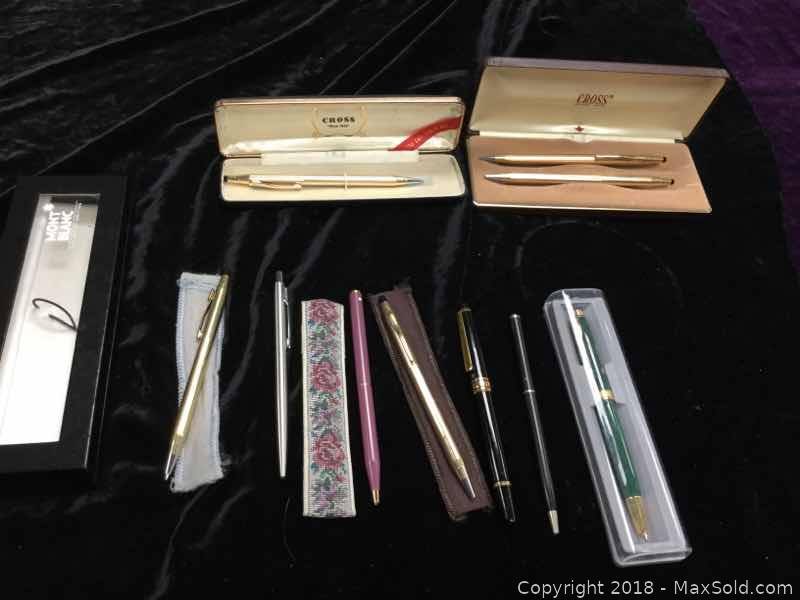 Lot consists of 14K gold filled Cross ballpoint pen and pencil set, one 10K and one 14K gold filled Cross ballpoints, 5 other ballpoints mostly Cross, 1 fountain pen, plus empty Mont Blanc box.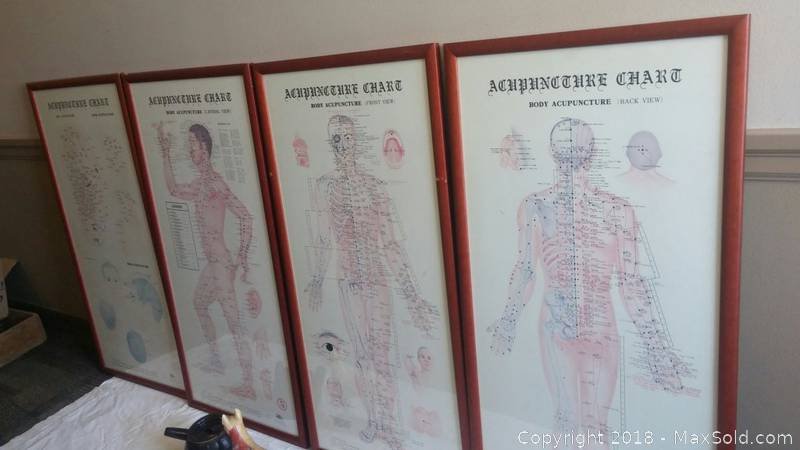 46" x 22.75" professionally framed, plexi front not glass. note scuffing on frame.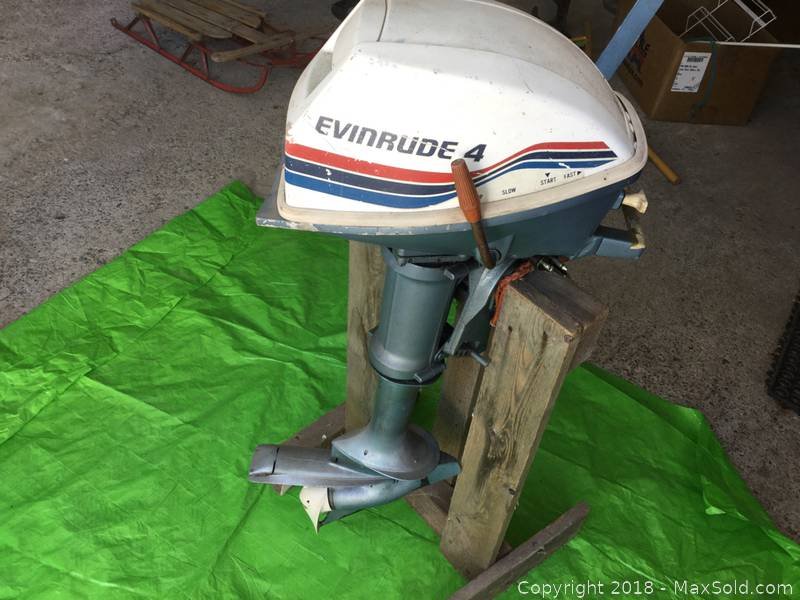 2 cycle, 2 cylinder, 4hp Boat motor. Serviced by DC Marine in 2012 and was only used once after that.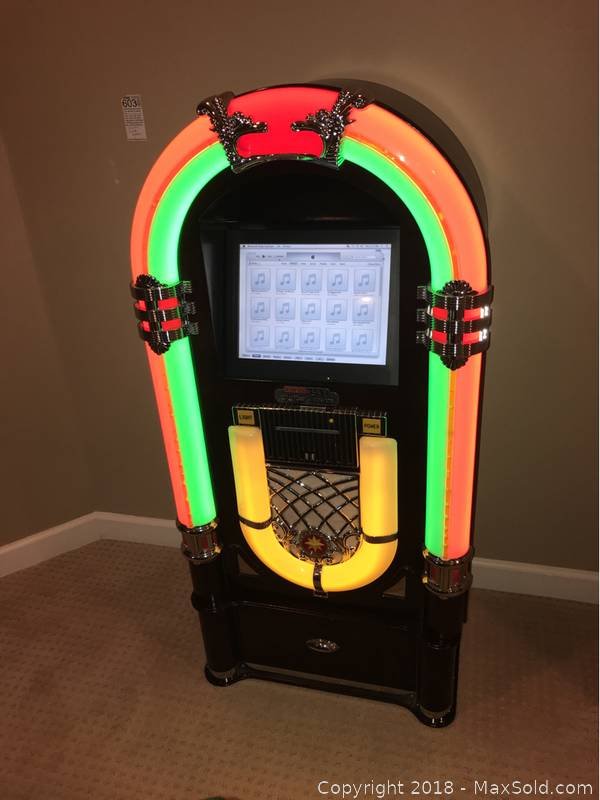 Model cr 12di. 26X15X56. Powers on, touch screen display. Seller states it works. Bring help to remove.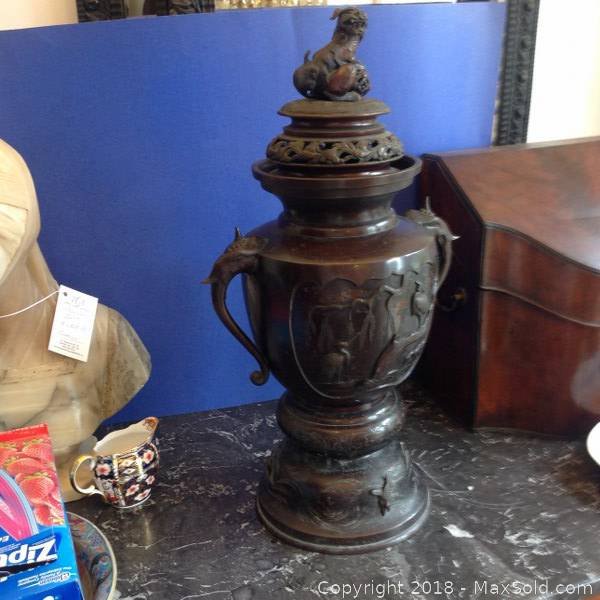 A large antique Chinese bronze covered incense or pot pouri vase. Probably 19th century 24 inches high.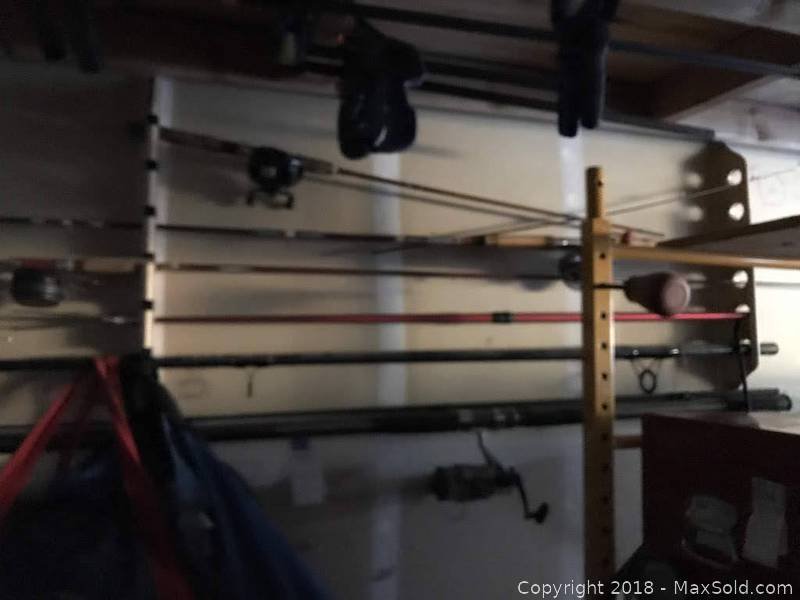 Includes rods, and waders. 
Yamaha trombone. Case measures 11X10X35. 
Sauna
Sold on MaxSold for $911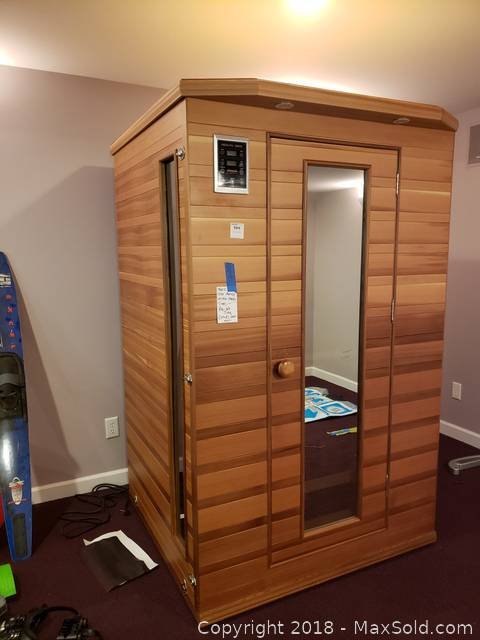 Sauna 41x43x76. Music color therapy and aroma therapy, untested; easily comes apart, 6 pieces . All are latched together. No tools needed. 
Tea Trolley
Sold on MaxSold for $85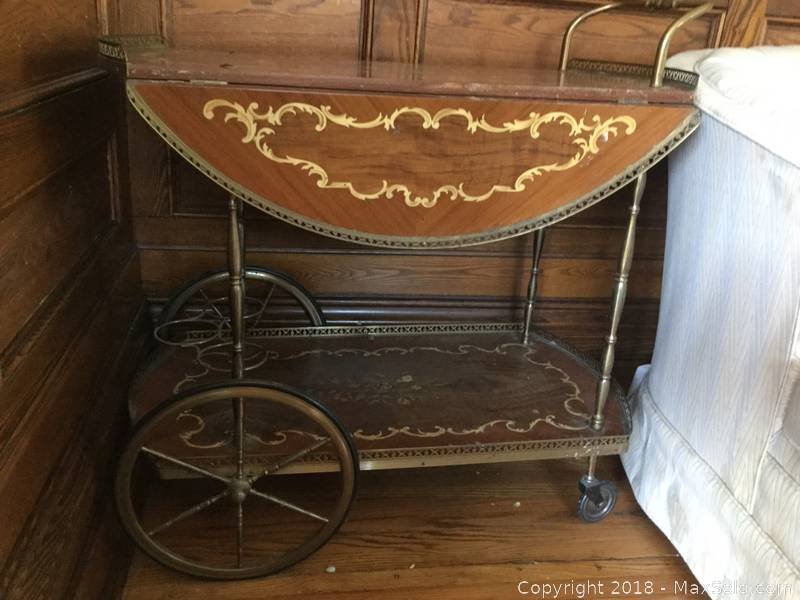 Trolley measures 30X28X18. Shows fading, wear cracks scratches.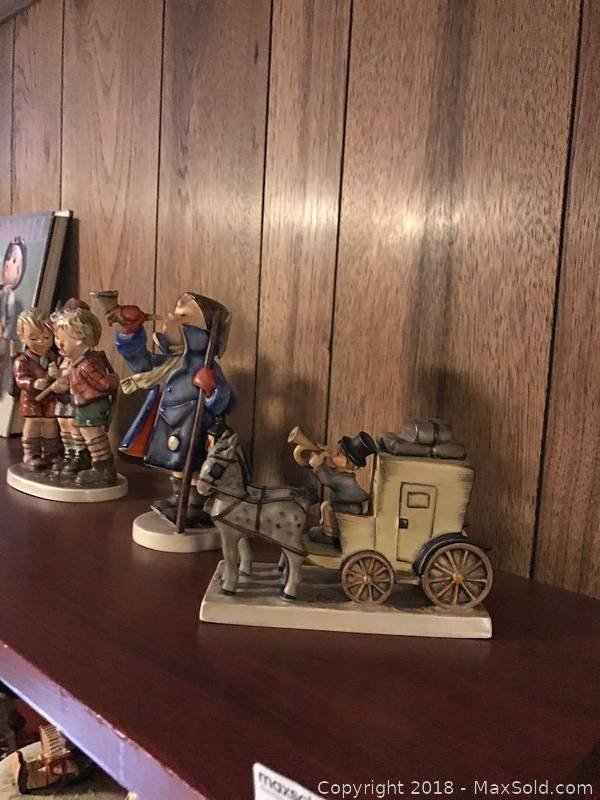 Five Hummel figurines and figural groups 4.5 to 9 in., by Goebel, various periods marks on the underside, brought directly from Germany, see pictures for details. Ehrmann Complete Collectors Guide published in 1976.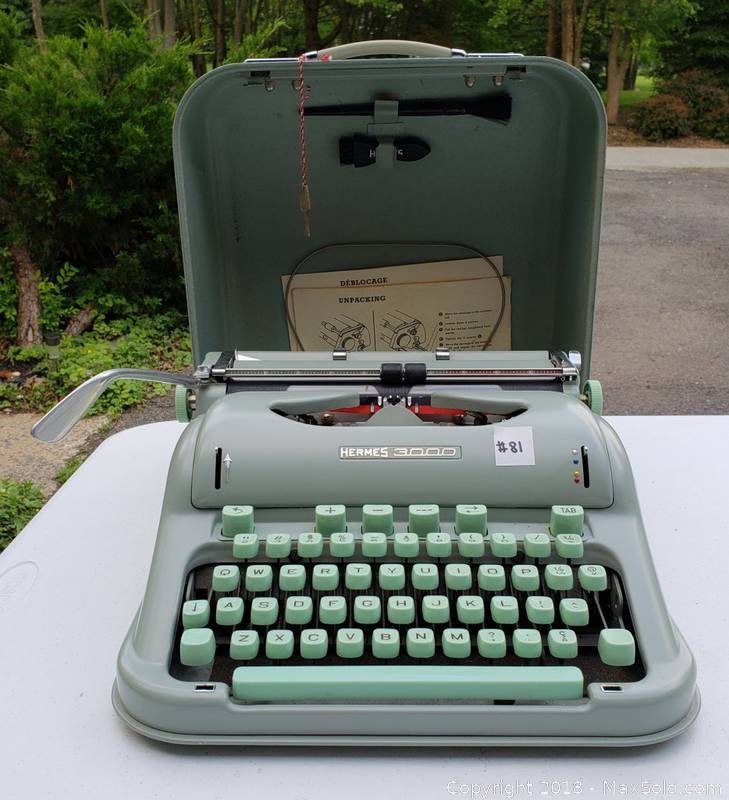 Hermes 3000 typewriter. This piece is one of the most desired pieces in vintage typewriters. Item has manual and brushes, and in very nice working condition. Well kept.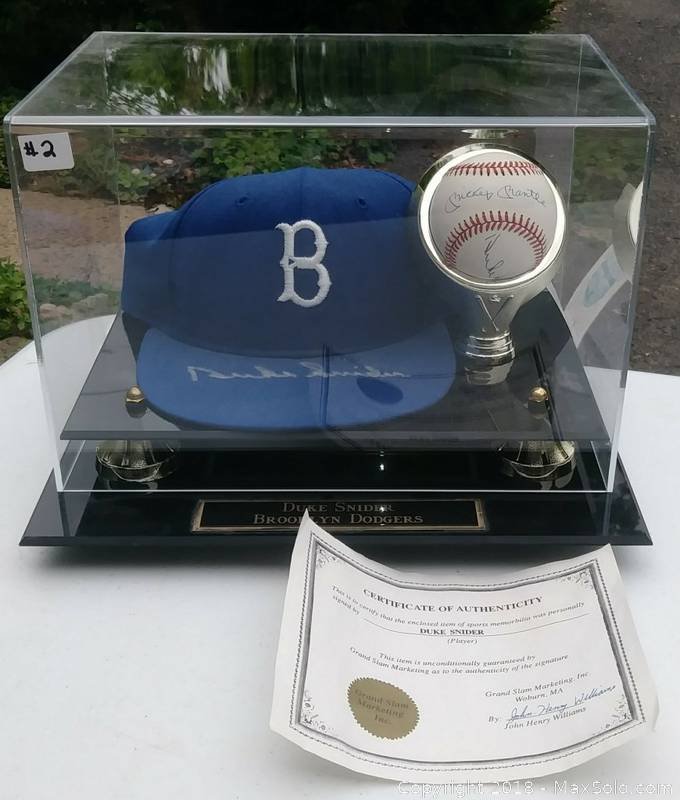 Mickey Mantle, Duke Snider, and one more signature. These are on a hat, and baseball. The set is in a acrylic display case. This lot does have a certificate of authenticity with Snider on it. The others may have been signed later.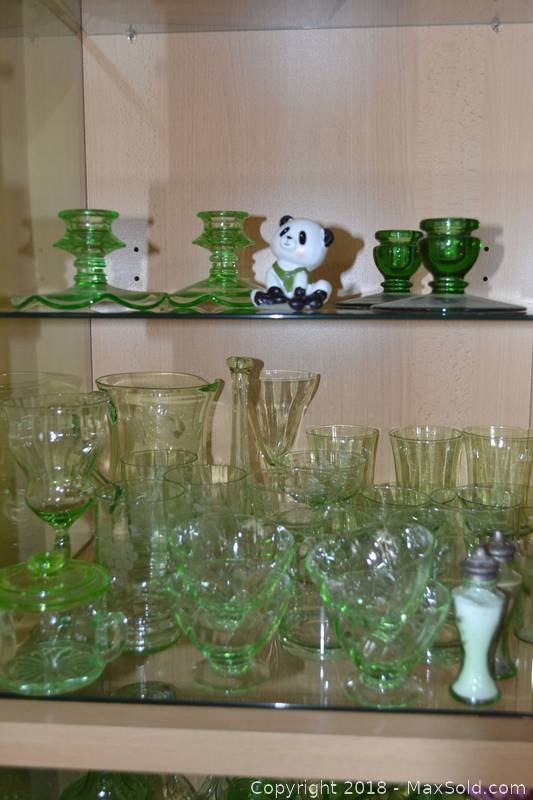 Twenty five plus pieces of elegant green Depression Glass.
Scaffolding
Sold on MaxSold for $80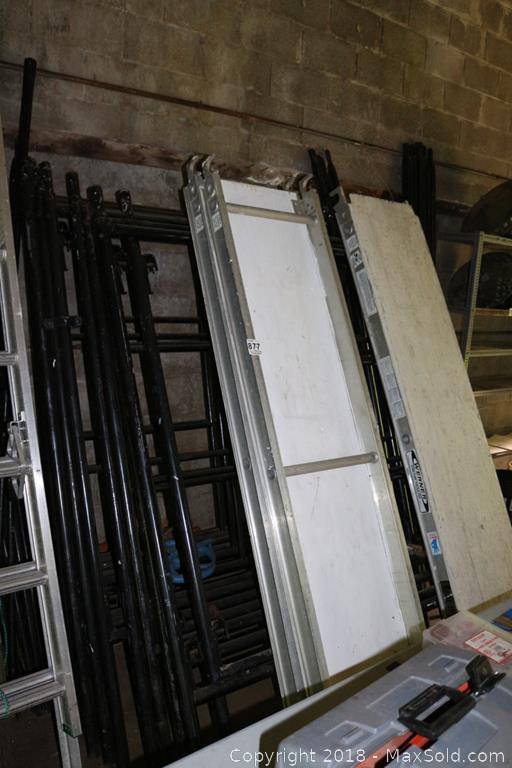 Scaffolding, BRING HELP TO MOVE. These are large heavy steel pipe frame sections, casters, and platforms. BRING APPROPRIATE SIZED VEHICLE. Located in large shed.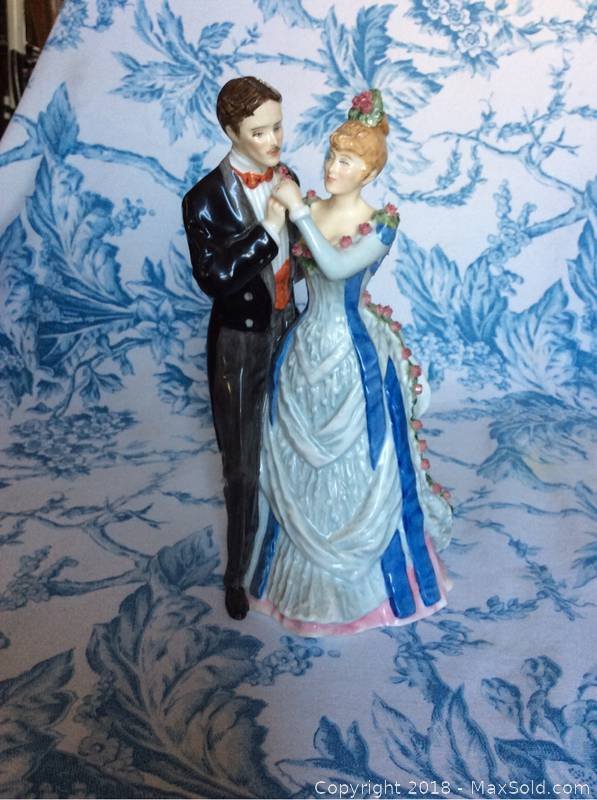 Royal Doulton HN 3625 Anniversary 9 in.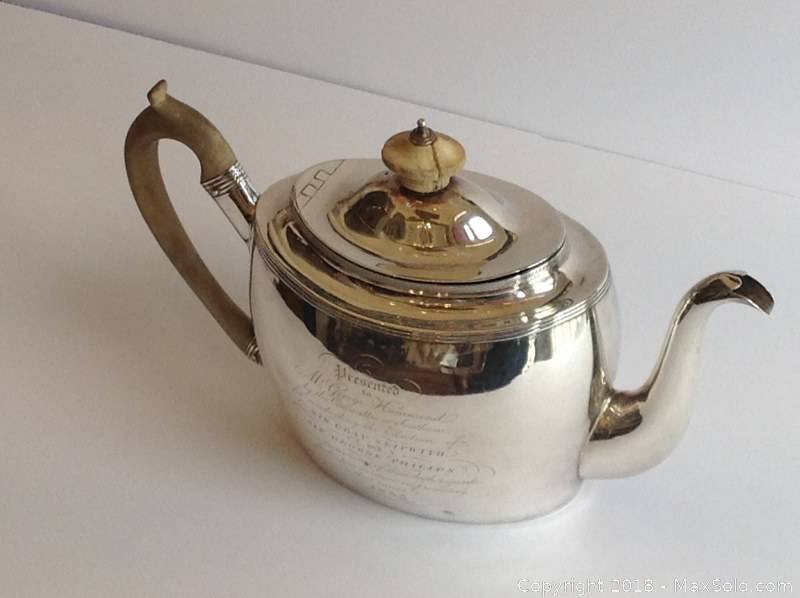 A heavy sterling silver teapot which was later presented to a Mr. George Hammond in the year 1833 (see inscription). Gross weight: 427 grams. There are some small dints to the body of the teapot. (Examine pictures carefully). This is a piece of history. This is GEORGIAN PERIOD (see the intricate hallmarks) and not GEORGIAN "style". It was actually fashioned close the beginning of the 19th century.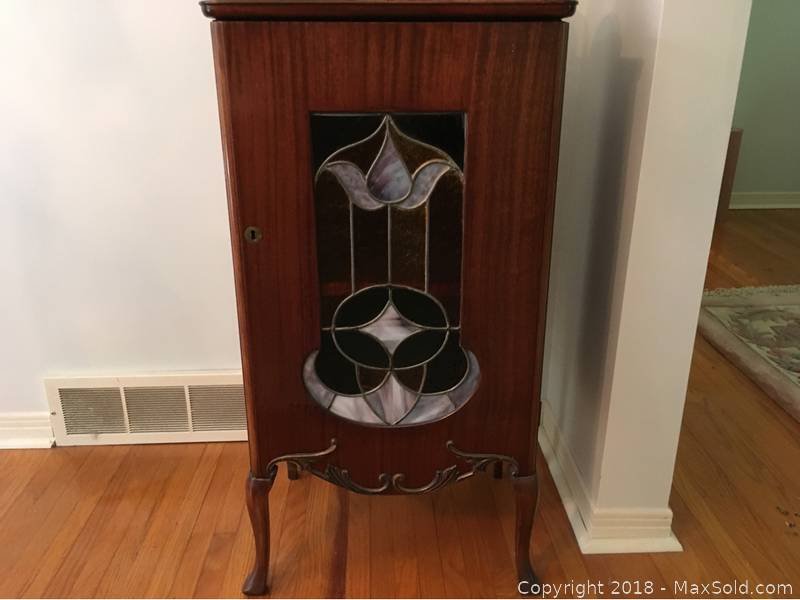 Elegant mahogany sheet music stand 19X14X38. Has been slightly altered, see interior photos. Custom stained glass detail. Lot includes pair of small decorative animal lamps and larger table lamp 26X19. No internet at location must bring printed receipt and paper and bags to wrap.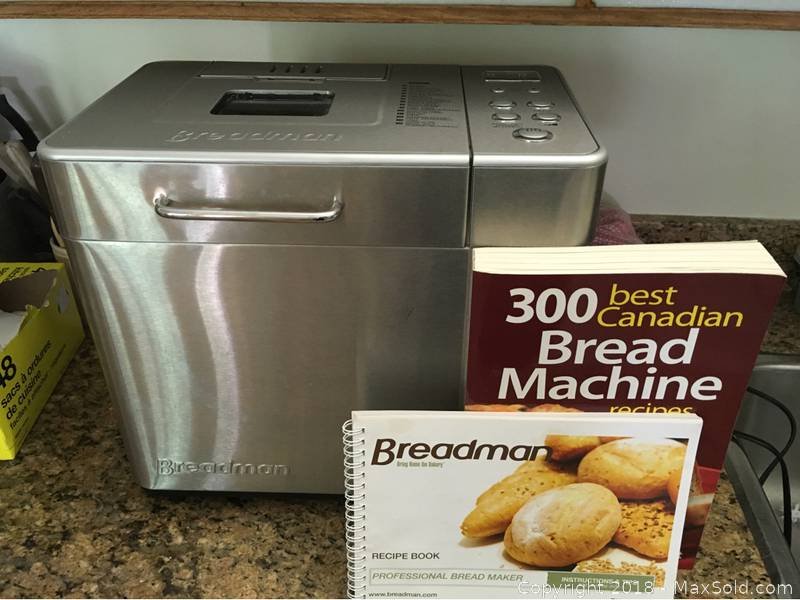 Large assortment of vintage and newer kitchen cookware including vintage robin egg blue glass storage containers, vintage Pyrex bakeware with clip on handle extensions to use when hot from the oven, vintage glass bakeware, stainless steel bread maker and more. See photos for details. No internet at location must bring printed receipt. Bring lots of paper and bags to wrap.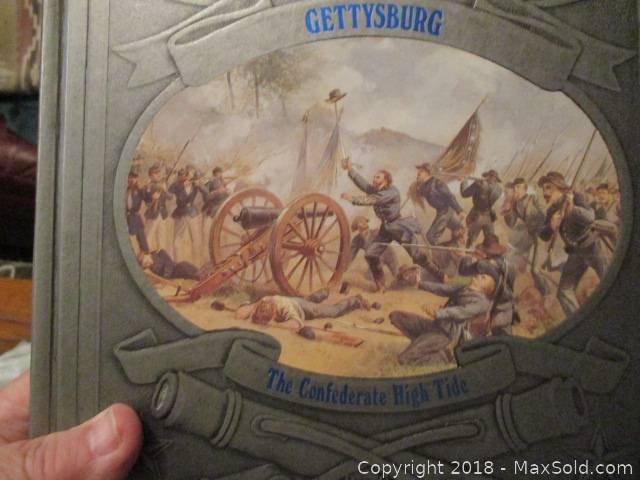 As well as the history, battle by battle, this book set gives a pictorial account of the Civil War- hundreds of photos.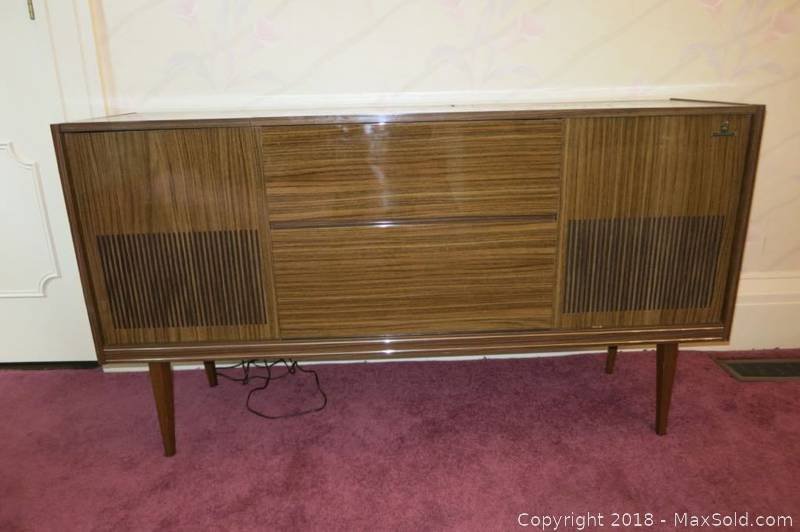 Grundig Record Player and stereo console, untested. 57x16x31. Very heavy BRING HELP and appropriate sized vehicle for transport. located in living room.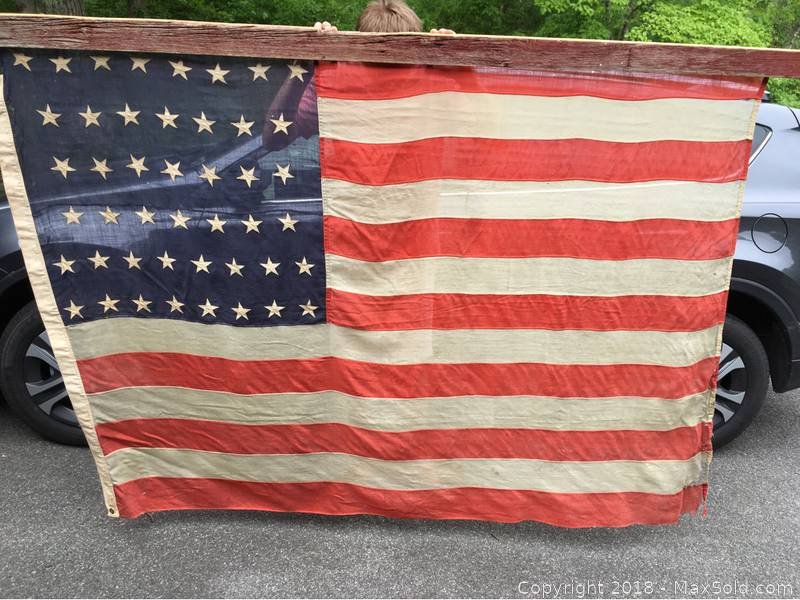 96X60 Linen stitched American Flag. In good condition for age. Flag flew 1896 to 1908 during Cleveland, McKinley and Teddy Roosevelt administrations.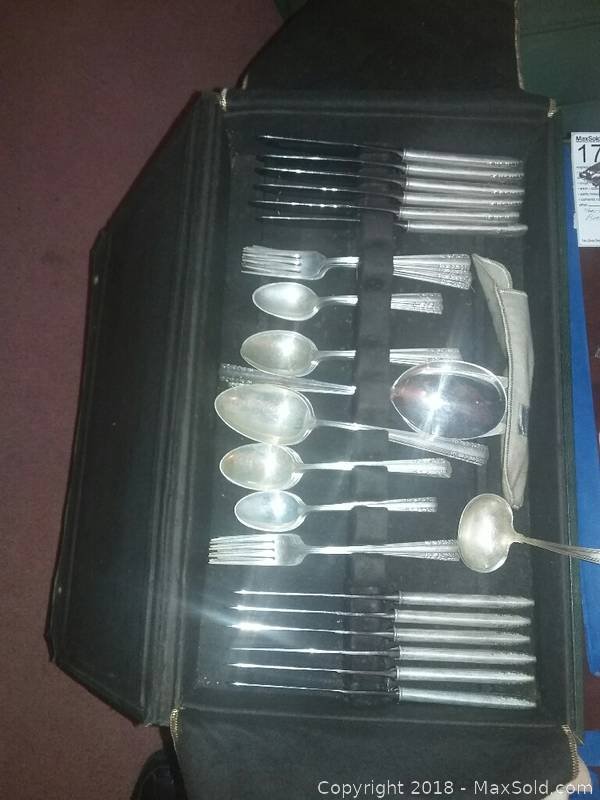 Chapel Bells by Alvino Sterling flatware service for 12. 12 each teaspoons, tablespoons, dinner forks, knives. 3 large serving spoons, 1 set large salad serving spoon and fork. butter knife and sugar spoon. Monogramed.