AUCTIONS AND ESTATE SALES IN
MASSACHUSETTS
SHOWING ONLINE AUCTIONS AND ESTATE SALES IN
MASSACHUSETTS
Sell your goods easily and profitably from an estate, downsizing, or relocation by Aug 8th.
Discover the many benefits of MaxSold auctions.
JUST CLOSED AUCTIONS ITEMS FOR SALE IN
MASSACHUSETTS
SHOWING NEXT WEEK AUCTIONS IN
MASSACHUSETTS

ESTATE SALE ONLINE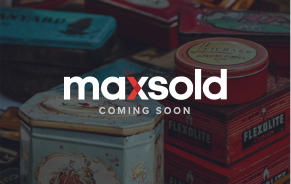 Hingham
Devon Terrace, Hingham, MA, 02043
SHOWCASING UPCOMING AUCTIONS IN
MASSACHUSETTS

ESTATE SALE ONLINE
CUSTOMER REVIEWS FOR MAXSOLD
The ease of everything...from on-line purchase to pick-up. Very friendly staff at pick-up location.
Wide assortment of items all in one place. Seems like an easy and profitable way to downsize. It is fun to get in on the bidding!
It's a different way to have an auction which is appealing and fun.
very well run. friendly pick up people
Very friendly and a great attitude.
It's a great and easy way for folks to clear out unwanted items. I'm a Realtor and I'll be sure to recommend this to my clients in the future.
Very organized - your staff is great.
Great for families who need to take care of a loved one who may be overwhelmed. Also great deals for your own home. Just wish the associates would stay with each customer until all items are retrieved before taking in the next customer.
Previous
Next
Estate Sales in Boston
Seven years ago, MaxSold held its first online auction in the Boston area. Since then, MaxSold has helped more than 700 families in MA with estate auctions online. An estate auction occurs when a large portion of a person's material possessions are resold at once-usually because they are relocating or have passed away. Because this can be a difficult time for families, MaxSold is committed to making the estate liquidation process quick, simple, and efficient... and we do it with care for your items and your situation.
Our clients in Boston also use MaxSold for downsizing, clearing out their homes before selling, decluttering, and demolition sales auctions. By hosting an online auction, clients benefit from a large pool of buyers and from the competitive bids they will place. Just like a conventional, live-auction, items are organized into lots and purchasers place live bids on the lot they are interested in. But with MaxSold the digital reach is much greater than with a traditional estate company that relies on people being physically present and available at a specific time and day.
Why MaxSold is the Best Estate Sales Company in Boston MA?
Hosting an estate sale on MaxSold means you have as much control over your auction as you want, and as much support from customer service and our MaxSold teams as you need. Our new app can be used by individuals or teams of family members to build an auction catalogue easily and with helpful tips and reminders built-in to guide you along the way. Unlike most physical auction houses, we take care of marketing your auction online to the greatest possible number of sellers. And we ensure that payment is collected securely.
A typical seller on MaxSold will receive a unique auction ID and then be able to quickly and easily catalogue home contents such as furniture, heirloom jewellery, and fine art. The auction will then be approved and go live, and you can watch as competitive bidding ensues. When the auction closes, you'll have a built-in plan for organizing the pick-up of the items and your entire sale will be finished before you know it. Buyers in the Boston area can find unique home d&egravecor and crockery to create their own sense of style at home. Bidders can even create an alert for items they want, from musical instruments to mid-century modern furniture. And once an item has been bid on, another alert will let you know if you've been outbid, so you can immediately update your bid to guarantee you win the auction.
Estate Sales in Boston City
Boston's long history of being at the forefront of American culture and advancement makes it a unique place to buy and sell used items. Whether it's a Civil War-era chair, a 200 year-old map, or a serving dish from the British Imperial period, History of Estate Sales in Boston city is reflected in the objects that are resold here and in the interest and commitment that buyers have towards possessing a piece of that history. Boston's storied history means that you can always pick up an amazing Red Sox item or a unique first edition book from one of Boston's famous publishers like Little, Brown and Company or Harvard University Press. Items that always sell well on MaxSold include bicycles and exercise equipment, outdoor furniture, carpentry tools and anything mid-century modern. In cities like Boston, there is a wealth of unique, vintage and antique items already available locally and there are a huge number of buyers for those items. Sellers in the Boston area find a number of local and regional collectors and antiquarians looking for unique items to complement their catalogue. With so many universities and colleges in the city, many ethically-minded students are looking for quality furniture and household items they can rely on to furnish their apartments without contributing to landfills. This younger generation of consumers values green alternatives, and they will pay fair market value for a second-hand item satisfied that they've made the most environmentally friendly choice.
Frequently Asked Questions (FAQ) About Estate Auctions in Boston, MA
How do I find estate sales in Boston?
It used to be that estate sales were advertised in local papers and were held in old warehouses and barns. Today, estate sales are advertised online, and the entire catalogue of goods is often available for online bidding.
What sells best at an estate auction?
Nowhere is the fact that tastes change over time more obvious than in the world of antiques. What is popular today, might be out of fashion tomorrow and that is equally true of items that sell well at an estate auction. That said, anything "mid-century modern" is having a prolonged moment of popularity.
Which is better, auction or estate sale?
An estate sale is the process of selling the entire contents on a home, often after the death of a family member. Estate sales are usually run by a professional seller, can be private and may also involve selling off certain items piece-meal to specialty collectors and others. An auction is a public event where items are sold to the highest bidder-guaranteeing a fair market price.